Katowice is in the midst of what can only be called an architectural renaissance and its new skyline is raking up accolades and awards that no other city in Poland can compare with. But it wasn't so long ago that Silesia was the butt of many a joke because of its many communist eye-sores and post-industrial dinosaurs dotting the landscape. But one man's finger painting is another man's Picasso!
We've compiled a list of 33 'must-see' buildings/structures/places in Silesia, broken down into three easily digestible categories. We have annotated our list and done our best to present a historical timeline of the architecture to give you a broader picture of how the region has evolved over the past few years, decades and centuries. While admittedly most of the buildings can be found within Katowice's city limits, we included several buildings and structures from various suburbs of the Silesian Metropolis. We hope to inspire you to get out there and see first-hand as many of the region's fascinating feats of architectural acrobatics and engineering ingenuity as you can.
 
MODERN CLASSICS
Katowice City Hall (2015) - The unveiling of this handsome new headquarters of the Katowice city government gave everyone great hope that the new Rynek would indeed turn over a new leaf. The city more than delivered on that promise.
International Congress Center (2016) - The newest iconic building in Katowice. The unmistakable grass terracing on the roof of this multipurpose expo (see cover photo) has proved an idyllic functional and metaphorical bridge between NOSPR and the Spodek.
Silesian Museum (2015) - The renovated former Katowice coal mine buildings along with the newly installed and equally iconic 'light boxes' on the surface belie the miraculous and magnificent museum lurking below. Underground architecture at its finest.
NOSPR (2014) - This is perhaps the most celebrated building in all of Poland in the last decade and our personal favourite. The classic red brick exterior pays tribute to the Nikiszowiec housing district but inside it's a whole different world. The exceedingly warm woods of the main concert hall shimmer like gold and produces what has been called one of the most perfectly acoustic philharmonic halls in the world!
Galeria Katowicka (2013) - We're not typically fond of exiting through the gift shop per se, but this modern and bright shopping mall is easy on the eyes and fast on the feet. Make sure to avert your gaze from the latest global fashion trends from time to time to look up and admire the intricate glass and steel work in the skylights.
Katowice Central Train Station (2012) - Of all of the buildings on this list, this is perhaps the most beloved by Silesians and Poles. Not only for its own merits of being a super slick, modern, slightly retro
Rondo Sztuki (2007) - This half domed glass and steel structure is also known as the Eye of the City and with all its various cultural output, it barely catches a wink of sleep. Visit the modern art gallery at ground level, then head upstairs to Królestwo for a gourmet meal and world class concert. Best use of a roundabout we've ever seen.
Altus Tower (2003) - Still the tallest building in Silesia, this skyscraper and four star hotel put Katowice on the architectural map and finally made the city an attractive business destination. Altus will transform into a 5 star Marriott Hotel in 2017.
Chorzowska 50 (2001) - While it still has a bit of a late 90's look, this thoroughly modern commercial building was the first of its size in Silesia and symbolised the shift from heavy industry to financial services and global business.
Silesian Library (1998) - This epic monstrosity was an early harbinger of architects' interest in experimenting in Katowice. At the time of its opening it was the largest public library in Europe and remains one of the most modern in Poland.
 
CULT CLASSICS
Stalexport Buildings (1982) - These twin beauties are as retro as they come and vaguely resemble some sort of machinery involved in the coal extraction process. Originally used by the Centre for Foreign Trade they now house various businesses including the Silesian Tourist Bureau.
Katowice Culture Centre (1979) - Perhaps the most controversial building on our list, it looks like a giant white cube with rusting white vinyl sidings. What it lacks in classical beauty, it more than makes up for in substance as it houses more cultural institutions per square metre than any other building in Poland! Check out our Hipnoza Jazz Club review.

The 'Gwiazdy' (Stars) Housing Estate (1978)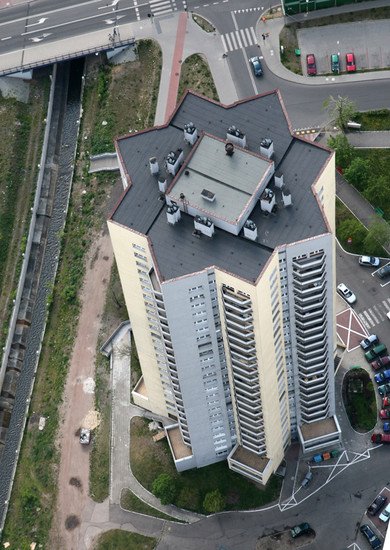 It's not too difficult to see where this 7 tower housing estate got its name from (right). Apart from spacious apartments (for communist times) each of these eight pointed stars houses a different social service from medical clinics, kindergartens and a dentist. Everybody is a star!
Superjednostka Housing Block (1972) - One of the largest apartment buildings of its kind in Poland. An example of modernist socialist architecture, it has 15 floors and 762 apartments serviced by 12 elevators. Curious enough, all elevators stop on only every third floor.
Spodek (1971) - Equally the most iconic and controversial building in the region (see 1st image in gallery); for decades it has been a love it or hate it oddity. The recent additions of breathtaking works of architecture and landscaping around the Spodek have given the giant saucer a new context and subsequently a new lease on life.
Silesia Park (1955) - We had to include the entirety of this magnificent park as it is basically one giant architectural dinosaur and sculpture park. Some of the structures to be on the lookout for are the armadillo-like building in the very centre, the gargantuan and revamped Silesian Stadium and the vintage the mushroom cloud Planetarium.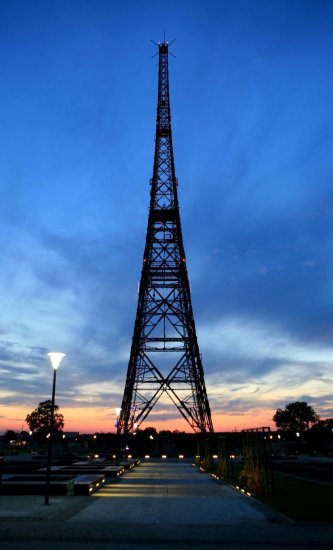 Gliwice Radio Tower (1935) - While not a building per se, it is the tallest free standing wooden structure in the world. It also has incredible historical import as it was the scene of a staged 'Polish' attack conducted by Nazi SS impersonators in August of 1939 and this false flag operation was used as justification for the German invasion of Poland.
Wilson Shaft Gallery (1918) - Located in the pithead and bathhouse buildings of the former Wieczorek mine, this ginormous funky gallery officially opened its doors in 1997. Besides an eye-popping permanent collection of modern art and sculpture it hosts regular exhibitions of national and international works in its vaulted halls including the outstanding X edition of the Naif Art Festival from June-August. Read more on p. 59.
Nikiszowiec (1912) - One of the truly unique architectural wonders of Katowice. This red brick workers district was originally built to house workers from the Wieczorek Coal mine nearby. We included the whole district as many of the buildings are indeed connected and all are nearly identical.
Guido Coal Mine (1855) - This historic deep coal mine closed in 1960 and in 2008 the deepest museum in Europe opened at -320 metres. They also opened a performance venue and conference centre and a full service bar serving their own Guido beer at the -320 level!
CLASSIC BEAUTIES

Christ The King Cathedral (1955) - Not so long ago this neo-Classical Cathedral was the largest in Poland and certainly one of the most beautiful. The Cathedral has special meaning to the region's vast coal mining community as it has a large Chapel to St. Barbara, the patron Saint of coal miners.
St. Anne's Church (1927) - The pearl of Nikiszowiec, this beautiful Baroque Church is the center piece of the district and for much of its existence it was the lifeblood as well. No trip to Niki is complete without circumnavigating the Church to find the perfect post card angle.
Kino Rialto (1913) - This is the first cinema in Silesia and the original Art Deco building facade has survived intact. They show an ambitious repertoire of Independent world Cinema as well as organising regular concerts and cabaret performances.
Silesian Theatre (1907) - This large neoclassical theatre is the largest in the region and has been one of the few constants in the ever changing Katowice Rynek in the last century. The theatre can seat over 800 people and regularly shows Polish and World classic plays on its boards.
Hotel Monopol (1902) - From the get go this neo-gothic secessionist beauty was built to be a luxury hotel. Its golden age was in the 1930s when German and Austrian Industrialist enjoyed the finest trappings in Europe. After mostly being destroyed during the war it was finally restored to its former glory when it opened as the five star Hotel Monopol in 2008 (see photo below).
The Karol Szymanowski Academy of Music (1893) - The first gothic building of this much heralded music academy was finished at the end of the 19th century. These days there are five buildings on site including a state of the art Concert Hall, a modern atrium and one of the largest music libraries in the region.
St. Mary's Church (1870) - This neo-gothic church is Katowice's first Parish church and occupies perhaps the primest real estate in the city. Perched at the end of the Mariacka street restaurant and bar strip, revelers have a constant reminder of where to go when the party's over.
Promnice (1868) - Essentially a small castle, this neo-Gothic hunting lodge was built to host Hunting parties for Prussian royalty when the Prussians controlled Silesia. These days you can do your best Kaiser impression by strolling the grounds and unwinding in this pristine palace as a paying guest.
Tyskie Brewery (1629) This mediaeval brewery has been continually brewing beer for almost 400 years and it is the largest of its kind in the world. With several museums and a serious tasting room, a trip to the tranquil town of Tychy to visit Tyskie as is great as it sounds.
MODERNIST BUILDINGS
The modernism movement was actually quite strong in Katowice during the interwar period of the 1920s and 30s, and beyond Gdynia, it was actually Katowice which was a bit of a hub for this functional movement, with buildings built which ranged from churches, public buildings to private residences. There are quite a few buildings to see, if that's your thing, and to cater to your tastes, the city authority created a 'Modernist Architercture Trail' for you to follow. Starting in the city centre, you work your way outward (but not too far) and take in 16 buildings over a total distance of 5.5km, where you'll see highlights such as the Silesian Parliament to Katowice's very own 60m high cloud scraper (come on, it was considered huge when originally built!). We fully recommend getting yourself a leaflet with map from the city information office on the corner of Katowice's Rynek.

Silesian Parliament (1929) - This imperial looking monstrosity housed Silesia's short-lived autonomous Parliament for 19 years before WW2. It was the largest building in Poland for almost thirty years. Wait Silesia had its own Parliament? It's a long story, so please read more.

Cloud Scraper (1934) - 'Drapacz Chmur' (its PL nickname) is another local icon whose beauty and relevance may have faded, but perhaps no building more represents the optimism of Silesia's autonomous inter-war years. Although unimpressive by today's standards and hardly even able to get its chin above the neighbours, this was the second skyscraper built in Poland. Measuring 60 metres in height, it remained the tallest building in Poland until 1955 when it was surpassed by Warsaw's monstrous Palace of Culture and Science.