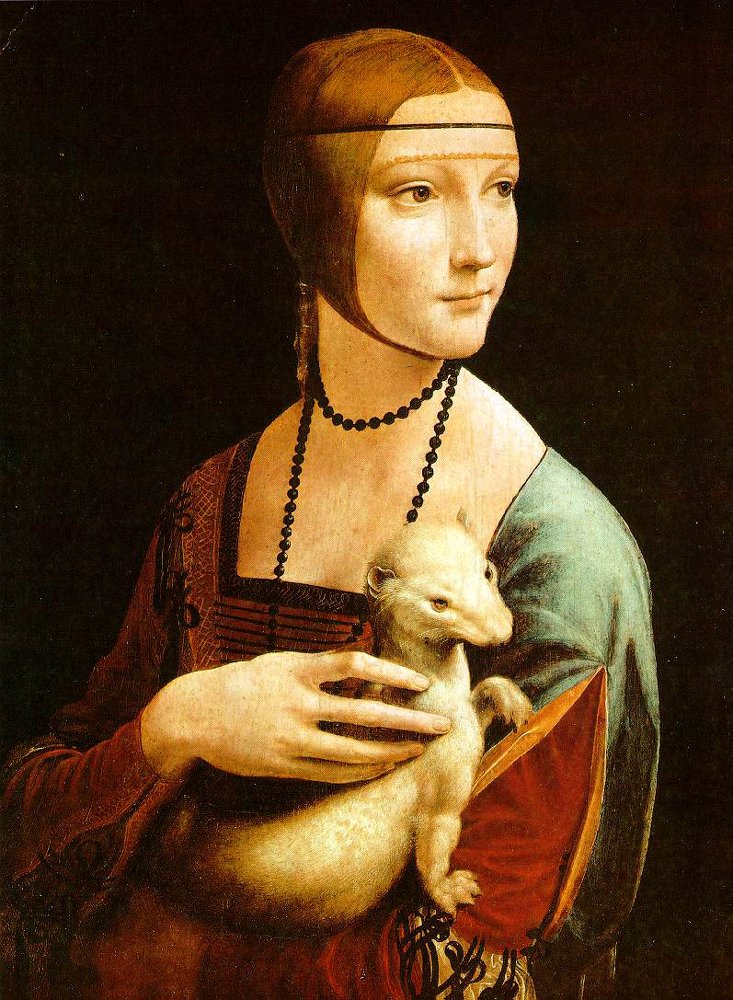 Kraków is home to approximately 2.3 million registered artworks of which the undisputed highlight is Leonardo da Vinci's Lady with an Ermine. One of only three oil paintings by da Vinci in the entire world, Leonardo's Lady is a national treasure, and a sentimental favourite of Poles - reproduced and hung in many a home. Recently returned to its original Cracovian home in the now-restored Czartoryski Museum, visitors shouldn't miss the opportunity to see this famous portrait in person.

Thought to have been painted in 1482, the picture's subject has long been the source of debate. Opinion is split as to whether the enigmatic beauty was the Duke of Milan's wife, Beatrice D'Este; the mistress of France's Francis I, La Belle Ferronierre; or the Duke of Milan's sixteen-year-old paramour, Cecilia Gallerani. More importantly, why is she holding that critter and why is it so angry?

The mystery and speculation also extends to the authenticity of the painting, with several self-proclaimed experts erroneously crediting it as the work of Boltraffio, or possibly Ambrogio de Pedris. X-rays and scientific testing have revealed the painting to have been heavily altered over the course of the centuries: shadows have been added, the veil covering the subject's head was retouched to match the colour of her hair, and the background was inexplicably painted black (maybe that's why the weasel is so mad). Unsigned by da Vinci, the authenticity of the painting was only proven in 1992 when American scientists scoured the artwork for fingerprints.

Leonardo's Lady has enjoyed a turbulent life, indeed. When not entertaining she often seems to be on the run or in hiding somewhere. For centuries she was off the map completely, before having a rendezvous with Prince Adam Czartoryski during his Italian holiday in 1798. Gentleman that he was, he brought her home to his native Poland, where she was part of the family until the 1830 Warsaw Insurrection, after which the poor dear was forced with her protectors into Parisian exile. The Lady later returned to Poland moving into what would become her official address in Kraków's Czartoryski Museum in 1878, only to be spirited into hiding as German panzers rolled across the border in 1939. Soon discovered, Weasel Woman was whisked to Berlin to become part of Hitler's private coterie, but eventually ended up in Wawel under the direct observation of Hans Frank - Kraków's Nazi commandant. With Soviet troops closing in, Leo's Lady was smuggled back into Germany, where American soldiers finally found her and liberated her home to Kraków in 1946, where she has since remained, becoming one of the city biggest icons.

At long last Leonardo's Lady is once again on display at the reopened Czartoryski Museum, where she entertains guests in her own private room. If you wish to pay her a call, her social calendar is such that all visits must be booked in advance at specific times. Visit bilety.mnk.pl at the earliest occasion to make your appointment.