You can read our full article covering different ways you can support local businesses here, and find some of our favourite restaurants to order from here, as well as our latest updates and travel info on the Coronavirus in Slovenia here. 
While several bars and restaurants have reopened of which you can read more about here, it is only legal to sit at a cafe, bar or restaurant terrace with people from the same household. This eyebrow-raising rule is making us ask - why would you want to sit in a cafe with people you've been stuck inside your with? For those who don't see the point, restaurants and bars still deliver! 

Here's a selection of local food delivery and other companies that are still delivering in Ljubljana, with whom you can spend your hard-earned, and now more precious than ever, Euros in support of local businesses. Know of any we should add? Let us know in the comment section on this page, or email us at ljubljana@inyourpocket.com.
RESTAURANT DELIVERY
Wolt
ehrana
LOCAL FOOD DELIVERY
Kmetija Pavlovič
Kmetija Vizjak (chilli and honey)
Kmetija pr'Matevž (dairy)
Sadjarska Kmetija Uhan (fruit)
Ekološka Kmetija Jenšterle (beef/pork)
Ekološka Kmetija Žgajnar (dairy, meat, grains)
Kodila (pork in its most delicious forms)
Domačija Butul (exclusive specialties from Istra)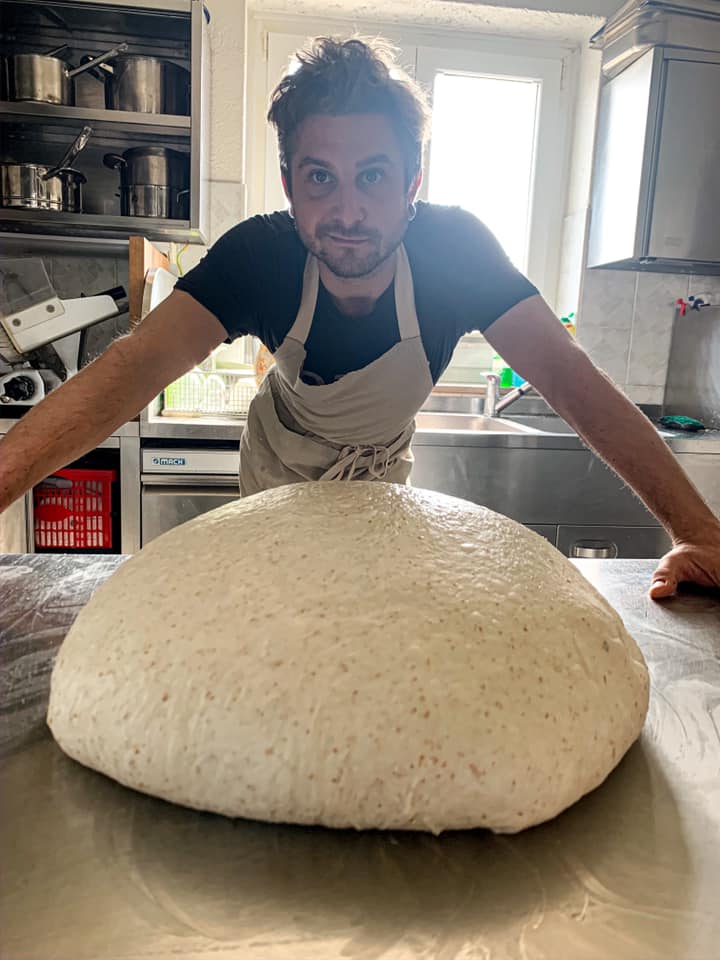 FRUIT & VEGETABLES
Gajbica
Zeleni Zabojček
COFFEE & TEA
Mala Pražarna
Čas za kavo
Indija Koromandija
OTHER SPECIALTY FOOD
Teta Frida (chocolate)
Perger 1757 (honey-based sweets)
zMüsli (muesli)
Svarog Sušena Govedina (beef jerky)
Rok's Nut Butter (peanut butter)
Stari Pisker (steaks)
Ayatana (kombucha and kefir)
Kis in Kvas (fermented goodies)
Akonkagua (freeze dried fruit)
Mesarije Kragelj (cured meat)
Čokoladnica Cukrček (chocolate)
Mesarstvo Krušič (horse meat)
Fogy Tartufi (truffles)
Pekarna Osem (awesome bread)
ALCOHOL
eVino (wine and spirits)
Noir Food (wine)
Že v Redu, Primož (craft beer)
Green Gold Brewing (craft beer)
Pelicon (craft beer)
Domaine Slapšak (wine)
Pivovarna Lighthouse (home brew kits)
Koželj Hiša Dobrih Vin (wine and gourmet)
Fedora (wine)
Za Popen't Pivoteka (craft beer)
Tektonik (craft beer)
Craft Room (craft beer)
ONLINE SUPERMARKETS
Cool House
Kucha (vegan products)
Ruska Trgovina (all kinds of Russian things, but you're probably just going to buy vodka, and that's okay)
Zrno do Zrna (ecological products)
Kvibo (lots of specialty products, like sarma)
BOOKS
The Slovenia (local English language publisher)
Beltrina (local Slovene language publisher)
MISC
Malinca (health products)
Konopljarc (CBD)
GUD Shop (cutesy home goods)
Breg Design (Slovenian inspired shirts)
Svet Matraže (fabrics/sewing)
Vrtni Center Kalia (gardening supplies)
SLOVENIAN WEBSHOPS
www.e-trznica.si (online farmers' market)
www.jarina.si (online farmers' market)
www.trgovine.net​​​​ (general)
www.enaa.com (general)
www.mimovrste.com (general)​​
www.svetpohistva.si (furniture)
www.xxxlesnina.si (furniture)
www.merkur.si (home improvement)
TRULY EVIL INTL WEBSHOPS*
www.amazon.com
www.bookdepository.com (also own by.... Amazon!)

*Seriously, even though we get affiliate commission for every purchase, we highly recommend avoiding Amazon and its various subsidiaries at all costs. It represents everything that's wrong with the modern capitalist system, which is just about to fail and is one of the direct causes of the current viral crisis. But by all means, if you really need to save €0.50 on that thing you don't need, go ahead and click, we could use the commission!

If you know of any that should be added, please email us at ljubljana@inyourpocket.com or just leave a comment at the bottom of this page. And don't forget to check out our more detailed guide to supporting local businesses, along with a smattering of jokes about sh*tty politicians, weed and alcoholism, here. Thanks for reading and hope everyone is staying happy, healthy and sane!

Ljubljana being voted for Best Municipality to be Quarantined In in our most serious Best of Slovenia 2020 (Limited by Coronavirus) competition is just another telltale sign of the comfort and energy of this vibrant little capital. In any event, thanks for reading, and if you've got any feedback, we'd love to hear your thoughts on Facebook, Instagram or old-fashioned email.

A free PDF download of our latest guide to Ljubljana can be found here, and with over 400 distribution points in the city (and surrounding area) you're never far from a print copy.

Keep up to date with In Your Pocket. Subscribe now for our monthly newsletter: just send your name to slovenia@inyourpocket.com. Interested in advertising? Send us an email to ljubljana@inyourpocket.com.