Some time in March 2021 a brashly colourful portrait of a suited and hatted pigeon took shape on the exterior wall of the Tourist Information Centre on Zagreb's main square. It was the first sign of a project entitled Street Tryptich (Ulični triptih), launched by Zagreb's tourist association in combination with some of the city's leading street artists. The aim: to bring colour to a city in which culture has been hit hard by the combined effects of earthquake and pandemic.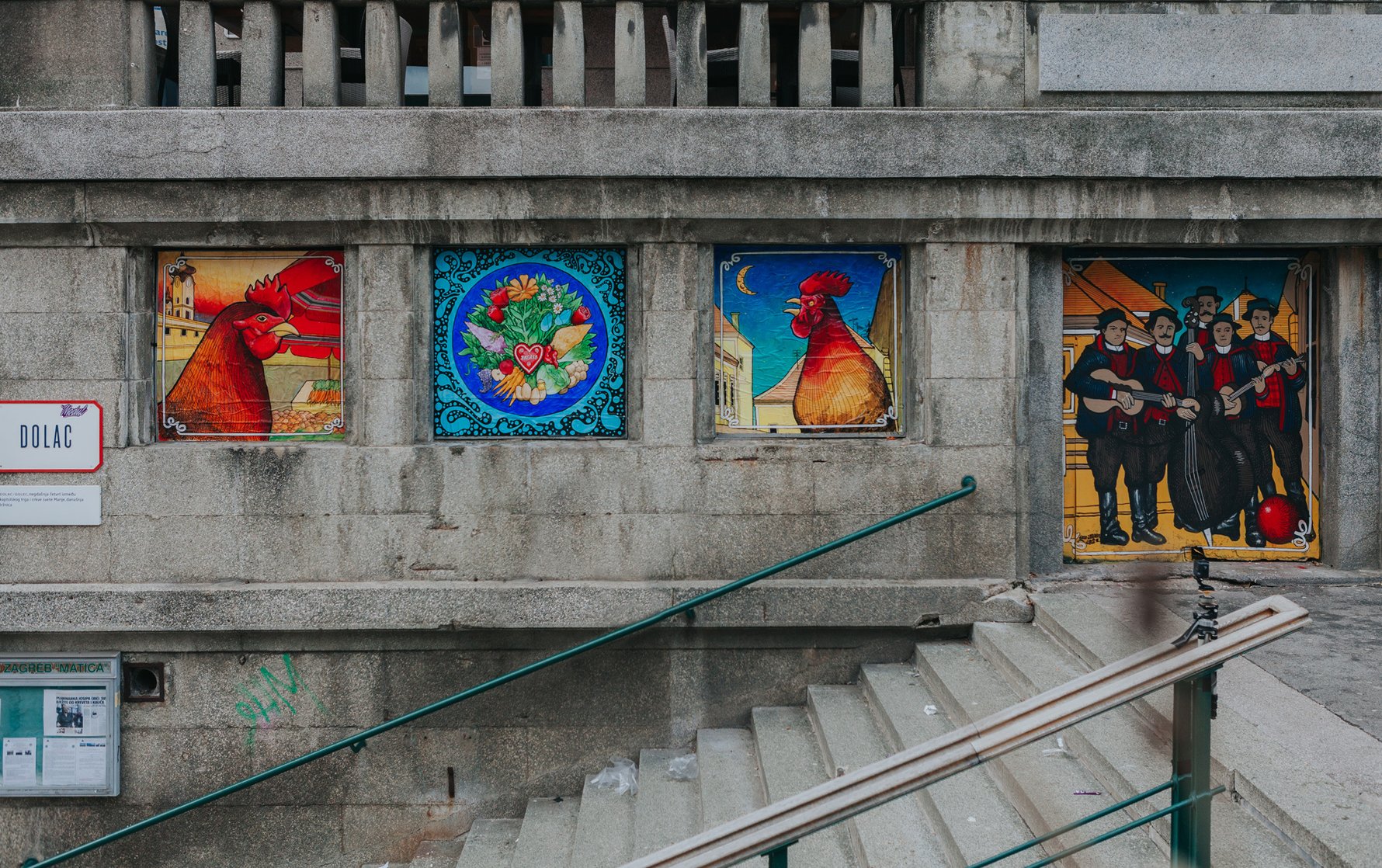 Mislav Lešić, Street Rhapsody

The pigeon in question bears the name of Hermann Gollubé (a play on words combining the name of the architect who did most to define the image of pre-World War I Zagreb, Hermann Bollé, andthe Croatian word for pigeon, golub) and is the work of Boris Bare, a founder member of street-art collective Pimp My Pump and one of the leading lights of the Art Park, the open space behind main-shopping-street Ilica that hosts parties, cultural events and mural-painting projects in summer. The other works in the Street Tryptich series are Mislav Lešić's Street Rhapsody on the steps leading to Dolac Market, featuring musicians and folk motifs from eastern Croatia; and Zvonimir Haramija Hans's bright and buzzy Holy Bird, just up the hill on Radićeva. Street Tryptich is very much an ongoing project: every three months a fresh trio of artists will be invited to execute murals of their own.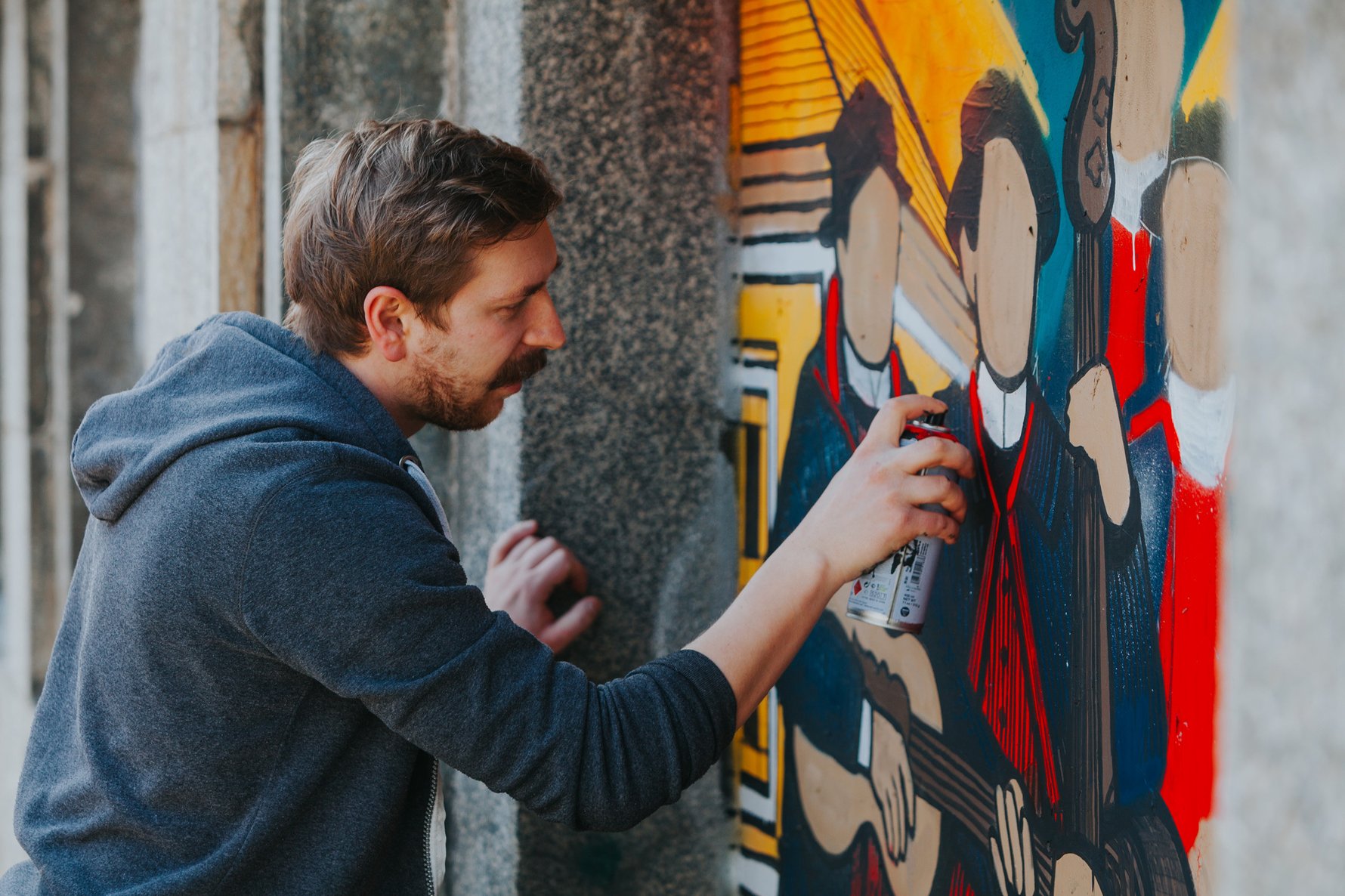 Mislav Lešić

Street Tryptich comes hot on the heels of Little Zagreb (Mali Zagreb), a sequence of miniature installations at various locations in the city centre. Brainchild of artist Filip Filković Philatz, these installations feature tiny houses, light fittings and furnishings, and will remain in place until September. Situated at ground level or in shop windows, they would probably go unnoticed were it not for the accompanying map, which can be downloaded from www.malizagreb.com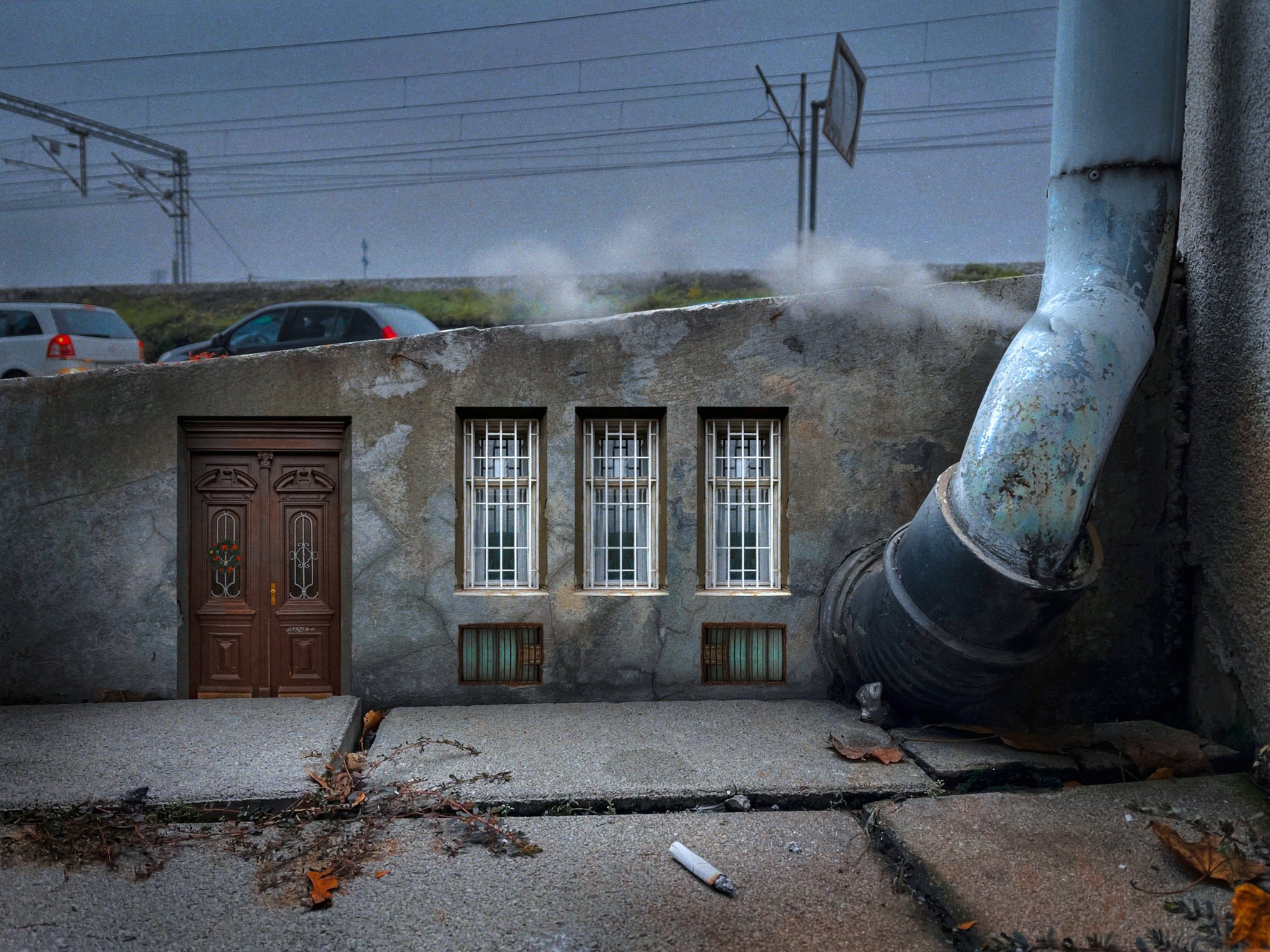 Mali Zagreb

While the above two projects have been sponsored by the tourist board, the private sector has been involved in promoting street art too. High-street clothing brand s.Oliver got Zagreb artist Paulina Jazvić to redesign their window display with an installation entitled The Cats Are Back in Town. The resulting panels, portraying nattily-clad felines cruising in a pink Cadillac, are simply purring with urban cool.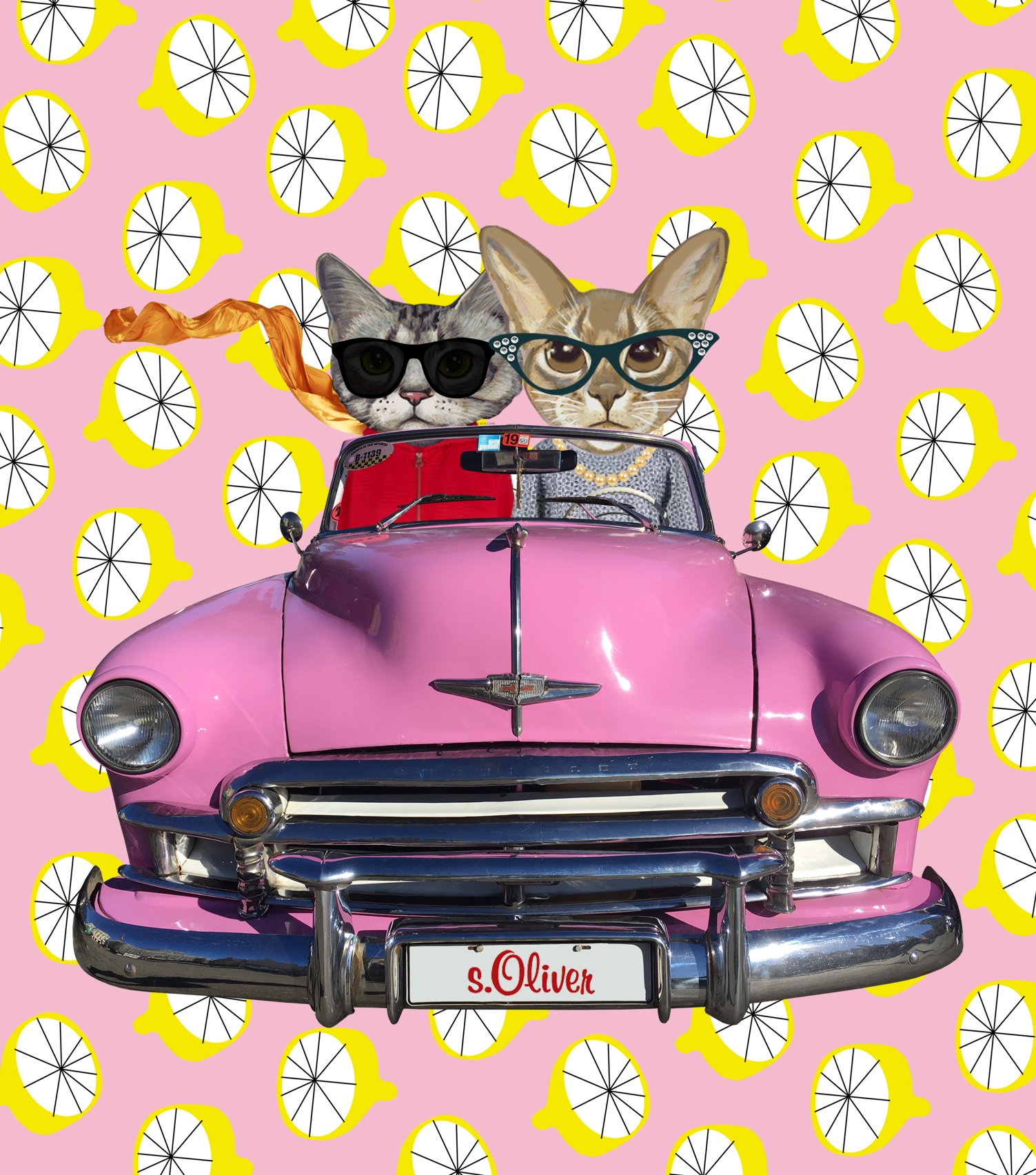 Paulina Jazvić

No longer is street art a fashion, a trend to be picked up and dropped by lifestyle magazines eager to cover the changing urban scene. On the contrary, it has become a normal part of public space. It may not always be as long-lasting or as profound as gallery art, but it certainly adds up to a lot more than mere graffiti.

In many ways the role of street art has been enhanced by the events of 2020-21, a period when gallery art had to take a back seat. Zagreb's galleries have been closed for long periods due to pandemic restrictions or earthquake damage,and the exhibition calendar has been decimated as a result. Throughout this period Zagreb has witnessed a serious decline in the number of concerts, festivals and film premieres. Posters advertising cultural events have all but disappeared, removing colour and fascination from the city's streets. 

One answer to this decline in the city's visual diet is to display art in public spaces, so that the city itself becomes the gallery. Zagreb's Art Pavilion, a prestigious exhibition venue currently closed for post-earthquake restoration, has decided to mount revolving exhibitions of public sculptures outside its main door. A total of four Croatian sculptors will be taking turns to display their work here between now and autumn.

However it is street art that has adapted best to new conditions. Many of Zagreb's muralists are in any case academically-trained artists in their own right; accomplished painters and illustrators who have turned to the streets, fanzines and alternative comics as a way of keeping their art visible and finding a public for their work. In a society that does not always offer a clear career path for art-school graduates, all kinds of informal creative activity have blossomed.

So if we were to design a tourist trail taking in the best of Zagreb's street art, would it include? One might start with Martićeva, a street that symbolised the transition from central Zagreb to suburbia and which served as the centre of the Design District summer festival – a unique event which flourished in the pre-Covid world and which, one hopes, will one day be making a comeback. Here the work on the walls is not so much on Martićeva itself as just around the corner:  tucked into a recess at Martićeva 24 is Igor Taritaš's Stepenice ("Staircase"), a trompe-l'oeuil work that appears to show the interior of an apartment on a seashore. A few steps further away on a corner of Barčićeva is Zagreb otvoreni grad ("Zagreb Open City"), arguably the best single work by prolific illustrator and street artist Miron Milić. Adorning an electricity substation in a nearby park between Martićeva and Barčićeva is a phantasmagorical allegory of electricity by Lav Paripović.

Also near the centre, the wall of Ribnjak Park was covered in murals by Croatian and international artists in 2019, in a project organized by the Art Park. Highlights include Klarxy's weird cross between a crocodile and submarine, and the transfixing stare of Anthony Brook's imposing cat-man.

East of the centre, alternative club Medika has commissioned a rich collection of murals on walls of its post-industrial compound on Pierottijeva. The sleeping figure known as Technicolour Dream, by well-known artists Lonac and CHEZ 186, is one of the most photographed street works in the city.

Also attracting clicking cameras are Lora Elezović's murals based on Vilko Gliha Selan's original illustrations for children's classic Hedgehog's Home (Ježeva kućica by Branko Čopić). Brightening up an electricity substation beside the lakeside promenade in Bundek park, they have already proved enormously popular.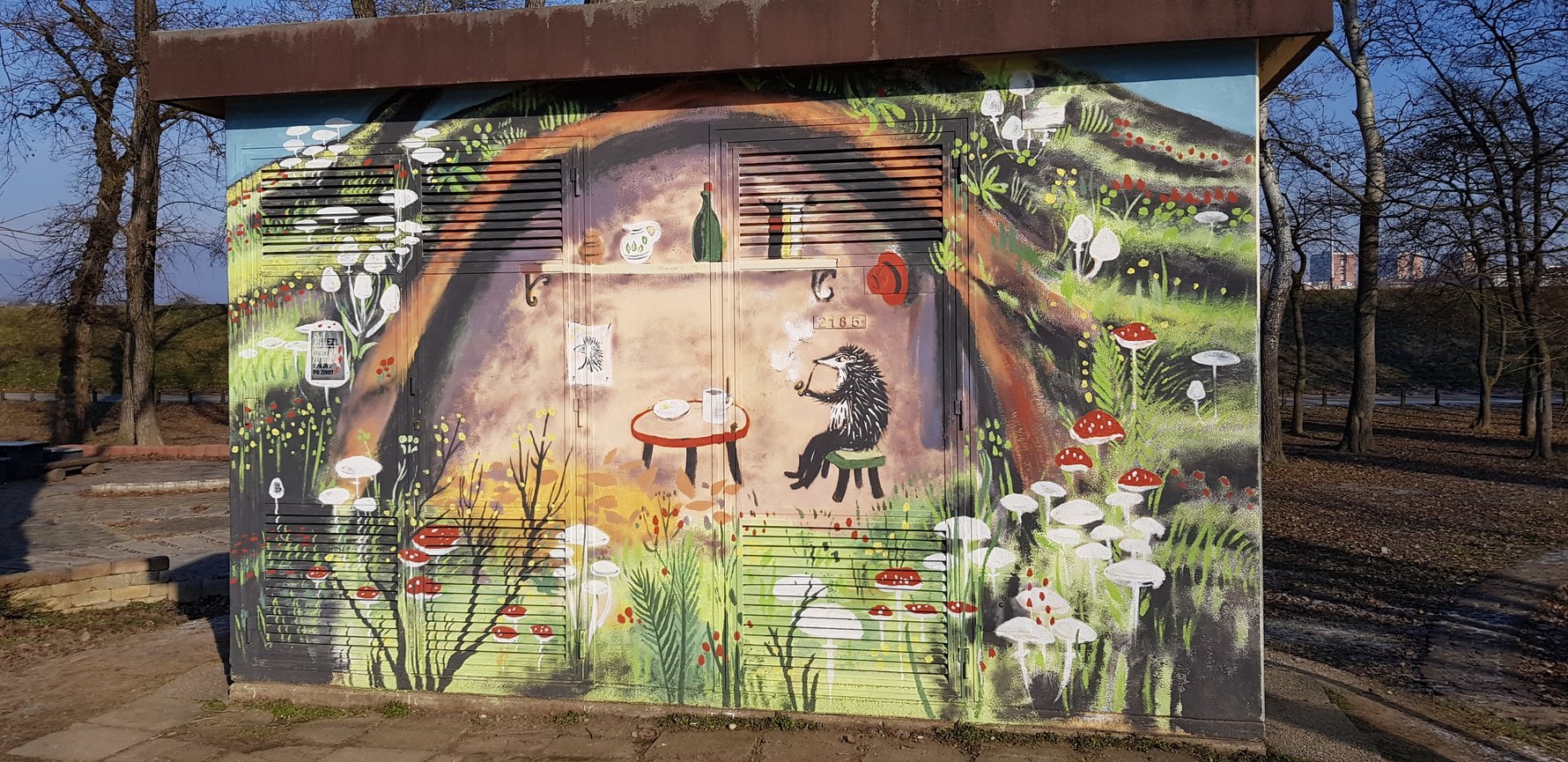 Lora Elezović

Dedicated aficionados of street art should prowl as far as the Jedinstvo factory by the Sava riverbank (seat of alternative club Močvara), the back wall of which is an outstanding gallery of murals specially commissioned in 2013. In a city that obviously has a thing about its felines, Monika Meglić's black cat is the most charismatic of a compelling bunch.

Largest mural in the city is another consequence of commercial sponsorship. the mammoth-sized cartoon strip by academy-trained painter (and eager participant in street projects) Stipan Tadić. Depicting a simple urban love story, it runs around the walls of the Konzum drive-in supermarket on Zagrebačka avenija, 4km southwest of the centre.

One of the citizens' initiatives which has contributed most to Zagreb's street-level arts scene is Pimp My Pump, an association started ten years ago to spruce up the (usually blue) water pumps scattered throughout Zagreb' suburbs and known locally as Franceki. In the old days, Franceki would have been the centre of a community that relied on them for drinking water. Nowadays, with everyone plumbed in to the municipal water supply, the pumps have lost their traditional role. Pimp My Pump decided to restore them to something of their former glory by decorating them with faces or giving them new colour schemes. The team of artists brought together by the project has devoted thought and skill to this undertaking, gifting vivacity and humour to an object that now serves as a something of a contemporary Zagreb trademark. They have also sparked interest in the public provision of water in recreational areas, leading to the installation of new pumps in areas of the city that needed them.

In Zagreb, street art has frequently gone hand in hand with social activism, and the latest street-art initiatives only serve to confirm its positive contribution to the city's public spaces.