If there's a more beautiful region in Poland, we are yet to lose to that argument! Described as Poland's little Switzerland by a number of writers, Kashubia (PL: Kaszuby / KS: Kaszëbë) is the picturesque rural area spanning 100km west of the Tri-city. Blessed with forests, lakes and rustic, pre-industrial architecture, Kashubia is the home of Kashubian people, a Slavic ethnic group whose language is often described as a mix of Polish and Low German - a legacy of the dynamic history of Northern Poland. Notable individuals that share this unique heritage include author Günter Grass and former EU President Donald Tusk. From the forests and lakes of Kartuzy to the farmlands of Szymbark and all the way out to the vast sand dunes around Łeba and further along the gorgeously beach-lined Hel Peninsula, you will rarely find such a diverse geographical region anywhere else in Central Europe. The Kashubians themselves have mythologised that God created the world in 6 days and, with all the leftover bits-and-pieces in his bag of cosmic creativeness, he created Kashubia!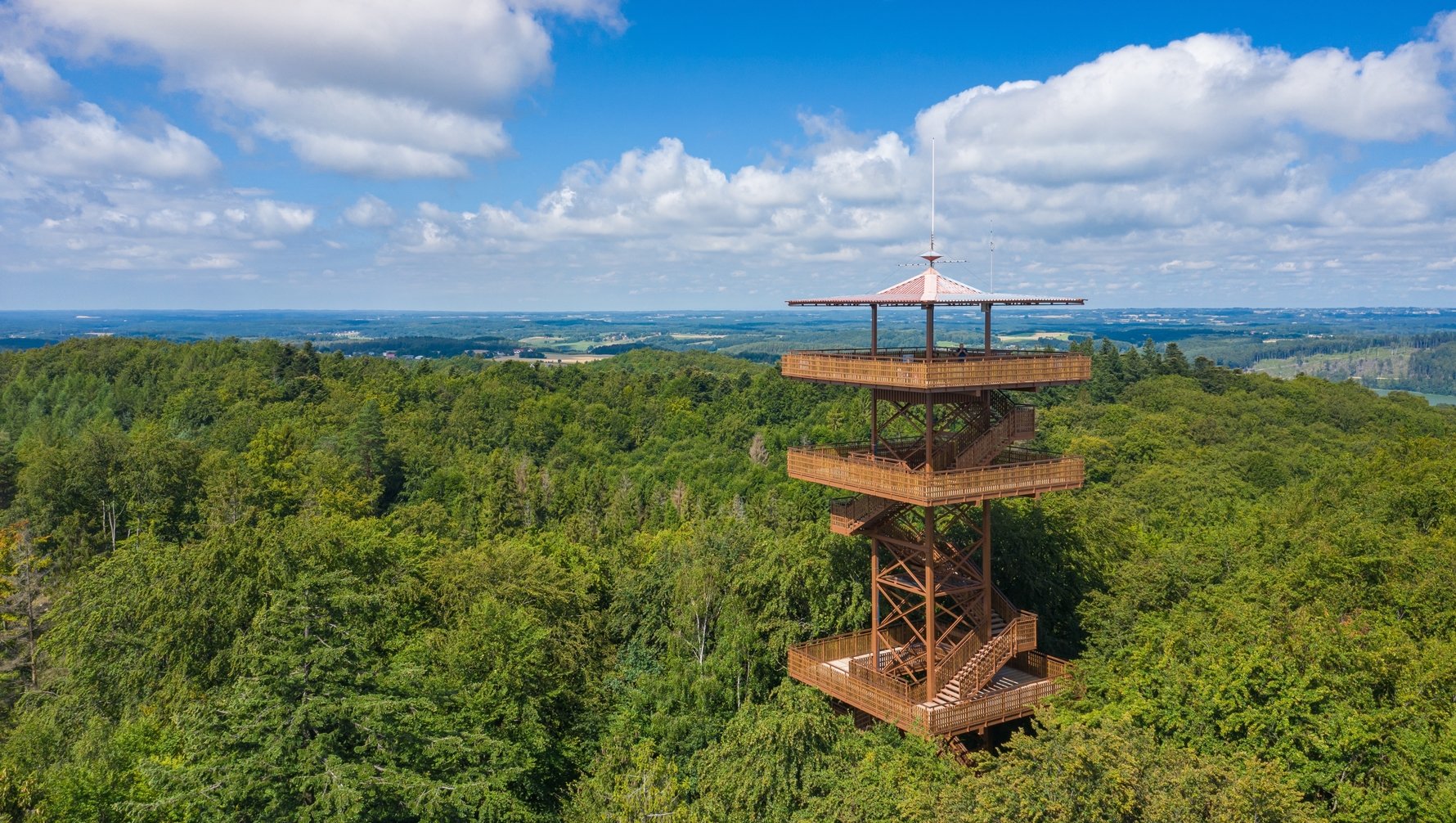 Getting out to Kashubia
While the most flexible option for travel in Kashubia is by car, regional train and bus services also depart regularly from Gdańsk Wrzeszcz and Gdynia Główna to Kościerzyna, Kartuzy, Lębork and Władysławowo. Between these major centres, minibuses service other smaller villages. Considered to be the heart of the region, Kościerzyna is arguably more-closely linked with Kashubian culture than any other town. This is the closest major center to Wdzydze Kiszewskie, where the Kashubian Ethnographic Park is located, featuring a fantastic collection of traditional houses and windmills overlooking the lake. In town, however, you will find a number of museums, most notably the Muzeum Ziemi Kościerskiej (ENG: Museum of Kościerzyna Land), which effectively covers the history of the town. You will also find a few more obscure institutions like the Accordion Museum, which includes a few hundred of the afore-mentioned instrument. Even more left-of-field is the American Old Cars Museum, which is located under the Chicken restaurant in town. Lastly, the Locomotive Museum, located in the old train depot, has a fantastic collection of trains and covers Poland's railway history. 
THE PRETTY LITTLE TOWN OF KARTUZY
The monastery and oldest building in town was founded by the Order of Carthusian Monks in 1380 and, from then on, the area grew to become a major centre in the region. Kartuzy's market square, featuring the red-brick St. Casimir's church, is pleasantly lined with trees and flowers and you'll find a number of restaurants and cafés for a lunch stop. The afore-mentioned monastery is visitable, as is the Kashubian Museum in town. There is another open air museum, featuring traditional houses and windmills in Ręboszewo, 7km south-west of town.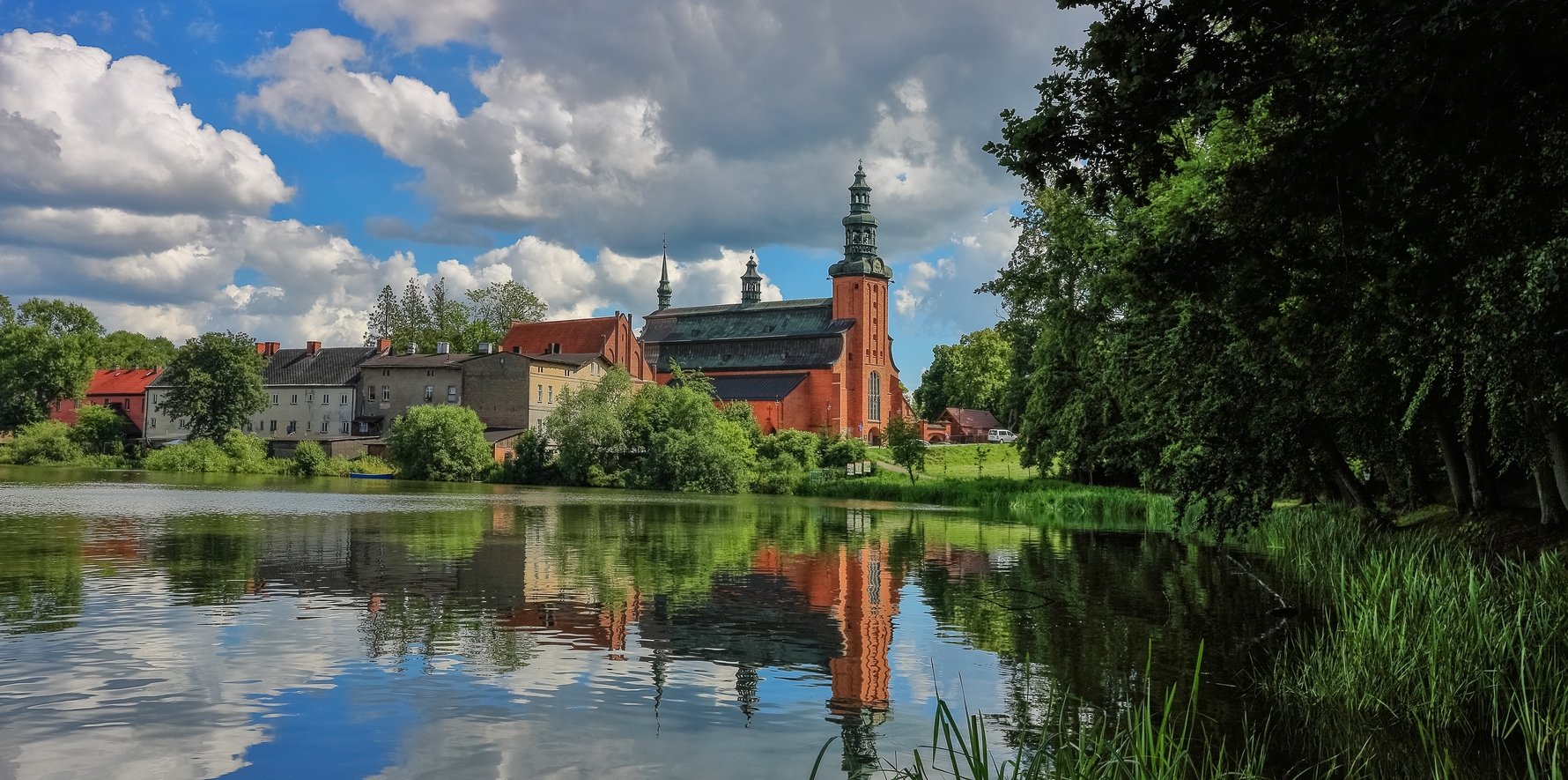 Despite what the name may conjure up, Łapalice Castle is not a medieval or renaissance construction. Construction started in 1979 by an eccentric artist who lied to get a building permit, one that specified a single-family house + studio building. What was actually proceeded has become one of the strangest sights in the whole of Poland - a Renaissance-style castle, complete with by towers, a chapel, and a subterranean area intended either for a pool or a lake basin. Most importantly, however, is the fact that the project was abandoned due to the ridiculous costs and financiers pulling out. Although it was ordered to be demolished in 2006, nothing has happened since then and it has become a popular site for Urban Exploration. We don't recommend that you enter the site, however, it's a fascinating visit! If you don't have access to a car, catch a regional train from Gdynia Główna out to Kartuzy, walk up to the cemetery in Bilowo and hike 5km through the picturesque Bilowo Forest. It should take you about 1.5hrs.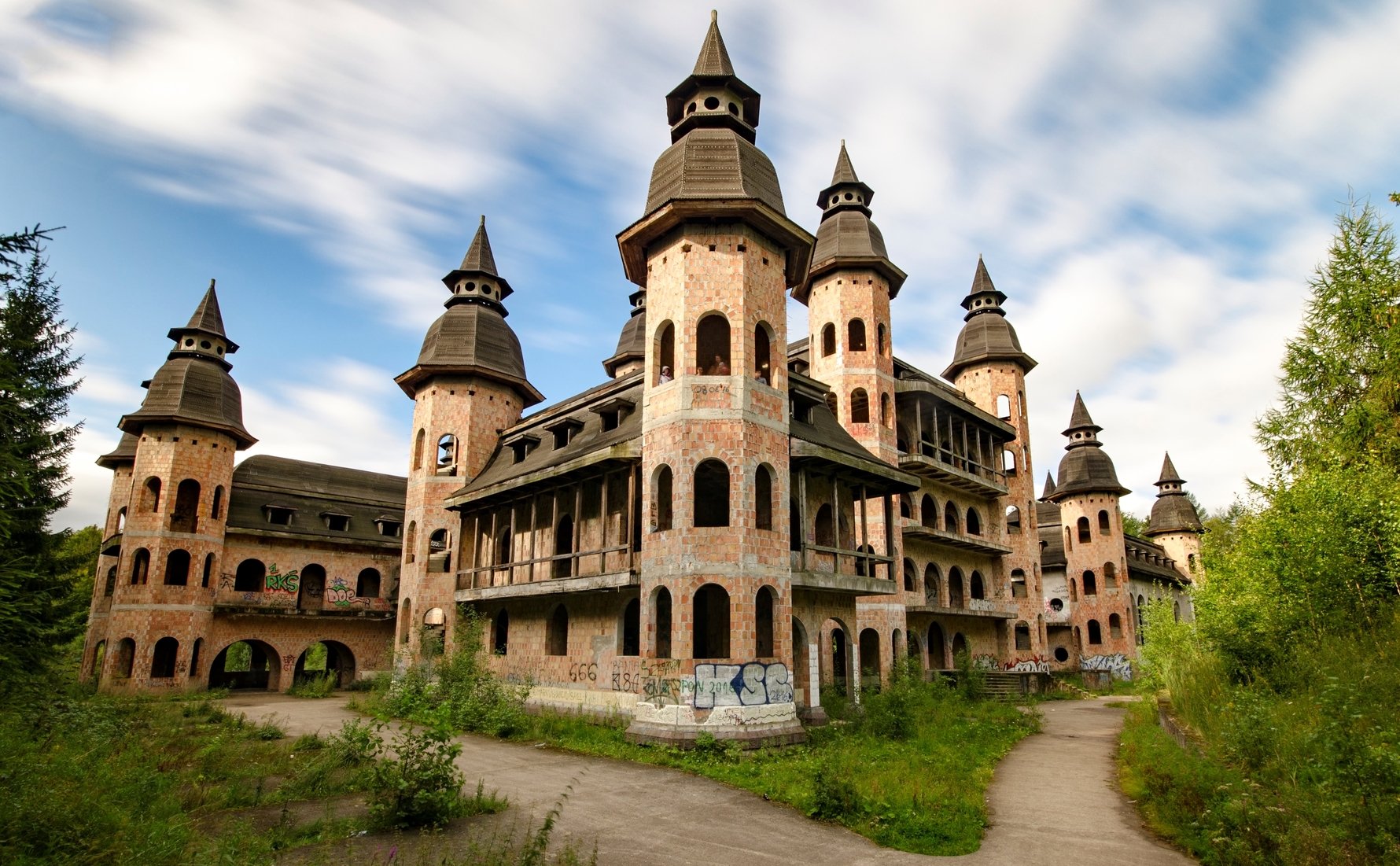 Those travelling with children should take note! Just 20 minutes drive north-west of Kartuzy, this is a rather remarkable outdoor theme park in the Kashubian countryside featuring three parks in one. Don't expect rollercoaster rides, rather a collection of exhibits following three themes - miniature reproductions of famous buildings from Poland and beyond; giant exhibits such as a former LOT Polish airlines Tupolev aircraft and vehicles with a television or film theme, such as a Mini like the one driven by Mr. Bean.  There's also a collection of old fairground attractions such as a Hall of Mirrors and a Haunted House which older visitors might find a little nostalgic. While not a destination in itself, if you're in the region and looking for something to occupy yourselves with for an hour or two, give it a look.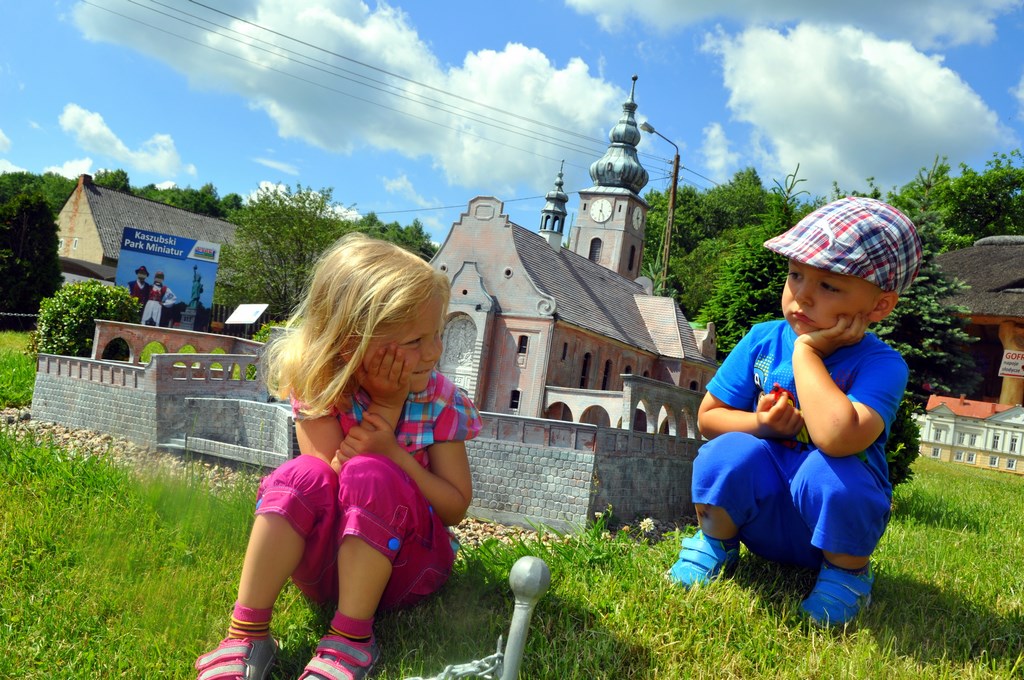 THE POTTERY COLLECTION OF CHMIELNO
7km west of Kartuzy is the picturesque little village of Chmielno. This is home to the Kashubian Ceramics Museum, which was a huge private collection moved from Kościerzyna in 1897. The museum officially opened in 1993. The pottery designs in the Chmielno collection are characterised by identifiable Kashubian motifs as well as fish-scales, tulips, lilies, wreaths, lilac branches, all complemented by wavy lines and dots.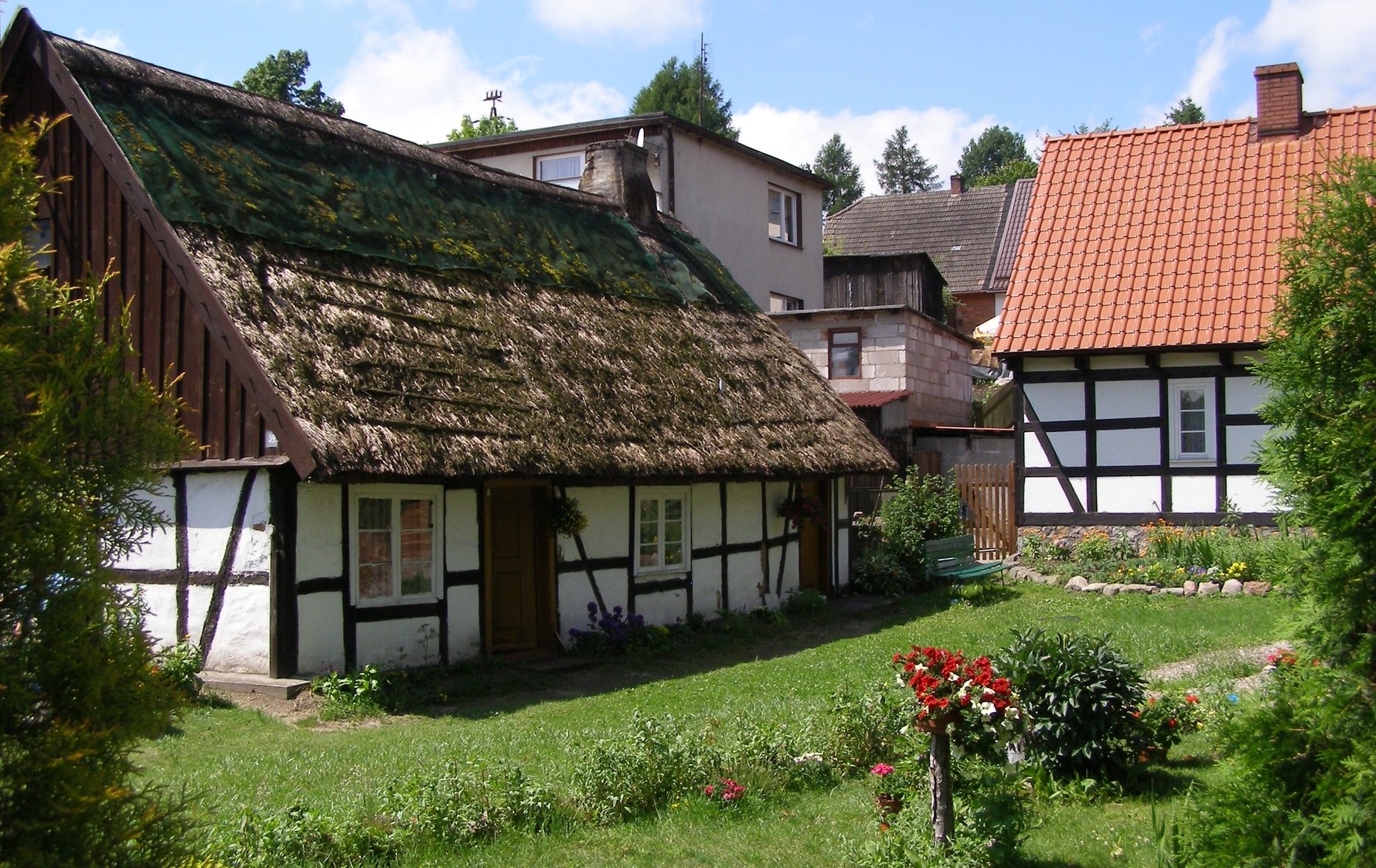 THE HISTORIC TOWN OF BYTÓW
It may not be Malbork, but it's nevertheless impressive. Bytów's main attraction is a castle, built by the Teutonic knights between 1390 and 1406. In the reflection of Northern Polish history, the castle and town has changed hands many times. Władysław Jagiełło, commanding the Kingdom of Poland, seized by the castle in 1410, only to have it ceded to the Duchy of Pomerania in 1466. There it remained until the Swedes razed it in the mid-17th century.
When Pomerania became part of the Margraviate of Brandenburg, Frederick William I of Prussia oversaw the castle's partial restoration, though it was during Communism in Poland that it was fully restored to the majority of its former glory!

There are a number of other historic sites in town, including the 17th-century Church of St. George and the gothic tower of the 14th-century Saint Catherine, which is now a museum, we really love the old romanesque railway bridge over the Boruja river.

While car is the easiest option in getting out here, a bus from Kościerzyna is the only other option.
THE EPIC SAND DUNES OF ŁEBA
The picturesque coastal village of Łeba is a holiday escape for many Northern Poles, when the beaches around Sopot and Gdynia are packed out in summer. While there are a few museums in town, focusing on everything from butterfly collection to prehistoric amber, magical tricks and yet-another-celebrity wax figure institute, Łeba's biggest draw is the Slowinski National Park, home to the biggest sands dunes in Europe, is situated 3km west of Leba. Enjoy a day cycling to and from the district, with several bicycle-rental places in town. There's also an electric bus and car service for those who aren't great walkers.
THE ENDLESS BEACHES ON HEL PENINSULA
Without a doubt the most unique shape on the Polish coastline, the Hel peninsula has seen many ships come and go over the centuries and the ancestors of the Kashubians, Poles and Prussians who stood on this headland would have no doubt heeded the impending change with each one. You'll find beaches at the localities of Jastarnia, Jurata and the dog-friendly Kużnica, just to name a few.

Parking along the peninsula can be a bit of a pain so consider getting the train from Gdynia Główna to Władysławowo and then switch to the local service. This is also a great bike route: a pleasant single road with lots of beach on either side of you. It's a 35km route, very flat and will take you 1hr 40 minutes if you go directly.  At the tip of the peninsula, the town of Hel itself is a pleasant fishing port with a Fokarium (Seal Sanctuary) and lots of Kashubian cultural landmarks.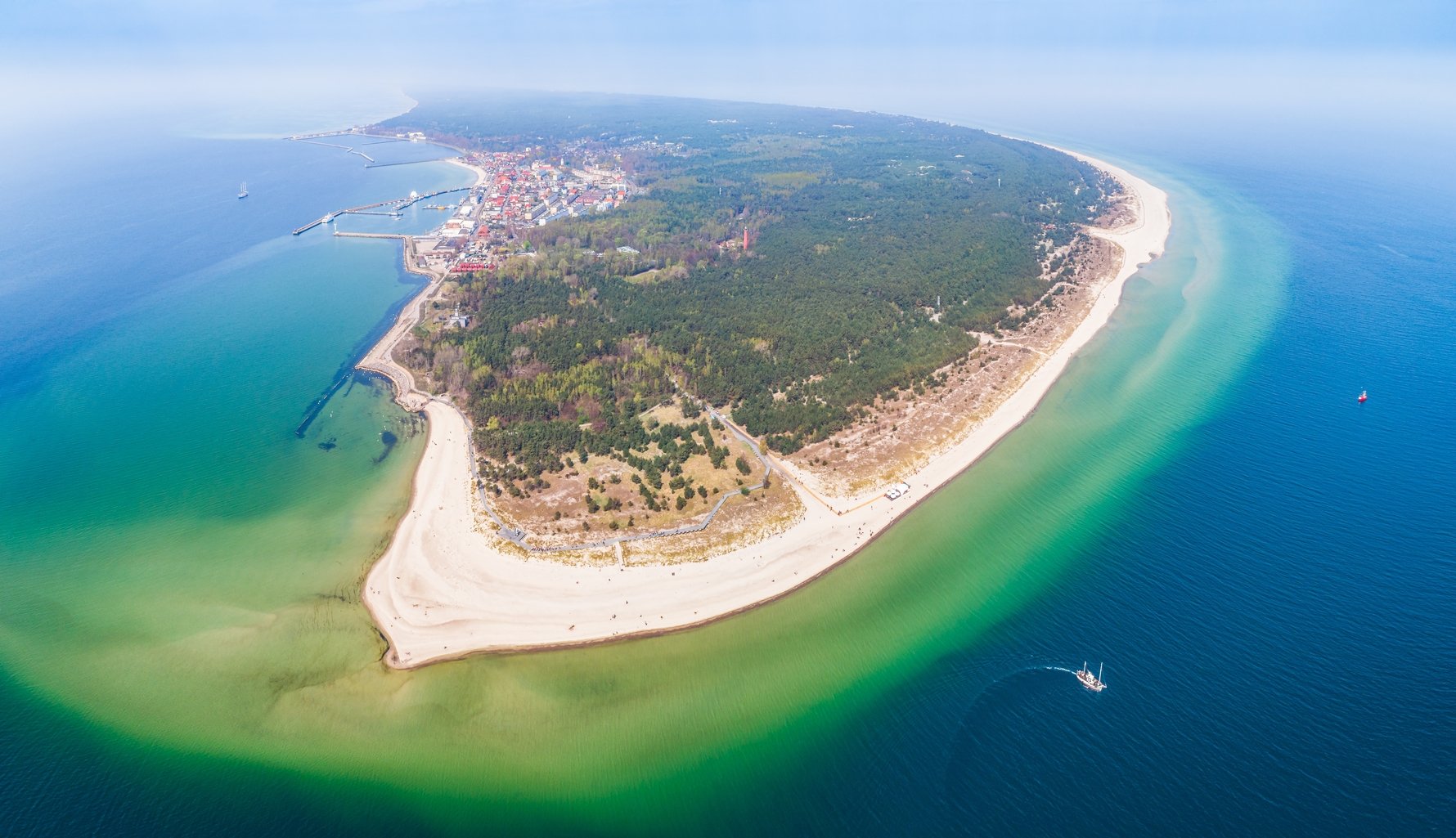 A WORLD GONE MAD IN SZYMBARK
For most Poles, Szymbark is synonymous with midrange supermarket fruit juice. Aside from fresh produce, Szymbark has a number of interesting cultural landmarks, most notably (yet) another open-air museum with traditional Kashubian housing and a Wizard-of-Oz-style house flipped on its head! In addition, the world's longest plank, at 46.53m in length, can be viewn here. Behind the open-air museum is the still-functioning Church of St. Wojciech, a beautiful wooden structure, built in 1782, featuring a large belfry stands in front of the entrance a late-baroque Rococo interior. 
HAVE A BATH IN BEER!
Just across the field from the upside-down house, you will find the Kaszëbskô Kóruna brewery, an extention of Hotel Szymbark with a number of local beers on tap that can be more than just a quick drink. In a big wooden tub, you can relax with aeration in a natural, aromatic composition of hops, yeast and beer malt with herbs. It may sound awful for some, but it great for the skin and you can have a water-based rinse afterwards. All the while, the wall tap is available for you to enjoy Kashubian Crown beer to your heart's content! If you're still not sold on the whole beer-bath thing, you can just simply dine in 'civilised' fashion downstairs and accompanied with a huge plate of Kashubian cuisine.