The best way to explore Gdank Old Town is with a copy of our beautiful new guidebook in your hands. Get your copy now!

Gdańsk Old Town is one of the largest and most-unique historic centres, not only in Poland, but in the whole of Europe. After a millennia of existence and the millions of individual lives that have passed through and contributed to this city's unique history and culture, there are now a number of places and activities that you can enjoy during your visit! What were warehouses, workshops and the state-of-the-art factory spaces in their time are now museums, restaurants, cafés and shopfronts that now service tourists instead of Hanseatic merchants. Can't decide where to start? Don't have much time? If you order or download our print guide, you can follow a Self-Guided Walking Tour that we created.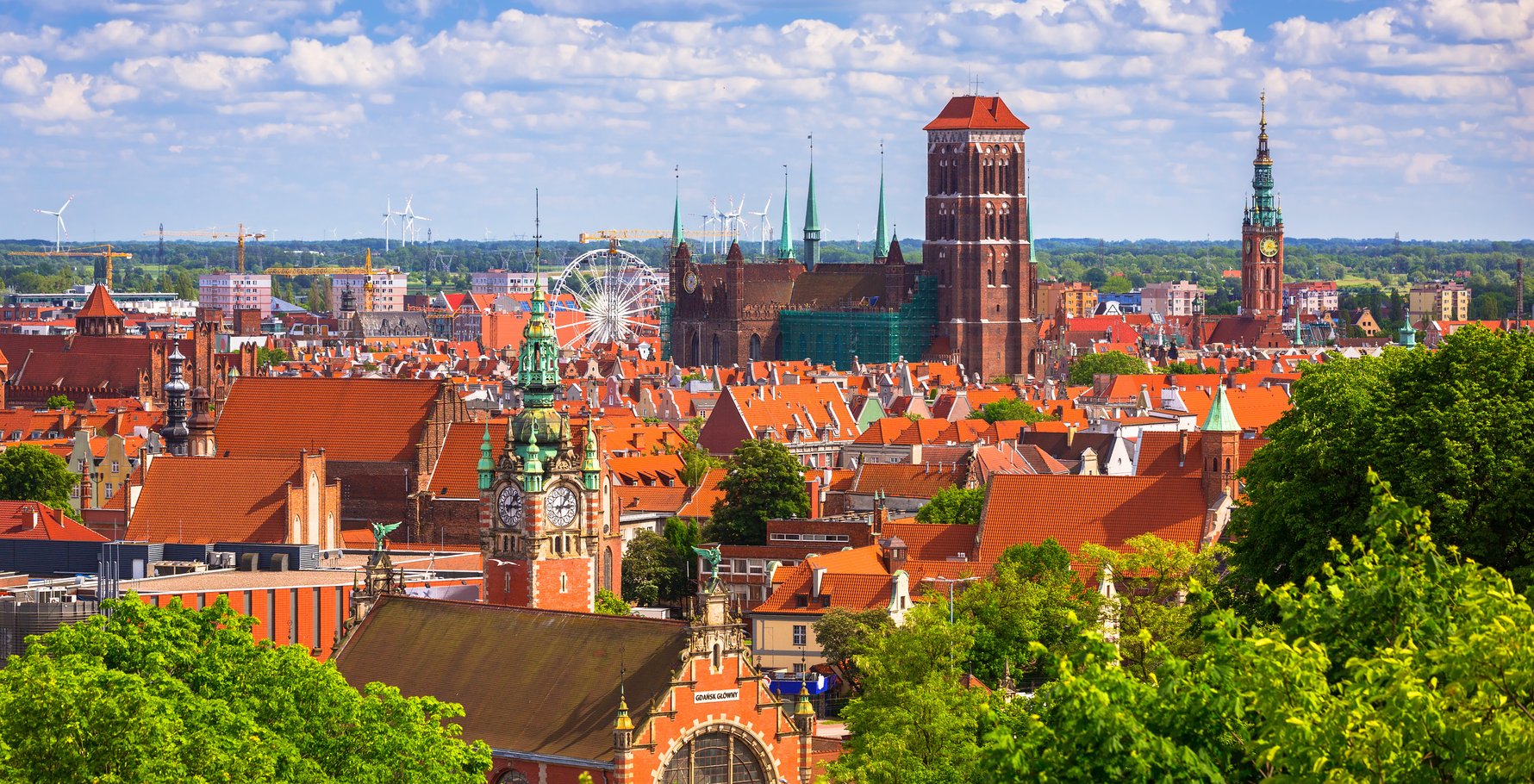 If you plan on visiting a few museums or more, purchasing a Tourist Card is a great way to get discounted entry into a number of key sites and further afield (Sopot and Gdynia) plus other options for free public transport! If you feel like getting a little more exercise, we highly recommend doing a Bike Tour of Gdańsk Old Town with Poland By Locals. An alternative way to experience the waterways of the historic centre is a Kayak tour with Gdańsk Z Kayaka. 
The Royal Way
Whenever the medieval kings of Poland would visit Gdańsk, they had a specific entry and parade route to help make a big fuss about such a public event. This route is known as The Royal Way, starting at Brama Wyżynna (Upland Gate) before continuing through the very fancy Złota Brama (Golden Gate) onto ul. Długa (Long Street),  Długi Targ (Long Market) and ending at Zielona Brama (Green Gate).

Along the way are a number of museums that are worthy of your time. The Amber Museum, which now resides in the Great Mill, is an excellent exhibition on what is commonly referred to as 'Baltic Gold', an industry that has been active in this region for as long as history can go back. Take advantage of FREE Entry on Mondays. Elsewhere, on the waterfront, you can visit the National Maritime Museum, which relates closely to Gdańsk's history as a port.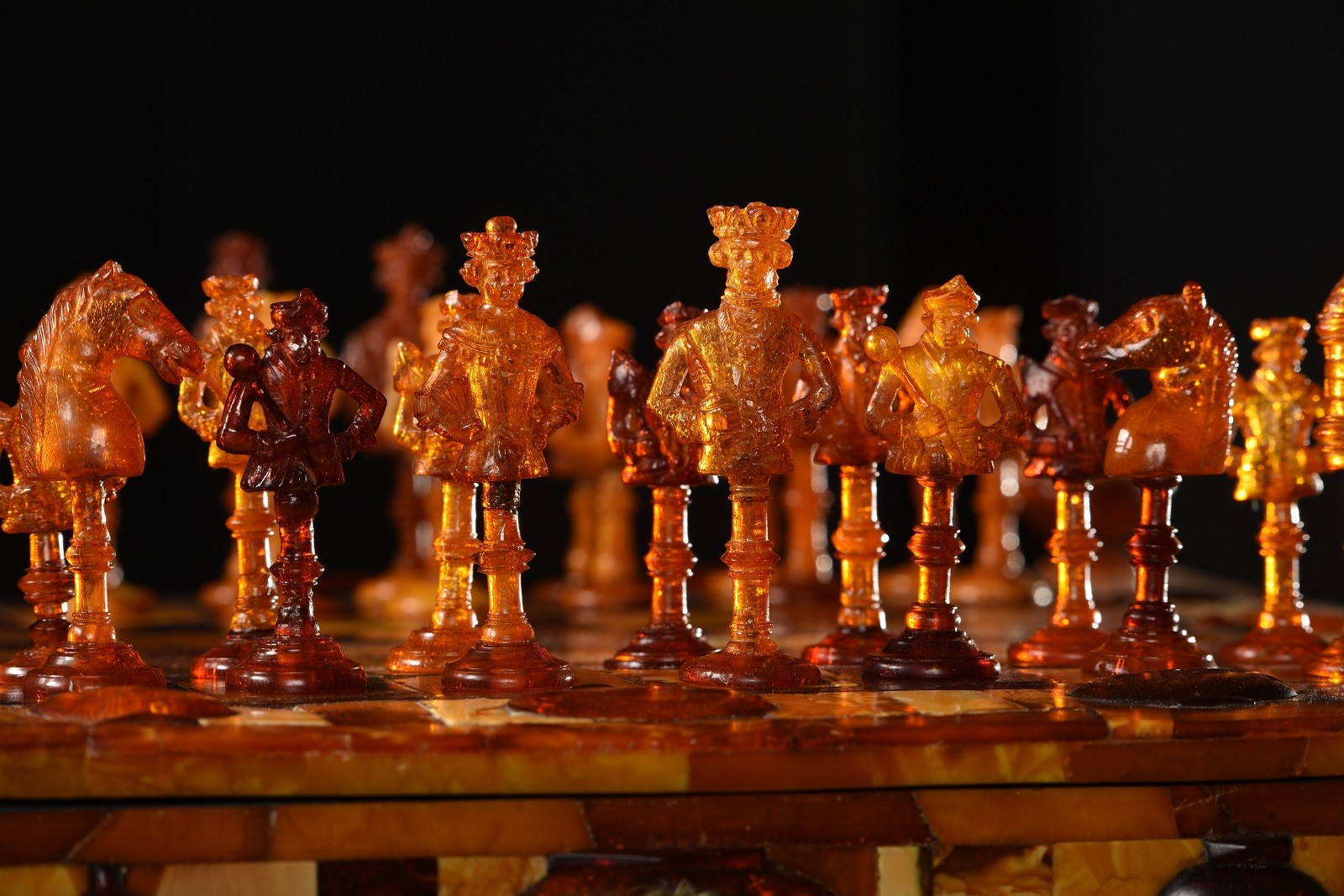 Further down on Długi Targ is Artus Court, the fancy merchant building, whose interior and collection-on-display are a sight for sore eyes! Across the road and down a little bit is a replica mercury thermometer from 1752, which is a tribute to none other than Daniel Fahrenheit, a name that you know from high school science class or the nightly weather report. He was born in Danzig in 1686 and this public thermometer, something he first invented in 1714, is a monument to him.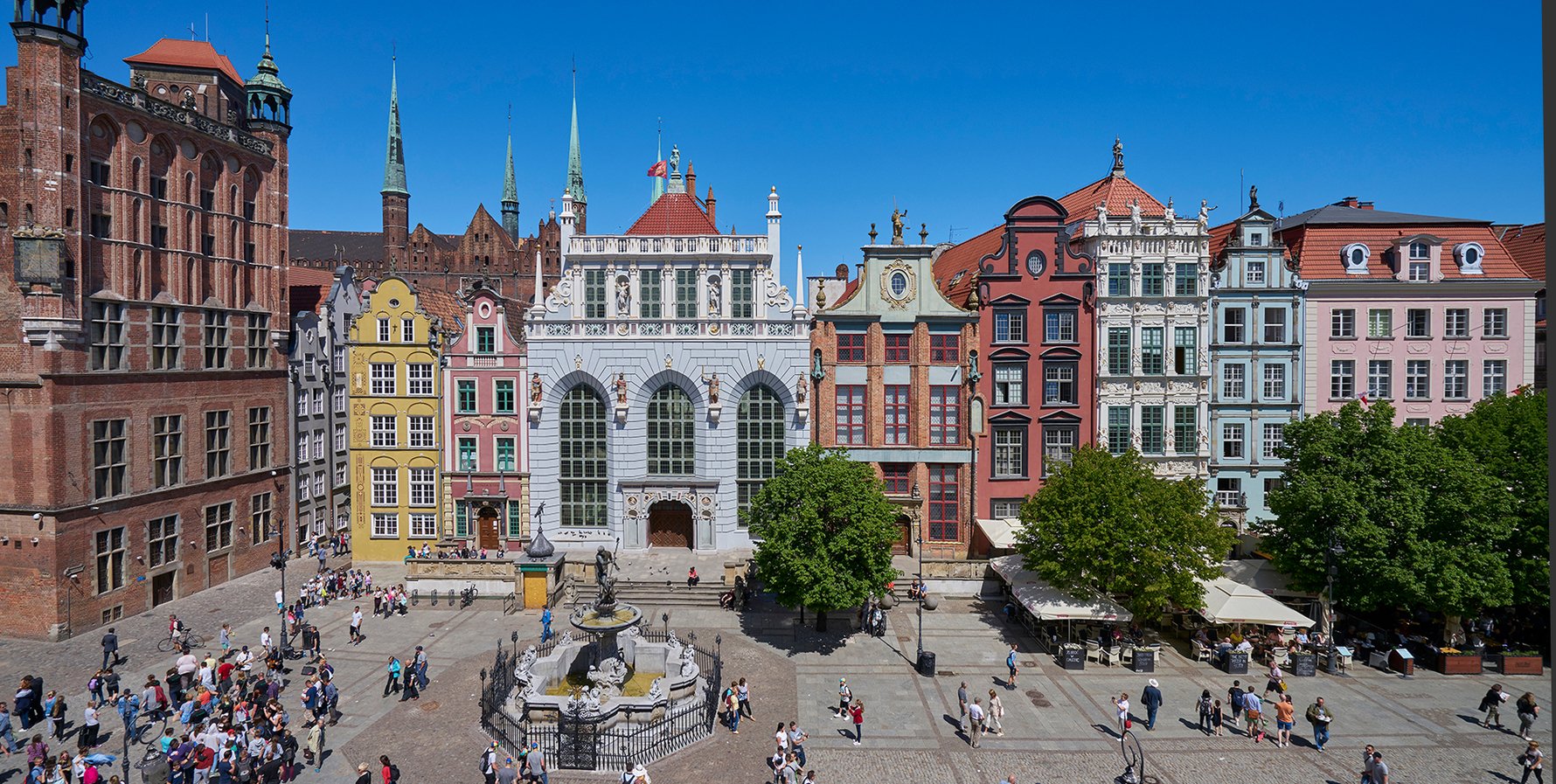 Further down, just before Zielona Brama, ​is a small and unassuming Free City of Danzig Historical Zone. ​​​​​​This museum is a fascinating look at Gdańsk between 1920 until 1939, when the city was a semi-independent state. The collection of memorabilia and artefacts give you an idea of how residents of the city saw themselves, not as Polish nor German, but as Danzigers.
 
Stroll Along the Waterfront (Długie Pobrzeże)
The Long Waterfront (Długie Pobrzeże) in Gdańsk Old Town, is the promenade stretching along the western shore of the Motława river. This is where you'll find the defining landmark of Gdańsk - The Crane (Żuraw). While its unique shape is certainly memorable, this structure is also a symbol of Gdańsk's great trading age. First mentioned in 1367, the working crane was used to transfer cargoes from ships on the canal and to assist in raising masts onto newly-built and repaired ships. At one time this was the biggest working crane in the world. It is now a part of the Polish Maritime Museum and you can view a collection of permanent exhibitions inside including one on port life between the 16th and 18th centuries.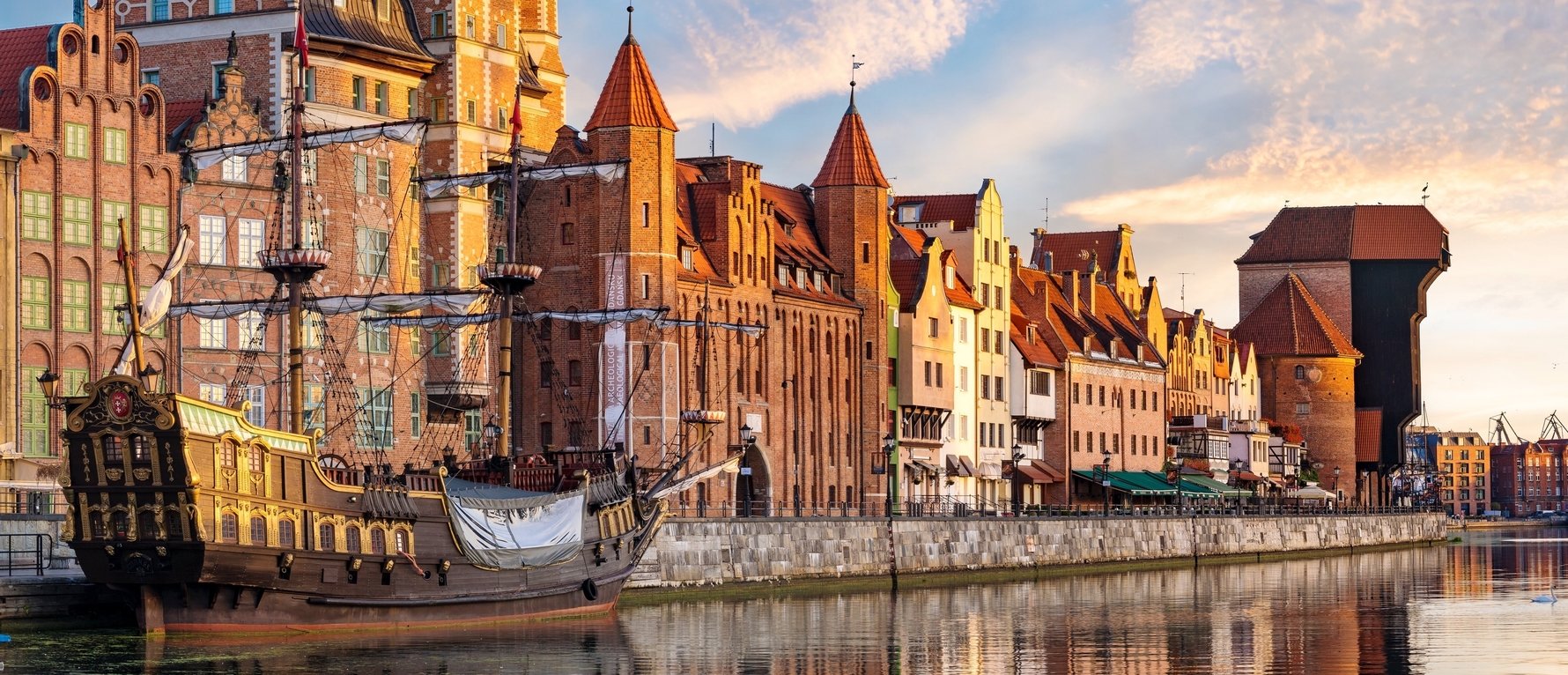 The waterfront is also home to a number of great restaurants as well as a 'water gate' at each major intersection. These are very characteristic of architecture in old Danzig. In particular, check out Brama Chlebnicka (Bread Gate), Brama Mariacka (St. Mary's Gate) and Brama Straganiarska (Trader's Gate).
 
Visit a Beer Cellar and Drink...Beer!
Piwnica Rajców, which translates as 'Counsellors' Beer Cellar', is a popular multi-tap bar in Old Town that is, as the name would suggest, in a cellar. Though it is supposed to be that of the Old Town Hall, it is infact a weird extension into the cellar of Artus Court! Nevertheless, once you purchase your first pint of Danziger, you are effectively a living historian. Congratulations! If you like the idea of drinking underground, you should also consider heading along to ul. Piwna (Beer Street) and visiting Jopengasse, another 'Piwnica' which takes it's name from the street's former name, which in turn takes its name from the beer produced by astronomer Johannes Hevelius. But I digress - Jopengasse is not just a pub, but also an impromptu museum to old Danzig. As you move about the beer-warren like a rabbit (with a beer), you can browse the old images and memorabilia of the city before it was renamed Gdańsk after 1945. The Germannic culture of brewing is something that Poland has taken on in a very successful industry and it, arguably, was something introduced through old Danzig!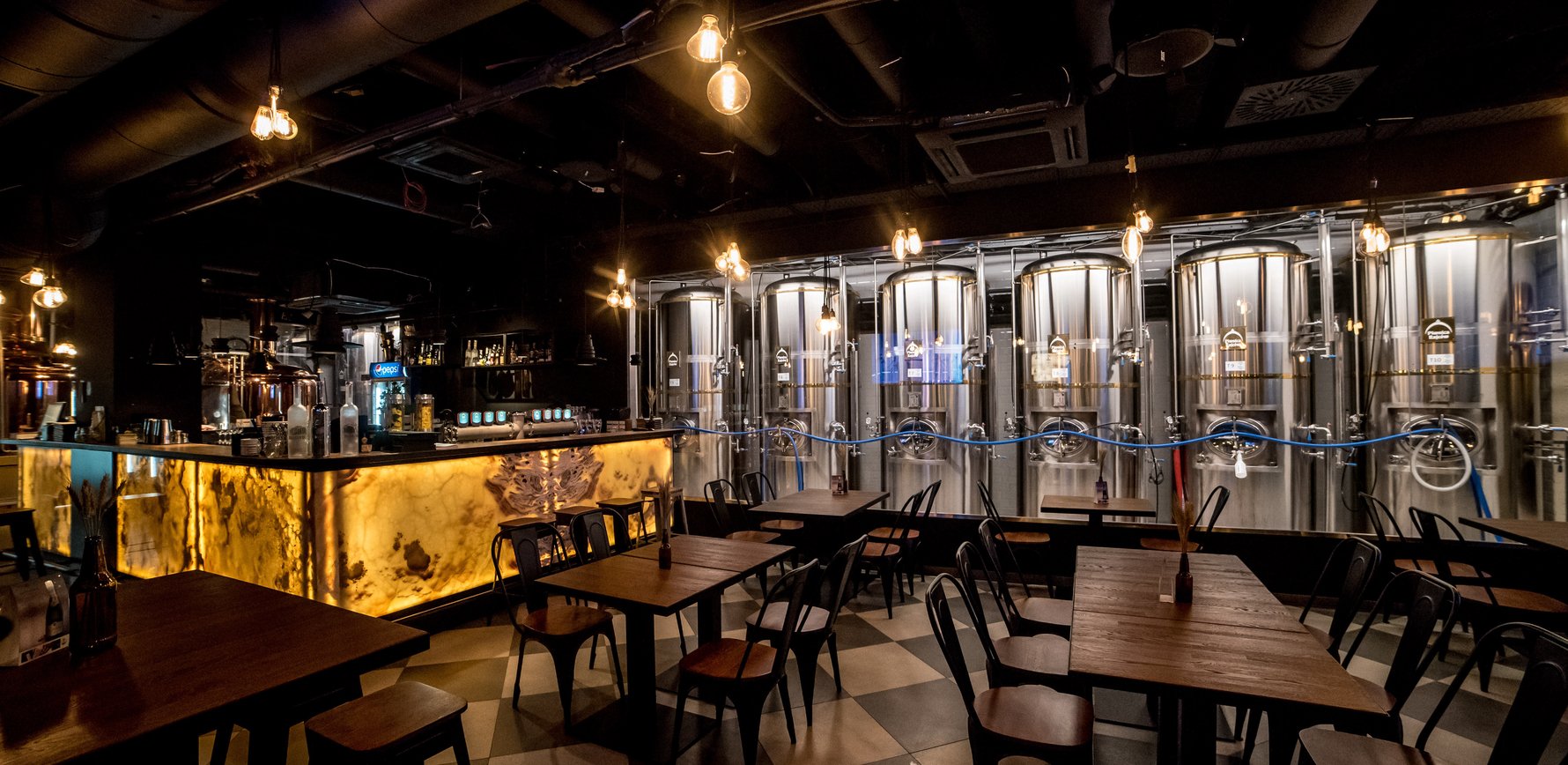 Amber Workshopping
We talked about 'Baltic Gold' before but what about seeing it in action? Firstly, if you're interested in buying amber as a gift or a souvenir, you should head down to ul. Mariacka, which is something of an 'Amber District'. Going beyond that, some of these businesses have workshops that you can visit and see amber being worked into jewellry or sculptures. We recommend Manufaktura Bursztynu S&A and also Amberstyl, where Prince William and Princess Kate visited in 2017.

While you're visiting ul. Mariacka, it's an opportunity to appreciate arguably the most picturesque street in Gdańsk Old Town. Aside the fact that St. Mary's Church sits at the top like a pretty book-end, ul. Mariacka was pieced back together with salvaged-debris from elsewhere in the neighbourhood following the bombing of Gdańsk in 1945. This is unlike other restored streets in Old Town Gdańsk which were reconstructed with new materials. Keep an eye out for the eccentric-looking drainpipes, known locally as Rzygacze (Spewers)!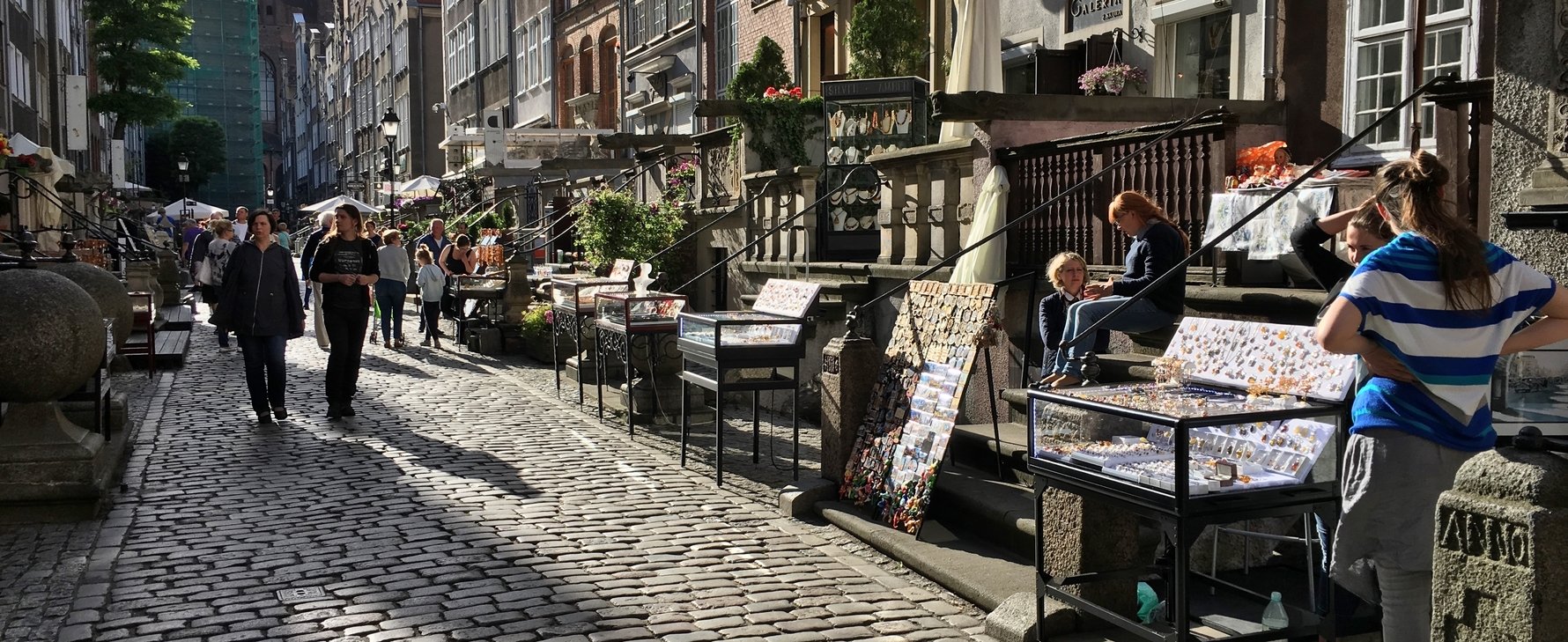 Where is the Oldest Site in Gdańsk?
It turns out that our beloved Old Town may not be the oldest part of Gdańsk! Archaeologists had suspected just to the north of the centre was probably where an earlier settlement had been, though it wasn't until 2005 that they came across the foundations of the first Dominican Church of St. Nicholas (the newer one is at ground lever) as well as vaults which were still in remarkably good condition. They are known as the Romanesque Cellars and, after years of work, it is now possible to venture down into the vault which it is believed was used by monks at meal times while a fellow brother read passages of the Bible to them. There's also an Ossuarium, which is a vault containing hundreds of bones, like something out of an Indiana Jones film! Speaking of which, keep an eye out for the ancient brick in the vault with a cross carved into it ("X marks the spot!" - If you know Indiana Jones, you'll know what I'm talking about!). These old church foundations extend into the bottom of Hala Targowa (Covered Market Hall), which have been left as they were found and can be viewed on the bottom level with some displays. The market is also a chance to sample some local produce!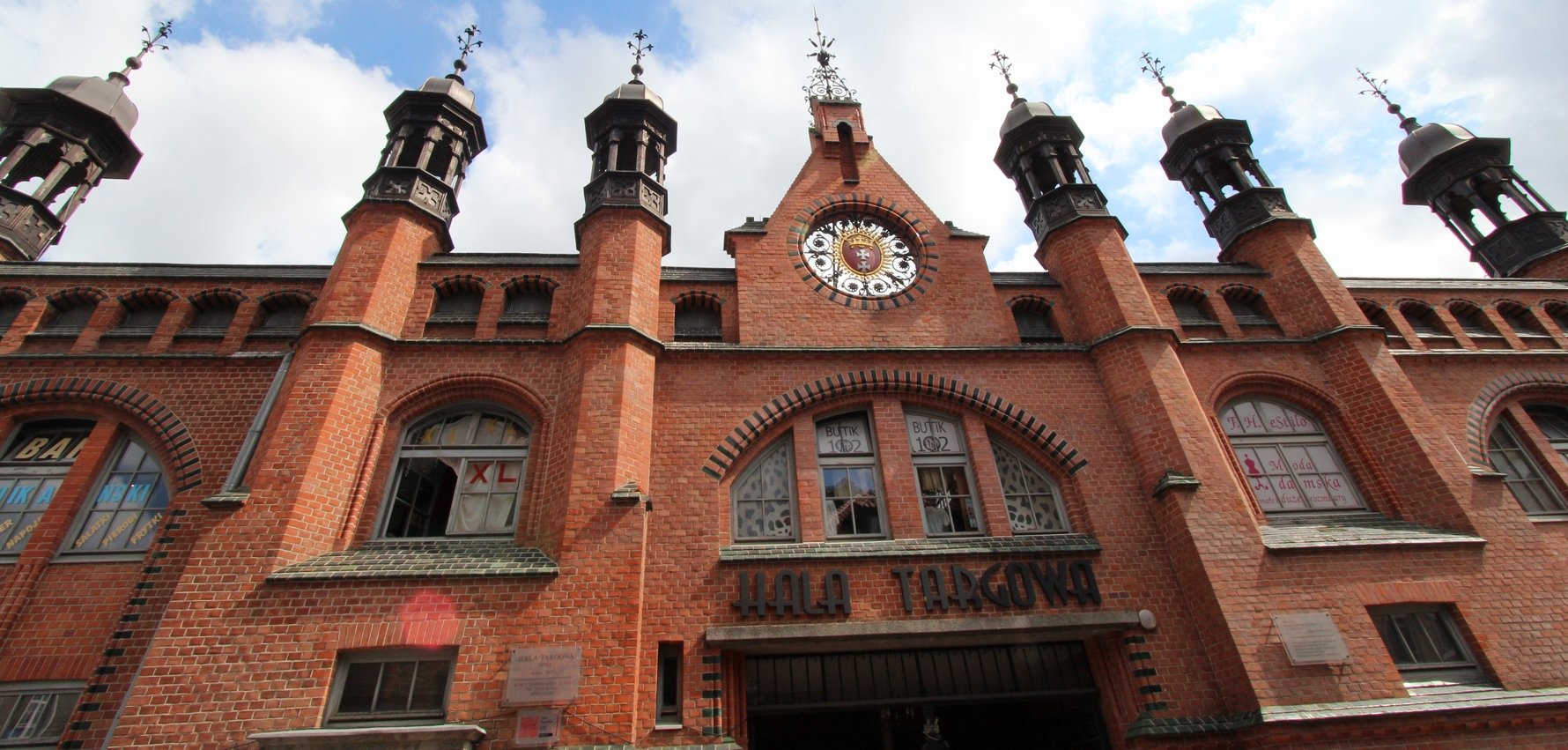 Modern Dining in an Old Granary
For many centuries, Grain was a major commodity that made Gdańsk the biggest port on the Baltic. The district of granary buildings was the appropriately-named Granary Island (Wyspa Spichrzów) and, at its peak in 1643, had 315 granaries on the island capable of storing up to 250,000 tons and servicing over 200 ships. After being levelled at the end of WWII and remaining miserably derelict for 60 years, money was finally thrown at the area in 2014 and it has now been repurposed as a commerce, hotel and food district. If you choose to cross over and visit, make sure you visit the Słony Spichlerz Restaurant Market. This is a fantastic culmination of international cuisine where you and your group can purchase whichever dish you please and dine together with a view back across the Motława of the Long Waterfront.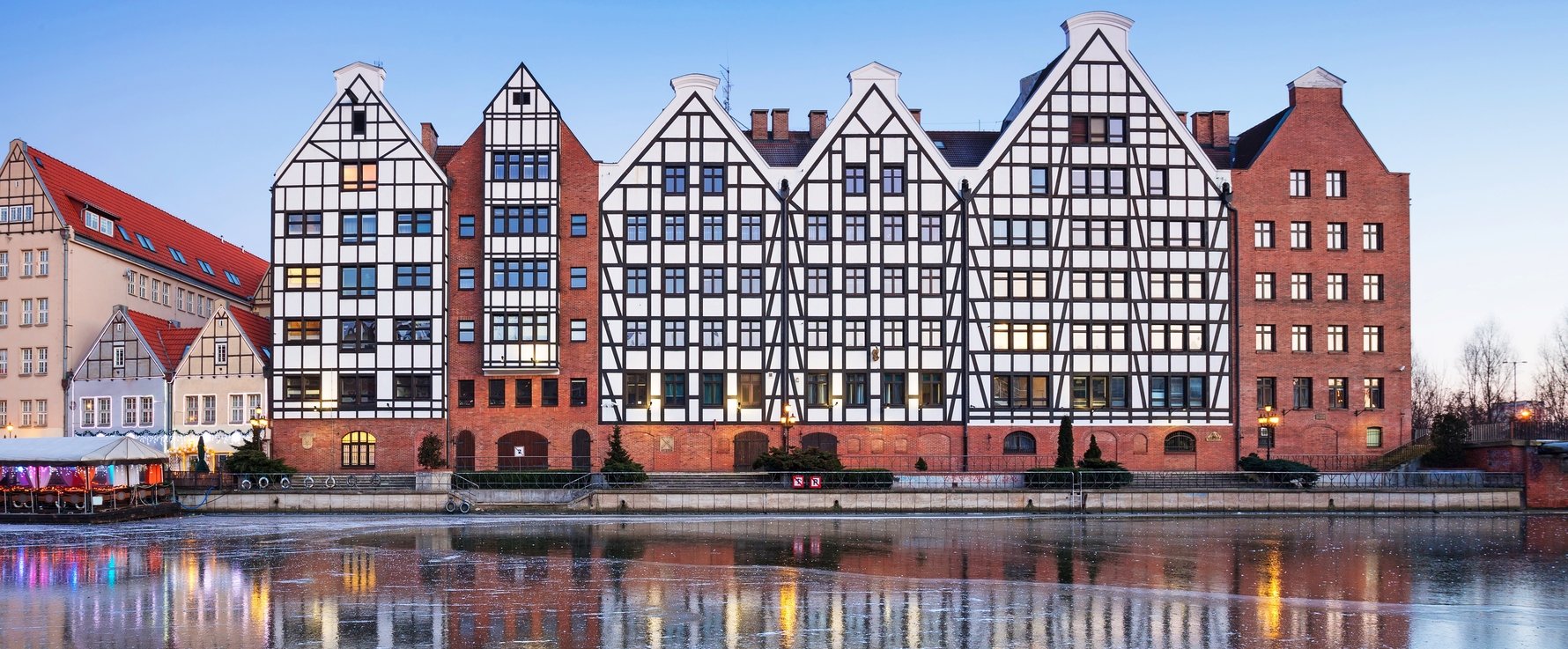 Just north of Granary Island and connected by footbridge is Ołowianka Island, which offers more sightseeing opportunities. The old powerhouse building, for example, is now The Polish Baltic Philharmonic building. Next door in a few more repurposed granaries is the home of the Polish Maritime Museum, where you can also visit the SS Sołdek Ship Museum.

The Best View in Gdańsk
Gdańsk's most visible landmark, St. Mary's Basilica, is also the tallest in the Old Town. Safe to say that it also offers the best views!  The 78-metre tower, which involves climbing 405 steps, houses a viewing platform and has benefited from a recent 3.3 million Euro renovation. The church is FREE to enter, but the tower will cost 14zł. While you're there, you should check out the enormous astronomical clock dating from 1464. Its complex dials show the time and date, phases of the moon, the position of the moon and sun in relation to the zodiac signs, and the calendar of saints. Adam and Eve ring the bell on the hour. According to legend, the clock's creator had his eyes gouged out so he'd never make a clock to better than this one. You'll hear this story about every astronomical clock in Europe, and it makes you wonder why mediaeval clock-makers ever accepted commissions.