Our month long #JacarandaInYourPocket2022 celebration has come to an end and its been such a pleasure sharing our bloom-spotting experiences with you, and seeing both new and familiar faces join us. Our goal as Johannesburg In Your Pocket is to encourage people to explore and connect with this city and this is what underpins these experiences, bringing people to places they wouldn't normally venture and showing them new ways to enjoy the city. We have loved seeing you wander the streets in search of the perfect photo opportunity, in Joburg and Pretoria for our photowalks, be wowed by our bloom-spotting bus experience, socialising on our bike rides and revving your Vespa engines. This year our photo competition received a record-breaking 872  submissions.  
 
A big thank you to all of our hosts and partners The Gautrain, voco Johannesburg Rosebank, Radisson RED Rosebank, The Tyrwhitt, and The Playground Market, who helped make this possible. And of course, to everyone who joined us for these experiences. We can't wait to share more of them with you and are already planning some exciting new things for next year.

We would also like to thank all those who bought tickets for our walking and cycling experience – making it possible for us to donate R10 000 to the Rosebank Homeless Shelter (Sisters of Mercy Immaculata Hall). 

The winners of this year's photo competition will be announced on Thursday, November 24 in our weekly newsletter. Sign up here. 

If you're looking to relive some of the experiences, or see why you should join us next year, read on for our #JacarandaInYourPocket2022 wrap-up.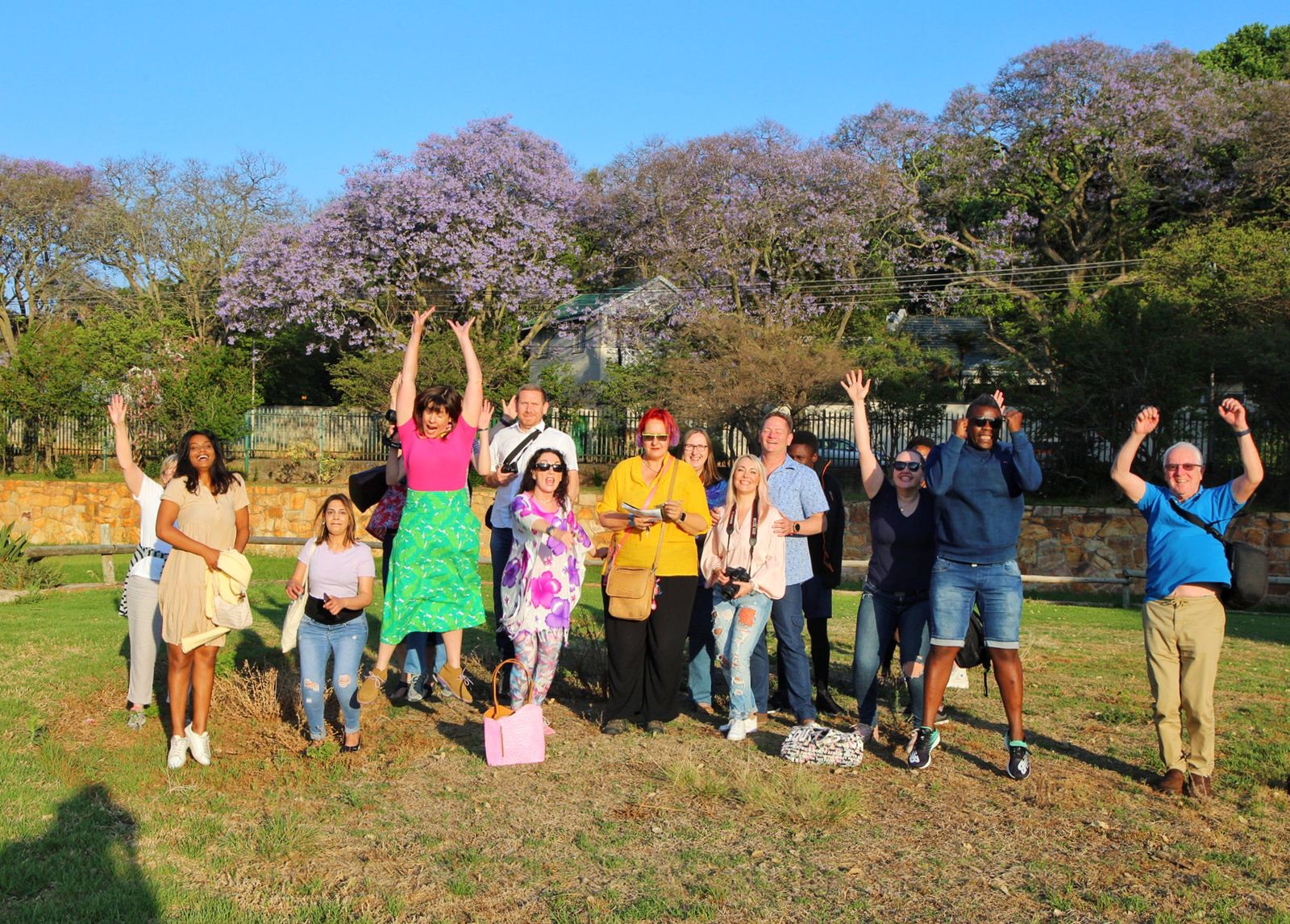 Joburg jacaranda photo walks
#JacarandaInYourPocket2022 collaborated with three amazing photographers to create dedicated jacaranda photowalks.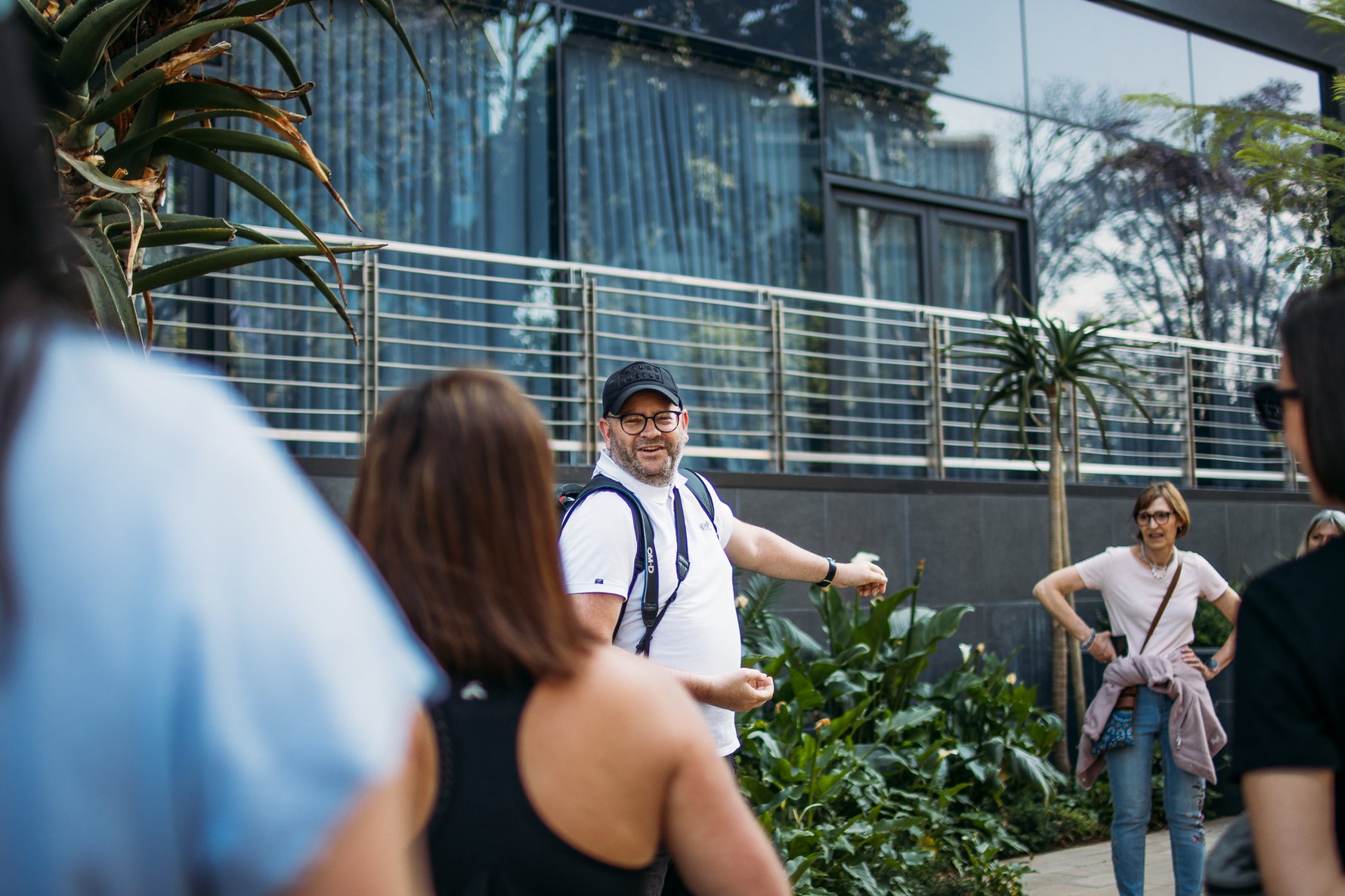 The first of nine experiences was a morning photo walk with travel blogger Ryan Enslin. Ryan was chosen as a 2022 host for his unique eye for travel photography. He captures both the big bold landscapes and smaller intimate moments of travel in South Africa.

Known on Instagram as My Lime Boots, Ryan's photo walk started bright and early at Rosebank's voco hotel at 07:00 with much-needed coffee and delicious pastries, before setting out in search of jacarandas.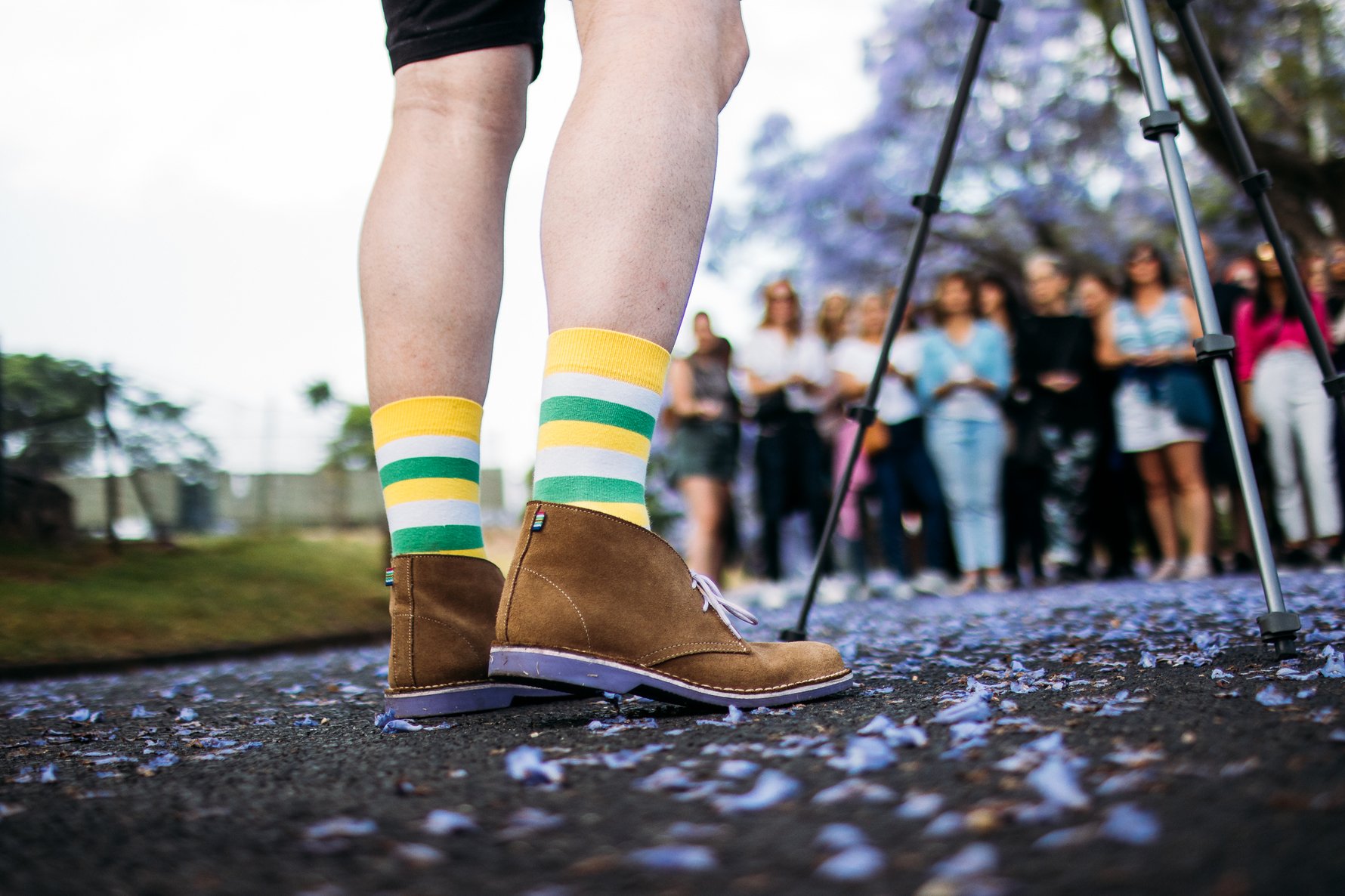 As a partner, Veldskoen provided Ryan and our team with jacaranda-soled shoes which he wore proudly with colourful striped socks in typical 'My Lime Boots' fashion.

The morning walk ended at Radisson RED's rooftop bar with fresh fruit, a delicious smoothie bar and awe-inspiring views over Joburg's jacaranda streets.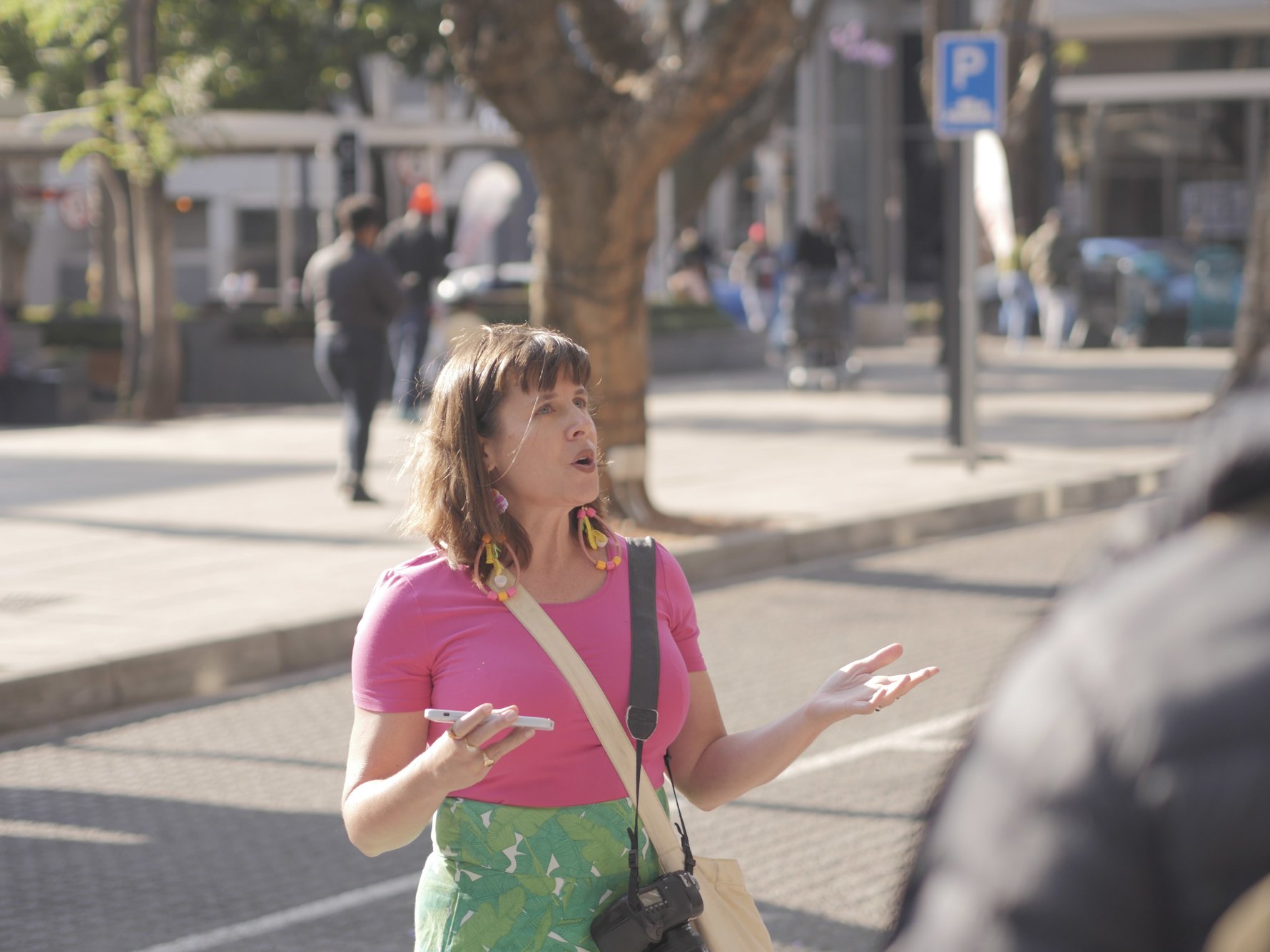 Our second photo walk was hosted by Heather Mason – an American blogger and photographer living in Johannesburg. Heather who is known as 2Summers on Instagram was selected to guide the walk because she captures unexpected beauty in Johannesburg. Her blog promotes Joburg by highlighting weird and wonderful places and encouraging people to explore. 

The tour started with coffee and pastries on the plush velvet couches at voco hotel, Rosebank. Heather then gave some pro tips for shooting on phones or cameras before we set off to put her advice to use. 

The walk went along Bath Avenue where the walkers stumbled across witches, princesses, pirates and mermaids in search of Halloween candy! As an American, Heather was horrified to discover kids trick or treating on the Saturday before Halloween, but it made for delightfully fun photography. 

We ended the walk at a penthouse suite at The Tyrwhitt in Rosebank where we met up with cyclists returning from one of our jacaranda experiences hosted by Kennedy Tembo of Microadventure Tours. We were welcomed to the penthouse apartment on the ninth floor for bubbly and canapés.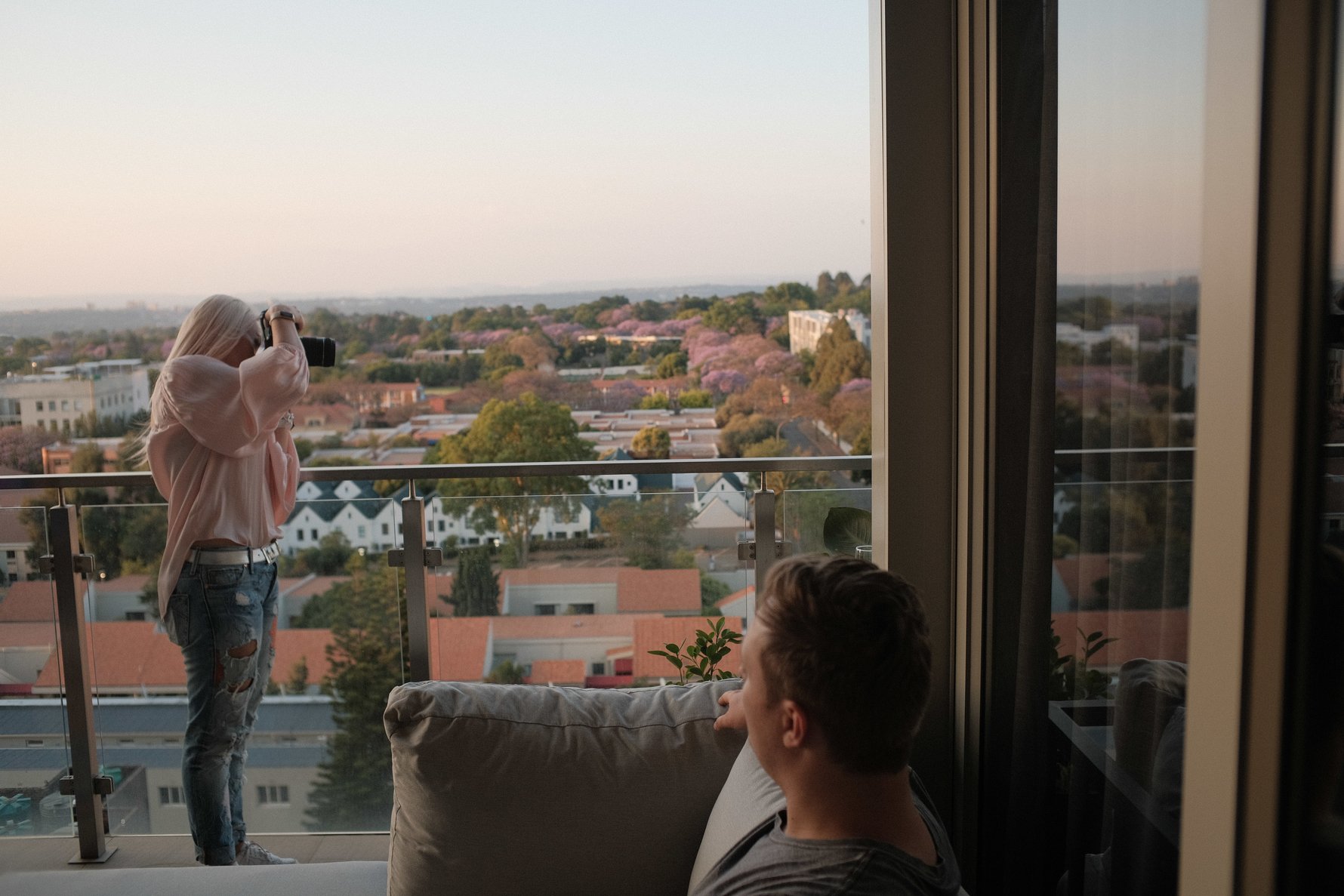 As the sun set over Joburg's skyline, everyone shared their photos and Instagram handles to stay in touch with new friends. 

When the last photo walk took place at the beginning of November, heavy rainfall had washed away most of the purple blooms but that didn't stop the fun at our last guided walk hosted by documentary photographer Andile Bhala. Andile's photography captures history and emotion in everyday scenes in South Africa.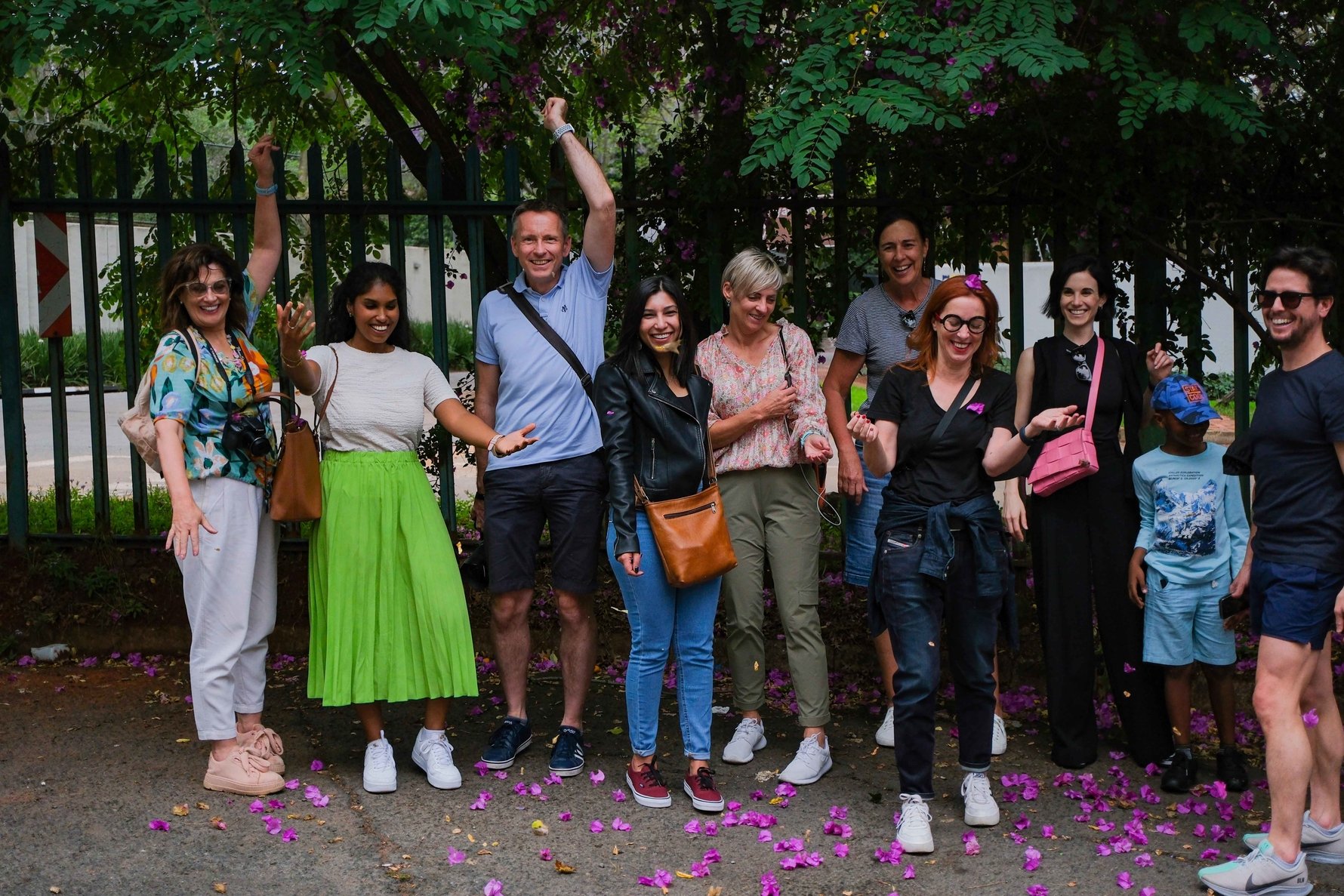 Along the way photographer Clare Appleyard shared her tips on capturing the season. Our walk ended at The Tyrwhitt penthouse with bubbly and delicious canapés. 
 
A memorable two-city photo walk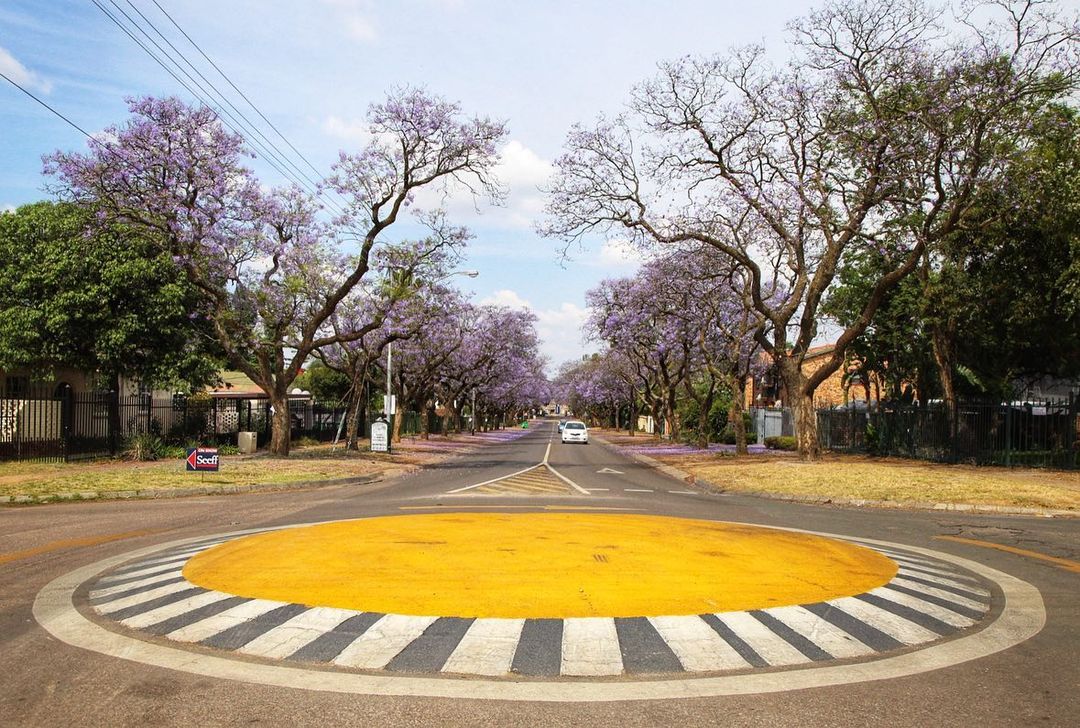 Our signature invited event was a Two-City Photo Walk with professional photographers, media, and previous competition entrants.

The walk, in partnership with The Gautrain, gave photographers a chance to view the blooms from a different perspective, across two cities – Johannesburg and Pretoria. And in true Gauteng fashion, this year's walk was met with blazing sunshine, heavy thunderstorms, hail, and non-stop fun and laughter. 

Twenty-five invited city and landscape photographers gathered at Rosebank's voco hotel for coffee, buttery croissants and blueberry muffins. After a quick introduction, we headed to the Rosebank Gautrain Station led by talented photographer Bertrand van der Berg.

The Gautrain is undeniably the best way to travel between Gauteng's two most beautiful jacaranda cities. The journey took just 40 minutes to reach Hatfield Station with scenic views along the way.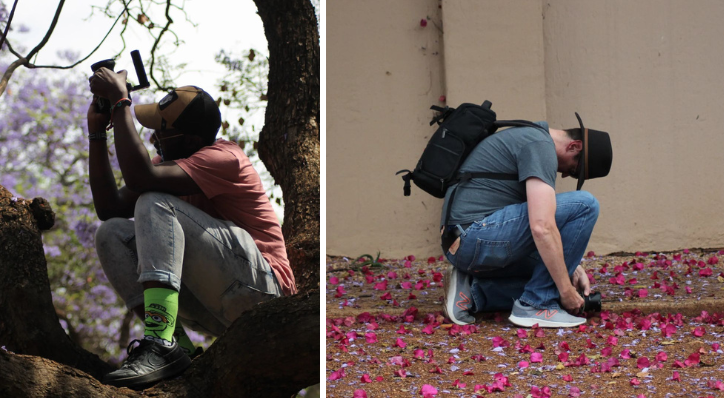 Bertrand wasted no time when we reached Hatfield. After a short sunny walk, we were surrounded by suburban jacaranda-lined streets. Photographers were on the floor, up trees, and in the bushes trying to get the perfect jacaranda shot. 

Engrossed in purple blooms, we didn't notice the dark clouds rolling in and small drops starting to fall. All of a sudden, we were caught in the throes of a fierce thunderstorm with lightning and heavy winds. When the hail began, even the most hardened photographers were huddled together under a small shelter.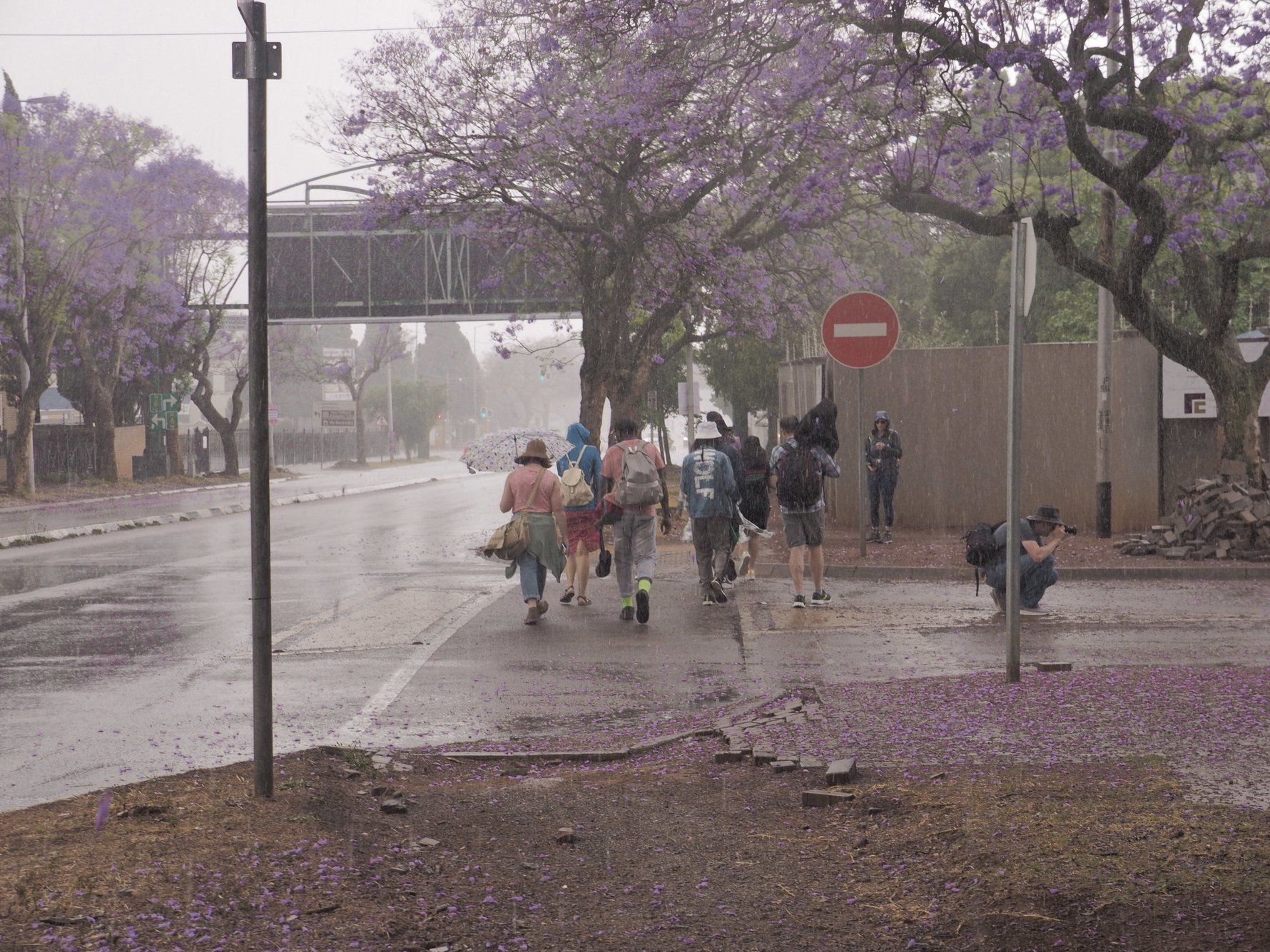 For most, this would be the end of the day. Fun over. But with determined photographers, you get a very different response. For these smiling faces, it was yet another opportunity to capture the landscape and experiences of our dynamic province. 

After a quick Gautrain journey back to Rosebank, our group of soaking wet photographers were welcomed at Radisson RED with comfy couches, blankets, cocktails, and plentiful snacks. The perfect end to a memorable day of sun, rain, wind, and hail in two jacaranda cities. 
Bloom-spotting bus experience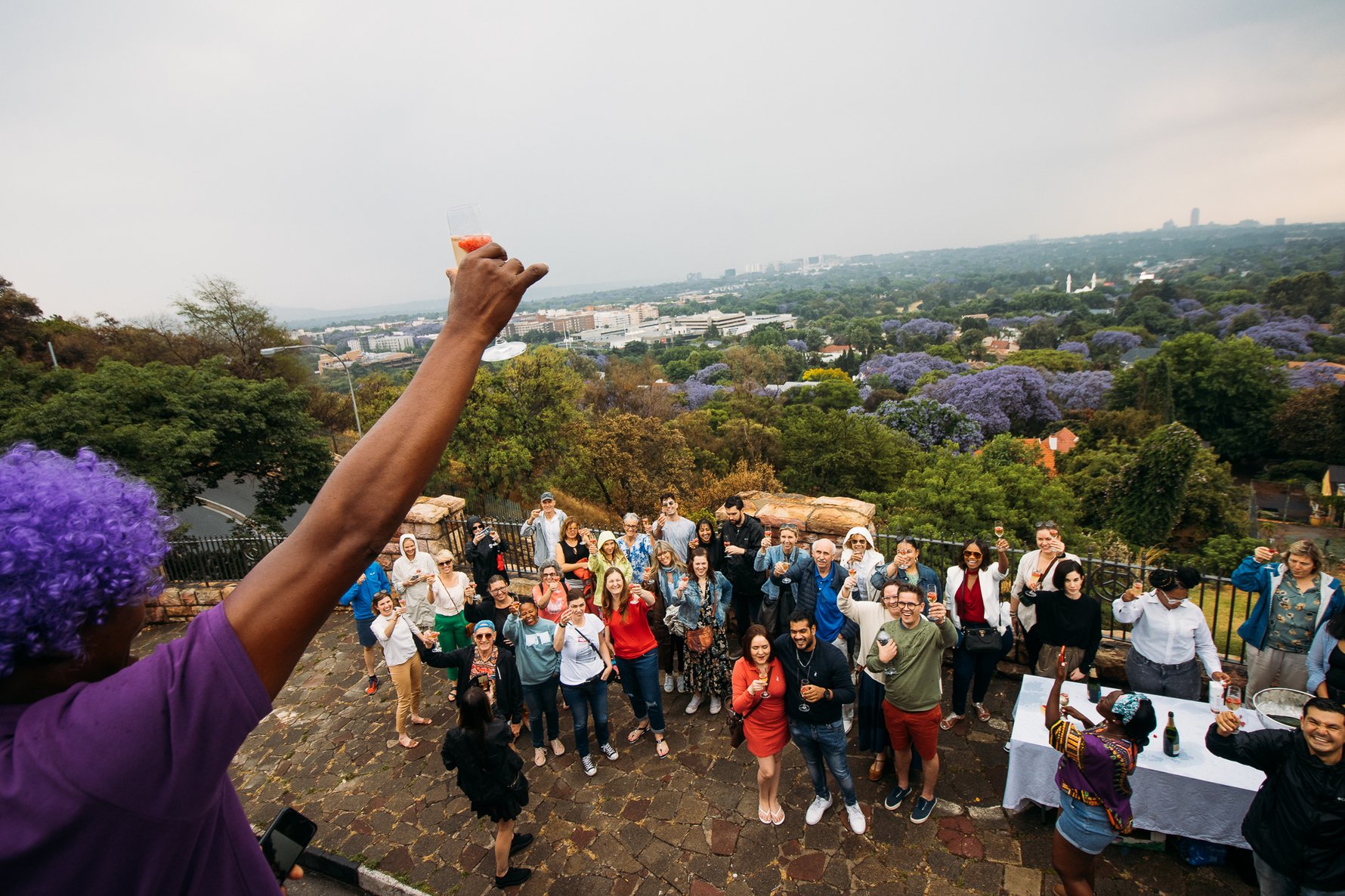 The #JacarandaInYourPocket2022 Bloom-Spotting Experience was a fun and relaxedway of exploring Joburg in the City Sightseeing Red Bus. We curated a special route for this with our collab partner Kennedy Tembo of MicrAdventure Tours. 

We gathered at the bus stop in Rosebank, eyeing the grey clouds with hesitation. Luckily, Joburg residents are used to light showers that pop out of nowhere in springtime so guests were armed and ready with umbrellas and raincoats. 
 
The bus took us through Houghton and stopped at Munro Drive for a glass of bubbly and a breathtaking but soggy views over Joburg's epic trees. Our guide, Kennedy Tembo of MicroAdventure Tours, was a fun and dynamic host making us laugh through the journey, even when it began to rain.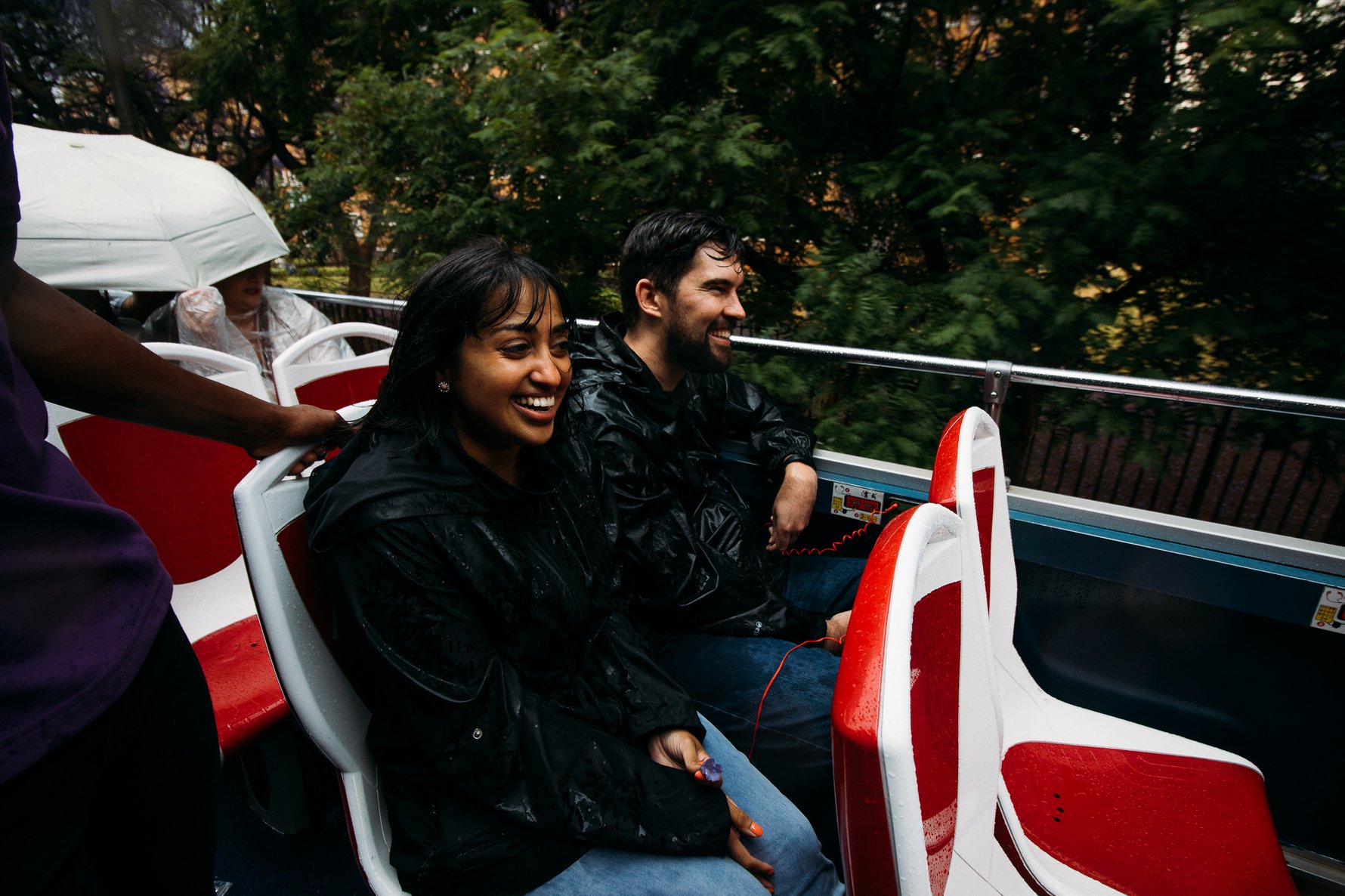 The bus stopped in Braamfontein for lunch and dancing at The Playground Market. Chef Jean Marc Tshidibi prepared a harvest table feast with seafood paella, mushroom and leek paella, cheese, fruit, nuts, and dessert. With our bellies, we went to the upper deck to dance it off.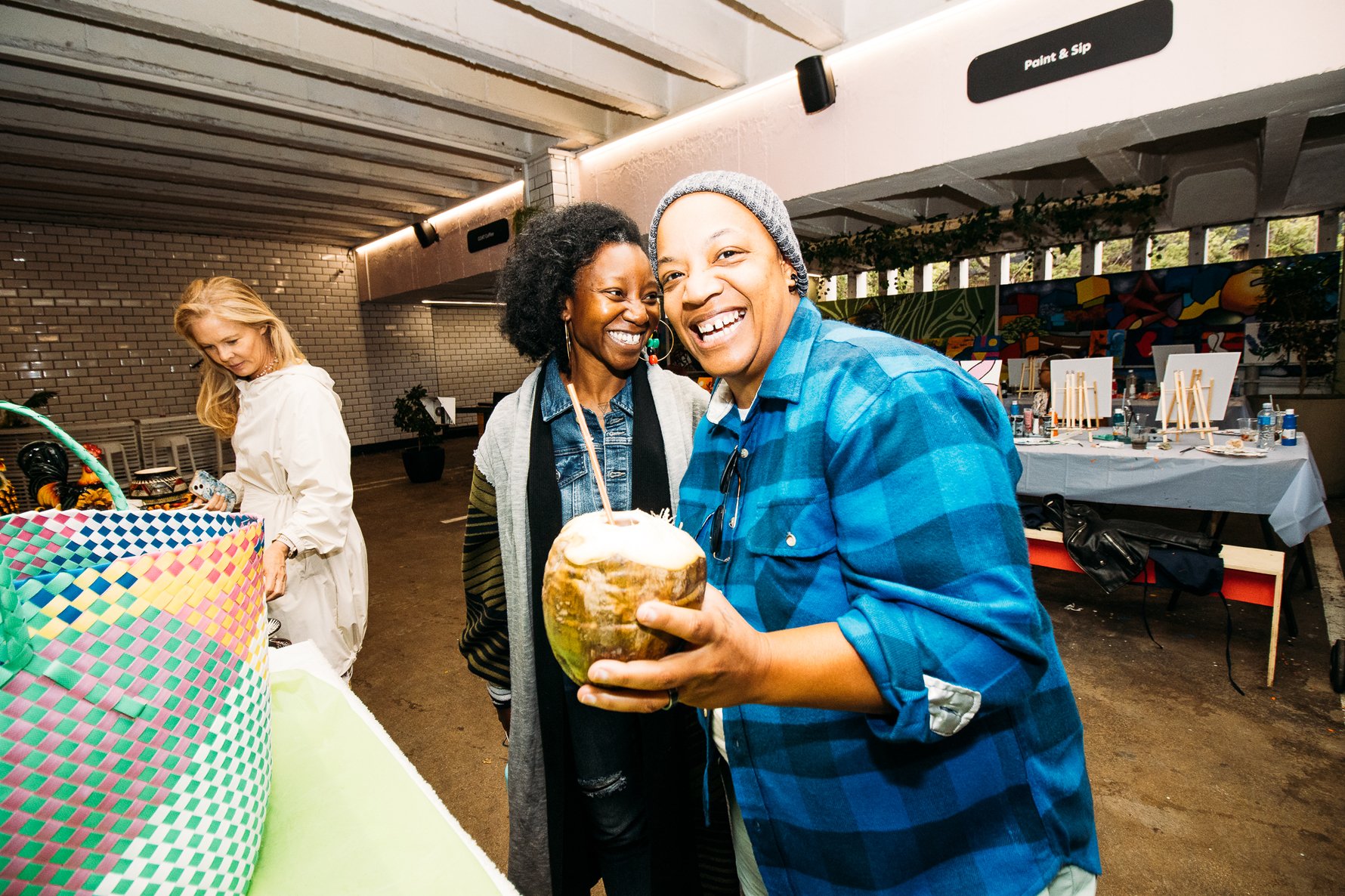 The last stop was Radisson RED Rosebank where we delighted in G&Ts with berries and fresh mint. The sky had cleared for us to catch the sunset on the rooftop overlooking shades of green and purple on the Joburg skyline.
Cycling experiences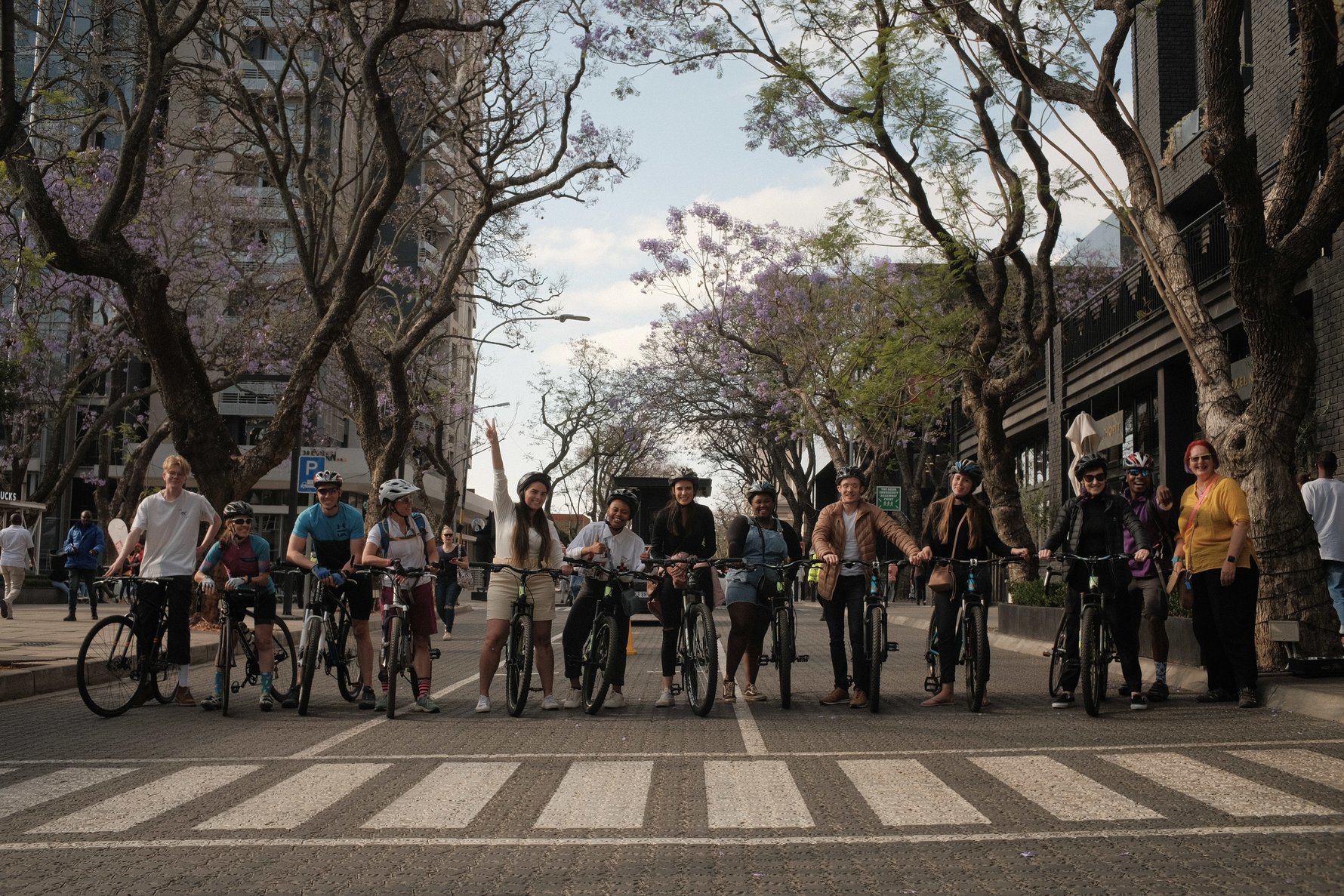 #JacarandaInYourPocket2022 teamed up with Joburg's king of adventure Kennedy Tembo from MicroAdventure Tours to create two bloom-spotting cycling experiences.

Kennedy Tembo is a vibrant host who puts his energy into promoting Joburg. His tours are hugely insightful – full of anecdotes and quirks about our city.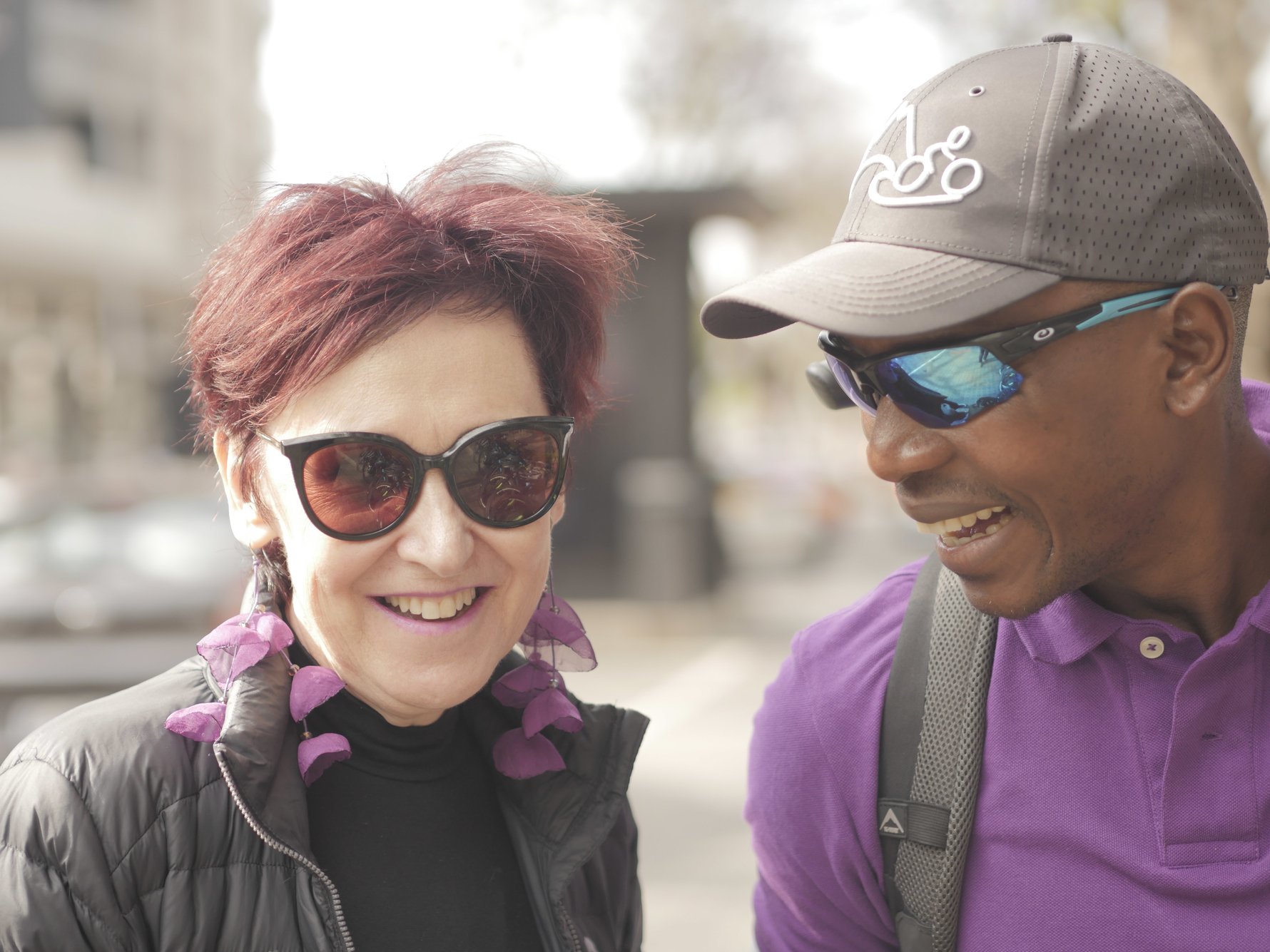 We met in the early afternoon at Rosebank's voco hotel for coffee, muffins and flaky croissants. For some, it was a chance to get reacquainted with a bike after 15 years! But we all managed to get off the ground and cycled through Rosebank, Saxonwold, and Melrose, stopping along the way to play with jacaranda petals and take a few fun group photos. 

After a fun ride around the jacaranda suburbs, we were welcomed at The Tyrwhitt in Rosebank. 

With much-need snacks and bubbly, we watched the sun set over Joburg's unique skyline and shared photos from the day. 
A social ride with Joburg's cool cats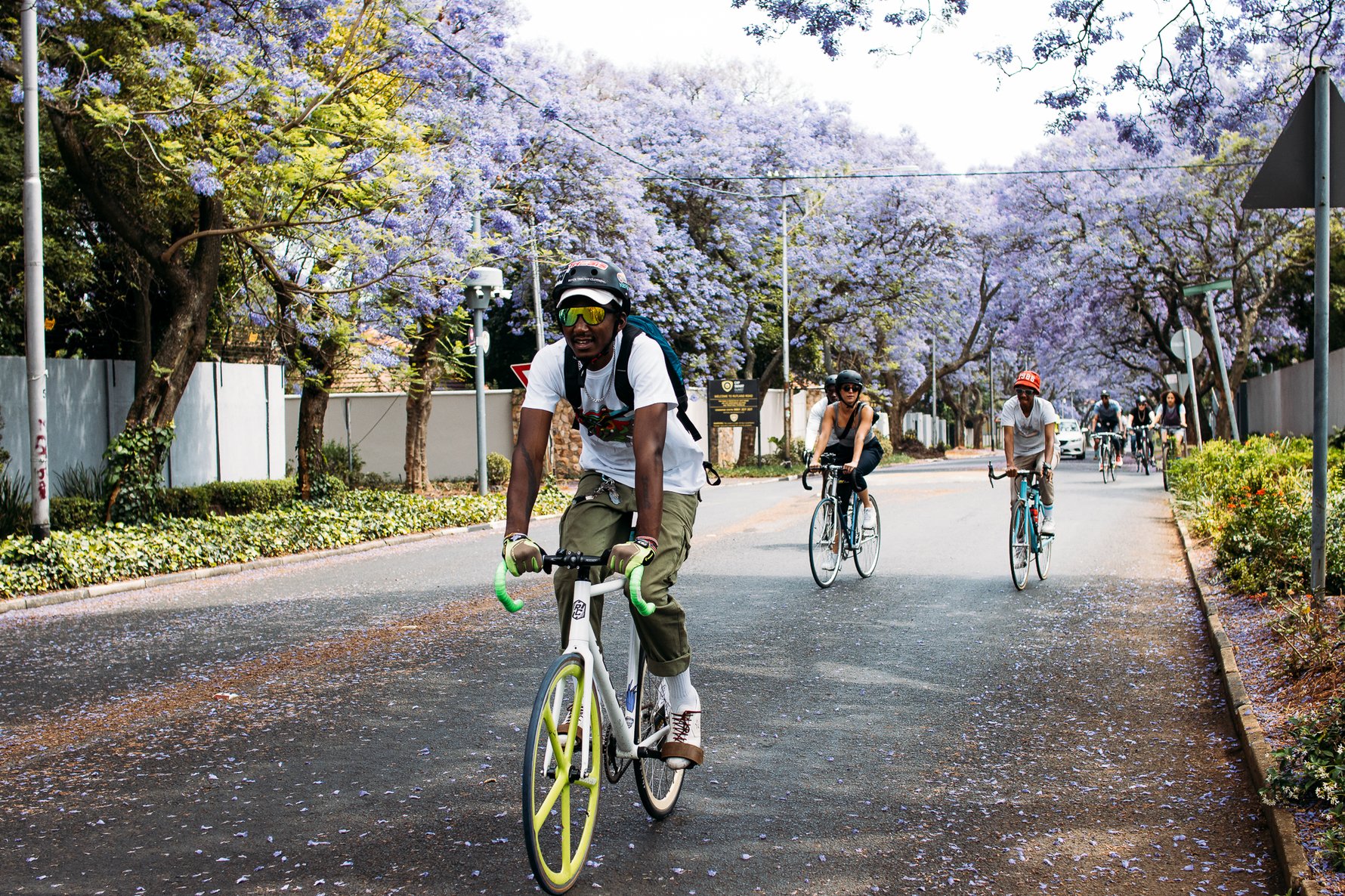 The Biking Bandits Social Ride in association with Johannesburg In Your Pocket was a free ride to explore the neighbourhoods of Rosebank, Saxonwold and Westcliff.  

If you haven't cycled with the Biking Bandits, you're missing out. This group of urban cyclists are determined to ride in every hood from Braamfontein to Soweto to Bryanston.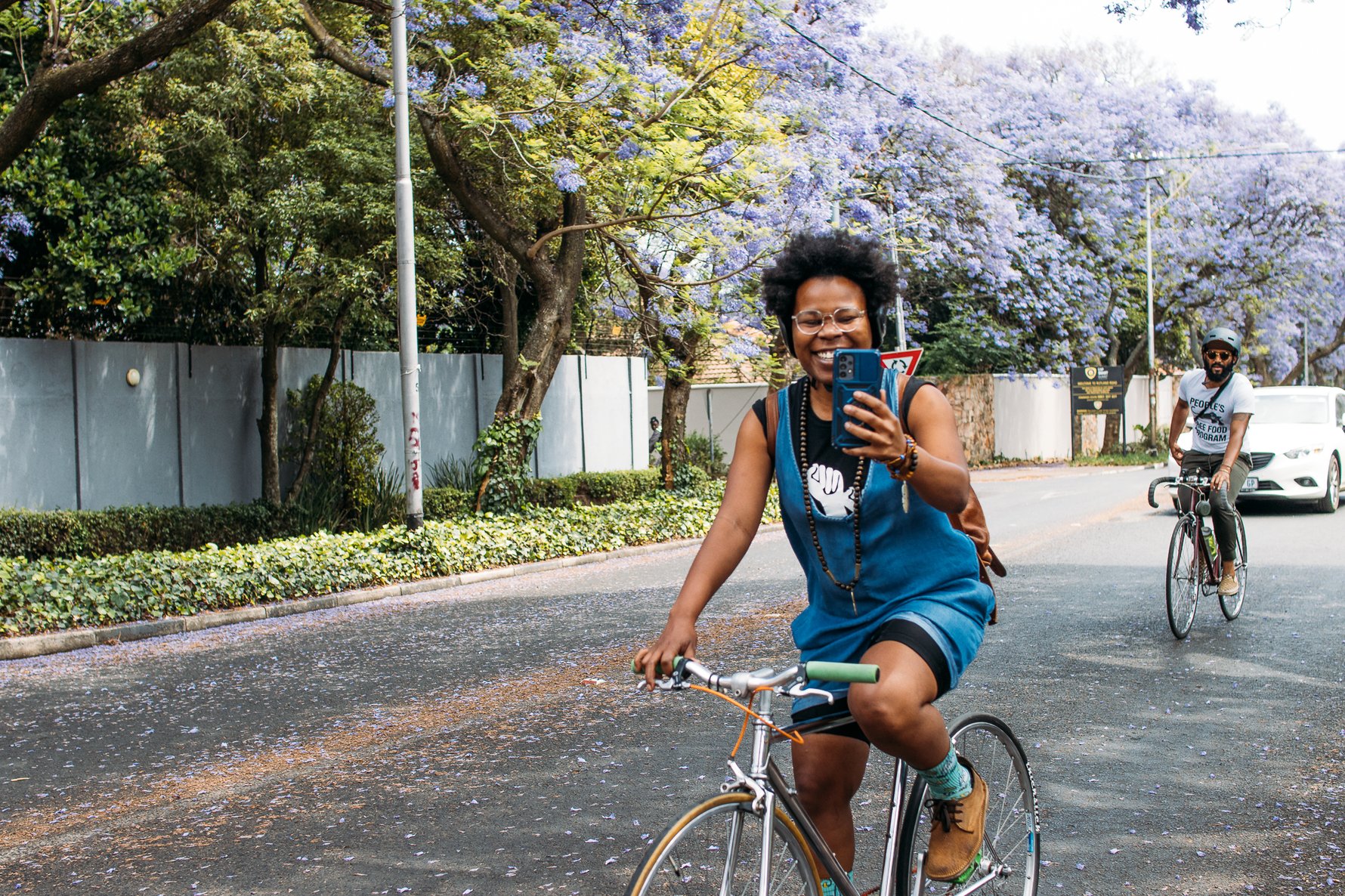 The cyclists gathered at Rosebank's voco hotel for coffee and pastries to fuel up for the ride, leaving their beautiful customised bikes on display along Craddock Avenue. 

After a quick briefing, the social ride began through Rosebank's jacaranda-lined streets. The cyclists carried on through Saxonwold and along Westcliff where they tackled the iconic Westcliff steps. 

The ride ended back in Rosebank with smiling faces and plenty photos of purple blooms.
Vespa ride with Vesparados
The social Vespa ride with Vesperados Joburg was a free ride bringing together people with varied backgrounds and interests –to  explore the city and it jacaranda blooms with stops in unexpected places.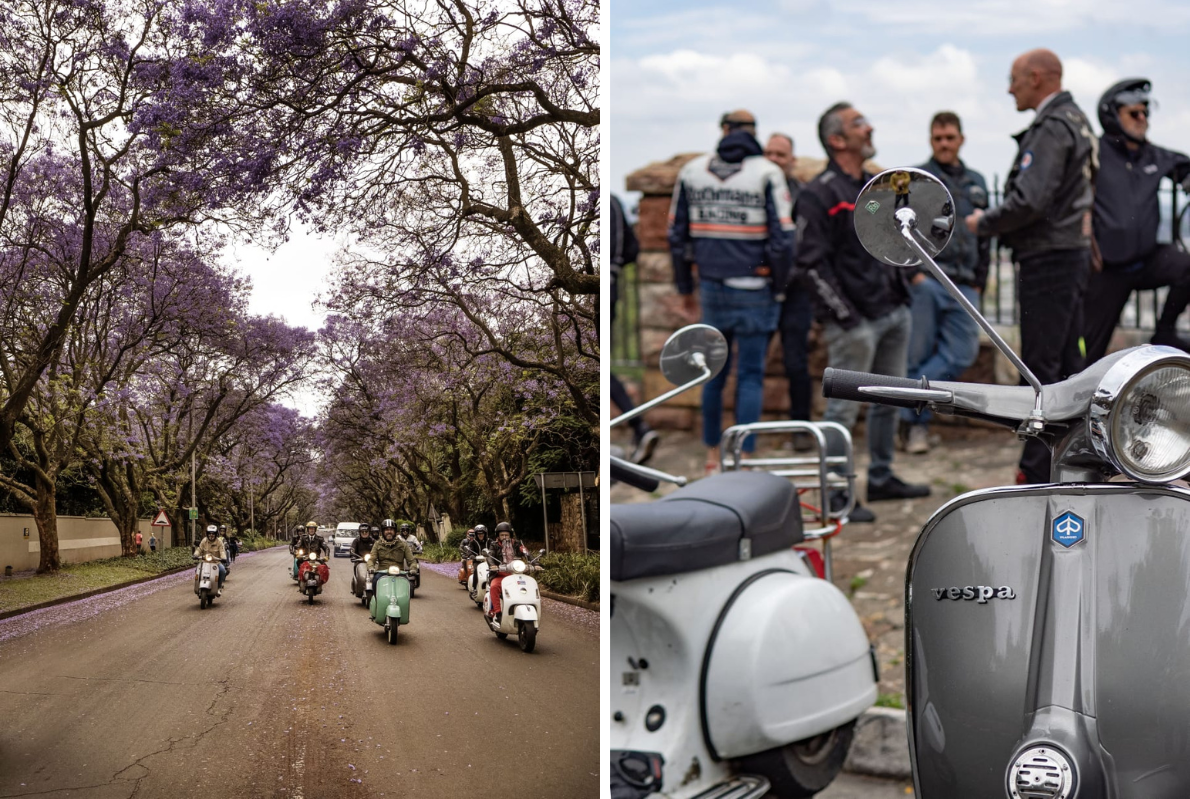 The Vespa riders met on a freezing Saturday morning outside Rosebank's voco hotel. They warmed up with coffee and croissants before starting the ride. The route, co-created by Johannesburg In Your Pocket and travel blogger Ryan Enslin (also known as My Lime Boots) took the Vespa riders through Saxonwold, Houghton, and Kensington, with stops at Munro Drive and Zoo Lake.

The ride ended at The Playground Market in Braamfontein with celebratory drinks and snacks, and group photos in front of Braamfontein's graffiti murals. 

The #JacarandaInYourPocket2022 photo competition is in partnership with The Gautrain, voco Johannesburg Rosebank, Radisson RED Rosebank, The Tyrwhitt, and The Playground Market. 

Click here to find out more on how you can vote for our People's Choice Award.