The votes are in! We've had a fantastic, event-filled jacaranda season, celebrating the beauty of Joburg and Pretoria in bloom. Over 270 people joined us for seven unique experiences, together walking and cycling more than 50 jacaranda-filled kilometres, all the while our #JacarandaInYourPocket photo competition drew more than 650 entries.

With so many photographs to choose from, we enlisted a little help in picking this year's prize-winning shots. The People's Choice category put 10 finalists up for popular vote – and the people have spoken, selecting one winner and three close runners-up.

In the Professional category we asked industry experts Thys Dullaart, Siphiwe Mhlambi and Thato Mogotsi to weigh in on technical skill, lighting, composition and originality. They've come to an agreement on one grand winner and two special mentions. The two category winners are different this year, but they do have one runner-up in common.

For the moment you've all been waiting for, meet our #JacarandaInYourPocket winners of 2023... 
PEOPLE'S CHOICE WINNER: @IMAGES_OF_COLOUR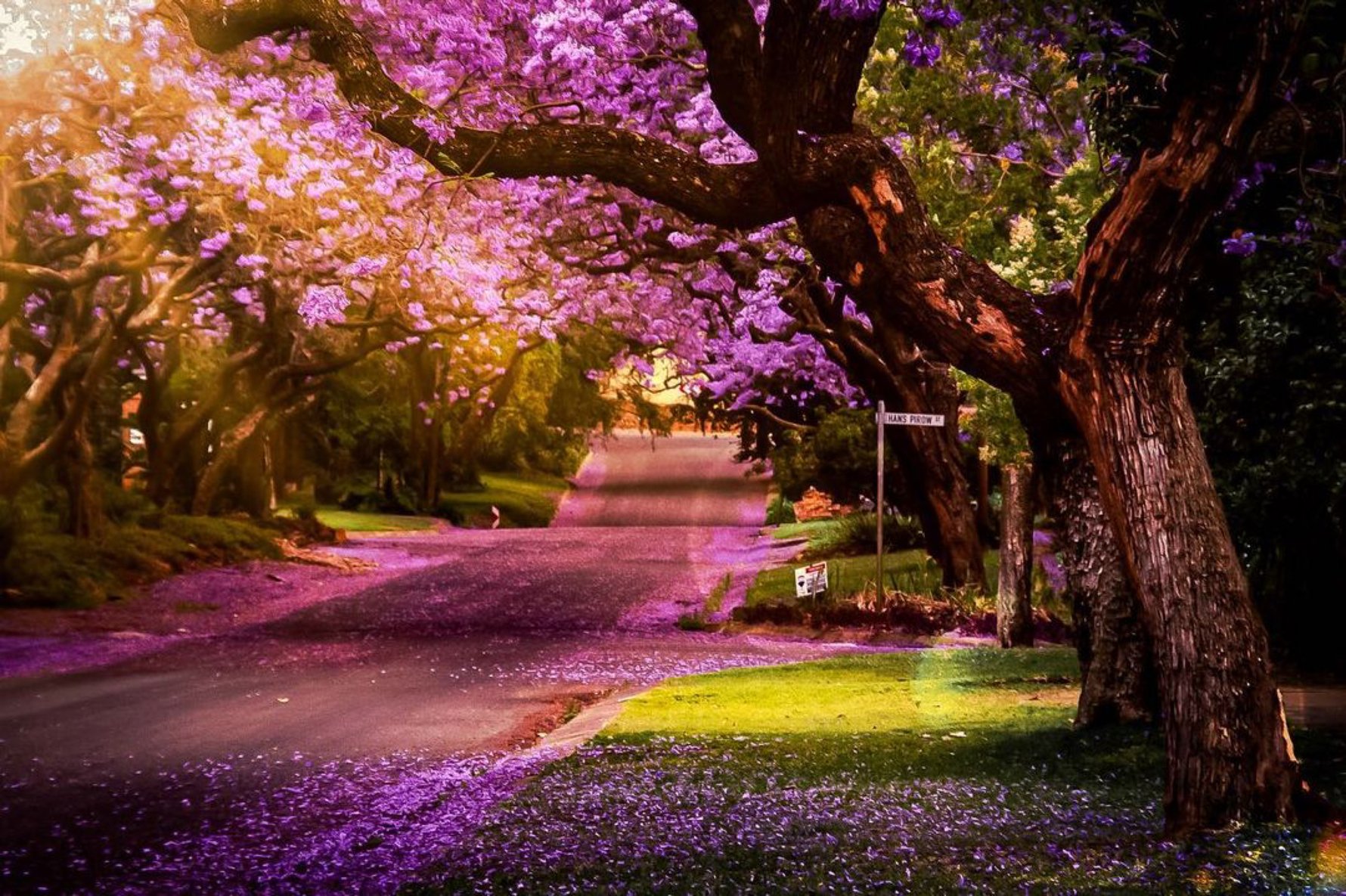 Congratulations to Okkert Brits (@images_of_colour) for taking first place with a soft, romantic image of one of Pretoria's jacaranda-lined streets. Steeped in golden light and whimsy, it's easy to see why our voters loved this shot. 
Prize: A stay at the world-class voco Hotel The Bank worth R4,000.
PEOPLE'S CHOICE FIRST RUNNER-UP: @CLAREAPPLEYARD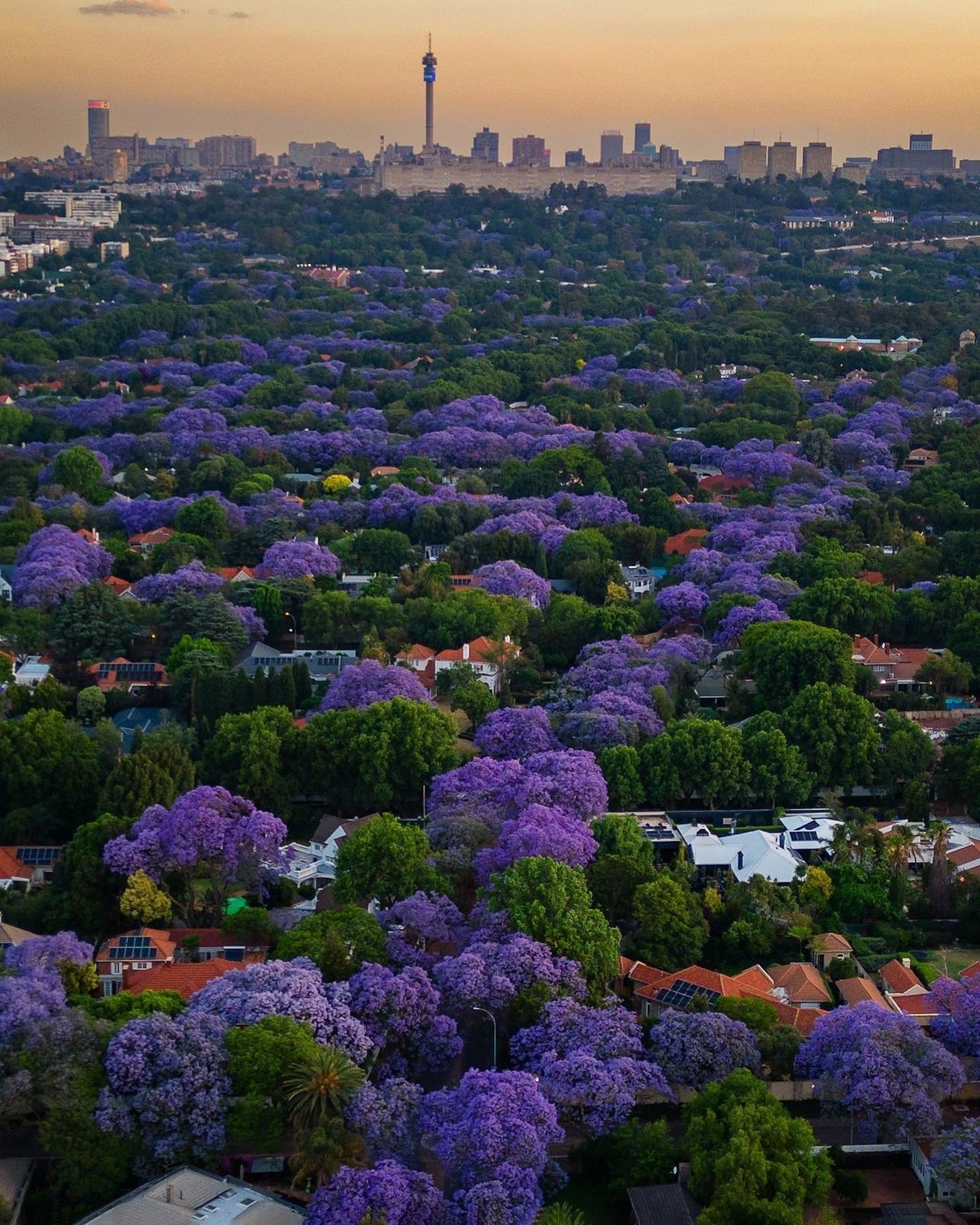 Clare Appleyard (@clareappleyard) takes second place in the People's Choice category for a truly sublime, sweeping view of Joburg in full bloom. 
Prize: A night of luxury at @Sandton Hotel worth R2,500.
PEOPLE'S CHOICE SECOND RUNNER-UP AND PROFESSIONAL SPECIAL MENTION: @ANTBOSMAN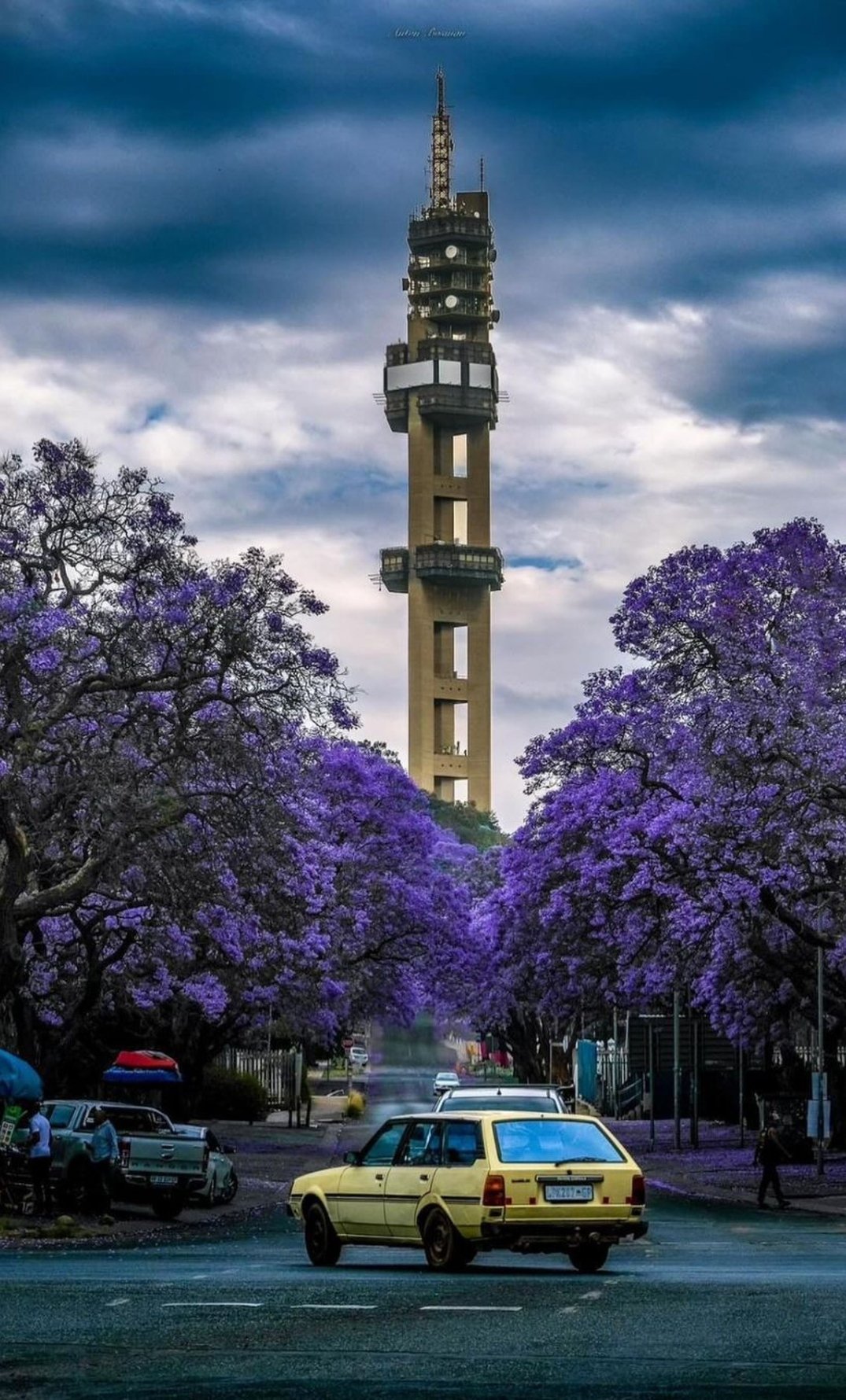 Blossoming jacaranda trees and a bright yellow car pop against a moody Pretoria sky in Anton Bosman's (@antbosman) show-stopping photo, the People's Choice second runner-up. No surprise, Bosman also got a nod of approval from our expert judges as one of two special mentions in the Professional category. It's the excellent use of the rule of thirds in the composition and the interesting contrast of colours and their placement that made this a stand-out image for judge Siphiwe Mhlambi. The result is deceptively simple, yet has been executed flawlessly.
Prizes: One night's stay at Hallmark House Hotel worth R2,215 (People's Choice) and a R1,000 voucher for a Perrier-Jouët Champagne bar experience for two at 54 on Bath (Professional).
PEOPLE'S CHOICE THIRD RUNNER-UP: @DOPOROLEHLOHONOLO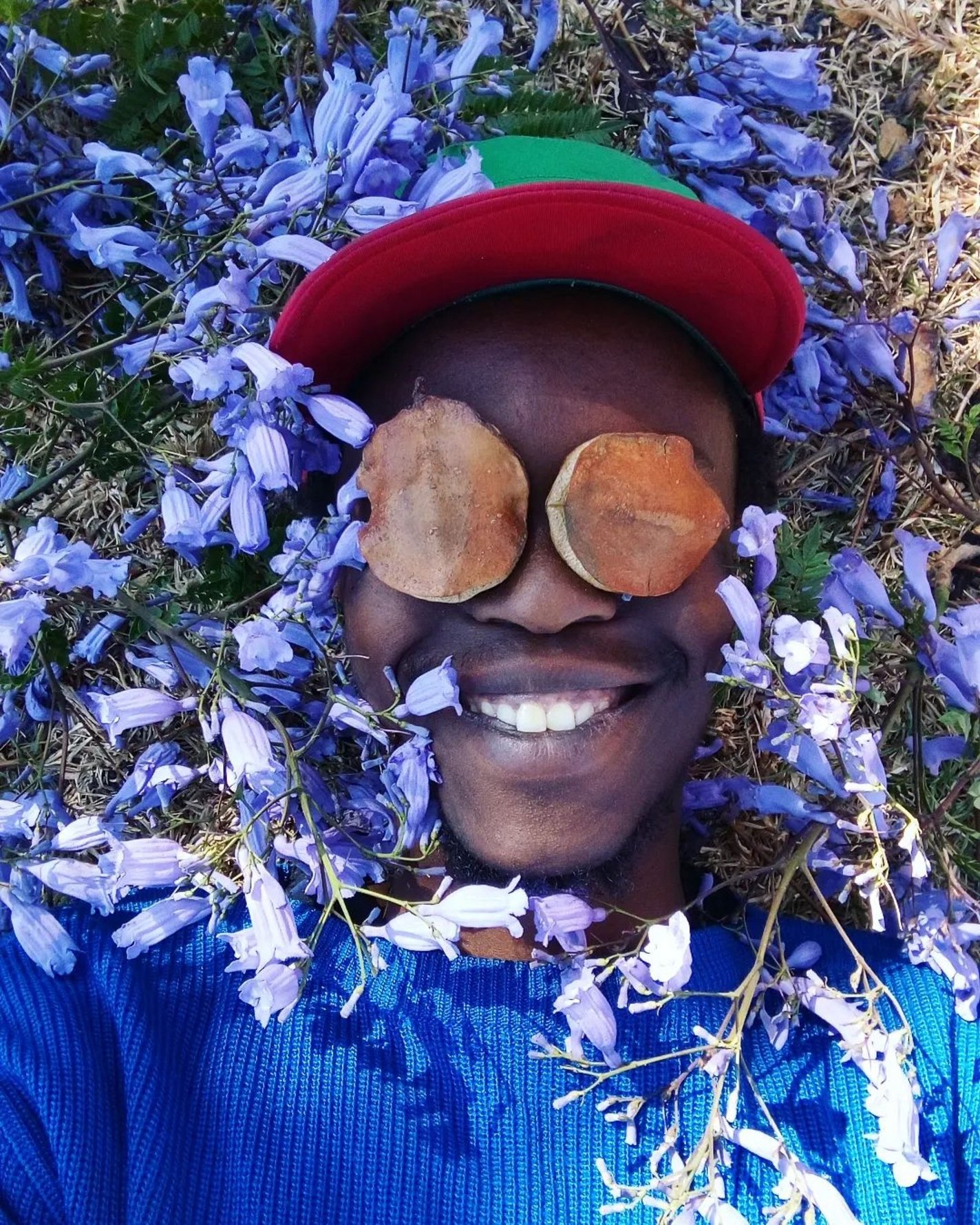 All smiles in Lehlohonolo Doporo's (@doporolehlohonolo) delightfully quirky fourth-place-winning photo, as chosen by popular vote.
Prize: An Art Deco escape at Fishbird Villa worth R1,980.
PROFESSIONAL WINNER: @SARAHWILSONSNAPS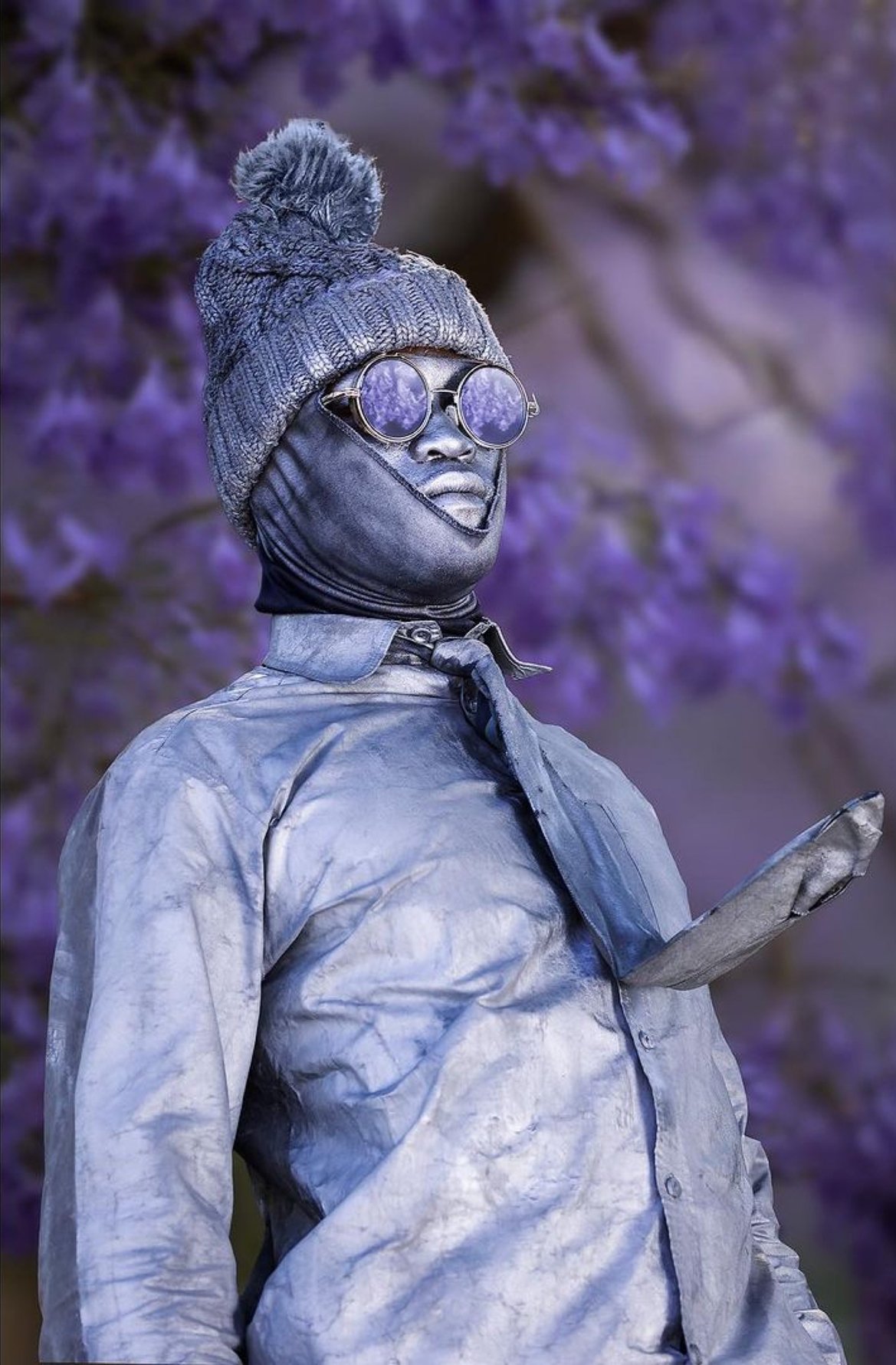 Sarah Wilson's (@sarahwilsonsnaps) winning photograph, chosen by the judges, pictures Joburg differently. In it, street performer Michael shines at the intersection of Winnie Mandela and Ballyclare Drives, Bryanston, against a royal jacaranda stage. From the jacaranda flowers reflecting in his sunglasses to the surreal, permanently windswept tie, playful details abound in this image. For judge Thato Mogotsi, this otherworldly portrait communicates far more than a cityscape or landmark could; it's got a youthful perspective, is reflective of the current age and speaks to the resilience of the people who live in this city. Much like the jacaranda trees that bloom at the same time every year, without fail. 
Prize: Brunch for two people valued at R850 p.p. at Four Seasons Hotel The Westclif.
PROFESSIONAL SPECIAL MENTION: @JAMES_ATWELL_PHOTOGRAPHY
​​​​​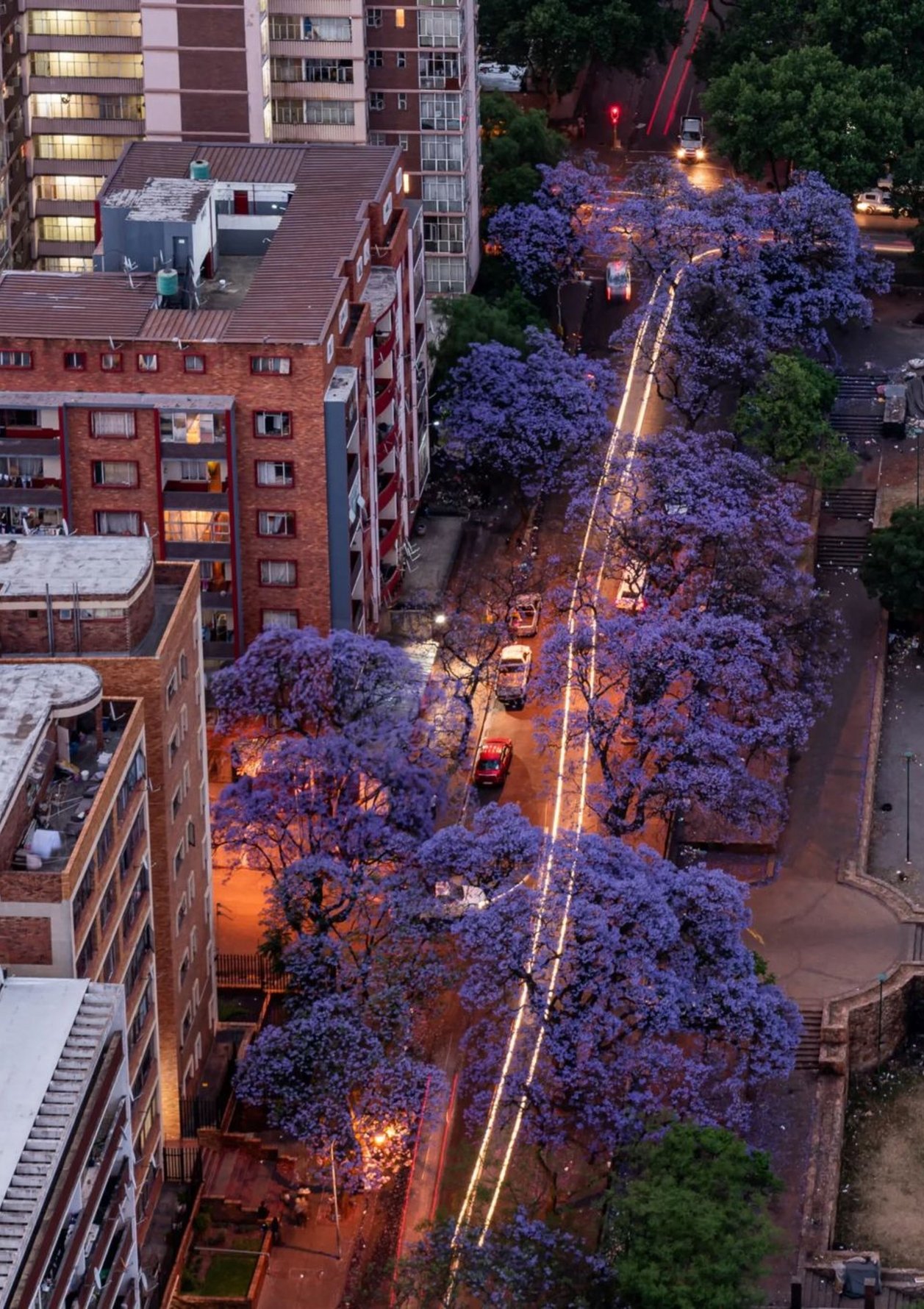 James Atwell's (@​​​​​​​james_atwell_photography) gorgeous bird's-eye-view of a nighttime Hillbrow street flanked by jacarandas impressed the judges, earning him a well-deserved special mention. The slow shutter speed employed by Atwell draws a beautiful line of light across the photograph and heightens the mood. For judge Thys Dullaart it's a wonderfully evocative image full of intrigue – from the central red car to the lights on in the surrounding apartments, and the voices we can imagine within, every little detail of this shot adds to the story.
Prize: A meal and drinks at La Parada at The Firs, valued at R1,000. 
VOTER LUCKY DRAW WINNERS
And the lucky winners of our randomly selected voter draw are...
@_25nyandeni: A R750 gift voucher to spend on treasures at Kensington Trading. 
@alexius68_lightning_photograph: A Marabi Club date night voucher valued at R595 per couple.
@althackeray: A 'Bottomless Brunch and Braam Rooftop Tour' at Loco for two valued at R500, sponsored by Play Braamfontein.
Maritha Pritchard: A R500 voucher for a meal at Arbour Café.
John Guest: A bottle of gin and a six-pack of coolers from Ginologist valued at R400.

Huge congratulations to our six winners on their outstanding achievement, and warm thanks to our partner Gautrain for making this year's competition possible. #YourGautrainJourneyStartsHere