Over the past decade bustling Rosebank has been in an almost constant state of change as ever more new skyscrapers steadily fill the skyline. The pace of change and the proliferation of new buildings and renovation projects has often led to exclamations of 'help, where I am?!' among Joburgers who haven't visited in a while. Happily at last in 2021 all that construction is starting to pay off with the many new buildings nearing completion and more places to go out in Rosebank than ever before.

If you are heading to Rosebank in search of places to eat and be merry, you are spoiled for choice. Here's our guide to some of the best. Directly in front of the Rosebank Gautrain, The Zone is one of Rosebank's three interconnected malls. Running through the centre of The Zone is an open-air pedestrianised section of Tyrwhitt Avenue where you'll find all the main restaurants and cafes, most of which have plentiful outdoor seating. In addition to the following venues you'll also find major fast food chains Nandos, Roccomamas, KFC, McDonalds, Anat, Kauai and a News Cafe as well as variety of coffee shops including independent Father Coffee and Starbucks and Starbucks.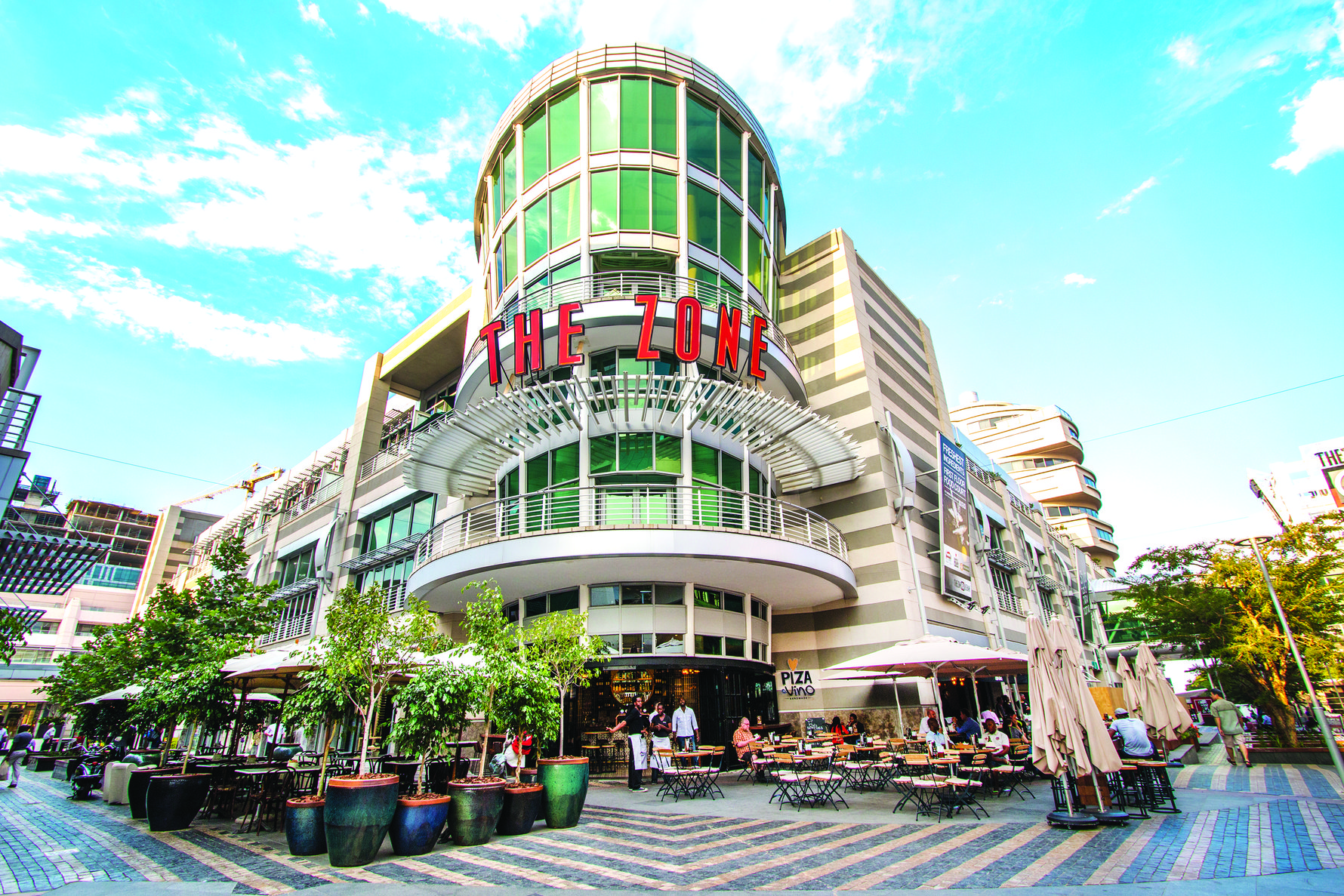 Piza e Vino
Piza e vino believes in 'making pizzas not war'. The service is pro and the pizzas come in two sizes with some interesting and perhaps weird combinations and even more intriguing names like the Italian Stallion and the Pavement Special. There is a menu for bambinos and a varied selection of pastas and salads, plus an adjoining bar for those just wanting to pop in for a swift craft beer.
Outdoor seating: Terrace on pedestrianised street
Momo XO
Created by two Taiwanese brothers keen to introduce the taste of Taiwanese street food to Joburg, the Momo brand began in Greenside and each new addition comes with its own signature dishes that include Chinese, Korean and Japanese influences. Momo XO at the Zone @Rosebank is the Momo latest expansion of its swiftly growing brand.
Outside seating: Small terrace on pedestrianised street
Tashas
Natasha Sideris invented this chain of boutique cafes loved and frequented by socialites and anyone else who enjoys fresh and tasty food served in immensely generous portions. She also continues to ensure that each branch lives up to the brands hallmarks - flavourful bistro food presented with flair. The baked goods are delicious, the juices freshly squeezed and each branch has managed to replicate the Sandton original's pedigree as a people-watching spot. 
Outdoor seating: Terrace on pedestrianised street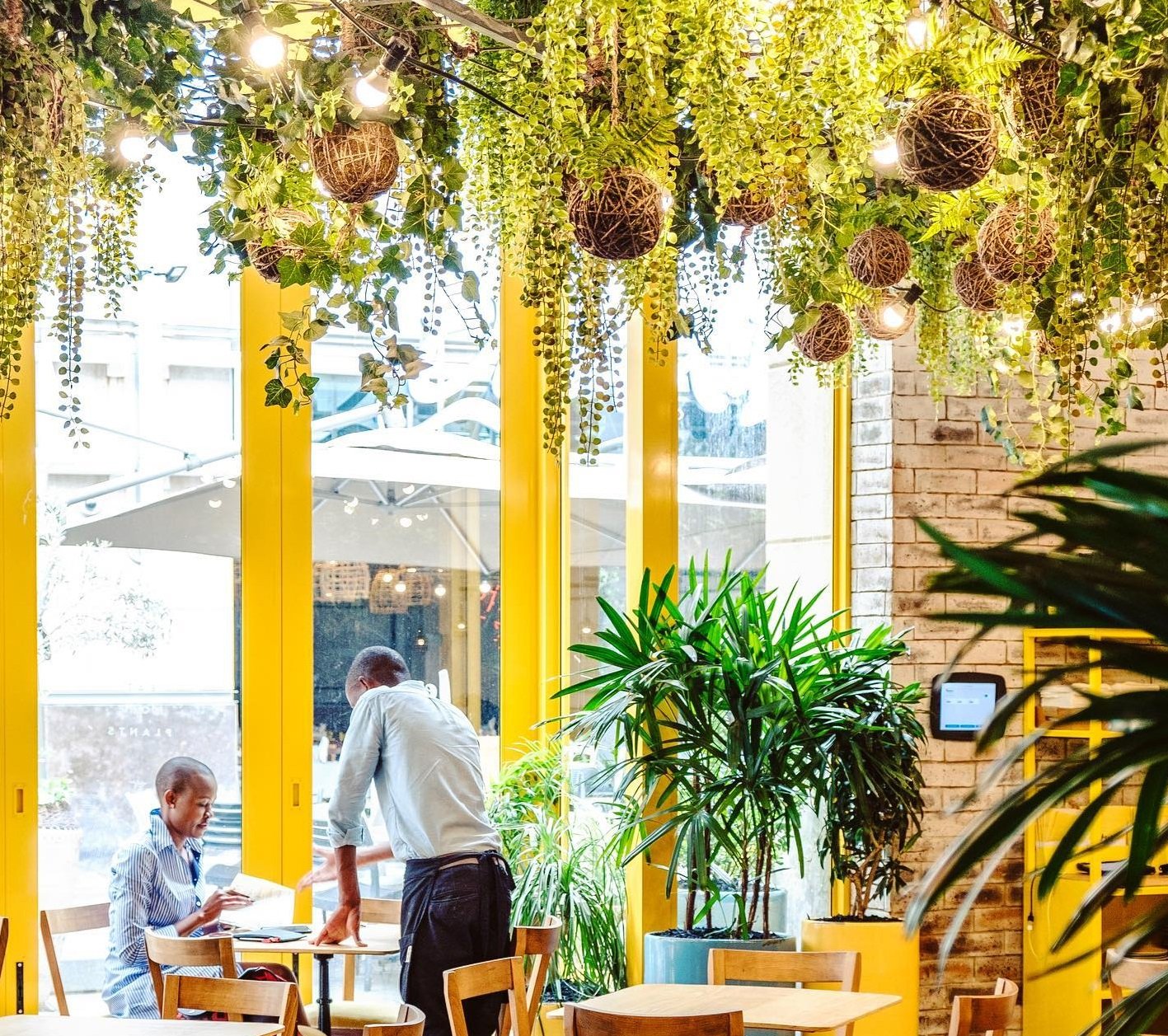 Lexi's Healthy Eatery
'Eat More Plants' is the slogan of Lexi Monzeglio's vegan-vegetarian cafe. The eco-conscious ethos and plant-based menu is complemented by verdant interiors filled with pot plants, statement plant walls and lush indoor shrubbery. The menu is extensive and interesting, bringing in unique flavours and more obscure ingredients than vegetarians can usually expect in Joburg. Signature mains include 'the Italian stallion' (roasted aubergine on crispy polenta with roasted tomatoes, broccoli, almond ricotta and basil pesto), and an array of vegetarian burgers including the famous Beyond Burger. 
Outdoor seating: Terrace on pedestrianised street
Proud Mary
This expansive bar and bistro (part of the new voco Hotel The Bank) has one of the sexiest bar counters in the neighbourhood and an impressive wine and cocktail menu to match. Describing itself as 'a modern eatery' the food menu boasts an extensive breakfast and lunch selection, a 'seafood raw bar' (think oysters, ceviche and sashimi), picanha steaks, salads and a variety of small plates and 'cafe plates'. The huge terrace is a prime people-watching territory and the facade opens onto the street, bringing in lots of air and light. 
Outdoor seating: Terrace on pedestrianised street
THE FIRS
Positioning itself as Rosebank's most upmarket mall, The Firs has at its centre a great piazza lined with restaurants. Look out for live music and DJ sets on Sundays.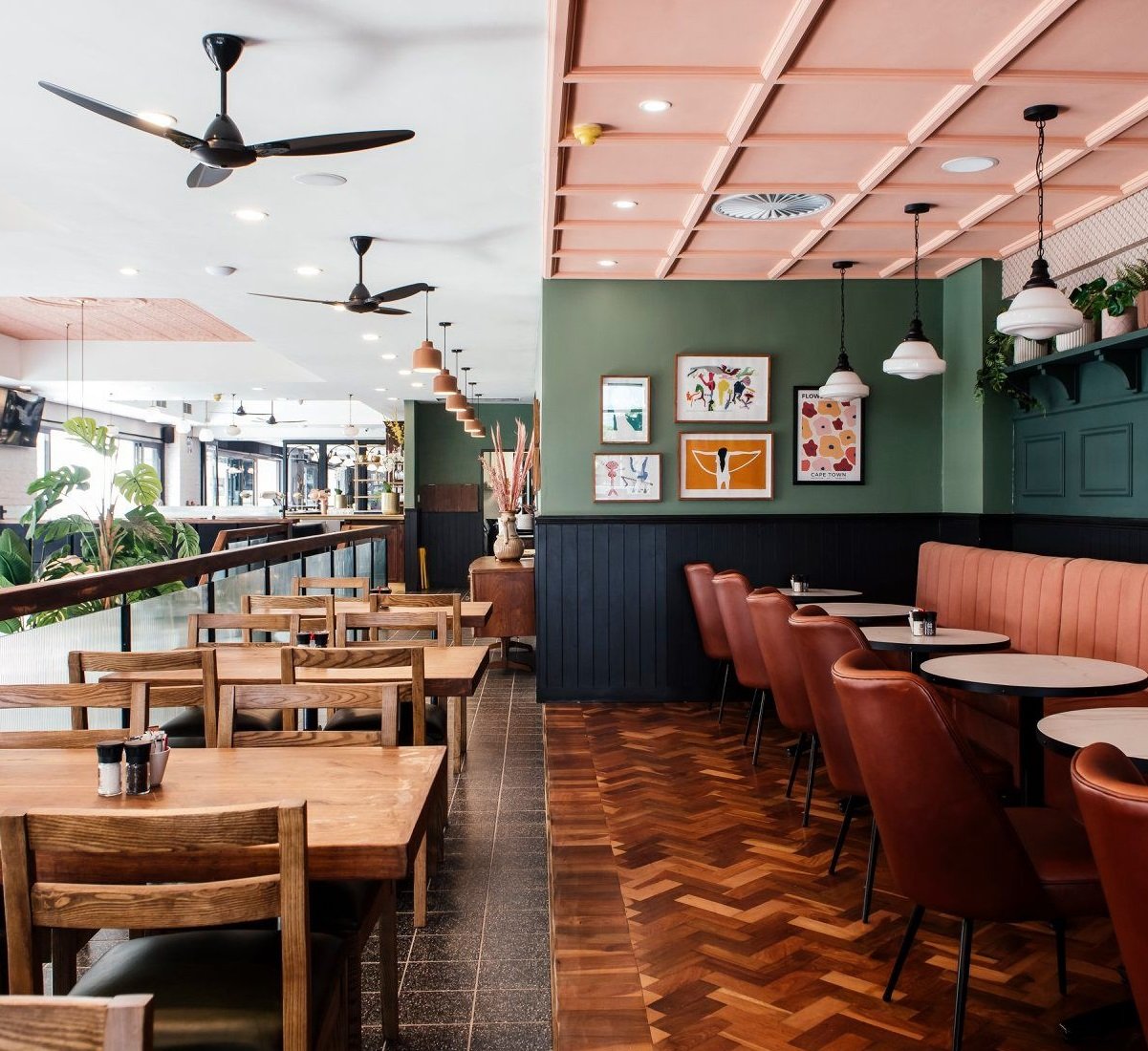 Doppio Zero
Part of the nationwide Italian bistro chain, many consider this to be Doppio Zero's best branch, loved for its always buzzing atmosphere and its super terrace on the piazza. In January 2021 the restaurant reopened after an extensive renovation which included giving the interiors a fresh new look and the addition of a new chocolate bar.
Outdoor seating: Piazza A casual yet sophisticated choice for seafood and sushi, The Fishmonger has been going for years and everything here works like clockwork. The service is friendly, the fish selection is always prime and there are even fresh oysters to start dinner. We like the prawns cooked Portuguese-style and the classic crispy battered hake and chips. We also recommend the selection of salads and sides. 
Outdoor seating: Piazza This New York-style grill house is an institution. Serving excellent spice-crusted fillet and saucy ribs amid a constant buzz accompanied by a selection of single malts and fabulous local wines, reservations for this celebrated spot are recommended, especially if you want to celebrate a special occassion in one of their atmospheric private dining rooms. Service is excellent and you'll be surrounded by impeccably turned-out waiters darting around moodily-lit tables heaving platters piled high with luscious South African beef steaks. The Grillhouse also has a more casual restaurant venue Kitchen Grill on The Firs piazza. The Keyes Art Mile complex on Keyes Avenue in lower Rosebank incorporates the two landmark art galleries Everard Read and Circa Gallery and the huge Trumpet building which is home to a variety of restaurants and bars as well as the innovative digital arts gallery TMRW and Banele Khoza's BKhz Gallery.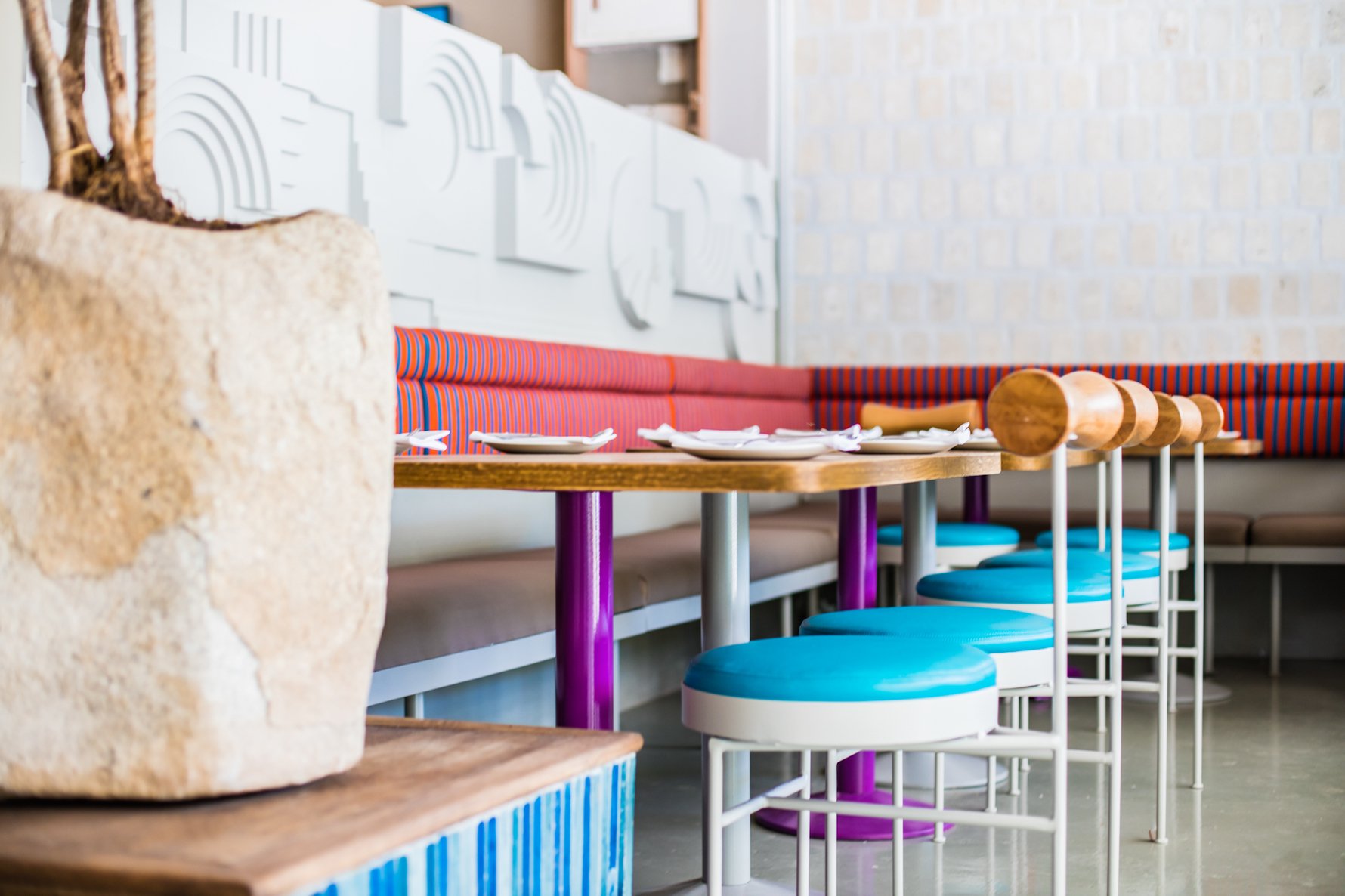 Meaning upside down, Sotto Sopra is an ode to Italian design. A casual-luxe restaurant set over two levels with a counter overlooking the street, everywhere you look are pops of bold colour, quirky pieces of modernist furniture and unusual objets de art. The atmosphere feels both sophisticated and relaxed with the friendliest service and a perfect location among the art galleries of Keyes Art Mile. We loved the wide array of snack dishes that are a great accompaniment to the bar's superb cocktail menu, as well as the light and crispy pizzas, the local take on peri peri prawns in the Prawn Paradiso and the rich pulled brisket tagliatelle ragu.
Outdoor seating: Pavement terrace  Join the sophisticated set at this sexy cocktail lounge, housed in what is by day part of the private mem­bers' club Mesh. Savour your drink with a fabulous view over Joburg's tree-filled suburbs from the large terrace or continue your experience of art admiration by taking a look around the striking art collection on the walls inside (and, yes those Pierneef paintings are the real thing). The DJ sets are slick and the bespoke furniture and interiors ooze contemporary luxury. 
Outdoor seating: Balcony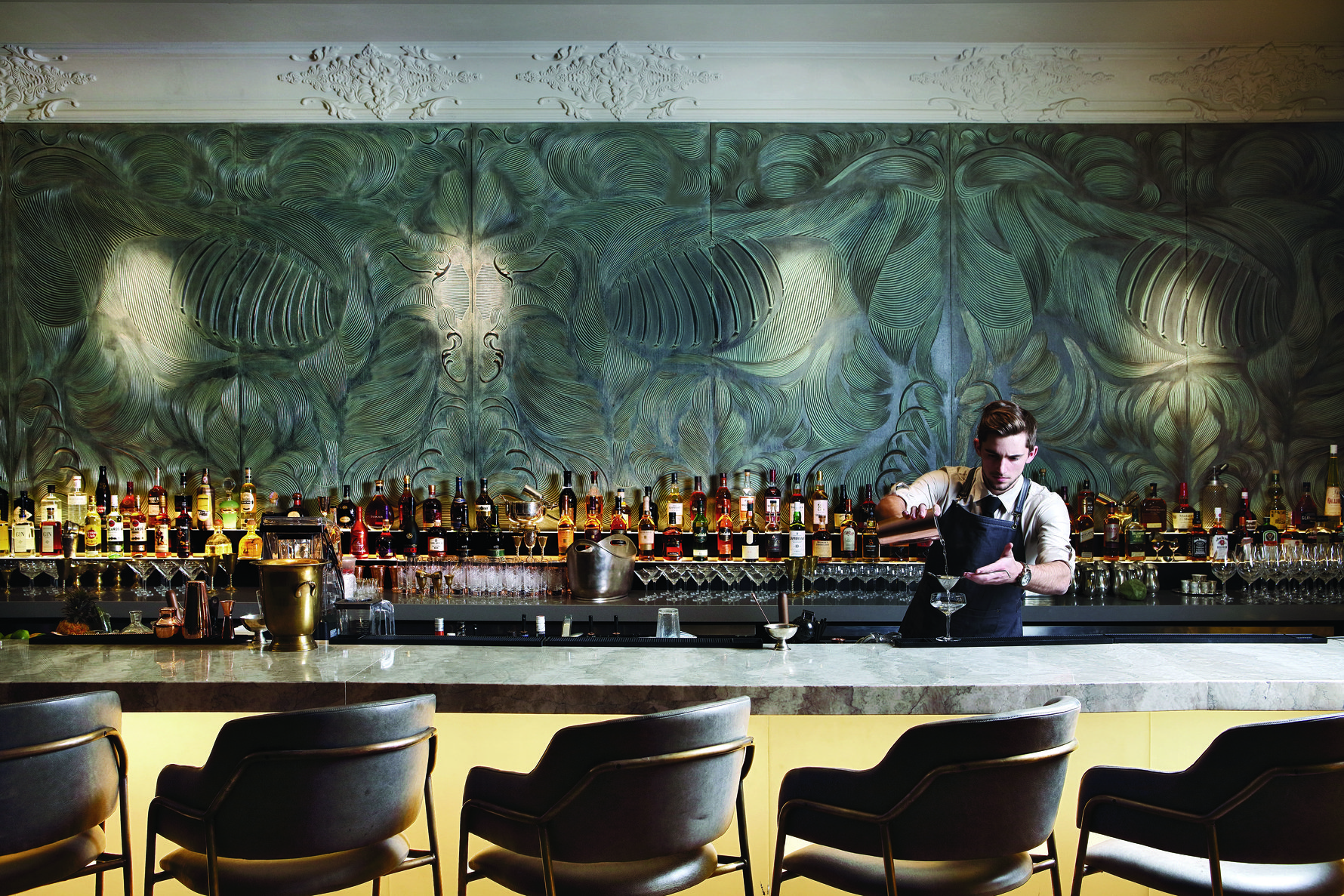 The bar at star chef David Higgs's rooftop grill restaurant, with its impressive artworks, a turquoise ceramic tiled wall and light wooden floors, gives the impression of being suspended in a cabin in the sky and uninterrupted views over Joburg's western suburbs stretch west for miles. There's an extensive and prominently displayed wine cellar and a pricey list of top-notch cocktails made with premium spirits making this an excellent venue for drinks as well as an upmarket dinner. The heart of the restaurant is Higgs' live fire grill, with the spectacular flames cooking up everything from meats and seafood to freshly baked bread. 
Outdoor seating: Rooftop balcony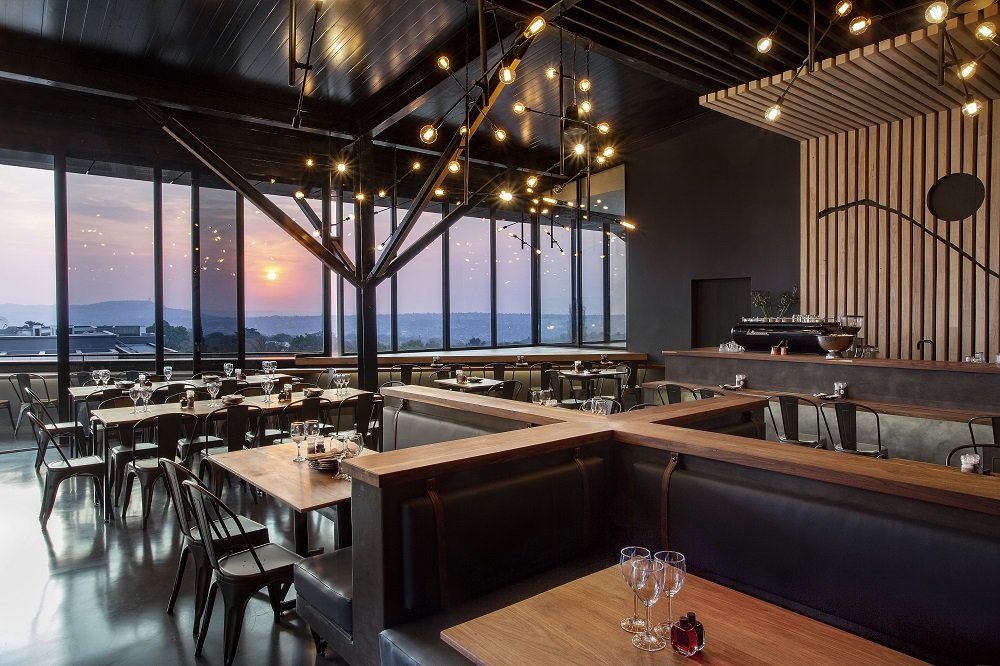 Follow an unmarked stairway up past Mesh Club inside the atrium of the landmark Trumpet building and eventually, you'll pop out at this casual, modern eatery with the most enticing rooftop terrace that is without a doubt one of Rosebank's most hidden dining hotspots. The menu specialises in bite-sized Asian street food like baos and dim sum and while unlicensed you are welcome to bring your own drinks.
Outdoor seating: Rooftop balcony
BGR
Two Americans missed the taste of home so much that they decided to open a burger joint. BGR serves burgers three ways: the cheeseburger, hamburger or the lettuce-wrapped "Cardio" version. For the very hungry, order the double patty or try the frozen custard for dessert. Ground beef patties with no basting, super fresh buns and basic toppings is the simple formula that make BGR's burgers such a hit.
​​​​​​​Outdoor seating: Pavement terrace
ALSO IN THE NEIGHBOURHOOD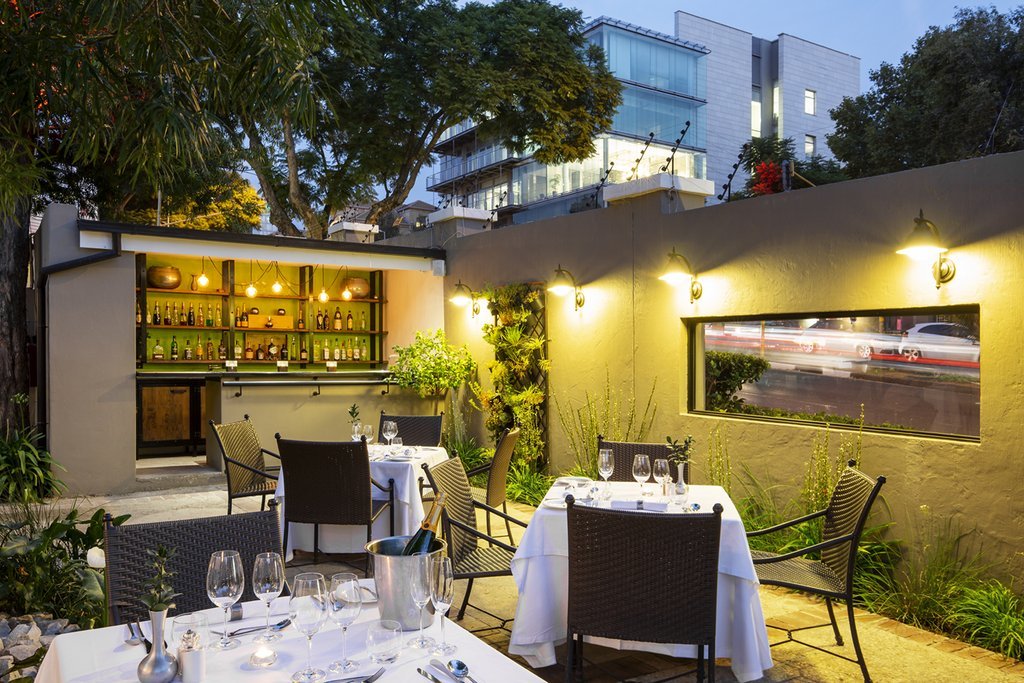 Tucked into Clico Hotel (located one block up Jellicoe Avenue from Keyes Art Mile) is Clico restaurant, a fine dining destination that boasts some of the most peaceful surroundings in this often busy neighbourhood. The restaurant's setting is a chic and intimate double-volume glass structure that looks out onto a lush courtyard garden, making it an intimate dinner venue with low lighting, or a gloriously lit breakfast spot. You'll find flavoursome dishes using seasonal, locally sourced and organic ingredients, an outstanding boutique wine menu and charming service. 
Outdoor seating: Garden courtyard Led by chef Absalom Kotsokoane, Moeng in the Oxford Parks development (corner Jellicoe and Oxford Roads), celebrates the local food and ingredients of South African cuisine. Menu highlights include tshotlo (pulled beef) served with a fluffy and light pap ball gently encased in a light coating of breadcrumbs, tomato relish and a crunchy slither of pap crust. We also enjoyed the super slow-cooked and tender chicken giblets and mogodu (tripe), and the medley of homemade chakalaka, samp, beans, cabbage and steamed bread. 
Outdoor seating: Terrace on pedestrianised street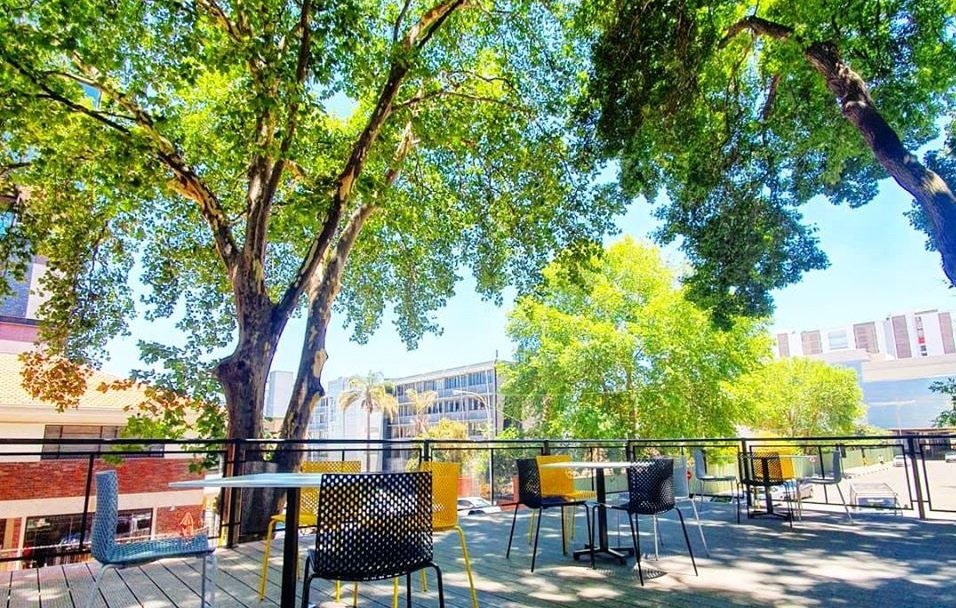 Soul Souvlaki
Dino Vlachos's Soul Souvlaki chain of neighbourhood Greek souvlaki stops has successfully launched on street corners across the northern suburbs including in Parktown North, Richmond, Craighall Park, Rosebank and Sandton Central, although this Rosebank branch still stands as one of our favourites. For one thing it has one of the finest locations - a repurposed shipping container (with a rooftop deck) that opens onto a courtyard shaded by one of Rosebank's grand oak trees (find it at the corner of Bath and Baker Street, opposite Brik). Lamb, bifteki (spiced minced beef patties) or chicken souvlaki served with tzatziki, fresh tomatoes, red onion and rocket and wrapped up snugly in a freshly baked pita bread is still the star of the show, although you can also mix and match to create your own meze platter.
Outdoor seating: Garden courtyard and rooftop

Named for the red-brick architecture of its distinctive corner location next to Rosebank's Art Deco fire station, Brik is one of a growing number of Joburg cafes that takes eco-conscious, sustainable and ethical eating very seriously, conjuring up beautifully presented contemporary fare in a casual setting that you can rest assured is kind to the environment. During the 2020 lockdown Brik worked tirelessly to expand and deepen their relationships with small independent suppliers and is now one of the best cafes in Joburg for finding truly artisanal produce.
Outdoor seating: Enclosed pavement terrace