Jakdojade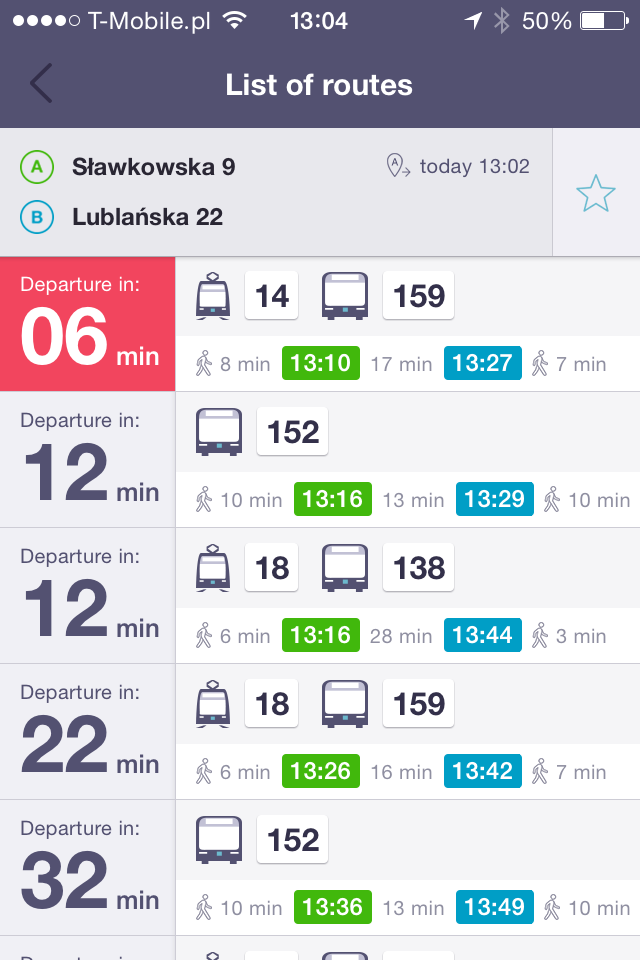 Despite the fact that Kraków's tram and bus network is incredibly easy to use, even for foreigners, we'll still admit to being a bit put off from using it at first; that is until we discovered the veritable skeleton key to unlocking public transport: the krakow.jakdojade.pl website and the jakdojade app for your smartphone. The former is a wonderful and free tool for advance planning, but the paid app is more practical for figuring out how to get from point A to B once you're out in town and away from your computer. Just type in your starting address (the app does this automatically) and destination, or pin the locations on a map; select the time you want to depart or arrive, and Jakdojade magically churns out the best method for you to get there. Finished at the museum and want to head back to the hotel? This app will tell you exactly which bus or tram to get on, lead you to the correct stop and even tell you which ticket to buy. It's brilliant and absolutely worth the couple euros you'll spend to download it. For those who prefer to feel smarter than their phones, you can also find timetables and network maps at mpk.krakow.pl.
E-podróżnik
This route-planning site can also help you get from point A to point B within Kraków, but is really invaluable when it comes to planning the journey to your next destination by bus or train. Use e-podroznik.pl to easily search bus and train connections and timetables, compare prices and even buy tickets in one of seven languages. There's also a free mobile app (Android only).
Free Now
Formerly MyTaxi, Free Now appeared in the summer of 2019 as the new dominant taxi app in Kraków, which also facilitates Tier electric scooter rentals as well. Free Now is present in over 100 European cities, including Katowice, Poznań, Gdańsk, Gdynia, Sopot, Warsaw, Łódź, Wrocław, Lublin, Bydgoszcz, Rzeszów and Białystok, and allows you to select the type of ride you need, pre-book a taxi up to 4 days in advance, track your ride's progress and share it with others, pay within the app, save addresses and more. free-now.com
Uber
Not only has Uber (uber.com) arrived in Poland, but the company recently opened their European hub in Kraków's Browar Lubicz. If you're already an Uber user, you'll find that the alternative taxi service - whose free mobile app offers cheap one-tap, no cash, no tip rides from local drivers - has good coverage across Kraków and all of Poland, however there are some drawbacks. Specifically, Uber drivers don't have the same permissions as regular cabbies and may not be able to take you as close to your destination, or get you there as directly; such is the trade-off for slightly cheaper rates.