It's only natural to want to bring something back home to remember your time in Kraków, and buying gifts for those that didn't make the trip with you is an easy (and often expected) way to suggest that you were thinking of them while throwing back those pints. So what to buy that's patently Polish? In Kraków it's incredibly easy to pick up last minute gifts thanks to the fact that there's a souvenir gallery right in the middle of the market square, known as the Sukiennice, or Cloth Hall. A stroll through the stalls is a requisite experience itself, and will quickly inform you of what the most popular local items are, but there are plenty of alternatives to be aware of. Here is our list of the city's top souvenirs and local gifts - all of which are uniquely Polish, if not Cracovian in origin - including info on where to find them.

THE TOP SOUVENIRS FROM KRAKÓW

Folk Pottery from Bolesławiec
Hailing from a small village in western Poland, Bolesławiec folk pottery is one of Poland's most popular exports, and Kraków is a great place to start a collection for yourself or anyone else you know with a kitchen. Beloved for its simple hand-painted folk patterns, Bolesławiec is Polish design at its best - iconic, functional, extremely durable and oh so Polish. As the portfolio of patterns has expanded over the years, there is now truly something that will appeal to everyone, but the most traditional, iconic, original patterns are those with blue and white dots. Their products extend from bowls, plates, teacups, butter dishes, sugar bowls, pie dishes and other kitchenware to Christmas decorations, candleholders and other bits of decor. Trust us, if you've got an aunt or mother-in-law for whom you never know what to buy, this is the answer. Available in the Cloth Hall, the annual Christmas market and other folk fairs, there are also several shops around Kraków that offer Bolesławiec. As collectors ourselves, we've done the research, and the best Bolesławiec shop (in our opinion) is Niebieska Kropka - a lovely 100m2 showroom with a superior selection. Take caution, however. Buying Bolesławiec can be habit-forming.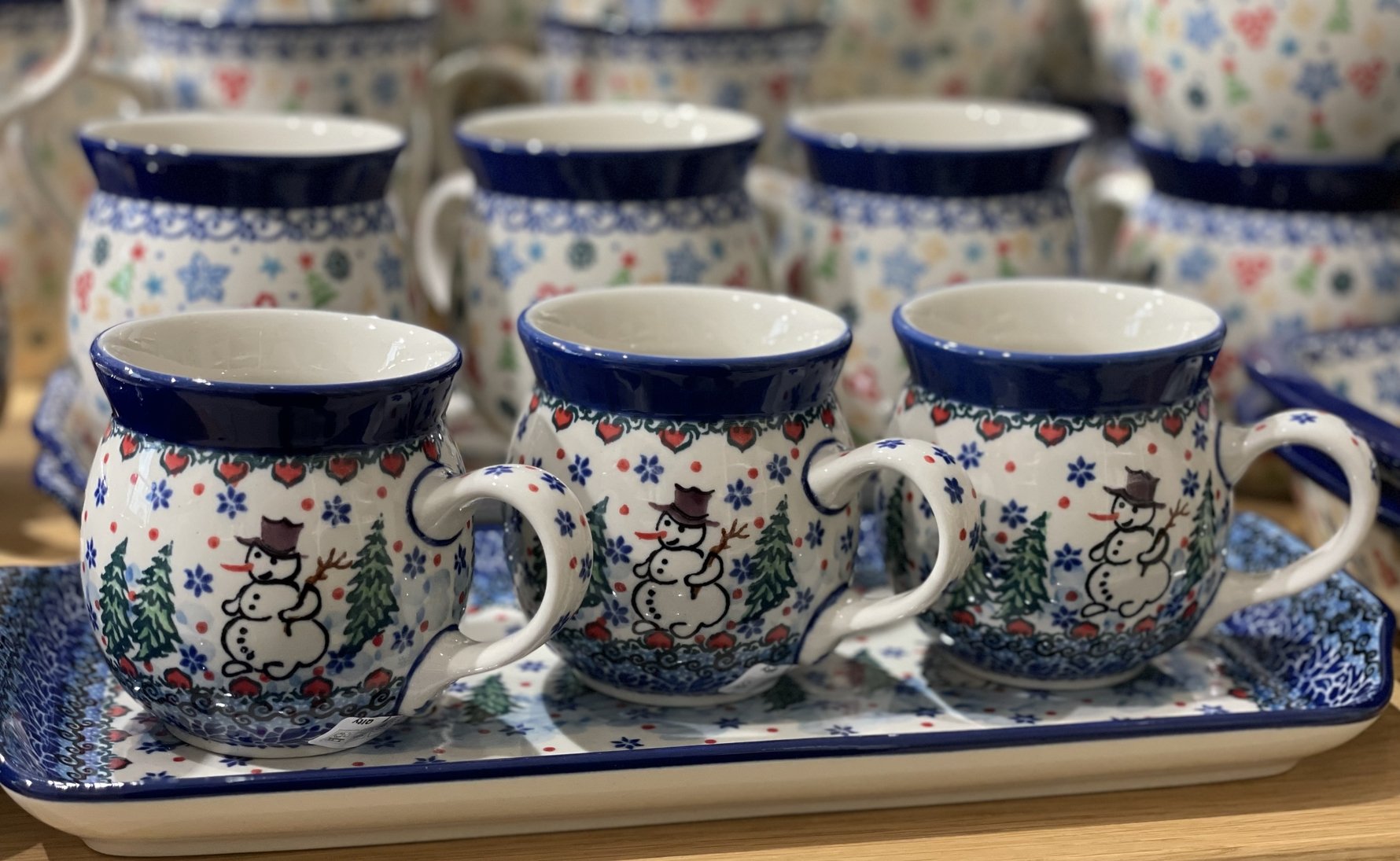 Nothing says, 'I've been to Poland' like a suitcase of vodka. The Poles have been distilling and draining vodka since the early Middle Ages, and Poland can make a legitimate claim as the spirit's primordial homeland. As such, you should put it on your souvenir list, even if it's not to your taste. Belvedere and Chopin are the elite clear brands you'll find in fancy gift sets, but don't miss unique flavoured vodkas like Żubrówka (bison grass vodka), Krupnik (herbal honey vodka) and Żołądkowa Gorzka (bitter stomach vodka). There are also dozens more, including every fruit flavour imaginable, so make sure you've done some taste-tasting while in town before hitting the duty-free shop at the airport; you can also find some of these brands available to order online through our shop.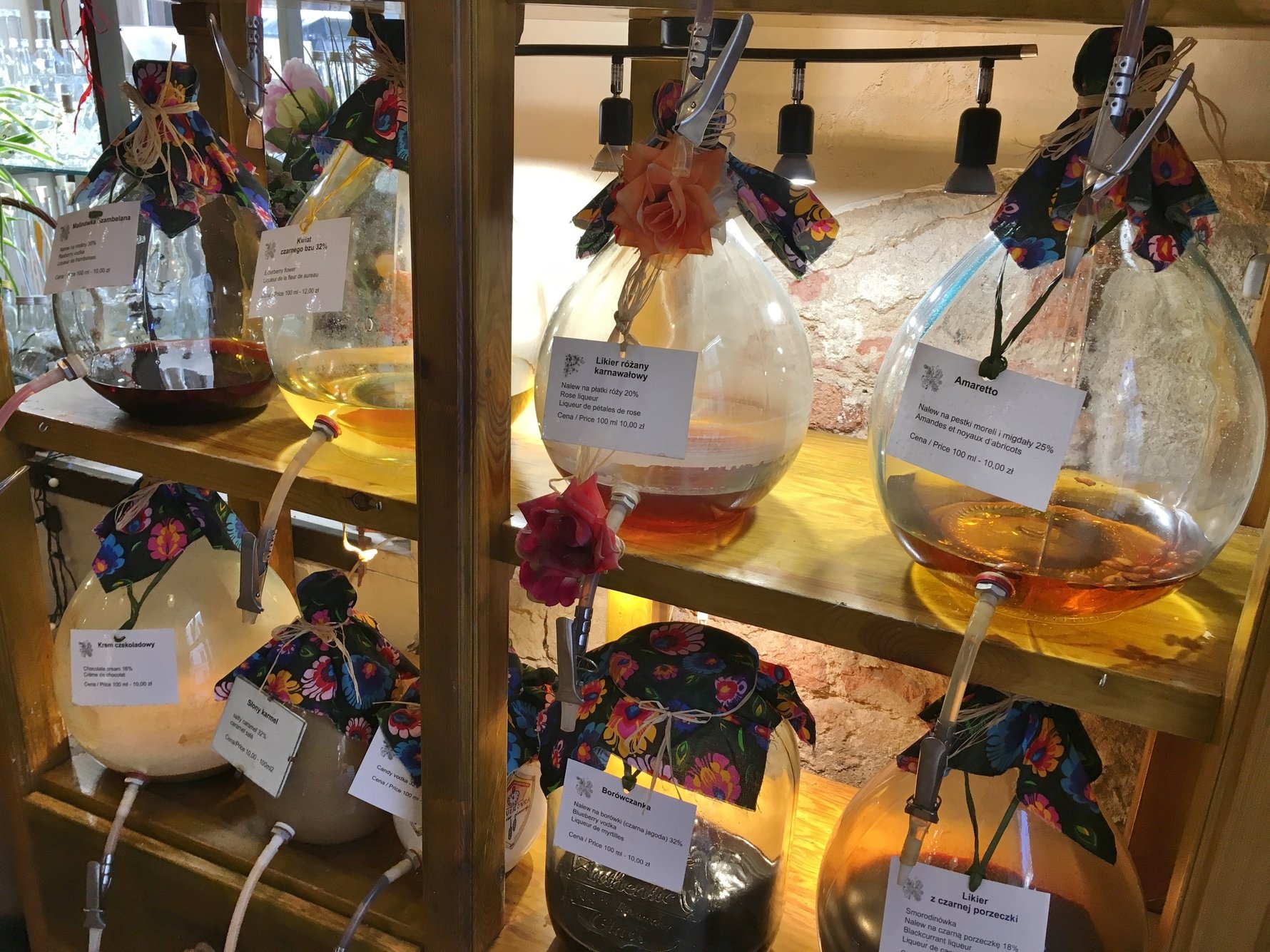 For research purposes, do your due diligence in Wódka Cafe Bar. Or better yet, drop in to Szambelan or Niewódka for a proper tasting session of delicious 'nalewki' you won't find in the alky shops. A Polish specialty, nalewki is a general term for liqueurs and aged tinctures made from vodka or neutral spirits and fruits, herbs and spices. Taste a few and then buy a bottle for a truly special (and potent) Polish gift.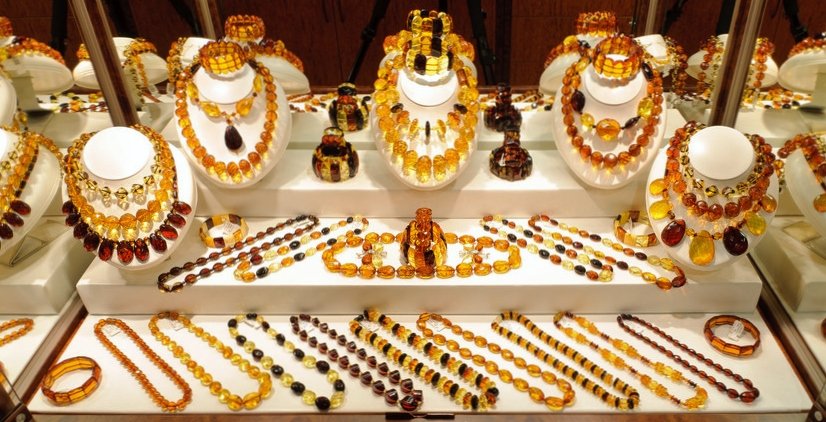 Honey vodka isn't the only golden nectar in town, there's also plenty of amber. Though far from the Baltic Sea from which it hails, Kraków was a major stop on the Amber Road and you'll find beautiful jewellery made from this fossilised resin all over the Old Town. Come back from PL without bringing baby some Baltic Gold and you've booked yourself a stint in the doghouse. Browse the stalls of the Cloth Hall, where prices are surprisingly competitive, or stroll down ul. Grodzka, where you'll find numerous amber galleries, including our fave, World of Amber.
 
Striped Flint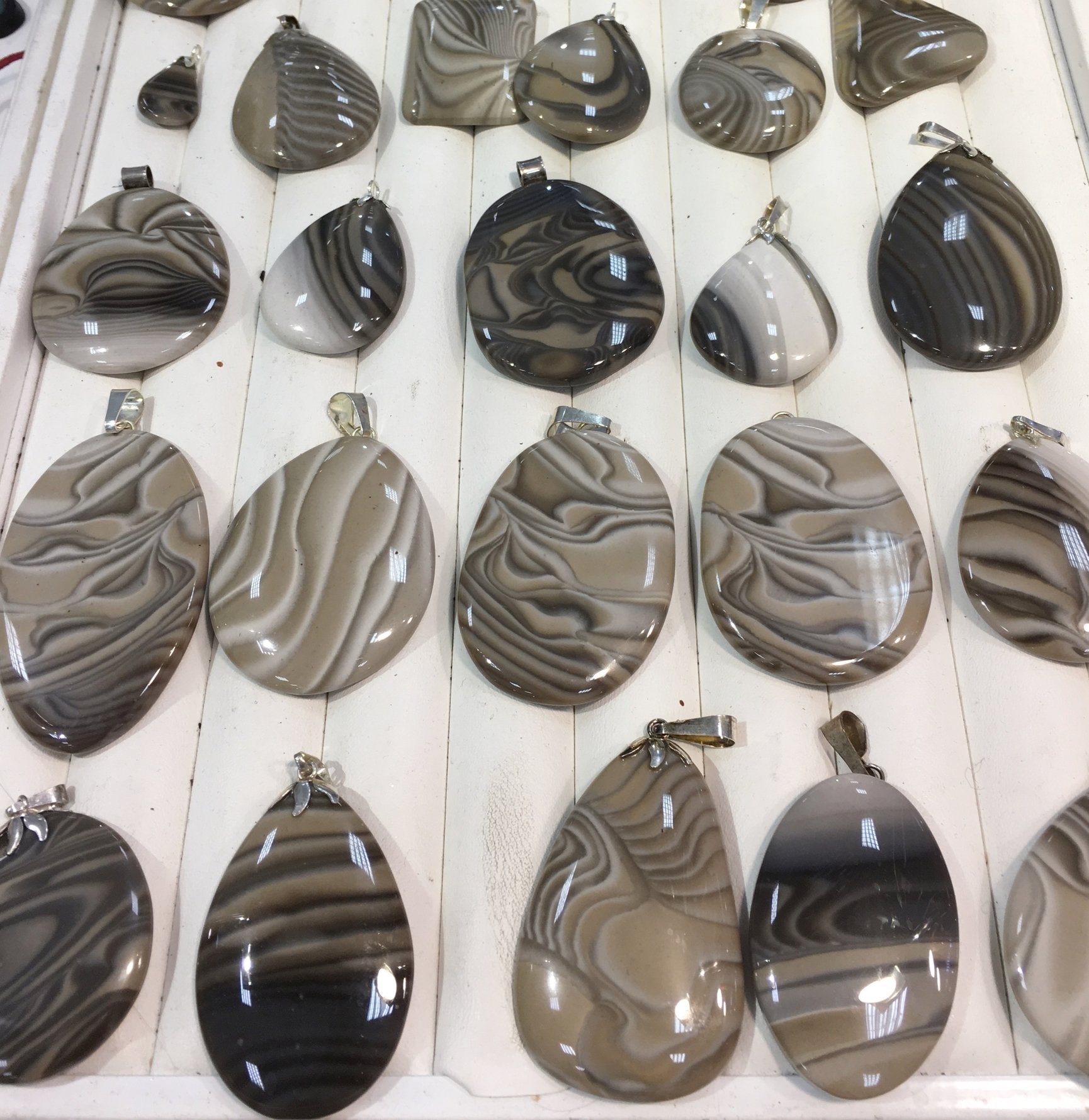 While we're on the subject of gemstones and jewellery, Poland actually has its own unique stone, known as 'krzemień pasiasty,' or 'striped flint.' The only striped flint deposit in the world is located about 200km north of Kraków, where it has been mined since the early Bronze Age. In fact, the Krzemionki Prehistoric Striped Flint Mining Region was inscribed on the UNESCO World Heritage List in 2019. In the 1970s, Sandomierz jeweller Cezary Łutowicz was the first to appreciate the aesthetic value of this regional wonder and began creating jewellery from the stone, whose gray and beige stripes resemble the rolling of the sea. Over the decades striped flint jewellery has grown in popularity, prized for its rarity and for being uniquely Polish. The best place to get it in Kraków is at the frequent Mineral Fairs that take place, but try the Amber Jewellery shop on Plac Mariacki.
 
Folk Costumes
Each region of Poland has its own ceremonial folk costume (take a trip to the Ethnographic Museum if you want to see them all), and that of Małopolska - the region to which Kraków belongs - is quite recognisable. Although it isn't worn every day, these costumes come out in earnest at folk fairs, festivals, weddings and other special occasions, and tourists will certainly encounter them on local street musicians and dancers, as well as in the souvenir shops, where folk motifs are printed on almost any trinket you can think of. It's all a bit kitsch to be honest, but - hang on a minute - okay, those outfits are actually amazing. I mean just look at those embroidered and beaded vests! Floral skirts! Red-striped trousers! Floral wreaths! Peacock caps! There's not a hipster alive who wouldn't kill for this outfit, or a kid on earth who wouldn't look adorable in it.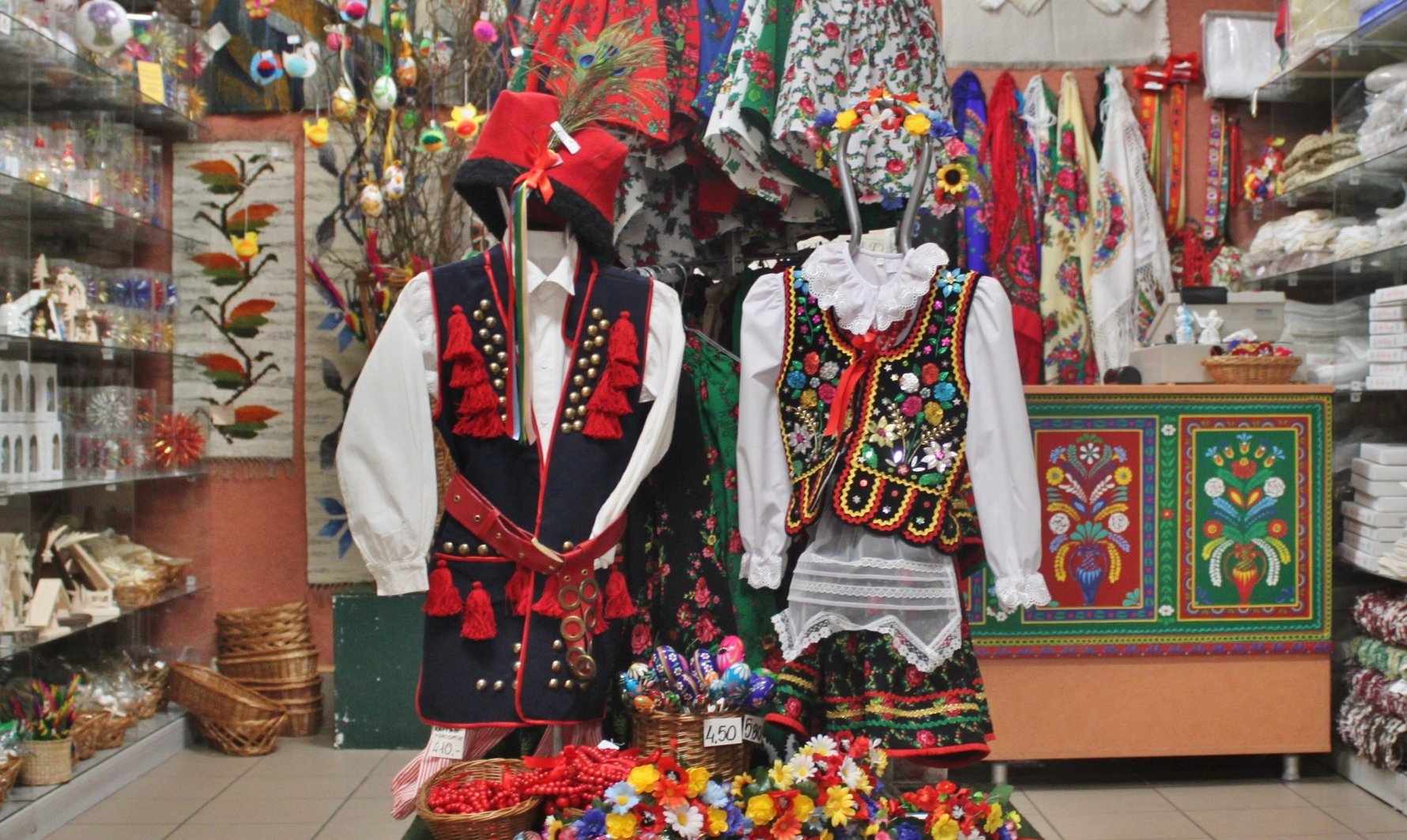 Unfortunately a full kit will cost you over 700zł, but you can always pick certain elements - like the vests or peacock feather caps. Dolls in folk attire are also a solid fallback plan and only cost 50-150zł (depending on size). Where to find them? In numerous stalls inside the Cloth Hall, of course.
 
Graphic Art & Posters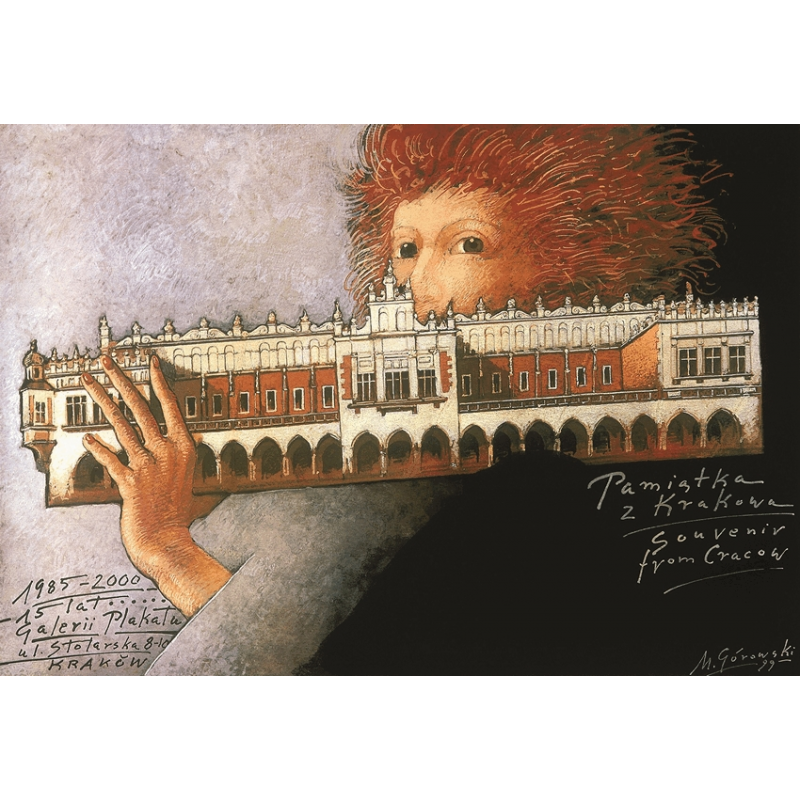 Poland has a rich tradition of graphic art, particularly poster art, which has developed as its own specific genre, with various schools and artists gaining national and even international renown as a result. In addition to posters for theatre productions, concerts, festivals and propaganda campaigns, during the PRL era Polish artists produced original posters for Hollywood blockbusters without having seen the films or even knowing anything more than the title and a few of the acting and production credits. As a result, you can find unique, highly original Polish posters for some of your favourite films that will surprise and potentially delight you with their abstract representations. To see what we're talking about, visit one of Kraków's two family-owned poster galleries - the Old Town's Cracow Poster Gallery (Galeria Plakatu), or the larger Dydo Poster Gallery in the former Hotel Cracovia. Both are amazing places to peruse and purchase limited edition prints, or collect some awesome postcards if you aren't ready to travel with a poster tube; you can also order posters online.

Also check out the beautiful albums The Art of Polish Poster by Dorota Folga-Januszewska, and Contemporary Polish Posters in Full Colour by Joseph Czestochowski - both of are guaranteed to make your coffee table perk up.
 
Slippers (Pantofle)
For first-timers in Poland (particularly our American friends with their ridiculous wall-to-wall carpeting), the idea of house slippers may seem a bit silly, but admit it - you love them. Wearing slippers around the home and having extra pairs for guests is simply part of Polish hospitality, and once you embrace it, why let go? Live here long enough, in fact, and you'll start travelling with your own pair, we promise. Women's slippers, which are colourfully embroidered, are a particularly fashionable and very affordable gift from Poland. Kraków's Cloth Hall is the perfect place to buy them, and if you don't know the exact size you need, does it really matter? They're slippers, after all.
 
Books, Albums & Literature
Mainland's Europe's first UNESCO City of Literature, Kraków is home to numerous literary cafes, bookstores, literary festivals and events, and has been home to many famous authors over the years, including Nobel Prize winners Wisława Szymborska and Czesław Miłosz, as well as popular sci-fi author Stanisław Lem and even Joseph Conrad. While in Kraków, a pilgrimage to Massolit is obligatory; this English-language bookstore/cafe/bar/cultural centre is as essential to the city's expat community and as iconic as Paris' Shakespeare And Company. Inside you'll find a cosy, friendly atmosphere and great selection of Polish literature in English translation, as well as plenty of Judaica, Polish and Central European history and cultural studies, even local English language authors.
 
Chess Sets
While you're scanning the stalls and shops of the Cloth Hall - both inside and out - keep your eyes peeled for handsome hand-carved wooden chess sets, which are very affordable and make a nice present. Of particular note are the hexagontal three-person sets - an interesting variant on the classic game which is probably new to most, particularly popular in Poland, and just as crazy (and fun!) as it sounds.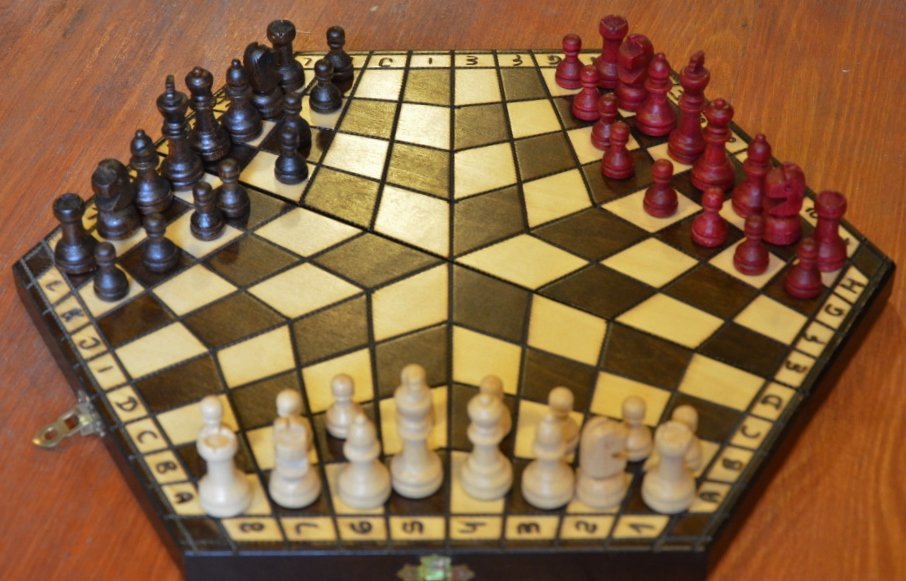 If you're a chess fanatic, or just an ardent admirer of handcraftsmanship, head to Podgórze to seek out Moje Szachy - Łukasz Wiciarz's woodcarving workshop, where the sculptor can be found most days from 09:00-18:00 creating chessboards and pieces for the beautiful sets available in his shop.