Country Info Bulgaria
Culture & Events
Discovering Bulgaria
Features
Hotlinks
Links
Free Download
Bulgaria In Your Pocket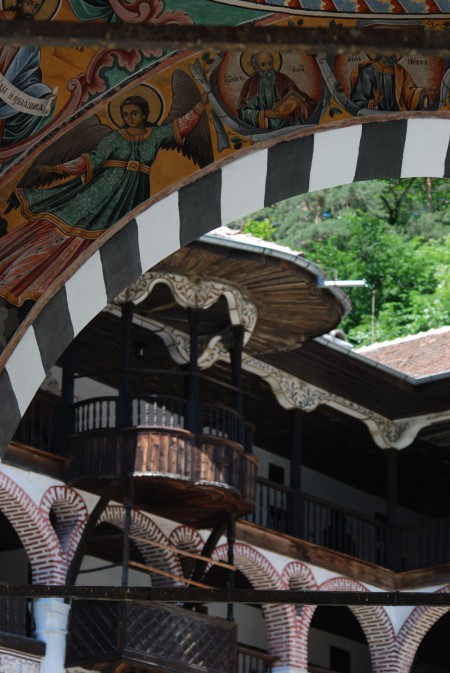 Rila Monastery
We love Bulgaria and we want you to love it too. We all seem to know someone who came on a beach holiday to Sunny Beach in the 1970s and still goes on about how awful it was, stuck in a time warp while the rest of the world has moved on. But there's so much more to Bulgaria than the Black Sea beach packages, though these days they also offer a value-for-money burst of sun, sea and sand if that's your thing.


Our Bulgaria guide gives you tips on how to spend a little more time here travelling the country and getting to know the people. Beautiful nature, genuine hospitality, excellent wines, mountains and beaches, mineral spas and a lively folklore tradition are all things Bulgaria can be proud of.

Situated on the Balkan Peninsula, Bulgaria shares its borders with Romania to the North, much of it denoted by the River Danube; Greece and Turkey to the South/South East and former Yugoslav states; Macedonia and Serbia to the West. To the East Bulgaria is flanked by the Black Sea, one of its biggest assets for summer tourism.
Bulgaria's 380 km of coastline offer everything from rugged secluded beaches to fully developed, highly commercialised resorts, such as Golden Sands and Sunny Beach. Add to that Bulgaria's mountain ranges; the Balkans (known locally as Stara Planina) run out centrally across the country; the Rila, Pirin and Rhodope ranges, with their charming mountain/ski resorts and unspoilt national parks, and it is easy to recognise the potential of this country for year round recreation.
 
In recent years alternative tourism has become the buzzword and many independent travellers head for Bulgaria's mountain villages where locals live the way they have done for centuries, donkeys are the preferred mode of transport and centuries-old traditions are still observed. Up here you can truly relax in the unspoilt nature, far from the hectic pace of city life, and enjoy the local home-grown produce. More than one hapless adventurer has ended up buying a home in Bulgaria after falling in love with the rural idyll.
The Capital of Bulgaria is Sofia.
Other major Bulgarian cities are Varna and Bourgas on the Black Sea, Plovdiv, Blagoevgrad and Rousse on the Danube.


If you're planning a holiday in Bulgaria, download your free travel guide to Sofia here and to Veliko Turnovo here.