Russia In Your Pocket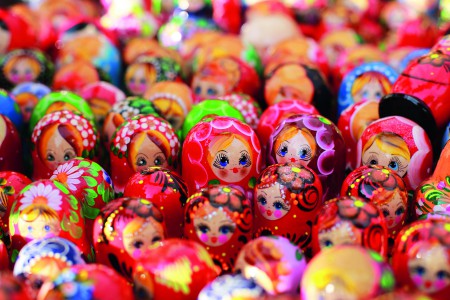 Traditional matryoshka dolls
Get the free PDF versions of our February - March 2015 guides to Moscow and St. Petersburg!

Russia, the world's largest country, is a surprisingly addictive place. It's a cocktail of the most memorable characters you're bound to meet anywhere - whether you go to Moscow, St. Petersburg or to some far flung Siberian village where you arrived by canoe. Russia is strange, wonderful and full of soul. In such a country, you need a reliable guide. You need In Your Pocket.
If you're headed to Moscow, the nation's capital with a medieval soul, you'll find yourself smack bang in where it's is all happening. Our hotel guide will point you in the right direction. For those on the hungry side, there's a wide choice of restaurants. And for the famous non-stop Moscow nightlife, you need to click here.
Visitors to St. Petersburg ought to be prepared for an avalanche of beauty, culture and a little bit of chaos. St. Petersburg has great theatres, concerts and festivals all year round. Its hotels are world class with a range of everything from the absolute cream of the crop to mini-hotels and humble hostels. You won't go hungry or thirsty here either with our St. Petersburg restaurant guide and nightlife guide, all tried and tested by In Your Pocket personally.