While Poland is fast becoming a typical European country there are still certain traditions and laws which the foreign visitor should be aware of.
Climate
Poland has a temperate climate with hot summers and cold winters. Seasons tend to be more pronounced than in the west and temperatures can get down as low as -20 C in winter and as high as +30 C in summer. The coldest weather tends to hit around February.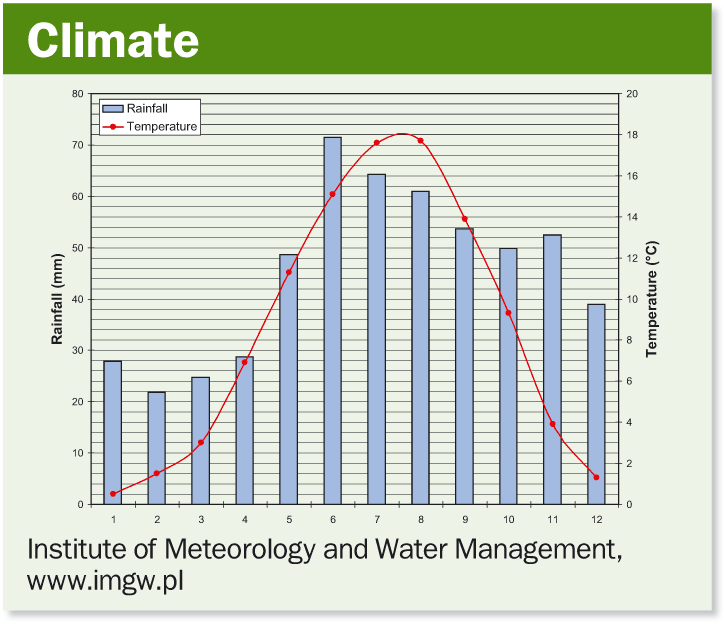 Customs
If you are travelling within the EU those over 18 can now take 10 litres of spirits, 90 litres of wine and 110 litres of beer. Most countries will not allow more than 800 cigarettes from Poland. If purchasing art or books, you need to consider their age and value. In order to leave the country, art must be less than 50 years old and under a certain value (varies depending by type; photos under 6,000zł, other art under 16,000zł, for example); if one of these conditions is met, the gallery curator can then provide you with a 'zaświadczenie' (permission document) describing the artwork's price and when and where it was created. If the work exceeds the permitted age and value, you must get permission from the 'Wojewódzki Konserwator Zabytków' (Regional Curator's Office) to take it out of Poland; bear in mind that this process will likely take 2-3 months. Books must be less than 100 years old and under 6,000zł in value in order to leave the country; if neither applies, permission must be obtained from the National Library. Obviously, problems arise when purchases are made at bazaars or flea markets where vendors cannot provide the necessary documents; if there is any doubt about the value or age of your purchase, we suggest you visit an 'Antykwariat' (antiques dealer – see shopping) for advice.
Electricity
Electricity in Poland is 230V, 50Hz AC. Plug sockets are round with two round-pin sockets. Therefore if you are coming from the US, UK or Ireland you are definitely going to need a plug convertor. The best place to pick these up is at home, though if you arrive without one try your hotel concierge or reception; they should be able to point you to the nearest electrical store if they fail to provide a convertor themselves.
Facts & Figures
Territory
Poland covers an area of 312,685 square kilometers and is the ninth biggest country in Europe. It borders the Baltic Sea (528km) and seven countries, namely Belarus (416km), Czech Republic (790km), Germany (467km), the mysterious Russian exclave of Kaliningrad (210km), Lithuania (103km), Slovakia (539km) and Ukraine (529km).

Longest River
The river Vistula (Wisła) is Poland's longest river at 1,047km and flows through Krakow and Warsaw before reaching the Bay of Gdańsk (Zatoka Gdańska).

Highest Point
The highest peak is Rysy (2,499m) in the Tatra Mountains along the southern border with Slovakia. In comparison, Katowice's landscape rolls a bit more gently with the city's elevation between 266-352m above sea level.
Population (2015)
Poland - 38,478,602
Warsaw - 1,735,442
Kraków - 761,873
​Łódź - 706,004
​Wrocław - 634,487
​Poznań - 545,680
​Gdańsk - 461,489
​Katowice - 301,834.