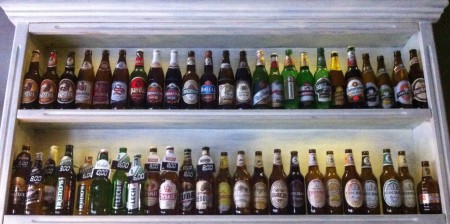 Tyskie
 and 
Żywiec
 – which enjoy ubiquitous national distribution and sadly also bear the mantle of Polish beer abroad. Basically a diet of these two gets boring fast for anyone with a real affinity for beer. What too often goes unrealised is that Poland actually has hundreds of independent micro-breweries that produce delicious beer. More and more bars in Katowice are popping up serving ambitious brews from tap and bottle. Some are even declaring it to be the year of beer!
Biała Małpa
 has perhaps the largest selection of draft and bottled beers in Katowice and will even please the fairer sex with their offerings of enhanced beers (think berry beer, chocolate beer and lemon beer). They offer a constantly changing selection of craft beers from around the globe but with a specific emphasis on the many Polish micro-brews gaining prominence.  Beer experts, buckle up!
It's super trendy, but the beer in ul. Mariacki's
Kato
is also super tasty. The selection of bottled micro-brews is always in flux but there are plenty to choose from; we recommend Magnus, a sweet dark beer from the Jagiełło Brewery in far eastern Poland. If you're looking for something more local, head to 
Latająca
Świnia
  to try a draught from the Castle Brewery in Raciborz. 80km southeast from Katowice, Raciborz is about as far from the city as you can go without leaving Silesia, but Silesian beer it is, and their quality brews include a honey lager, dark bock beer and the mysterious 'green pilsner.' 
If you want to stack these national ales against their Czech counterparts make sure to stop into 
Hospoda
  and immerse yourself in a sea of Czech suds from Kozel Dark to Rychtar to Radogast.  If German Beer is your thing than head to the brand new
Browariat
for a bucket of Bavarias finest brew.  The last of the great new breed of beer pubs is
Namaste Traveler's Club
which has a solid offerring of micro-brews on tap but perhaps the most impressive list of domestic and imported bottles in the city. Na zdrowie ('to your health'); literally.