Copernicus Science Centre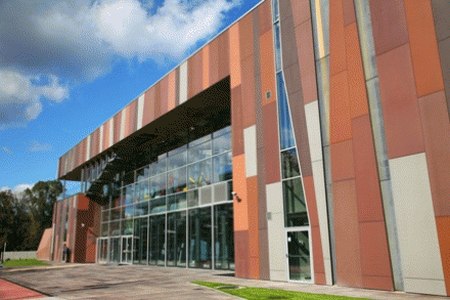 Centrum Kopernika
A rare example of European Union funding being used in a genuinely visionary way, the CSC is many things, not least (in the words of Poland's Education Minister shortly before the opening) an attempt to restate the case for science and
research in what can still be an intensely and deeply religious country. In that sense, giving t he centre the name of the man who did so much to end the church's monopoly of education in the first place is little short of a masterstroke.
Not that Copernicus did it all his own way; in the aftermath of the tragic death of Polish President Lech Kaczynski in April 2010 the president's political party, PiS (Law & Justice), lobbied heavily to have the CSC renamed for him. The request was politely, respectfully, refused.
Given the stunning, futuristic sight – all glass and steel - that greets visitors at the €93 million (half of which came from the EU, half of which came from the Polish taxpayer) CSC today, it's a little ironic that the building's origins are slightly more humble. The idea of creating the centre first took shape at the informal Science Picnics - outdoor science, culture and art events aimed at the general public that have been held in Warsaw's Rynek Nowego Miasta since 1997. The idea of the picnics (which were organised by Polskie Radio, strangely enough) was to bring popular science to the masses through hands-on experiments. Each year, as the numbers of scientists, universities, schools and members of the general public taking part grew, it became clear that there was an expanding interest in science in Warsaw, while the large numbers of foreign visitors who came to the events suggested that there was an untapped market in the region for hands-on scientific learning. Construction of the CSC was the natural next step, though it took a number of years to secure the site and funding.
Given the ad hoc Science Picnic origins of the CSC, it is no surprise that the museum (if we can call it that) was opened in a slightly ad hoc, it-will-be-all-right-eventually fashion. The opening show, Wielki Wybuch (The Big Bang), directed by Peter Greenaway and Saskia Boddeke, was a little underwhelming (and at certain points quite bizarre), while visitors to the centre in the first couple of weeks were greeted by an annoyingly large number of 'this exhibit is temporarily out of order' signs. Yet throughout 2011 as the CSC rolled out sections of the museum to the public it quickly became clear that this is unquestionably the very best science centre in Europe, and today visitors can enjoy a fully completed attraction.