The shiny-gold high-speed rail service, the Gautrain, swiftly links central Johannesburg with the northern suburbs and beyond to Pretoria and OR Tambo International Airport. Leaving the stresses of rush-hour traffic behind, every day thousands of commuters take advantage of this fast, clean, safe and reliable service. The diverse neighbourhoods linked by the Gautrain also hold many of Gauteng province's biggest attractions. If you are looking for a fast and easy way to fill a day of sightseeing, using the Gautrain is unbeatable.

This summer, in collaboration with Gautrain, we have a new series of day trip guides. Your journey starts here as we spotlight the many attractions easily accessible from each of Gautrain's main stations and help you plan the perfect Gauteng day trip using a Gautrain station as your launchpad.

First up, our guide to exploring the historic Johannesburg City Centre from Park Station. 
Park station – the gateway to Johannesburg
Bang in the centre of Joburg's historic central business district, Park Station is the city's biggest transport hub and one of the busiest transport nodes in southern Africa. From the main Park Station building minibus taxis and long-distance bus services ferry travellers across the city and the country. 

The Gautrain has its own station here, entirely separated from the relentlessly busy Park Station complex, and connects to two Gautrain bus routes – the J1 Parktown and the J2 CBD – which both run on weekdays only. There's also a Rea Vaya bus station directly opposite the station providing even more options for exploring the city with public transport on weekends.

The Park Station Gautrain Station sits on the doorstep of studenty Braamfontein. One of Joburg's best examples of inner-city regeneration, the centre of Braamfontein is just a 10-minute walk from the station and there you'll find colourful street art, cafes and bars and a unique, creative energy that attracts a youthful alternative crowd. 

On the other side of the railway bridge from Park Station is the historic Johannesburg City Centre where the streets offer up an eye-catching mix of architectural styles. This part of the city is packed with history and heritage and is a interesting place to explore on foot with numerous pedestrianised city streets, including sections of Main Street, Bank City, Fox Street and Kerk Street (all of which can be reached from the Gautrain station via the J2 CBD bus on weekdays or on weekends with the Rea Vaya bus).
Getting around from Park Station
Braamfontein is within a very easy 10-minute walking distance of Park Station. The Johannesburg City Centre is best reached in 10 to 15 minutes on the J2 CBD bus which stops near to FNB Bank City, Gandhi Square and the Main Street Mining District. On weekends when the Gautrain bus is not operating we recommend hopping on the Rea Vaya bus and getting out at Library Square Gardens.

Like any big city you should be vigilant when walking in Braamfontein and the Joburg City Centre. Pay attention to what is going on around you and heed the warnings about phone snatching by avoiding using your phone on the street. Don't flash your valuables around and be mindful of pickpockets. Avoid walking across the railway bridges into the City Centre by taking the Gautrain or Rea Vaya bus from the station. 
Essential sightseeing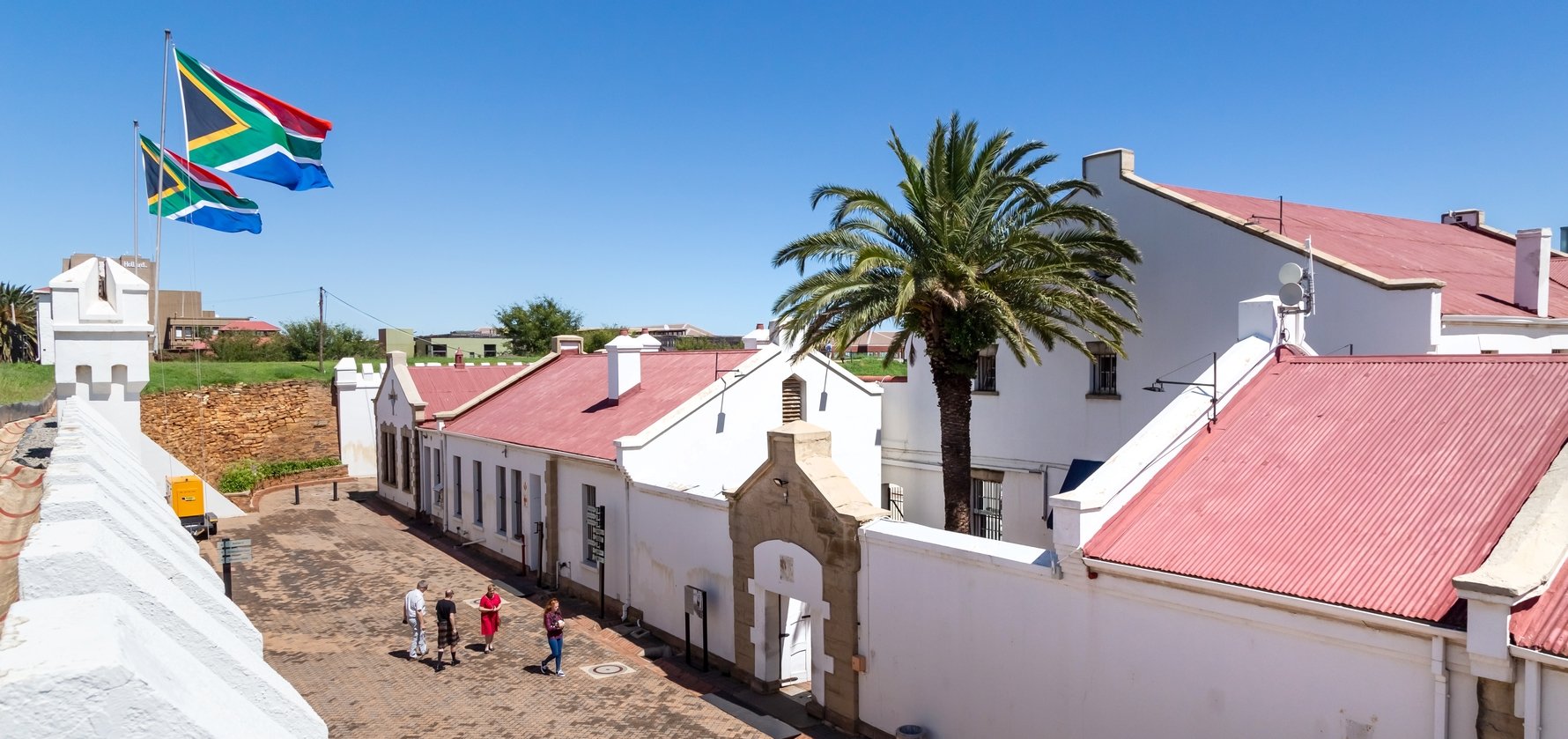 CONSTITUTION HILL
A 15-minute walk north of Park Station in Braamfontein is Constitution Hill, a national heritage landmark that is home to one of the best museums in the country, as well as the South African Constitutional Court. Once a colonial fort and later a prison, the complex now houses an excellent and powerful museum detailing the lives of the many political prisoners who were incarcerated here. Museum tickets also include a guided tour of the complex. Find out more about the museum and buy your tickets online here.
How to get there: Take the J1 Parktown bus (weekdays) to Constitution Hill.

MAIN STREET MINING DISTRICT
The beautifully preserved Main Street Mining District is another must-see. Along a pedestrianised stretch of several city blocks between Gandhi Square and Ntemi Piliso Street, you'll find covered wagons, stamp presses and old headgear that have been preserved from Joburg's early mining years, complemented by extensive displays outlining the story of Johannesburg's gold rush. On weekdays at the Standard Bank headquarters (the J2 CBD bus stops just outside) you can even visit the entrance to an old mine tunnel, Ferreira's Stope. Read more about the Main Street Mining District and Joburg's remarkable gold rush history here. 
How to get there: Take the J2 CBD bus (weekdays) and get out at the corner of Marshall and Harrison Streets. On weekends take the C-3 Rea Vaya bus from Park Station.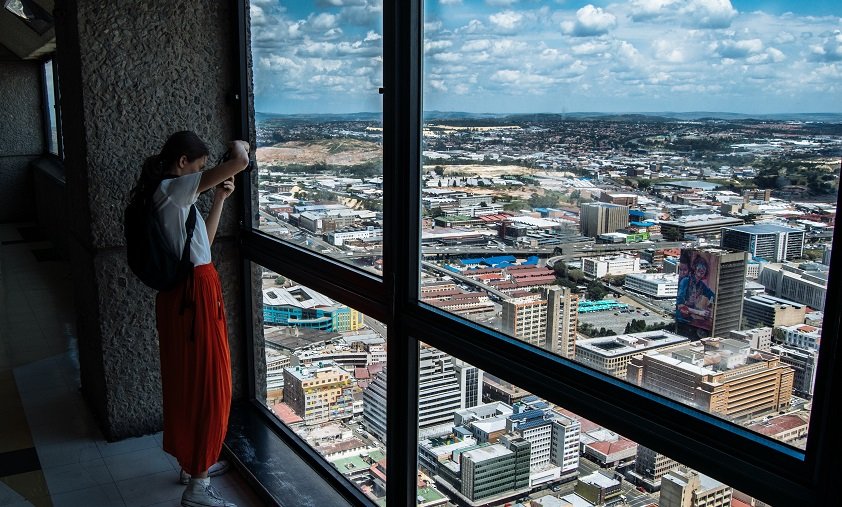 CARLTON CENTRE
For the best views of the city make your way to the Roof of Africa viewing deck on the 50th floor of the Carlton Centre just off Gandhi Square, an incredible place to visit to get a sense for the city's scale. Find out more and plan your visit to the Carlton Centre here. 
How to get there: Take the J2 CBD bus (weekdays) and get out at the Boston College Marshall Street stop. On weekends take the Rea Vaya bus from Park Station to the Carlton Centre stop.

STREET ART WALKING TOURS
And if you are interested in the local street art scene, book a street art walking tour of Braamfontein with Past Experiences, taking in the many awesome murals and other public art installations that make this such a characterful area. Find out more and book a tour with Past Experiences here.
Fashion and gift shopping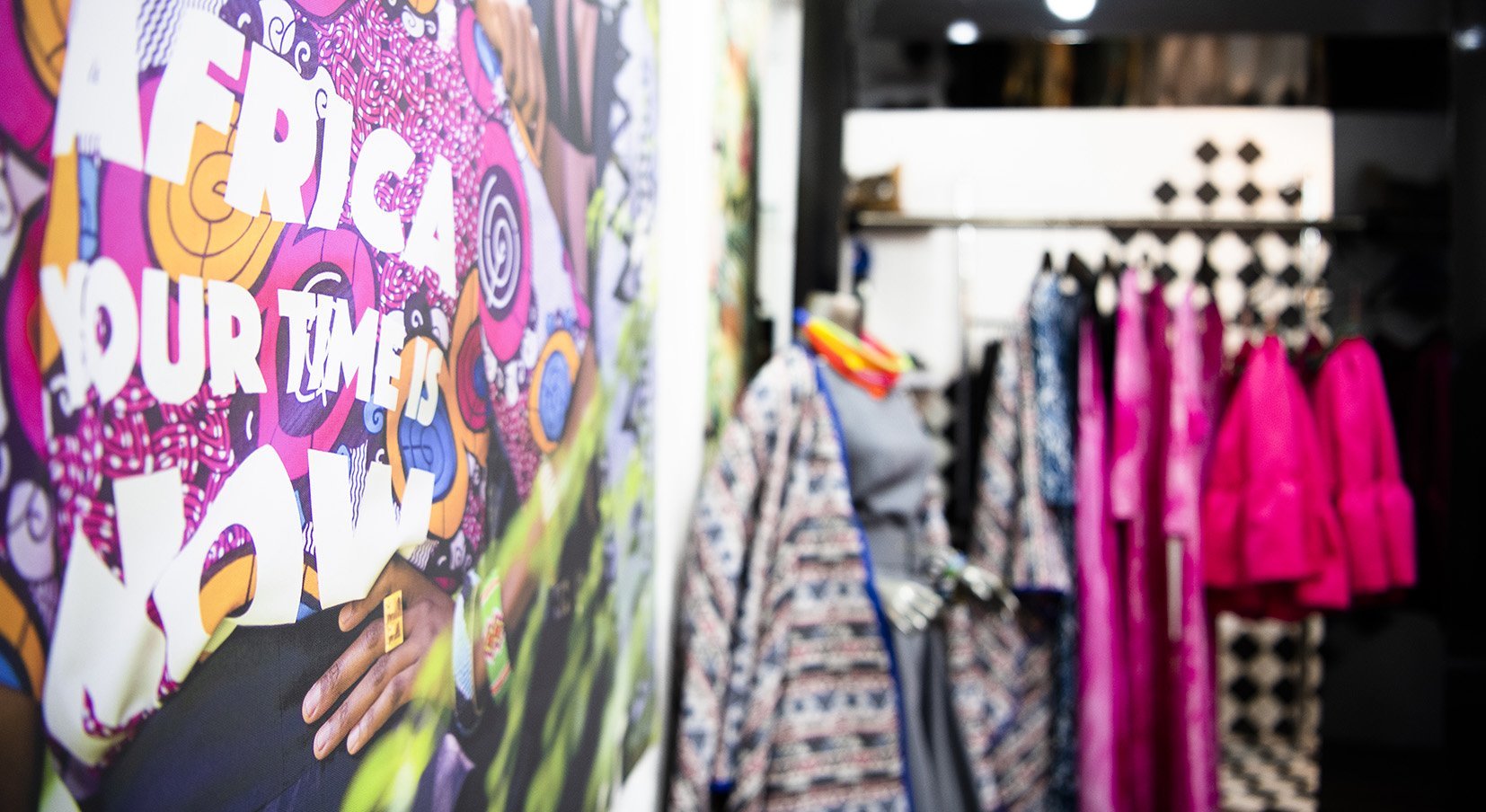 AFRICARISE
A must visit in the city for any dedicated follower of fashion AfricaRise is the brainchild of South Africa fashion designer and retail entrepreneur Thula Sindi. This shopping emporium, in the landmark heritage building Magnet House (about three blocks from Gandhi Square, the J2 Gautrain bus stops just outside), showcases unique African and South African designer clothing, accessories and jewellery labels from both established and emerging designers. Check out what's on offer and plan your visit to AfricaRise here.
How to get there: Take the J2 CBD bus (weekdays) to Reef Hotel, AfricaRise is on the opposite side of the road at 66 Anderson Street. On weekends take the C-3 Rea Vaya bus and get out at Library Square about four blocks walk.

FABRIC SHOPPING IN THE FASHION DISTRICT 
The Johannesburg City Centre is one of the best places to buy fabrics in South Africa. Walking tour company JoburgPlaces leads excellent tours of the traditional Fashion District, known for its extensive and eclectic selection of fabrics shops, that start from their venue Thunder Walker on Gandhi Square. Check out all of JoburgPlaces tours and book a visit here.
Where to get lunch
A delicious lunch in a unique location is always a good reason to travel to a different part of town. Both Braamfontein and the Main Street Mining districts have atmospheric venues where you can enjoy a good coffee and lunch in memorable surroundings.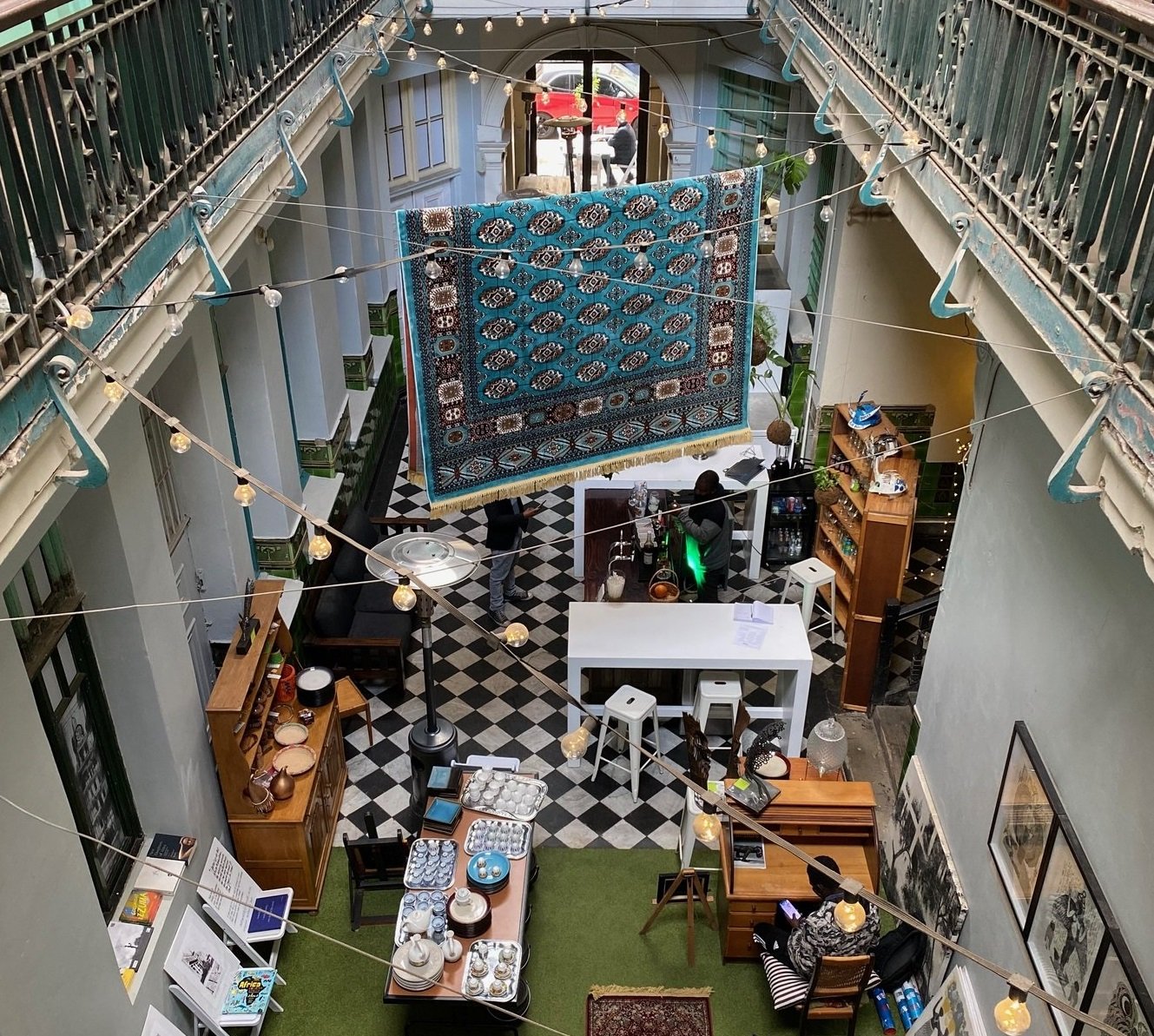 THE MANGROVE
Located in a beautifully restored heritage building on the corner of the always lively De Beer Street, this spacious bistro and bar serves a classy menu of cafe-fare and offers lots of space in which to kick back and relax while listening to a super chilled jazz soundtrack.
How to get there: 10 minutes walk from Park Station Gautrain, The Mangrove is located at 2 De Beer Street.
THUNDER WALKER 
Set in the Edwardian Somerset House Arcade on Gandhi Square (also the home of JoburgPlaces walking tours), lunch is served on tables arrayed in the bright and airy arcade, and also along the sidewalk on Fox Street. The menu is a taste of South Africa's eclectic migrant heritage with a mix of comfort food dishes that include fragrant Cape Malay curries, vegan chakalaka salad, bobotie and a Chinese chicken Chow Mein. Read our review of Thunder Walker here.
How to get there: Take the J2 CBD bus (weekdays) to the Reef Hotel stop, three blocks from Gandhi Square. On weekends take the Rea Vaya bus to the Carlton Centre stop, also three blocks from Gandhi Square. 

JOHANNESBURG CULINARY AND PASTRY SCHOOL
One block from the Rand Club on Commissioner Street is an historic banking hall, the City Central building, which is now the home of the Johannesburg Culinary and Pastry School. A training facility for young chefs the school offers some of the best value lunches around. There are lots of daily specials and an irresistible patisserie.
How to get there: Take the J2 CBD bus (weekdays) or Rea Vaya bus to Library Square Gardens. City Central is located two blocks away at 85 Commissioner Street.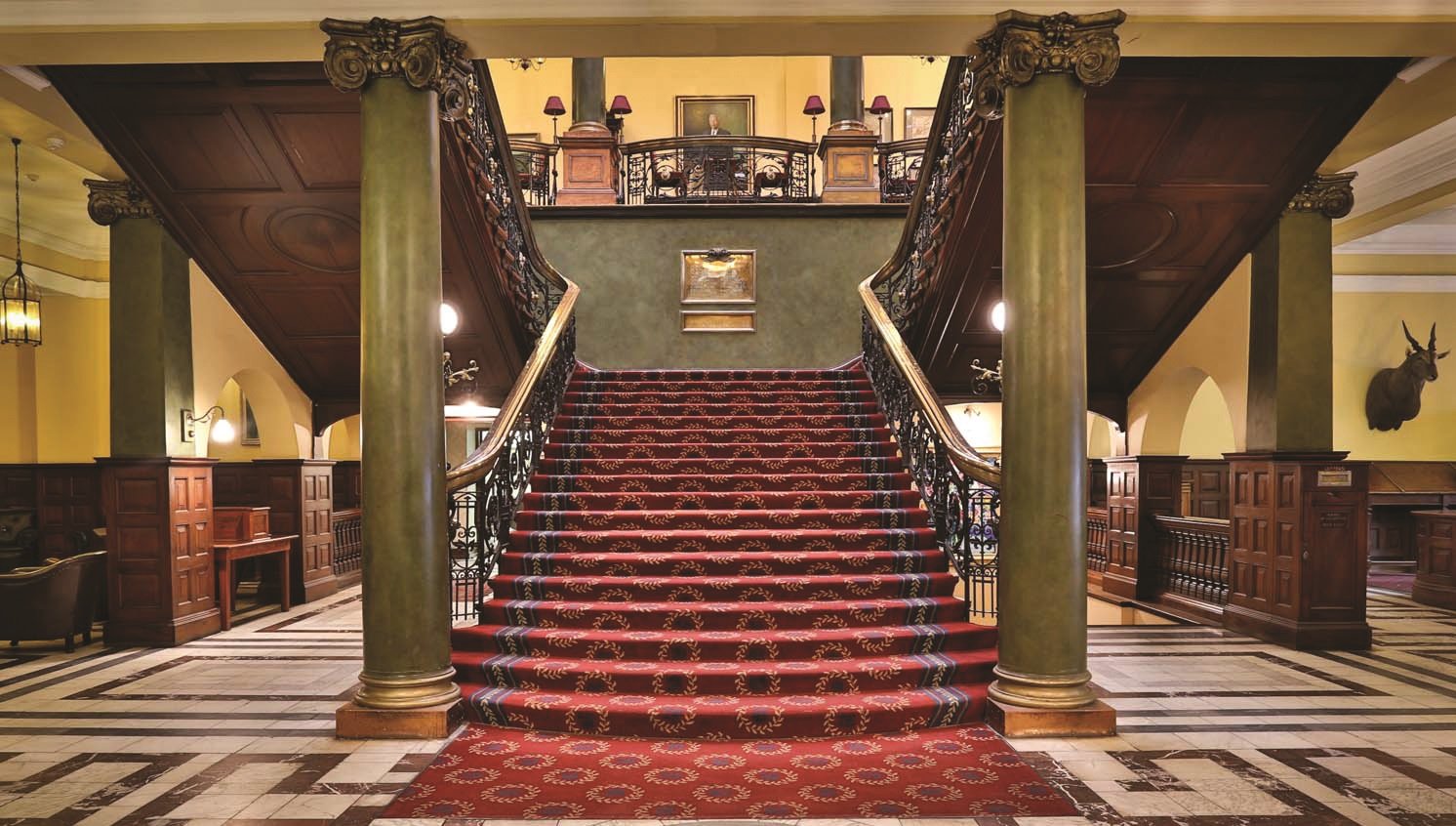 RAND CLUB
Johannesburg's oldest private member's club, the Rand Club, welcomes the public for breakfast and lunch in its exceptional long bar, an institution since the Club's founding in 1887. Thoughtfully and beautifully restored, the Rand Club is a breath of fresh air in the City Centre and a treat to explore. While you are there make sure to also visit James Findlay's Collectable Books & Maps and the Bridge Books bookshop next door to the club. The Rand Club often hosts events such as film screenings, lectures, book sales and live music events, find out more about the club here.
How to get there:​​​​​​​ Take the J2 CBD bus (weekdays) or Rea Vaya bus to Library Square Gardens. Rand Club is located two blocks away at 33 Loveday Street.
Where to stop for coffee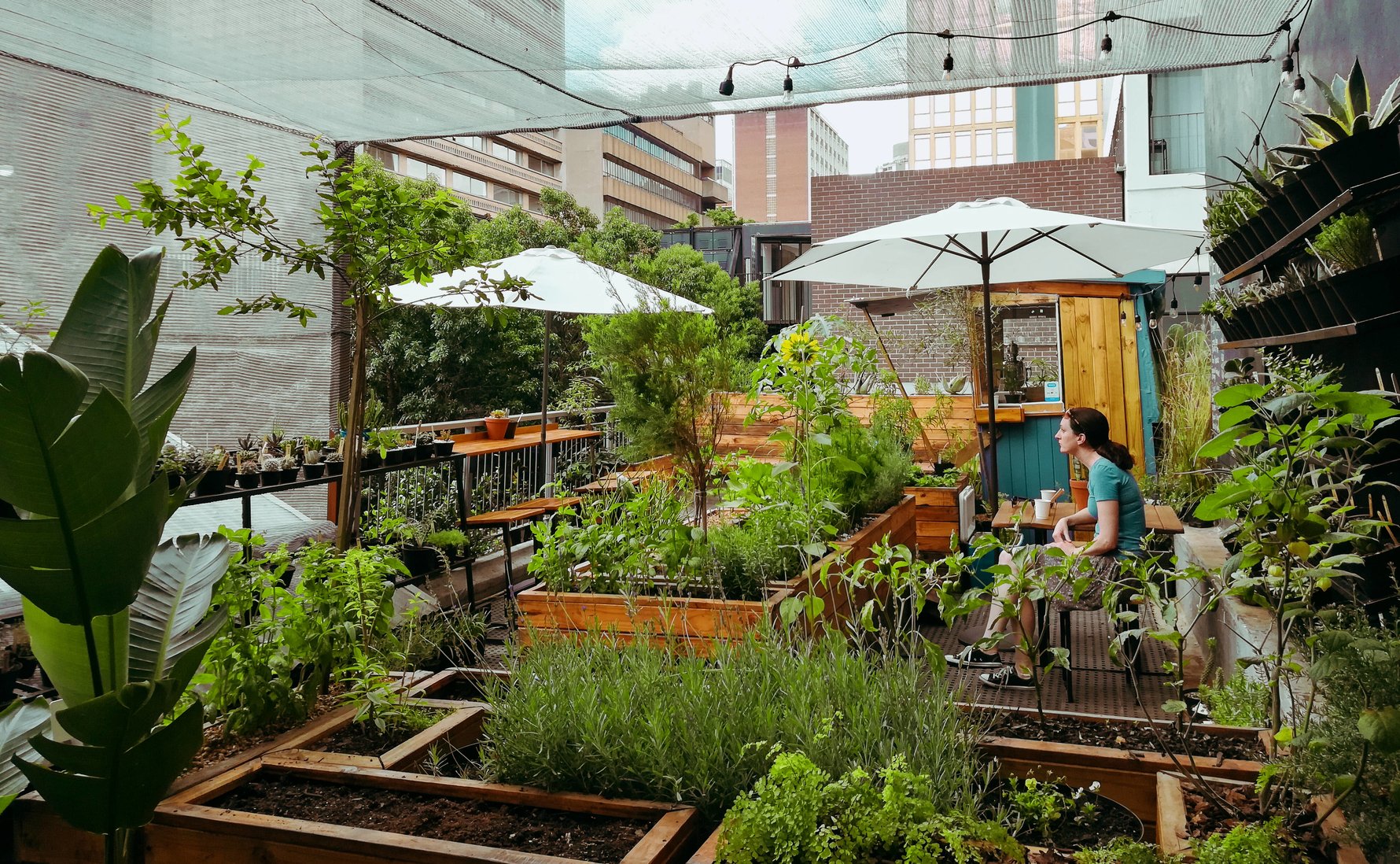 JFF ROOFTOP FARM
The JFF Rooftop Farm, a small plant nursery and rooftop tea garden accessed via a ladder in a discreet city courtyard, is a delightful green corner of busy Braamfontein. The perfect place to take time out from the city with an iced coffee or a herbal infusion made using fresh lemon verbena and peppermint plucked straight from the garden. Read more about JFF Rooftop here.
How to get there:​​​​​​​ 10 minutes walk from Park Station Gautrain, find the entrance behind Kalashnikovv Gallery at 70 Juta Street.

FNB BANK CITY
The pedestrianised FNB Bank City precinct, set around a series of grand granite-clad courtyards, had a major revamp in late 2019 with fountains and 'outdoor lounges' added and lots of new cafes and takeaway joints including the massive foodhall chain Food Lover's Eatery and the funky Durban-chain Afro's Chicken Shop. For one of the best cappuccinos in this side of the city, join the queue at Flight Coffee. Note that most food retailers at FNB Bank City do not open on weekends.
How to get there: Take the J2 CBD bus (weekdays) ​​​​​​​or Rea Vaya bus to FNB Bank City.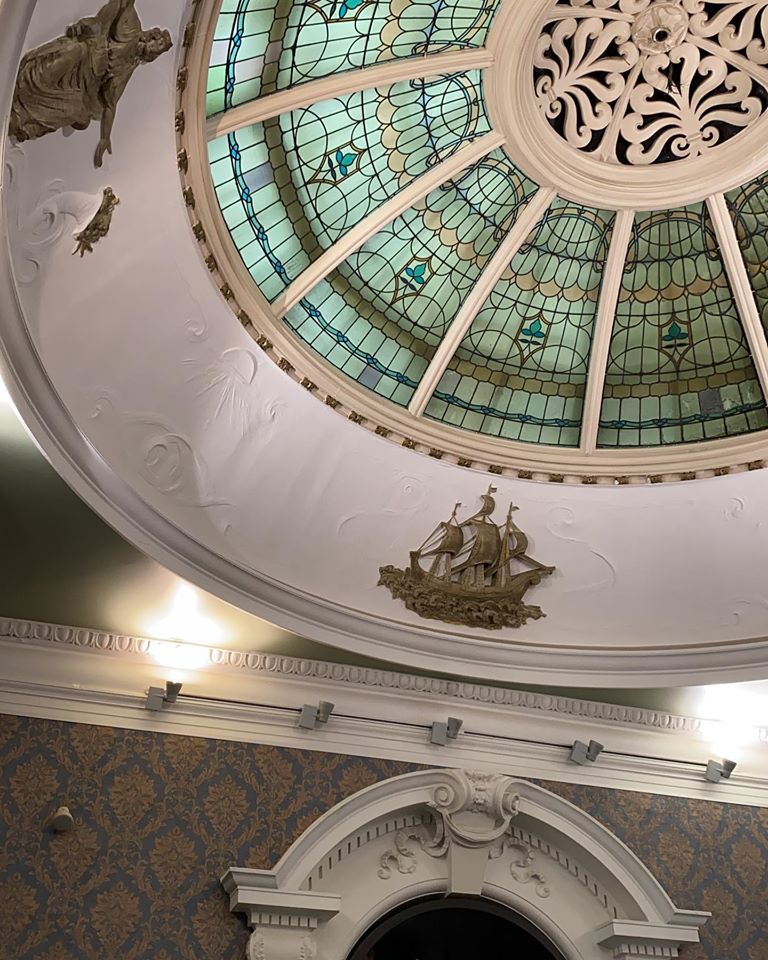 ORNATE COFFEE
Close to the Library Square Gardens, Ornate Coffee is an essential coffee stop, as much for the freshly roasted Fairtrade Bean There coffee as it is to marvel at one of Joburg's most spectacular ceilings, including a glorious stained glass dome that dates back to 1903.
How to get there:​​​​​​​ Take the J2 CBD bus (weekdays) or Rea Vaya bus to Library Square Gardens, Ornate Coffee is at Corner House just off the square (corner Commissioner Street).​​
How to use the Gautrain
You can now pay for all your Gautrain trips using a contactless bank card by simply swiping in and out of the turnstiles at stations and tapping the contactless touchpoint on the bus when you enter. Alternatively, buy a Swift Card at the station and top it up to pay for your trips.​​​​​​​

The Park Station Gautrain Station opens at 05:15 and closes at 21:30. The first train departs the station at 05:24 and the last at 20:30. Trains leave every 12 minutes during weekday peak rush hours and every 20 minutes during off-peak hours. On weekends trains depart every 30 minutes. Download the Gautrain app for real-time updates on when the next Gautrain and Gautrain bus is due or check online at gautrain.co.za.

The first Gautrain bus leaves Park Station at 05:57 and the last at 20:27. Buses depart every 10 or 20 minutes depending on the time of day. Note that there are no Gautrain bus services on weekends.