One of the coolest neighbourhoods in the world (according to Forbes magazine), Maboneng is a golden child amongst Joburg's regeneration stories and was transformed from an industrial and factory district to a hip lifestyle playground. The neighbourhood's main high street is Fox Street, home to Maboneng's pioneer development Arts on Main and an eclectic selection of dozens of bars, cafes and restaurants. Beyond Fox Street the Greater Maboneng Precinct now stretches out over dozens of regenerated city blocks encompassing residential buildings and commercial retail premises as well as a school, a boutique hotel, backpackers, gallery spaces and artist studios and dozens of restaurants and bars.

The development of the Maboneng Precinct began in 2009 and after more than a decade this colourful, youthful neighbourhood has cemented its place as a popular Joburg visitor attraction in its own right. Whether you are planning a fly-by visit or staying the night, here's ten must-do Maboneng experiences to put on your itinerary.
Explore the arts at Arts on Main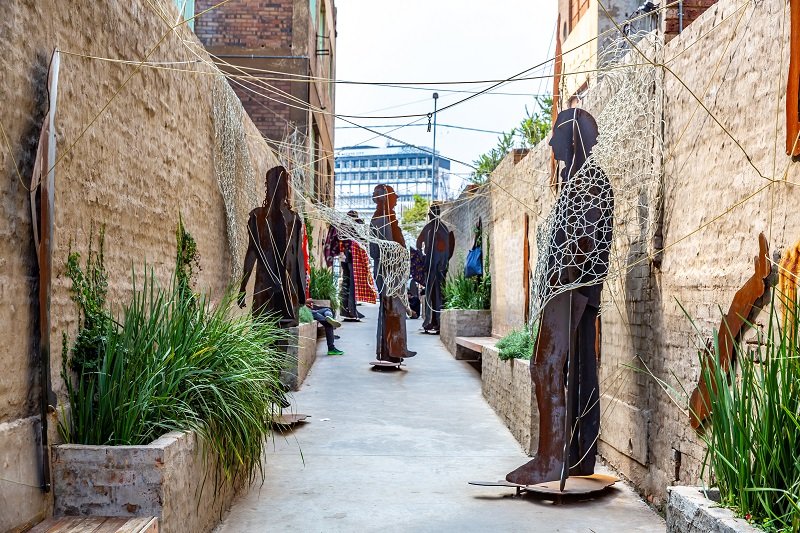 Arts on Main was once the offices of a former Johannesburg Mayor. Today the complex is an artistic hub housing artist studios, including world-famous contemporary artist William Kentridge's expansive studio, as well as the artist printing press David Krut Projects and a collection of enticing shops and eateries.

For unique gifts check out photography studio  I wasshotin Joburg :) who produce a range of products that include mounted canvases of their unique urban photographs, T-shirts, notebooks, cushions, photo frames and corporate gifts. By shopping there you are also supporting the work of the I Was Shot Foundation, an outlet for former street kids who receive photography training. Don't miss the David Krut Projects workshop where you can see local fine art print masters working on the printing press and browse one of the best selections of art books in the city. If you are looking to buy an original art print by a local artists there's also a collection of contemporary works on sale.

In addition to the workshops and galleries keep an eye out for events at the Centre for the Less Good Idea. Based at Arts On Main, this experimental, collaborative, multi-disciplinary arts platform founded by William Kentridge hosts regular art performances and art talks. 
Sunday lunch at Market on Main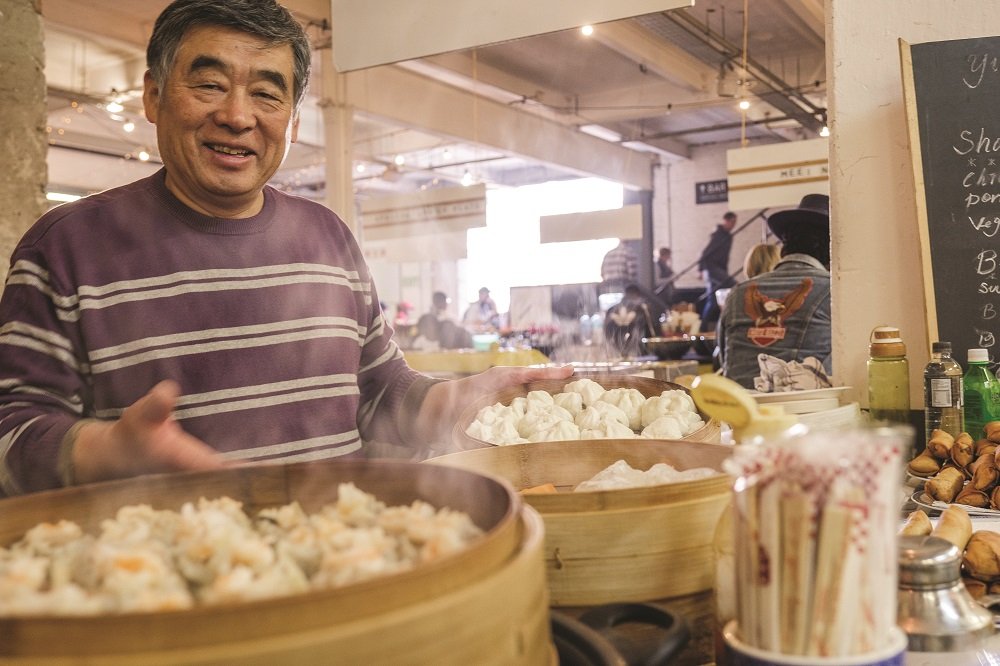 The Sunday heartbeat of the Maboneng district, the atmosphere at the weekly Market On Main, which takes over the Arts on Main building every Sunday, is addictive. Food and design are centre stage with the ground floor of Arts On Main devoted to an enticing food selection with options ranging from West African grilled fish and jollof rice to Durban bunny chows, Chinese dumplings, fresh paella, vegan cakes and pulled pork sandwiches.

One floor above is devoted to vintage fashion finds with one of the best selections of vintage fashion vendors in the city selling everything from punk leather jackets to cute dresses and colourful accessories. The building flows into a central grassy courtyard that is the perfect spot for lazing away a Sunday if you can resist the thronging streets outside where an impromptu street market brings an eclectic selection of second-hand books, African crafts and artworks, buskers and other activity. 
Take a tour of Maboneng's street art with MainStreetWalks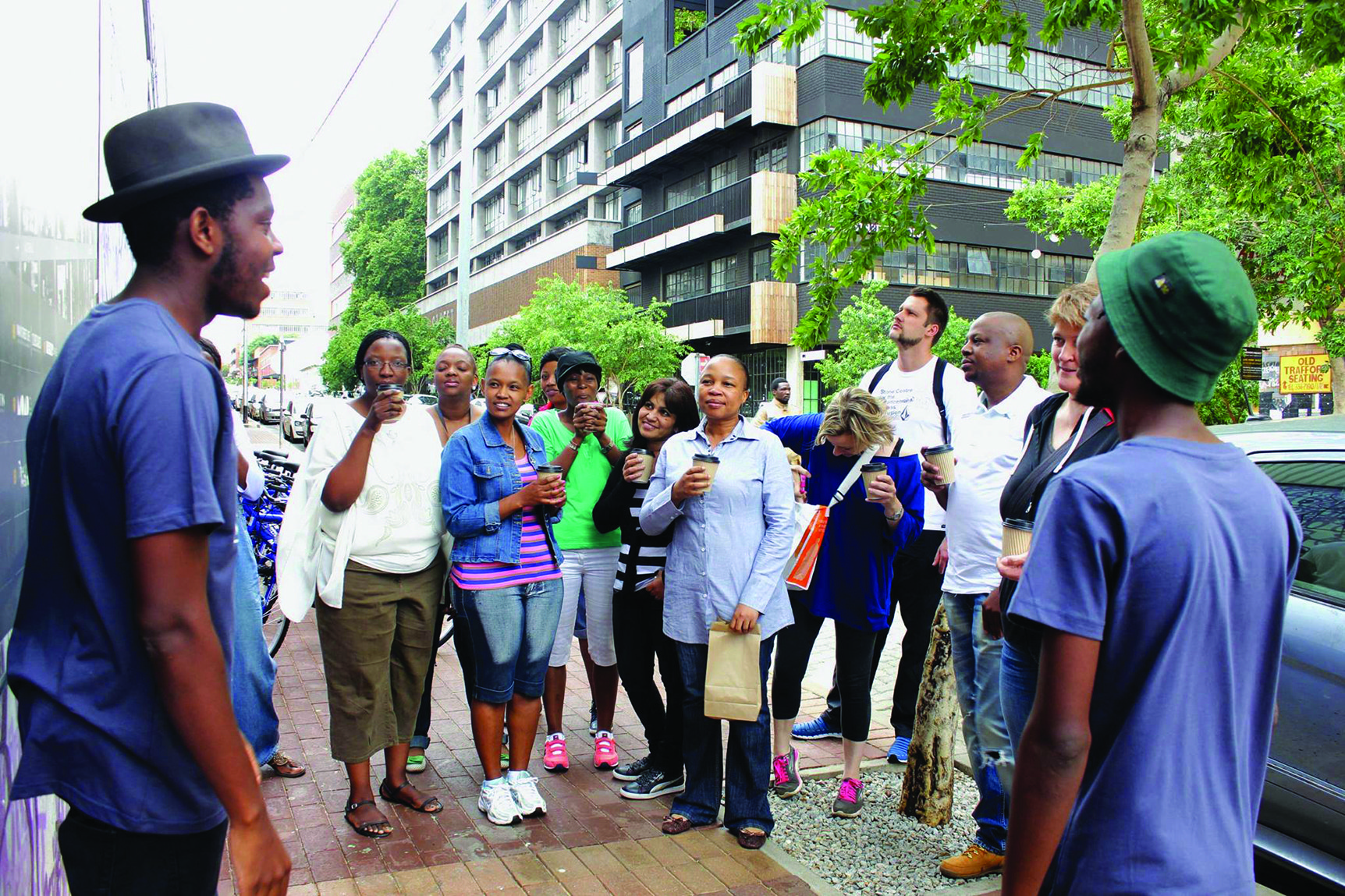 Based in Maboneng's fun backpackers hostel Curiocity, MainStreetWalks specialise in walking and cycling tours of Maboneng and the surrounding neighbourhoods. Their tours are aimed at encouraging people to rediscover the city by foot and mix insights into contemporary culture and new immigrant neighbourhoods with history, public art and architecture. Popular tours include the Maboneng walkabout which takes in the area's rich collection of graffiti and street art and the fun Friday night pub crawl tours which mix visits to Maboneng hotspots with stops at old-fashioned pubs and shebeens in the surrounding areas.
Relax at The Cosmopolitan's courtyard garden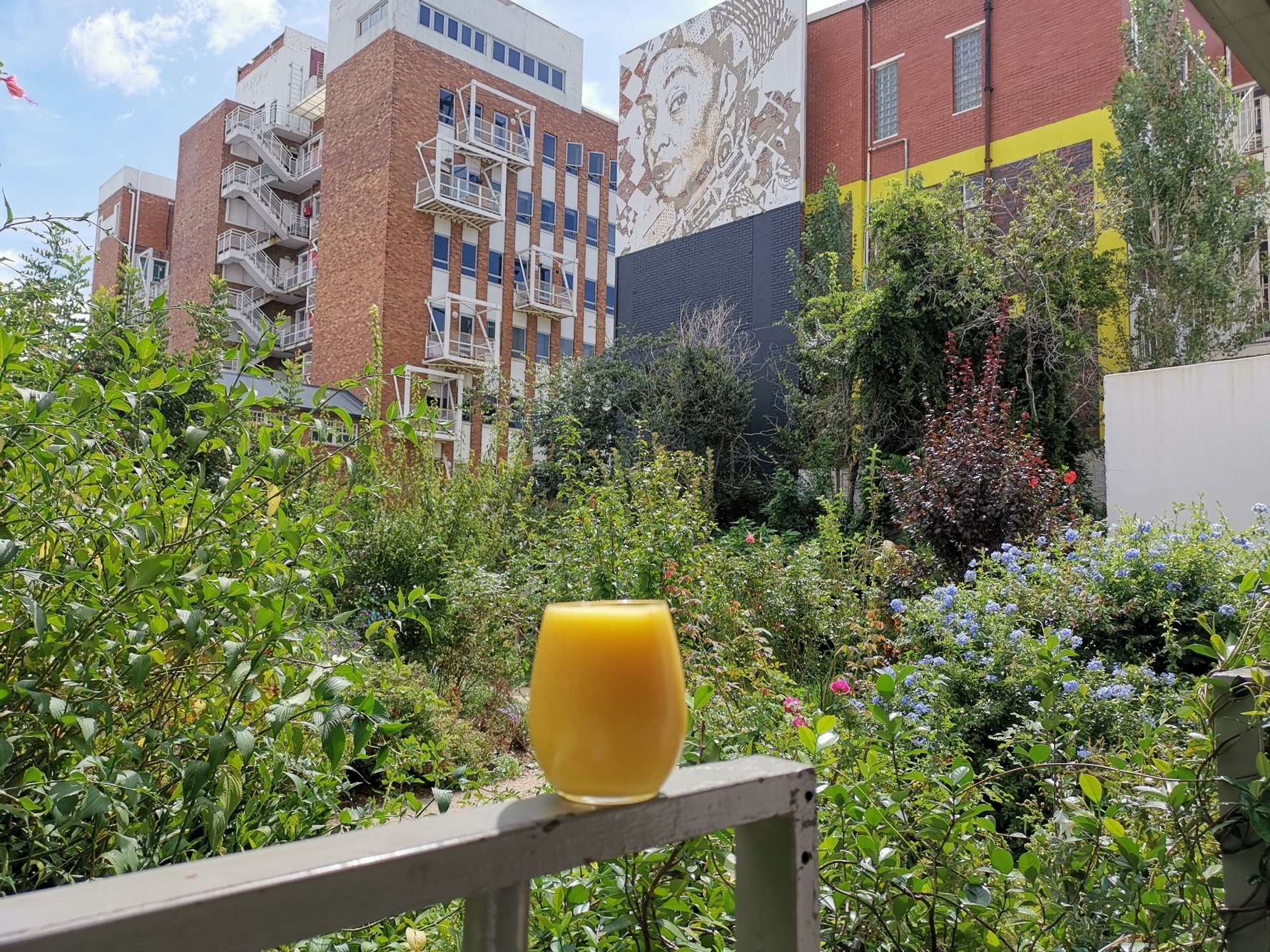 This extraordinary Victorian building designed in 1899 had a stint as a city hotel but then spent decades boarded up, before being sensitively converted into retail spaces. The Cosmopolitan's biggest highlight is its delightful courtyard garden. Grab a coffee from the cute coffeshop Home of the Bean which opens out onto the courtyard and kick back with some local literature from the independent bookshop Bridge Books, known for specialising in African fiction and non-fiction, who are also based at The Cosmopolitan.
Party on a rooftop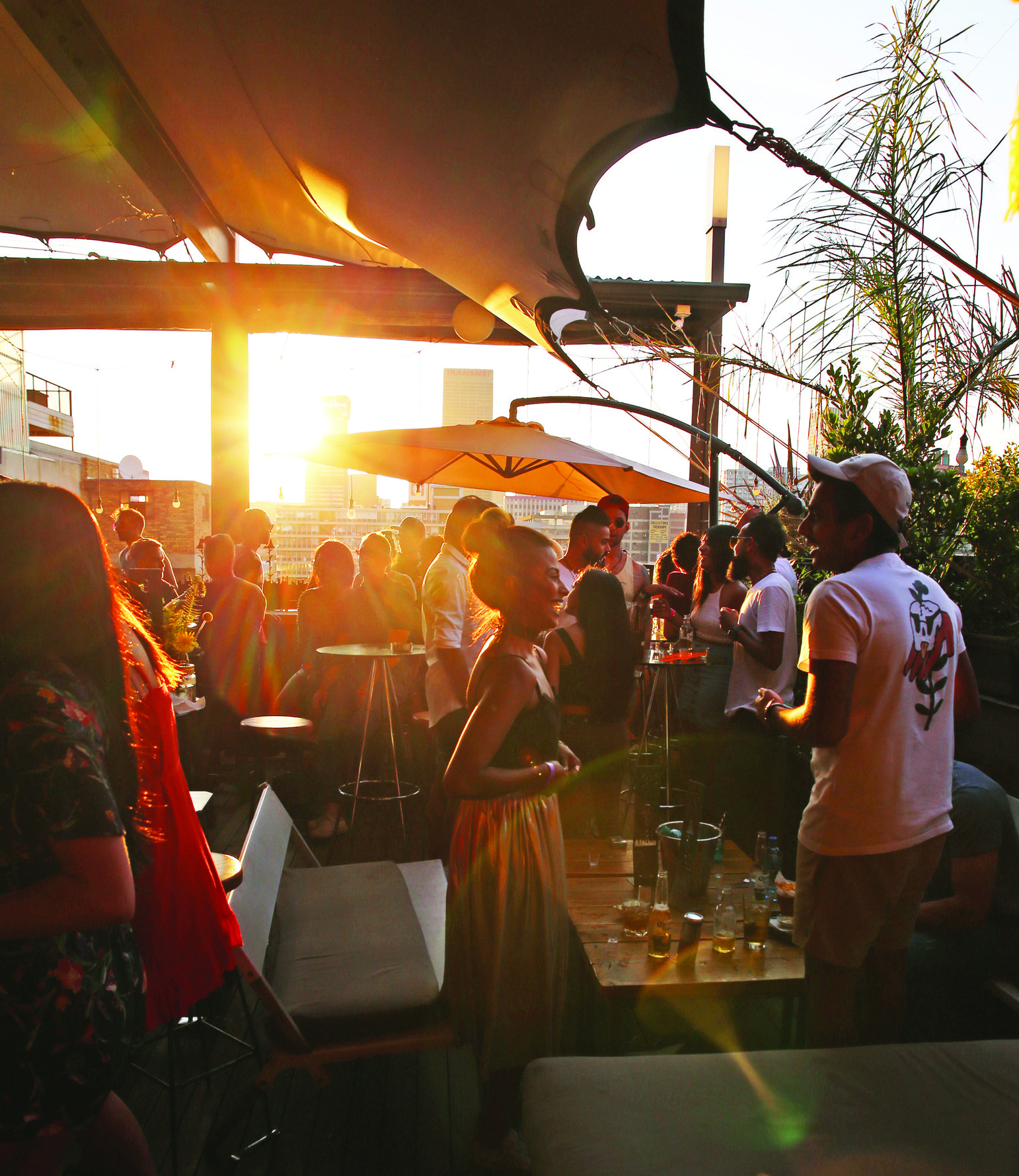 Enjoy one of the best views of the city's skyline with drinks and DJs at one of Maboneng's popular rooftop bars. Chief among them is Living Room on the sixth floor of the MainStreetLife building in the middle of Fox Street. A veritable garden in the sky with every available space occupied by greenery, the bar was even the venue for JayZ's birthday party in 2018. Over at Hallmark House in New Doornfontein, an area known broadly as Greater Maboneng, the views don't get much better than at the spectacular rooftop bar 999 (Triple Nine) which opens every Sunday from 12:00 for a Sunday brunch and cocktails party.
Sample Maboneng's cafe culture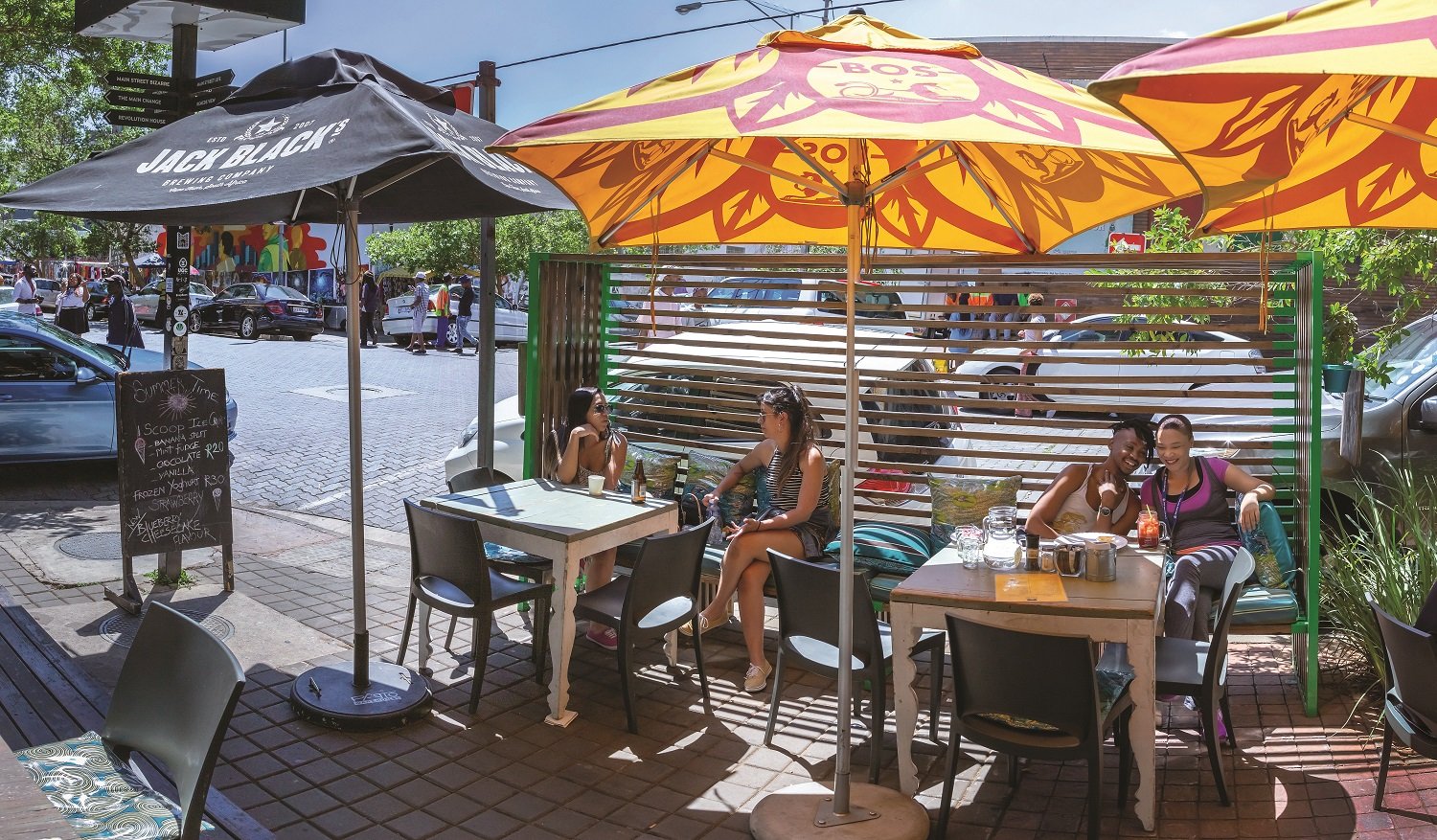 Maboneng has attracted a multicultural group of restaurateurs, many of whom have grown their businesses from market stalls to fully-fledged restaurants and along Fox Street you'll find everything from Mexican tacos at Mama Mexicana in the Arts on Main building to Middle Eastern cafe fare at Eat Your Heart Out and traditional Ethiopian injera platters at Little Addis. There's also plenty of local flavours on the menus too. Popular South African choices include the friendly cafe-bar Love Revo with its sunny roof deck, the neat upcycled shipping container braai stand Shaap! and the always bustling cafe-bar Pata Pata. Wherever you go, try to get a table looking onto the pavement so you can enjoy Maboneng's colourful streetlife.
Stay over at Curiocity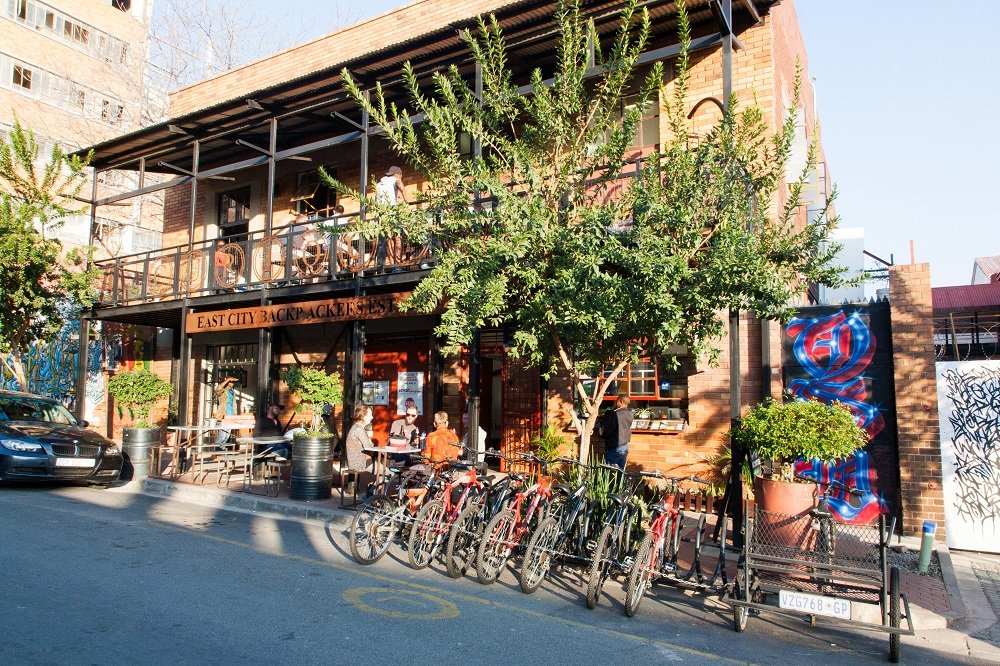 If it's happening in Maboneng, Curiocity African Design Hostel is a perfect location from which to experience the action. Curiocity hosts live-music events, rooftop picnics, has a popular bar and braai stand and offers dorms, private rooms, a loft apartment and Curiocity Pads – 12 boutique studio apartments, each designed by an artist to reflect a particular decade of Joburg's first 120 years. This is a great location from which to experience the 'johustle' of the city and the different rhythms of life in the neighbourhood. Young entrepreneur Bheki Dube, the founder of Curiocity (which now also has hostels in Durban and Cape Town), has a deep-rooted love and knowledge of the city having grown up in nearby Troyeville and you couldn't possibly find a better host to introduce you to downtown Johannesburg.
Watch a movie at The Bioscope cinema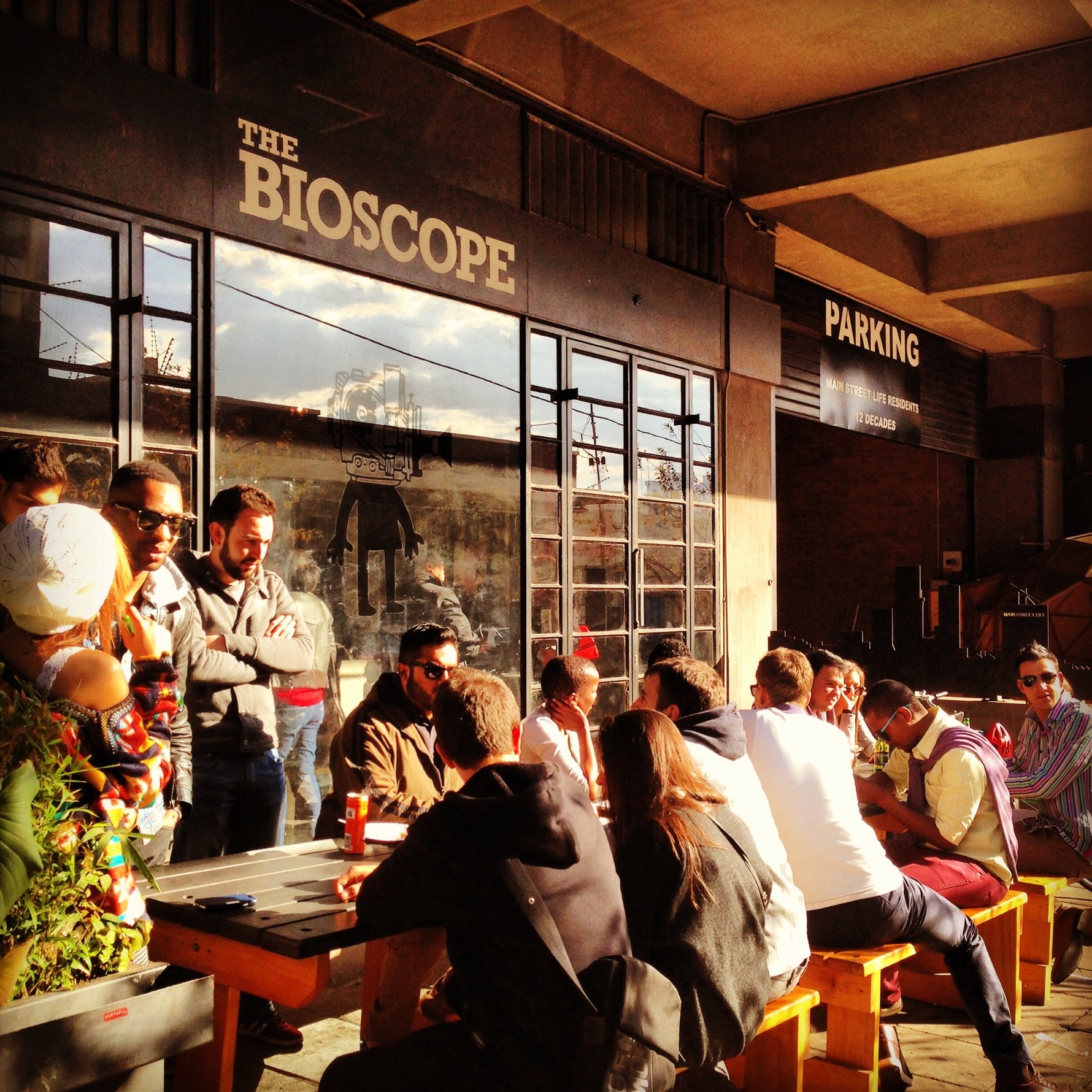 The Bioscope is Joburg's original independent cinema, devoted to bringing the latest in arthouse, indie, documentary and foreign films to the South African big screen. A champion of African cinema, this is the best place to catch up on the latest African films and documentaries. The adjoining cafe-bar Chalkboard Cafe is the ideal place for drinks and pizza before or after, or you can also take your drinks into the cinema to enjoy with the film. Look out for their regular special cinema events like Sing-a-long cinema and the Dumpling Box cinema night where you get to enjoy classic Asian anime films with authentic Chinese dumplings from a nearby Chinese restaurant.
Fashion shopping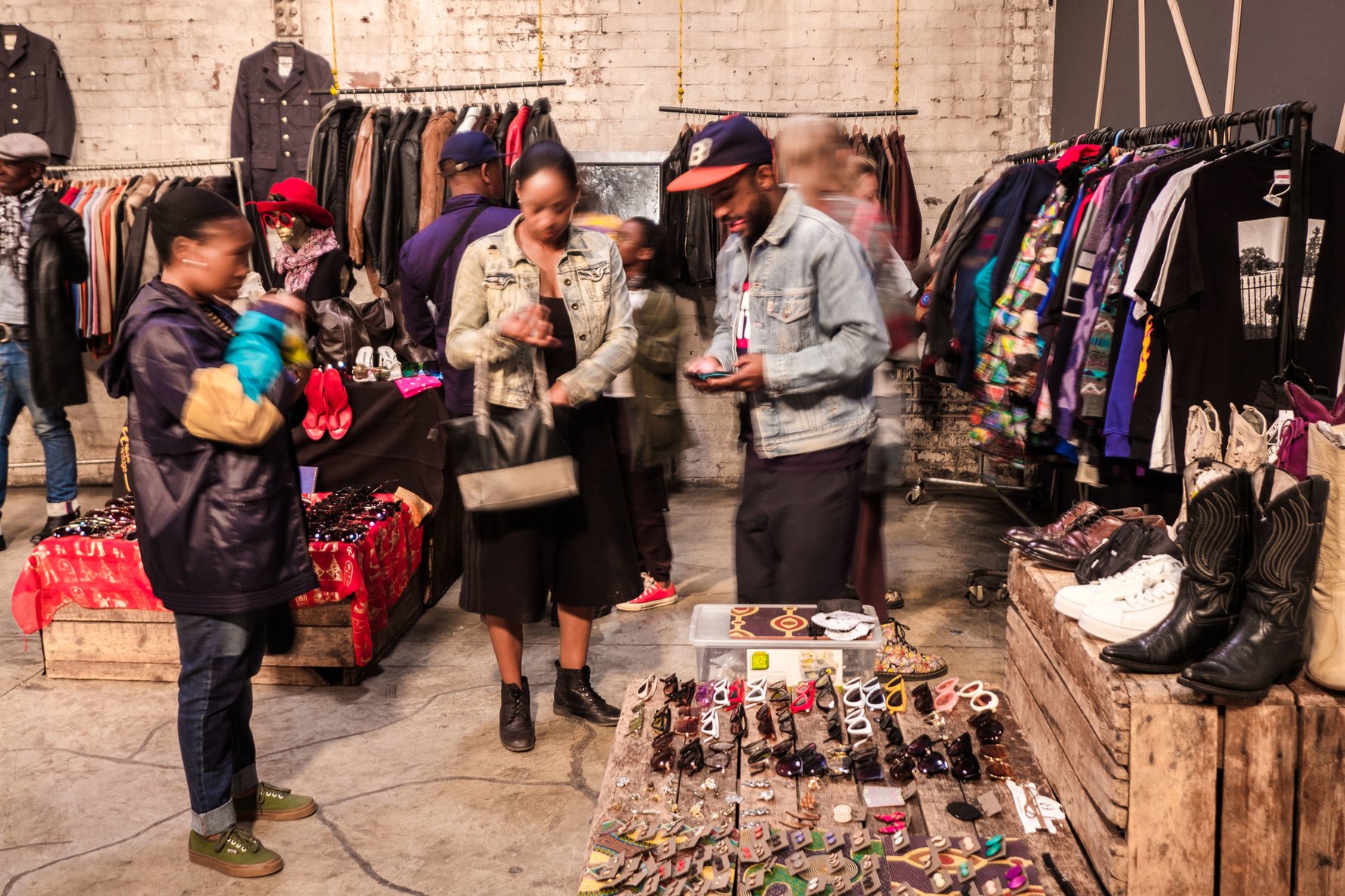 In Maboneng's flagship development Arts on Main, every Sunday during the weekly Market On Main the entire second level is transformed into a mecca for vintage fashion selling everything from dapper shoes to leather jackets Billy Idol would have been proud to own. Meanwhile for contemporary accessories check out Interfool Supply, also based in Arts On Main, a hip local accessories and streetwear brand who also have their own coffee shop and make sure to get one of Love Jozi's cult must-have T-shirts which reference local urban culture. 
Wine and dine at Hallmark House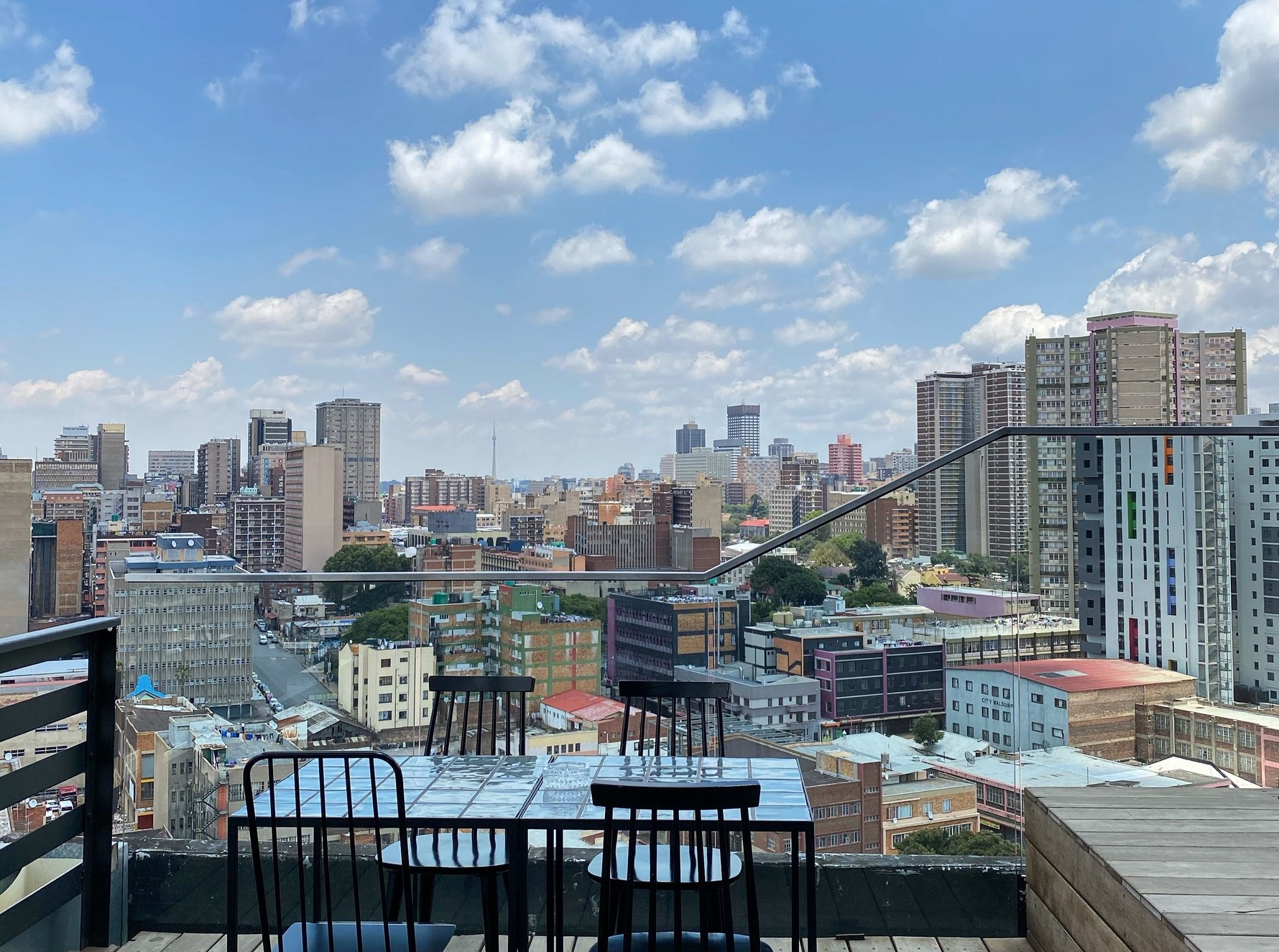 Hallmark House in Maboneng was the much-anticipated design of leading Ghanaian-British architect David Adjaye. The building, which opened in 2017,  houses residential apartments and the boutique Hallmark Hotel and in 2019 was bought and reopened under new ownership of Steyn Investments who have been steadily working on exciting new plans for the hotel.

The hotel's biggest attractions are the super-stylish and atmospheric underground restaurant and music venue, The Marabi Club, a fine dining and jazz music hotspot. Meanwhile on the rooftop is 999 (Triple nine) a superbly impressive roof bar and weekend brunch spot that offers 350-degree views of the city from its wraparound balcony. Parking is tricky and the hotel is not right next to Maboneng's main attractions so we recommend coming here by Uber.