Kraków is without a doubt the culture capital of Poland, a place brimming with jazz, theatre, fine art, literature, and underground concerts. Oh, and the festivals - with over 100 events a year, there's something of interest for every local and visitor.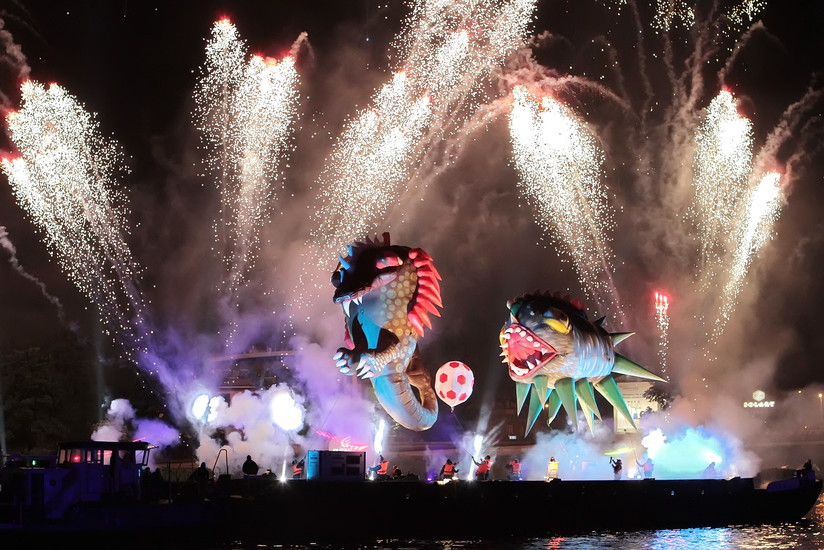 Expect no shortage of classical and modern music, independent film, and Jewish culture, but also let yourself be surprised by oddities dedicated to wiener dogs or the humble pierogi. There'll be international stars, dragons, fireworks, and wianki floral wreaths - as well as Kraków remembering its greats with festivals celebrating Nobel Prize in Literature laureate Czesław Miłosz, sung poetry artist Marek Grechuta, and writer Joseph Conrad. No matter what time you visit, there will be something happening - though planning your trip around a specific event might also be something to consider.
Here's a rundown of the most important yearly festivals; keep in mind that some spill over into the next month.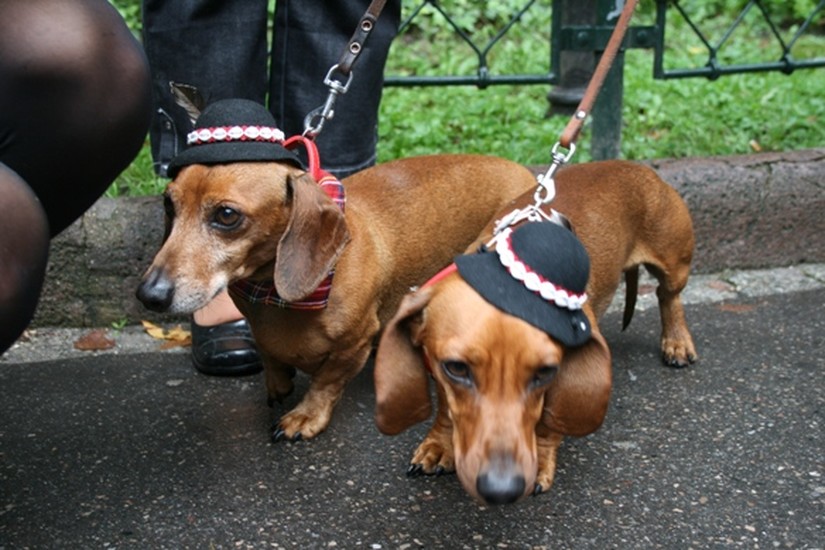 February
SHANTIES
For 30+ years Kraków has hosted this salty sea shanty festival with so much success that it has spawned an astounding 20 other shanty festivals across Poland and risen to become not only the most important celebration of maritime music in Poland, but the largest in all of Europe - quite an accomplishment for a non-port city in Central Europe.
www.shanties.pl

March or April (Easter)
MISTERIA PASCHALIA
This popular festival presents "early" music - as in, early classical and sacral. The repertoire is carefully crafted to thematically coincide with Easter, arguably the most important religious holiday on the Polish calendar.
www.misteriapaschalia.com
RĘKAWKA FESTIWAL
Though today thought of as a
Cracovian Easter
tradition (celebrated the Tuesday after Easter Sunday), Rękawka actually has its roots in pagan rites of spring, particularly
Dziady
(Forefathers) - a pre-Christian tradition of communing with the dead, who were thought to be the guardians of fertility and reproduction. Taking place on and around
Krakus Mound,
today the tradition has morphed into a gathering of medieval re-enactors, who travel from across Poland to establish a Slavic encampment around the Mound. Workshops on historical customs and craftsmanship, archery and other historical games for kids, plus historical costumes, goods and souvenirs for sale. Highlights of the program include the lighting of the Holy Fire at midday, a medieval warrior run around the mound shortly after, various short performances, plays and concerts, and even a proper medieval battle! Simultaneously on
Lasota Hill
you'll find a typical tacky fun fair full of balloons, games, trinkets and a few rides.

May
OFF PLUS CAMMERA
A week or so of new independent movies and cult masterpieces at Kino Pod Baranami - need we say more?
www.offpluscamera.com

KRAKÓW PHOTOMONTH
The month-long event (one of the largest photography festivals in Europe) begins in mid-May, bringing dozens of individual and collective photo exhibitions to the city's galleries, cafes, museums, cultural centres, and more unique locations like public parks, private flats, and post-industrial spaces.
www.photomonth.com

MIŁOSZ FESTIVAL
This biennial festival takes place in odd-numbered years and celebrates the national treasure that was poet and writer Czesław Miłosz. Events include literary conferences, film screenings, translation workshops, poetry evenings, and concerts; the crowd will not be as homogeneously Polish as you might expect, as the hosts invite a score of international poets, writers, and scholars to join in on the action.
www.miloszfestival.pl

June
DRAGON PARADE
If you know anything about Kraków, you know the legend of the Wawel dragon; though similar tales abound in Europe, Poles are very attached to their smok wawelski, which is why this festival caught on so well. The main attraction is an evening river pageant, complete with fantastic dragon floats, fireworks, lasers and music, followed by a parade around the market square the following morning.
www.paradasmokow.pl

KRAKÓW FILM FESTIVAL
You may have heard of this festival, which had its humble beginnings in 1961 when it was known as the Polish Short Film Festival. Over the years, it evolved from its initial aim of celebrating native film to additionally encapsulate an international repertoire of documentary, animated, and short feature films. Nowadays, the KFF is one of the select few Polish film festivals that qualify in the big leagues like the Oscars and the European Film Awards. Bringing together hundreds of homegrown and international directors, producers and all-around film lovers, this festival is an 8-day paradise for all things film. Expect to get your movie fix with screenings of over 250 films from all over the world, accompanied by various exhibitions, concerts, open-air shows and meetings with artists.
www.krakowfilmfestival.pl

JEWISH CULTURE FESTIVAL
Though the number of Jews in Kraków had plummeted from 60,000 to almost nothing over the course of WWII and the subsequent years, Jewish culture is being carefully kept alive in the Kazimierz district and officially on the rebound. This festival gives participants the opportunity to learn, grow, and experience what Judaism and Semitic culture is all about, both traditionally and contemporarily. Many of the guests are from Israel or the United States, so quite a few of the events are hosted in English. www.jewishfestival.pl

CRACOVIA CANTANS
This festival/competition draws choirs from all over Europe (and occasionally from more faraway places) to perform at various Kraków churches. Admission is free.
www.krakowchoirfestival.pl

LAJKONIK PARADE
Kraków's iconic Lajkonik character celebrates the city's deliverance from Tatar invaders by marching with a band and sergeant from the Sisters of Norbertanki's Monastery Courtyard (ul. Kościuszki 88) to the city's Market Square (Rynek Główny), hitting passers-by along the way, just to bring them luck.

LIFE FESTIWAL OŚWIĘCIM
The music festival was created to demonstrate that there is more to the small city of Oświęcim than just the Auschwitz concentration camp, and to form more positive connections in the minds of visiting tourists. The festival's message is peace, tolerance, and diversity, and its goal is combating racism and anti-semitism.
www.lifefestival.pl

WIANKI
A modern Midsummer / St. John's Night celebration of life and love, which draws big crowds yearly. It features concerts of both contemporary and medieval music, a Renaissance fair, and plenty of gorgeous flower crowns called wianki, which maidens traditionally floated down the river at midnight.
www.wianki.krakow.pl

WIELICZKA SALT FESTIVAL
The Wieliczka Salt Mine celebrates Salt Day with a full day of attractions including craft presentations, workshops, exhibitions, historical reenactments, and concerts.
www.muzeum.wieliczka.pl

July
ARS CAMERALIS
This is a month-long chamber opera festival, with the performances including whatever's in the Kraków Chamber Opera's current programme - which is often the Chatskele, Chatskele! Yiddish music concert, and the religious hymn Stabat Mater.
www.kok.art.pl


SUMMER JAZZ FESTIVAL
Kraków spoils its jazz fans in July with an entire month of fantastic daily concerts at the city's legendary cult venue Piwnica Pod Baranami - part of a festival that's been organised yearly since 1996.
www.cracjazz.com


WAWEL AT DUSK
As far as concert venues go, the Wawel Castle might be as fancy and atmospheric as you can get in Kraków - and what better time than a warm summer dusk to enjoy beautiful classical music?



ULICA STREET THEATRE FESTIVAL
Started by Teatr KTO in 1988 (believe it or not, that makes it one of the oldest events of this type in Central Europe), ULICA Festival has become a yearly tradition in Kraków. International troupes will be performing on and around the Main Square.

August
LIVE FESTIVAL
One of Poland's biggest summer bashes, and the festival that draws some of the brightest stars. Past guests have included Rihanna, 30 Seconds to Mars, Muse, The Chemical Brothers, 50 Cent, and Snoop Dogg/Lion.
www.livefestival.pl

PIEROGI FESTIVAL
Eat yourself into a coma with the help of Poland's best culinary staple (or, as some would argue, achievement). And yes, there's even a competition for the tastiest dumpling, so go and sample.


MUSIC IN OLD KRAKÓW
Music in Old Cracow dates back to 1976, long enough to qualify it as one of the oldest festivals in Poland. The main goal is to commemorate prominent composers who worked and/or gave concerts here (sadly, not many of these are homegrown).
www.mwsk.eu

September
DACHSHUND MARCH
Perhaps a bit more inane than the Lajkonik Parade, the Dachshund March has carved out a niche for itself in Kraków's array of special events: indeed, with twenty editions and counting, the parade of wiener dogs has become a pretty serious tradition.

MUSIC FILM FESTIVAL
Some of the best symphonic music today is composed for film, and it often goes without due recognition outside the world of cinematography. Luckily, since it can and does stand alone, film music concerts and festivals are beginning to grow in popularity - here's one example.
www.fmf.fm

SFOGATO FESTIVAL
This may not be Warsaw, but there's no reason Kraków should not have its own Chopin festival - and indeed it does. The programme usually includes not only Chopin's compositions, but also works by his contemporaries and friends, such as Franz Liszt and Robert Schumann.
www.sfogatofestival.com

SACRUM PROFANUM
A highlight on the European festival calendar, this ambitious contemporary music event combines classical with various modern genres, drawing big names to Kraków each September.
www.sacrumprofanum.com

October
7xGOSPEL
This festival began in 1999 with a successful inaugural meeting, and the Gospel Workshop hasn't looked back since. In 2006 the name was changed to 7xGospel Festival to reflect the diverse nature of the events, which include lectures, seminars, jam sessions, films, concerts, and workshops.
www.7xgospel.com.pl

CONRAD FESTIVAL
An international literary event celebrating the diversity of world literature and introducing Polish readers to new voices by hosting renowned authors, literary critics and translators from a variety of countries and cultures, working in a variety of different languages.
www.conradfestival.pl

GRECHUTA FESTIVAL
With his catchy spoken lyrics, roaring drinking habit and rumoured schizophrenia, Marek Grechuta was the embodiment of tortured genius. His place in Polish music history is cast in stone – think of this guy as the Polish Bob Dylan - and so it's of little surprise that a festival dedicated exclusively to the sung poetry musician has sprung up in Kraków.
www.grechutafestival.pl

JAZZ AUTUMN
Two or three months of delicious jazz at Alchemia Club and the Manggha Museum.
www.kjj-festiwal.pl

UNSOUND
Unsound is an underground-ish music festival with an intellectual air. The names won't be too famous and the festival won't be transmitted over the internet, but the organisers deliver on their promise of a unique atmosphere and an unforgettable listening experience, and this hip festival has spawned sister editions in New York, London and Adelaide.
www.unsound.pl

THEATRICAL REMINISCENCES
Dating back to the mid-seventies, this long-standing, still-evolving festival offers contemporary dance shows, film screenings, international workshops, panel discussions, artist meetings, and art walks through urban residential space.
www.rmnsc.pl

November
JAZZ ALL SOULS' DAY
Well into its fifties, this is unsurprisingly one of the oldest jazz festivals in Poland; concerts take place in cool locations like the Wieliczka Salt Mine and Piwnica Pod Baranami.
www.krakowskiezaduszkijazzowe.dt.pl


ETIUDA & ANIMA INTERNATIONAL FILM FESTIVAL
This international festival of student films and animated films presents the best features created all over the world by film students, film professionals and independent artists. One of the most fun aspects of the festival is the awards - participants compete in the student film category for the Golden, Silver and Bronze Dinosaur awards, while in the animation category the Golden, Silver and Bronze Jabberwocky are awarded. The festival is an amazing opportunity to familiarise yourself with contemporary short films and animated features that may never reach mainstream theatres. This multi-disciplinary event combines a variety of art forms, films, works of art and music, featuring workshops and discussions tackling the most current social and political issues through the prism of art.
www.etiudaandanima.pl

December
SILENT FILM FESTIVAL
This Kino Pod Baranami festival aims to acquaint or reacquaint audiences with great silent classics and the occasional modern avant-garde picture.