Everyone has their favourite hotels, restaurants, cafes, bars, shops, sights, experiences and more in Ljubljana and Slovenia, including our local In Your Pocket team. However, since we already know what our personal favourites are (and, let's be honest, they might very well differ from the norm), it's often more interesting for us to find out the venues that our readers (and Facebook fans) prefer. Thus we started conducting our Best of Ljubljana competitions back in 2011, which cover a variety of categories.

This year we've decided to take things to the next level by convening an expert committee in order to compliment our own editorial team and the public's opinion. We'll also be hosting our biggest ever awards presentation ceremony in January.

The results are permanently visible on our website here, and for all of the larger competitions, awards are presented to the winners and the results and PR photos are published in our printed guides as well. If you have any questions about any of the competitions, we'd love to hear from you at ljubljana@inyourpocket.com.
History of Best of Ljubljana
What started as a one-off competition for our own amusement (and love of alliteration) with the Battle of the Burek back in 2011, Best of Ljubljana has grown into one of the city's most prestigious awards. Running for more than a decade and covering the same diverse selection of categories as our ever-popular Ljubljana In Your Pocket guides, the competitions regularly received tens of thousands of individual votes from the public every year. Of course that was before the Covid-19 pandemic ground them to a halt, as it did for most things in Slovenia, Europe and around the world.

But like that inspirational immortal bird of Greek mythology, our Best of Ljubljana competition rose from the figurative ashes that were the years 2020 and 2021, and returned better than ever in 2022. And what proof is there of this lofty, cliché-riddled statement we've just made? Well, for starters, we published our first ever annual Best of Ljubljana mini map guide, which can still be found in more tree-friendly digital form here, and for 2023 have even bigger plans in store!
Topics & Timeline for Best of 2023
Covering the best of what the city has to offer - for tourists, expats and locals alike - our Best of 2023 competition has been divided into six different topics for Ljubljana, namely Culture, Cafés, Shopping, Restaurants, Experiences and Nightlife, while Slovenia as a whole will feature Experiences, People and Businesses. Each topic has been further divided into a wide variety of categories, ensuring that they are as inclusive as possible.

Public voting will took place from mid October until mid December, with polls open for two weeks for each of the topics outlined above. The six categories were:

Best Ljubljana Culture 2023 
Best Ljubljana Cafes 2023 
Best Ljubljana Restaurants 2023
Best Ljubljana Experiences 2023
Best Ljubljana Shopping 2023  
Best Ljubljana Nightlife 2023 
Best of Ljubljana 2023 Winners

Best of Ljubljana Culture:
- Best Museum: City Museum Ljubljana
- Best Gallery: Cukrarna Gallery
- Best Annual Event: Ana Desetnica
- Best Theatre or Performing Arts: Kino Šiška
- Best Plečnik site: Plečnik House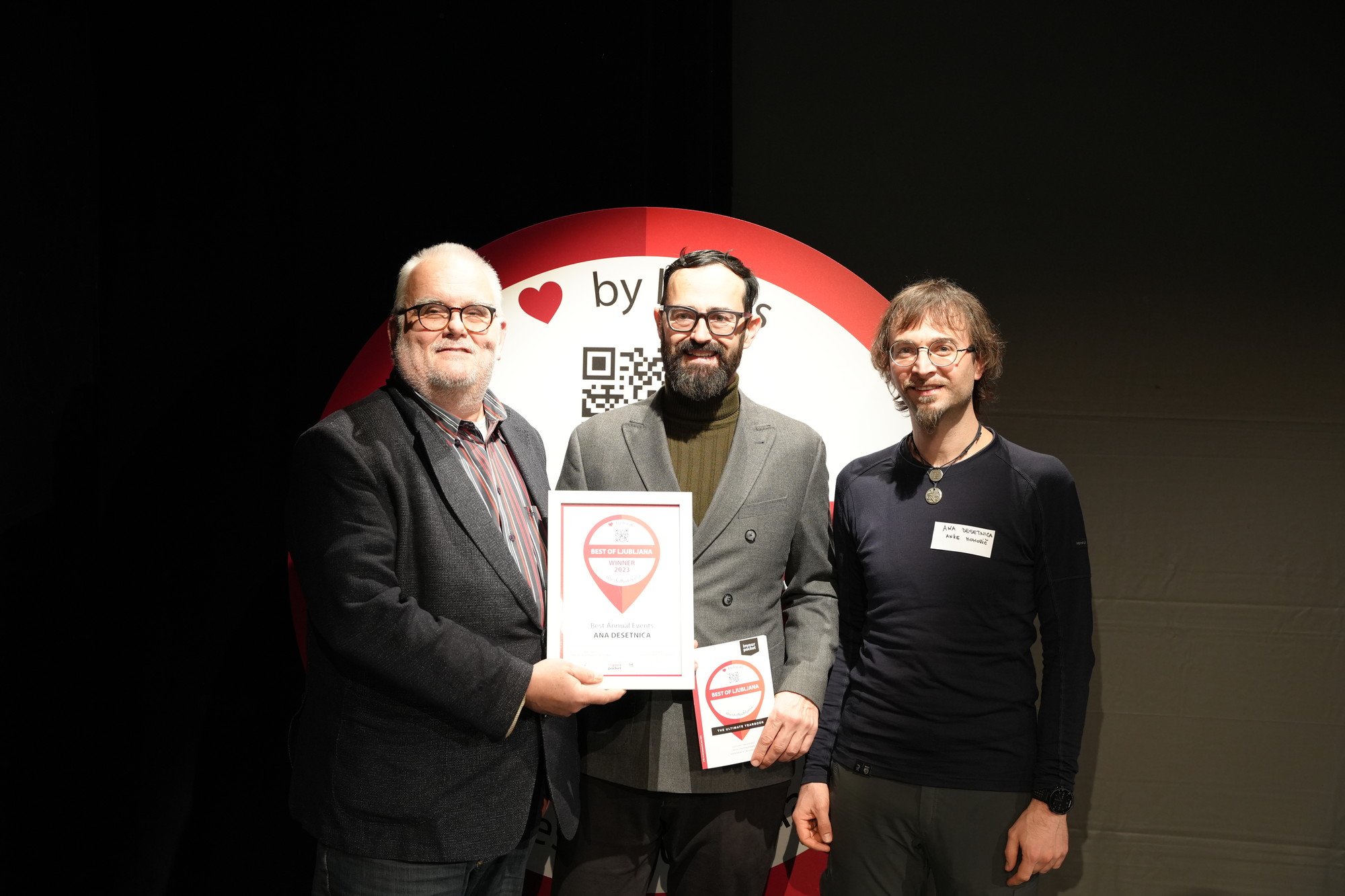 Best of Ljubljana Cafes:
- Best Cafe: Čopomana
- Best ice cream: VIGÒ
- Best Desserts: Čopomana
- Best Specialty coffee places: STOW
- Best cafe terraces: Vrt Lili Novy

Best of Ljubljana Restaurants:
- Best Slovenian Restaurant in Ljubljana: Ošterija Pr' Noni
- Best World Cuisine Restaurant in Ljubljana: Cantina Mexicana
- Best Business Lunch Restaurant in Ljubljana: Cubo
- Best Pizza in Ljubljana old town: Pop's Place Pizza
- Best Pizza in Ljubljana city & Around Ljubljana: Verace
- Best Burgers in Ljubljana: Hood Burger
- Best Vegan or Vegetarian restaurants - JOINT WINNERS: Barbarella Juicebar & Barbarella BTC Bistro
- Best Asian Restaurant in Ljubljana: Sushimama
- Best Street food in Ljubljana: Burek Olimpija
- Best Balkan restaurant in Ljubljana: Gostilna Čad
- Best Gostilna around Ljubljana: Gostilna Pr Kopač
- Best Chef in Ljubljana: Igor Jagodic - Strelec
- Best Gluten Free Restaurant: Dežela Okusov
- Oldest Pizzeria in East Europe: Parma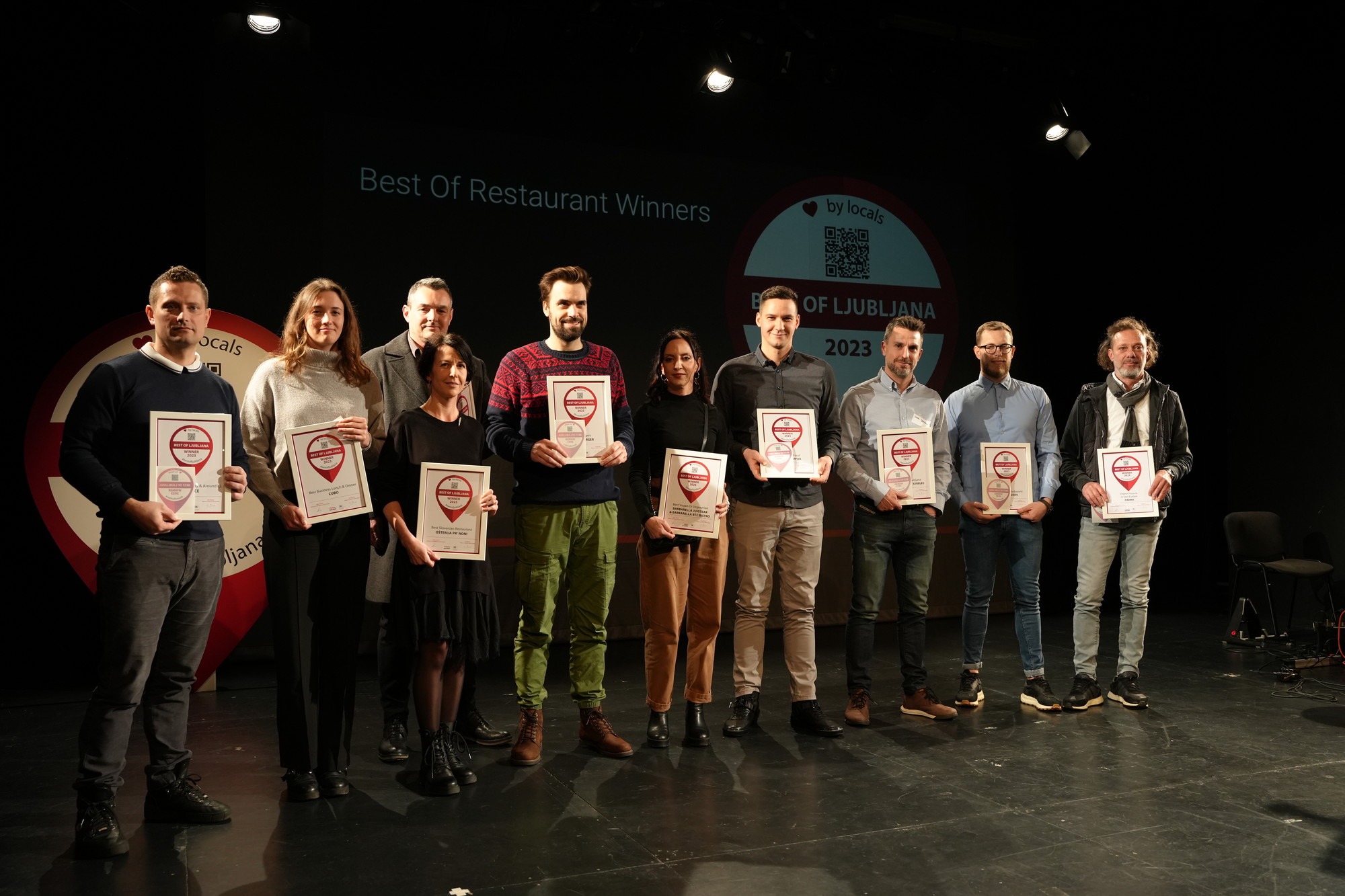 Best of Ljubljana Experiences:
- Best Outdoor Activity in Ljubljana: Zoo Ljubljana
- Best Indoor Fun in Ljubljana: Bankarium Slovenian Banking Museum
- Best SPA & Massage: Club Victoria
- Best Tours & Experiences: Ljubljana Castle Tour
- Best of Ljubljanica River Experience: Ladjica Barjanka
- Best Trips in Ljubljana Region: Velika Planina
- Best Artisan Handicraft Experiences (by Visit Ljubljana): Print your own poster in an old print shop
- Best Attraction in Ljubljana: Odprta Kuhna/Open kitchen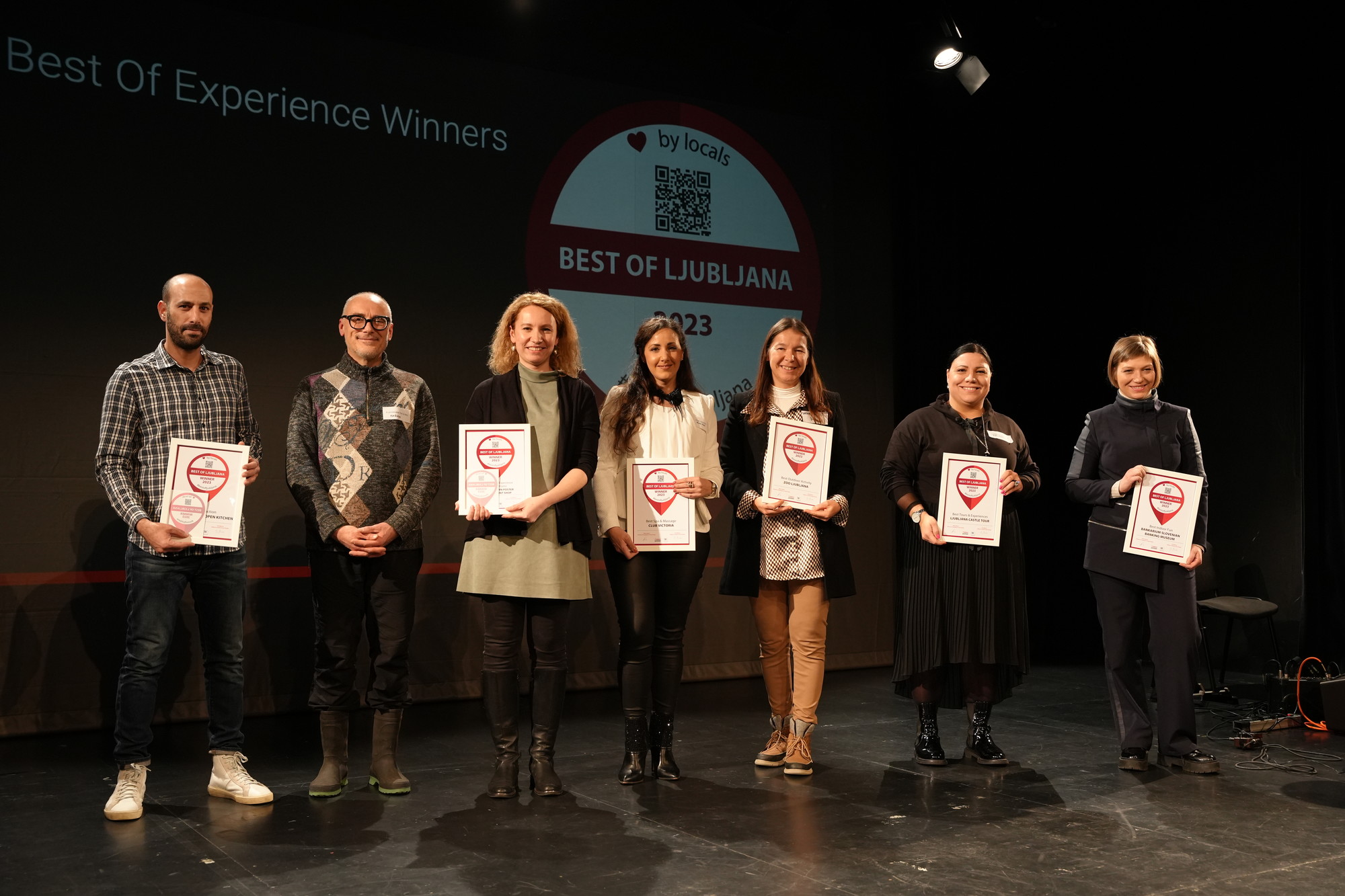 Best of Ljubljana Shopping:
- Fashion Boutiques: IKONA Ljubljana
- Shopping Centres: Aleja
- Concept & Gift Stores: 1001 dar
- Home & Design Stores: Rogaška Crystal
- Culinary Shops: Piranske Soline
- Accessories & Jewellery Stores: Malalan
- Branded stores: Max Mara
- Second Hand & Vintage Stores - JOINT WINNERS: Humana + 2nd Chance
- Real Estate - JOINT WINNERS: Ljubljanske nepremičnine + Stoja Trade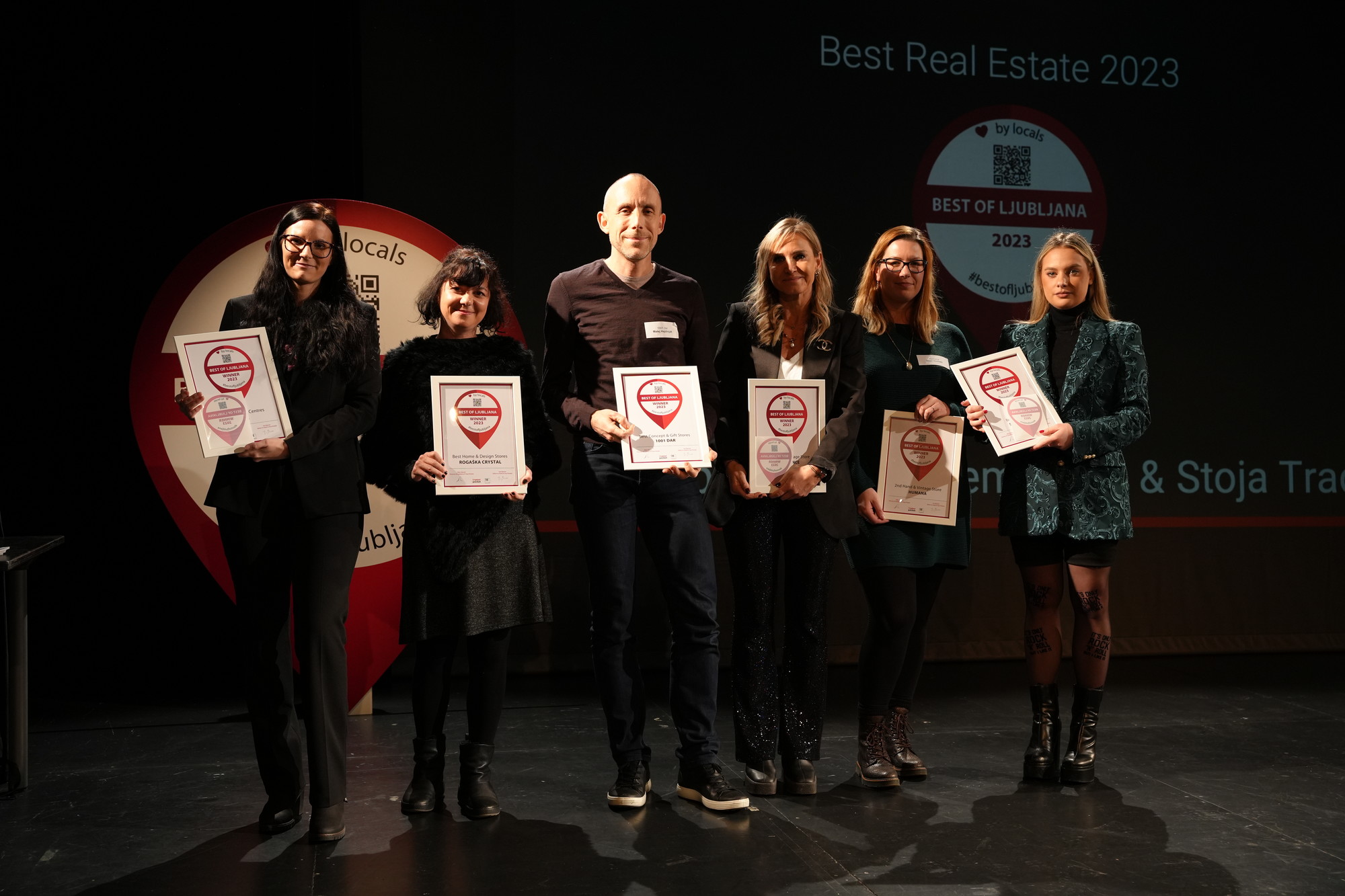 Best of Ljubljana Nightlife:
- Best Bar in Ljubljana: Captain's Cabin
- Best Pub in Ljubljana : Cutty Sark
- Best Lounge Bar in Ljubljana: Kolibri Cocktail Bar
- Best Wine Bar in Ljubljana - JOINT WINNERS: Dvorni Bar + Šuklje Wine Bar
- Best Live Music Venue in Ljubljana: Kino Šiška
- Best Club in Ljubljana: Klub K4
- Best Metelkova City Nightlife: Gala Hala
- Best Hotel Bar in Ljubljana:  Hotel Union Kavarna
- Best Late Night Fun in Ljubljana: Biljardna Hiša Ljubljana

The presentation event was our biggest to date, and took place at Mladinskega gledališča and streamed on Facebook Live. We had some fantastic music and dance performances from APA International Group and Glam Squad Burlesque, after which the celebrations continued into the night at Publika Bar. Read more about the event here.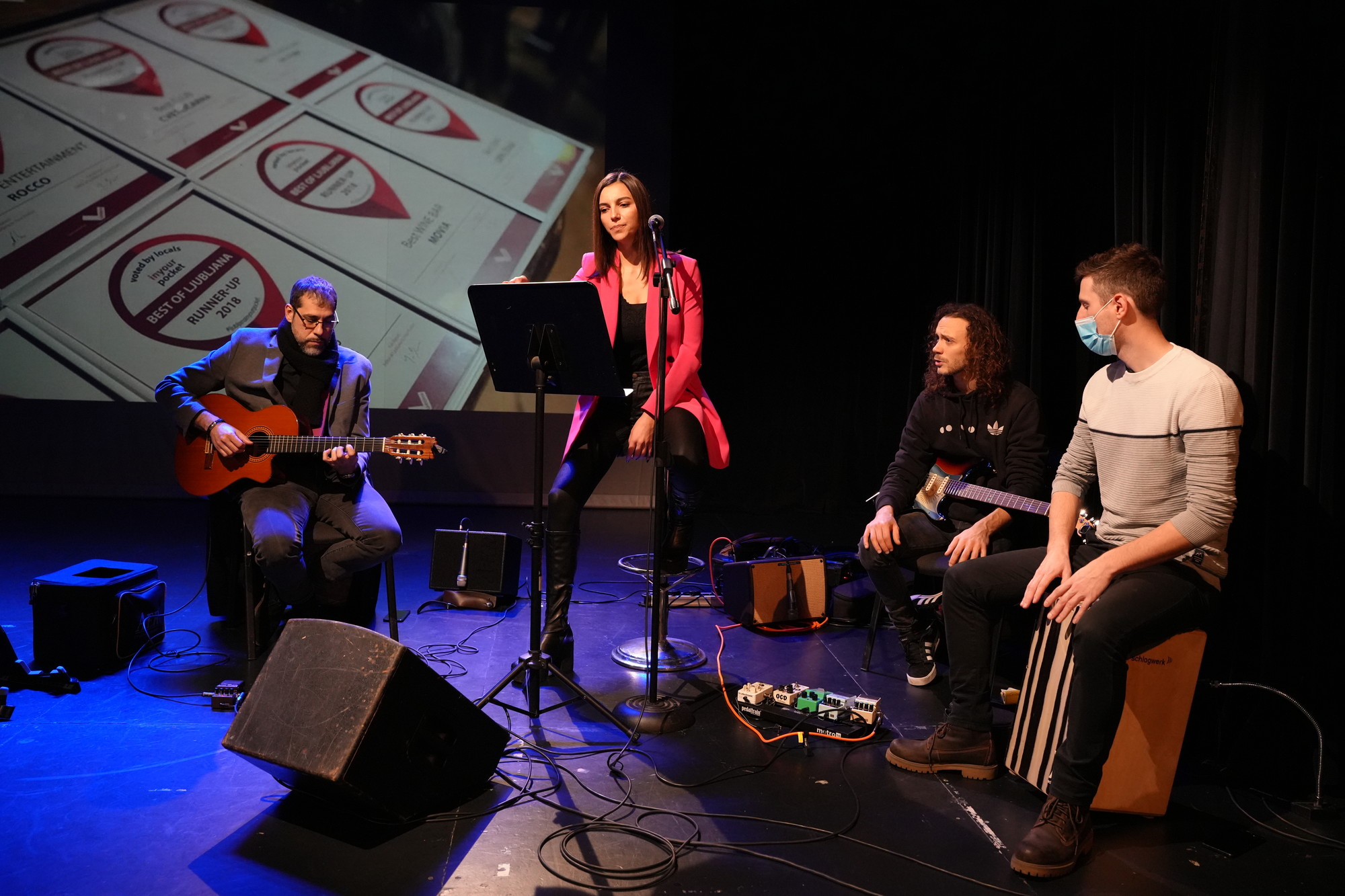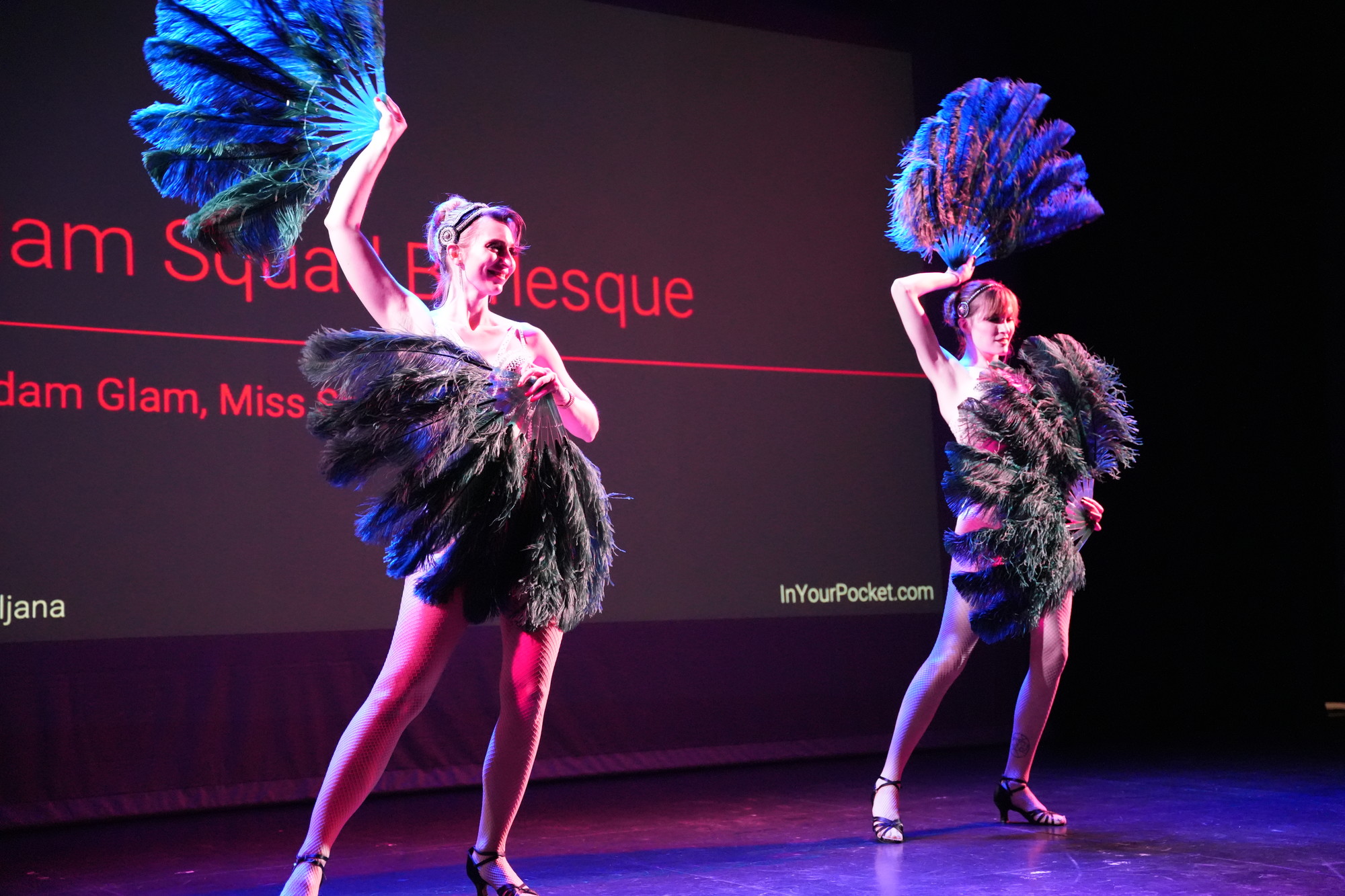 Disclaimer
Please don't cheat in our poll. By cheating we mean using technological means to vote multiple times in the same poll. People, or natural persons in legal speak, are allowed to vote only once. Unfortunately, as Edward Snowden can tell you, nothing on the internet is 100% secure. Nevertheless, we take every reasonable precaution to prevent cheating in our polls, and we also reserve the right to not count votes that were obviously cast through illegitimate means, and/or take other necessary action in such circumstances. If you decide to cheat anyway, please don't get angry and threaten us with legal action when/if we catch you (seriously, we literally get threatened with legal action at least once a year - who knew that Slovenes were such a litigious people?). We are only trying to keep the polls as fair as possible, and we can assure you that we NEVER favour one venue over another. We honestly don't care who wins any given poll, as long as the votes of our readers are counted fairly and equally. If you'd like further explanation of our rules or have any questions regarding our poll, please feel free to email us at ljubljana@inyourpocket.com.