Welcome to the annual Best of Ljubljana Awards voting!
 
Over the twelve years we've been running the Best of Ljubljana competitions, we've seen some major changes on the restaurant scene. Ljubljana boasts thousands (Ok, maybe not quite that many) of places to eat, and with the arrival of Restaurant Week back in 2012, dining options have rocketed. We've seen new places open and bring their own twist to traditional favourites, we've said goodbye to other places and still miss them, and we've seen others continue to work hard through some of the toughest of times as they strive to bring us their best dishes - and we swear the standard of cuisine on offer just keeps getting better and better. 

Best of Ljubljana Restaurants 2023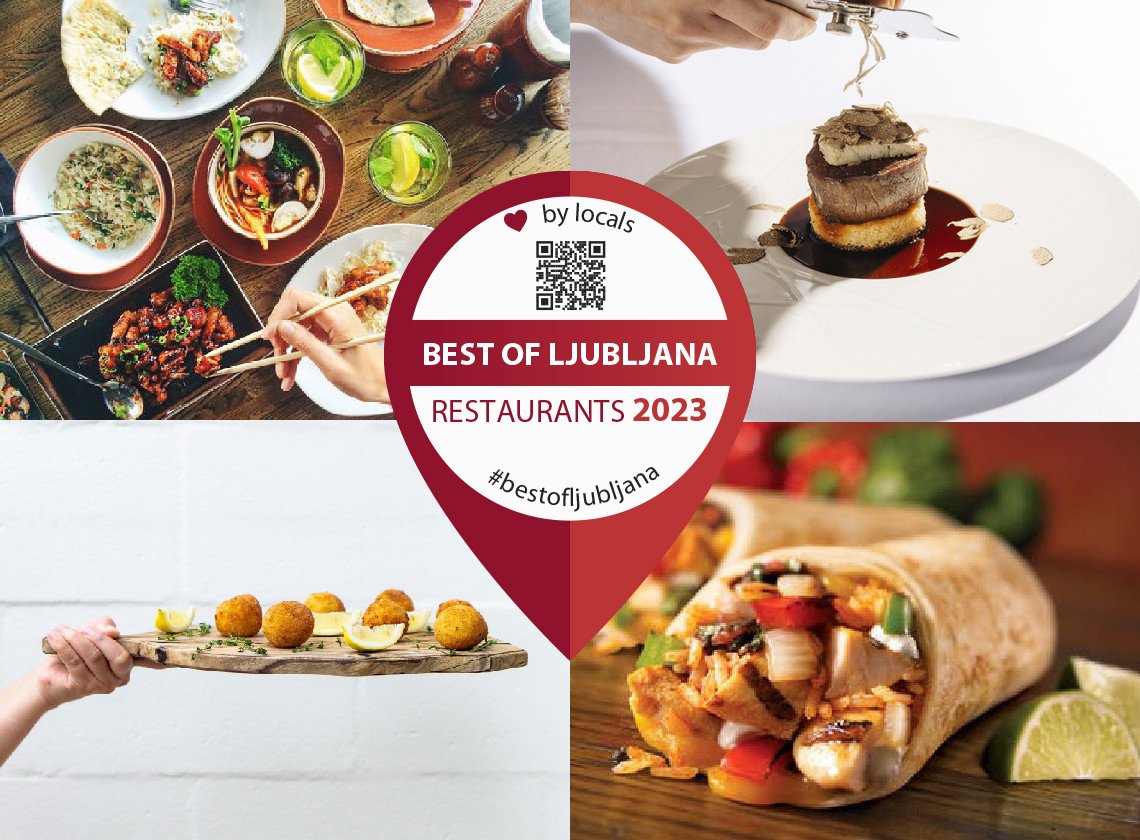 We all need to eat somewhere or somehow so this is without doubt one of the most important voting sections of the competition. With so many places to choose from we've broken them down into 13 categories, from street food and brunch, to fine dining and business lunch - plus everything in between. Now is your chance to show support for your favourite restaurants. Who do you want to see crowned category winners of this year's Best of Ljubljana Restaurants?


This year's categories are:

- Best Slovenian Restaurant in Ljubljana
- Best World Cuisine Restaurant in Ljubljana
- Best Business Lunch Restaurant in Ljubljana
- Best Pizza in Ljubljana old town
- Best Pizza in Ljubljana city & Around Ljubljana
- Best Burgers in Ljubljana
- Best Vegan or Vegetarian restaurants
- Best Asian Restaurant in Ljubljana
- Best Street food in Ljubljana
- Best Balkan restaurant in Ljubljana
- Best Gostilna around Ljubljana
- Best Chef in Ljubljana

Read more about the Best of Ljubljana Awards 2023 here.
And the finalists for this year are:

Best Slovenian Restaurant in Ljubljana:
Gostilna na gradu, Altroké, Druga Violina, Gostilnica Pri Škofu, Kodila Gourmet, Kuhinja Krušič, Ošterija Pr'Noni, Vodnikov hram, Šestica

Best World Cuisine Restaurant in Ljubljana:
Abi Falafel, Argentino, Cantina Mexicana, Joe Penas, Libanonske Meze, Linda Bistro, Mirje, Namaste, Shambala, Zaika

Best Business Lunch Restaurant in Ljubljana:
Boschtiz, Cubo, DiVino, Gostilna As, Hiša Kulinarike Manna, Jadro, Paninoteka, Špajza, Vander Haus and Restaurant

Best Pizza in Ljubljana old town:
Beštija, Capriccio, Foculus, Gostilnica 5-6 kg, Pica boj, Piccola, Pinsa Rustika, Pops Place Pizza, Rex Bistro, Trta

Best Pizza in Ljubljana City & Around Ljubljana:
Antica, Grosuplje, Dodo Pizza, Fugazi, Laterna, Parma, Pr Picopeku, Siciliana, Dragomer, Tia's Pizza, Verace, Zbornica

Best Burgers in Ljubljana:
Ajda Premium Burger, Hood Burger, Hot Horse, Lars and Sven Burgers, McDonald's, Park Žibert Drive In, Pivnica Union, Rex Bistro Burger, Super Pšanc Burger, Zbornica

Best Vegan or Vegetarian restaurants:
Barbarella Bistro Arkade, Bazilika Bistro, Fari's Delice, Gaudi & Naan, Gujžina, Mandala, Taman Organic, Presnica, Radha Govinda, Vse dobro

Best Asian Restaurant in Ljubljana:
Beli Labod, Kitajska Zvezda Chang, Han, Maru, Sato Bento, Sushimama, Tloft, Tokio Piknik, Zanoodle, Osha Asian Bistro

Best Street Food in Ljubljana:
Ajda Fast Food, Burek Olimpija, Fari's Delice, Klobasarna, McDonalds, Namaste Express, Nobel Burek, Šeherezada, Španska Vas, Subway

Best Balkan restaurant in Ljubljana:
10 v pol, Čad, Das Ist Valter, Gostilna Dubočica, Leskovački dvor, Lunch at the Ranch, Portal, Saraj, Sarajevo '84, Vozi Miško

Best Gostilna around Ljubljana:
Dvor Jezeršek, Gostilna Čubr, Gostilna Dobnikar, Gostilna Ledinek Šmarna gora, Gostilna Pr Kopač, Gostilna Pri Gorjancu, Gostilna pri Kuklju, Gostilna Repnik, Gostilna Stara Kašča, Gostišče Pri Poku

Best Chef in Ljubljana:
Črt Butul - Pri meni, Igor Jagodic - Strelec, Jakob Pintar - TaBar, Janez Bratovž - JB, Jorg Zupan - Atelje, Luka Košir - Grič, Mojmir Šiftar - Pen klub, Peter Kovač - Maxim, Sebastjan Elbl - Gostilna na Gradu, Tadej Dolinar - Altroke

And more from previous years:
Best Of Ljubljana restaurants 2019 
Best Of Ljubljana online delivery 2020 
Best of Ljubljana 2015
Best Of Ljubljana restaurants 2014
Best Of Ljubljana Quick eats 2014
Best of Ljubljana Fast Food 2011
Best Of Ljubljana: battle of the Burek 2010
Best of Ljubljana restaurants 2013