The oldest city in Poland, crowded with churches, cobblestones and colourful burgher houses, Poznań remains one of Poland's most important cultural and business centres. There are also a tonne of outdoor attractions in Poznań, which help to balance out all the wonderful museums, art galleries and theatres that the city has to offer, drawing thousands of eager domestic and international tourists every year, many of them return visitors! As can be expected, most things tend to kick off in the picturesque Old Town, sporting a collage of architectural styles and stuffed with soaring historical monuments, all of which are complemented by a wealth of restaurants, bars and cafes with an idealistic backdrop. A stroll away from the centre will bring you across the groovin' parklands around Stary Browar, Lake Rusałka and Lake Malta have inspired many young-and-spritely troops to go out, have a picnic and explore! Ostrów Tumski, the millennia-old cathedral island, is an attractive piece of real estate between the Warta and the Cybina rivers, with the nearby neighbourhood of Środka worth a moment of your time. Further abroad, Poznań's home region of Wielkopolska (ENG: Greater Poland) is the birthplace of the Polish state, with a tonne of open-air museums, post-glacial lakes, forests and gently-sloping hills that tempt the more-adventurous of use to try out hand at canoeing, cycling and horseriding.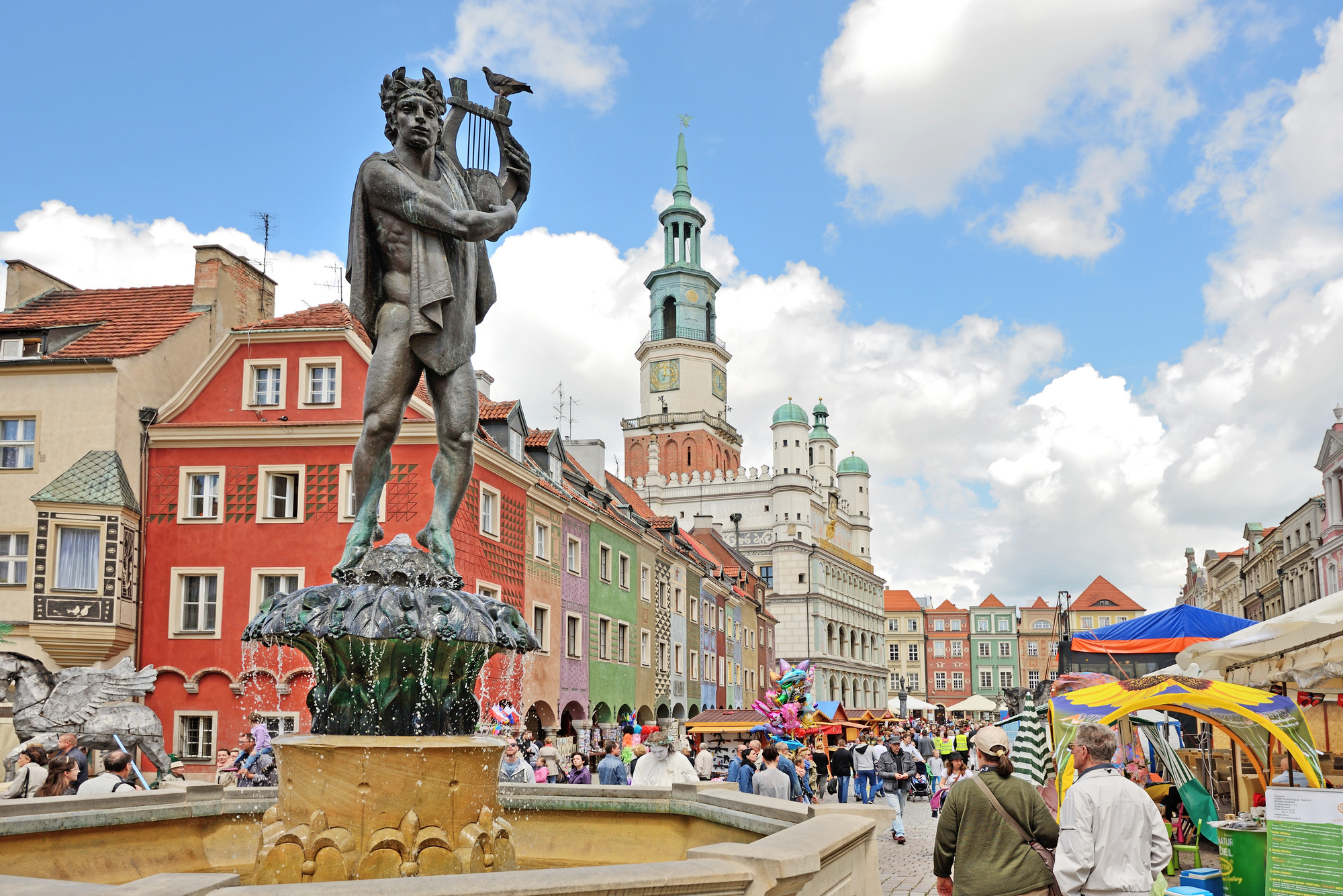 GOATS BUCK IT OUT AT HIGH NOON
Poznań's
Old Town
and the magical Stary Rynek will no doubt be your first point of call. However, there's a daily event that will no doubt peak your interest at the Town Hall in the very middle. Here, when the clock strikes 12 at noon, a display of mechanical goats emerges from the cuckoo door and start bucking it out with each other! This is a must-see, especially for young families during their visit. The goat is Poznań's beloved mascot and you can spy many more sculptures around the city - many of them have been well-handled by tourists because of that ever-present tradition of rubbing things for good luck.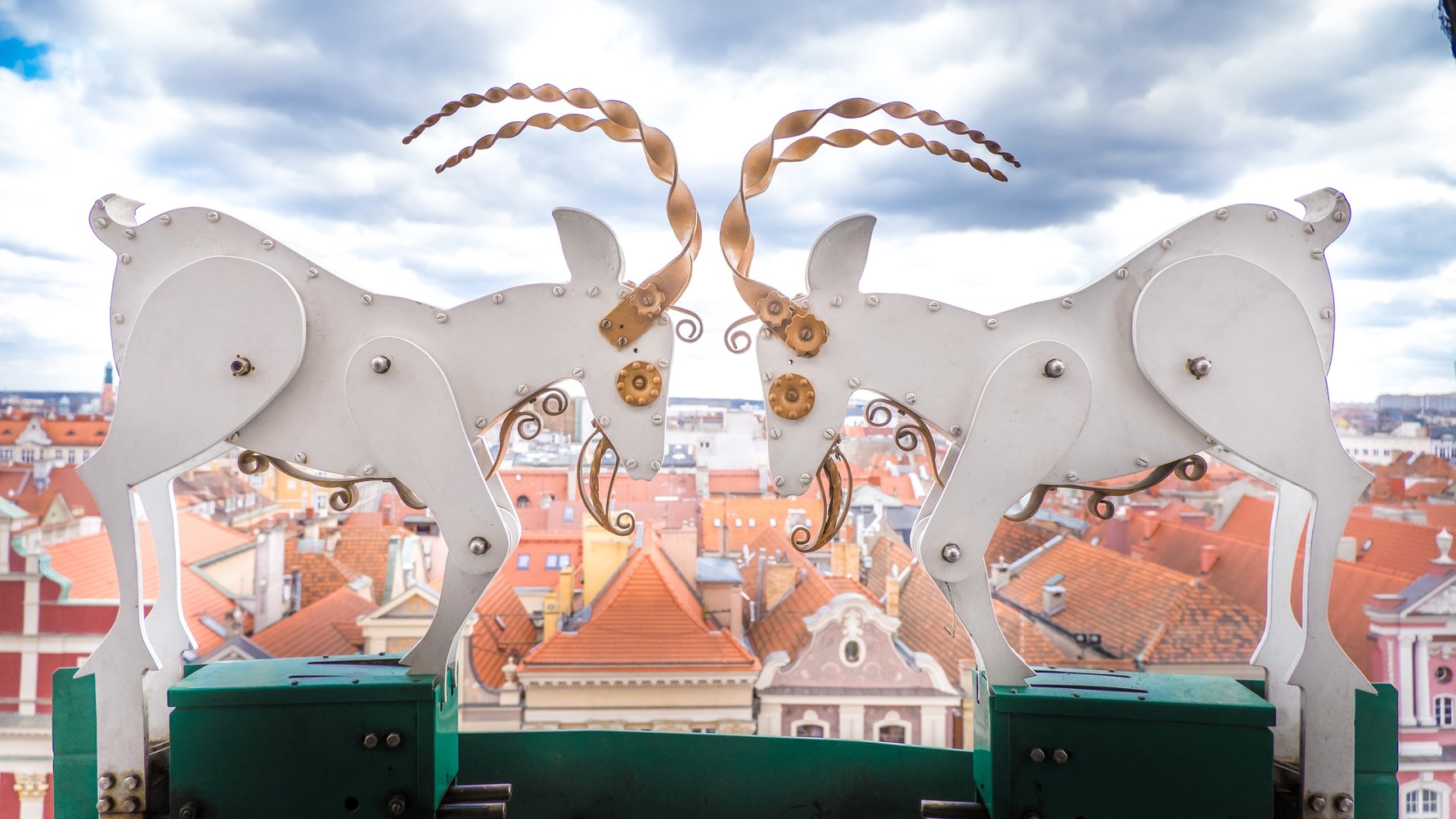 There are number of great parks in Poznań - the calming grounds next to the equally-fabulous Stary Browar, Park Tysiąclecia near Lake Rusałka and the small pockets of greenery around the Old Centre that offers some reprieve to the hustle and bustle of city life. However, these small veggie patches cannot compare to Citadel Park, 20 mins walk north of Stary Rynek. Sitting on the ideal location of Winiary Hill, this 89-hectare picture-perfect green space is one of the most coveted locations in Poland, with a scenic overlook that has a long history of multiple name changes and military engagements with a little bit of old-fashioned mystery thrown into the mix as well. The 'citadel' (it's actually more of a fort) that gave the area its name is still highly visible and fort still remains, and those intrepid enough to wander off the park's paths will be rewarded with a close-up look at history. Today visitors, however, will find this former military stronghold is home to art installations, monuments, several museums, cemeteries and large outdoor events. There are few better ways to spend an afternoon in Poznań than exploring all there is to see and do in the city's largest park.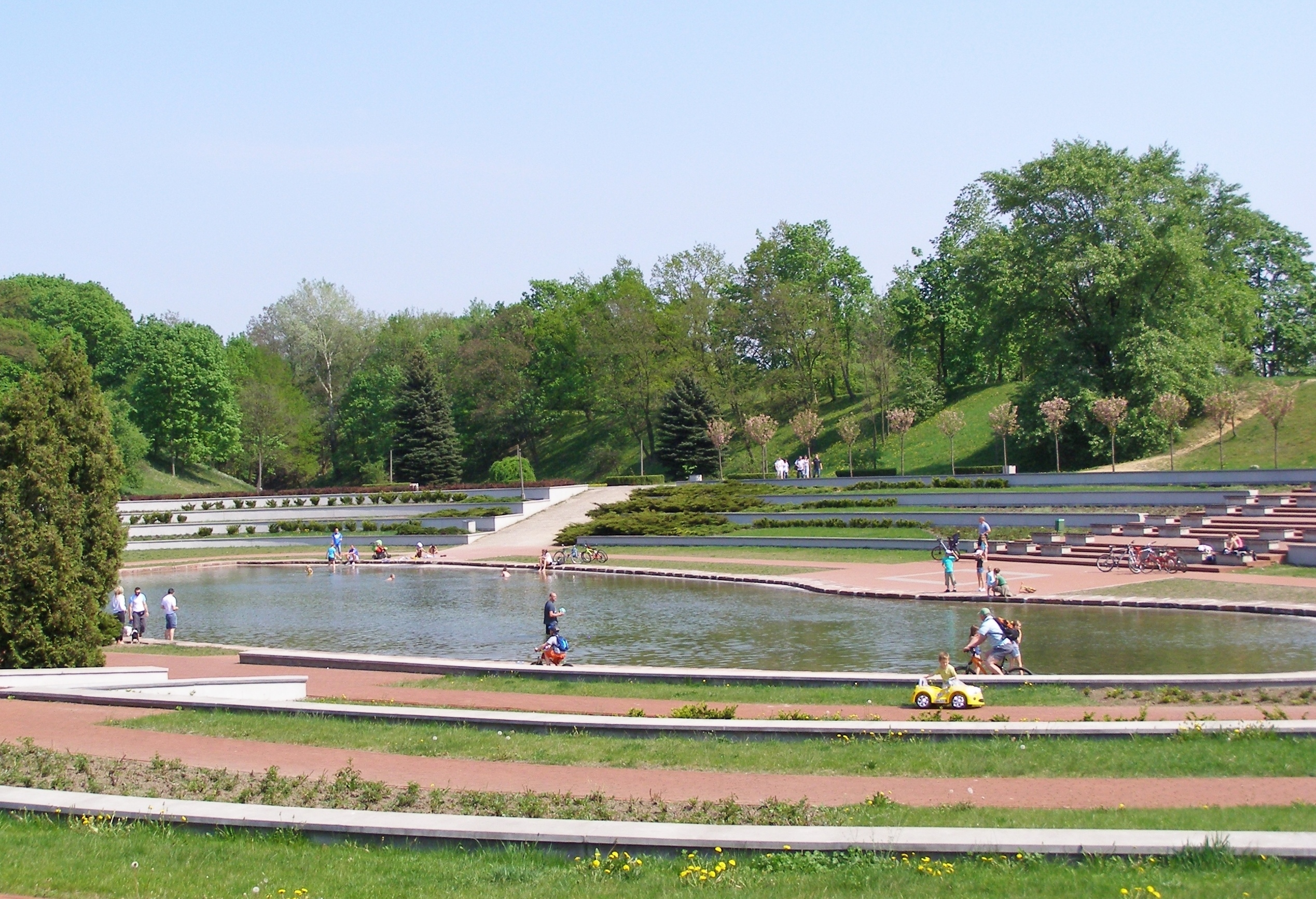 JEŻYCE - THE HIPSTER NEIGHBOURHOOD IN POZNAŃ
Almost all of Poland's major cities seem to have a gravitational centre of charm in the beloved 'Old Town' of each, and Poznań is no different! However, after a millennia of business-as-usual, the old school charisma will eventually be challenged by a grungier, cheaper and generally-younger community somewhere further out. In Poznań, this is Jeżyce - a happening neighbourhood to the west of the city centre and well-deserving of the 'cool' adjective! In the 21st-century, Poznań's increasingly hipster and food-obsessed district might not be much of a looker, but there's plenty brewing under the surface. Impoverished in the post-war years and admittedly not the safest place to walk around after dark, it is now changing into a hippie-dippie neighborhood where, as locals have remarked, it's 'easier to get hummus than to get mugged'.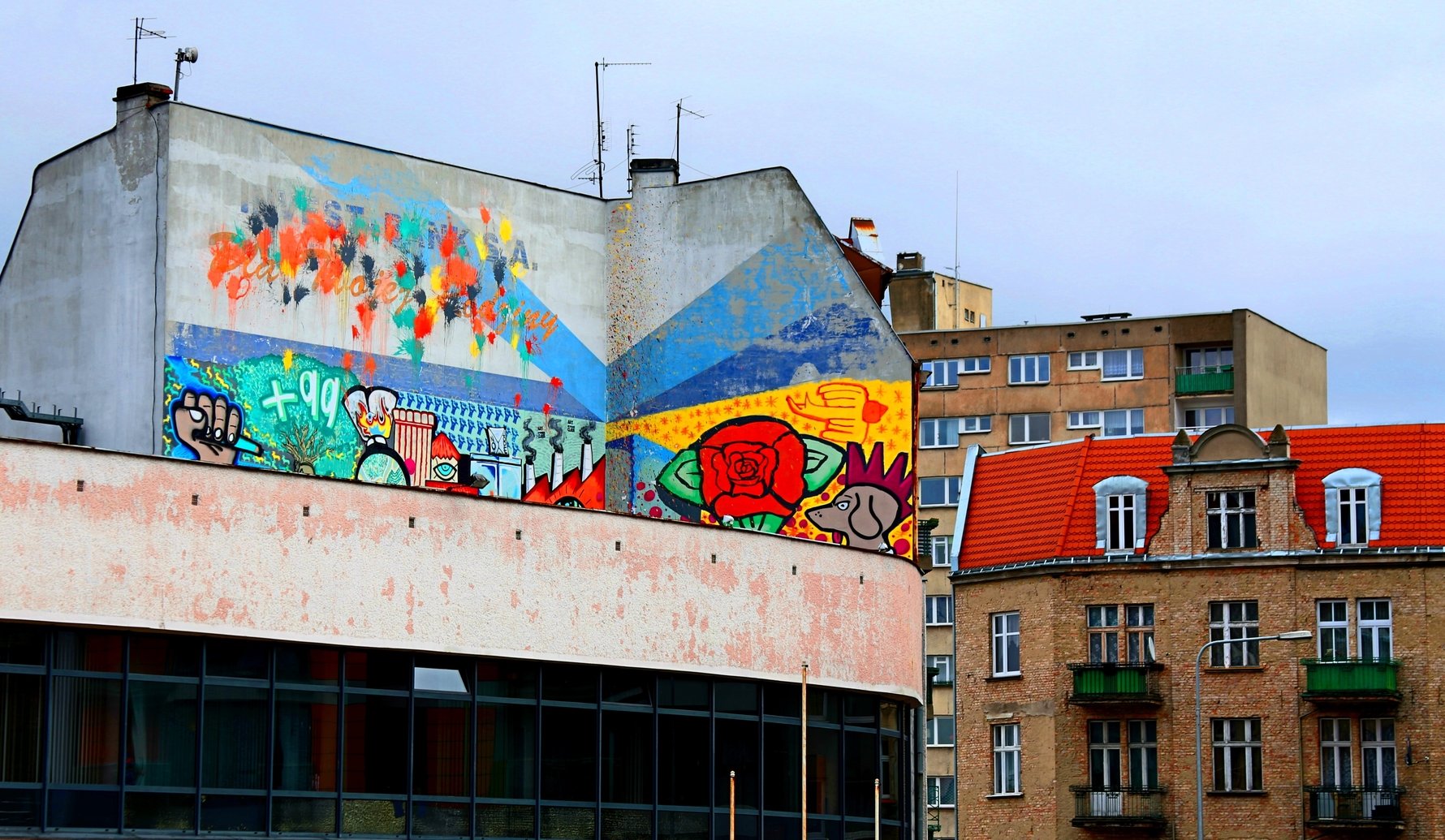 The main draw of Jeżyce is the delightful Jezycki Market Square, which is typically defined as its centre and is essentially the markets of Poznań. The 400 merchant stalls here are still a good place to pick up fresh fruit and vegetables, as well as peruse clothing and other random goods you might be wiser not to take home. You certainly won't beat the prices. Strolling around outdoors and enjoying the fresh air, you can "ooh" and "aah" at the faded glory of some of the intricate Art Nouveau facades on the tenement buildings that populate the blocks of this hood.

HAVE A PICNIC AT ONE OF POZNAŃ'S LAKES
Orbiting around Poznań Old Town, two of Poland's largest man-made urban recreation areas are found around lakes Malta (to the east) and Rusałka (to the northwest). While it's the more developed and commercialised Lake Malta that grabs most of the tourist attention, the largely unheralded area surrounding Lake Rusałka is rich in history (most of it tragic), natural beauty (both tamed and untamed) and opportunities to escape the urban patter of Poznań.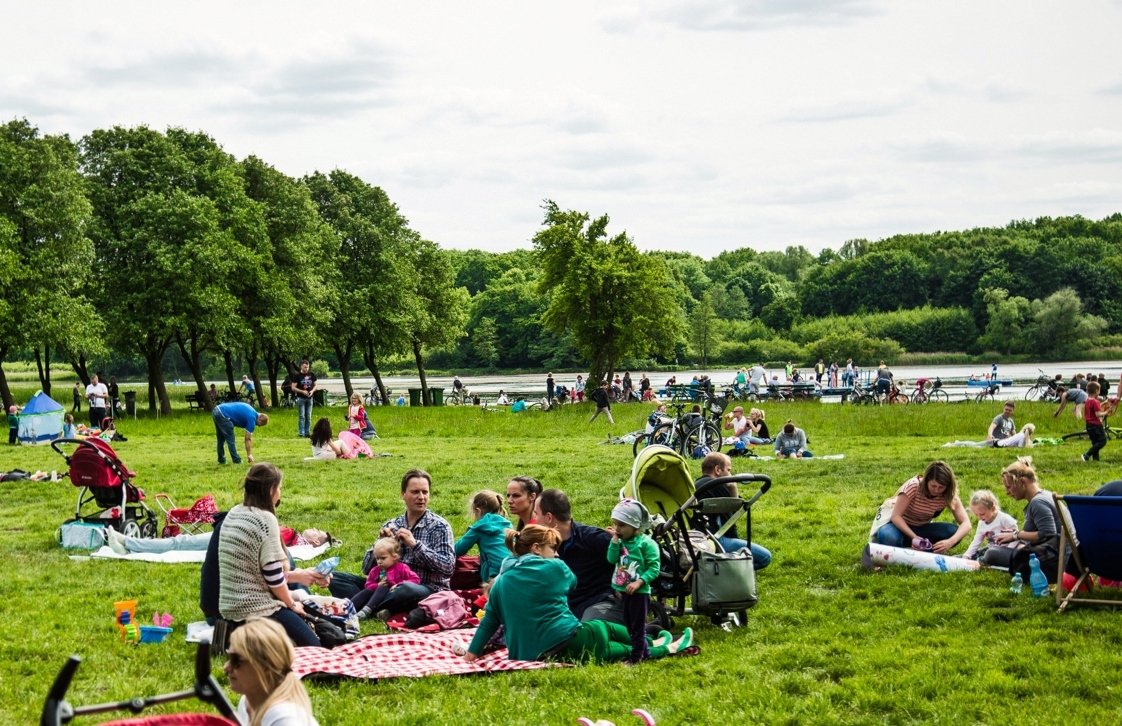 If lakes Malta and Rusałka were siblings (and in a sense they are), Rusałka would be the athletic and attention-seeking Malta's mysteriously beautiful and slightly introverted sister. Rusałka has long been
favoured by naturalists and fishermen, hikers, cyclists and photographers
, and is characterised by
3,300 metres of largely wooded coastline woven with intimate walking paths
, ancient trees (a group of which near the north shore are a designated natural monument), misty streams, and several forgotten
war memorials
. Unlike Lake Malta, 
Rusałka's shores are mostly devoid of commercial development and provide a unique opportunity to immerse oneself in a natural setting without leaving the city centre
.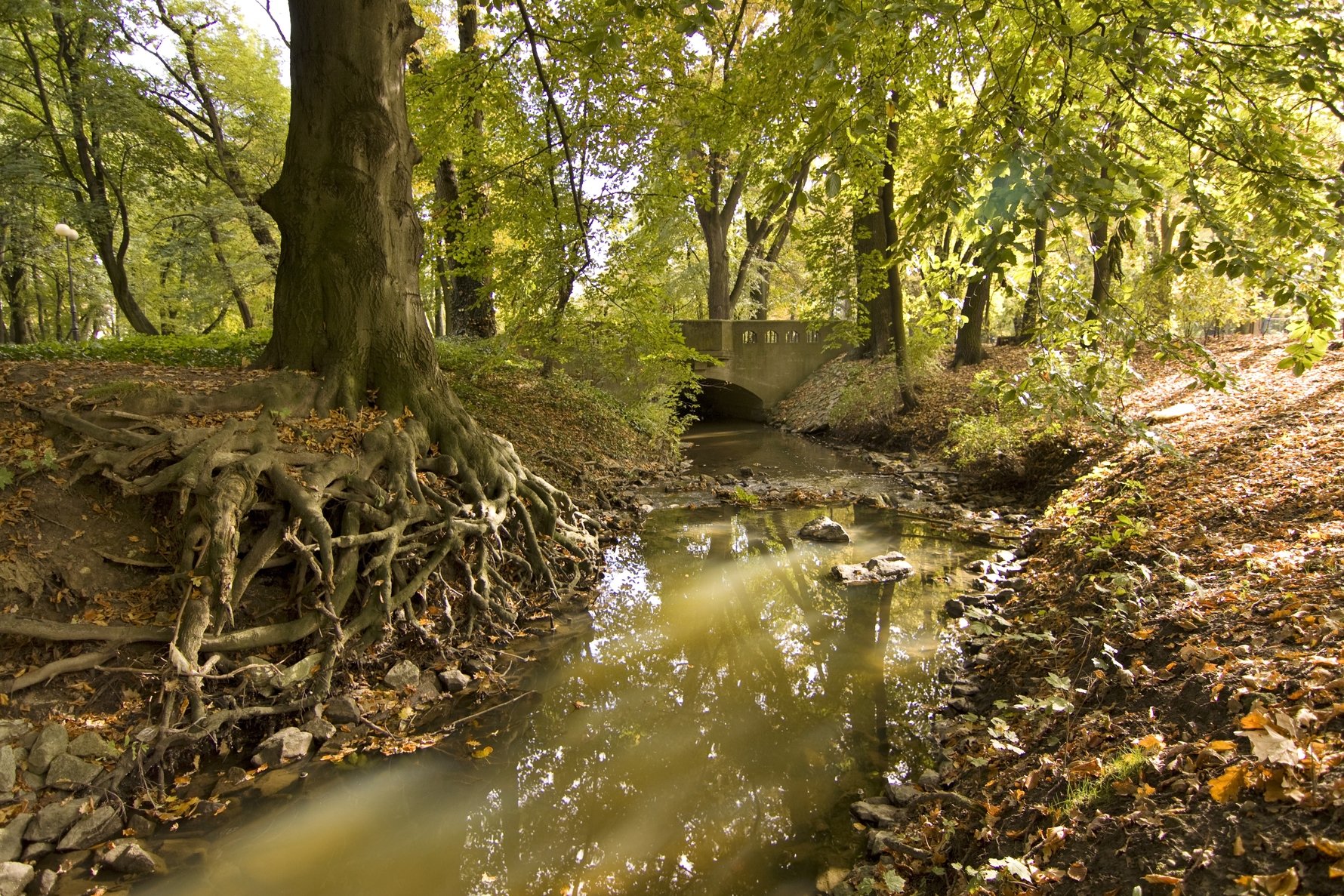 That's not to say that this old girl doesn't know how to have fun, however. In the summertime, a designated section of the northern coast becomes Poznań's most popular swimming and sun-bathing destination, even overseen by lifeguards and offering water sports equipment rental. In fact the shore now hosts the new Rusałka restaurant and beach bar, and there are numerous events and activities planned in an effort to get more people engaged in one of Poznań's most beautiful and under-utilised recreation areas.
Summer - when hot bodies hit the beach, and autumn - when the leaves perform that magical chromatic manoeuvre of theirs, are absolutely the best times of year to visit the area (take your camera). Tourists will also find several other points of interest nearby, including Park Sołacki - which leads directly into Lake Rusałka's eastern shore, and the Botanical Gardens on the southern shore. For those fascinated by Poland's painful past, Rusałka also conceals several unkempt WWII-era memorials and mausoleums, and the Wielkopolska Martyrs Museum is also within walking distance of the south shore. If your interests include nature, history or photography, escape the agoraphobic Old Town and explore Rusałka's unique and natural charms, as well as her dark secrets. You'd be wise to pick up a map of the area from tourist information, wear comfortable shoes (prepare for lots of walking), and off you go.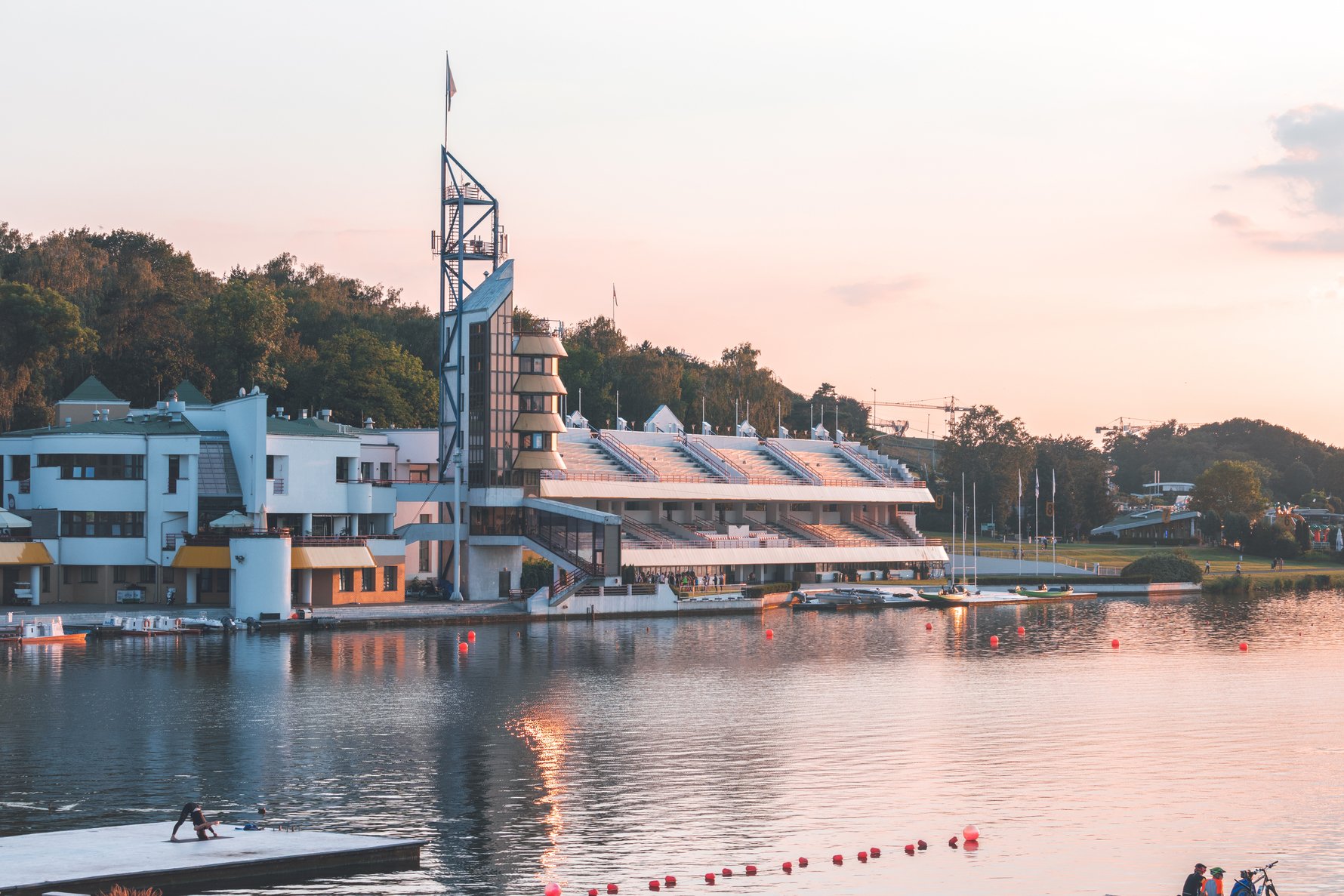 While technically within Poznań's city limits, Lake Malta is arguably the best-known in the area and offers the most in terms of outdoor activities in Greater Poland. Formed in 1952 as a result of damming the Cybina, this 2.2km long lake is the largest man-made lake in the city, with an average depth of 3.1 metres. Surrounded by parks and woodland, it is today one of the principal recreation areas in the region - in both summer and winter - with an ice-rink, all-season ski slope (the first in former communist Europe), a world-class regatta course, zoo, water park, and dozens of other attractions, including several historical sights. Just east of the centre, but miles from the madness of the market square, if you're in town to decompress, head to Malta.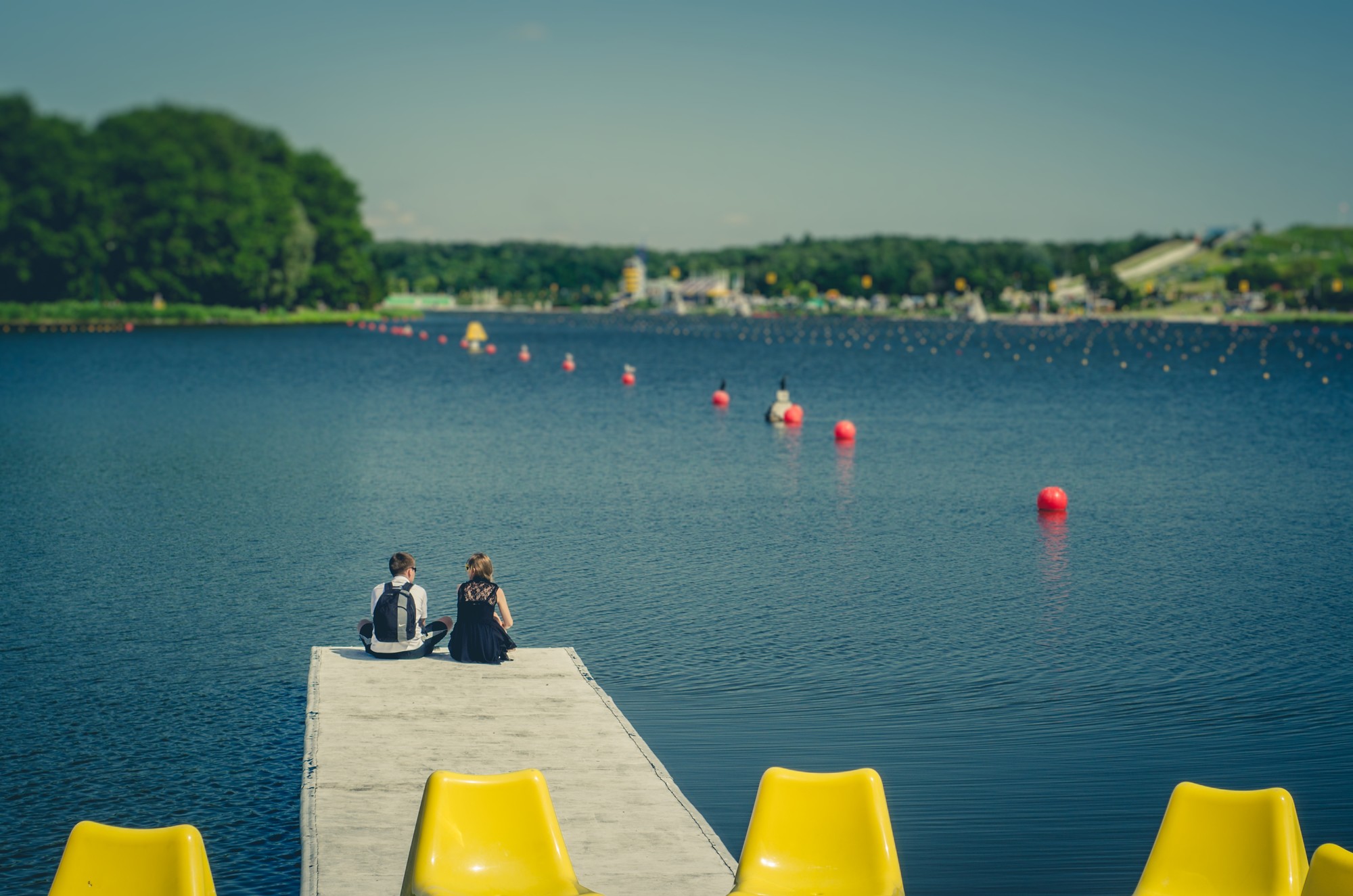 The fun around Lake Malta does not stop there. Along the northern shore, the Maltanka Railway Station can be found, which is home to a quaint little steam engine named Borsuk (ENG: Badger). Drawing the carriages along an incredibly narrow 600mm track gauge, the Maltanka line near Rondo Śródka is one of the most practical ways to get to Poznań's New Zoo. Housing over 2,000 beasts representing nearly 350 species, it's comprised of 60% pine and mixed forests with a man-made stream and string of ponds running through the grounds. This means many of the Zoo's residents live in recreations of their natural habitats and not in godforsaken concrete pens!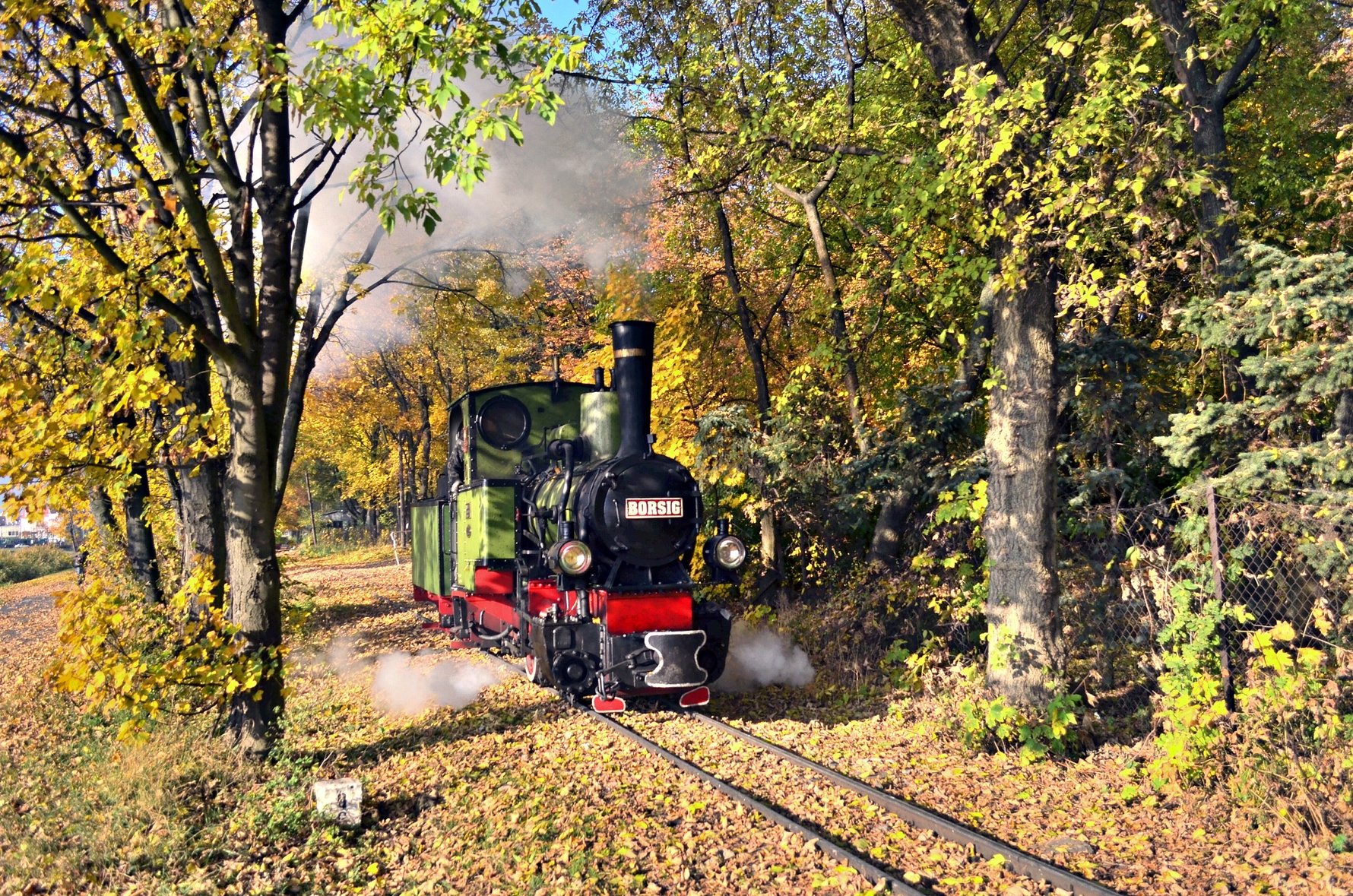 KAYAKING AROUND POZNAŃ
Fans of kayaking can flex their biceps in joy the rivers and lakes of Poznań. We've already mentioned Lake Malta above, and other bodies of water like Strzeszyńskie Lake and the ever-present Warta River offer you plenty of options for kayak rental, as well as ice cream and other summer novelties. However, travelling a couple of hours outside of the big city is where the adventure really begins. Kayaking in Greater Poland is one of the nation's most sought-after outdoor activities and there's a few spots that we highly recommend. An hour's drive south-west of Poznań is the The Lily of the Valley Trail (PL: Szlak Konwaliowy) which traverses the 19 lakes of Przemęt National Park , all interconnected by small canals and waterways. Gorgeously carpeted in pink lilies during the springtime, this fragile ecosystem is off bounds to visitors, which is why admiring it from the seat of a kayak is your best bet! This divinely-graced part of the country was inhabited by the Monks of the Cistercian Order for many centuries, which is why there are so many canals interconnecting everything. Fortunately, the old monastery still stands in Przemęt and it can be visited as well! Pro-rafters and other maniacs are advised to take note of the the mighty Gwda River , 3.5 hours north of Poznań, whose particularly choppy currents are thanks to the mills and hydroelectric plants that crashed the party upstream! For beginners and families, the Rurzyca River trail, a little further to the north, is a friendlier waterway with a good mix calm and more-accelerated waters.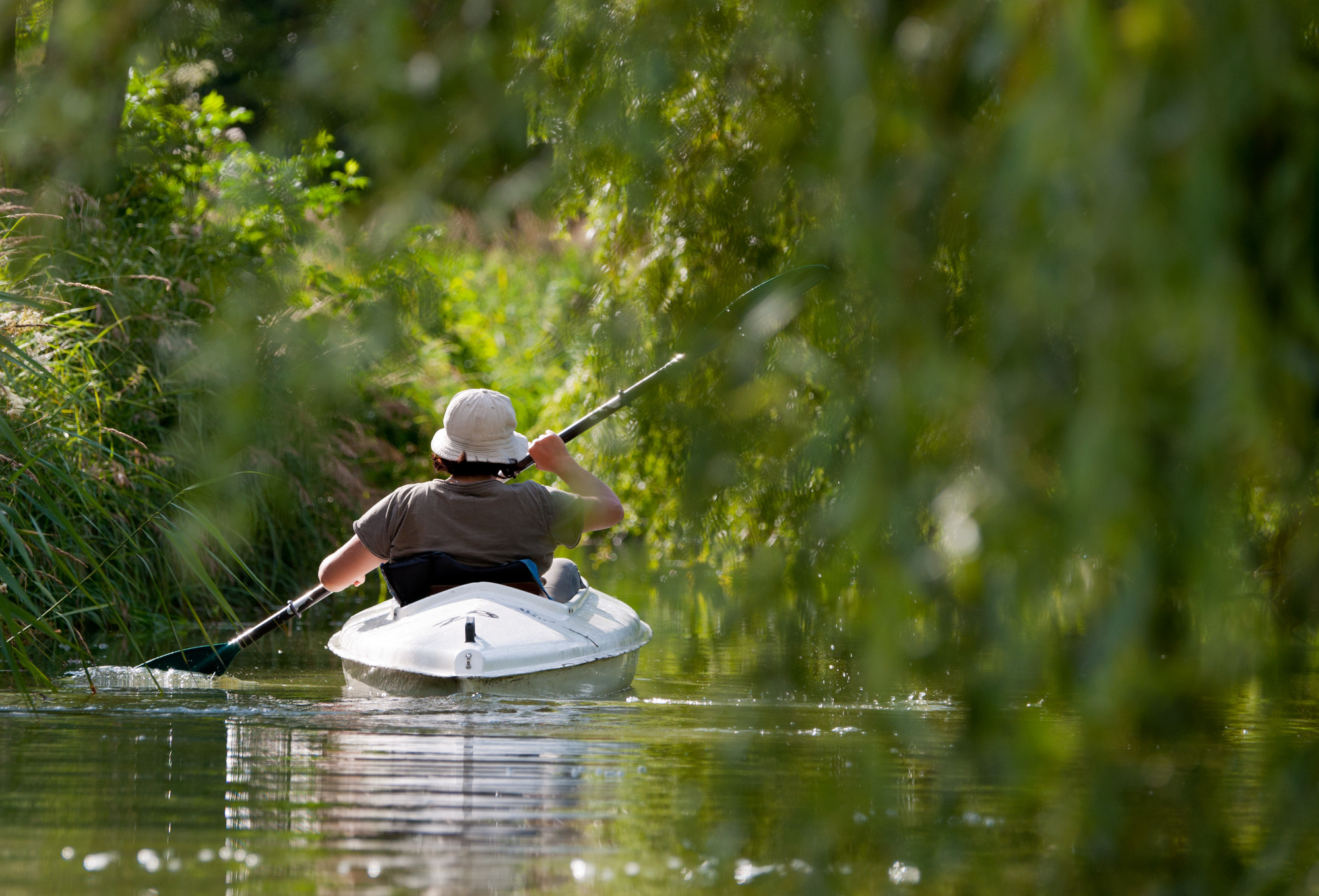 CYCLING AROUND POZNAŃ
Cycling in Poland is highly recommended, simply because the relatively-flat geography of this part of Europe is quite favourable for those who must peddle! Poznań is no exception, and bike lanes parallel most sidewalks in the city centre, allowing you to zip around between your stops. However, like with kayaking, cycling in Poznań is really just skimming the surface of potential bike trail options in the Greater Poland region overall. Those of you who are particularly pedal savvy should consider one of the 8 long-distance routes in the Wielkopolski System Szlaków Rowerowych (ENG: Greater Poland System of Bicycle Routes) which offer a truly visceral experience of the region. The longest of these is the Trans-Wielkopolska Cycling Route (PL: Transwielkopolska Trasa Rowerowa, TTR) a 480 km trail that links the northernmost and southernmost areas of the region. The route has been divided into two sections: northern (200 km) and southern (280 km). Both start in the Poznań Bicycle Hub at Lake Malta.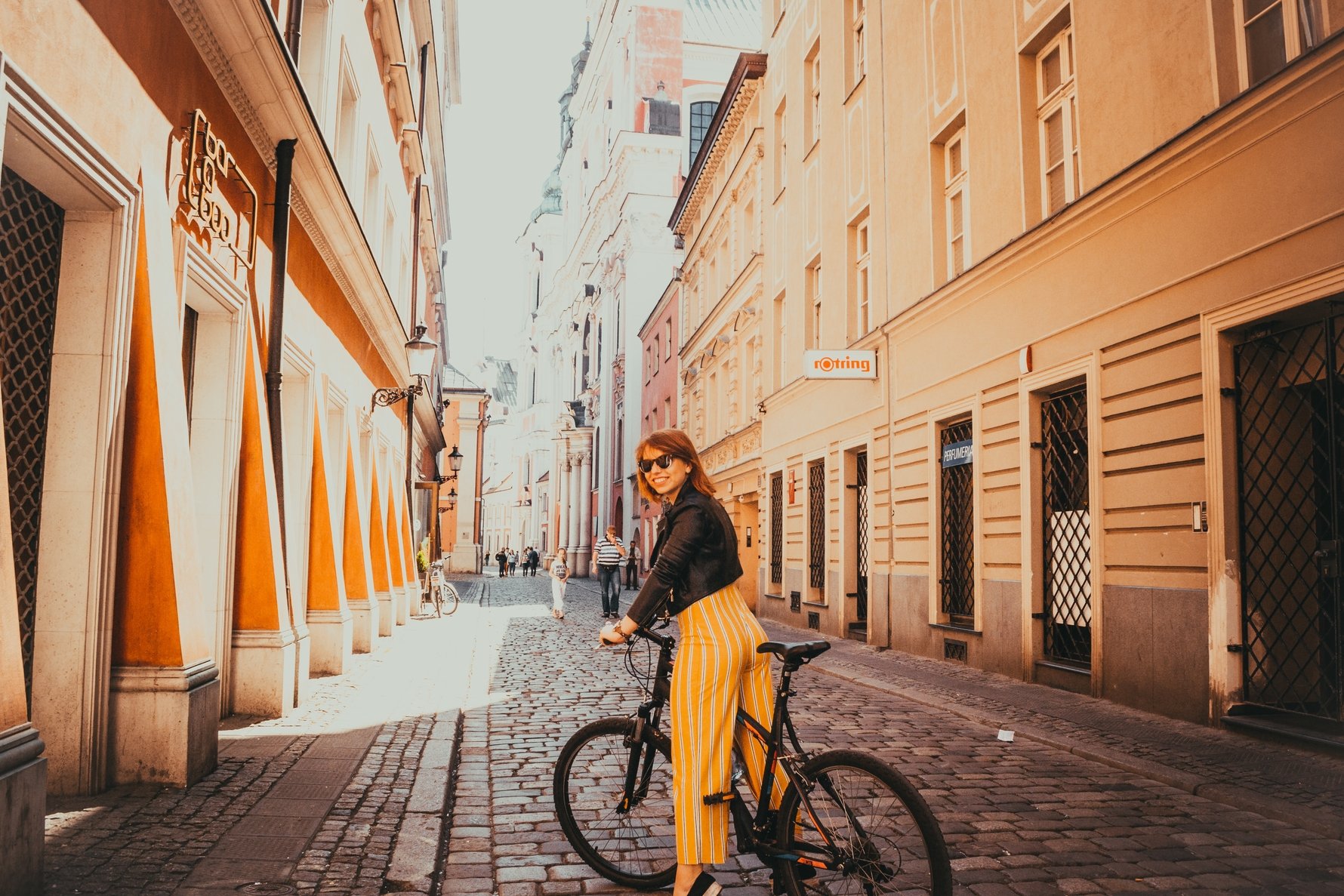 For the less-committed cyclist, here are a selection of our favourites that are (relatively) close to Poznań:
Kórnik to Lake Goreckie - Stepping it up a little, this is a more challenging 70km bike route that will take you from Kórnik, through Greater Poland National Park to the halfway point at Lake Goreckie, where you can cool off! Fortunately, for you the rider, the second half of the total 6-hour trip is less demanding than the first! There is a Poznań-based route that covers many similar points, but is 30km longer and an additional 2 hours of cycling.
Notecka/Sierakowski Forest - This one is quite demanding. 125km and varying elevations and surfaces over an 8-hour period. The trade-off is, however, that you will be travelling through two of the most beautiful forest areas in Greater Poland - the Notecka and Sierakowski Forests. So why not consider breaking it up over a couple of days?
Click here for a comprehensive list in English of cycling routes in Greater Poland.
​​​​