Oristano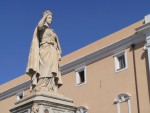 © Comune di Oristano
Oristano might not be Sardinia's most famous city, or indeed its biggest. However, these facts only serve to make it even more impressive quite how much this beautiful little city and its surrounding area have to offer. Within a relatively small space you can find everything from buzzing urban centres to tranquil beaches, innovative gastronomy to ancient ruins. A more varied place would be very hard to find indeed.
Oristano is rich in history and culture and this is reflected both in the city sights and in its atmosphere. Within the historic centre there are several beautiful churches representing different eras of history and different architectural styles. Besides churches, there are plenty of other examples of wonderful architecture and design such as the towers of the old city walls or the grand baroque buildings of piazza Eleonora. The narrow, winding streets are filled with shops selling jewellery, clothing, gifts and food and there is a refreshing lack of large chain stores here, giving way to a more artisan, more personal way of doing things. In the cafés and piazzas locals and visitors alike sit and chat animatedly at all hours of the day, creating a friendly, welcoming ambience that can be felt all around the city.
For the gourmets among you, this is certainly the right place. Locals pride themselves on their delicious, gutsy cuisine and excellent vernaccia wine. Given the proximity to the sea and Oristano's heritage, fish and seafood feature heavily in the local dishes, and such tasty and fresh seafood as this it would be hard to find elsewhere. The local speciality, although available in many other parts of Italy, is bottarga, a strong-flavoured product made from mullet roe. It can be served in many different ways, including sliced and drizzled with oil as a starter (antipasto in Italian) or grated onto pasta. Like all delicacies, it can inspire some differences of opinion, but those who love it adore it. Besides all this, there are also plenty of delicious local meat and cheese dishes, as well as an abundance of vegetables due to the fertile land of the area. Those with a sweeter tooth will be very well served by the beautiful little local cakes and pastries, as much a pleasure to the eye as to the stomach.
Within easy reach of Oristano lie some of Sardinia's most prized treasures. The most well-known of these is the archaeological area of Tharros. You can also visit the early-Christian church of St John in Sinis and the Romanesque Santa Giusta Cathedral, all representing different eras of the region's rich and diverse history.
The area also boasts some excellent beaches. From the bustling seaside resort of Torregrande with its water sports and bars to the quartz sands of Is Arutas, there is a type of beach here to suit all tastes, all within a few kilometres of the city and many reachable by public transport.
Whilst visiting Oristano in the summer has obvious advantages, it is truly a place with perennial appeal. The most palpable example of this is on the last Sunday before Lent, when Sa Sartiglia is held. This is a tradition that has been going for centuries, having grown in strength during the dark years of Spanish rule as a way for the local population to maintain and manifest their identity. It originated as a sort of jousting festival performed whilst wearing masks, but various extra rituals have been added and taken away over the years. These days many of the more dangerous elements are represented symbolically rather than literally but it is still a boisterous, lively affair and one that is very unique to the area.
However, there is plenty to come and see in Oristano. With all its diverse traditions, sights and customs it truly is one of Sardinia's greatest assets, and is waiting with open arms for you to explore all the fantastic things it has to offer!