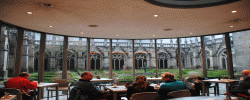 Although this place is actually right in the heart of the most visited tourist attraction in Utrecht, the Dom Church, most people tend to skip this friendly café. Despite the corny surroundings, the coffee is cheap (€1.50) and good and so are the toasted cheese sandwiches for €1.80. Naturally, it also has one of the most incredible views of the inner courtyard of the Dom from behind a glass wall. Elderly volunteers run this place that hasn't changed in years,
so have a bit of patience and enjoy the slow pace of life here
. We almost feel guilty to reveal this hidden gem to you.
Domkerk Comments