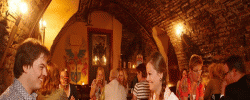 Many European cities offer medieval restaurants where the staff walks around in furs, the atmosphere is 'authentically' ancient and patrons eat large chunks of meat by hand. Utrecht has wisely avoided this culinary experience, but the restaurant that comes closest is Den Draeck. The marginal lighting makes sitting in this historic building cosy and romantic and it also has the distinction of being Utrecht's only stone grill restaurant.
(€16 - 21)
View in maps.inyourpocket.com
Open:
Open 17:00-21:00, Thu, Fri 17:00-21:30, Sat 17.00–22.00.
Address:
Oudegracht a/d Werf 114 - 122
Phone:
(+31) 302 32 19 99
www:
http://www.den-draeck.nl