Free Download
Features
Links
Tartu In Your Pocket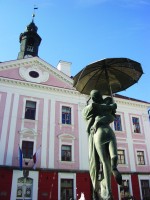 Tartu is the friendly kind of town you'd want to hang out in at any time of the year, however, it really comes alive during the warmer months. This fairly green city with its winding river and numerous bridges is the perfect setting for those who want to fill their days with quiet strolls, and their nights with loud delights. There's so much to do and see that you'll probably want to spend more than a couple days here. It's also the gateway to South Estonia and the excursion possibilities are numerous, we've listed a few things to do around Tartu in Around Tartu section.
Tartu was also an important member of the Hanseatic League and continues to celebrate this with what has become an annual Tartu tradition, the 'Tartu Hanseatic Days' festival. The event is a fantastic way to explore what Tartu was, is and might become. See the culture section for more details.
Always remember though that this is just a guide. We try our best to provide as accurate information as possible by print time. We write about our experiences and the experiences of our readers, and can't guarantee that your encounters at various establishments will be the same. We welcome your feedback. You can write to us on Facebook or send an e-mail to the editor at: nsi@inyourpocket.com.