Berlin In Your Pocket city guide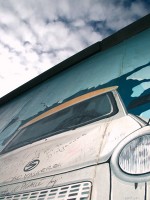 For those who like their outdoors to be calm, manicured and fitted out with holes for aiming little white balls at, check out our new golf feature and discover where you can play in and around Berlin. Some people who will shun the sunlight this season are the visitors of the international Gamesweek event, who'll spend their time trying out and discussing digital games.
See our
Berlin events listings
 for all events.
Whatever you do this spring, do write in to tell us about your experiences, tips and complaints, at berlin@inyourpocket.com.
We already had an iPhone app of our city guide; we now also have a mobile version of our website which users of all smartphones can use. Simply surf to m.inyourpocket.com.

Berlin In Your Pocket is the English-language city guide to Germany's vibrant capital; appearing bimonthly and distributed in hotels, it's the essential guide to anything a visitor needs to know.

Follow Berlin In Your Pocket news via our facebook page www.facebook.com/BerlinInYourPocket or our twitter account www.twitter.com/BerlinIYP. Watch our video guide to Berlin here.

Berlin is regularly mentioned as Europe's party capital, and there are dozens of great clubs - from techno to indie - that attract thousands of partygoers each weekend. To make sense of the multitude of options, visit our (German-language) partner website www.theclubmap.com, which has photos, reviews and other information about Berlin's vibrant nightlife scene.