Berlin In Your Pocket city guide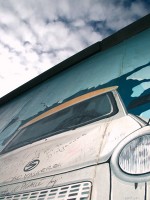 As the classical music season starts up again, check out the special concert by the East-West Divan Orchestra, or the intriguing series of concerts by the Deutsche Oper Berlin at the new airport, inside their parking garage or in their carpentry shop; see our 
Berlin events listings
 for more.
Indoor entertainment can also be found at Berlin's museums and galleries – you'll need to be quick to see the famous Pergamon Museum as it will be partially closed for renovations over the next few years. The Neue Nationalgalerie, with an excellent Ottoe Piene exhibition, will also undergo renovations over the next few years, and the wonderful David Bowie exhibition at the Martin-Gropius-Bau is also coming to an end soon too, so visit before it's too late.
Whatever you do this summer, don't hesitate to email us your comments and suggestions at berlin@inyourpocket.com. Enjoy Berlin. 
We already had an iPhone app of our city guide; we now also have a mobile version of our website which users of all smartphones can use. Simply surf to m.inyourpocket.com.Berlin In Your Pocket
is the English-language city guide to Germany's vibrant capital; appearing bimonthly and distributed in hotels, it's the essential guide to anything a visitor needs to know.
Follow
Berlin In Your Pocket
news via our
facebook
page
www.facebook.com/BerlinInYourPocket
or our
twitter
account
www.twitter.com/BerlinIYP
. Watch our video guide to Berlin
here
.
Berlin is regularly mentioned as
Europe's party capital
, and there are dozens of great clubs - from techno to indie - that attract thousands of partygoers each weekend. To make sense of the multitude of options, visit our (German-language) partner website
www.theclubmap.com
, which has photos, reviews and other information about Berlin's vibrant nightlife scene.