Berlin In Your Pocket city guide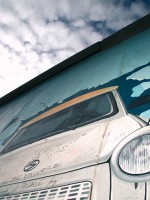 There's a sense of jubilation as Berliners flock back to the parks and lakes. Nowhere can the joy be felt more profoundly than at one of many street festivals; the outdoor season really kicks off with the May Day celebrations (and a few demonstrations and riots) in Kreuzberg. 
Berlin's museums and galleries have plenty of distraction to offer as well this spring, while the theatre and opera season is in full swing too - see the events listings for details and a selection of events. April sees the Spree river tours pick up steam again, and we can highly recommend trying the full 5-hour tour on a warm sunny day. 
Whatever you do this spring, let us know about your tips and comments via berlin@inyourpocket.com. Enjoy Berlin.
Berlin In Your Pocket
is the English-language city guide to Germany's vibrant capital; appearing bimonthly and distributed in hotels, it's the essential guide to anything a visitor needs to know.
Follow
Berlin In Your Pocket
news via our
facebook
page
www.facebook.com/BerlinInYourPocket
or our
twitter
account
www.twitter.com/BerlinIYP
. Watch our video guide to Berlin
here
.
Berlin is regularly mentioned as
Europe's party capital
, and there are dozens of great clubs - from techno to indie - that attract thousands of partygoers each weekend. To make sense of the multitude of options, visit our (German-language) partner website
www.theclubmap.com
, which has photos, reviews and other information about Berlin's vibrant nightlife scene.