Berlin In Your Pocket city guide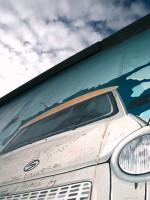 Christmas Markets
are back in town to cheer us up and make us all forget about how cold and dark it is. You can find over 60 sparkling markets across the city again this winter. If you're here for
New Year's Eve
, you won't be alone; a million revellers are expected to welcome 2014, accompanied by world-class fireworks, the Pet Shop Boys and many other artists. Read all about the markets and the NYE festivities in our 
Christmas feature
. 
Sports fans are in for some action this season as the
European Ice Hockey Trophy
matches are played in Berlin between 19-22 December. Europe's six best ice hockey teams battling for the European Trophy, and undoubtedly the local Eisbären Berlin team will get most cheers when facing title defender Lulea Hockey. Read more about the Trophy, about Berlin's 6 professional sports teams and their home match dates on our
Berlin sports page
. 
For those arriving in January there's still plenty to do and see as well; check out our
Berlin events listings
.
Whatever you do this winter, send us a note if you have tips or comments at berlin@inyourpocket.com. Enjoy Berlin. 
We already had an iPhone app of our city guide; we now also have a mobile version of our website which users of all smartphones can use. Simply surf to 
m.inyourpocket.com
.
Berlin In Your Pocket
is the English-language city guide to Germany's vibrant capital; appearing bimonthly and distributed in hotels, it's the essential guide to anything a visitor needs to know.
Follow
Berlin In Your Pocket
news via our
facebook
page
www.facebook.com/BerlinInYourPocket
or our
twitter
account
www.twitter.com/BerlinIYP
. Watch our video guide to Berlin
here
.
Berlin is regularly mentioned as
Europe's party capital
, and there are dozens of great clubs - from techno to indie - that attract thousands of partygoers each weekend. To make sense of the multitude of options, visit our (German-language) partner website
www.theclubmap.com
, which has photos, reviews and other information about Berlin's vibrant nightlife scene.