Berlin In Your Pocket city guide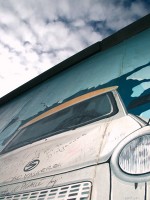 Mid-winter in Berlin is perhaps the best time to visit this fascinating city. True, the weather can be atrocious and the locals tend to be grumpier than usual. But on the other hand, you can walk beneath the Brandenburg Gate without crowds of tourists poking you with their selfie-sticks, find a table in a good restaurant without a reservation, and enjoy an excellent museum exhibition without having to queue. In the many bars of Berlin's quirkier districts it's easier to huddle over a beer and get to know the locals.
There are two major events that do see the hotels pack out. In early February the Berlinale circus rolls into town; watch the Hollywood stars and other film industry boffins shiver their way up the red carpet to witness their film launch, and join the queues with thousands of other visitors getting a peek at the world's best new or most obscure old movies; read all about it here.
Then in early March, the world visits Berlin when the ITB travel fair (read our feature here), the biggest of its kind, descends upon the trade fair centre with its hundreds of thousands of trade and leisure visitors; this year's theme country is Mongolia, the rapidly developing destination at the other end of the Trans-Siberian railway.
See our Berlin events listings for other events.

Whatever you do this winter, stay warm and do write in to tell us about your experiences, tips and complaints, at berlin@inyourpocket.com.
We already had an iPhone app of our city guide; we now also have a mobile version of our website which users of all smartphones can use. Simply surf to m.inyourpocket.com.

Berlin In Your Pocket is the English-language city guide to Germany's vibrant capital; appearing bimonthly and distributed in hotels, it's the essential guide to anything a visitor needs to know.

Follow Berlin In Your Pocket news via our facebook page www.facebook.com/BerlinInYourPocket or our twitter account www.twitter.com/BerlinIYP. Watch our video guide to Berlin here.

Berlin is regularly mentioned as Europe's party capital, and there are dozens of great clubs - from techno to indie - that attract thousands of partygoers each weekend. To make sense of the multitude of options, visit our (German-language) partner website www.theclubmap.com, which has photos, reviews and other information about Berlin's vibrant nightlife scene.