Berlin In Your Pocket city guide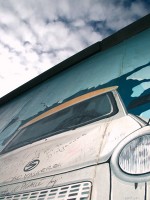 Great timing then for the Berlinale Film Festival. Filmmakers, movie industry VIPs and thousands of regular visitors throng the pavements in front of the participating cinemas to catch the latest releases and highlights from eras past. This year, the festival premieres with George Clooney's 'Monuments Men' film, about the soldiers responsible for hunting down the artworks stolen by the Nazis. This premiere is fitting, as the movie was largely filmed in and around Berlin, with thousands of extras in the mass scenes. Read all about the Berlinale
here
.
The rest of Berlin's cultural scene is also thriving, with dozens of exhibitions, shows and performances; our selection can be found on our
Berlin events listings
 pages.
Tens of thousands of foreigners and locals will also decend on the world's largest travel fair in Berlin; the ITB 
Internationale Tourismus-Börse 
takes place from March 5-9; read all about it 
here
.
Whatever you do this winter, stay toasty and warm, and let us know your compliments, tips and complaints via berlin@inyour pocket.com. Enjoy Berlin. 
We already had an iPhone app of our city guide; we now also have a mobile version of our website which users of all smartphones can use. Simply surf to m.inyourpocket.com.Berlin In Your Pocket
is the English-language city guide to Germany's vibrant capital; appearing bimonthly and distributed in hotels, it's the essential guide to anything a visitor needs to know.
Follow
Berlin In Your Pocket
news via our
facebook
page
www.facebook.com/BerlinInYourPocket
or our
twitter
account
www.twitter.com/BerlinIYP
. Watch our video guide to Berlin
here
.
Berlin is regularly mentioned as
Europe's party capital
, and there are dozens of great clubs - from techno to indie - that attract thousands of partygoers each weekend. To make sense of the multitude of options, visit our (German-language) partner website
www.theclubmap.com
, which has photos, reviews and other information about Berlin's vibrant nightlife scene.