Berlin In Your Pocket city guide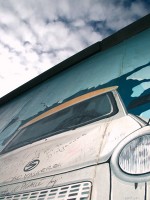 There's more fun to be had on Berlin's streets; in June the huge Karneval der Kulturen parade rolls through Kreuzberg, and the Gay Pride festival, Christopher Street Parade and Fete de la Musique also all take place within a few weeks of each other. 
Thankfully there are many places to escape the parties, with Berlin's parks at their best in June and July, and several museums putting on excellent exhibitions this year; see our 
Berlin events listings
 for more.
Whatever you do this summer, don't hesitate to email us your comments and suggestions at berlin@inyourpocket.com. Enjoy Berlin. 
We already had an iPhone app of our city guide; we now also have a mobile version of our website which users of all smartphones can use. Simply surf to m.inyourpocket.com.Berlin In Your Pocket
is the English-language city guide to Germany's vibrant capital; appearing bimonthly and distributed in hotels, it's the essential guide to anything a visitor needs to know.
Follow
Berlin In Your Pocket
news via our
facebook
page
www.facebook.com/BerlinInYourPocket
or our
twitter
account
www.twitter.com/BerlinIYP
. Watch our video guide to Berlin
here
.
Berlin is regularly mentioned as
Europe's party capital
, and there are dozens of great clubs - from techno to indie - that attract thousands of partygoers each weekend. To make sense of the multitude of options, visit our (German-language) partner website
www.theclubmap.com
, which has photos, reviews and other information about Berlin's vibrant nightlife scene.