Festival: Gay Pride & CSD Parade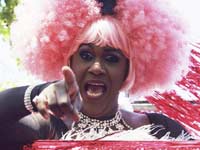 Nowadays, roughly 500,000 celebrants throng the streets around Isherwood's digs in their thongs during the Lesbian & Gay City Festival (14-15 June), with several other events in the week after.
The festivities culminate with the protest march annex
parade
on 21 June from 12:00 to 17:00, looping from Kurfürstendamm via Nollendorfplatz to Tiergarten Park; this marks the anniversary of the 1969 uprising of queers against a police raid of the Stonewall bar on New York's Christopher Street.
Even scores of straight parents bring their kids to the street festival – the costumes and dancing will whip the pants off any cartoon show. Put your pride on, take some clothes off, and head to Schöneberg. See www.regenbogenfonds.de for the festival and and www.csd-berlin.de for parade details.