Katowice In Your Pocket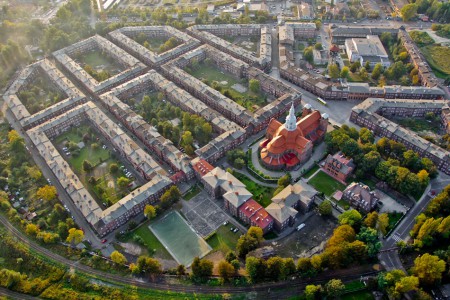 Courtesy of Katowice City Council
largest urban parks
in all of Europe is located in the very heart of Silesia. This park, and the city it calls home, is the subject of the last installment of our series exploring outlying cities, towns and suburbs in the Silesia Metropolis. This time we explore Katowice's closest neighbor and bestest western friend:
Chorzów.  
You may know the name
Chorzów
from googling
U2 videos on Youtube,
as the city is home to the largest stadium in Poland which hosted some of the largest concerts and sporting events in the country for over half a century.
Silesia Stadium
 was finally closed in 2009 and is currently undergoing major renovations and slated to reopen in 2015. Just outside the gates of this metal monstrosity is where you'll find the
pristine park
mentioned above. Check out our
Chorzów
feature in our Further Afield section to find out all that the
Park of Culture of Recreation
has to offer - even in winter - plus read about the city's best restaurants, coolest clubs and hottest hotels.  
Of course
Chorzów
isn't Silesia's only hidden treasure. Head east from Katowice's iconic flying saucer (aka
 'Spodek,'
) and you'll end up in the twin neighborhoods of
Nikiszowiec and Giszowiec
. These architectural gems are rare examples of early 20th century architecture and were the true vision of coal mining workers' utopia. Find everything you need to know about these two in our
Sightseeing
section. 
Last but not least, on behalf of
In Your Pocket Katowice's
editorial staff, writers, researchers, marketing team and our fearless publisher, we'd like to thank you, dear reader, for supporting us. This is our 20th Katowice guide and we wouldn't have made it this far if you didn't support us by reading our reviews and using our guides. A lot has changed over these 20 issues and we've had an exciting time trying to keep pace with this quickly developing city and fascinating region. As always, we welcome your comments on our website -
katowice.inyourpocket.com
- or drop us a line at
editor_poland@inyourpocket.com
to let us know what we can improve on in the next 20 issues.
A Bit About Katowice to Begin
One of Poland's least known and most surprising destinations, Katowice is a relatively young, predominantly working class city with a
history
tied up with the extraction of coal and other manly pursuits. Beginning life as a small, German-speaking town called Kattowitz in the early part of the 19th century, Katowice was incorporated within the borders of a new post-WWI Polish state, and thanks to its disparate racial and cultural heritage offers visitors a fascinating jumble of German Gothic, inter-war Art Nouveau and some shockingly different socialist architecture, all intermingled with a growing number of glistening capitalist palaces. Currently reinventing itself as a serious business destination and sadly ignored as a place to visit for any other reason, a sneaky glimpse under the cultural carpet reveals, among other delightful surprises, 
Poland's largest cathedral
,
one of the best museums in southern PL
,
a vast park
filled with truly magnificent things to see and do, a
bar scene
to shame many of the country's so-called cutting edge cities and a reinforced concrete
building that looks like a spaceship
and plays music from
Close Encounters of the Third Kind
. Marvellous.