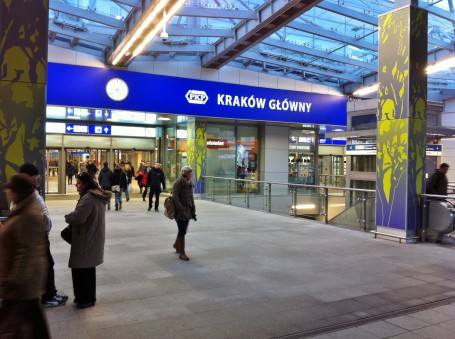 Following a major, multi-year, 130 million PLN modernisation project, Kraków Główny - the catch-all title of the city's new modern transportation centre - is now yours to experience in all its vast, underground glory. The new station essentially renders the old above-ground station building obsolete, transferring all services underground, and creating theoretically easy transfers between train, bus and tram transport. Of course the Galeria Krakowska shopping mall has also been cleverly integrated, and along with modern conveniences like waiting rooms, escalators and elevators, you'll now also find plenty of additional consumer opportunities - including cafes, supermarkets, souvenir shops, bookstores and more - inside the new transportation centre. With tunnels, stairs and signs leading off in every direction, it's all quite confusing (erm, I mean, modern!), but fear not - IYP is here to help you sort it out.
Services:
Pretty much everything the modern traveller could ever expect or desire can now be found somewhere inside the sprawling, but spiffy facilities of the Kraków train station. In addition to being fully handicap-accessible, there are also special paths for the blind, plus SOS call boxes if you get lost and can't find your way out for several days. 24 ticket windows (some open 24hrs), plus several automated ticket machines (in English) throughout the station limit the possibility of long queues. The station is wifi-enabled, there are several waiting areas (including a place for first-class ticket holders to quarantine themselves), tourist information (open 06:00 - 22:00), currency exchange, luggage lockers, showers, and dozens of food and refreshment opportunities, not to mention the Galeria Krakowska shopping mall.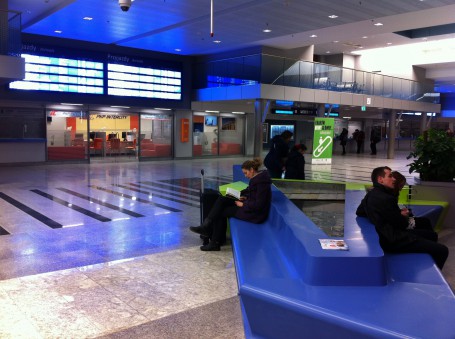 Arriving By Train:
Conveniently situated at the north-east edge of the Old Town, Kraków Główny is within easy walking distance of most Old Town accommodation, making trams and taxis largely unnecessary. If you're travelling further than you care to walk, you can catch trams to Kazimierz (number 50 in the direction of 'Kurdwanów' stops at 'Miodowa' in Kazimierz, for example) and other parts of the city by following signs underground to 'Dworzec Główny Tunel.' Further tram stops are located just outside the station exits. To skip that trouble however, when you disembark your train immediately head up rather than down from the platform and you'll find yourself on the top floor parking garage where taxis are waiting to whisk you away.

If you opt to walk - and we encourage you to do so, wandering into the Old Town is dreamy - you'll find that getting out of the station is a bit of a challenge. There are at least four exits and it's wise to choose the correct one, based on where you want to go. Following signs to 'ul. Pawia' will lead you straight into the Galeria Krakowska shopping mall (in the words of Admiral Ackbar: "It's a trap!"). Signs to 'dworzec autobusowy' or 'ul. Bosacka' will put you on the east side of the transport complex (further from the market square). If you want to head straight to the market square (do it, it's only 10mins away!) it may be easier to take the stairs down from the platforms, rather than the escalators into the new complex. Once in the tunnel there is a staircase just after platform 1 that will lead you to daylight. If you end up in the main complex, follow the clearly marked signs to 'Stare Miasto' or 'ul. Lubicz' to escape. Once outside, cross the plaza in front of the old station building (Galeria Krakowska is on your right) to the Andels Hotel and follow the crowds through the underpass; bear right and enjoy a stroll through the Planty Park for two blocks before making a left on Floriańska Street at the Barbican and you're on the 'Path of Kings' to the market square. You've arrived.
Departing By Train:
With the train station having been completely moved underground, there's no longer a clear-cut main entrance, but rather several ways to enter. Basically it is directly underneath the train platforms and bus station, so use those as your geographical targets and you'll find your way; you can also cut through Galeria Krakowska to get there. Check the timetables online at the Polish railways website - rozklad.pkp.pl - which has limited but effective English language functionality. If you want a seat on a particular train it is best to book ahead. If in a rush, tickets can also be bought on board the train from the conductor, but expect a surcharge. [Note that train service to Kraków Balice airport is currently suspended, due to modernisation of the tracks. Travellers to the airport should go by bus or taxi.]

The state-owned Polish rail network PKP run several types of train, which basically determine the length of the journey, its comfort and cost. Express InterCity (EIC) trains are the fastest and most expensive, giving you an assigned seat for the extra money. EuroCity (EC) trains offer international connections and require the paid premium for seat reservation as well. Cheapskates looking to cut costs should opt for the markedly cheaper Twoje Linie Kolejowe (TLK), which offer second class compartments free of reservation fees (though you may end up sitting in the aisle), and InterREGIO (IR) trains which have no seat reservation fees. With these budget options you pay less, but the journey will take longer and may try your good humour with the potential for overcrowding and being forced to sit or stand in the aisle.
Main Train Station Comments