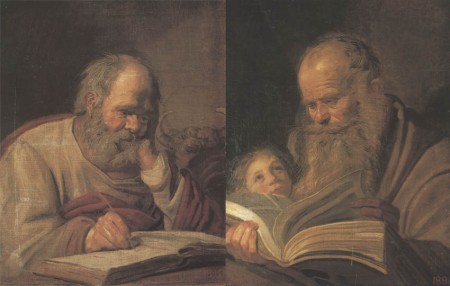 Western and Eastern Art Museum
is the one. Paintings and sculptures by Michelangelo, Peter Paul Rubens, David Teniers, Sebastian del Piombo, Merisi da Caravaggio, Frans Hals and other masters are on display.
Does this museum sound familiar? Perhaps you heard the disturbing news. On July 30, 2008 Caravaggio's "Taking of the Christ", a painting valued at 100 million dollars, was lifted in one of the world's most lucrative heists. It seems that only a miracle can bring this spectacular work back to Odesa, but miracles have been known to happen…
The museum proudly presents two paintings by Dutch master Frans Hals. "St. Matthew" and "St. Luke" were painted in the 1620s and are two of the most valuable works on display in Ukraine.
The tale of how these paintings found their way to Odessa is truly amazing. Catherine the Great, the world's most distinguished art collector, purchased four of Hals' evangelist paintings in Holland near the end of the 18th Century. The ships that were transporting these and other valuables back to St. Petersburg were hit by a brutal storm. One ship sank and the other suffered extensive damage. All four masterworks were believed lost at sea.
In 1958, the improbable happened. While perusing Odesa's Privoz Market, an art collector was drawn to an old woman selling what appeared to be an ancient painting. Convinced that this was the work of a master, the collector invited the woman back to the museum. She wanted six roubles for the painting; the museum generously gave her nine. 
A comparable painting was later discovered in the museum's store room. An expert from the Hermitage was the first to notice striking similarities between the stored piece and the painting purchased from the old woman. After further research, experts concluded that these were, in fact, two of the missing Hals masterpieces.
Both works were proudly displayed in Odesa until, in 1965, they took part in an exhibition in Moscow. While at the Pushkin Museum, "St. Luke" was savagely cut from its frame. Detectives worked diligently, but hope of ever recovering the painting quickly faded. Luckily, the blundering thieves quarreled, couldn't come to terms with local scum and began to proposition would be foreign buyers. They eventually crossed paths with a secret service agent.
The priceless piece was returned in sorry shape, having spent a year and half rolled up in a tube and stored in a hot dry place. Experts feared that the work was lost, but after two years of delicate restoration the painting was returned to the museum in miraculous condition.
The fate of the two other pieces believed lost at sea has also become known. "St. Mark" has been in the hands of a private German collector for more than 30 years. "St. John" was sold at auction to American J. Paul Getty and is currently stored at the museum in Los Angeles that bears his name.