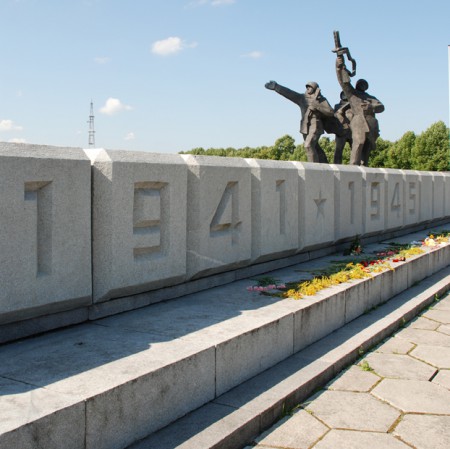 Riga's visitors are happy to stroll through its medieval old town and admire its stunning art nouveau city centre, but seldom do they cross over to the River Daugava's left bank, unless of course they're on their way to the airport. An odd combination of wide-open green spaces, Soviet housing estates, charming 19th-century neighbourhoods and aging factories, Pārdaugava, as it's known in Latvian, or Over Daugava to translate literally, is often a hard place to get your bearings. However, those intrepid travellers who are brave enough to walk across a bridge or take a short tram ride will discover a town within a city that has its own spirit, history and traditions.

Getting there
The best way to get to Pārdaugava is either to walk across the Vanšu or Akmens bridges or to take trams, especially during rush hour. For the Railway Museum, Soviet Victory Monument, Arcadia Park, the Monument to the Repressed and the Riga Luther Church take tram N°10. For the Āgenskalns Market and many of the restaurants and bars concentrated in that neighbourhood take tram N°2. For Kalnciema kvartāls take tram N°4 or 5.

Sights
Āgenskalns Market (Āgenskalna tirgus) Nometņu 64, tel. (+371) 67 61 15 49. Although construction of Riga's third largest market began in 1911, due to WWI it wasn't completed until 1923. Since then this red brick building has become the focal point of the local community. It's home to numerous stalls selling anything from pork and poultry to dairy products and fresh vegetables. Unfortunately, the years have not been kind to this historic landmark and a general feeling of depression seems to reside in its halls. Take the stairs to the second floor for great views of the bustle below and cheap food and drink at the café. Open 07:30 - 18:00.

Āgenskalns Water Tower (Āgenskalna ūdenstornis) Alīses 4. This stunning water tower dating from 1910 was the brainchild of prolific architect Wilhelm Bockslaff. Riga was experiencing a golden age of construction and development at the time, so it was created, not surprisingly, to provide fresh drinking water to an exploding population. The impressive structure rises to a height of 40m and has 2m-thick brick walls, as well as a stylised version of Riga's coat of arms above the entrance. It was also used as an underground recording studio called 'Tornis' from 1991 - 2010.

Arcadia Park (Arkādijas Parks) Between O. Vācieša and F. Brīvzemnieka. Created at the turn of the 19th and 20th centuries, this pleasant park is divided by the meandering Mārupīte river which was diverted for the project. A restaurant building and an amphitheatre were part of the original park but were burned down over the years by vandals and never restored. Today, you can follow the course of the river and feed ducks from its banks or take in the view from the top of the hill. Take tram N°10 from Grēcinieku to the Arkādijas parks stop.

Castle of Light (Gaismas pils) Mūkusalas 3, www.lnb.lv. The Latvian National Library is the brainchild of American-Latvian architect Gunnar Birkerts, who is perhaps best known for his creations in the United States which include the Corning Museum of Glass in New York State and the Law Library Building at the University of Michigan. Its shape is a symbolic expression of the Hill of Glass and the Castle of Light found in Latvian folklore. Legend has it that the Castle of Light sank into an ancient lake and would only arise from the depths when Latvians were once again masters of their own land. The building is finally open to the public and it hosts a variety of exhibitions and events.

Holy Trinity Church of Pārdaugava (Sv. Trijādības baznīca) Meža 2, tel. (+371) 67 61 20 79. Although an older church dating back to 1453 once stood here, the current 17th-century Russian baroque-style building was completed in 1893. Designed in the shape of the Orthodox cross, its soaring belfry and blue and green onion domes can be seen from quite a distance. Inside you'll find the smell of incense and hundreds of icons common to Orthodox churches.

Latvian Railway Museum (Latvijas dzelzceļa muzejs) Uzvaras 2/4, tel. (+371) 67 23 28 49, www.railwaymuseum.lv. Retrace the tracks of rail history in Latvia in this museum run by Latvian Railways (Latvijas dzelzceļš). Inside the brick hangar you'll find old photographs, antiquated machines and a few specimens of old wagons. Outside you can look at restored Soviet diesel and electric locomotives built in Ukraine and Russia as well as a German locomotive built in 1942 that no doubt became a spoil of war. Don't miss the Tsarist era prison car. Open 10:00 - 17:00. Closed Mon, Sun. Admission: €1.42.

Monument to the Repressed (Represēto piemineklis) Torņakalns train station. During the Soviet occupation of Latvia, tens of thousands of men, women and children were ripped from their homes and sent to Siberia as slave labour. The most infamous dates for deportation are June 13 - 14, 1941 and March 25, 1949, when roughly 15,000 and 42,000 people, respectively, were abducted in the middle of the night. They were ordered to pack warm clothes, were driven to train stations and were crammed into cattle cars for the long trip to destinations unknown. Few ever returned. A monument has been erected in memory of these people at the station from which many began their horrible journey. Take tram N°10 from Grēcinieku to the Torņakalna stacija stop. The monument is directly behind the station.

Riga Luther Church (Rīgas Lutera baznīca) Torņakalna 3/5, www.rigasluteradraudze.lv. Completed in 1891, this neo-gothic church was belatedly built to commemorate the birth of Martin Luther (1483 - 1546) - founder of Latvia's most popular faith. Although its yellow brick façade, soaring steeple and imposing location atop a hill are all impressive, the church's main claim to fame is its beautiful timber ceiling. A cemetery is located next to the church. Take tram N°10 from Grēcinieku to the Torņakalna stacija stop.

Soviet Victory Monument (Uzvaras piemineklis) Over the Akmens Bridge in Pārdaugava. The Soviet war memorial which commemorates the supposed communist 'liberation' of Riga is the place to meet die hard reds on Soviet anniversary days. Built in 1985 to lionise the Red Army and to dishearten and annoy the Latvian populace, the monument consists of a tall concrete obelisk adorned with five golden stars symbolising the five years of WWII. On either side are bronze statues of Mother Russia and soldiers advancing with their weapons raised. Dozens of hectares of parkland surround this shrine to former Soviet glory. Take tram N°5 from 11. Novembra krastmala to the second stop over the Akmens Bridge.

Restaurants

Ciemakukulis Nometņu 9, tel. (+371) 22 08 83 33, www.ciemakukulis.lv. This is no doubt the best bakery on this side of the river. You can order unique cakes and traditional Latvian pastries for special occasions or just drop by for an espresso and an éclair in this cosy space decorated with antiques, dried flowers, potted plants and books. If you're hungry you can also buy a sandwich and the soup of the day and you can bring the little ones with you as high chairs are also provided. In case you're wondering, a ciemakukulis is basically something, usually bread, a cake or anything edible, that Latvians bring with them when visiting friends or relatives. Open 07:30 - 20:00, Sat 09:00 - 18:00, Sun 10:00 - 17:00.

Fabrikas restorāns Balasta dambis 70, tel. (+371) 67 87 38 04, www.fabrikasrestorans.lv. Amid cobble stone streets and restored 19th-century houses and factories you'll find this chic restaurant run by the same people who brought you that staple of fine dining, Melnie Mūki. The menu is excellent and were it not for the spectacular views of the harbour and Old Riga's spires, one might think they've stumbled into a quaint Scandinavian fishing village. Patrons often arrive here in Italian sports cars or in yachts which can moor at its floating summer terrace. Open 11:00 - 24:00. (€10 - 20).

Fazenda Nometņu 7, tel. (+371) 67 61 61 96, www.fazenda.lv. The rooms of this historic building have only partially been restored as the designers decided to simply sand down the existing wood plank walls and ceilings to create a cosy atmosphere that is only enhanced by the tile mosaic tables, the fireplace and the hanging dried flowers. You can sit down for a full meal of international dishes from salads and seafood to steaks or try something from the vegetarian menu or the breakfast meals (served until 12:00, Sat, Sun 14:00). You can also just grab a slice of cake and a latte at the counter. Open 09:00 - 22:00, Sat 10:00 - 22:00, Sun 11:00 - 22:00. (€5 - 11).

Fei Fei Melnsila 23, tel. (+371) 67 61 20 36, www.fei-fei.lv. As if its location on the ground floor and basement of a Soviet housing block wasn't surprising enough, Fei Fei actually serves shockingly good Chinese food. In fact, it's often hard to find a table at lunch time as locals have also caught on to this little gem. The red interior is typical and a bit boring with perhaps the exception of the miniature terracotta warriors downstairs, but you'll find delicious soups, a very decent kung pao chicken and a few surprises like the frogs legs with special spices. The prices seem a little elevated for this part of town, but the business lunch is a bargain and the sushi menu is quite affordable. Take trolleybus No.25 from Valdemāra iela to the Melnsila iela stop. Open 11:00 - 22:00. (€7 - 10).

HOT'E Balasta dambis 1a, tel. (+371) 20 00 90 45, www.hote.lv. Local restaurateur Jānis Jenzis has opened some of Riga's trendiest dining establishments, but this time he's turned his attention to the masses instead of the city's nouveau riche. This cafeteria on the ground floor of the enormous Swedbank skyscraper on the left bank of the river offers four different food stations: healthy, trendy (where meals are cooked to order), original and economical. Queue up with dozens of well-dressed bankers and take your pick of affordable international cuisine with a twist. The views of Old Riga across the river are sublime, which is why the space is also available for parties and events. Open 08:00 - 17:00. (€5 - 7)

Māja Kalnciema 37-5, tel. (+371) 67 61 63 04, www.restoransmaja.lv. This wonderful restaurant occupies a beautifully restored 19th-century wooden cottage in the trendy Kalnciema kvartāls - a revitalised collection of similar buildings saved from the ravages of time. Inside is an authentic interior of oak floors, chandeliers, tile fireplaces and walls decorated with nostalgic black and white Soviet era photos of people enjoying life. The refined Latvian and international cuisine, which is eaten with real silverware, is superb and anything from venison carpaccio and moose meat burgers to New Zealand lamb was available when we visited. Naturally, an excellent selection of wine and spirits is available not to mention an affordable business lunch on weekdays. Open 12:00 - 22:00. (€10 - 18).

Mūķene (The Nun) Nometņu 58, tel. (+371) 67 61 83 80. Come inside the Nun for faux rock walls, chunky wooden tables and a good selection of incredibly cheap local beer. The illustrated menu offers Armenian and Latvian cuisine from succulent meats grilled outside under a canopy of smoke to pork knuckle, herring and grey peas with bacon. If you're enjoying a night out on the town try the 'appetiser platter for real men' consisting of smoked meat, pork fat, onions, gherkins and two shots of vodka. Open 09:00 - 23:00. (€3 - 7).

Vairāk Saules Mārupes 3, tel. (+371) 67 42 03 72, www.vairaksaules.lv. This small Mediterranean-style bistro located near the Āgenskalns Market is part of the Vairāk Saules chain of restaurants. The menu is similar to its other establishments but places a larger emphasis on pastas and vegetable dishes including an excellent salad bar. The staff is friendly and the whitewashed walls, tile floor and blue and white wooden furniture is the perfect antidote to a dreary, grey Riga day. Extras include a good selection of Italian wines and take away coffee. Open 10:00 - 22:00. (€5 - 7).

Things to do in Pārdaugava

Kalnciema Fair Kalnciema 35, tel. (+371) 29 40 20 27, www.kalnciemaiela.lv. The thoroughfare on the other side of the Vanšu bridge is a treasure trove of 19th-century wooden architecture and although many of these old edifices could use some serious work, the beautiful buildings at the corner of D-1, Melnsila and Kalnciema iela have been lovingly restored and now host a bustling fair every Saturday from 10:00 - 16:00 that attracts visitors from around Riga. Although the theme changes from fair to fair, you can expect plenty of food and drink, local crafts and a lively atmosphere. Take bus No.53 from the National Theatre to the Melnsila iela stop.

Zelta boulinga centrs Uzvaras 2/4, tel. (+371) 67 61 07 07, www.zelta.lv. 22 bowling lanes for 5.50 - 9.90Ls/hour, four squash courts, one tennis court, 11 pool tables, indoor mini-football and table curling, not to mention arcade games and a bar/restaurant. To reserve a court call tel. (+371) 67 61 87 78. Open 12:00 - 24:00, Mon 15:00 - 24:00, Fri 12:00 - 02:00, Sat 10:00 - 02:00, Sun 10:00 - 24:00.

Shopping

Skrīveru saldumi (Plūmes šokolāde) Kalnciema 32a, tel. (+371) 67 32 74 22, www.skriverusaldumi.lv. Skrīveru saldumi make one of Latvia's most delicious sweets, which is known as a gotiņa or little cow. It's basically a sweet, semi-soft cream-based candy available in a variety of flavours, but we prefer the original or 'classic' ones. Chocolates and other sweets are also available here. Open 10:00 - 19:00. Closed Sat, Sun.

Viss antīkais Balasta dambis 3 (Preses nams), tel. (+371) 67 70 48 73, www.vissantikais.lv. Everything Antique is more of a warehouse than a shop. You'll find lots of furniture and chandeliers and some interesting paintings as well as nick-nacks for your home, not to mention old advertising posters, postcards and the odd antique map. Open 10:00 - 19:00, Sat 10:00 - 16:00. Closed Sun.

Zirgu stallis Nometņu 10 (entrance from Slokas), tel. (+371) 67 61 49 83, www.zirgustallis.lv. Buy cowboy boots, hats and fashion here as well as stirrups, bridles, saddles and other equestrian gear. Open 10:00 - 19:00, Sat 10:00 - 17:00. Closed Sun.