Kraków Bike Rental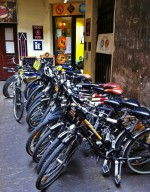 Bike rental, ul. Grodzka 2.
Wawel
into the hills of
Wolski Forest
(Las Wolski). From the castle follow the river southwest until the end of the bicycle path at the
Norbertine Monastery
; make a left at the main road and turn right up steep ul. Św. Bronisławy (G-3). The lane continues upwards past
Salwator Cemetery
; turn sharply right at the crossroads at the end to visit the
Kościuszko Mound
(F-3). From the crossroads, the path continues deeper into Las Wolski where you'll find its three main attractions:
the Zoo
,
Piłsudski Mound
, and the
Camaldolese Monastery
.
Alternatively, cross over Dębnicki Bridge (A-5) and follow the river in the same direction from the other side and you've got a lovely, flat ride of about 10km to popular
Tyniec Abbey
. The ride takes about an hour each way.
Krakow » Kraków Leisure » Bike Rental