Art & Antiques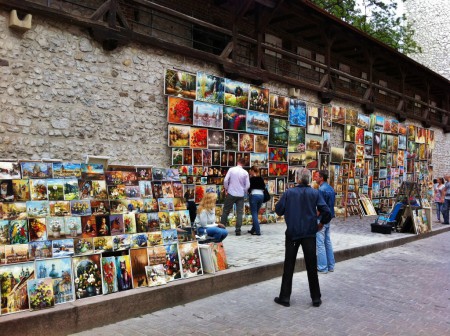 Local painters plying their trade on ul. Pijarska.
Kraków
, and in addition to the galleries proliferating the Old Town, local artists shop their work to tourists right on the
market square
, and along
ul. Pijarska
on either side of the Floriańska Gate. Remember, if you are taking original art that is more than 50 years old and of a potentially high value, you'll need the proper paperwork and permissions (see 
Customs
). Most proper dealers can provide this straight-away, but you may want to check before opening your wallet. Below we list the most interesting commercial art galleries in town; see the 
Culture
 section for more cultural 
art gallery
 listings.
There is no shortage of possibilities for purchasing antiques in Kraków. Serious shoppers will find that the best items end up in the antique stores (
'Antyki,' 'Antykwariat'
) that abound all over
Kazimierz
and
the Old Town
with one of the best places to prowl for lost treasure being
ulica Józefa
 in Kazimierz. Knowledgeable dealers offer prices comparable to those in the rest of Europe, however there are still bargains aplenty in the city's
markets
if your interest is more in finding an odd souvenir while having a unique cultural experience than finding an undervalued 19th century artefact.
Plac Nowy
 is home to daily junk-peddlers, but the real bounty is revealed during 
Plac
Targowy
's Sunday morning flea market where every piece of trash has a price and haggling is compulsory.
Krakow » Shopping » Art & Antiques