Napoleon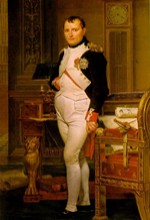 Seen as a liberating hero by the natives (many of whom had fought in his ranks against the Prussians, and later against Russia), Bonaparte took residence at the former Jesuit College (ul. Gołębia) adjacent to
the Church of Stanislaus
. For the duration of his stay the college was decorated with gifts from the people, and renamed Château de Posen, while other tributes included the rechristening of Al. Marcinkowskiego to rue Napoleon. An official reception was held in the throne room on November 28, while the anniversary of his coronation on December 2 witnessed a celebratory mass in St Stanislaus, before the party of nabobs headed off to a ball thrown in his honour in what was then the Municipal Theatre (
nowadays the Arkadia building, ul. Ratajczaka 44
). The ball, organized by General Dąbrowski, proved to be one of the society events of Poznań's history, with the fun sized Frenchman arriving with rose petals scattered in his path. Nine days later Napoleon signed a peace treaty between France and Saxony in the Redutowa Hall of the Hotel Saski (ul. Wrocławska 25). It wasn't to be his last visit to the Saski, and he took lodgings here in 1812 on a stop-off during his ill-fated march on Moscow.
The Saski itself is worth a visit; although now nothing more than a row of shops it is recognized as being Poznań's first hotel. Designed by Józef Małczewski, it was constructed between 1796-1797, and its hall served as the social centre for the local glitterati for the next half a century. Few signs remain of the Frenchman's tours to this corner of the world, though die hard fans will make the pilgrimage to
Kórnik Castle
to view his fork and spoon.