Napoleon's Poznań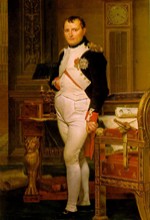 Seen as a liberating hero by the natives (many of whom had fought in his ranks against the Prussians, and later against Russia), Bonaparte took residence at the
former Jesuit College
(ul. Gołębia, D-2) adjacent to
Lesser Basilica of St. Stanislaus
. For the duration of his stay the college was decorated with gifts from the people, and renamed 'Château de Posen,' while other tributes included the re-christening of Al. Marcinkowskiego (C-1/2) to 'Rue Napoleon.' An official reception was held in the throne room on November 28th, while the anniversary of his coronation on December 2nd witnessed a celebratory mass in St. Stanislaus', before a ball thrown in his honour at what was then the Municipal Theatre (nowadays the
Eighth Day Theatre
, ul. Ratajczaka 44). The ball, organised by General Dąbrowski, proved to be one of the society events of Poznań's history, as the fun-sized Frenchman arriving with rose petals scattered in his path. Nine days later Napoleon signed a peace treaty between France and Saxony in the Redutowa Hall of the
Hotel Saski
(ul. Wrocławska 25, C-2). It wasn't to be his last visit to the Saski, as he took lodgings there again in 1812 on a stop-off during his ill-fated march on Moscow.
The Saski itself is worth a visit; although now nothing more than a row of shops, it is recognised as being Poznań's first hotel. Designed by Józef Małczewski, it was constructed between 1796-1797 and its hall served as the social centre for the local glitterati for the next half a century. Few signs remain of the Frenchman's tours to this corner of the world, though die-hard fans can make the pilgrimage to
Kórnik Castle
to view his fork and spoon.