The Tri-city is, geographically-speaking, one of the flattest areas in the whole of Poland and, for that reason, it's incredibly Bike-friendly! From the dedicated red bike lanes on main roads to the gorgeous forest trails between each city, you can almost always get between two points without hopping off and pushing. For the most part, no hardcore conditioning and training at altitude is required to be able to cycle on these routes, which makes it ideal for all ages.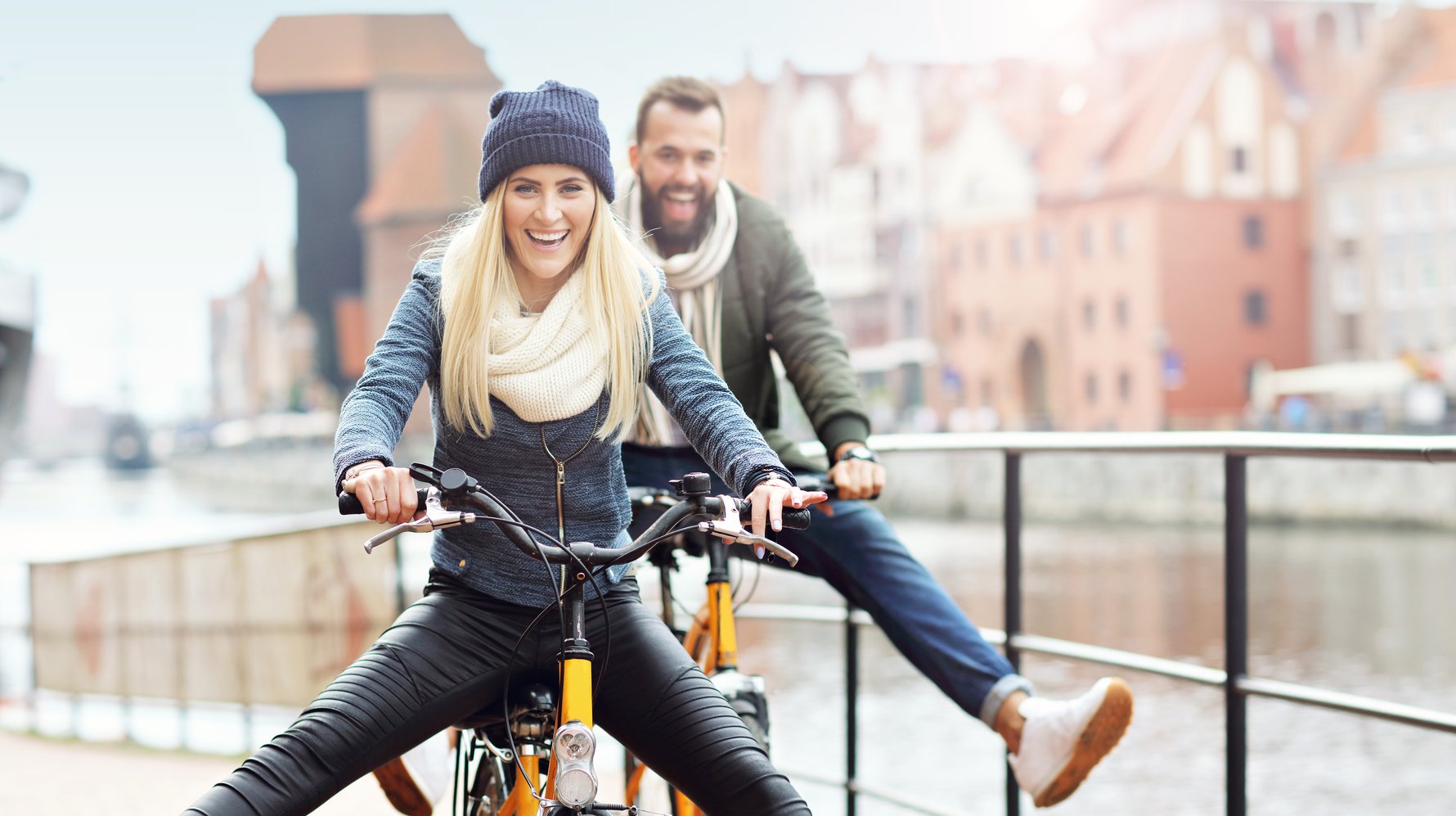 Where can I get a bike?
If you rolled into town without a set of wheels, no problem! There are a bunch of bicycle rental businesses like Rent A Bike, Veloking and Poland By Locals that that rent on a daily basis. If it's a short stretch that you don't feel like walking, the Tri-city has it's own scan-and-go bike and scooter system called Mevo, which you can find near most major landmarks. You can also find a handfull of self-service pump/tool stations around the three cities, a great idea though some are in need of repair. For this reason, make sure the compressor works before connecting your tire to the hose, otherwise you will risk deflating it for nothing!
Can I take my bike on public transport?
Remember that, at the start and end of a full-day's cycling, remember that your bike can travel for free on the SKM train network. You need to enter the front carriage of the train and place your bike on the rack inside.
 

Laws around cycling
There are currently no laws in Poland requiring cyclists to wear helmets. Regardless of this, we highly recommend you and your family wear head protection at all times whilst riding a bike. It is required, however, at night to have a light.

Much like the laws surrounding drink-driving in Poland, it is illegal to cycle with any alcohol in your system and this is enforced by both the Straż Miejska and the Police. Breath testing can be carried out on anyone suspected of being drunk and on a bike. If you blow over, at the very least your bike will be taken off you. If you are severly intoxicated, you can be detained for up to 24 hours. For this reason, take no risks: Leave the celebratory beers till the end of your cycling trip and then hop on the SKM to return home.

With all that said, let's talk about our favourite bike paths:

Best Bike Paths in Gdańsk, Sopot and Gdynia!


GDAŃSK OLD TOWN
historic | urban | city panorama
Cycling is already quite popular in the old centre and, if you threw in a few more canals in Gdańsk, you would have another Amsterdam! There's plenty of history to soak in and lots of streets to take, though where to start can often be a bit of a problem! Poland By Locals run a well-formulated guided tour for bike groups, starting in the Old Town and taking a route over to granary island, up the Gradowa Hill to see the sights and old fortifications before descending back down into the Shipyards.

Of course, you can try and navigate with your own map and set of wheels though try not to be distracted and collide with a tourist or car!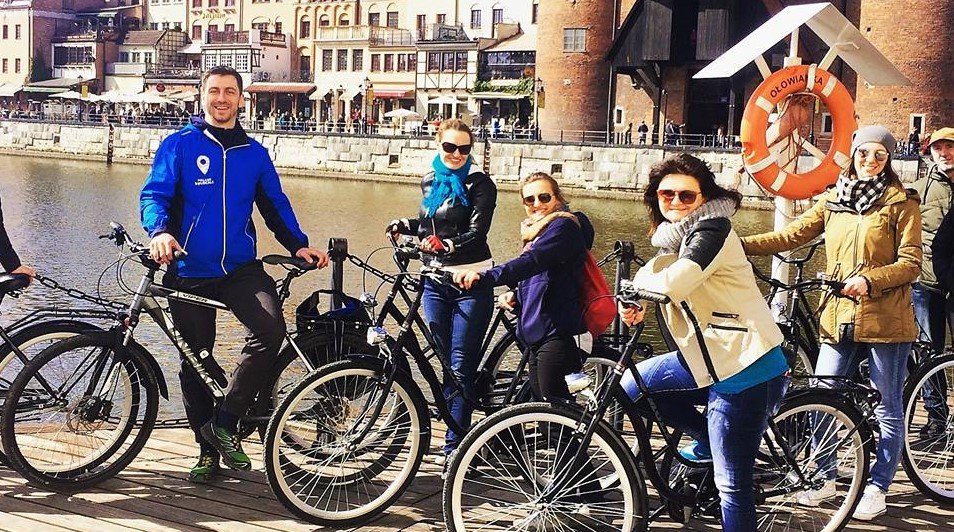 GDAŃSK TO SOPOT
sightseeing | urban | coastal
There's two ways to cyle between the Tri-city's two more-popular centres.
Heading out on Aleja Zwycięstwa, you can take a right at Opera Bałtycka and head up Aleja Józefa Hallera before turning left and following the coastal route north. While this is the quickest route, with a total of 14km over an hour period, and gives you and gives you an endless amount of beach and sea, you are missing out on other districts with pleasant sightseeing options.

If you consider yourself an Urban culturalist, you should definately go through Zaspa to see the colourful murals that have brought the otherwise-drab apartment buildings to life!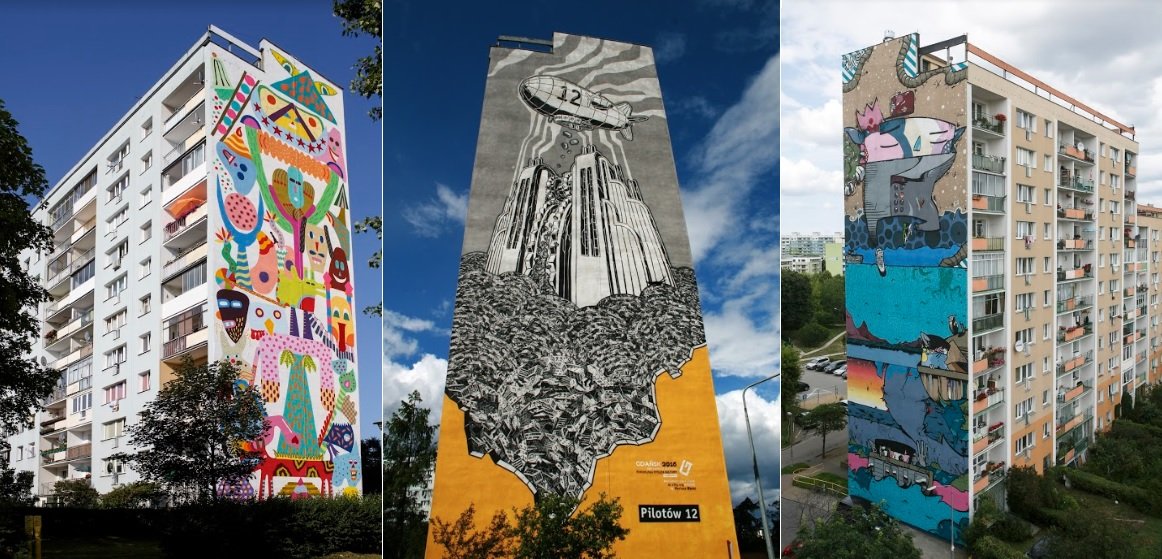 Oliwa is a cruisy, leafy district with lots to offer. The character of this district is perfectly captured in the gardens and epic hedge formations of Oliwa Park. The area also has lots of great places to eat and, as an approximate halfway point in this cycle route, you should consider stopping here for lunch. Lastly, catching an Organ Recital at the Cathedral sounds like a painful idea but is actually an incredibly euphoric experience which we recommend to absolutely everyone! Cycling directly from Gdańsk Old Town to Monte Cassino in Sopot will take you about an hour (14km), but that's no fun without including some sightseeing in between.


GDAŃSK TO GDYNIA
forest | coastal | suburban
Got time on your hands? This is certainly doable but it will take a full day of cycling, especially if you want to stop and take in a few sites (Directly is 3-4 hours). Remember that you can take your bike on the train, so if you've done the Gdańsk to Sopot route on one day, you can always fast-forward to the 2nd leg!

Of course it's quicker to cycle on the main road, Aleja Zwyciestwa, however the route along the cliffs in Redłowska Forest was opened a few years ago and provide a gorgeous view over the trees to the Baltic.

Don't be fooled like many others, including many local cyclists, by the seeming end of the trail in Orłowska near the statue of Jesus on your left. Go back 160 metres to that little river you crossed over and turn right. Take the next right and continue into the forest trail. You will continue straight on this route for the majority of the time, until you pass through a suburban area. The first roundabout you reach, make sure you take the 2nd exit followed by the next right. Follow this road for 4 minutes until you pass the football field and the park on your left, then make a sharp right turn infront of the car parking area before re-entering the forest trail on your left.

If you're a hardcore cyclist, it is possible to only use the bike routes going through Tri-city Landscape Park. However, like we said, this is a hardcore route. Though a beautiful forest area, some parts in the south have alot of hills and a full day of this is not something that a casual cyclist can do!
 


GDYNIA GŁÓWNA TO DONAS (DĄBROWA) TO ORŁOWSKA BEACH
forest | suburban | hinterland views | beach

This is a 30km cycling route that isn't overly difficult and gives you a Summit-to-Sea experience. The peak of this trail is Donas, a telecommunication tower at 205.7metres above sea level that offers you an amazing view of the surrounding area. There's barely anything in the way of restaurants or cafes where you're heading so pack yourself lunch and plenty of water. You'll note, however, that Biedronka is a convenient landmark in many of our directions below. Maybe we should ask them to sponsor us! Since this isn't a standard bike route, we've written directions out step-by-step...

Heading out west, over the tracks from Gdynia Główna train station along ul. Wolności, you'll enter the forest trail that will take you into the Tri-city Landscape Park. After 15 minutes, you'll enter the suburb of Chwarzno. As soon as you see houses, take the first left and cycle all the way down to the main road, Chwarzieńska. Turn right and continue straight ahead for 5 mins until you see the Biedronka on the otherside of the road. Cross over here and continue down Augustyna Krauzego. Again you are out of suburbia and in the countryside, passing a regional airfield on your right. After 10 minutes, you'll re-enter another suburb, Wiczlino. When you reach another Biedronka, turn left onto Wiczlińska and continue until the houses end. Then take a right and continue to the end of the road. Take a left and then an immediate right. Continue down this leafy road for a few minutes and then take a sharp left turn. At the end of this short road, turn right and continue for a couple of minutes to the intersection. Take the 3rd exit and continue up the last stretch. At the top of the hill is Donas.
 


After enjoying the view, taking a few photos and hopefully a packed-lunch, it's time to head to the beach. Oh, and good news: It's downhill all the way! Head down the hill and take a right then a left. Continue straight ahead for 3 minutes until you reach the bend of a main road, Rdetsowa. From here you will follow the route straight ahead for 5 minutes. Just after passing your 2nd Biedronka, turn right onto Nowowiczlińska and continue onto Chwaszczyńska shortly after. You'll continue straight on this road for 14 minutes until you go over the train line and cross over the multi-lane Aleja Zwycięstwa. After pedaling 25 metres straight, take the next right onto Spacerowa. Follow this trail to the end and take another right and immediate left Cumowników. 5 minutes later, you'll intersect with Orłowska. Turn left and a few minutes later you'll be on Orłowska Beach

Enjoy the beach and some of the restaurants and pubs nearby and, when you're ready, head back along Orłowska to the end of the road, where you'll find the SKM station at the intersection.


GDYNIA TO HEL PENINSULA
coastal | beach | suburban
If you want to get out of the city and hit the coast, this is definately worth considering! Doing this whole route by bike is for hardcore cyclists and, quite frankly, defeats the purpose of a relaxing coastal trail. For the majority of casual cyclists, you can cut out the grunt work by getting a train from Gdynia Główna to Władysławowo at the top of the peninsula. From there, the bike route is a pleasant single road and direction with lots of beach on either side of you. It's a 35km route, very flat and will take you 1hr 40 minutes if you go directly.  However, don't forget to enjoy the beaches at Jastarnia, Jurata and the dog-friendly Kużnica. At the tip, the town of Hel itself is a pleasant fishing port with a Fokarium (Seal Sanctuary) and lots of Kashubian cultural landmarks.