Haters gonna hate and if you are a glass-half-empty kind of person, Joburg is probably getting you down. The potholes, the unfinished roadworks, dysfunctional power substations, litter, kamikaze drivers, dodgy streetlights and all those other broken things. They aren't new and we'd really rather somebody fixed them…

However there's much more to Joburg than potholes, and the many dysfunctional and frustrating parts of Joburg don't reflect the city as a whole. If you're a glass half full kind of person there are plenty of interesting and inspiring corners of the city that will revive your faith. We're all about finding the positive in this place and here are some of the reasons why we're not packing for Perth, leaving for London, or contemplating Canada. 
Jewel City
A colourful new vision for Joburg city living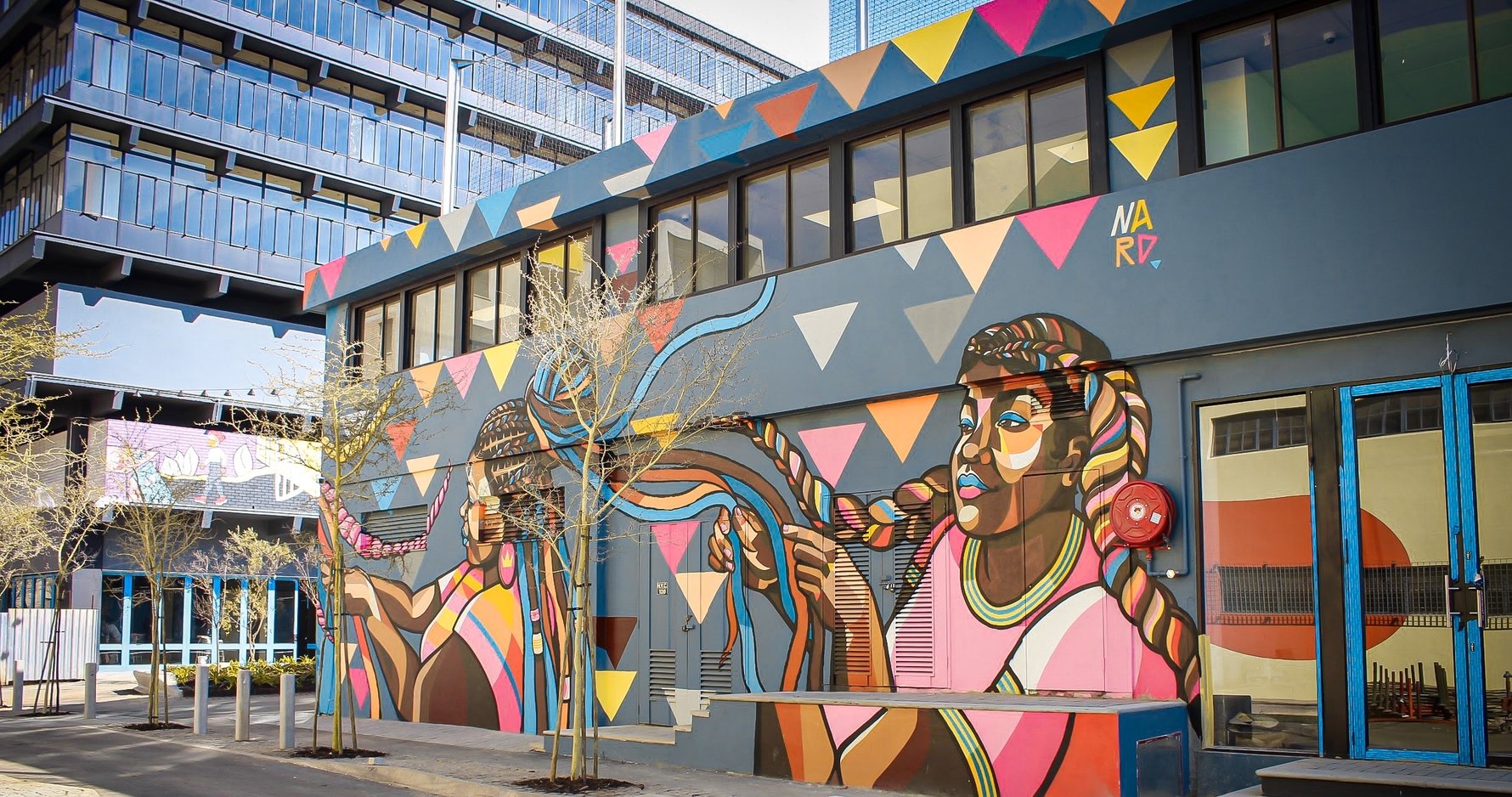 From a network of six blocks of interconnected offices and an old diamond exchange, has emerged Jewel City (launched 2020), an open, pedestrian-friendly, city centre residential district, built with the needs of urban dwellers in mind. It includes a supermarket, pharmacy, fast food outlets, a school, banks, green outdoor spaces, kids play areas and sports facilities as well as hundreds of rental apartments. The whole precinct is centred around a long pedestrianised stretch of Fox Street that connects directly to Maboneng in the east and will eventually stretch all the way up to the ABSA Towers precinct to the west, enlivened by some of the biggest murals in the city, specially commissioned to add some unique local colour to the city streets.

WHERE: Jewel City precinct occupies the area bounded by End and Berea Streets (opposite Arts on Main in Maboneng) and Commissioner and Main Streets, with a fully pedestrianised section of Fox Street running through the middle. 
Read more about how Jewel City is transforming the City Centre in our feature. Breathing life into unused spaces at Constitution Hill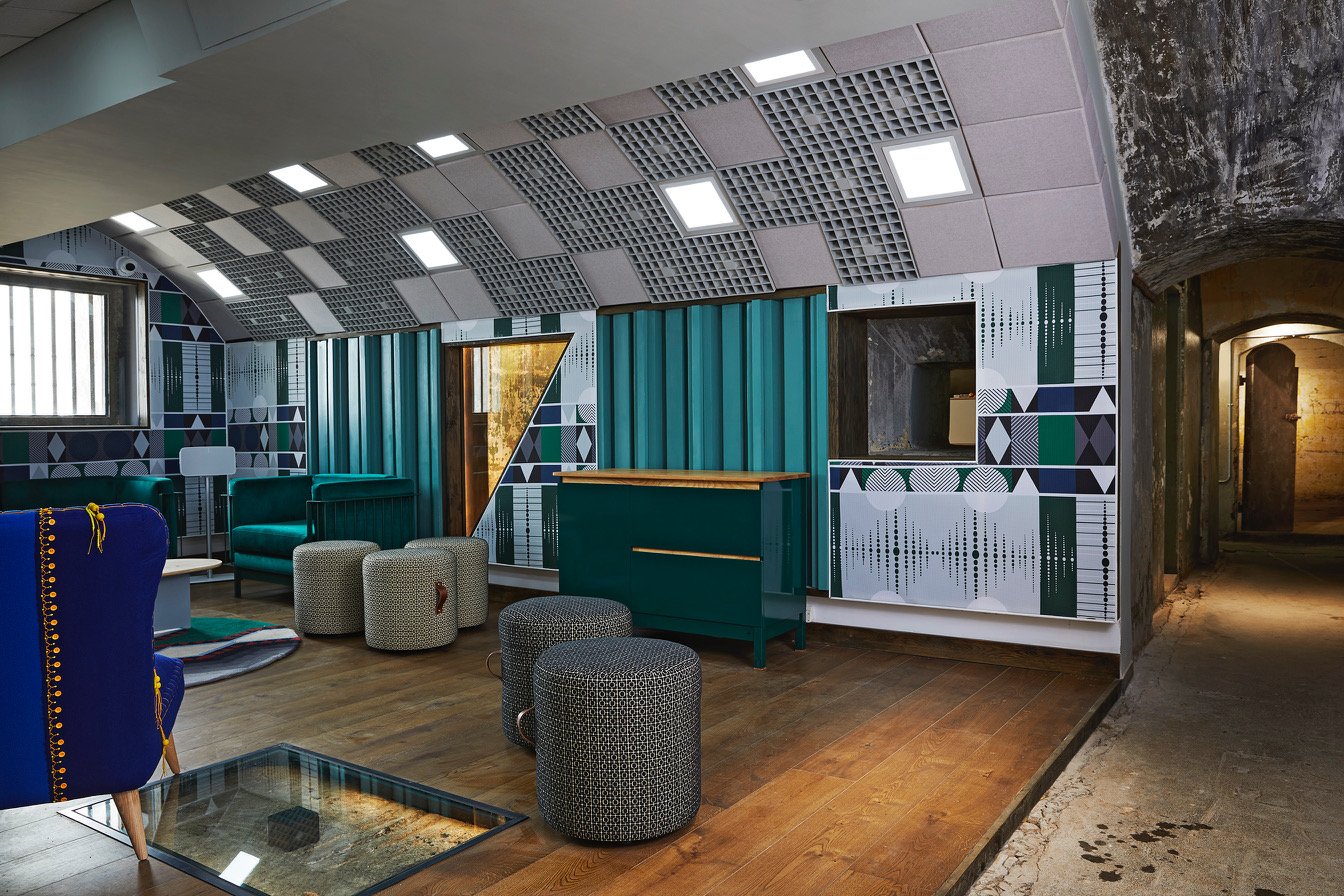 Bringing a new creative spirit into this vast heritage site's many under-utilised spaces, in 2021 Constitution Hill embarked on the ambitious development Creative Uprising, a fully-fledged 'creative hub' for micro-entrepreneurs working in art, design, fashion, music, film, technology, media, heritage, performing arts and more. The Creative Uprising aims to become a prominent example of how, with the right kind of support, not only can the state help creative industries to thrive, creatives can in turn aid the revival of South Africa's neglected spaces. 
WHERE: The Creative Uprising creative hub is based in a range of buildings across the Constitution Hill precinct in Braamfontein.
Read more about the exciting plans underway at Creative Uprising here. Joburg City Centre's tallest new building in decades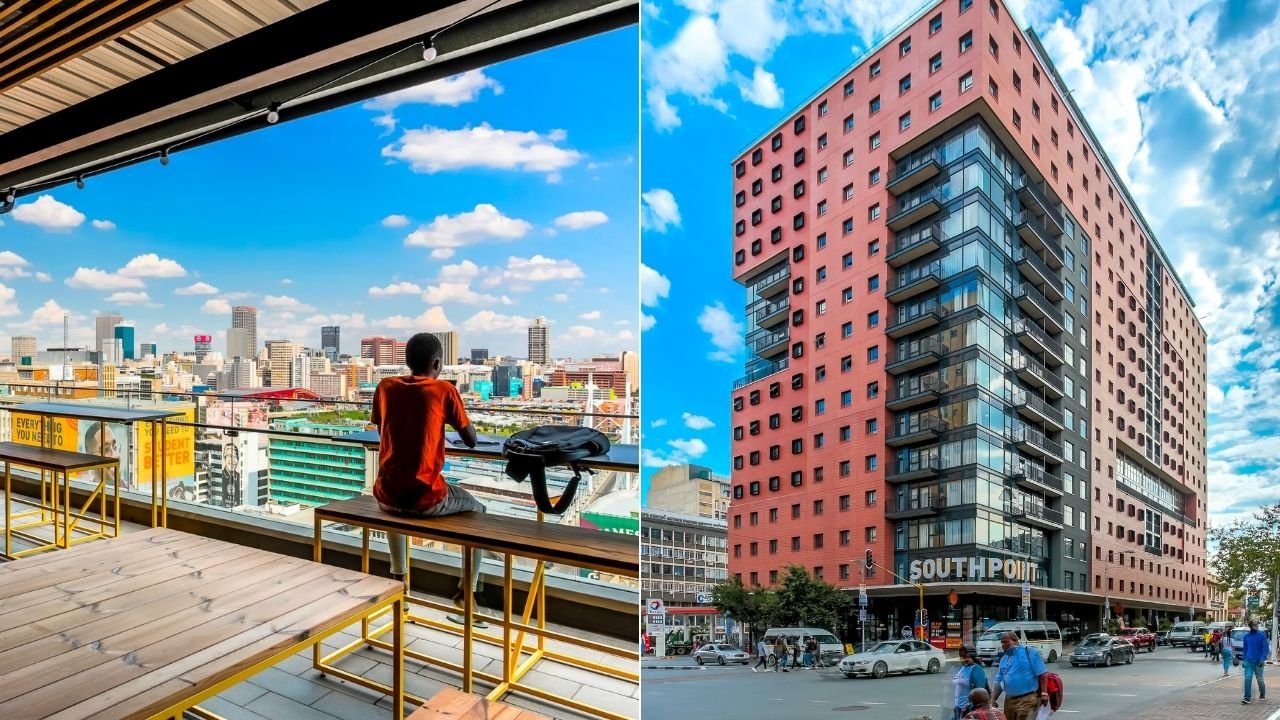 A new landmark on the Braamfontein skyline (launched March 2021), 56 Jorissen, a 17-storey student accommodation building, is one of those rare developments on the downtown landscape, built from the ground up. While much of the City Centre's development since 1994 had involved repurposing commercial buildings into residential developments, 56 Jorissen is an entirely new build. A R450-million development that when full will be home to 1,195 students, it is a major vote of confidence in the future of central Johannesburg's Braamfontein district. The new building also presents a fresh perspective on the modern, urban student experience. Our visit made us want to enrol for more study right away. 

WHERE: 56 Jorissen is located at 56 Jorissen Street (corner Jan Smuts Avenue), Braamfontein.
Read more about the 56 Jorissen building and South Point's development of Braamfontein here. From a Telkom exchange to loft apartment living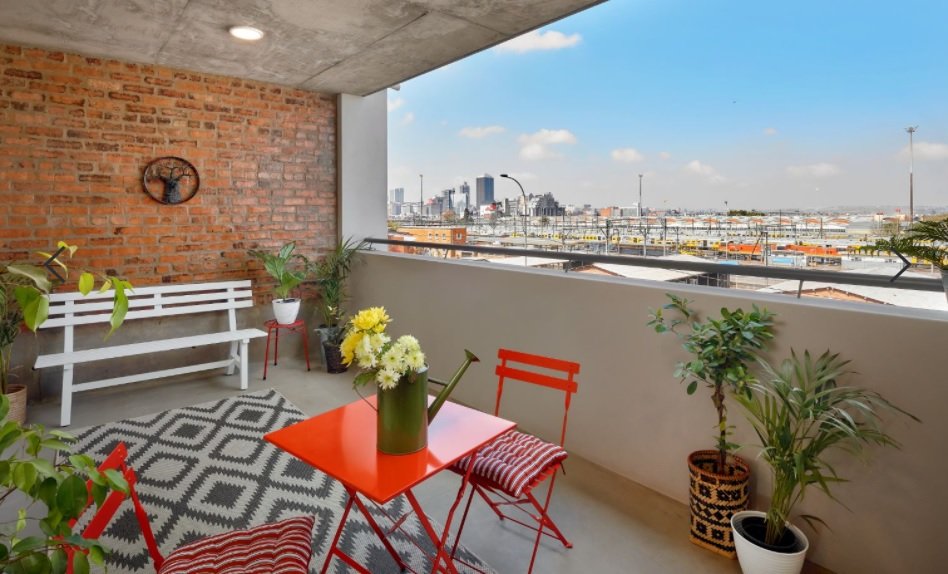 On the west edge of the City Centre in a previously easily forgettable neighbourhood called Braamfontein Werf (between Braamfontein, Auckland Park and Fietas), an exciting new urban residential development has transformed what was once a telecommunications exchange and post office sorting facility. Characterised by spacious light-filled loft-style apartments and urban greenery, there are three super spacious inter-connected residential complexes: New Braamfontein Lofts, Sontonga Lofts and The Exchange. The architecture of the old exchange buildings – high ceilings, skylights, polished concrete, steel-framed windows and industrial fittings – have been incorporated into the design of the new residential spaces, and the lofts come with balconies, patios or even small gardens. The precinct includes its own remarkable 'green belt' park space flanked by towering blue gum trees that have been landscaped from what was once an old tree-lined railway siding (part of the Post Office's own rail line).

WHERE: Braamfontein Lofts, Sontonga Lofts and The Exchange are all in Braamfontein Werf, occupying the area between Enoch Sontonga Avenue and Smit Street, with entrances on Soloman Street. Walkability in the northern suburbs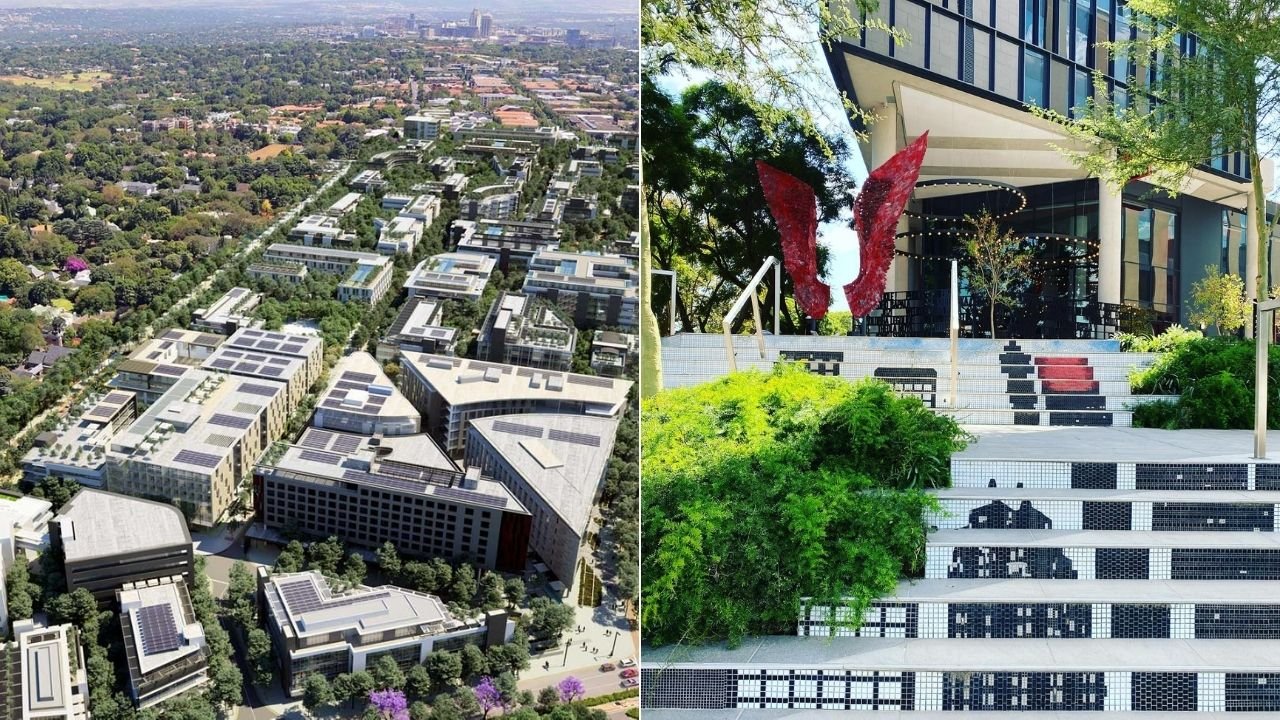 In Joburg, especially in the northern suburbs, the car is king. In the city's insatiable desire to expand ever further north post-apartheid, people who actually walk have often been ignored by property developers. Looking to buck the trend for bunker-like northern suburbs developments that can only be accessed via a car park, Oxford Parks is a new precinct bordering Rosebank that aims to put people, and not cars, at the centre. Every new building can be accessed directly through the front door and from the street and heights are at a more 'human-scale' average of seven floors. Creating a green and walkable precinct, a series of linked tree-lined piazzas and walkways will snake through the buildings, backing onto linear parks, with multiple access points so you don't need to walk 3kms to find your way out. 

WHERE: Phase 1 of Oxford Parks can be found at the corner of Jellicoe Avenue and Oxford Road next to Rosebank.
Read more about what's in store at Oxford Parks here.
The Literary District
Celebrating a culture of reading in the heart of the city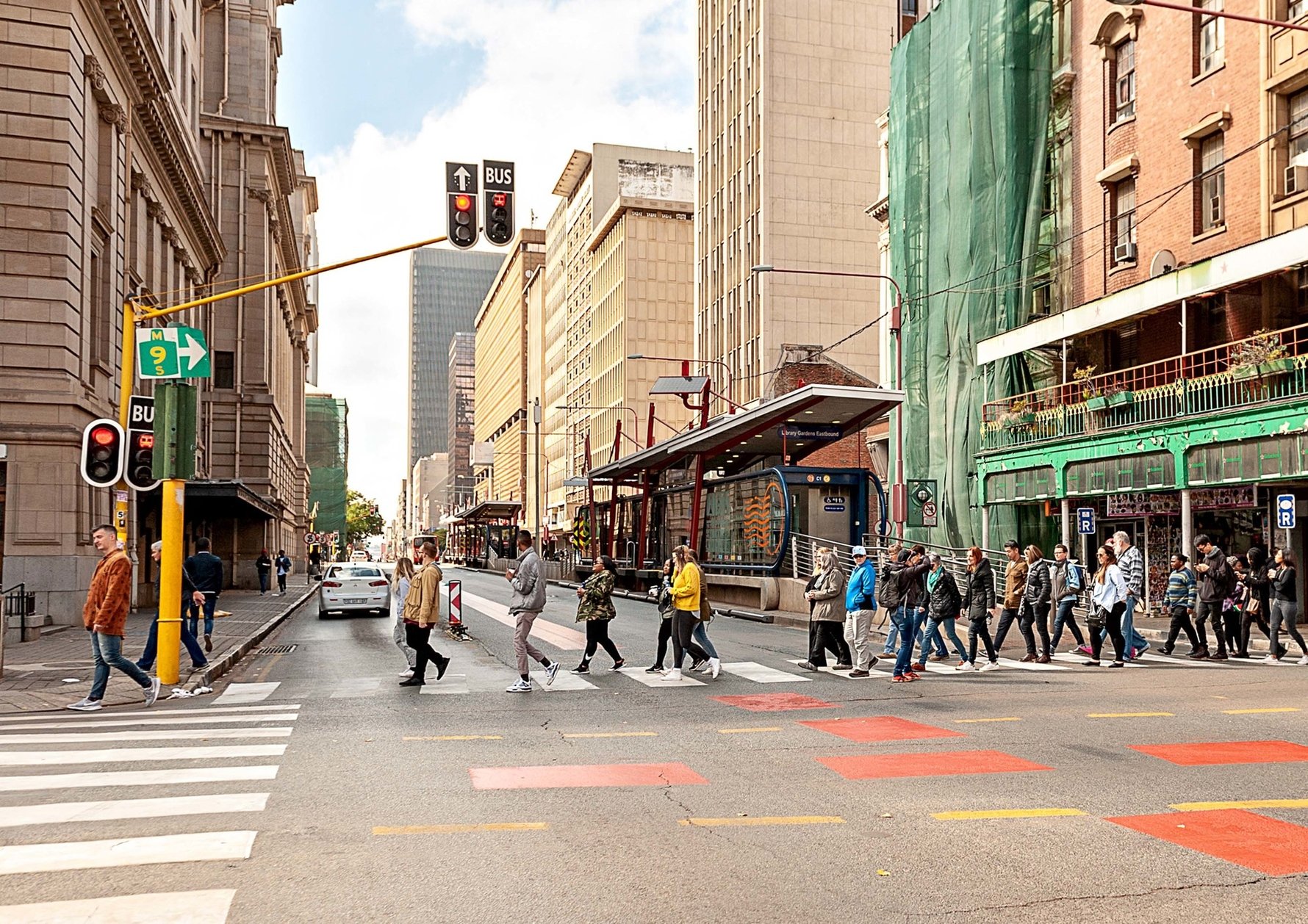 Celebrating downtown Joburg's rich reading culture and connecting Joburg's informal book trade, with independent bookshops and the beautiful Johannesburg City Library, the Literary District is a bold rebranding of several blocks of the inner-city.  Managed by the African Book Trust, a registered charity, and spearheaded by the amazing Griffin Shea of Bridge Books, The Literary District is gradually upgrading the streets of this part of the city to make them cleaner, safer and more easily walkable, while also providing clear signposting and specially designed places that are more comfortable for the people who live and work in the area to sit and read. The Literary District also seeks to activate spaces in the area that were originally designed for the public to sit and converse but which have fallen into disrepair and bring new recognition to the extraordinary culture of reading and the pride in African literature that characterised much of the informal trade in this part of the city.

WHERE: The Literary District plans to incorporate as many as 16 city blocks but development is currently concentrated in the streets around the Johannesburg City Library and Ernest Oppenheimer Park, including parts of Rissik and Commissioner Streets.
Delta Central
Bringing new life to a suburban corner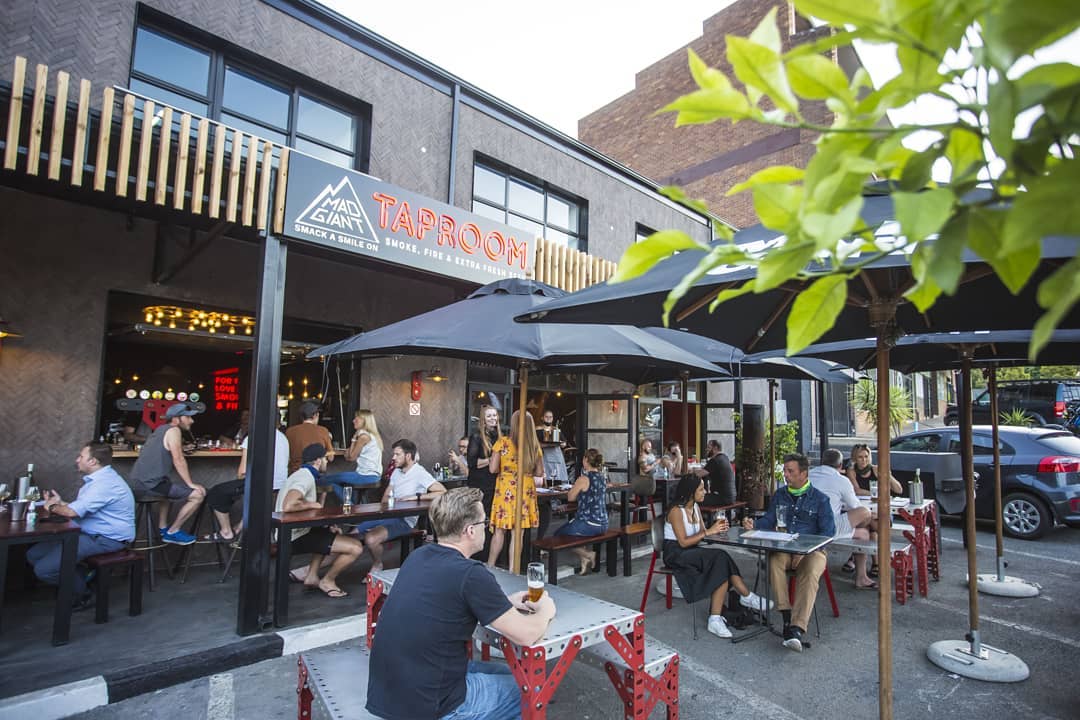 Completely transforming a once humdrum corner of Blairgowrie, the Delta Central complex has brought new life to a workaday suburban intersection. Bringing some semblance of street life to the suburb is a cluster of popular pavement cafes, restaurants and bars concentrated in the new Delta Central complex. An exciting vision for how old-fashioned suburban strip malls can be redesigned and transformed to become a vibrant anchor on the suburban high street, Delta Central has given sleepy Blairgowire a fresh injection of cool. Delta Central looks onto the Braamfontein Spruit, home to the 37km Jozi Trails cycling path which stretches from Alberts Farm in the west up to Rivonia in the north, another ambitious project working to improve Joburg's public spaces.

WHERE: Delta Central is located at the corner of Conrad Drive and Hillcrest Avenue in Blairgowrie. Taking back the city's most beautiful park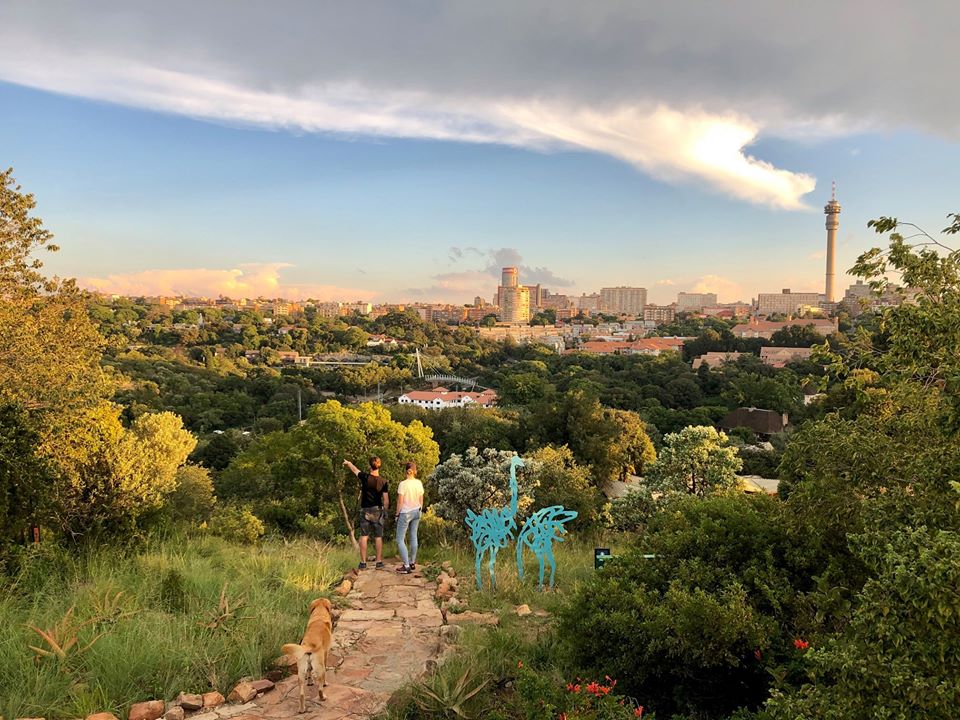 The Wilds is by no means new. In fact it is one of Joburg's oldest parks. But the park's astonishing revival over the past decade, led by a large and committed team of volunteers working together with a small Joburg Parks team, has for many Joburgers been one of the most inspiring rebrandings of a previously neglected space. In the 1990s The Wilds had become one of Joburg's most feared parks. A haven for opportunistic criminals hiding in its wild overgrown spaces, the public steered well clear and this beautiful space was gradually forgotten by Joburgers. As artist James Delaney, who has energetically led a team of dedicated Friends of The Wilds, points out, the more people who return to enjoy the park, the safer it becomes. On weekends you'll now usually find the car park overflowing and any number of wholesome activities taking place on the lawns, from picnics to yoga sessions, poetry and hikes up to the top of The Wilds' ridges.

WHERE: The entrance to The Wilds is on Houghton Drive, close to St John's prep school.

A Maker's Valley in the east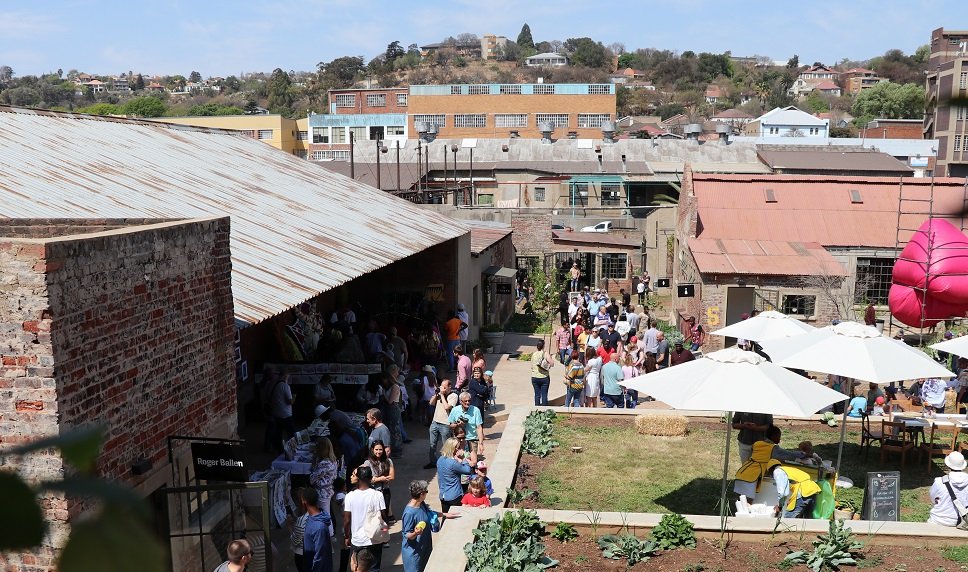 The somewhat downtrodden eastern Joburg neighbourhood of Lorentzville is home to the headquarters of homegrown grilled chicken giant Nando's. Their headquarters at Nando's Central Kitchen (once Nando's sauce bottling factory) is a model of contemporary South African art and design and sits opposite the newer Victoria Yards development that has anchored the area as the heart of the Maker's Valley. Once a derelict complex of light industrial buildings, the sprawling Victoria Yards site is a complex of makers, artists and artisans, that has brought new life to the neighbourhood and kick-started a wider determination to cement the area as a Maker's Valley, defined by its creative industries and artisans.

WHERE: Victoria Yards is located at 16 Viljoen Street, Lorentzville