Each spring, usually from early Oct to early Nov, a sea of purple petals from thousands of jacaranda trees blooms above Gauteng's suburban streets. The jacaranda is not a native African tree (it originated in South America) and is believed to have first arrived in Gauteng in 1888 (during the Gold Rush). It quickly became so popular that the trees were planted along almost every new street built in the rapidly growing cities of Johannesburg and Pretoria. An alien species, today you may no longer plant this tree in South Africa. 

Considering that most of Joburg is made up of "alien species" – we all seem to have come from somewhere else – and that Johannesburg in Your Pocket has from the start made it our mission to create a welcoming city for all, each year we celebrate purple spring with a series of events that include photo walks, a social ride and other fun ways to see the blooms. See our full line-up here and book your tickets to join us for the 2023 series. 

To see the spectacular spring blossoms, you need to head to the older suburbs. The blooming jacarandas have even found their way into local mythology. Students joke that if you haven't started revising for the end-of-year university exams before the jacarandas start to bloom, then you've probably left it too late. Every year we celebrate Gauteng's jacaranda spring with our #jacarandainyourpocket photo competition hosted on Instagram.  The competition open on October 12. See all details here. Keep an eye on our Instageam account for an eyeful of beauty @johannesburginyourpocket and weekly newsletter for updates.

This year we have also partnered with Gautrain, the best way to travel between two jacaranda cities. #YourGautrainJourneyStartsHere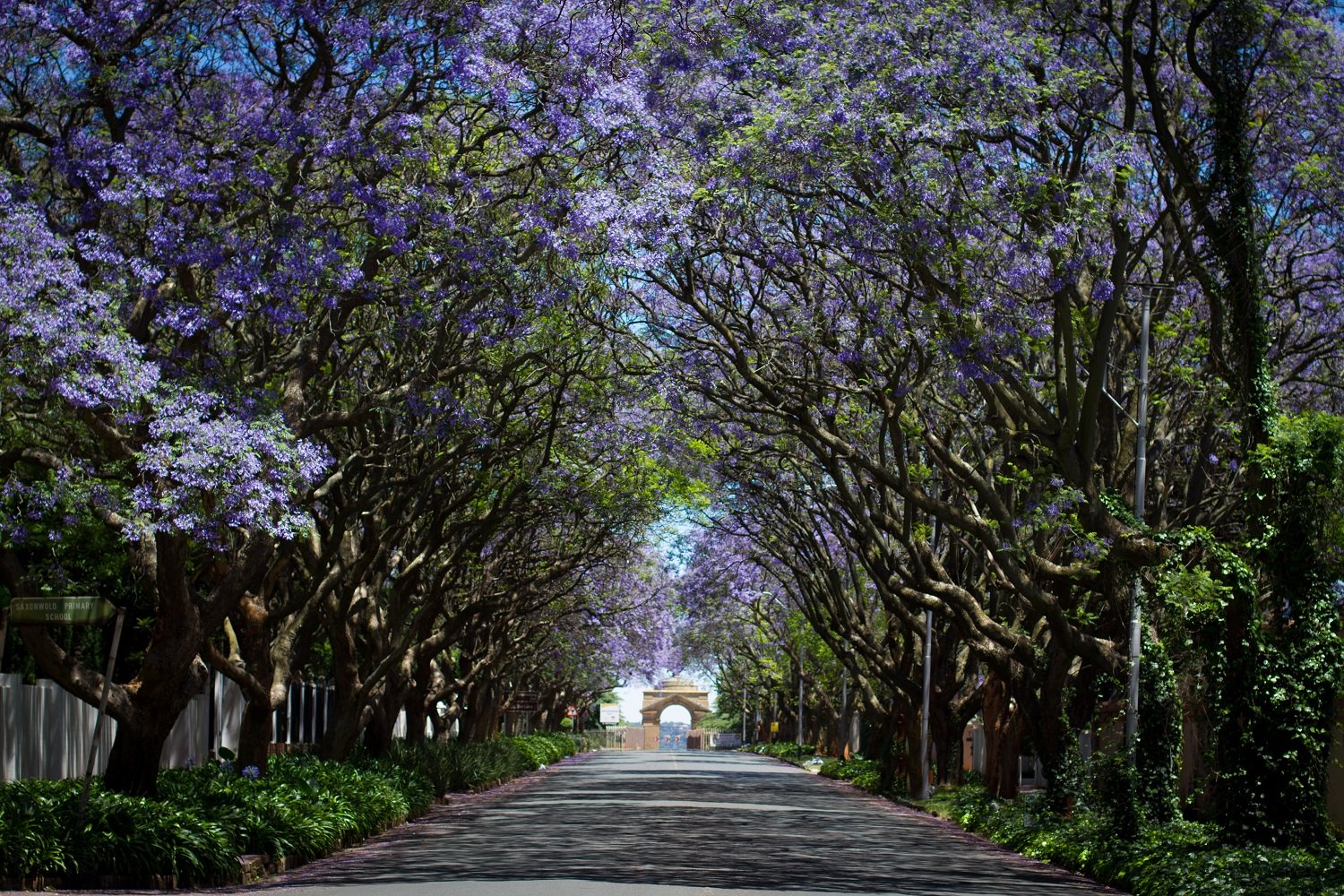 As part of our #jacarandainyourpocket 2023 photo competition, we are offering a number of unique photo opportunity experiences in collaboration with local tour guides, photographers and city venues including Four Seasons Hotel The Westcliff, Kensington Trading, Fishbird Villa and City Sightseeing Bus Tours. Booking is essential as space is limited! Check out our programme of #jacarandainyourpocket events here and book your spot.
JOBURG'S BEST JACARANDA STREETS
DUNKELD Kent and Hume Roads in Dunkeld both run perpendicular to Oxford Road and Jan Smuts Avenue (east to west, and vice versa), making this the place to capture jacaranda blooms at sunset or sunrise.

MELROSE The suburb of Melrose, next to Rosebank, has some beautiful, quiet jacaranda-lined streets that make for a great photo opportunity such as Jameson, Reform and Victoria Avenues. From James and Ethel Gray Park (entrance at Edgewood Avenue) there is a great view of the City Centre skyline fringed by the Observatory Ridge.

PARKWOOD In the suburbs of Parkwood and neighbouring Saxonwold take a drive (or a walk) along Bath Avenue and make a left (or a right) on any of these gorgeous, purple-canopied streets: Bristol, Wantage, Griswold or Rutland Roads.

ROSEBANK Take a stroll along Tyrwhitt or Jellicoe Avenues in Rosebank on either side of Oxford Road in the shade of the blooming jacarandas.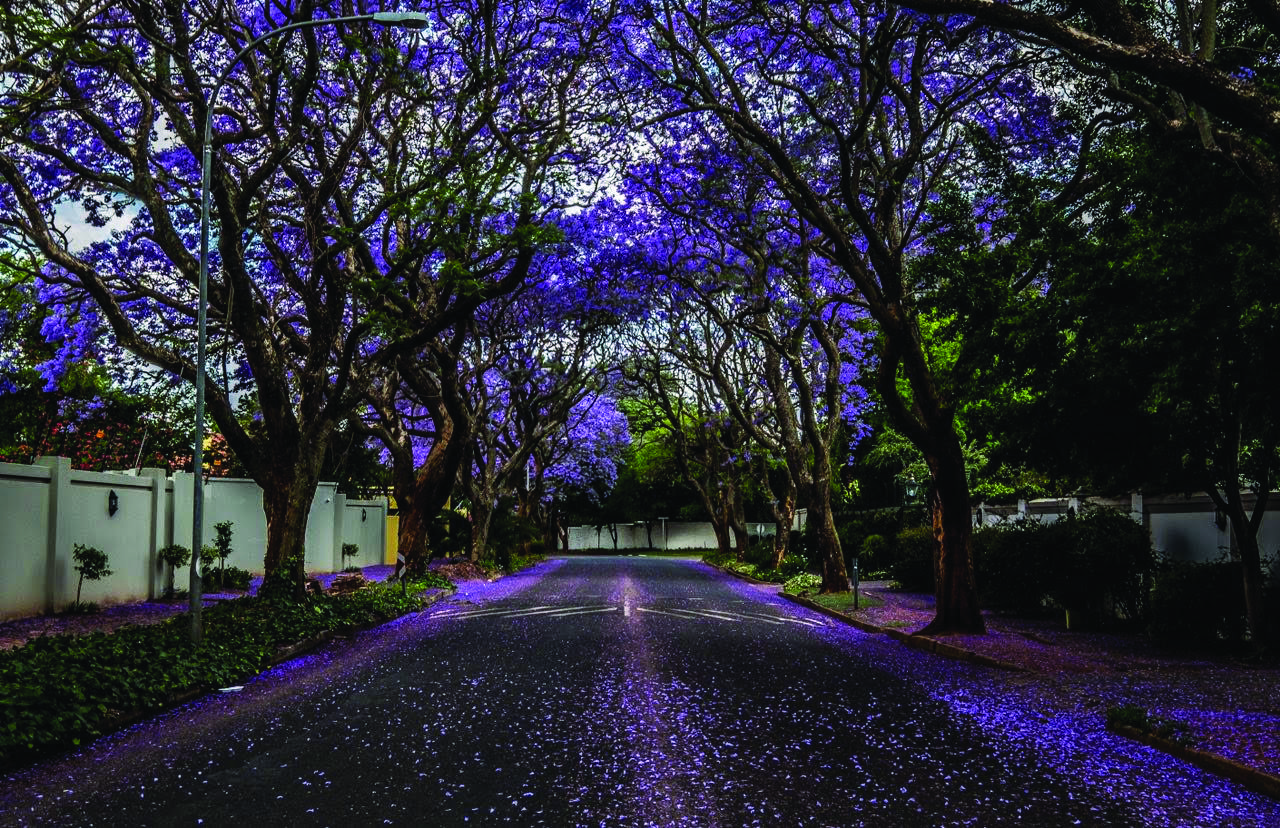 KILLARNEY & SAXONWOLD Follow Riviera Road up from the M1 towards Ditsong Museum of Military History for a magical, jacaranda-fringed view of the War Memorial.

MELVILLE The pretty suburb of Melville is full of jacarandas, many of them contrasting spectacularly with bright pink bougainvillaea. A major jacaranda hotspot is 4th Avenue.

GREENSIDE & PARKVIEW When driving through the suburbs of Greenside and Emmarentia, take a detour down the quiet Clovelly Street (parallel to Barry Herzog Avenue). In neighbouring Parkview, you'll also find plenty of jacarandas on streets like Waterford Avenue and Galway Road.

HOUGHTON Munro Drive, which winds its way across Observatory Ridge in Houghton, is a scenic, historic road lined with mature jacaranda trees and epic views over the northern suburbs.

LINKSFIELD Follow the main thoroughfare Club Street through the suburb of Linksfield and take a right on Bedford Street, which becomes Linksfield Drive. The views get steadily more impressive as the road winds its way up the steep Linksfield Ridge.

KENSINGTON Drive through a spectacular purple tunnel along Highland Road in this historic suburb. Nearby Juno Street also has a remarkable display. This is one of the most famous jacaranda areas in the province and a must-see on any Joburg jacaranda route.

WESTCLIFF AND PARKTOWN Among the oldest and grandest suburbs in Joburg, Westcliff and neighbouring Parktown have some very scenic jacaranda streets where the trees contrast beautifully with grand, early 20th-century architecture, most notably Rockridge Road and The Valley Road. 

NORWOOD & ORCHARDS The appropriately named suburb of Orchards and neighbouring Norwood both have lots of jacaranda-lined streets including High Road, where the Quaint St Luke's Church is smothered in purple blossoms, and the garden-like Norwood Park at the corner of Grant Avenue.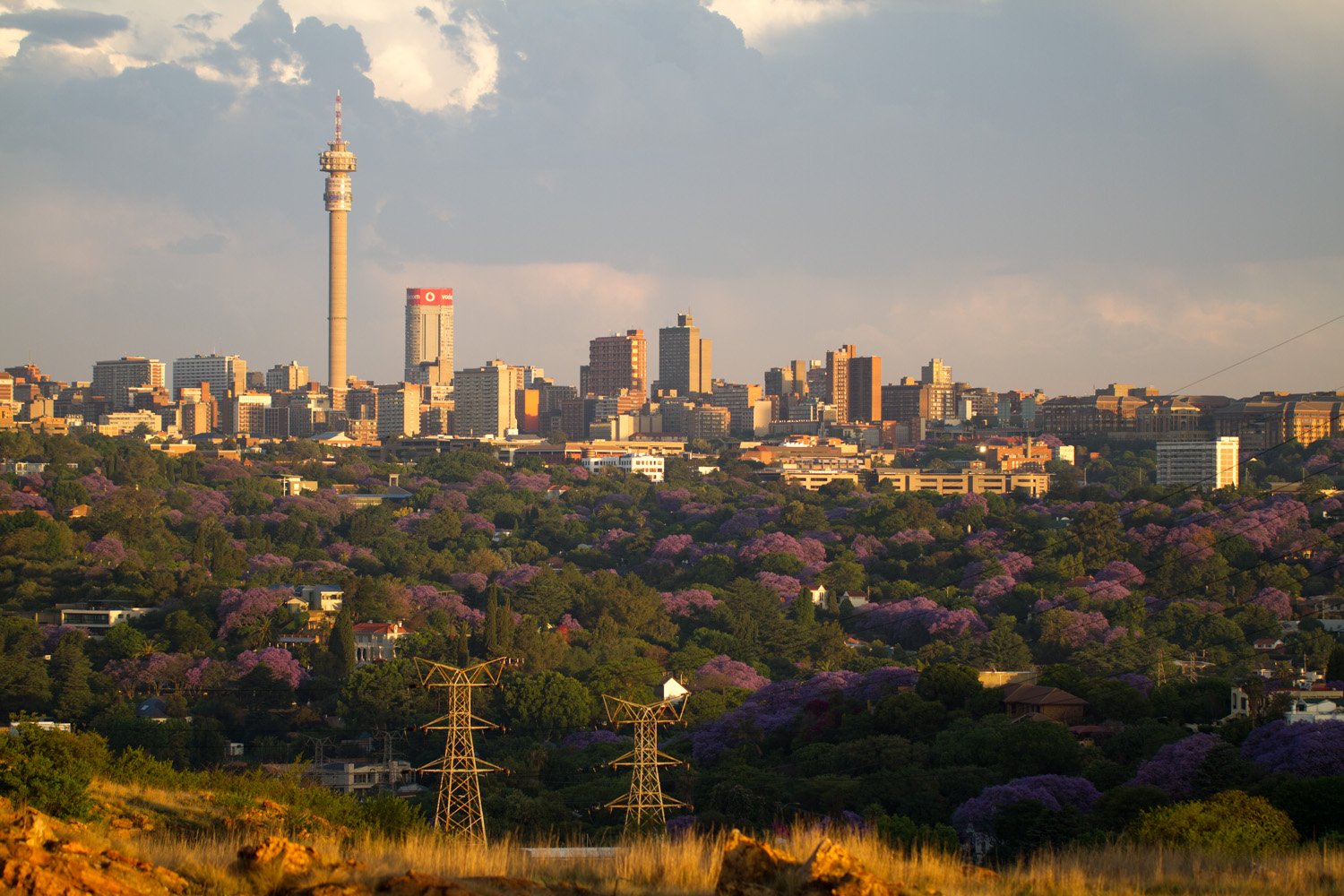 GREAT JACARANDA VIEWPOINTS IN JOBURG
FOUR SEASONS HOTEL THE WESTCLIFF For drinks with a panoramic jacaranda-filled view, you can't beat the terrace at this luxury hotel.

RADISSON RED ROSEBANK ROOFTOP BAR Opened in winter 2021, the rooftop bar at this fun Rosebank hotel has one of the best views on this side of the city. Facing west, it's also a great place to catch the sunset.

ISLAND BAR AT SOUTHERN SUN HYDE PARK The pool deck at the Southern Sun Hyde Park Hotel is a great vantage point for gazing out over the urban forest of the western suburbs and another good place to catch the sunset from on high.

MARBLE Located on the rooftop of the Keyes Art Mile development along Rosebank's Art Gallery Row, much-awarded chef David Higgs's sizzling, live-fire grill house and bar has spectacular views across Joburg towards the Magaliesburg mountains.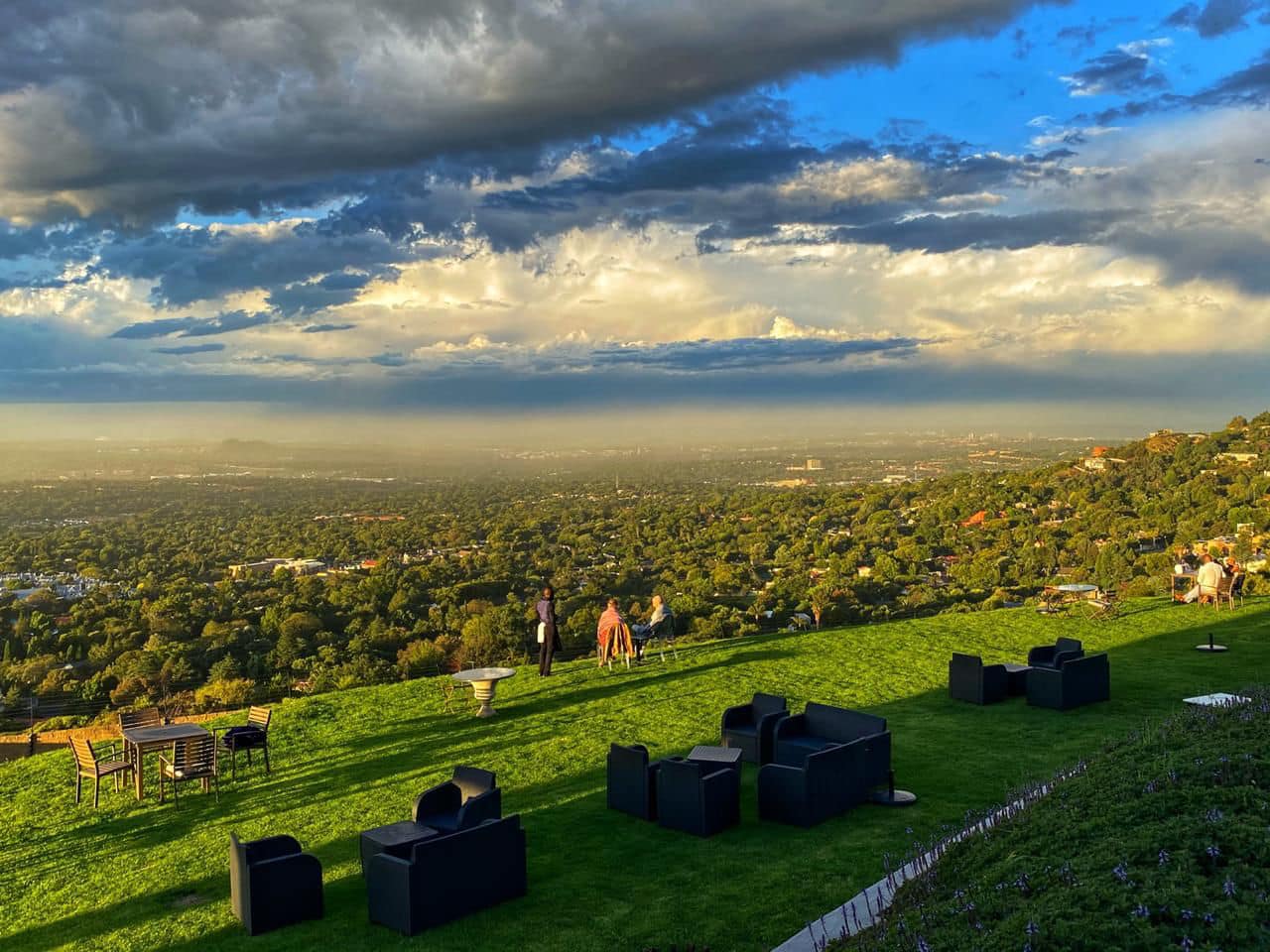 NORTHCLIFF RIDGE AND THE NORTHCLIFF BOUTIQUE HOTEL Topped by a landmark water tower, the view from the top of one of the city's many ridges, Northcliff in the West Rand, presents sweeping views all the way out towards Sandton and North Riding. Probably the very best place to view it all is from the terrace at Northcliff Boutique Hotel. Booking for drinks or dinner at the hotel is essential, and be warned you might need to book quite far in advance, as this is a very popular spot.

CITY SIGHTSEEING BUS The Green Route of Joburg's open-top City Sightseeing Bus is a brilliant way to see Joburg's jacarandas from on high. The route starts at Rosebank and makes its way through the leafy suburbs of Parkwood, Saxonwold and Houghton ending at Constitution Hill where it meets the Red Route. The best views can be captured during the bus's brief stop on Munro Drive, from where the views of the northern suburbs are unparalleled.

MELVILLE KOPPIES Climb across the Melville Koppies for views of purple jacarandas against the backdrop of Joburg's distinctive city skyscrapers. The best way to explore the koppies is on one of the weekend guided walks.

THE WESTCLIFF STEPS The grand suburb of Westcliff set across Westcliff Ridge is where many of Joburg's mining magnates, the so-called Randlords, built their mansions at the turn of the century. The Westcliff Steps (210 in total, we counted!), dubbed the "stairway to heaven" can be accessed via Crescent Drive or the intersection of Wicklow Avenue and Westcliff Drive (pedestrian entrance). At the top, you'll be rewarded with a beautiful view of the urban forest.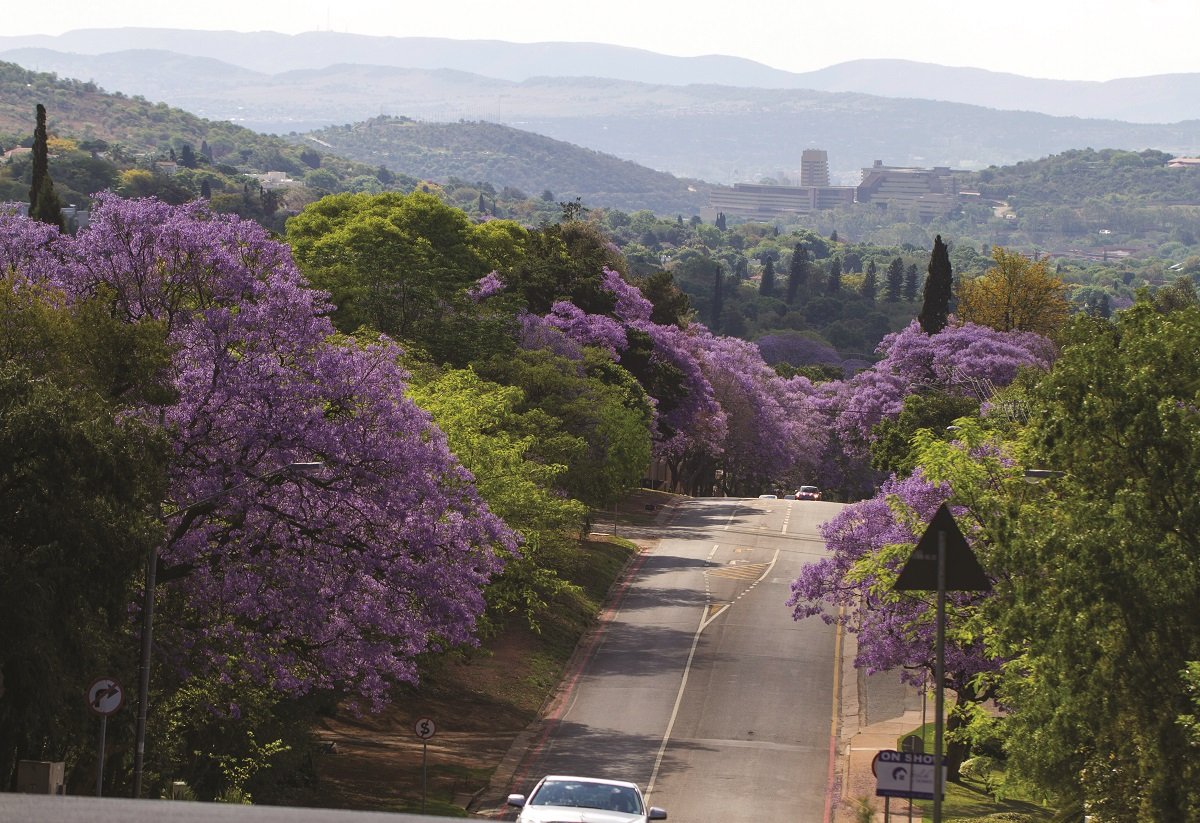 WHERE TO SEE JACARANDAS IN PRETORIA
Nicknamed Jacaranda City, Pretoria has suburban streets that are lined with purple trees almost everywhere you look. It is thought that 17% of all the trees in Pretoria are jacarandas, which makes for almost 70,000 trees. From the historic streets of the City Centre to the leafy and wealthy suburbs of the south and east, there are jacarandas everywhere in Pretoria. Note that Pretoria is approximately three degrees warmer than Joburg so the jacarandas usually bloom at least two weeks earlier.

Using Gautrain, get off at Pretoria Station and take a walk through the historic city centre in full bloom, or ride one more stop to Hatfield and explore the scenic streets of Arcadia and Brooklyn. Other popular jacaranda destinations include the suburbs of Waterkloof, Groenkloof, Sunnyside, Riviera and Muckleneuk. Here's a look at some of the most famous places to catch the jacaranda spring in Pretoria:

ARCADIA, EASTWOOD, RIVIERA AND THE UNION BUILDINGS For unparalleled views, visit the majestic Union Buildings (seat of the South African government) and take a walk through its lovely terraced gardens. In the same area, the quiet Eastwood Street, Government Avenue and the main thoroughfare Soutpansberg Road all have a dense collection of these trees, while in the suburbs north of the Union Buildings, picturesque jacaranda streets include Pierneef, Nuffield and Rose Streets.

HATFIELD & BROOKLYN From the Hatfield Gautrain station head left up Grosvenor Street in the direction of Brooklyn where it's jacarandas all the way. Great jacaranda streets include Prospect, Brooks and Anderson Streets.

SUNNYSIDE & MUCKLENEUK The suburbs of Sunnyside and Muckleneuk are also good places to see the spring blossoms. Some of the most beautiful streets include Johnston, Reitz, Bourke, Troye and Loveday Streets.

GROENKLOOF AND FORT KLAPPERKOP Another famous jacaranda suburb is Groenkloof, just south of the University of South Africa, where, on Herbert Baker Street, you can find rare, white jacarandas. A short drive away is Fort Klapperkop (entrance on Johann Rissik Drive) where there are very pretty views over Pretoria's verdant southern suburbs, full of jacarandas in springtime.

GETTING THERE: Take the Gautrain to Pretoria and get out and explore the jacarandas in the Pretoria City Centre or continue onto Hatfield and explore the jacarandas in Hatfield, Brooklyn and surrounds.