Queer Culture in PL and Kraków

Although it's one of the few countries in which homosexuality has never been directly punished by state law, you'll find few folks of any sexual persuasion who would describe Poland as 'gay-friendly.' Centuries of hard-core Catholicism in Poland have ensured a conservative society that isn't comfortable speaking about sex of any kind, let alone homosexuality, which is roundly considered 'wrong' and 'unnatural' by most locals. In fact, homosexuality was officially listed as a disease until 1991, before which the communist authorities dealt with the 'problem' by denying that it existed in PRL Poland; seriously, according to the authorities, there was not a single gay person in PL from 1947 to 1989. In the years since democracy returned to Poland, politicians have been all too eager to go on record against homosexuality, making all kinds of inflammatory statements ranging from ignorant to insensitive to hateful over the years.


The current conservative ruling party, Law & Justice (PiS), has been particularly forceful in its condemnation of homosexuality recently, attempting to frame gay rights and the equality movement as a foreign invasion threatening the very soul of the nation (much like the immigration crisis before it). In March 2019, PiS leader Jarosław Kaczyński ​​​​​gave a public speech at a conference for Catholic values, saying precisely that in reference to "gender theory," same-sex marriage and LGBT rights: "These ideologies, philosophies, all of this is imported, these are not internal Polish mechanisms. They are a threat to Polish identity, to our nation, to its existence and thus to the Polish state." Putting gay rights issues, and thereby the gay community, directly in the crosshairs, Kaczyński's party has gone so far as to organise and promote its own anti-LGBT events under the guise of 'family values', leading to violent conflict when the two sides collide, as occured in May 2019 in Białystock. When local activists attempted to hold the northeastern city's first-ever Pride March, Białystock became a battleground as far-right nationalists threw bottles, firecrackers, rocks, eggs and punches at participants, turning the event into a bloody melee between hooligans, activists and riot police that drew international attention.

As recent political discourse and the events in Białystock portray Poland as a society sinking backwards on LGBT issues, most locals would actually say that attitudes towards the queer community are improving. Kraków in particular has become noticeably more diverse ethnically, sexually and religiously in the last several years, leading to an atmosphere of increased acceptance and tolerance on the city's streets, and in its businesses and institutions. In reality, the increasingly loud, angry and hysterical voices of the far-right are indicative of the ruling party's awareness that Polish society is gradually moving away from them, as the authority of the Catholic Church continues to erode and Polish society adopts the new Western European 'morality' of diversity and human rights (god forbid). If anything, the right-wing authoritarianism of the ruling party has actually energised grassroots activism in Poland, which is stronger and better organised than it has been since the fall of the Soviet Union.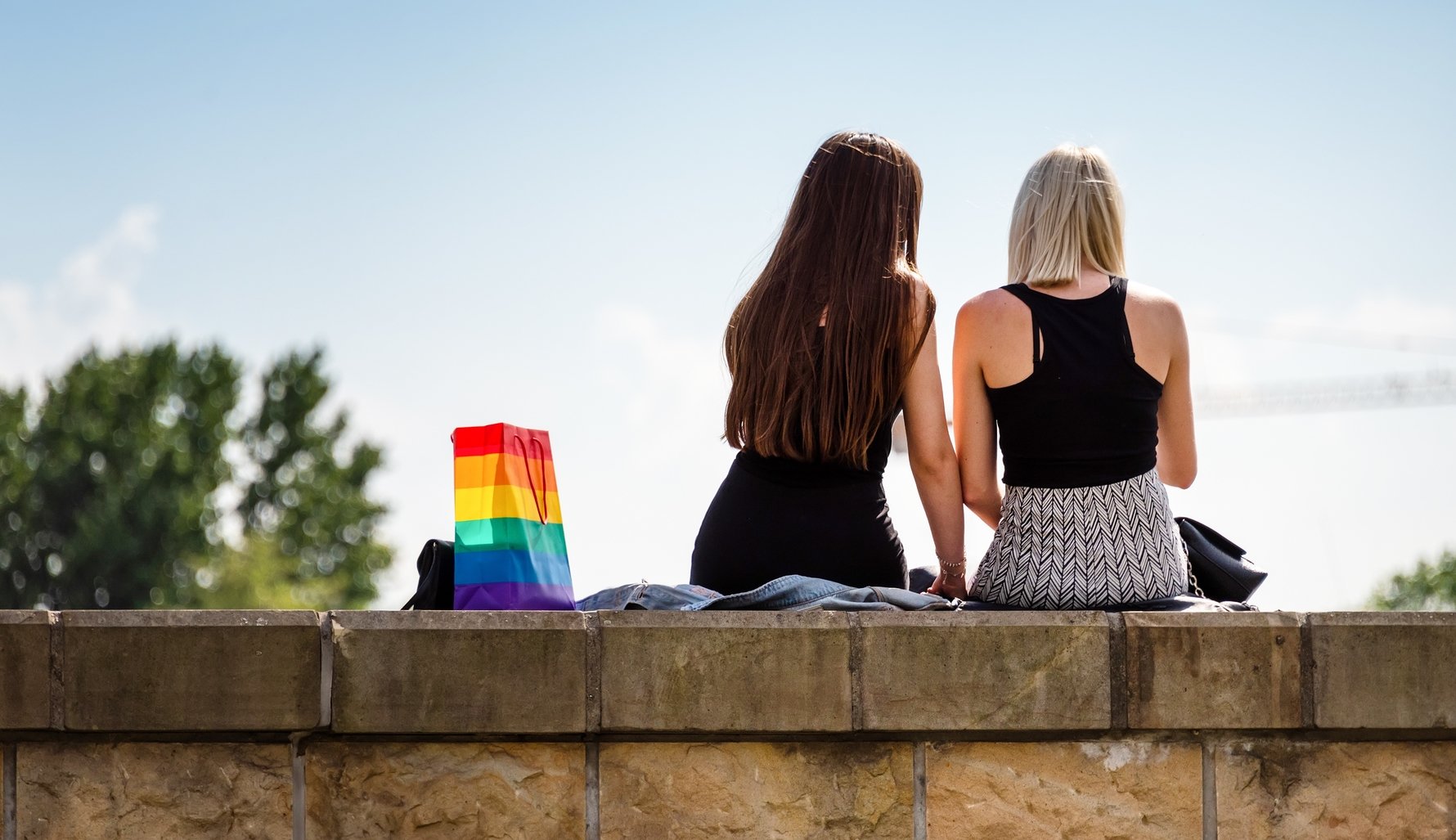 Kraków Equality Parade (Marsz Równości)
Locally, what is most distressing about the events in Białystock is how much they resemble events here in Kraków, thirteen years prior. Then still in its infancy, Kraków's 2006 Equality Parade (Marsz Równości) was similarly ambushed by football hooligans and religious extremists, resulting in bloody street battles. Subsequent marches have been better organised (with stronger police presence), though minor skirmishes also broke out in 2012. Nonetheless, Kraków's primary gay pride event has grown each year and celebrated its 15th anniversary in 2019. It usually takes place annually in May, though the event was bumped to August in 2021 and proved to be a huge success in terms of turnout and safety.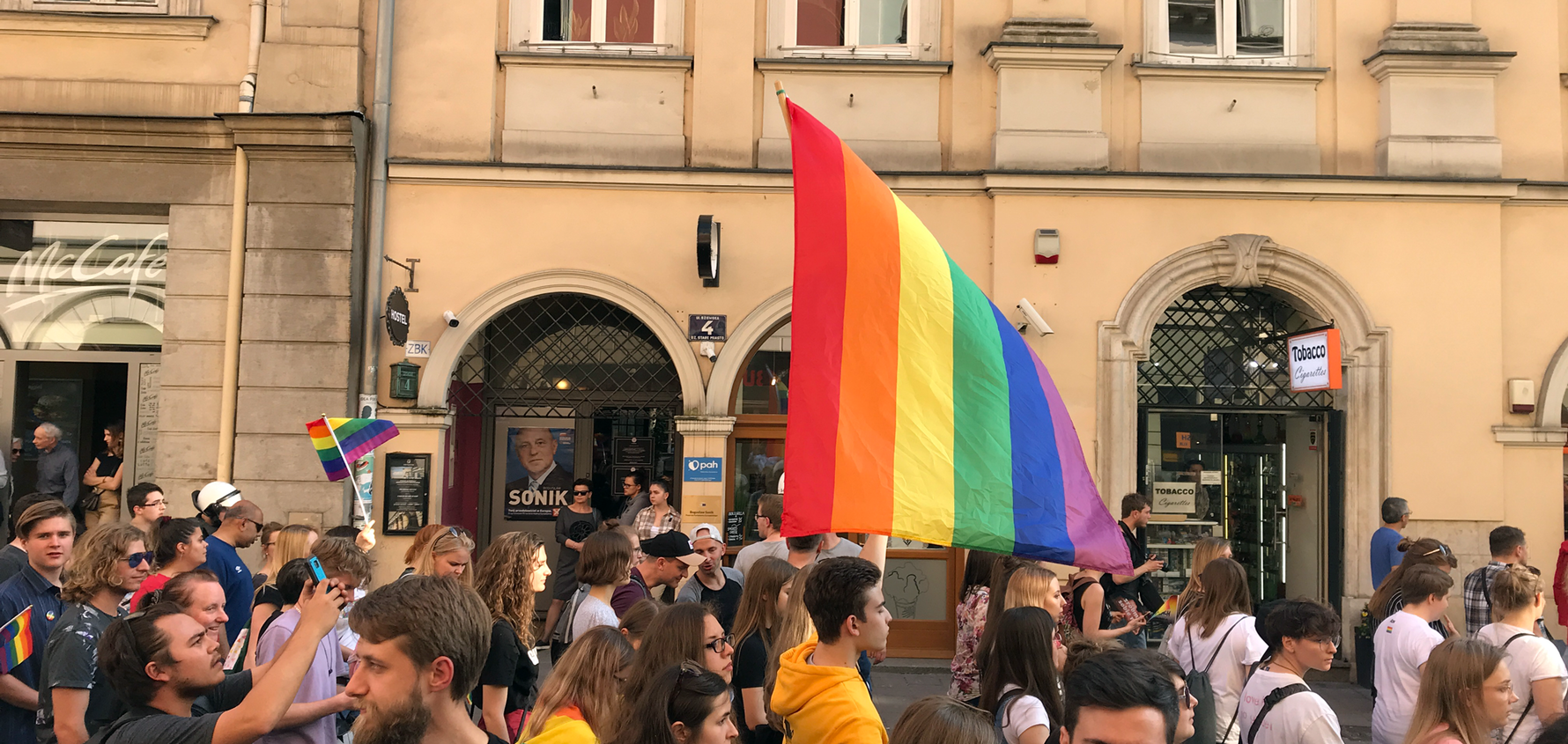 LGBTQ+ Rights, Safety & Discretion
Surprisingly, the age of sexual consent in Poland is the same for homo- and heterosexual relationships - 15. Gay Marriage is not recognised in Poland, and same-sex adoption is illegal.

While neighbouring Germany has quite liberal views and the queer scene has a very 'out' atmosphere, we don't advise behaving as boldly in public here in PL. PDAs will most likely be met with leers and jeers - even hand-holding between men (though between young ladies, ironically, this is common and socially accepted). Shaven-headed Polish thugs spoiling for a fight are a common sight on Fridays and Saturdays (or any night after a big local football match), particularly on the nightlife high streets of Floriańska and Szewska, or even on the trams; steer clear.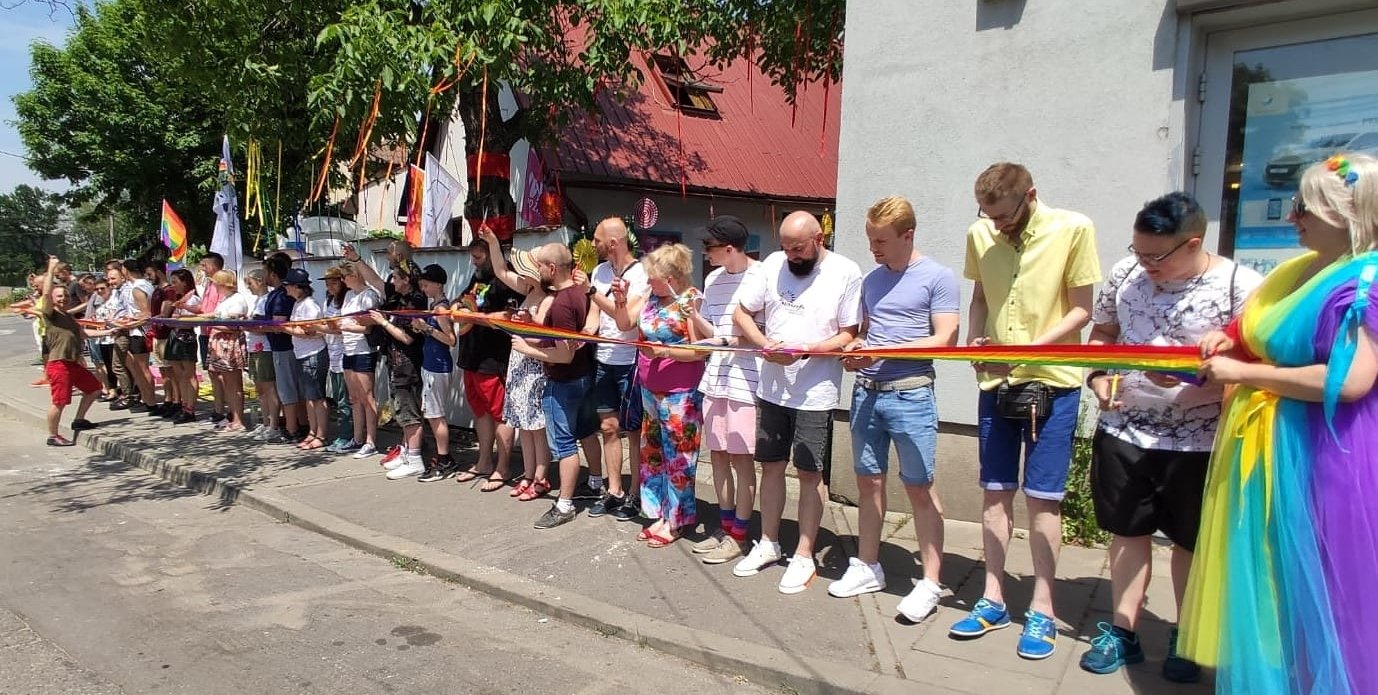 LGBTQ+ venues in Kraków
As attitudes towards the LGBTQ+ community have slowly improved in recent decades, so has the country's gay scene, especially in the major cities. In Kraków that scene is still relatively modest, but the city does have much to offer queer visitors and locals. June 2019 felt like the moment that the local queer scene went from underground to out in the open with the opening of DOM EQ - Kraków's very own queer community centre, located on the outskirts of Podgórze. The Ogniwo Coop, also in Podgórze, is another good place to go to get plugged in to local LGBT activism. The Jewish Community Centre (JCC) is also a place that overtly promotes not just religious, but also queer tolerance.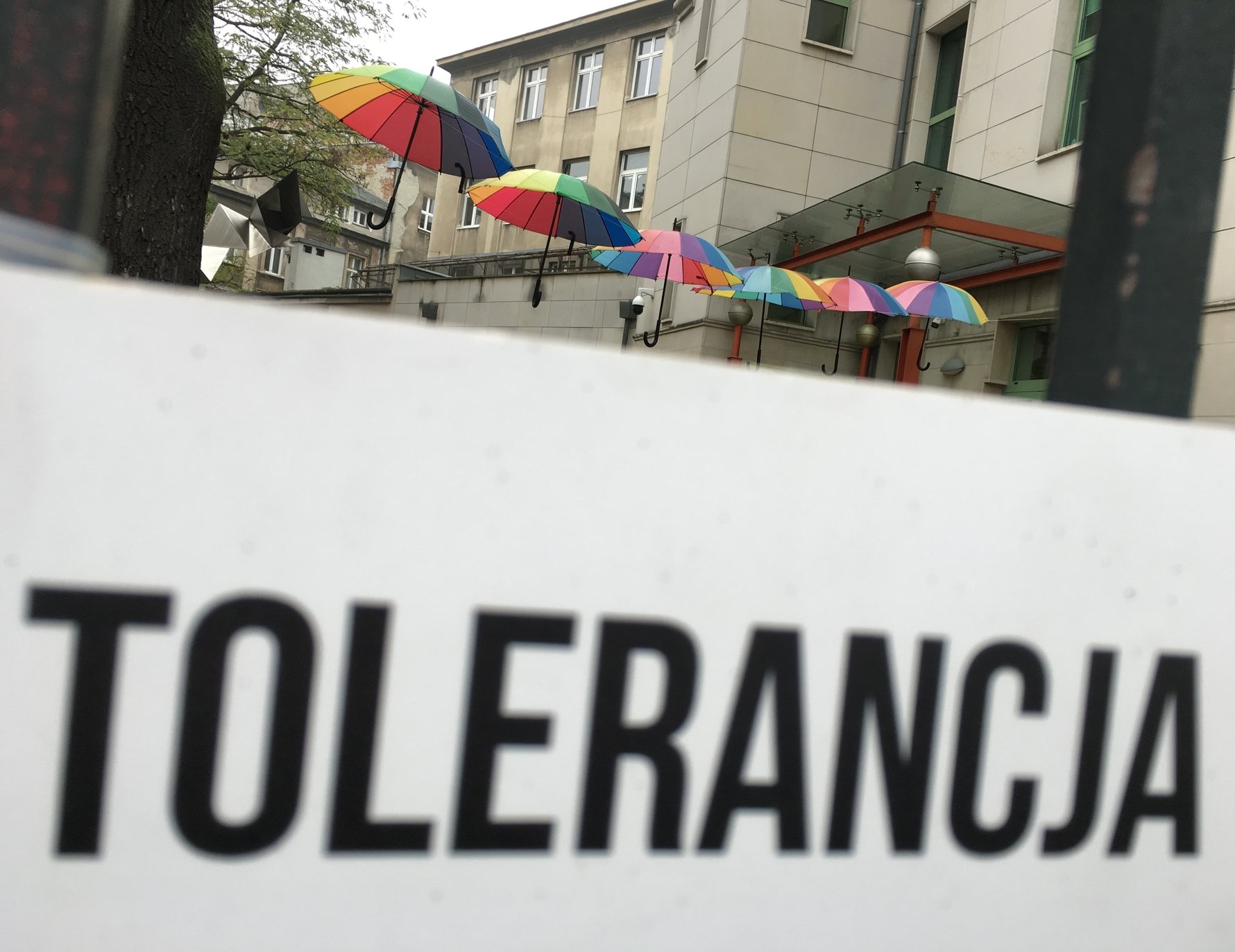 In terms of queer nightlife, the number of truly queer-first venues in Kraków is still quite small, and only got smaller in the summer of 2019, when Cocon - Kraków's top gay club of over 18 years - closed down for good. Only a month later, however, Club Papuga opened its doors to help fill the void. A fun, inclusive music club with LGBT events and performers, Papuga and LaF are straight-friendly dance clubs (LaF being skewed more towards lesbians), while Ciemnia and BlueXL are hardcore men's only sex clubs. During the day, head to Lindo - a straight-friendly gay cafe/bar that opens early, or visit Spartakus - Kraków's only gay sauna (men-only). 
 
Gay-Friendly venues in Kraków
| | |
| --- | --- |
| Gazeta Polska hate sticker; (c)Janek Skarzynski-AFP via Getty Images. | Queer tolerance poster found in Massolit Bakes, Kraków |
In another distasteful smh sign of the times, in July 2019 conservative national newspaper Gazeta Polska began distributing 'LGBT-free Zone' stickers ('Strefa Wolna od LGBT') with its papers, which showed a black 'x' over a rainbow flag. Although several municipalities (particularly in south-eastern PL) declared themselves free of LGBT ideology, a court ruling later banned the distribution of the hate stickers, and the outcry they created here in Kraków only lead to many gay-friendly local businesses explicitly claiming they were places of tolerance via their own stickers, posters and flags.

For those looking for a fun, safe environment to go out without alienating their straight friends, Barakah, Klub Kabaret and Ogniwo quite often host events organised by or in support of the queer community; Lastriko, Movida and Kraina Szeptów (Land of Whispers) tingle the gay-dar at low frequencies; while Eszeweria (owned and operated by a gay couple), Piękny Pies, Forum, Pauza, Cafe Szafe and Klub Re can all generally be considered safe spaces for diversity and acceptance. For a gay-friendly night on the dancefloor, we'd recommend Szpitalna 1 and Społem Deluxe.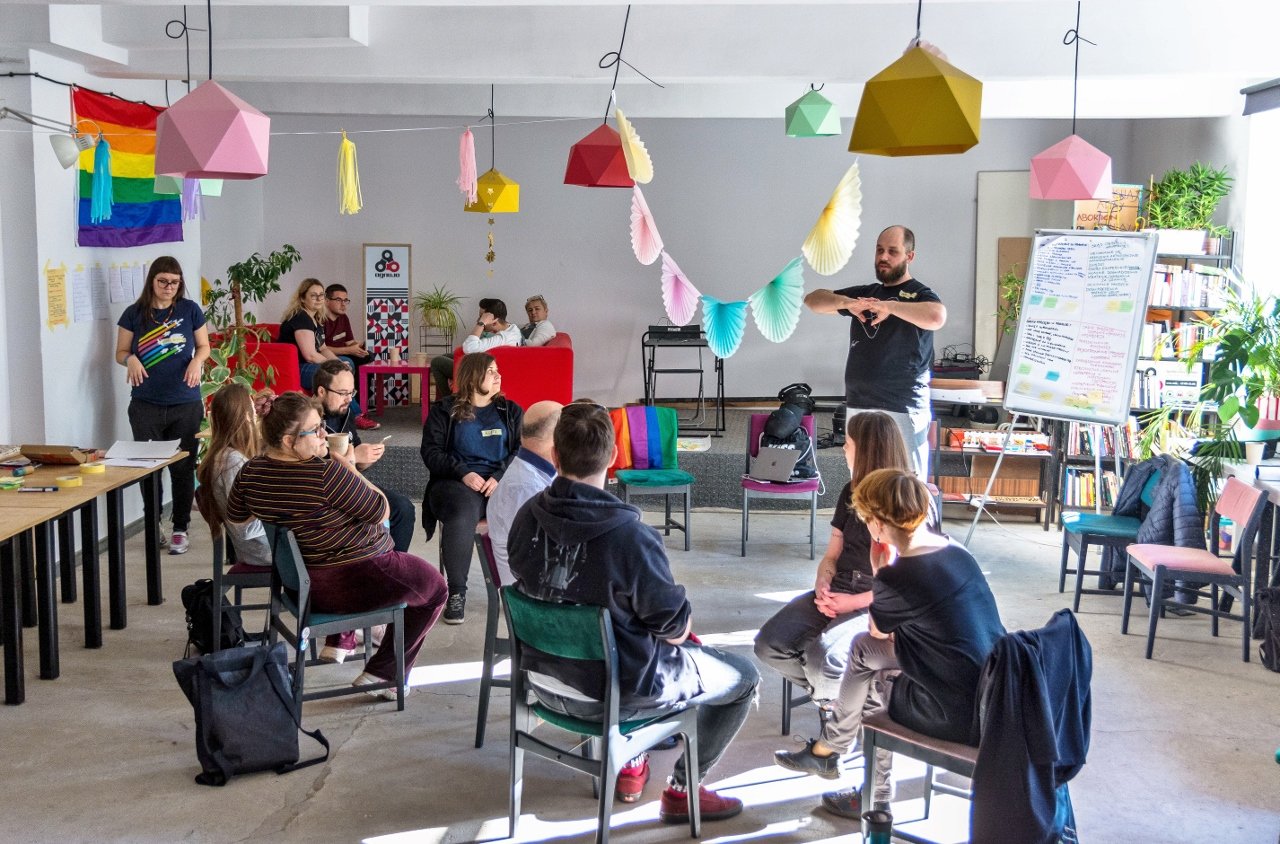 Gay Cruising in Kraków
For years the Planty Park, specifically the area behind Słowacki Theatre between ul. Basztowa and ul. Mikołajska, has been notorious for gay cruising in the evenings until quite late at night. We hear, however, that it's mostly rent boys and trade can be rough; beware of gay bashers lurking as well. Kraków has two well-established male cruising bars in Ciemnia and BlueXL.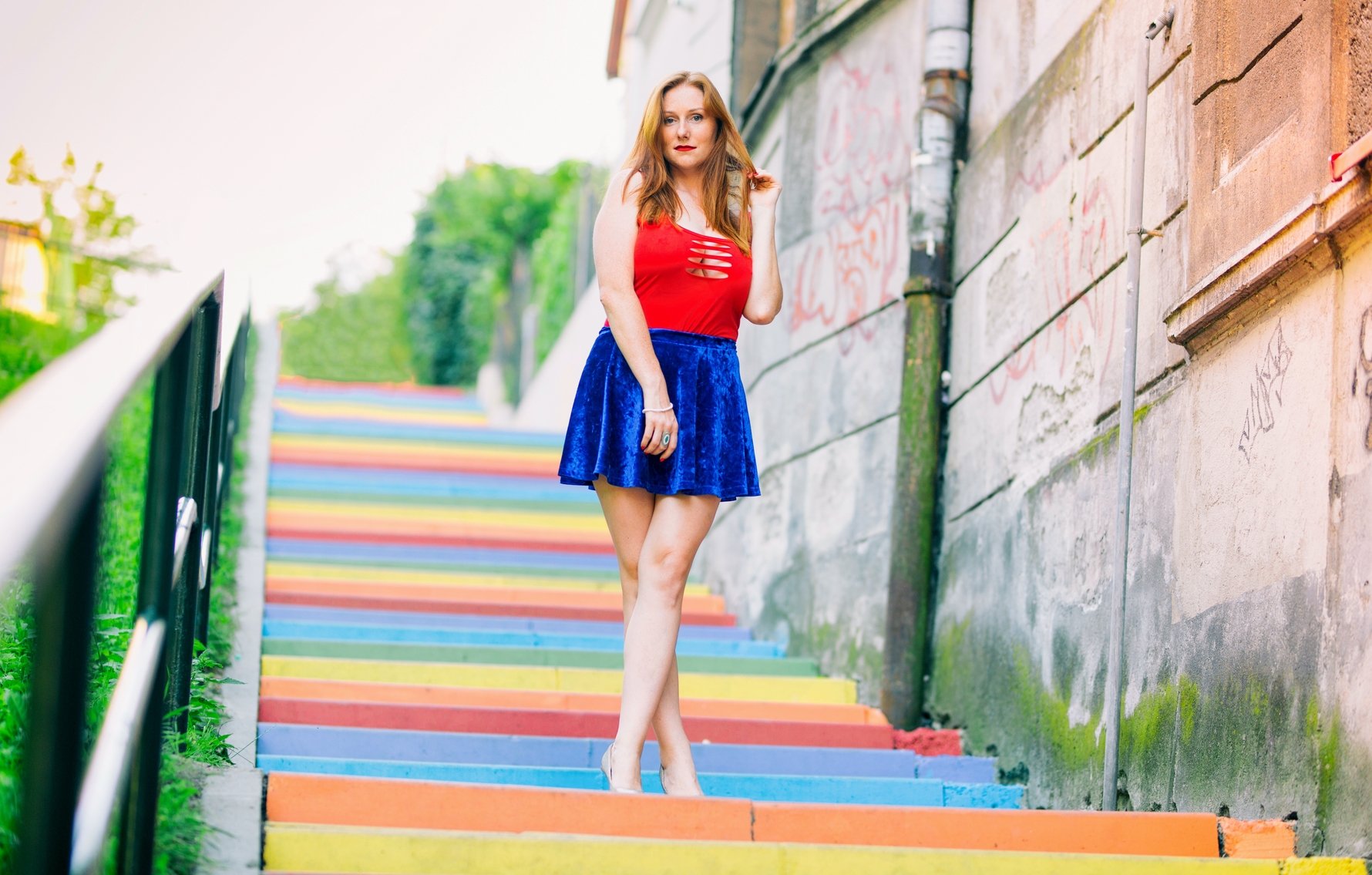 Local LGBTQ+ Groups, Organisations & Resources
For more information about queer culture in Kraków, check out these online resources:

Queerowy Maj: organisers of Kraków's 'Queer May' festivities, including the Equality March and other events.

Federacja Znaki Równości: The Signs of Equality Federation is a coalition of organisations across Poland working together to support and develop the LGBT community in Poland; they run the Dom EQ community Centre in Kraków. Website in Polish and English.
 
Krakofonia: - Kraków's LGBTQ choir welcomes all-comers ;)

Krakow LGBT+: a private English-language Facebook Group for members of the queer community to chat and support each other.

Imprezy LGBT Kraków: Organisers and promoters of LGBTQ parties in Kraków.

Out in Kraków - Gay Events: Organisers of Kraków gay Pub Crawl.

Gay Guide Kraków: A FB page (in Polish) identifying LGBT-friendly places to go, eat, party.

Did we miss anything? Let us know in the comments.