​Amber is big business in Gdańsk and it's impossible to miss the scores of galleries flogging this curious mineral as you wander the streets of the Gdańsk Old Town. But what is Amber, where does it come from and what should you watch out for if you're considering buying some? (see below)
Amber – what is it?
Well, first of all, there are different types of amber and Gdańsk is regarded as the capital for the collection and working of Baltic Amber. In simple terms, amber is the surviving resin of ancient trees which over millions of years has been covered by sediment and compressed by rock movement and glaciers where chemical processes we are unable to comprehend take place. The result is a lump of rock that once cleaned of its opaque crust reveals an orangey stone that becomes the beautiful, sparkling gemstone once at the hand of an experienced craftsman.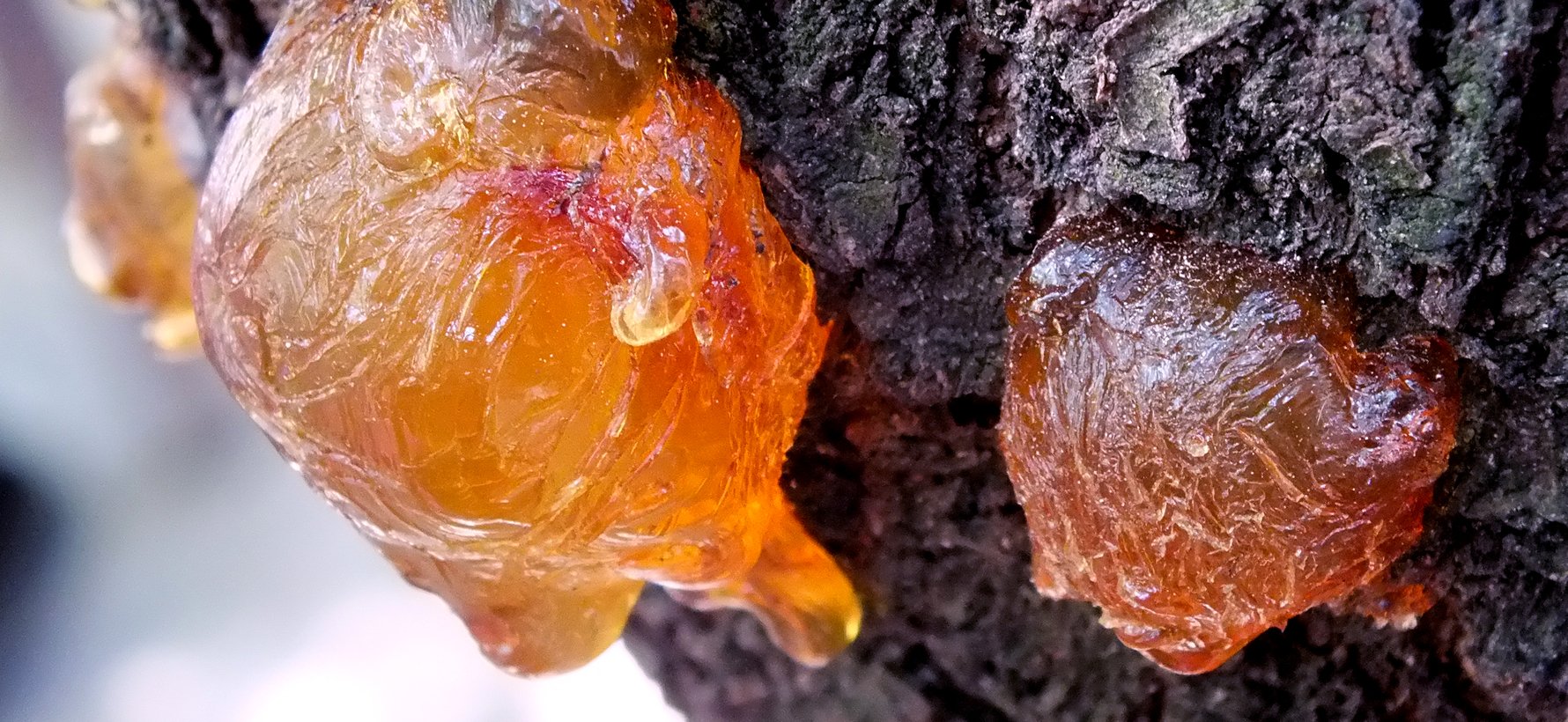 What is Baltic Amber and where does it come from?
Baltic Gold, as it is often referred to, is specific in that it comes from the resin of coniferous forests that grew in this region over 40 million years ago although it is very difficult to date accurately. It has an acid content of 4-6% and can be found from as far north and west as the Danish islands to as far south and east as western Ukraine. It is worth remembering that while amber was formed at least 45 million years ago, the Baltic Sea is only about 20,000 years old. The amber gets its name because the largest source can be found just to the east of Gdańsk around the Kaliningrad enclave, and it is amber from this area which, with a NE wind and a strong current, washes the pieces of amber onto the beaches of Gdańsk. However, you'll also find high-quality amber in other traditional amber-trading cities in Poland such as Kalisz, Wrocław and Kraków.

Baltic Amber is generally sourced in one of two ways. It can be harvested from the beaches of the Baltic coast where, having been torn from the rocks at the bottom of the sea, is washed up onto the shore, where it is weathered by the sun and the wind. Alternatively, it can be mined from surface mines. Amber miners tender for the right to rent land into which they drill holes down to a level of between 6 and 12 metres. They then pump water down into the hole looking for the water to come back to the surface with a blue colouring which signifies it has come into contact with a pocket of amber. This is a high-risk business as the amber is present in crops of rock, not seams, so it is possible to check a whole area of land and find nothing while metres away is a huge isolated crop of amber.

Baltic Amber comes in diverse colours and various degrees of transparency depending on how it has been formed and where it is found. For instance, if it has survived undiscovered on the beach, years of exposure to the sun, wind and the sand condition it further. This weathering of some pieces means that you are able to find many different types of amber, each of high-quality and all with their own uniqueness.
 

History and Legend
Amber has been gathered and worked in the Gdańsk area for over 6,000 years and has been one of the major contributors to the city's wealth over the centuries. But the legends about and involving amber go back just as far.

In Greek, Viking and Lithuanian legends, amber is depicted as the frozen teardrops of mythical people while the Chinese believed that amber was the soul of a tiger which had died and passed into the earth.

Amber is recorded as having been traded for millennia and an ancient trading route grew up from the Baltic through the Alps to Rome and beyond which became known as the Amber Road.

And then, of course, there is the famous Amber Room, a present from Prussian King Friedrich Wilhelm I to Tsar Peter the Great of Russia. This was a complete room of panels made from amber and gold and, at the time, was considered an 'Eighth Wonder of the World'. It was stolen by the Nazis during WWII and brought to Königsberg (now Kaliningrad) where it was supposedly destroyed during fighting in 1945. Rumours have persisted for many years that the Amber Room was spirited away before the attack and either remains hidden somewhere today or lies at the bottom of the Baltic. Most experts believe most, if not all of it was destroyed in the fire that gutted Königsberg Castle, but the legend of the Amber Room looks likely to live on as long as some of the ancient myths mentioned above. An interpretation of this chamber, decorated in amber panels backed with goldleaf and mirrors, was reconstructed in the Catherine Palace of Tsarskoye Selo in St. Petersburg between 1979 and 2003. 
 
What is it used for?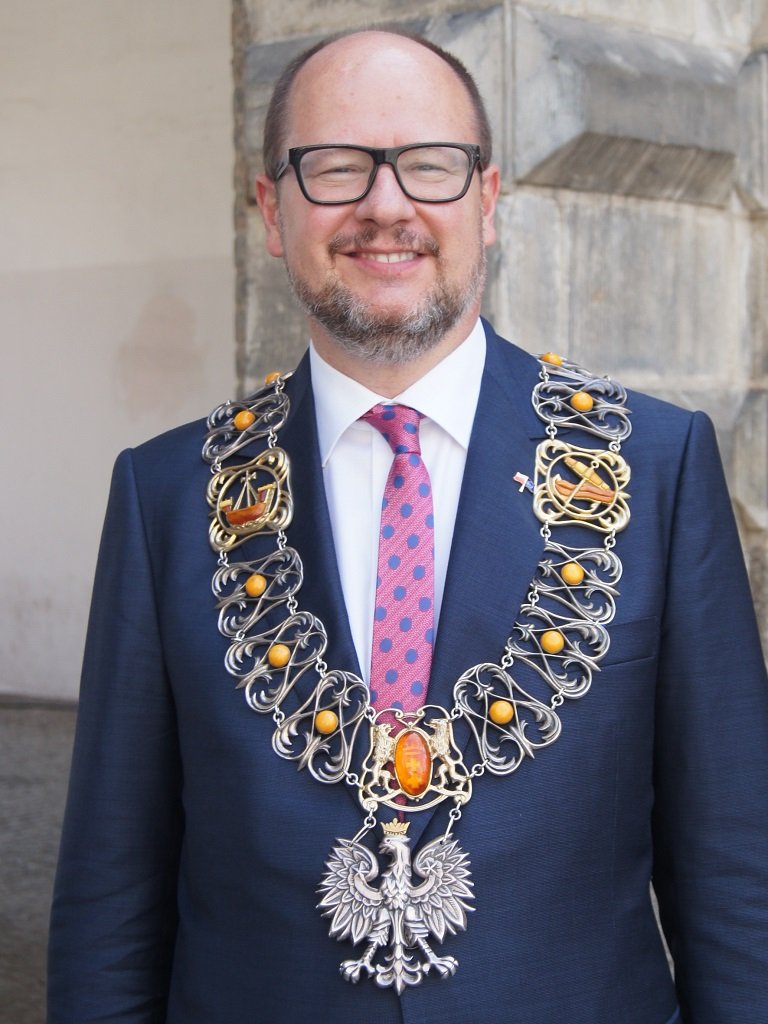 Well...jewellery, of course! But that's just the start. Amber has been proved to be electronegative and it's suggested that this helps improve the bodies energy levels. Amber has been used in tinctures to help fight colds, fevers, rheumatism and muscular pain. The International Amber Association claim that amber has been used in babies' teething rings to ease pain. If amber is heated under the right conditions, an oil is produced, and in past times this was combined carefully with nitric acid to create 'a resin with a peculiar musky odor'. In Ancient China, it was customary to burn amber during large festivities and traditional medicine from the region still asserts that amber is 'calming for the mind'.

But you'll also find amber being used wherever beauty and design are important. Various uses we have seen range from decorative finished in furniture to lampstands. A recent event in the city saw a dress decorated with amber while one of the craftsmen we visited was in the process of making a series of amber and ceramic electrical fittings for an interior designer.

If you head along to the Amber Museum on Targ Węglowy, you will see even more extravagant usage of the material, most notably for the body of a Stratocaster guitar. The museum is also a good way to learn about the history of amber in the Baltic region.
 
How to find your own and what to do?
The sight of locals (both amateur and professional) combing the beaches looking for pieces which have been washed up, particularly after a heavy storm, is still common. Close to Gdańsk you have the beaches at Stogi and these and the beaches along the coast towards Krynica Morska heading to the border with the Russian enclave of Kaliningrad are popular spots to go beachcombing.

Another option is to take a tour of an amber workshop where you will see both how the stone is worked to turn it into the beautiful pieces you see mounted in finished jewellery and also learn how to spot a genuine and fake piece of amber.

In this case, you might want to take a visit to Zbigniew Strzelczyk in his workshop on the waterfront near The Crane. Mr Strzelczyk, to whom we owe a debt of thanks for his attempts to explain the whole business of amber to us, is one of only 6 Amber Masters in the country. Becoming a Master Craftsman is no easy feat and takes a minimum of 8 years experience during which time you must be apprenticed to an existing master. Mr Strzelczyk has his own gallery and workshop, Amberstyl, and he'll be happy to show you a few secrets about amber if you stop by and ask him. If you do, make sure to ask to see the piece of amber containing a pre-historic fly – it's quite remarkable.

The Manufaktura Bursztynu S&A also offer tours of their workshop in Gdynia and you should contact them in advance to organise a place.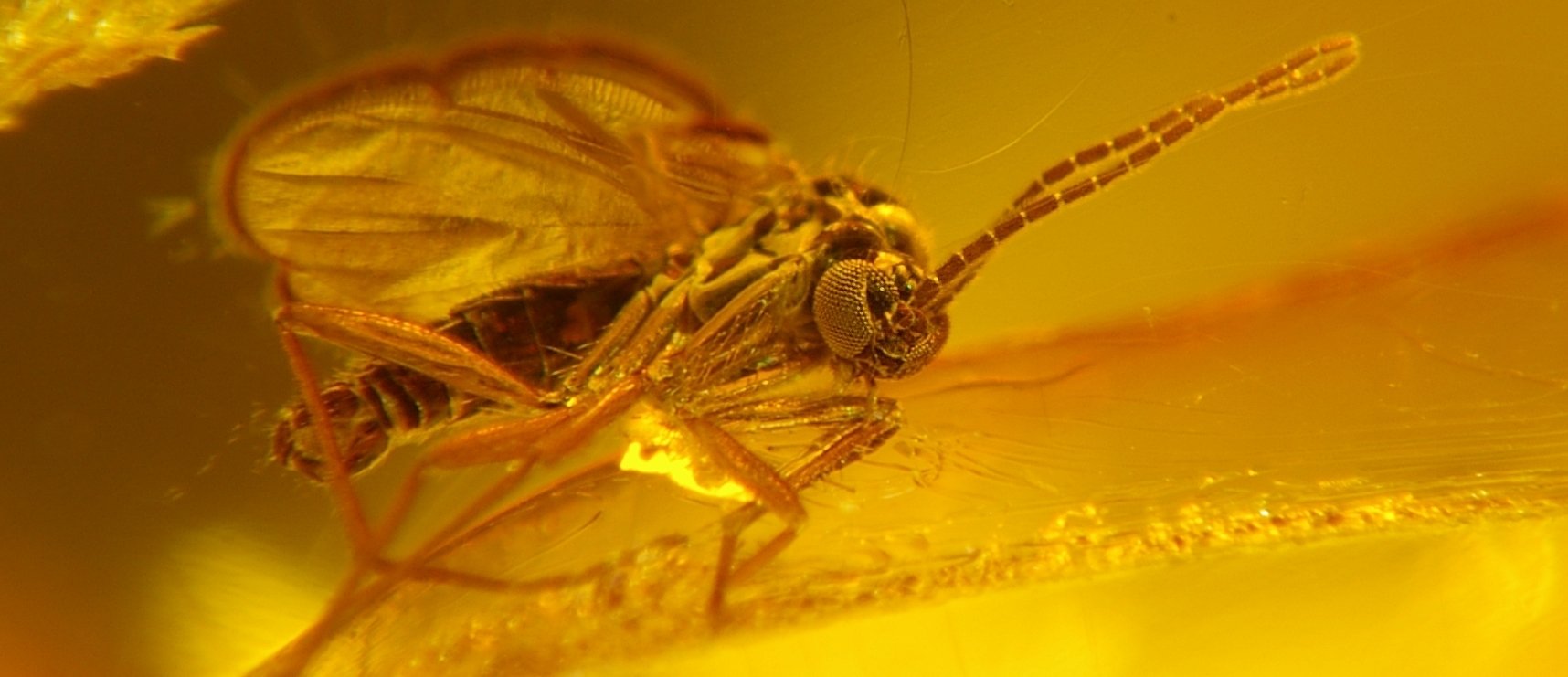 Where to buy and what to look for?
The heart of the Gdańsk amber market is the picturesque ul. Mariacka in the shadow of St. Mary's Basilica in Gdańsk which is lined with numerous stores and workshops. Keep an eye for at least one of the following through to ensure you are buying genuine Baltic Amber.
The Amber Chamber of Commerce (KIGB) certificate
There are only 10 places in the city which carry this certificate which guarantees that you will be buying genuine amber and that the gallery is an honest trader. It also guarantees that this trader will not tell you where NOT to buy and who has fake amber. The unwritten rule among the honest traders we spoke to, was an honest trader did not make accusations about others or tell his/her customers that only they sold genuine amber. Interesting.
International Amber Association's certificate (IAA)
This certificate guarantees the seller has been checked and deemed trustworthy and allowed to become a member of the International Amber Association.​​​​​
The Amber Passport

This is an initiative that was supported by the late-President of Gdańsk, Paweł Adamowicz. Conscious of the importance of amber to the local economy, the city created something called an Amber Passport which partner galleries should give to all buyers on request. The passport, with a reddish cover and patterned pages, looks like a genuine travel passport but instead of room for visas, there is room for your purchases to be recorded and stamped so that you can prove your amber is genuine. It also comes with some helpful tips on what to look for and explains the different types of amber.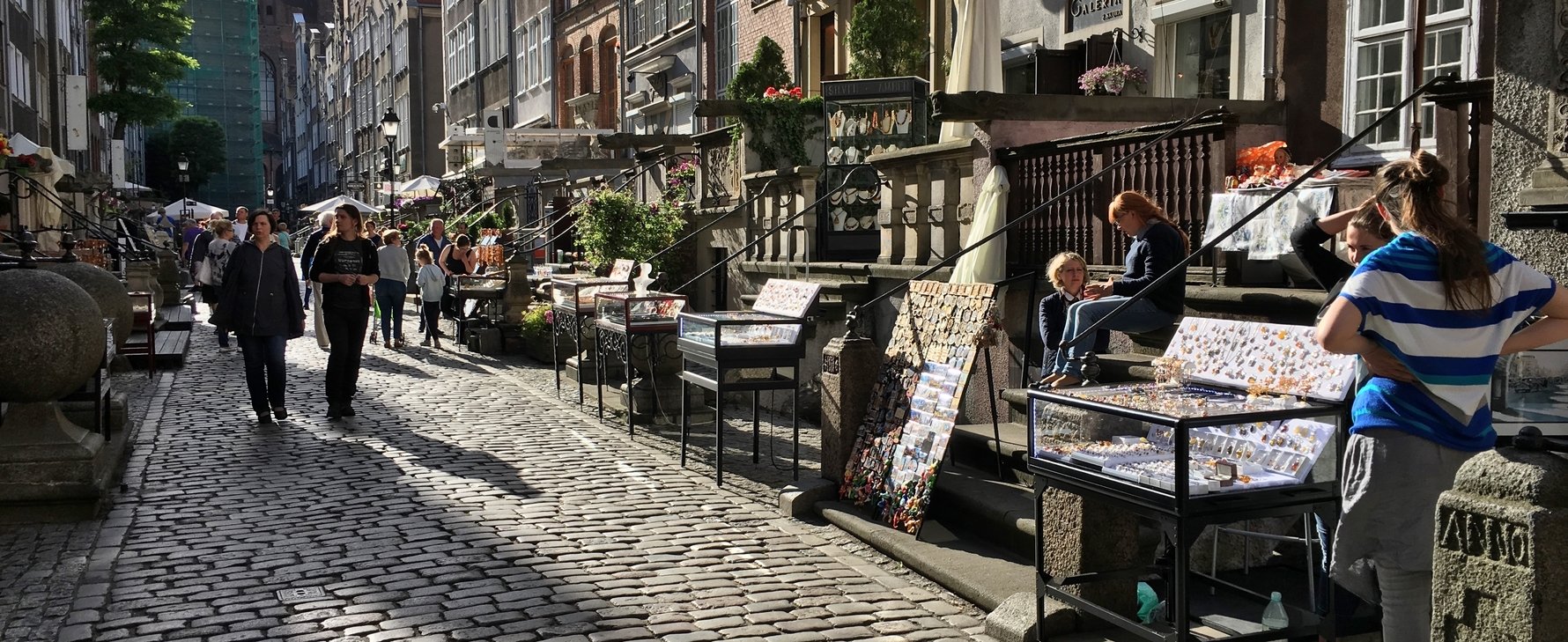 Coming to Gdańsk should be remembered with a souvenir which is unique to this part of the world. Amber is a beautiful stone and thanks to the craftsmen in the city, can be made into even more beautiful things. Just remember, as in all walks of life, not everything that shines is (Baltic) gold!