What is Kraków's unique culinary heritage and how has it evolved over time? What local foods and products contribute to the city's culinary profile, and what should foodies try to put on their palettes while they're in town? We take a fork and knife to these queries, culminating in our list of the most important regional food products to be aware of.
 
Gastronomists Discover a New Star on the Rise
Kraków's culinary profile has been steadily on the rise since Poland's communist era (with its state-run restaurants and dreadful suggested diet of milk soup and egg cutlets) came to a grateful close, allowing the local restaurant industry to develop alongside an increasing influx of tourism. This gradual transformation - from a city where 'going out to eat' was itself a foreign concept and quality customer service was virtually nonexistent, to one which today offers a diversity of world cuisines and authorial tasting menus from local master chefs - culminated in 2019 when Kraków became the first city bestowed the title 'European Capital of Gastronomic Culture.' The city won its first Michelin star the following year; in fact, Kraków's Bottiglieria 1881 is currently the only Michelin star restaurant in Poland, thanks to the COVID-19 pandemic torpedoing two starred restaurants in Warsaw (2021 was actually the first year Kraków had more restaurants in the Michelin guide than Warsaw).

Contemporary Polish Food Embraces Traditional Tastes & Methods
One specific trend in Kraków's more recent development into a world-class dining destination has been Polish chefs' reinvention of contemporary Polish cuisine by rediscovering local products and ingredients. Seeking a Polish culinary heritage other than pierogi, pickles and paint-stripping vodka, local gastronomes found one by going back to the age of royal banquets and feasting. In Kraków's historical Old Town, which looks and feels frozen in time, it even seems fitting that restaurants seeking to project courtly prestige today are exploring tastes and experimenting with recipes from the ancient past.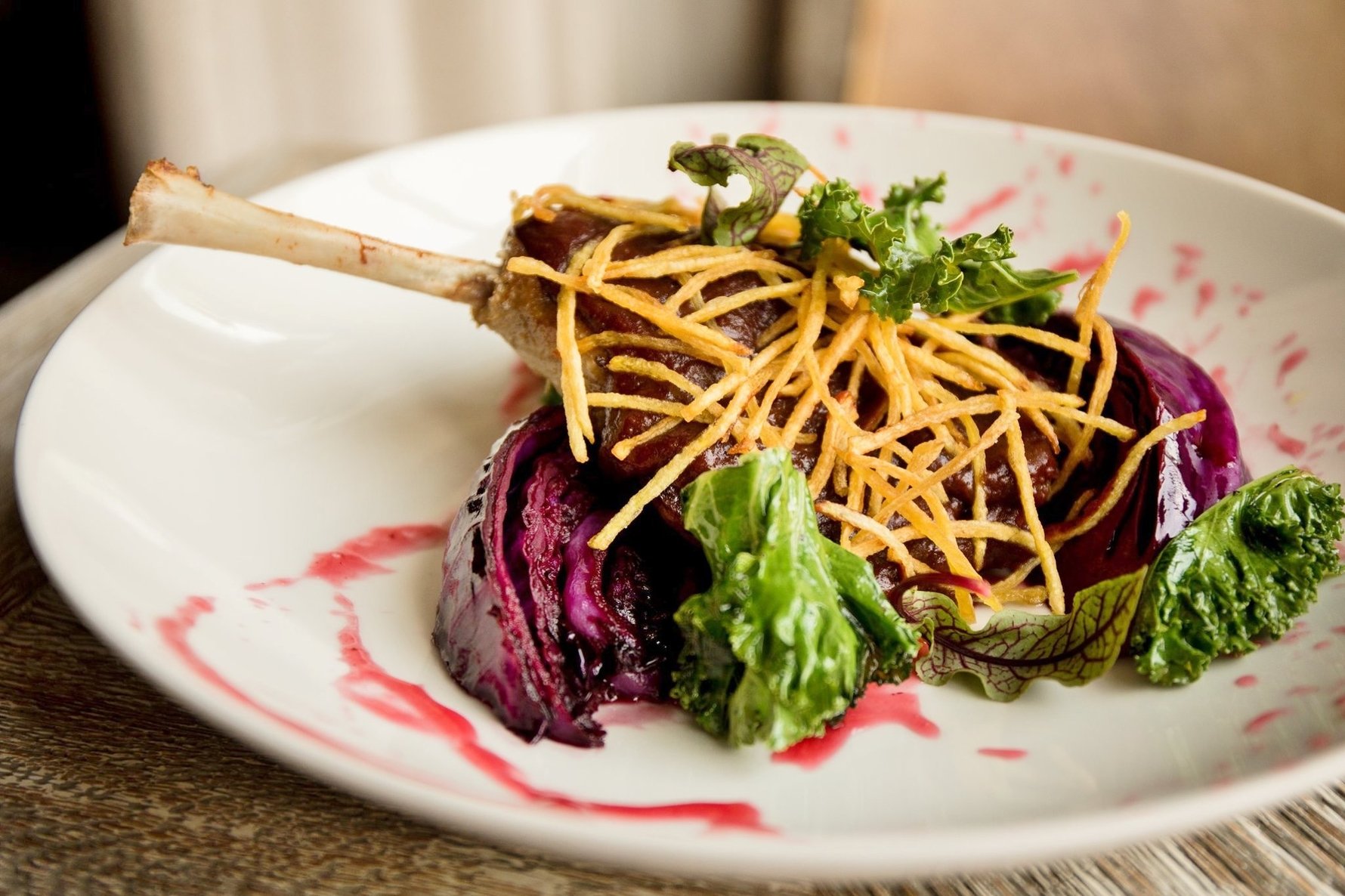 While most of the dishes commonly associated with Poland today are deeply rooted in the communist era, and generally considered to be bland and basic, Polish cuisine from the medieval era was rich, fatty and flavourful, consisting of seasonal vegetables grown in local gardens and wild game caught in local forests. Ironically, the contemporary trends of 'farm to table,' 'eat local,' 'eat seasonal,' 'slow food' and other current restaurant industry hashtags are really just a return to the Polish culinary traditions of centuries ago.
 
Kraków's Historical Open-air Markets Inspire Seasonal Menus
Kraków's top restaurateurs today might not have their own royal gardens and hunting grounds, but they do have access to Kraków's wonderful open-air produce markets - like the Parsley Market (Podgórze's weekly farmer's market) or the historic daily market in Kleparz - and take pride in patronising them to select locally grown fruits, vegetables, cheeses and meats from regional farms, rather than simply unpacking the Sysco delivery truck every morning.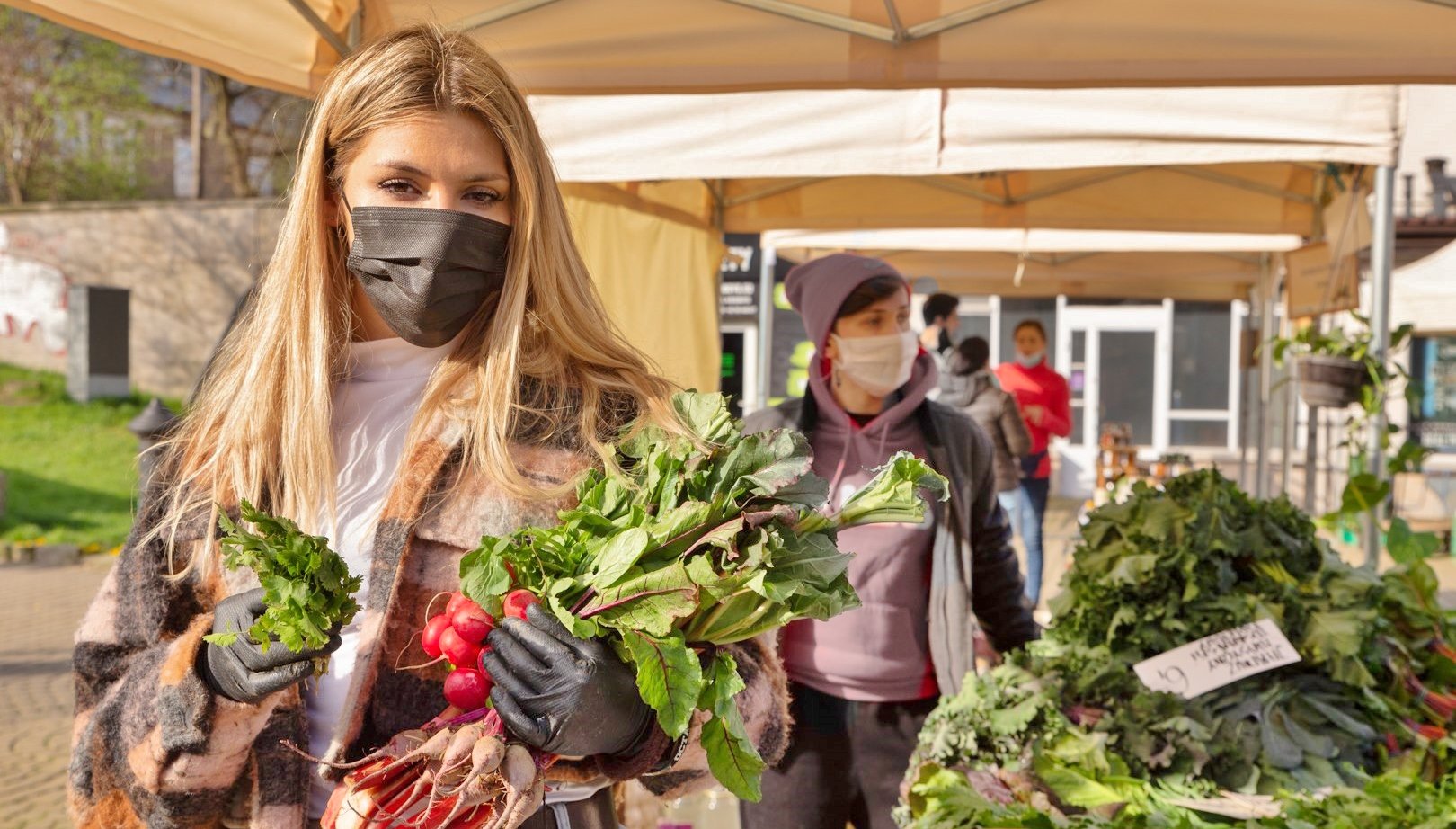 The tradition of certain regional foods and their availability in these markets directly influences the dishes offered on the menus of Kraków's top Polish restaurants. While potatoes and meat might still be the bedrock of Polish cuisine, the best restaurants change their menus regularly to incorporate seasonal delicacies: szczaw (sorrel) and botwina (beetroot greens) proudly herald the end of winter, szparagi (asparagus) gets its moment each May/June, followed by bób (broad beans), followed by kurki and borowiki (wild mushrooms) foraged from the forests in late summer/early autumn. Even the once-chided Polish tradition of pickling vegetables for the winter has earned reappraisal for its immuno-boosting health benefits (not to mention practicality) and 'gourmet' kiszonki (pickled veggies) are appearing on plates in upscale restaurants. Although the pandemic has had devastating effects on the restaurant industry, it has also reminded us of the importance of having access to and eating from local food sources. Plus those jars of pickled veg have never been more valuable.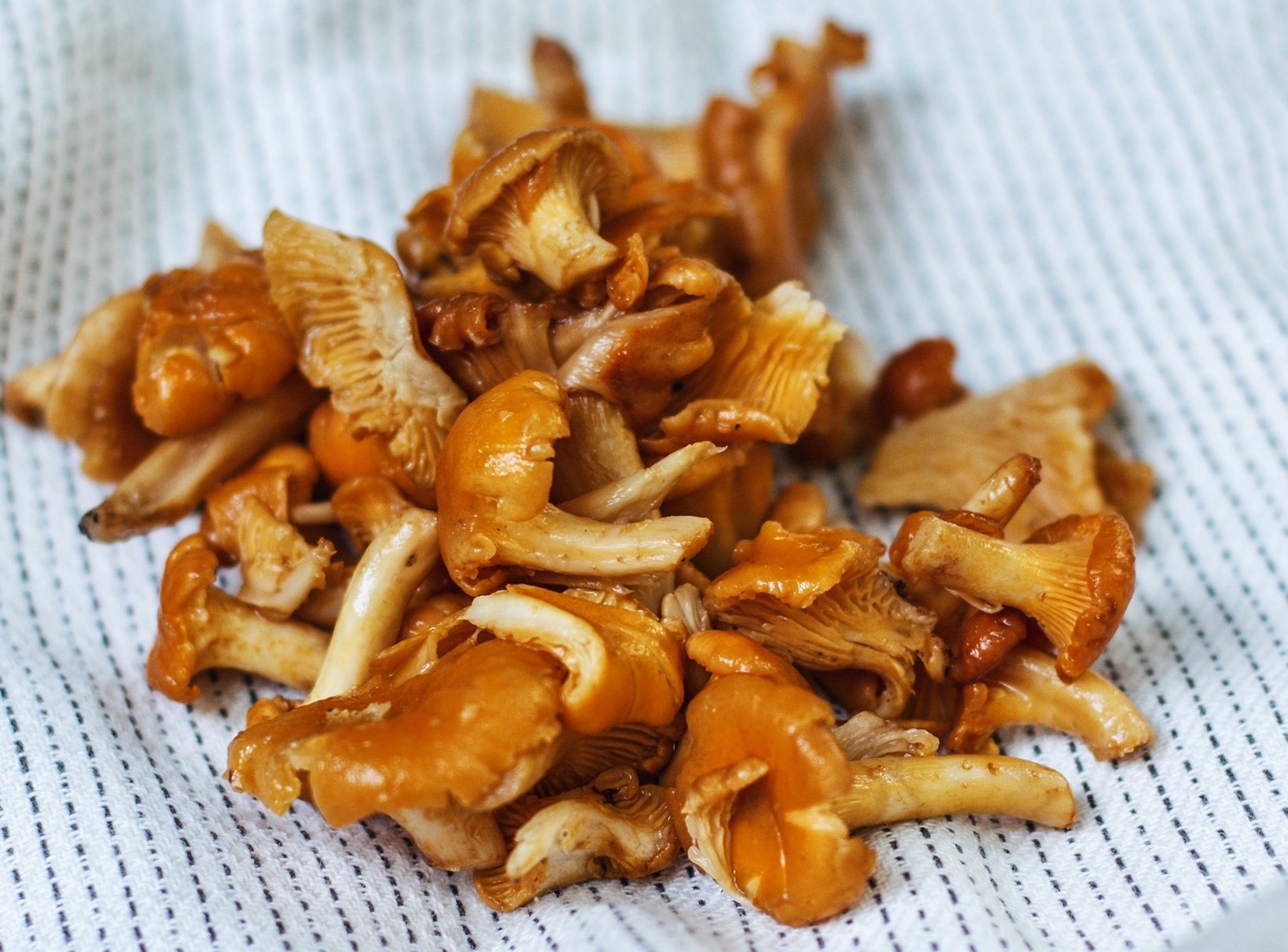 Protected Designation of Origin: Prestige for Local Products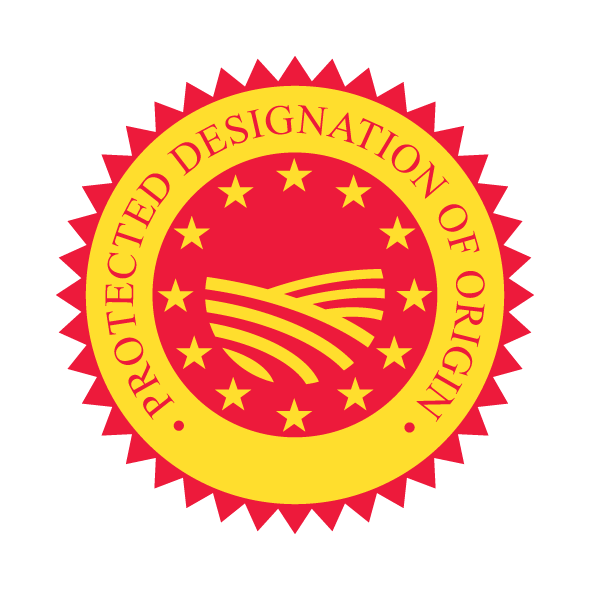 Poland's inclusion in the European Union (way back in 2004) has also inspired a new sense of pride in regional food products via the EU Protected Designation of Origin register, or PDO list (in Polish known as Chroniona Nazwa Pochodzenia, or CNP). Kind of like a UNESCO World Heritage List for foods, the PDO list aims to identify, praise, protect and promote unique products that have been made and developed in a specific geographical area. Inherent to the concept is that these products cannot be reproduced perfectly elsewhere without the particular conditions of their geographical origin, be it specific local ingredients, climatic conditions, the knowledge and experience of the local people, or a combination of such factors. Well-known products on the Protected Designation of Origin List include champagne and roquefort cheese, both originating in France, and both now protected by EU law. Though imitated internationally and considered by some to be a 'food type' rather than specific product, thanks to their entry on the PDO list you can't legally label a sparkling white wine as 'champagne' unless it was produced in the Champagne wine valley of France under very specific conditions; likewise, in order to legally be 'roquefort cheese' it must be aged in the caves of Mont Combalou in Roquefort-sur-Soulzon, France. Rather than debate the ethical and political ramifications, let alone the consequences of sanitary requirements imposed by regulating such products, let's simply skip ahead to Poland, and take a look at some of the noteworthy food products of the Kraków region, shall we?

When it comes to Polish food products on the PDO list, seven of the nine region-specific foods registered hail directly from Małopolska. Of these, three come directly from Kraków (obwarzanki, Prądnicki bread and kiełbasa krakowska), three are sheep cheese varieties from the mountains of Podhale just south of Kraków (see 'oscypek' below), and the last is carp cultivated to feed Cracovian nobles. Another four PDO products - kiełbasa, kabanos (both types of sausage), streuselkuchen (crumb cake) and miód pitny (mead) - are designated for all of Poland.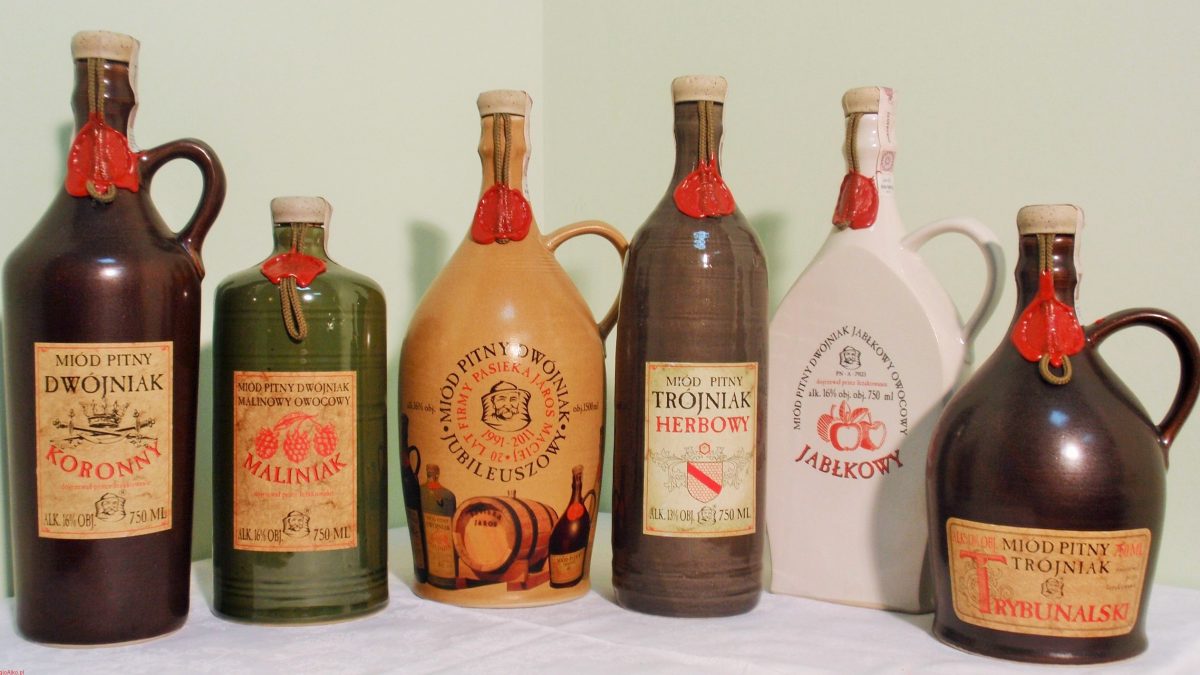 Regional Foods & Products You Should Try in Kraków
As residents of Kraków for the last twenty years, however, we don't really care about the PDO and are ready to put forth our own list of local foods that we most identify with Kraków and the surrounding region. If you intend to dine in any worthy Polish restaurants - whether traditional or modern - while in Kraków, you're very likely to come in contact with these local products of note. Accept no imitations.
1. Obwarzanki
We've certainly written about this one before, and we assume you've eaten your share (you filthy pigeon). No other food is as associated with Kraków as the obwarzanek, which has become a bona fide city icon, used in marketing campaigns promoting the city and even serves as a stand-in for the city itself. Sold cheaply from sidewalk food carts all over town, the obwarzanek is Kraków's first street food - a daily sight in the city for over 600 years, dating back to at least 1394!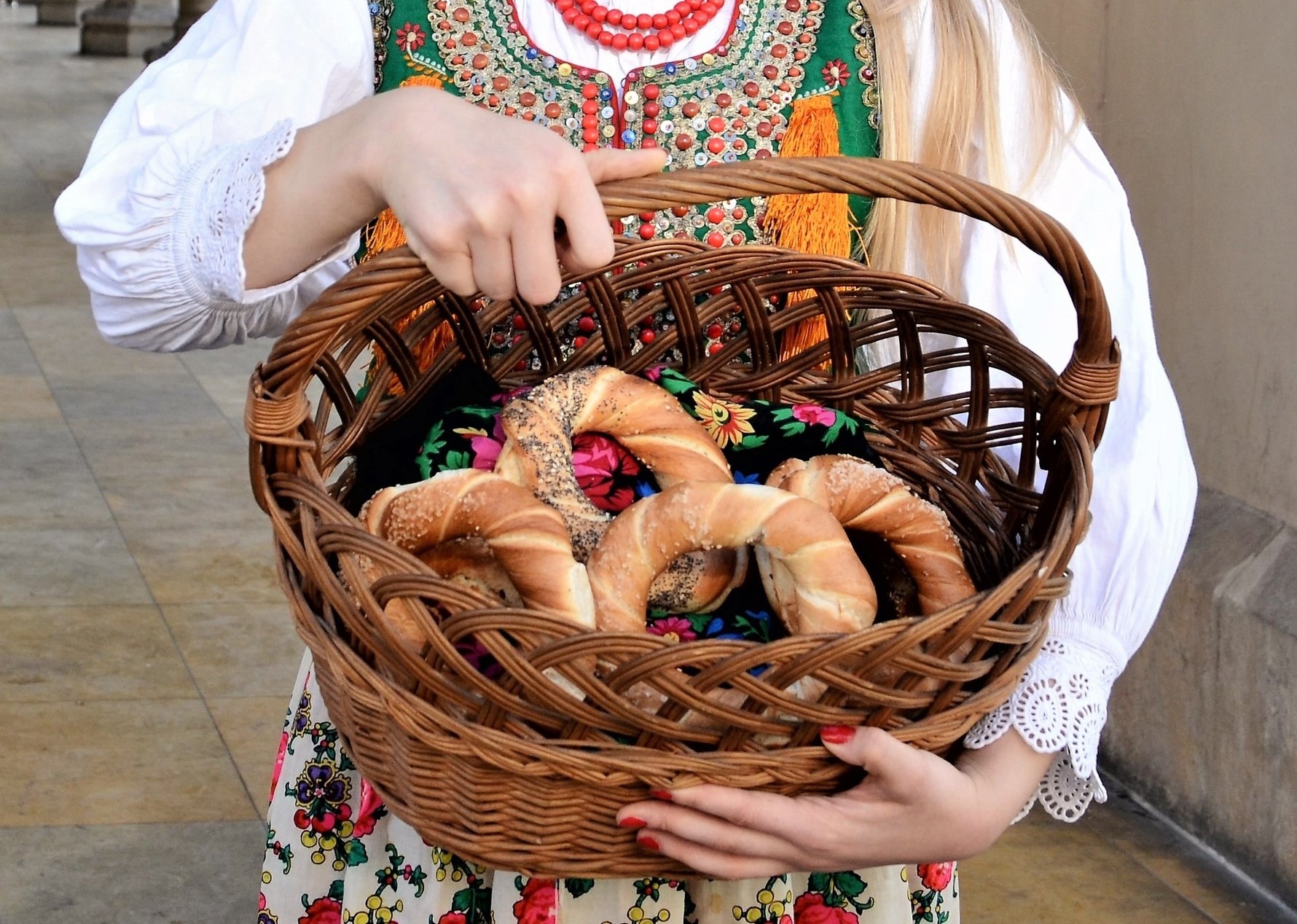 What is an obwarzanek? It's a bagel. Okay, okay, it's not a bagel, sheesh! Obwarzanki and bagels are extremely similar, however, which is hardly a surprise since both were invented in Kraków, and the latter was basically born as a kosher copy of the former (animal fat was used in ancient obwarzanki). Both sprinkled doughy rings get their crunchy outside and chewy inside from being parboiled, then baked. Obwarzanki differ from most bagels today by having larger holes, and by being composed of two dough rings braided together. Also, Cracovians are extremely proud of obwarzanki and have been stubbornly trying to prevent anyone else from making them since medieval times, while making no claim on the bagel (other than 'ours was first!'), which was basically kicked out of town and happily proliferated across the world in various styles. Hmm.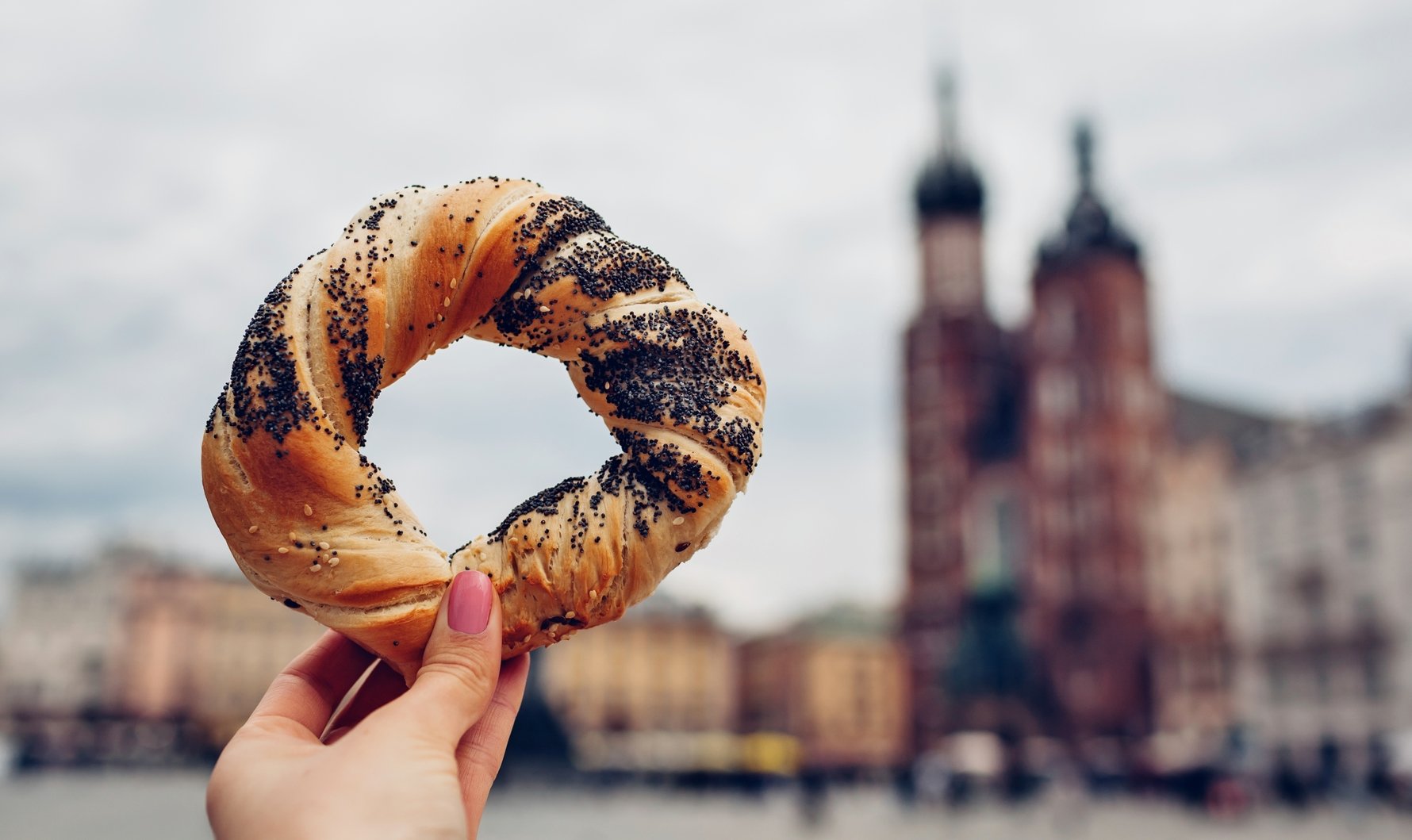 In fact, get this - most accept that bagels were invented by Cracovian Jews sometime in the late 1600s during a brief window between King Jan Sobieski lifting a (discriminatory?) 1496 law that gave the Kraków Bakers Guild exclusive rights to baking white bread, and even stricter regulations soon going back in place. It wasn't until 1849 that any local baker could get a license to bake obwarzanki. In 2010, 'obwarzanki krakowski' were added to the 'Protected Geographical Indication' list (a variation of the PDO list), thus essentially reinstating those old privilege-based laws. Today, true 'obwarzanki krakowski' can only be made in Kraków, and only by 8 licensed bakeries at a time. Look for the PGI symbol and pay attention to the wording on Polish signs and menus; if you encounter the identical 'precel krakowski' (Kraków Pretzel) or 'bajgiel krakowski' (Kraków Bagel) - and you will - you'll know that it's been made by one of dozens of other local bakeries unlicensed to use the official 'obwarzanek' name. Does that mean it's a cheap knock-off? No, bagels are the cheap knock-offs, remember? Go ahead and eat your crummy bagels, World. We've got our own, and you can only have one if you visit.
 
2. Oscypek
This one runs the risk of being disqualified on a technicality, but given its availability, popularity and vicarious association with Kraków, we couldn't leave it out. Oscypek is a smoked cheese made from salted sheep milk, pressed into wooden forms to give it a decorative shape. It has a smoky, salty flavour and almost rubbery, teeth-squeaking texture. Since at least the 15th century, this traditional highlander cheese has been made by shepherds in the mountainous Podhale region of Małopolska, just south of Kraków. Protected with PDO status since 2008, true 'oscypek' is made exclusively in the Tatra Mountains using traditional equipment and techniques; uncertified oscypek sellers are usually forced to call their cheese 'ser goralski' (highlander cheese), 'ser gazdowski' (farmer cheese) or sometimes you'll see sellers drop the 'os' and sell it as simply 'cypki.' Again, does that mean you're getting some kind of pale imitation if you buy your mountain cheese from a granny outside the Kraków train station, or from one of the city's outdoor markets or food fairs? Not in our opinion, though quality can certainly vary.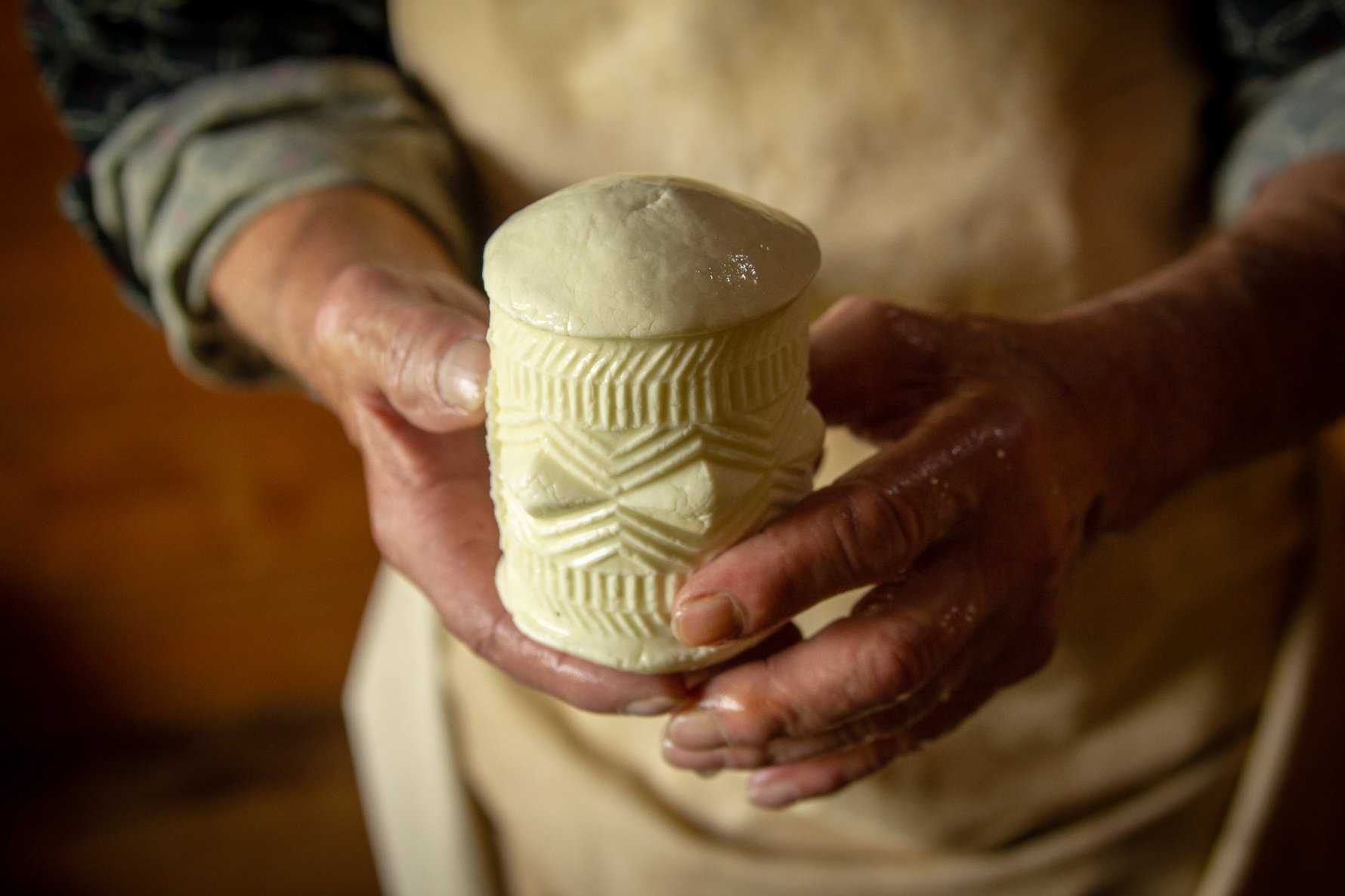 The fact is, oscypek comes in many different varieties, including smoked or unsmoked, and with varying percentages of sheep milk. The decorative forms used also ensure it looks different from different sellers. There is an entire portfolio of artisanal cheese variations made by shepherds in the Tatra Mountains - redykołka (small, decorative sheep cheese) and bryndza (soft cheese from sheep milk) are two others enshrined on the PDO list. While quite similar, all of these cheeses are slightly nuanced, so if you find a weather-creased highlander with a basket of choices, go wild and try a few.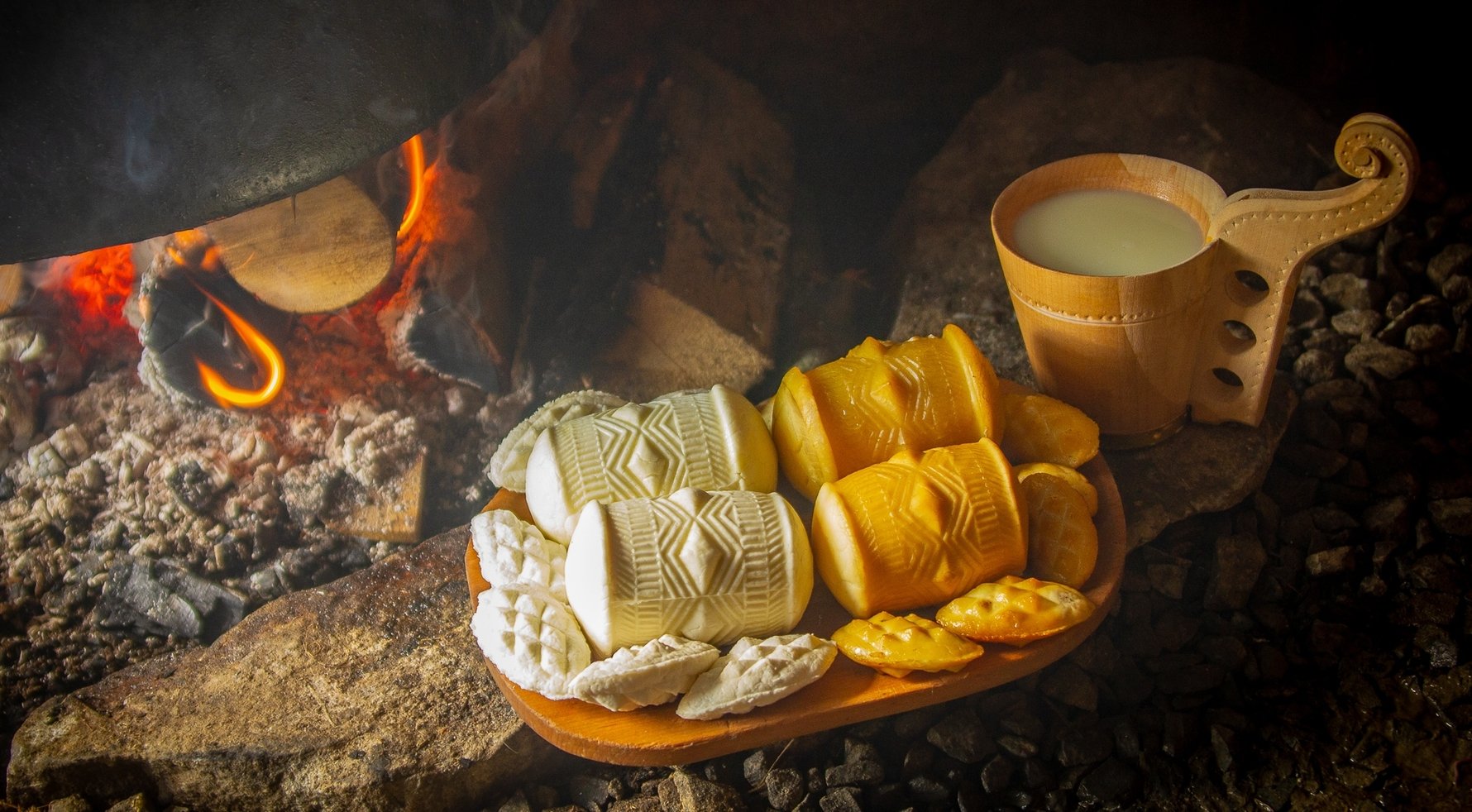 Typically sold in larger spindle-shaped blocks, oscypek is most delicious when smaller pieces (looking a bit like spiky rugby balls) are grilled and served warm with cranberry sauce. You'll find it served as a street food in this way at Koliba (ul. Szewska 4), and many Kraków food fairs. You can also order it as a warm appetiser from most traditional Polish restaurants.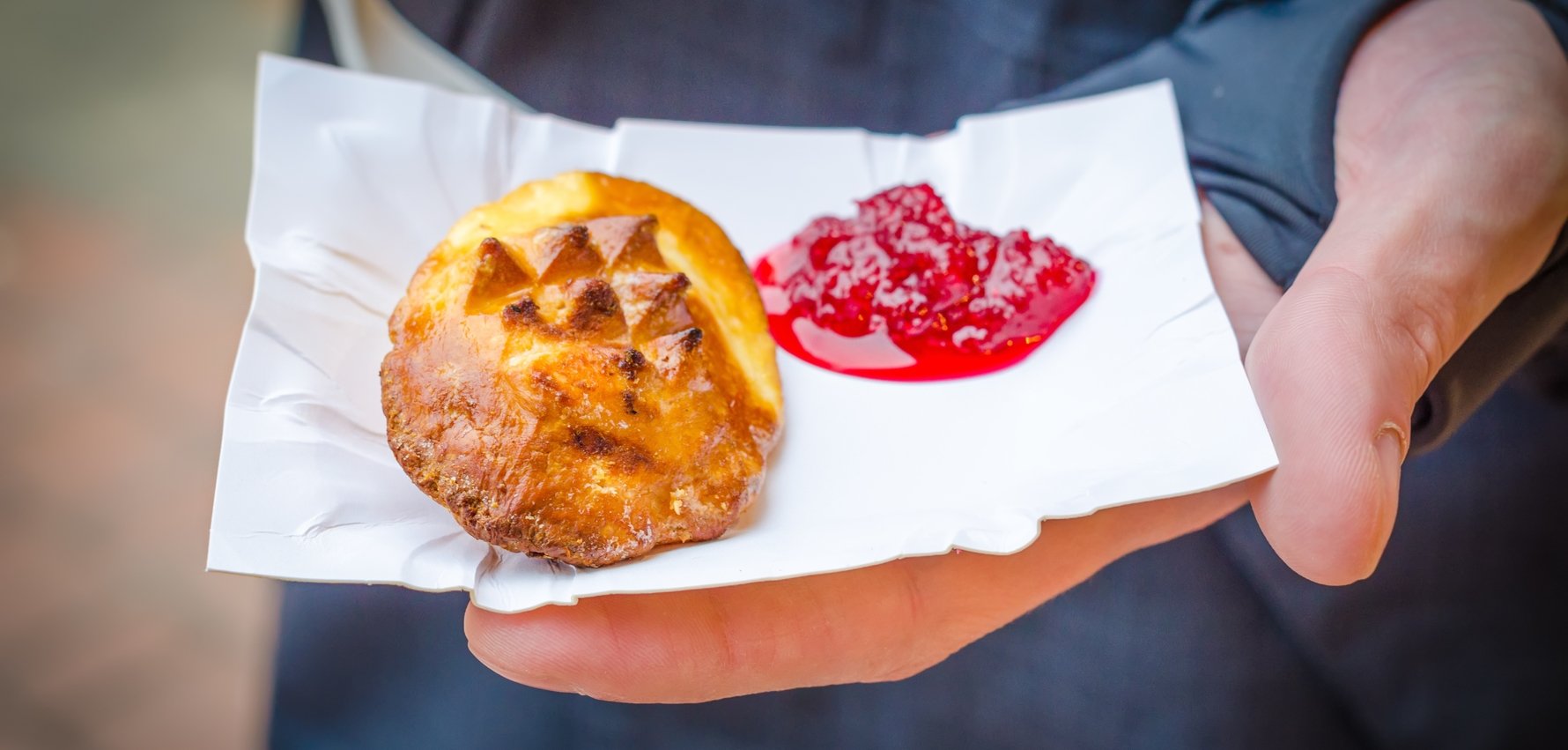 3. Maczanka
Also called 'maczanka krakowska' or 'maczanka po krakowsku,' this is one of Kraków's most unique, city-specific foods, though there is no strict tradition (or law) governing how it should be served. The dish consists of marinated pork neck, slowly baked and served in a thick caraway and onion sauce, with crusty bread and pickles. While its origins are a bit lost in the sauce, a consensus claim seems to be that maczanka was most popular in the Galician days of the late-18th and 19th centuries, when it was apparently the go-to meal of poor students and horse-carriage drivers on the go. That second part is a bit easier to imagine in its modern incarnation as a street food, but our general understanding is that maczanka was traditionally served in a shallow bowl over bread, or with a roll for dipping in the sauce. In recent years maczanka has been winningly revived as a local rival to hamburgers and pulled pork sandwiches. Leading this charge is the Andrus food truck on Kazimierz's Plac Judah, which specialises in maczanki served as massive sandwiches, dripping with different toppings and sauces. We are one hundred percent on-board with this obscene modern version, but you'll also find maczanka as an affordable item on local restaurant menus - some incorporating obwarzanki, and each the unique interpretation of the chef in the kitchen.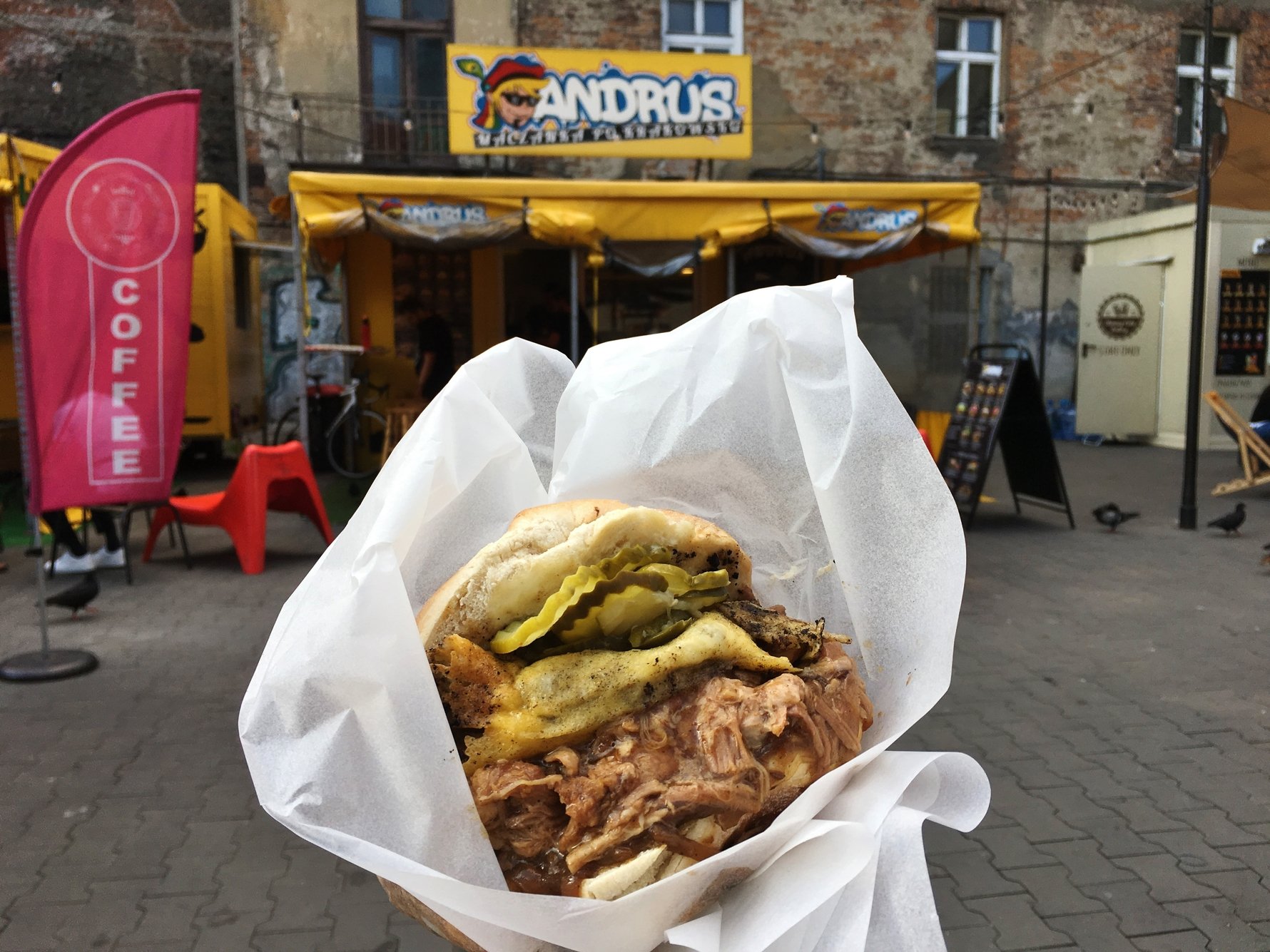 4. Trout from Ojców
In the interwar period, a brown trout farm was established on Duchess Ludwika Czartoryska's land, smack dab in the middle of Ojców National Park - just 20km north of Kraków. Nationalised during the communist era, in 2014 the mother-daughter team of Magda Węgiel and Agnieszka Sendor revived the picturesque little fishery as 'Pstrąg Ojcowski,' and it has been winning awards and gaining acclaim as a culinary brand ever since. Thanks to the beautiful natural microclimate, crystal clear waters, and traditional methods used, Ojców trout has become prized by prominent local chefs and is served in some of Kraków's most exclusive restaurants.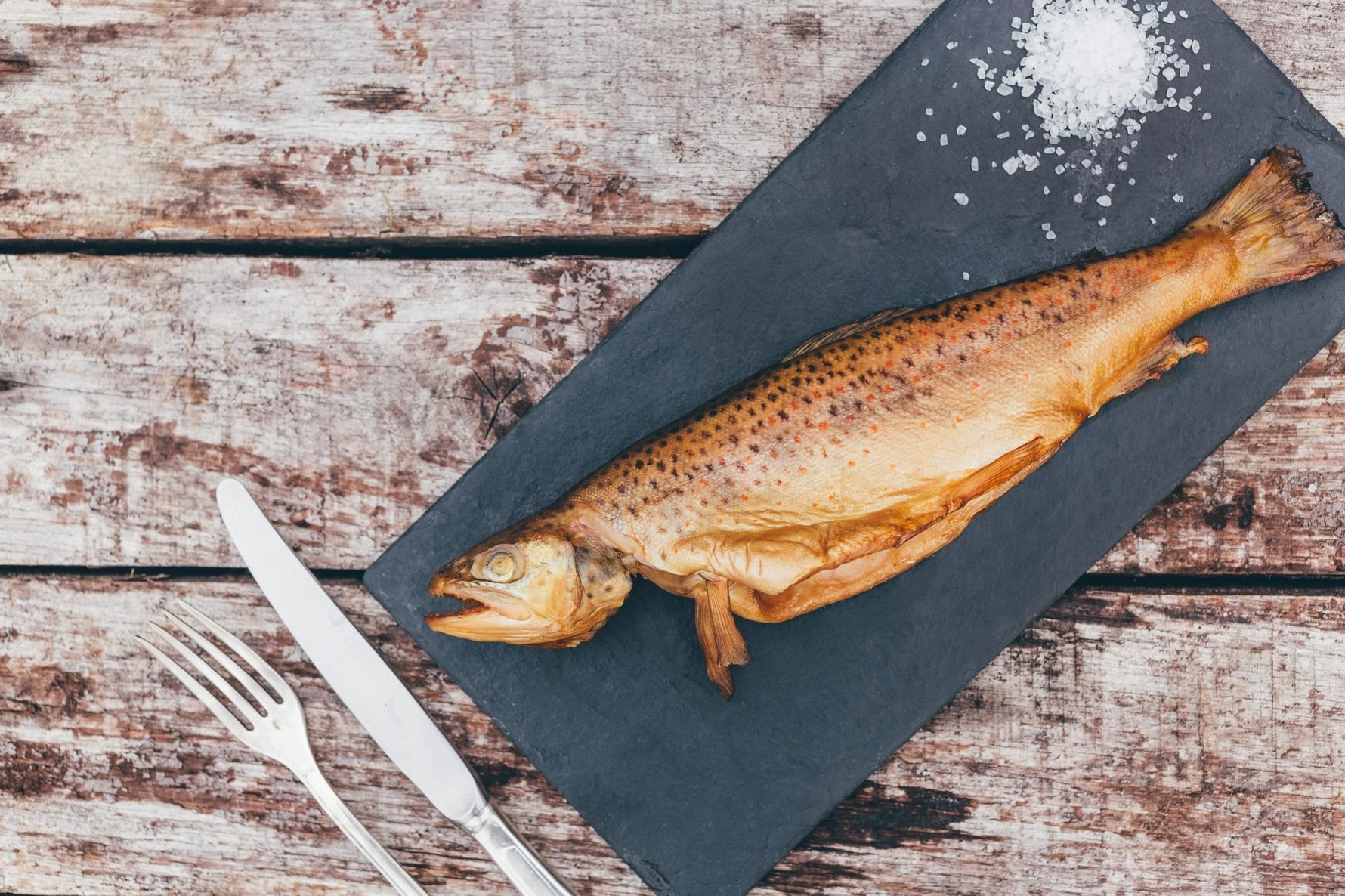 What's more, if you don't find it on your menu you can head straight to the source. The farm has been developed into the perfect place to stop and rest or refuel while exploring the beautiful craggy landscapes of Ojców National Park, thanks to a food truck serving their fresh trout, and a large outdoor picnic area with plenty of seating. Trout is served as a whole fish (32zł) - smoked with beech wood, or grilled with herbs - and they also serve local wines, water, juice and craft beer.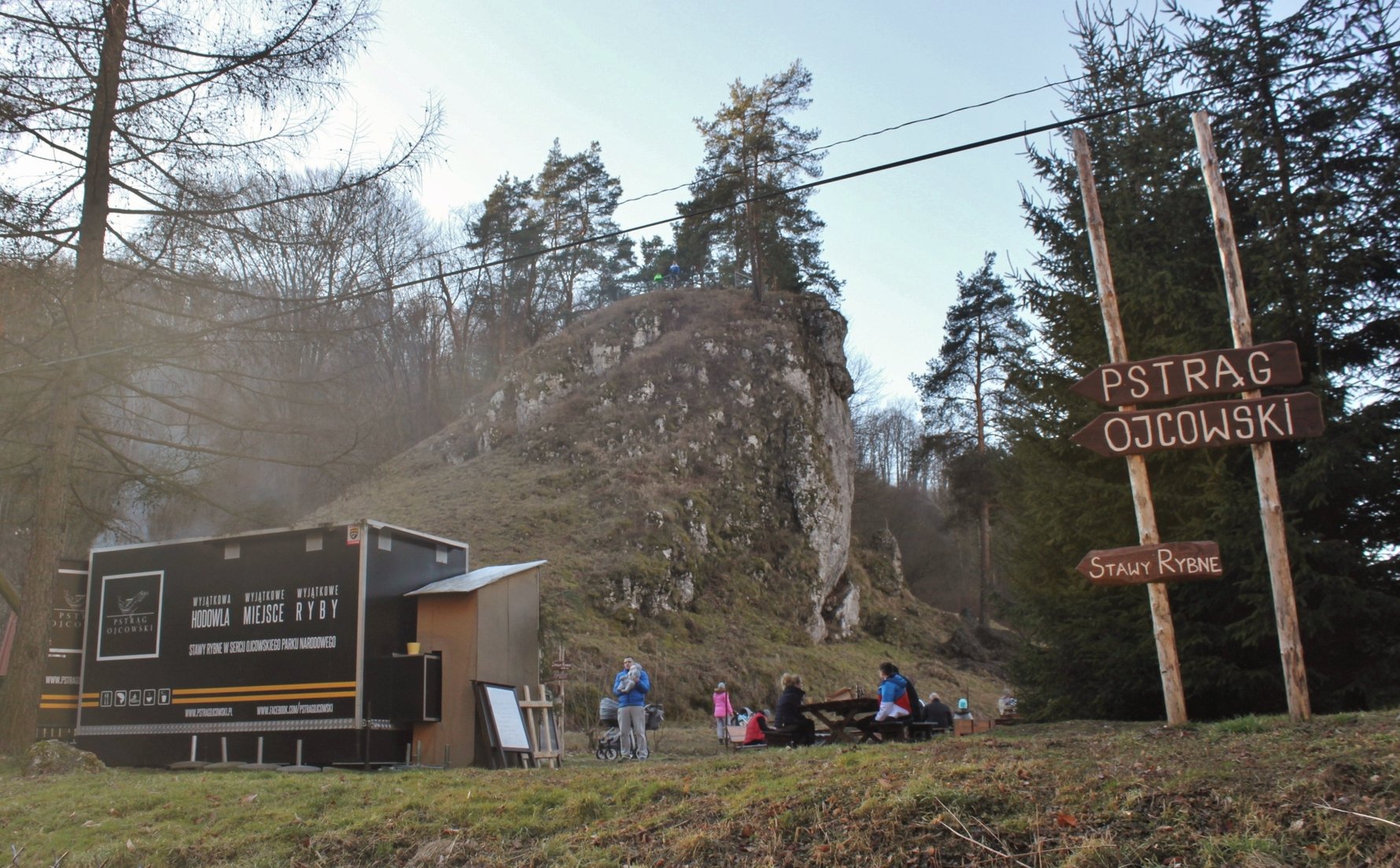 5. Carp from Zator
Today associated almost exclusively with Christmas, carp used to be incredibly popular in Poland and eaten year-round, but particularly during times of religious fasting. The most famous Polish breed of carp is the 'karp królewski,' also known as 'karp zatorski,' or royal carp from Zator. Just 45km west of Kraków, the area today known as Małopolska's 'Carp Valley' features over 1100 fish ponds established in the 1200s that supplied the tables of the royal court and nobility in Kraków for hundreds of years. As it once was by the kings themselves, royal carp from Zator is still appreciated today for its high quality, owing to natural feeding and breeding techniques that date back to medieval times, and earned it PDO status in 2011.

These days most Poles only prepare carp for Christmas Eve, when an astounding 200 tonnes of carp from Zator are consumed for the holidays. While most Poles bread and fry the fish today, historical recipe books show that carp was once served on Polish tables in an astoundingly wide variety of ways over the centuries - from fish balls to carp pate - and every part was valued, including the roe and even the tongue. Although carp is not the 'king of freshwater fish' it once was with today's foodies, some brave chefs are bringing these ancient recipes back and returning carp to the tables of top restaurants. At the very least, you'll find some intriguing interpretations of how to serve this flavourful fish on holiday menus.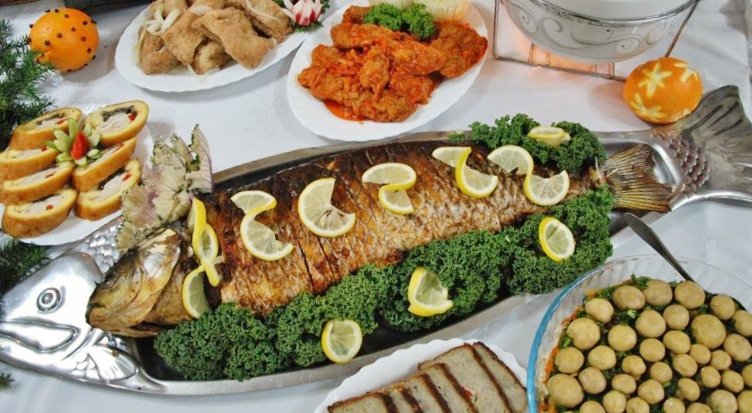 This one is so obvious and ubiquitous, you may not have even thought of it. Kitchen salt has become such a basic and essential ingredient in modern times that it's easy to forget the enormous prestige and importance salt had in the Middle Ages, when it was used not just to flavour and preserve food, but even sometimes substituted for currency (that's where the expression 'worth its salt' comes from, okay, you knew that).

The Wieliczka Salt Mine, just 15km from Kraków, is probably the most famous salt mine in the world, and inherently tied to the history of Kraków and Poland itself. As visitors continue to flock to one of the world's oldest tourist attractions, it's easy to forget that Wieliczka salt is still the number one table salt for all of Poland. The stuff is so ubiquitous that no one is describing it with purple prose on their menus (yet!), but it still flavours almost everything cooked in this country; to use some other kitchen salt would rightfully cause a scandal. In addition to the basic table salt available in every shop in town, flavoured varieties are available from the Wieliczka website, and make a pretty great local souvenir.