"Local is lekker (good)" as they say and we love supporting and promoting homegrown brands. From beautiful homeware pieces and statement T-shirts to the finest artisanal food and drink, here's our always-evolving guide to fantastic Joburg gifts made by local, small businesses.
JOBURG TOURS AND EXPERIENCES
Joburg is full of interesting things to see and do, and the best way to experience the city is with a local tour guide leading the way. Book a Joburg walking or cycling tour or City Centre immersive storytelling experience for a friend; you're not only giving an extra-unique gift but supporting a small business. Check out some of our favourite tour guides and companies below, and see their websites for availability of specific tours that you can book as a gift or join yourself.

JoburgPlaces runs guided walking tours and experiences that focus on the City Centre and storytelling – sharing entertaining tales of Joburg's gold-rush origins, its glory days, its eventual spectacular decline, and the fascinating story of the city's rebirth during the past decade. Joburg 360 Tours offers a variety of guided walking tours that explore the historic neighbourhoods of Newtown, Troyeville, Marshalltown and Braamfontein, with a focus on the larger-than-life characters who shaped them. If you enjoy cycling, consider one of MicroAdventures graffiti cycle tours, or book a Soweto cycling experience with the excellent Lebo's Soweto Bicycle Tours. Another favourite is the Johannesburg Heritage Foundation, an advocacy organisation that lobbies for the protection of Joburg's historical buildings and runs a diverse range of walking and bus tours, led by local heritage specialists, that focus on the city's history and architecture. The Johannesburg Heritage Foundation offers an annual membership package that provides preferential rates on all tours, as well as invites to exclusive events. Booking a tour or buying a membership would make for a special gift; look out for discounted membership rates, offered during the festive season.
FOOD AND DRINK
Locally roasted coffee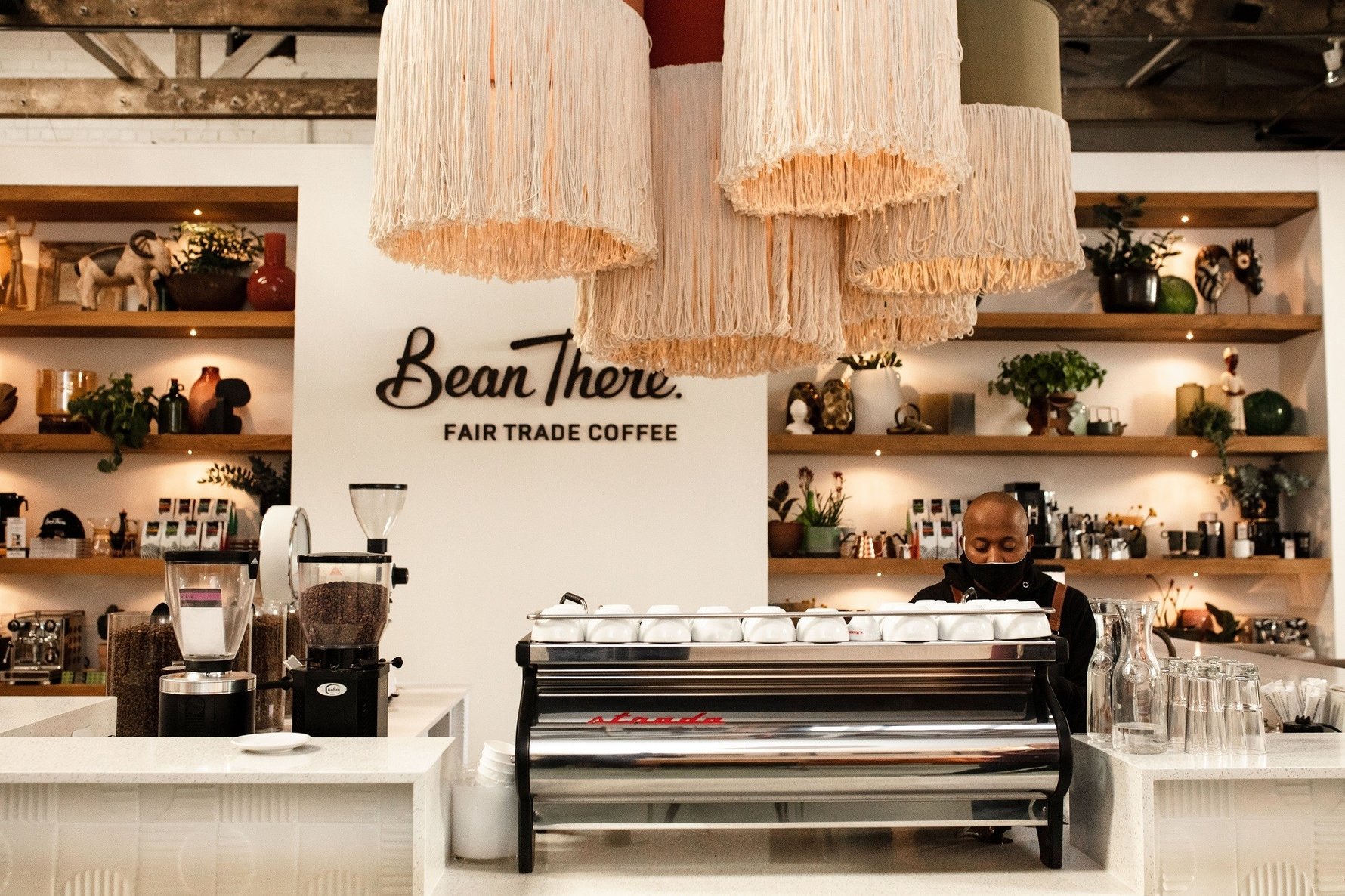 In Joburg, coffee is not just a drink, it's a lifestyle and the city has an incredible range of independent coffee roasteries making unique blends to choose from, packaged as beans or grounds for the perfect gift. One of the very first Fair Trade coffee roasteries to open in Joburg is Bean There, whose coffee shop at 44 Stanley is a lovely place to sit and savour the heavenly smell of roasting beans while enjoying the finest cup of coffee, then perusing the curated shelves. Other favourites include Coffefe coffee bar in Birdhaven, Double Shot Coffee and Tea, who also make excellent organic tea blends and small-batch flavoured syrup, Father Coffee for their neatly packaged signature blends, the super friendly Craft Coffee, who have a branch in Parktown North, and Motherland Coffee Company who have several Joburg branches. Or find your way to Melville's Tilt Coffee and buy their signature blend of coffee beans in a reusable Tilt jar which you can bring back to refill or stock up on their organic raw African honey. Both make excellent and easy gifts or are perfect for a collection of other smaller treats and presents.
Joburg craft gins and spirits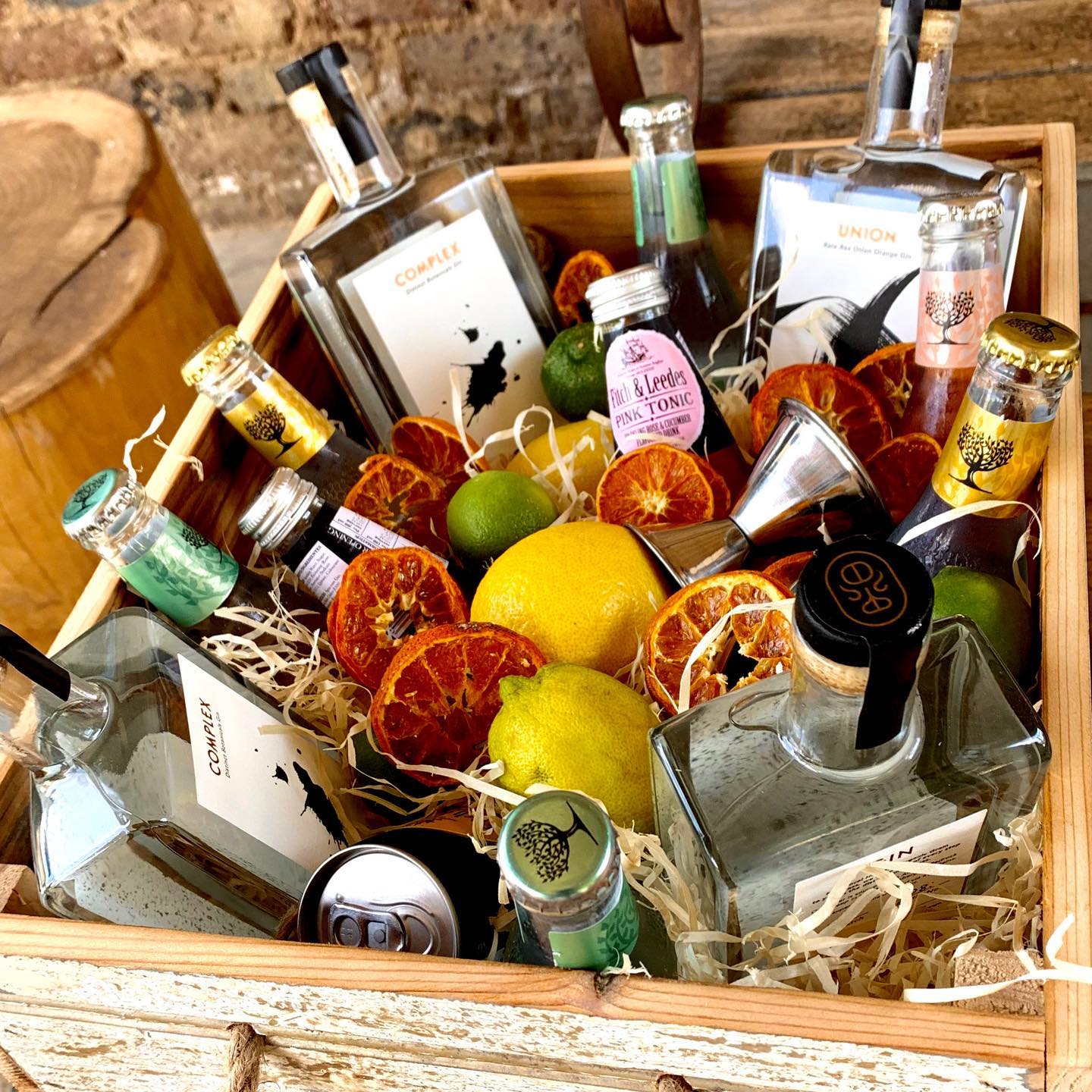 Among our favourite Joburg craft gin labels is Time Anchor Distillery, whose colourful Mirari range magically changes colour when you add tonic. Their online shop also stocks a special gift range, where you can mix and match small bottles of a variety of flavours. Primal Spirits, who have a distillery at Victoria Yards, have a beautiful range of craft gins, including a neat little Taster Box containing small bottles of each of their four signature products, while 1 Fox Precinct's craft gin distillery Ginologist is always a crowd-pleaser. Check out our guide to Joburg's craft spirits and cocktails scene for more inspiration, including additional local gin labels, as well as other locally made artisanal spirits such as Leonista, a mezcal-like libation made from agave harvested in the Karoo, and Tapanga Rum, who brew their amber rum from sugarcane grown in KwaZulu-Natal. 

DEPARTMENT STORES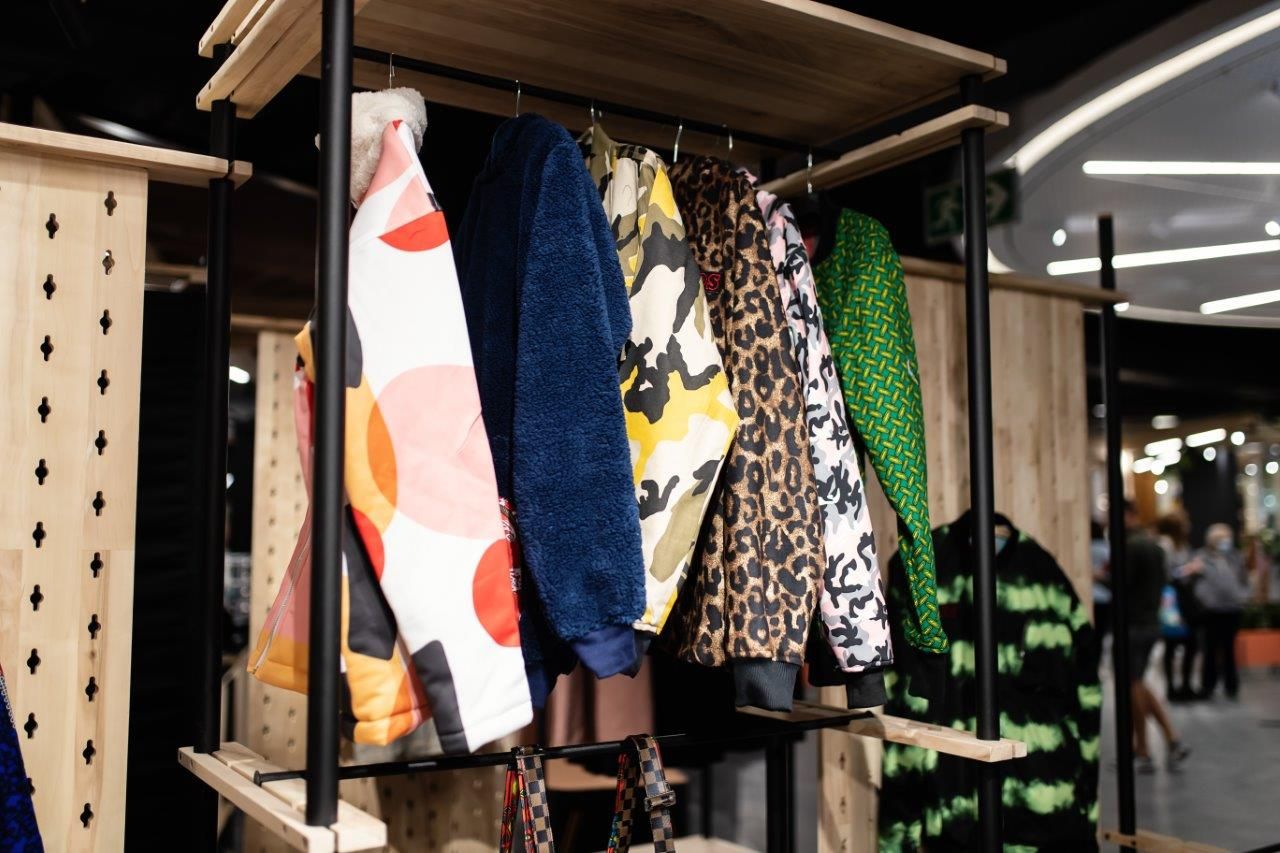 Shop local all in one place at SOKO District at Rosebank Mall which is a unique take on a local department store, showcasing vibrant and youthful brands in a creative and engaging space offering rental flexibility. The name "Soko" is a Swahili word for a market – perfect for a store that mixes clothing, homeware and accessory brands with great coffee and artisanal food brands. Be sure to head over to The Zone@Rosebank and find local and imported luxuries for that person who has an eye for the finer things at We are EGG, a next-generation store focused as much on customer experience as on spotlighting a community of local and global creators. You'll find a dizzying array of more than 180 brands in fashion, beauty, sneakers and soles, jewellery, food and wellness, accessories, home and gifting, plus customisation and services, all under one roof. 
GLORIOUS GOODS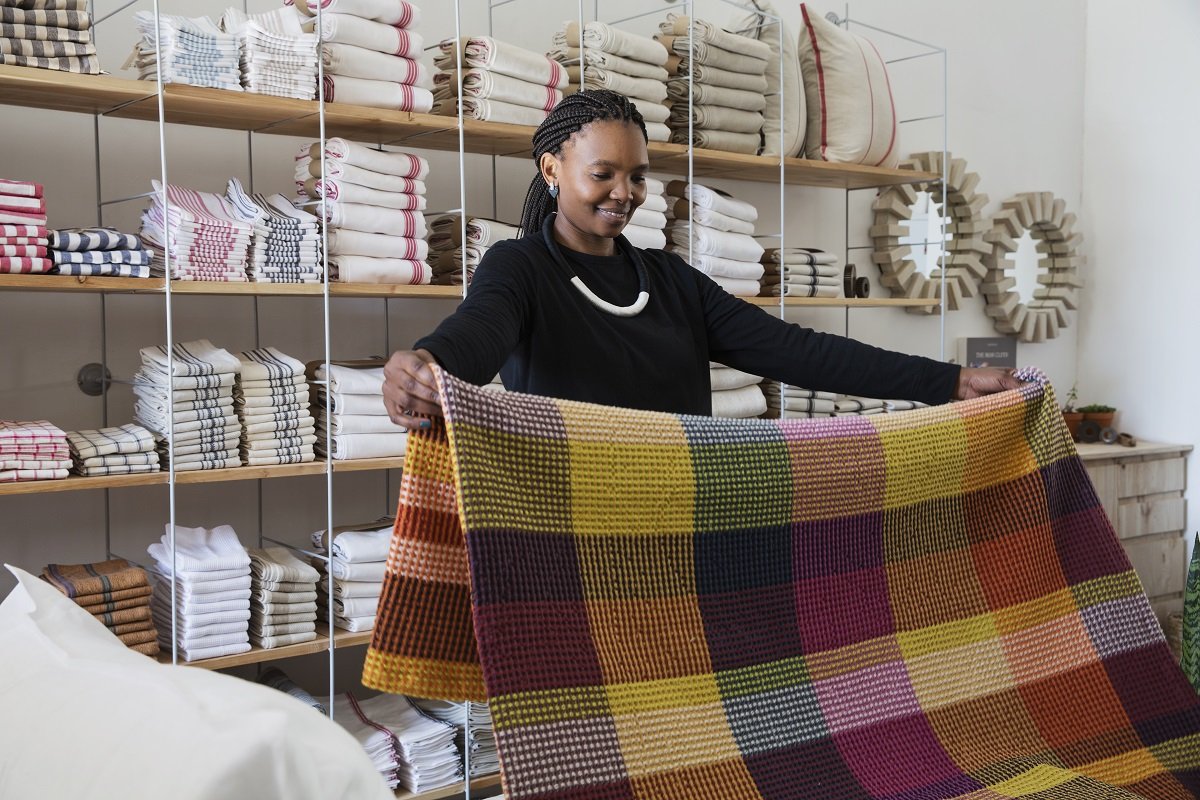 Started by Master Weaver Stuart Holding in 1998, Mungo Designs features an exquisite range of natural fibre-woven textiles, all locally milled in Plettenberg Bay, making great gifts loved for their balance of contemporary design and traditional weaving techniques. Passionate about preserving the traditional art of weaving, everything is made using only repurposed and antique looms. You'll struggle to find more beautiful blankets, throws and 100% linen bedding and bedcovers than those made by Mungo. The label is also renowned for their signature flat-weave towels which come in a range of geometric designs. For taking to the beach the light kikoi-style towels, available in a variety of colours, are super versatile and can double as a sarong, picnic blanket, dress or headwrap.​​​​Visit the Mungo Designs showroom at 44 Stanley to browse the latest collections in person.
Authentic African artefacts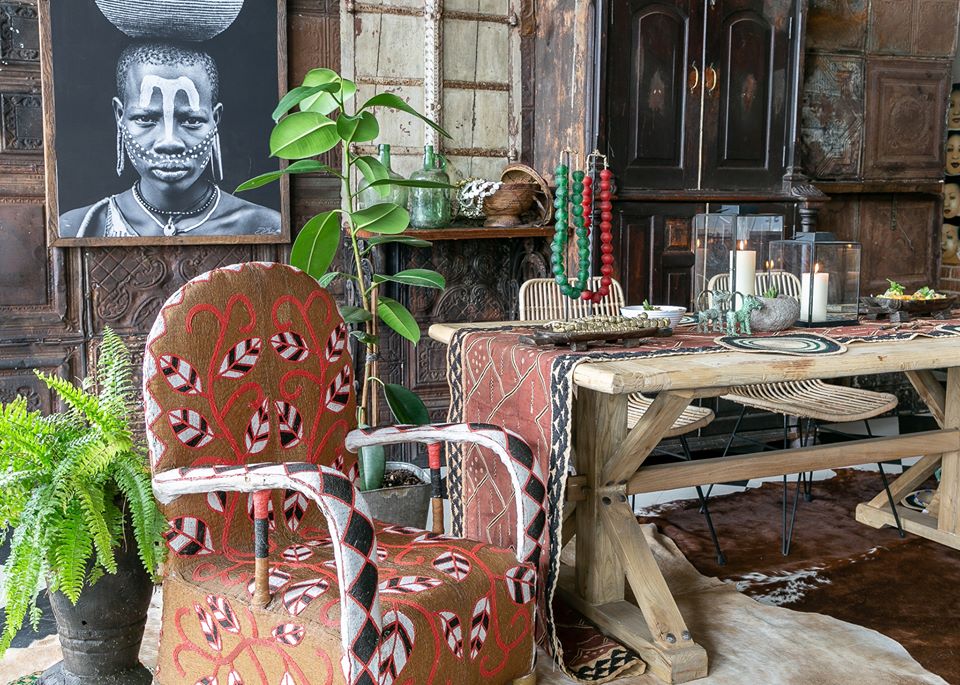 Amatuli Artefacts are long-established suppliers of unique and original African artefacts and objets d'art. This awe-inspiring showroom is filled with collectable items such as central African Kuba cloths, handpainted West African barbershop signs, Zanzibari doors and Yoruba beaded chairs among many other items of curiosity. There are beads and basketry, beautiful fabrics and so much more plus treasures from plenty of other destinations including Morocco and India. Visit the stunning Amatuli Artefacts showroom at 6 Desmond Street, Kramerville, and stop at Razor Charlie Eatery next door for breakfast, lunch or coffee after you shop. If its more proudly African-made trinkets and collectables you're after then head to Victoria Yards where you'll find Art of the Continent, a store filled with accessories and home décor from across Africa, primarily from West Africa. It's a great place to find elegant, traditional items for the home such as beaded figurines, Malian mud-cloth cushions and colourful, hand-woven baskets; they would make great housewarming gifts! Go on a free artisan tour while you're there and find unique makers and pieces. Or make your way to Rosebank and visit The Trov, a home for the sale of authentic African art and artefacts; the spacious showroom is both a gallery and retail space (also aimed at the wholesale trade) filled with pieces that tell stories of Africa and its people. From Tuareg curtains to wooden Mokoro boats and beaded sculptures, there's plenty to browse (and of course buy). 
Contemporary handmade ceramics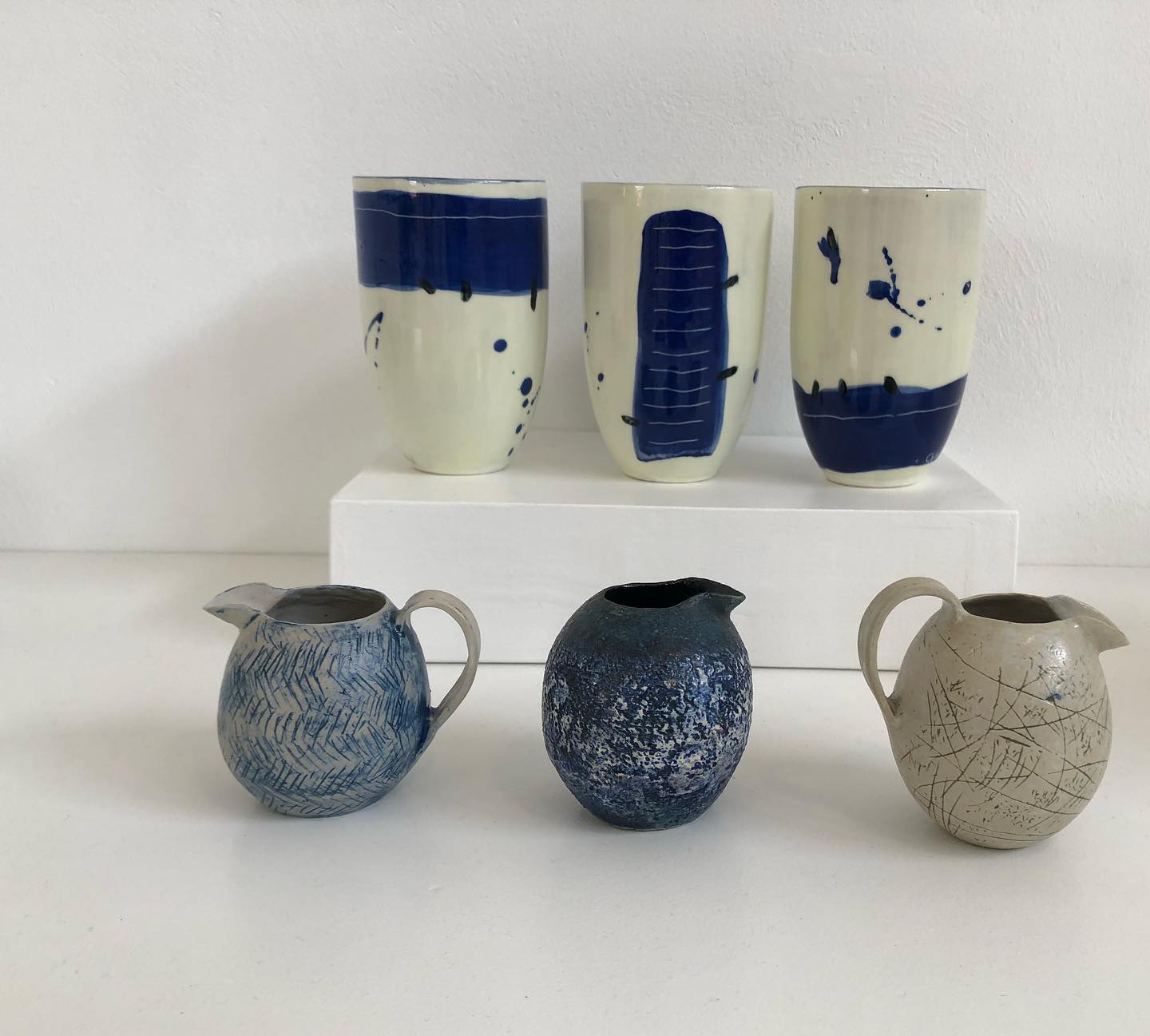 From dinnerware to vases, delicate homeware items to showstopper décor pieces, the selection of handmade ceramic items produced at boutique galleries and shops across Joburg is a delight. At each of the spaces mentioned, you'll find the perfect handmade ceramic gift for you or someone else.​​​​​​ At Sue Weston's Storm in a Teacup store at 44 Stanley, every item is handmade in South Africa or Eswatini and exquisitely crafted. Danish-trained ceramist Kim Sacks stocks collectable ceramic pieces, produced through artistic collaborations, in her eponymous gallery conveniently located along Parkwood's Art Gallery Row. Here you'll also find baskets, wood carvings, textiles and beadwork (look out specifically for the irresistible Marigold Beads), items from tribal art to contemporary. museum-quality handmade objects that span rural and urban makers. Actually Ashleigh takes blank ceramic pieces and transforms them with colourful contemporary designs into functional art. Her whimsical designs are all once-off and her ceramic creations include bird feeders, butter dishes, pitchers and a particularly fun oil and vinegar bottle set.
​​​​​​
Unique finds from a local market or antique fair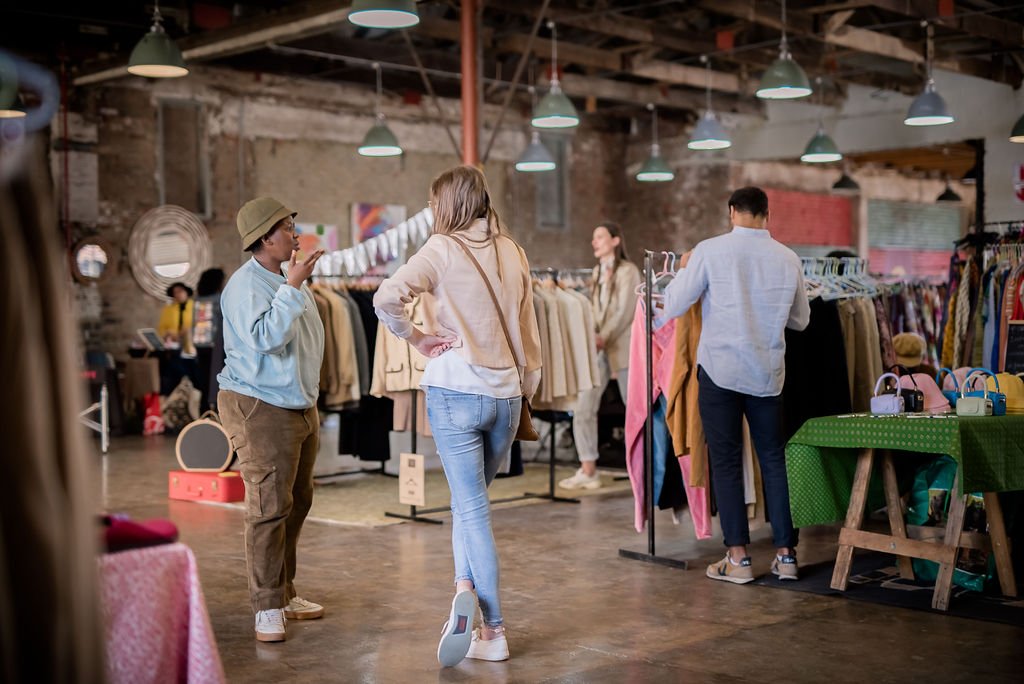 Joburg has its fair share of markets, from weekly mainstays the Bryanston Market, The Playground and the Rosebank Sunday Market, to once-a-month or seasonal pop-ups, including First Sundays at Victoria Yards and the Linden Market which you can shop online. Markets are hands down one of the best places in Joburg to find unique artisanal gifts while supporting a huge variety of local makers and artists working in a range of mediums, from beads and basketry to ceramics and jewellery.  And if you're on the hunt for something truly one-of-a-kind, check out Gauteng's top antique fairs, the monthly Brooklyn's Antique Fair in Pretoria and Nelson Mandela Square Antique Fair in Sandton.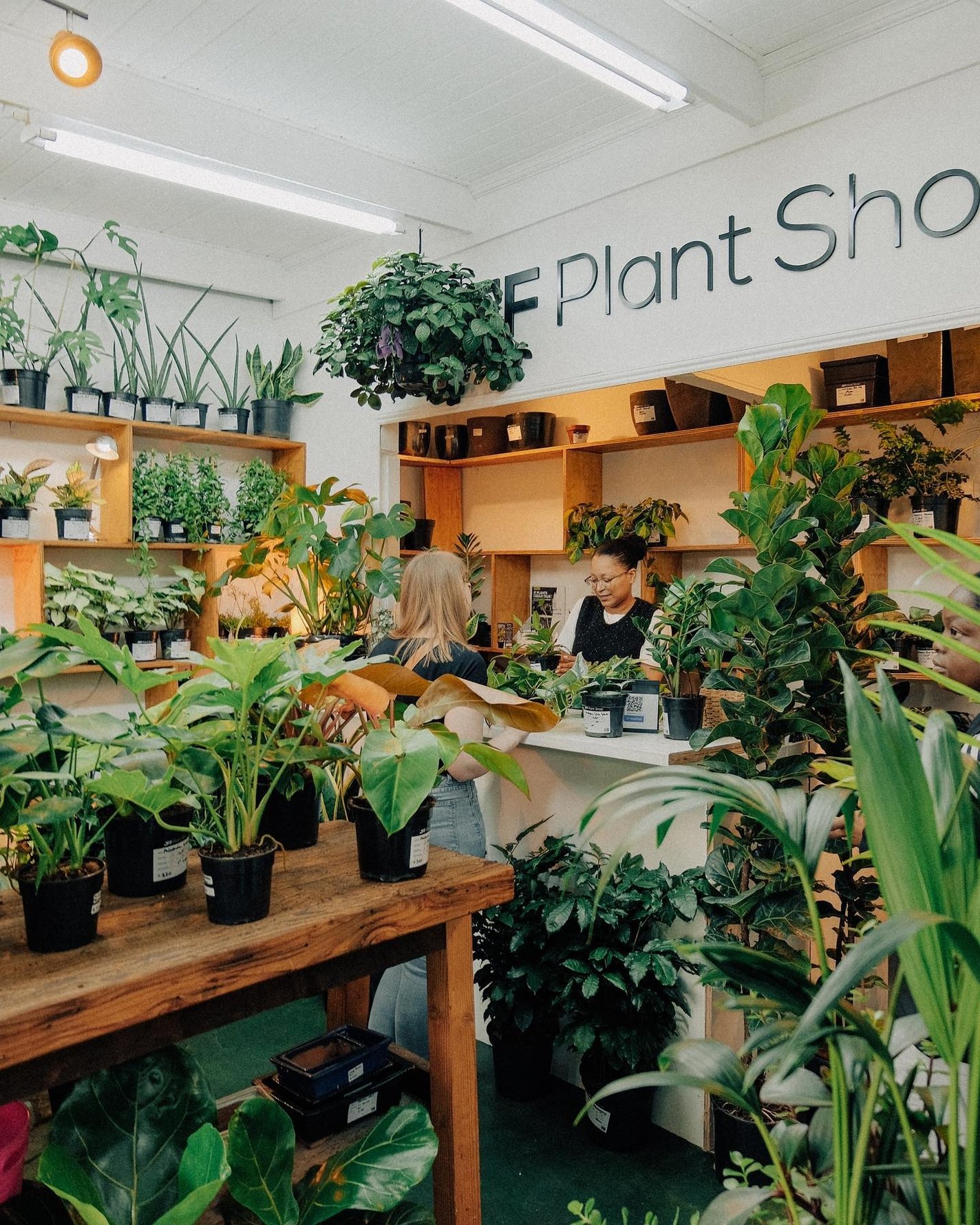 If you're looking to bring the outside in, look no further than JFF Plant Shop at 44 Stanley which boasts a beautiful collection of unusual aloes and cacti on sale, as well as larger house plants, and the knowledgeable staff is very willing to help point you in the right direction. You can also find some of their plants on sale at We Are Egg or explore what's on offer by Anea Terraiums inside the little greenhouse. 
 
A bountiful bouquet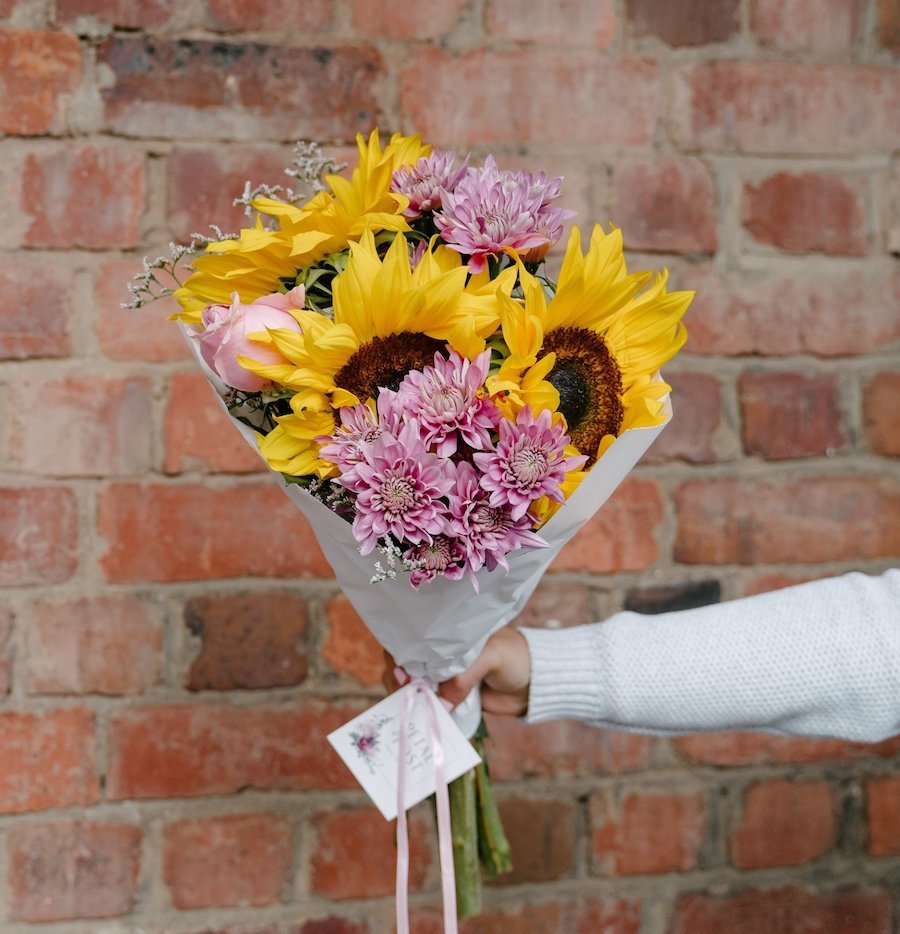 If you don't have a green thumb to speak of, we suggest going all out on flowers, always a welcome gift for any occasion. Florist to the stars Johannes van Greunen's Hyde Park Corner florist Botanicus is another great place to pick up statement bouquets that will definitely not be mistaken for something you just picked up at the garage on the way home. Petal & Post is an independent e-commerce florist based out of 44 Stanley whose posey arrangements arrive beautifully wrapped and can be ordered online for same-day delivery. You can also buy special Petal & Post gift packages at their online store that include flowers and other items like handmade soaps and luxurious sweet treats.
FASHION AND ACCESSORIES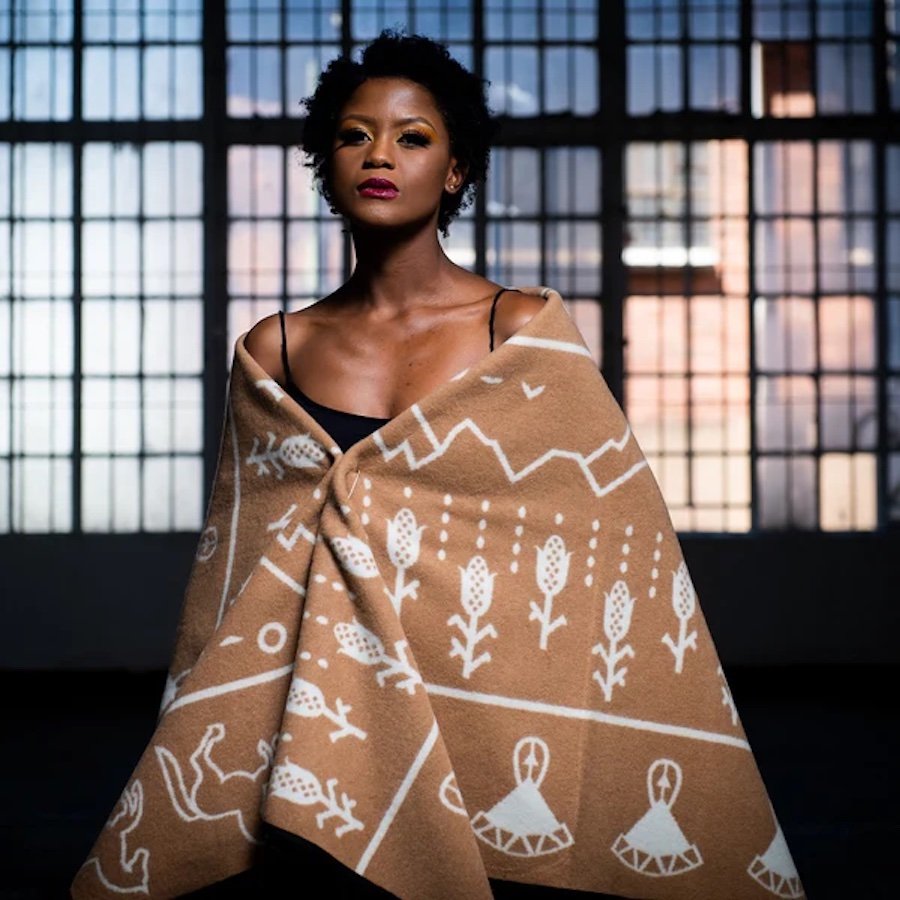 Located in Randfontein just outside Joburg, Aranda Textile Mill is one of the oldest blanket, throw and shawl manufacturers in South Africa. Especially known for their beautiful heritage blankets, Aranda's latest limited-edition range – the Young Basotho Designers Collection – comprises 10 original Basotho blankets, designed by multi-hyphenate young creatives from diverse backgrounds including fashion and beauty, interior and furniture design, art, music, and filmmaking. If you are looking for collectable items, design that is highly considered, tasteful layouts and innovative South African-made furniture, or just ideas on how to decorate your home, we suggest you make a beeline for the Always Welcome store in Kramerville. Here you'll find products by covetable brands such as a matte black arcane candle holder by Joe Paine, said to be "perfect for rituals such as dinner parties, first dances and seances," or shop The Zoolake Swim Club summer collection of goods by the design store at 99 Juta in Braamfontein. If homeware is where you shine in the way of great gifts then Something Good Studio is somewhere to start with their artist-designed blankets, featuring illustrations and sketches by some of our favourite local artists including Tara Deacon, Lulama Wolff and Bevan De Wat (we're huge fans of the blanket designed by Maja Maljević). You can shop these and the rest of Something Good's offerings at 223 Jan Smuts.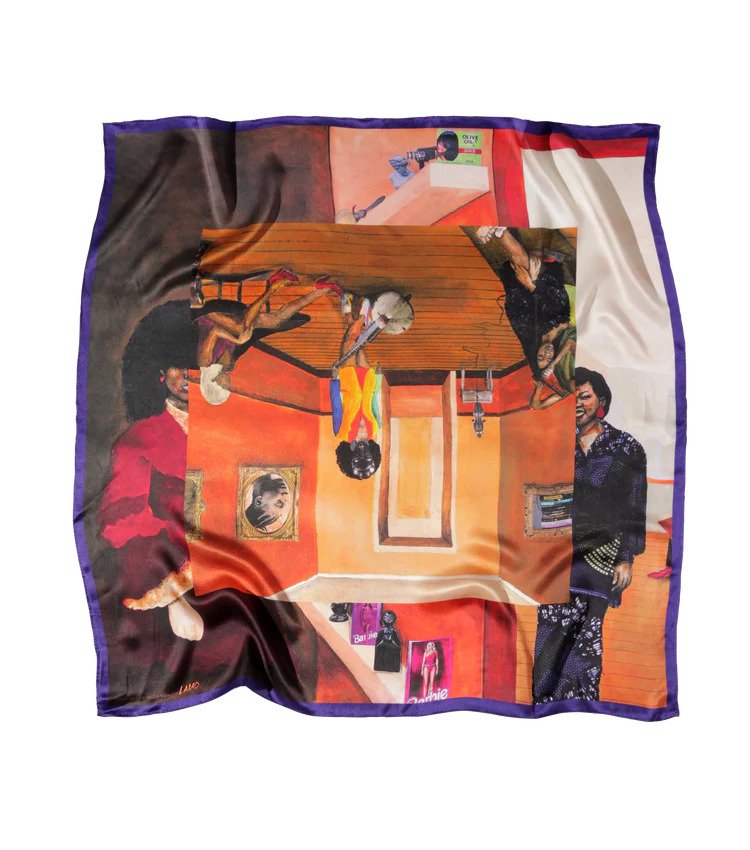 Boutique conceptual design and fashion store Guillotine by Lisa Jaffe is one of our favourite places for timeless, chic fashion inspiration. With a longstanding flagship store at 44 Stanley and an online retail site, Guillotine sells its own range of limited-edition women's fashion collections and represents and partners with other top female-led, sustainable South African brands. Guillotine's luxurious ready-to-wear collections are designed to be cross-seasonal and multipurpose with the intention that you can curate a long-lasting capsule wardrobe around a few beautiful essential items. At the 44 Stanley Guillotine boutique you can find a finely curated collection of items from other local woman-led brands we love, including Latitudes X L'MAD Collection, a South African luxury fashion label that works with African artists to create beautiful, limited-edition garments and accessories such as silk scarves; Cape Town accessories and jewellery brand Pichulik; Carla Pinto and Zydia Botes' beautiful knitwear label Romaria; and Simon and Mary bucket hats.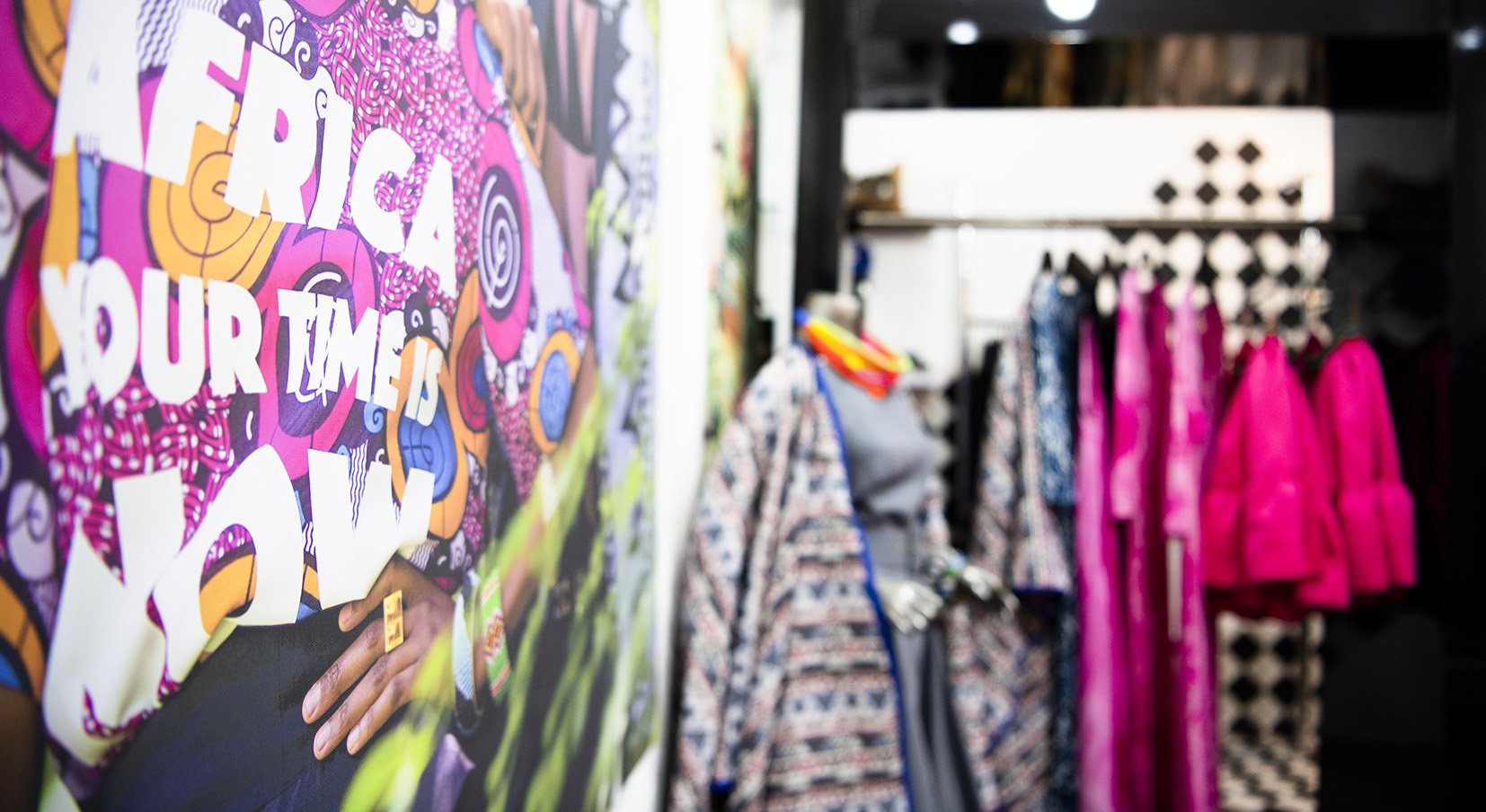 A must-visit store for contemporary African fashion, launched in 2019 by leading South African fashion designer Thula Sindi, AfricaRise now has three fashion emporiums — in Sandton City, in the City Centre at 66 Anderson Street, and at Menlyn Mall in Pretoria, each showcasing an exciting array of top African fashion brands whose labels aren't usually found in high street malls. Each designer has been given space within the store to represent the unique aesthetics of their brand, creating a colourful and inviting shopping experience and there's an amazing collection of items on sale for him and her, ranging from jewellery and accessories to suits and evening wear.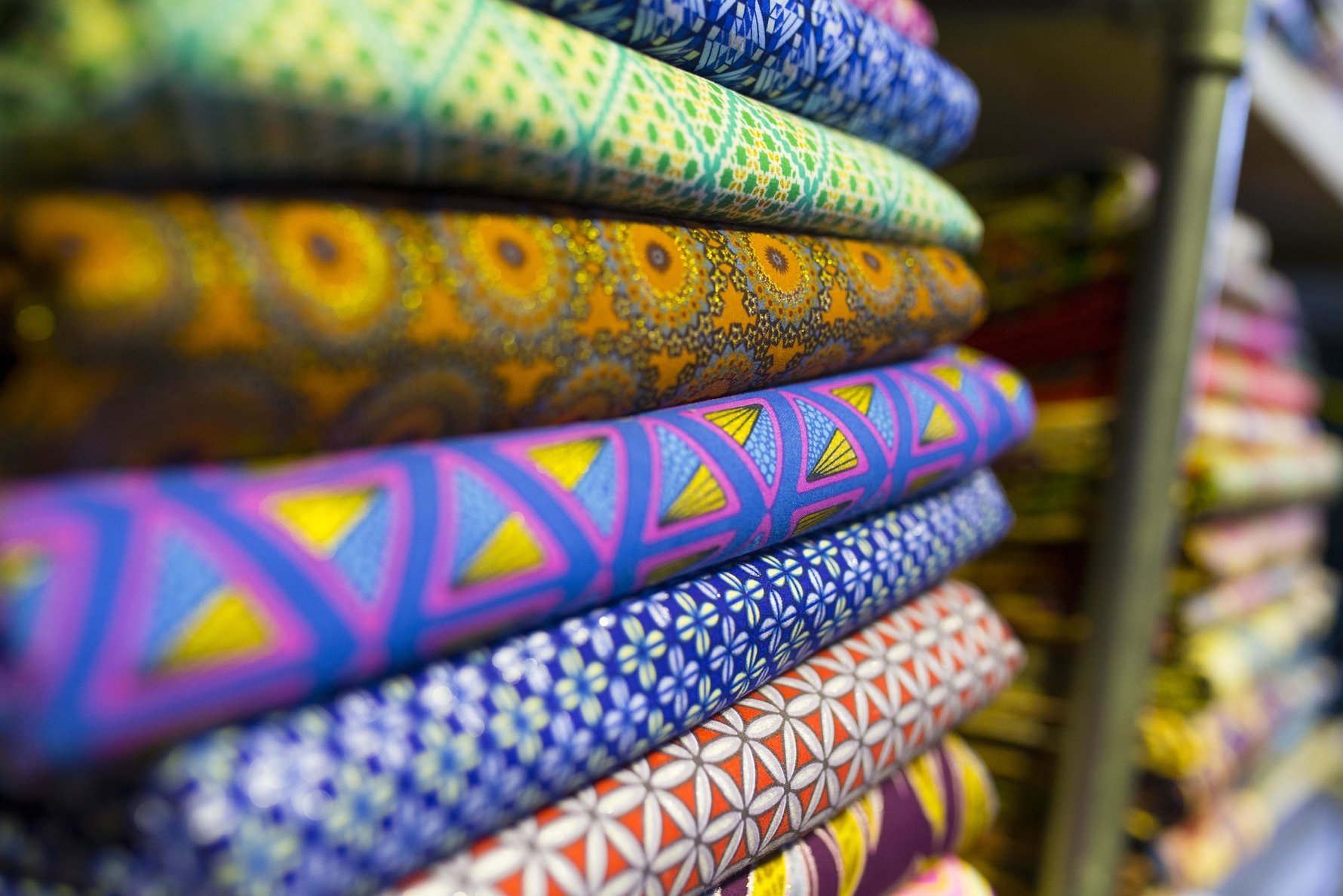 Makotis (meaning 'bride' or daughter-in-law in Zulu) is one of the largest retailers of African traditional fabric in South Africa and is run by the Wadee family, who have been selling traditional fabrics and bespoke garments in the Joburg City Centre since 1961. At the perennially busy shop at 112 Helen Joseph Street in the heart of Joburg's historic Fashion District, you can browse for different shweshwe fabric designs in the biggest range of colours and prints from Da Gama's original Three Cats Shweshwe label. There is also a wide range of other traditional African fabrics, including those from the Zulu, Tsonga, Xhosa, Sepedi and Venda traditions, as well as typical Basotho blankets.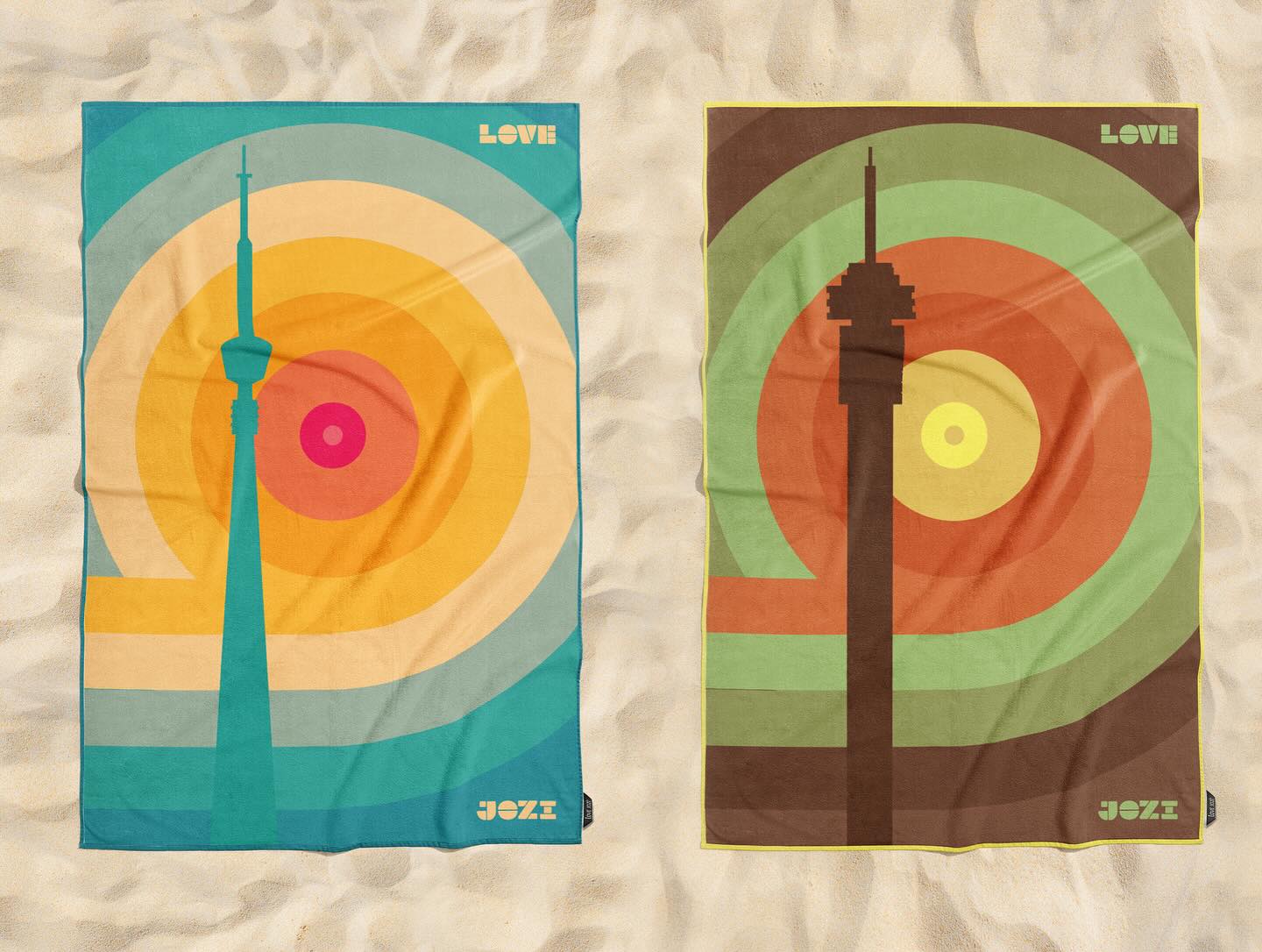 Love Jozi, the innovative South African T-shirt and design company, mixes urban fashion with social consciousness and humour, finding design inspiration in optimism about the city we call home. Take Joburg with you on your beach holidays with their new summer range of city-inspired beach towels done in happy colours and peachy designs, reminiscent of old-school summer holidays in South Africa. Been there, done that, got the T-shirt, and now the towel. As well as their iconic Joburg T-shirts, Love Jozi also produce a fantastic range of accessories and homeware such as bags, greeting cards, candles, mugs, key racks, bookends and posters, all emblazoned with graphic designs that reference the city's streets, neighbourhoods, skyline and other familiar Joburg iconography.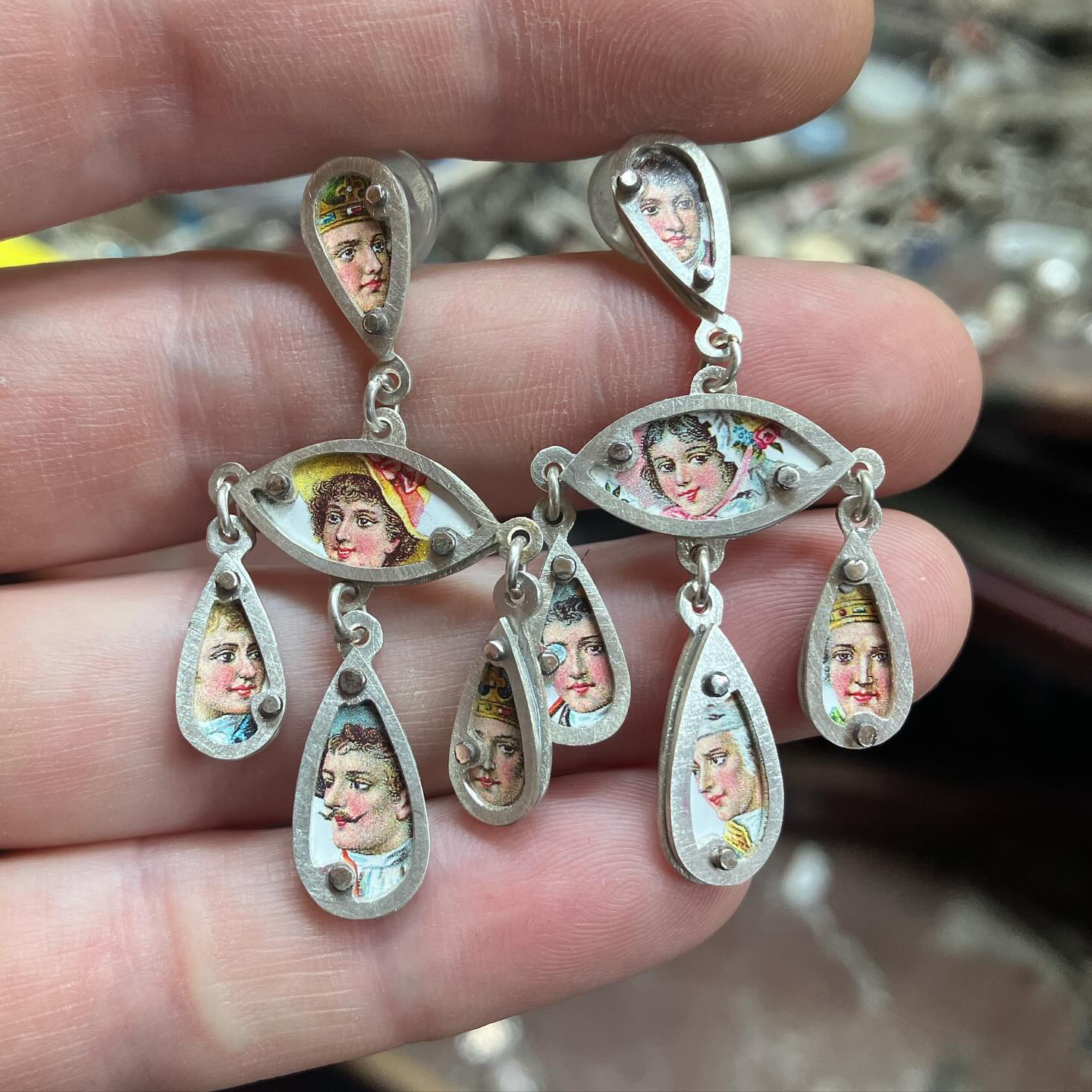 Geraldine Fenn and Eric Loubser's exquisitely curated jewellery gallery Tinsel showcases unique contemporary pieces, as well as locally-made work by other South African top designers. Fenn and Loubser are champions of contemporary jewellery design in South Africa, and their store and studio in Melville is an exquisite showcase of the art and craftsmanship of jewellery making. Tinsel puts contemporary jewellery in its rightful place as a recognised art form. The pieces you will find here are not mass-produced, cheaply-made high street designs and neither are they flashy status symbols. Each piece is unique, with a story to tell and hopefully, a connection to make with its buyer.

ART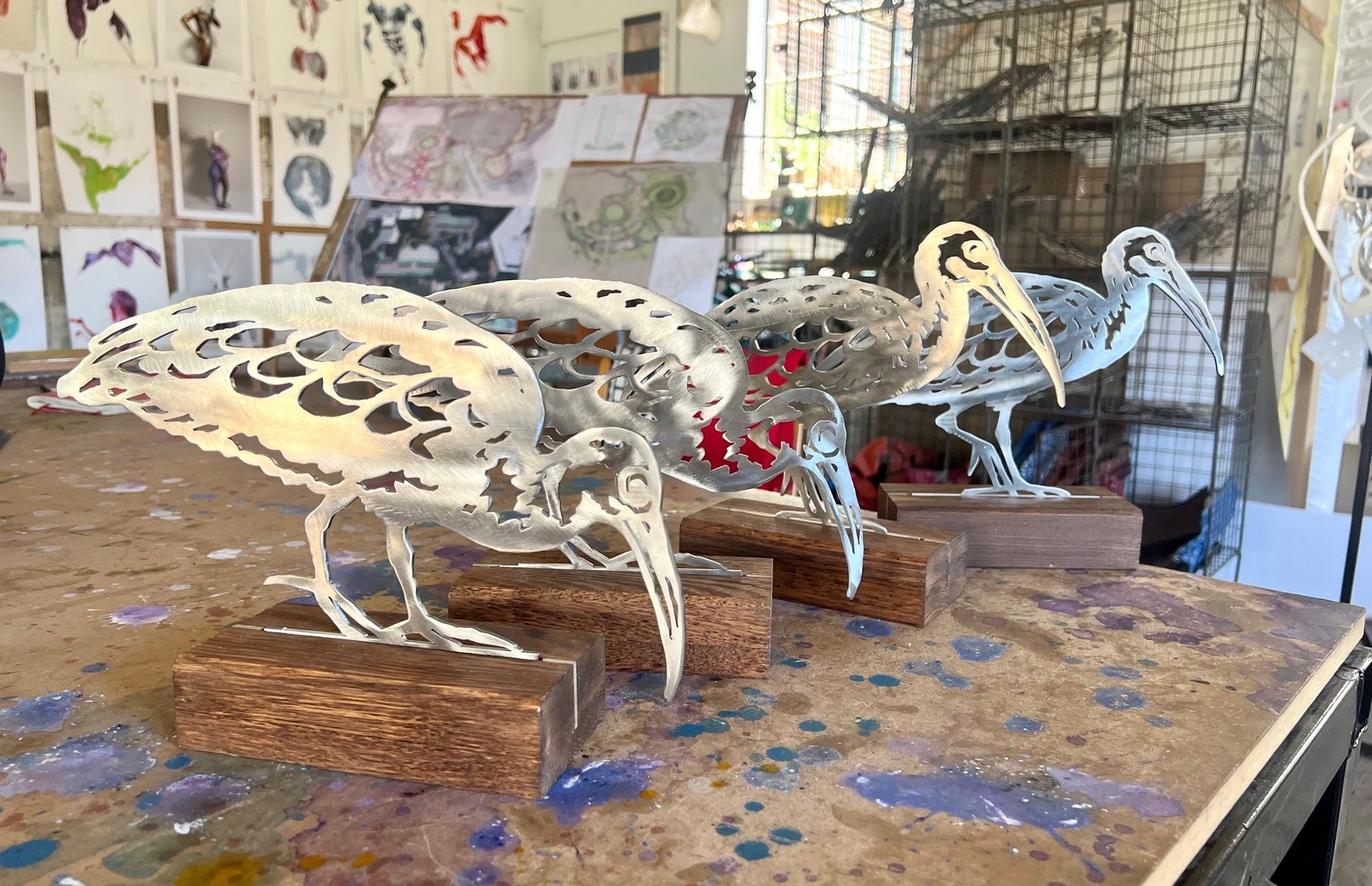 Joburg is a treat when it comes to finding special art gifts, with an incredible range of choices. Gift someone a sculpture by James Delaney, from Victoria Yards. The artist, who transformed The Wilds public park with his large-scale metal sculptures of animals, has created them in smaller, stainless-steel versions. Made in limited editions of eight, each is numbered and signed; truly special gifts. Or head to 223 Jan Smuts Avenue to buy ceramics by one of our favourite local artists, Maja Maljevic. Another great stop is the gallery at 44 Stanley where Fiona Pole's city works hang alongside the work of other artists who have captured elements of Joburg in special ways. These are all gifts you can pick up for under R10 000.