'Local is lekker (good)' as they say and we love supporting and promoting homegrown brands. From beautiful homeware pieces and cool statement T-shirts to the finest artisanal food and drink items, here's our guide to fantastic Joburg gifts made by local small businesses to add to this year's gift list. 
JOBURG EXPERIENCES VOUCHERS
The pandemic has been a devastating time for the local tourism industry, and anything that locals can do to support this industry in distress is something worth shouting about. This month why not buy your loved ones a gift voucher for a unique city experience led by a local tour guide. 

JoburgPlaces are running specials on 2022 experience vouchers including for their inner-city walking tours and for their unique storytelling dinner events. Joburg 360 Tours are offering experiences gift vouchers for their walking tours in Newtown, Braamfontein, Troyeville, Maboneng and Marshalltown that you can buy online at joburg360.com. If you enjoy cycling buy a voucher online for a MicroAdventures cycling tour of the city or book a Soweto cycling experience with the excellent Lebo's Soweto Bicycle Tours who are running some amazing specials.
STATIONERY AND GIFT CARDS 
Illustrated gift cards from Brunch

An extension of the graphic design studio Paper Snap, Brunch is a stationery and illustration shop at 44 Stanley that stocks a superb range of unique notebooks, illustrated greeting cards, prints, zines, printed tote bags and wrapping paper. Their festive season range is beautiful and as well as cards and paper, also includes quirky 2022 calendars.
Visit their studio at 44 Stanley or shop online at brunch-shop.co.za.
Joburg moonrise photo calendar by Andrew Cleland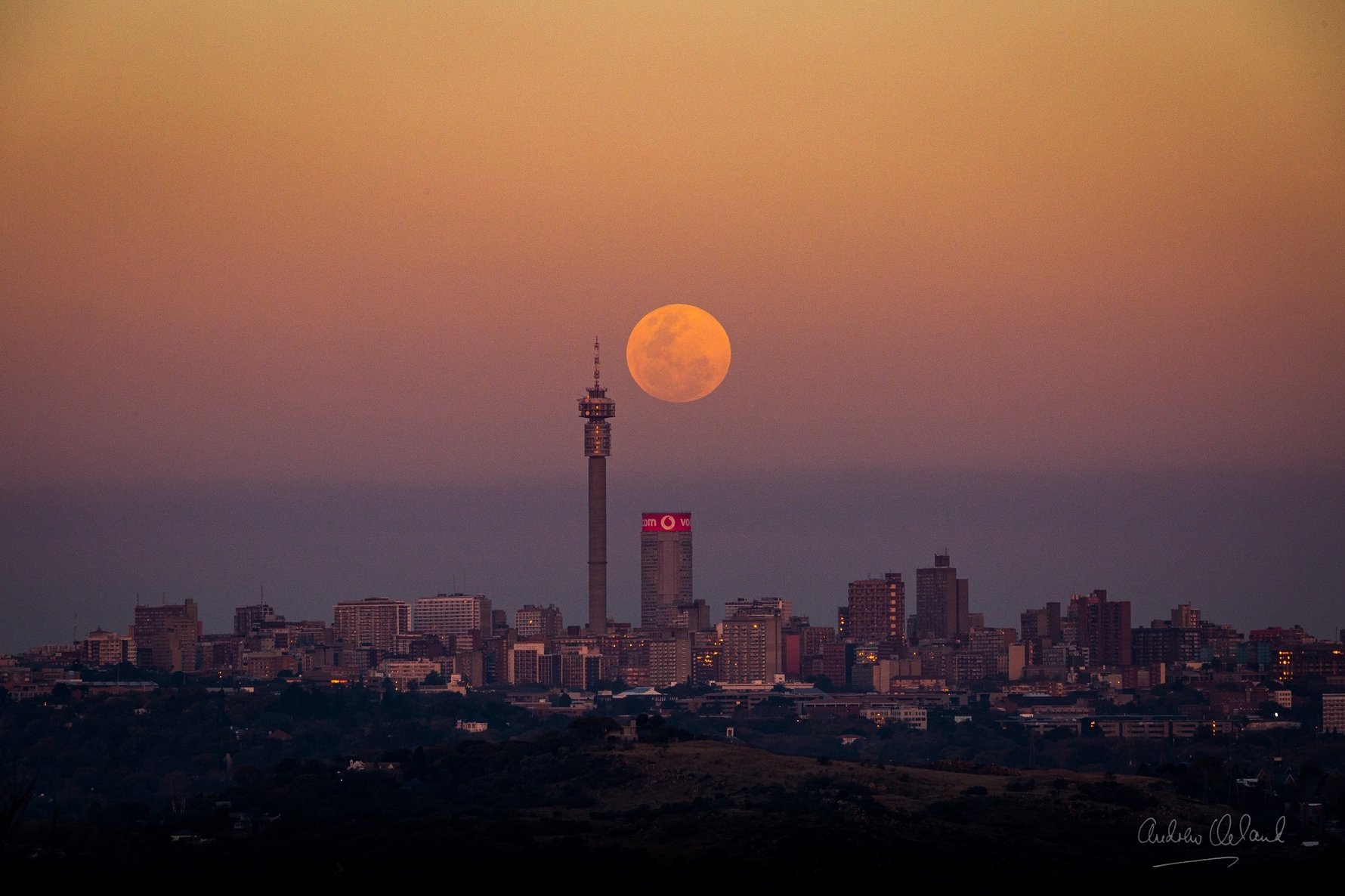 For six years amateur photographer Andrew Cleland has raced around Joburg to capture incredible images of the full moon rising above the city. His unique images have garnered a serious following on Instagram, and we have long been fans. Now for the first time he has compiled his most spectacular moonrise images into a 2022 calendar, on sale for R400 via his website andrewcleland.online.
Dlala Nje colouring book
To raise money for their community centre at the Ponte building in Hillbrow, this Christmas inner-city walking tour company Dlala Nje are selling a special colouring book designed to suit all ages and featuring original works by local illustrators. The book costs R300 and is available for delivery via info@dlalanje.org or you can also buy a copy at the Limited Edish shop at The Bioscope cinema in 44 Stanley.
FOOD AND DRINK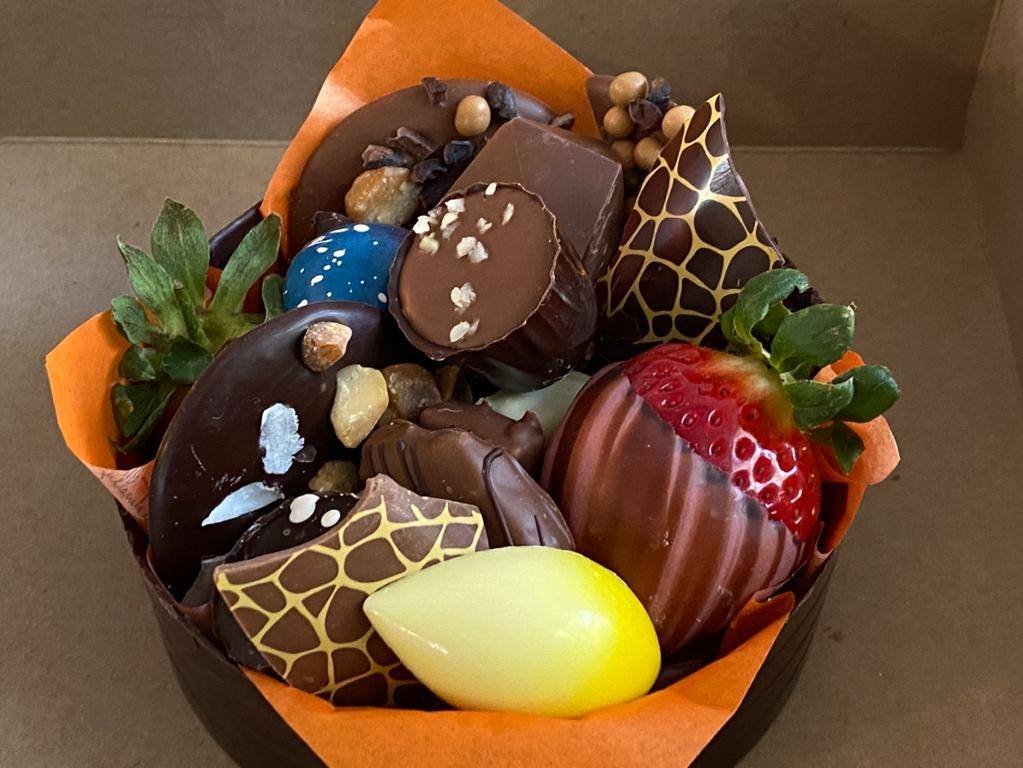 Whether it's a birthday, Christmas, baby shower or anniversary present, a box of the best handmade Belgian chocolates from Chocoloza can never fail to impress. Trained in Belgium, chocolatier Vicky Bain's chocolates are made using only the finest ingredients and she likes to experiment with flavours meaning that every season there are always new and unusual varieties to try. Visit the Chocoloza shop at 44 Stanley and mix and match from more than a dozen flavours - sampling them yourself before you choose what to gift is all part of the fun!
In addition to their shop at 44 Stanley you can find Chocoloza chocolates on sale at the Checkers in Rosebank Mall and Sandton City.
Bottled cocktails from Sin + Tax
During the various different booze bans thrown our way by the pandemic, Joburg mixologists with plenty of time to burn have been busy perfecting the bottled cocktail. All you need to do is add your own ice, spirit or mixer at home and you are good to go. The award-winning Sin+Tax has one of the best ranges, available to buy for delivery via their online shop. We especially love the Leaf Litter (Geometric gin and floral tonic) that mixes perfectly with sparkling wine.
Locally roasted coffee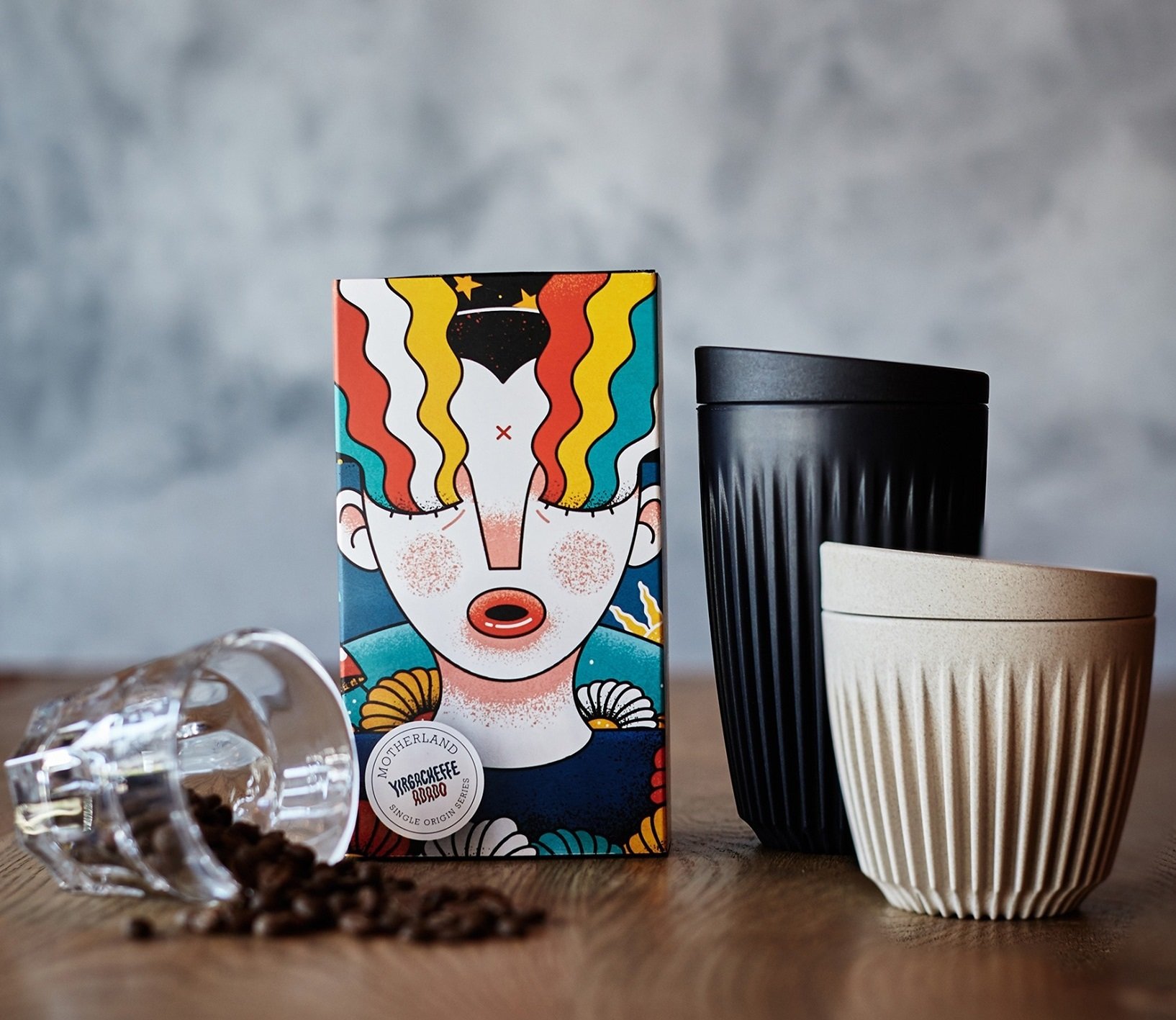 In Joburg coffee is not just a drink, it's a lifestyle and the city now has an incredible range of independent coffee roasteries making unique blends to choose from. One of the very first Fair Trade coffee roasteries top open in Joburg is Bean There, whose coffee shop at 44 Stanley is a lovely place to sit and savour the heavenly smell of roasting beans while enjoy the finest cup of coffee. Other favourites include Coffefe in Birdhaven, Double Shot Coffee and Tea who also make excellent organic tea blends, Father Coffee for their neatly packaged signature blends, the super friendly Craft Coffee who now have branches in Parktown North and Newtown and all-time favourite Motherland Coffee Company who have several Joburg branches and a good online shop.
Joburg craft gins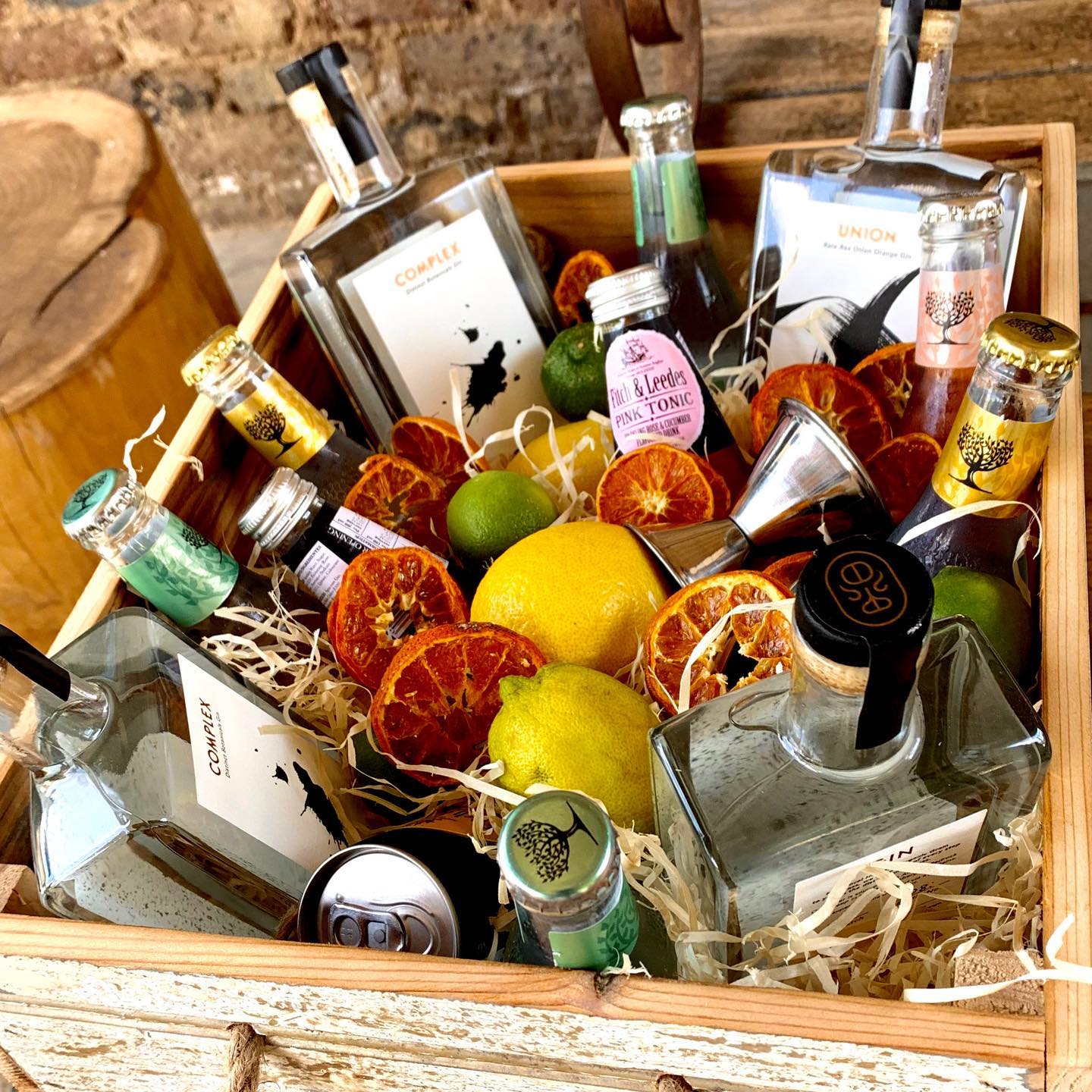 Among our favourite Joburg craft gin labels is Time Anchor Distillery, whose colourful Mirari range magically changes colour when you add tonic. Their online shop also stocks a special gift range where you can mix and match small bottles of a variety of flavours. Primal Spirits who have a distillery at Victoria Yards have a beautiful range of craft gins on offer, including a brand new applewood aged gin, as well as neat little Taster Box containing small bottles of each of their four signature products.
Shop Time Anchor online at timeanchor.co.za and Primal Spirits at primaldistillery.com.
DECOR AND HOMEWARE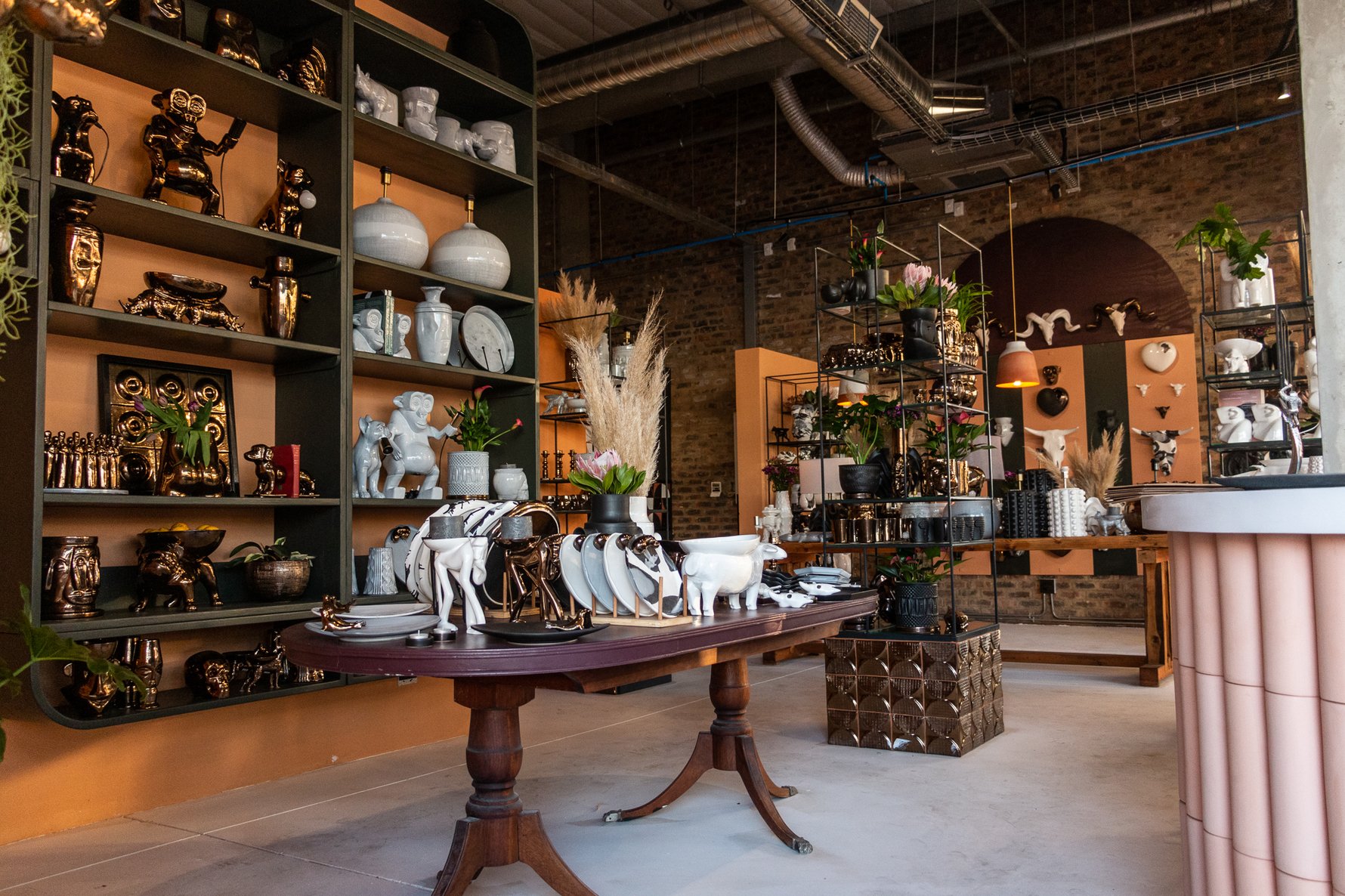 Rialheim specialises in fun and functional ceramic design items that are uniquely South African, with an updated retro feel. Formerly in Linden, the studio's flagship store is now at the cool Rand Steam centre in Richmond. We love Rialheim's statement plates, bowls and platters which come variously shaped as skulls or hippos, or embellished with whimsical elephants or piglets, as well as their elegant vases, table lamps (the French bulldog which carries the lamp cable in its mouth is particularly adorable) and the beautiful little plant pots that have the power to transform any humble balcony garden. 
In addition to their flagship showroom in Rand Steam Rialheim also have an online shop (orders over R500 include free delivery), shop online at rialheim.co.za.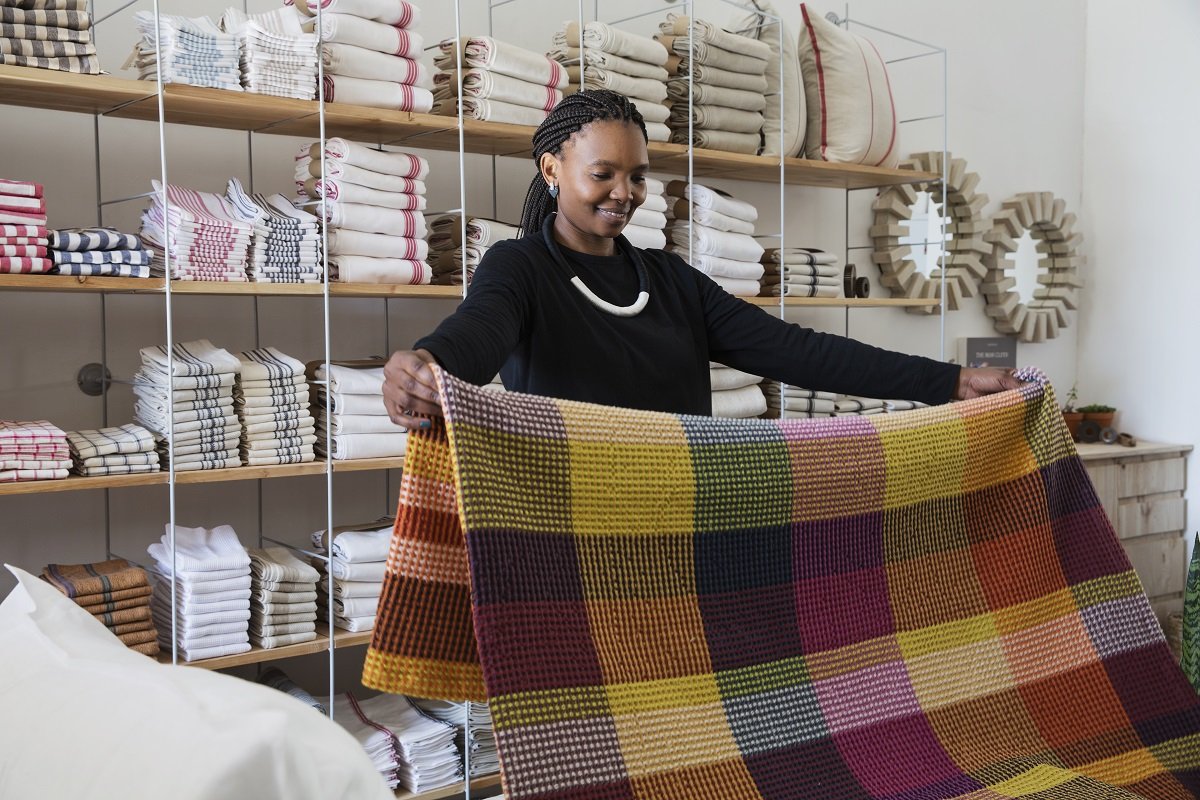 Started by Master Weaver Stuart Holding in 1998, Mungo Designs features an exquisite range of natural fibre woven textiles, all locally milled in Plettenberg Bay, which make great gifts loved for their balance of contemporary design and traditional weaving techniques. Passionate about preserving the traditional art of weaving everything is made using only repurposed and antique looms. You'll struggle to find more beautiful blankets, throws and 100% linen bedding and bedcovers than those made by Mungo. The label is also renowned for their signature flat weave towels which come in a range of geometric designs. For taking to the beach the light kikoi style towels, available in a variety of colours, are super versatile and can double as a sarong, picnic blanket, dress or headwrap.​​​​
Visit the Mungo Designs showroom at 44 Stanley or shop their designs online at mungo.co.za. ​​​​​​Danish-trained ceramist Kim Sacks stocks collectable ceramic pieces, produced through artistic collaborations, in her Moorish-styled gallery conveniently located along Parkwood's Art Gallery Row. Here you'll also find baskets, wood carvings, textiles and beadwork (look out specifically for the irresistible Marigold Beads), items from tribal art to contemporary museum-quality handmade objects that span rural and urban makers.
Find Kim Sacks at 153 Jan Smuts Ave, Parkwood.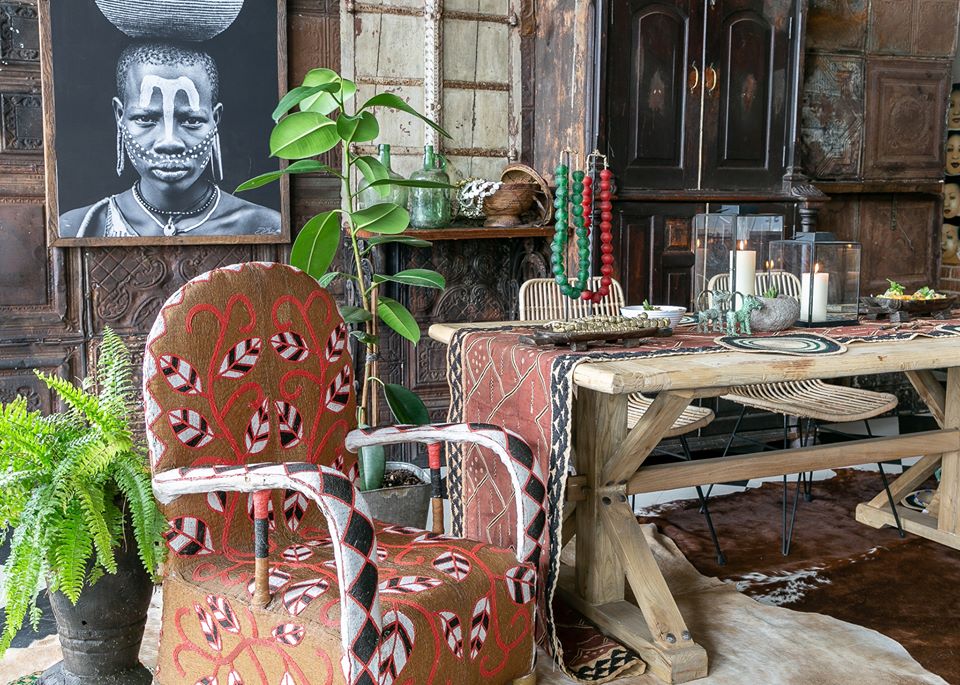 Long-established suppliers of unique and original African artefacts and objets d'art. This awe-inspiring showroom is filled with collectable items such as central African Kuba cloths, handpainted West African barbershop signs, Zanzibari doors and Yoruba beaded chairs among many other items of curiosity. There are beads and basketry, beautiful fabrics and so much more plus treasures from plenty of other destinations including Morocco and India.
Visit the stunning Amatuli showroom at 6 Desmond St, Kramerville. Next door is the Razor Charlie Eatery, perfect for breakfast, lunch or coffee after you shop.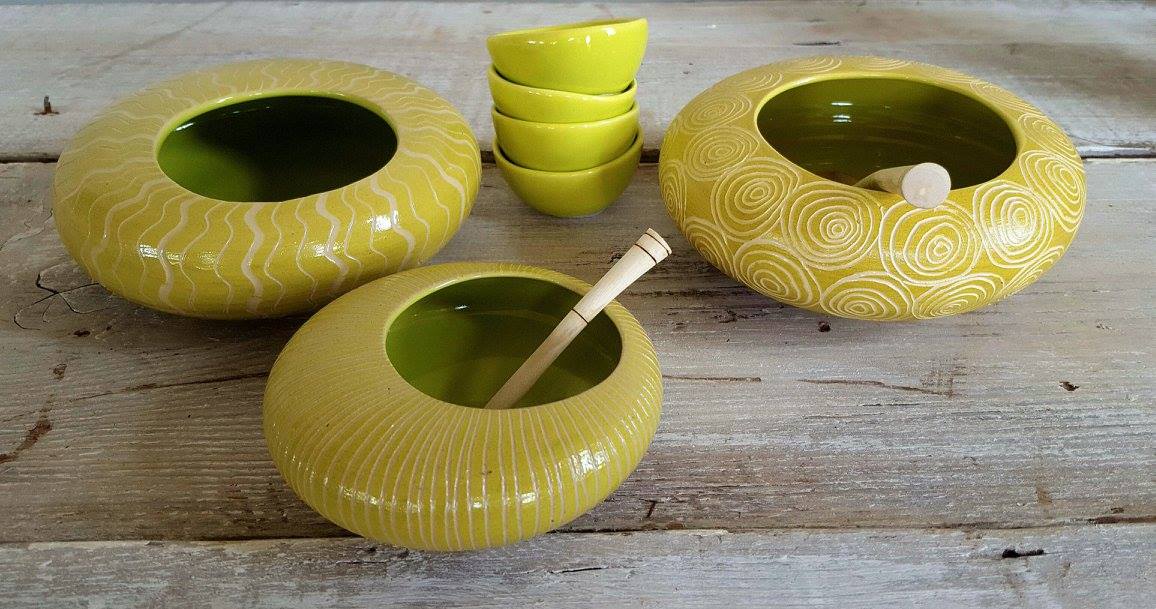 From dinnerware to vases, small items to showstopper pieces, at Sue Weston's Storm in a Teacup store at 44 Stanley you'll find the perfect ceramic gift for you or someone else (not all your best intentions have to work out and sometimes it's just too hard to part with these beauties). Every item is handmade in South Africa or Swaziland and beautifully crafted. Weston, trained in ceramic design, was drawn to sourcing items from Swaziland because of 'the deep-rooted culture of craft for daily use' found in this small kingdom. She also sources woven baskets and grass mats from here. 
Find Storm in a Teacup Ceramics at 44 Stanley or shop their items online at storminateacup.co.za.
Traditional handcrafted items from Bryanston Market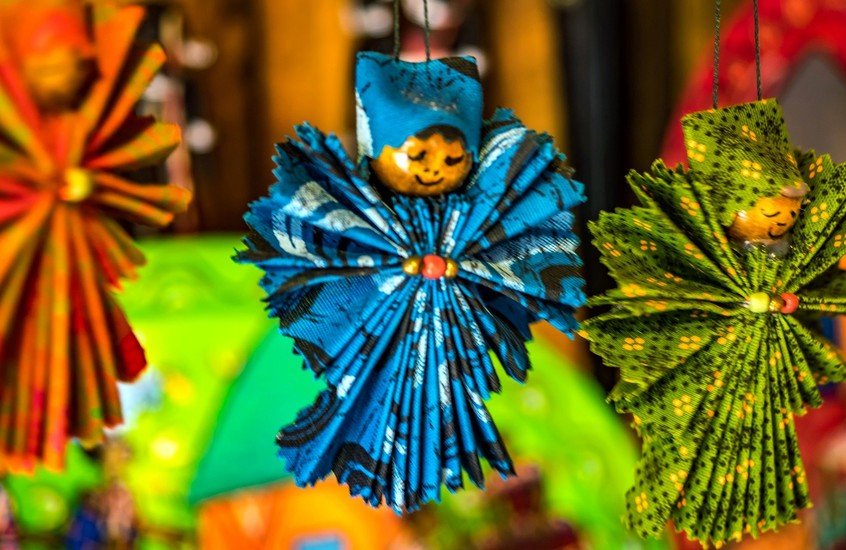 Bryanston Market is Joburg's original outdoor market. In existence for more than 40 years, it specialises in selling a superb range of organic foods and health products and beautiful traditional arts and crafts that are all proudly ethically sourced and eco-friendly. This is hands down one of the best places in Joburg to shop for local, handmade artisanal gifts, as the market supports a huge variety makers working in a range of mediums, from beads to basketry, ceramics and jewellery.
Bryanston Market is open every Thu and Sat from 09:00-15:00 and from December 14-18 hosts a daily Christmas night market (15:00-19:00). Find the market at 40 Culross Rd, Bryanston. 
FASHION
L'MAD limited edition silk scarves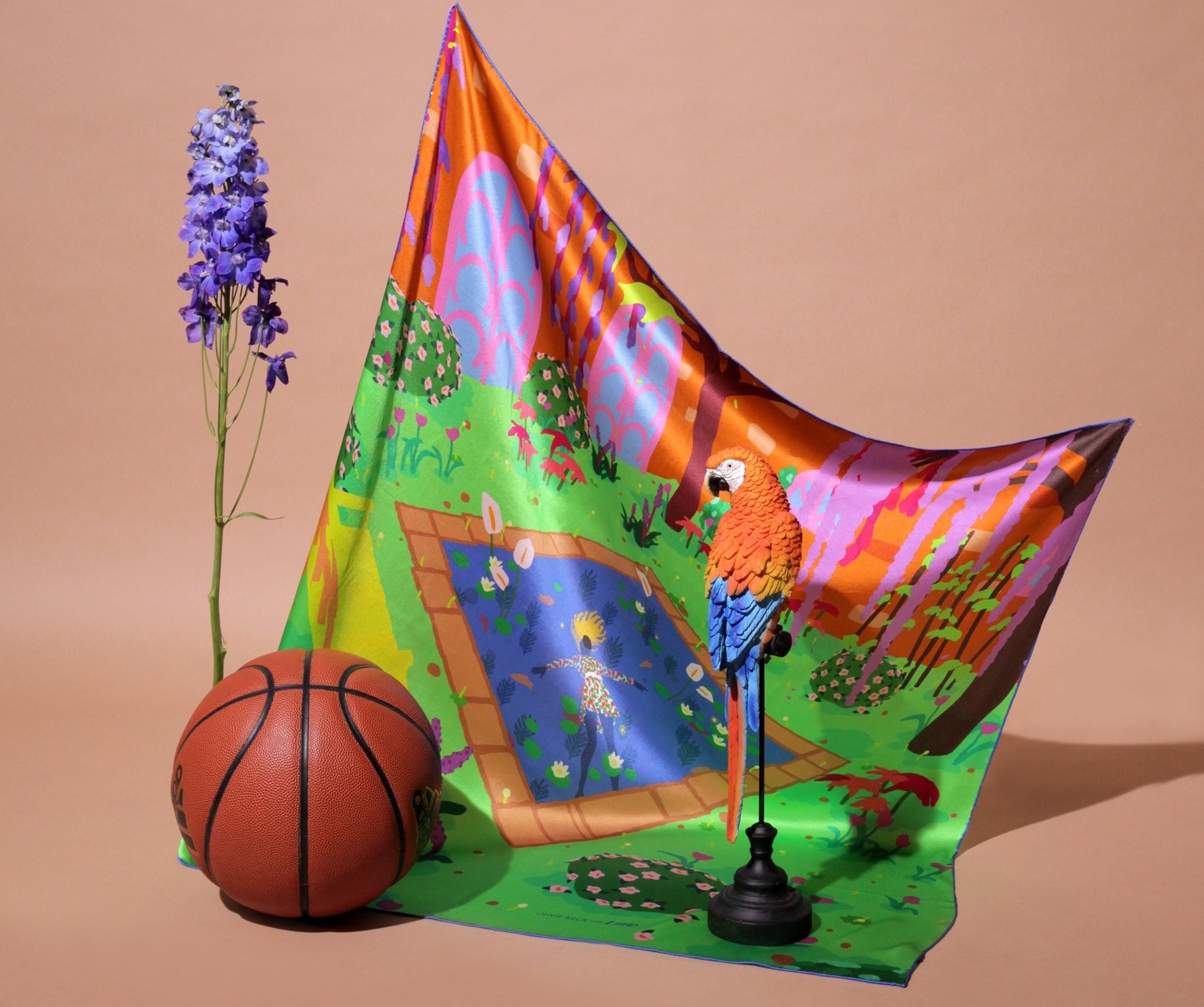 L'MAD Collection is a South African luxury fashion label that works with African artists to create beautiful, limited-edition garments, that are both gorgeous fashion statements and highly collectable artworks. For their latest collaboration – Made it to the life raft – L'MAD Collection has partnered with Latitudes Online, the biggest online marketplace for contemporary African art. The limited-edition scarves (50 in each design) feature works – ranging from purely abstract to figurative portraits – of eight exciting African artists, and are on sale on latitudes.online. The first 25 scarves from each limited edition also come with an accompanying NFT (Non-fungible token), representing one of the first opportunities to own an NFT of a South African artwork.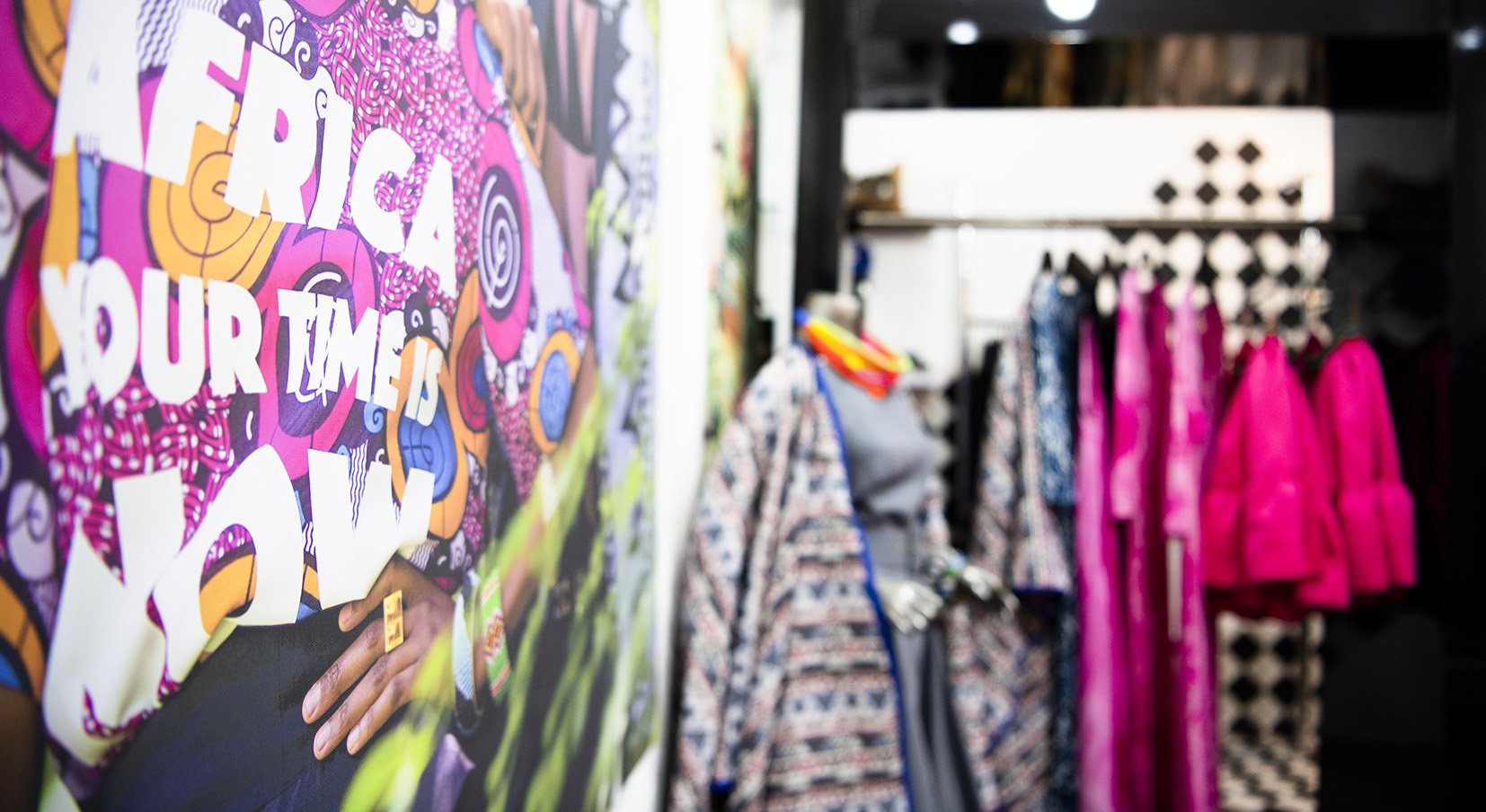 A must-visit store for contemporary African fashion, launched in 2019 by leading South African fashion designer Thula Sindi, Africa Rise now has three fashion emporiums; in Sandton City, at 66 Anderson Street in Joburg City Centre and at Menlyn Mall in Pretoria, each showcasing an exciting array of top African fashion brands whose labels aren't usually found in high street malls. Each designer has been given space within the store to represent the unique aesthetics of their brand, creating a colourful and inviting shopping experience and there's an amazing collection of items on sale for him and her ranging from jewellery and accessories to suits and evening wear.
Find out more about Africa Rise Sandton City here and about Africa Rise City Centre here.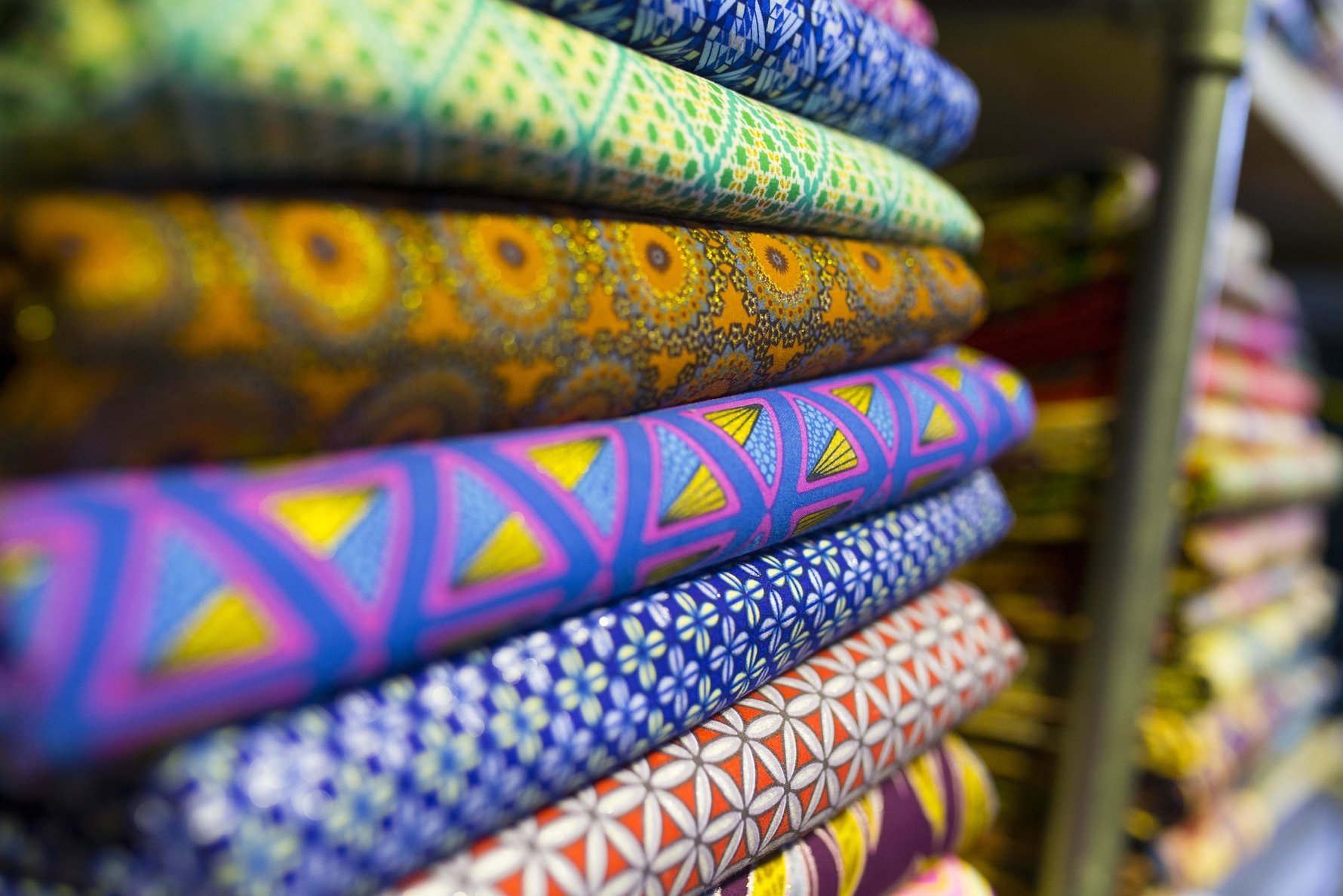 Makotis (meaning 'bride' or daughter-in-law in Zulu) is one of the largest retailers of African traditional fabric in South Africa and is run by the Wadee family who have been selling traditional fabrics and bespoke garments in downtown Joburg since 1961.  At the perennially busy shop at 112 Helen Joseph Street in the heart of Joburg's historic Fashion District, you can browse for different shweshwe fabric designs in the biggest range of colours and prints from Da Gama's original Three Cats Shweshwe label. There is also a wide range of other traditional African fabrics including those from the Zulu, Tsonga, Xhosa, Sepedi and Venda traditions as well as typical Basotho blankets. 
Find out more about Makotis and plan your visit here or shop via their online shop at makotis.com.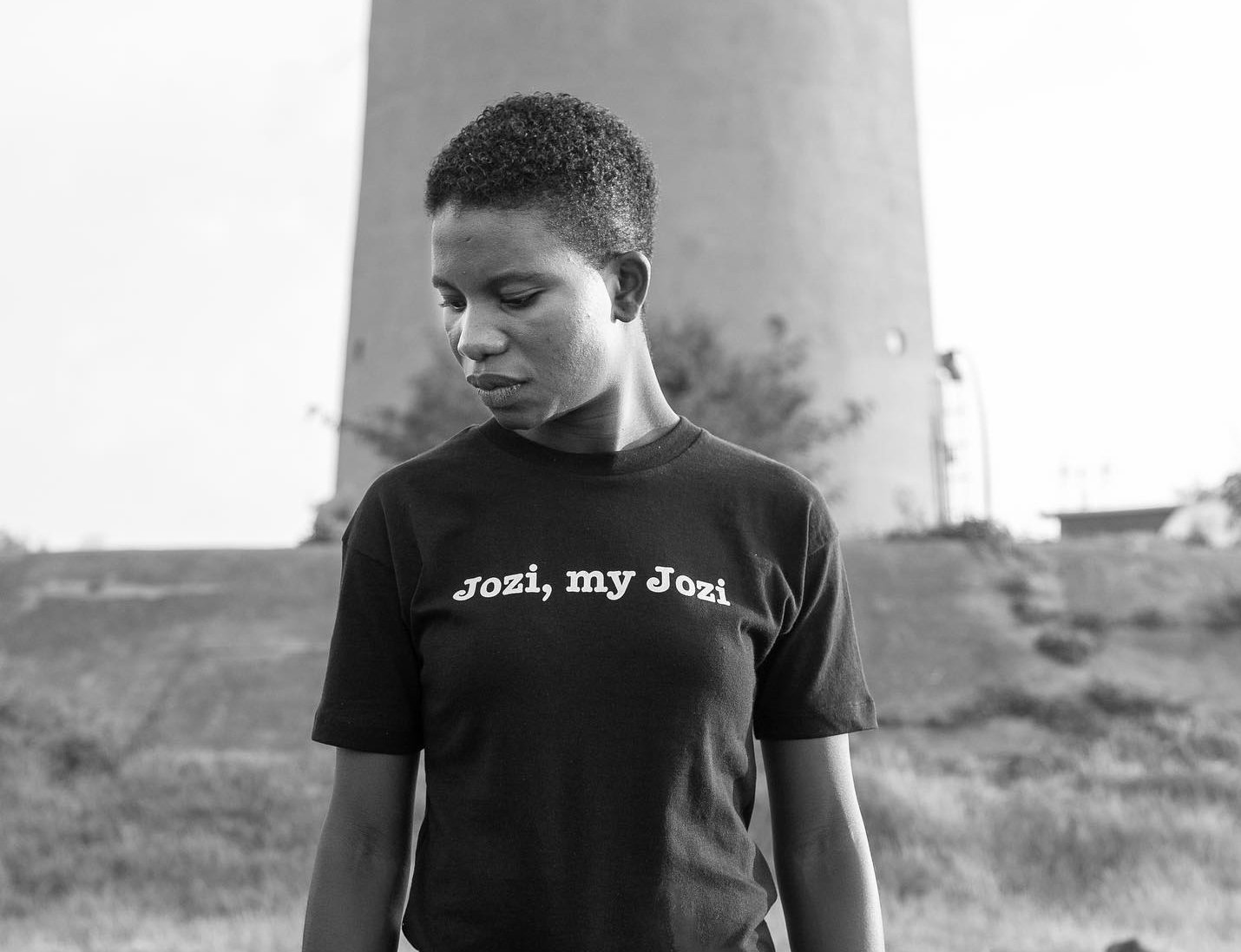 This innovative South African T-shirt and design company mixes urban fashion with social consciousness, finding design inspiration in optimism about the rise of Joburg as a world city. Been there, done that, got the T-shirt. As well as their iconic Joburg T-shirts, Love Jozi also produce a fantastic range of homeware such as candles, mugs, key racks and posters, emblazoned with graphic designs that reference Joburg's streets and skyline. 
Shop the full Love Jozi range online at lovejozi.com.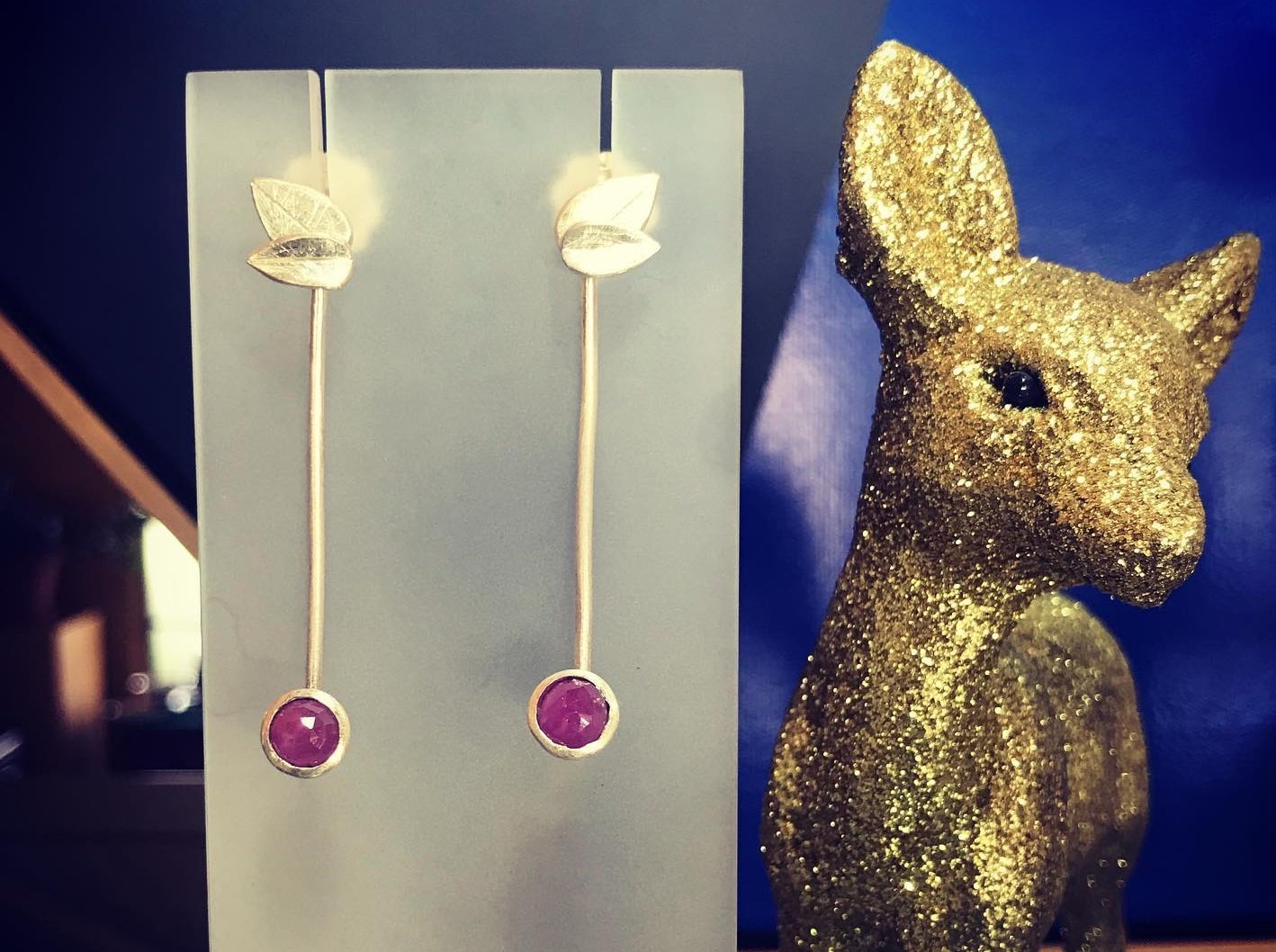 Geraldine Fenn and Eric Loubser's exquisitely curated jewellery gallery Tinsel showcases unique contemporary pieces as well as locally-made work by other South African top designers.  Fenn and Loubser are champions of contemporary jewellery design in South Africa, and their store and studio at Bamboo in Melville is an exquisite showcase of the art and craftsmanship of jewellery making. Tinsel puts contemporary jewellery in its rightful place as a recognised art form. As Eric Loubser puts it "jewellery is just like little artworks you get to carry with you all the time". The pieces you will find here are not mass-produced, cheaply-made high street designs and neither are they flashy status symbols. Each piece is unique, with a story to tell and hopefully, a connection to make with its buyer.
Find the Tinsel gallery contemporary jewellery studio upstairs at Bamboo centre, corner Rustenburg Road and 9th St, Melville.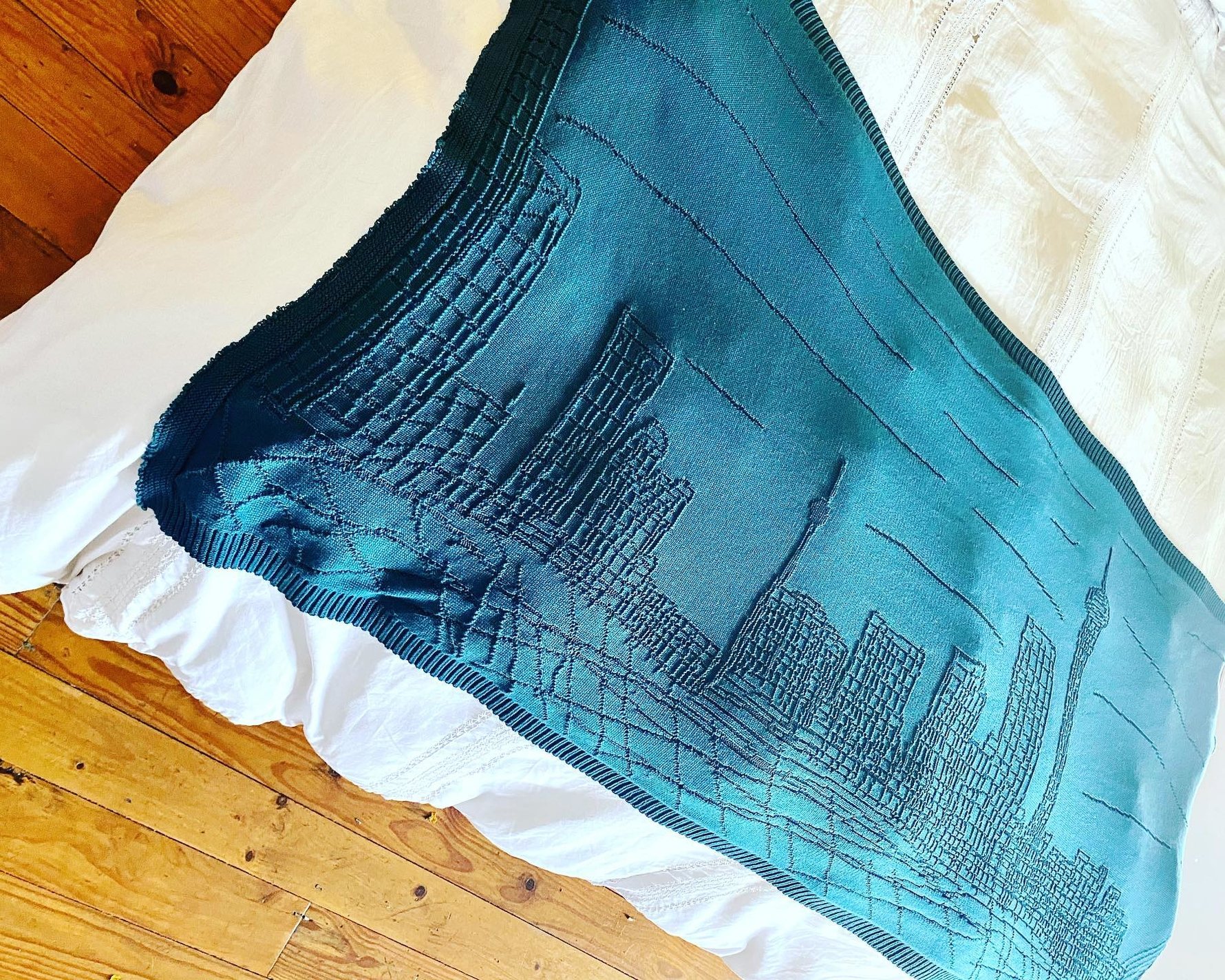 Based in Victoria Yards, Hannelie Bekker's 
Wrapt
is a specialist in manufacturing high-quality knitwear from South African wools including merino, mohair and cotton. The label is all about creating beautiful pieces using sustainable fibres, and each piece is knitted at the Victoria Yards and then finished by hand. The only way to describe that is special. The online shop stocks an incredible range of items from jumpers and hats to tank tops and cardigans, although for a gift you can't go wrong with a scarf or a luxurious wrap. The Joburg Wrap, embellished with an abstracted silhouette of the Joburg skyline, is especially beautiful.
Visit Wrapt at Victoria Yards in Lorentzville or shop them online at wrapt.co.za.