Westerplatte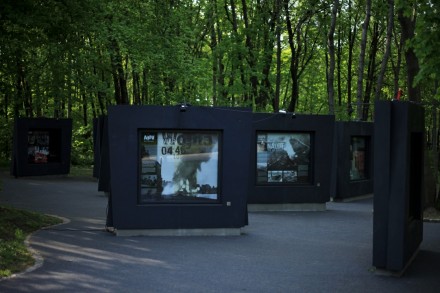 picture credit: Roman Jocher
A large protective arm smothering Gdańsk's Nowy Port to its south, the peninsula of Westerplatte first sprang to fame as a popular health resort in the middle of the 19th century, although it's as a military zone and the place where the opening shots of WWII were fired that Westerplatte is more notoriously remembered.

On March 14, 1924 Poland was awarded Westerplatte as a location for bringing in military equipment and ammunition from abroad, and on November 11, 1925, exactly seven years after the end of WWI and the subsequent signing of the Treaty of Versailles that created the Free City of Gdańsk, the building of a new depot that was to station a small detachment of 88 Polish soldiers was completed. Over the next 14 years Westerplatte grew into a huge defensive fort, and was considered so strategically important to Hitler that his invasion of Poland effectively started here.

Today Westerplatte is a memorial site featuring a scattering of shelled bunkers, burnt-out ruins a couple of old snack bars, souvenir stalls and a small museum open during the summer. 

There is also a permanent outdoor exhibition entitled 'Westerplatte: Spa-Bastion-Symbol' on display. Split into four parts, the first shows the life of the peninsula from its formation and development as a spa resort which lasted up until WWI. The second focuses on the development of the Polish Military Transit Depot in the inter-war years which leads into the third part and the defence of the peninsula in September 1939. The final part shows the significance of Westerplatte in the collective consciousness of Poles and its effect on the policies of the communist government up to 1989.
There are plans afoot to exhibit both the history of the peninsula better and to show the tragic fate of Poland in the years 1939-1945 set against the broader background of the war in Europe. These plans are due to culminate in the building of the Museum of the Second World War in a new building in Gdansk. To find out more about the project and to read more about the events of 1939, visit their excellent English language website at www.muzeum1939.pl
To get to Westerplatte on public transport from the main train station in Gdansk you first need to take tram no. 8 to the Music Academy and from there catch bus N°106 to Westerplatte. A direct but seasonal route (606) runs from Gdansk train station on Saturday, Sunday and public holidays between June 29 and September 1. A more fun but more expensive option is to take one of the boats moored along the Gdansk waterfront which cruise through the shipyards up to the peninsula and have food and drink options on-board.