Westerplatte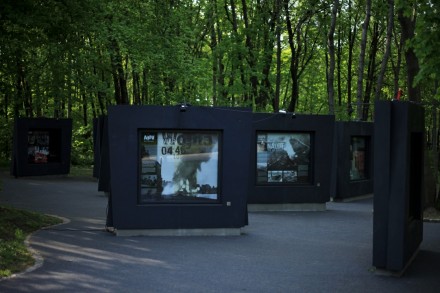 picture credit: Roman Jocher
On March 14, 1924 Poland was awarded Westerplatte as a location for bringing in military equipment and ammunition from abroad (Polish Military Transit Depot). Inaugurated on November 11, 1925 over the next 14 years Westerplatte grew from a depot with a 88-man attachment  into a huge defensive fort, and was considered so strategically important to Hitler that his invasion of Poland effectively started here.
The Polish troops on Westerplatte were in effect a crack unit, by now numbering around 200 troops, whose orders were to hold for 24 hours in the event of an attack to give air, ground and sea forces the opportunity to support them from mainland Poland. The speed and strength of the German attack put paid to that plan almost immediately with the Polish navy caught out in the Bay of Gdansk and the bulk of the air support from Puck destroyed on the ground. Yet the troops on Westerplatte continued to hold out despite coming under intense bombardment by air, sea and 3,500 troops on the ground. The hope was that France and Great Britain, who joined the war on September 3, would provide support but this never materialised. Eventually, on September 7, a lack of water, ammunition and medical supplies convinced the commanding officer Major Henryk Sucharski to surrender the Poles' heavily damaged stronghold. He and his troops left Westerplatte to salutes from their captors in recognition of their bravery in a battle that had cost just 15 Polish lives. 
The battle, while of little strategic importance to the outcome of the battle for the city, still represents a source of immense pride for many Poles who recognise the bravery of their countrymen in their resistance to one of the country's traditional foes.
Today Westerplatte is a memorial site featuring a scattering of shelled bunkers, burnt-out ruins a couple of old snack bars, souvenir stalls and a small museum open during the summer. 
There is also a permanent outdoor exhibition entitled 'Westerplatte: Spa-Bastion-Symbol' on display. Split into four parts, the first shows the life of the peninsula from its formation and development as a spa resort which lasted up until WWI. The second focuses on the development of the Polish Military Transit Depot in the inter-war years which leads into the third part and the defence of the peninsula in September 1939. The final part shows the significance of Westerplatte in the collective consciousness of Poles and its effect on the policies of the communist government up to 1989.
To get to Westerplatte on public transport from the main train station in Gdansk you first need to take tram no. 8 to the Music Academy and from there catch bus N°106 to Westerplatte.