Inquiring minds want to know: Should I visit Gdańsk in the autumn?

Yes! As the bombshell IYP report below reveals: September, October and November are a wonderful time to visit Gdańsk and the surrounding Polish seacoast (what did you think?).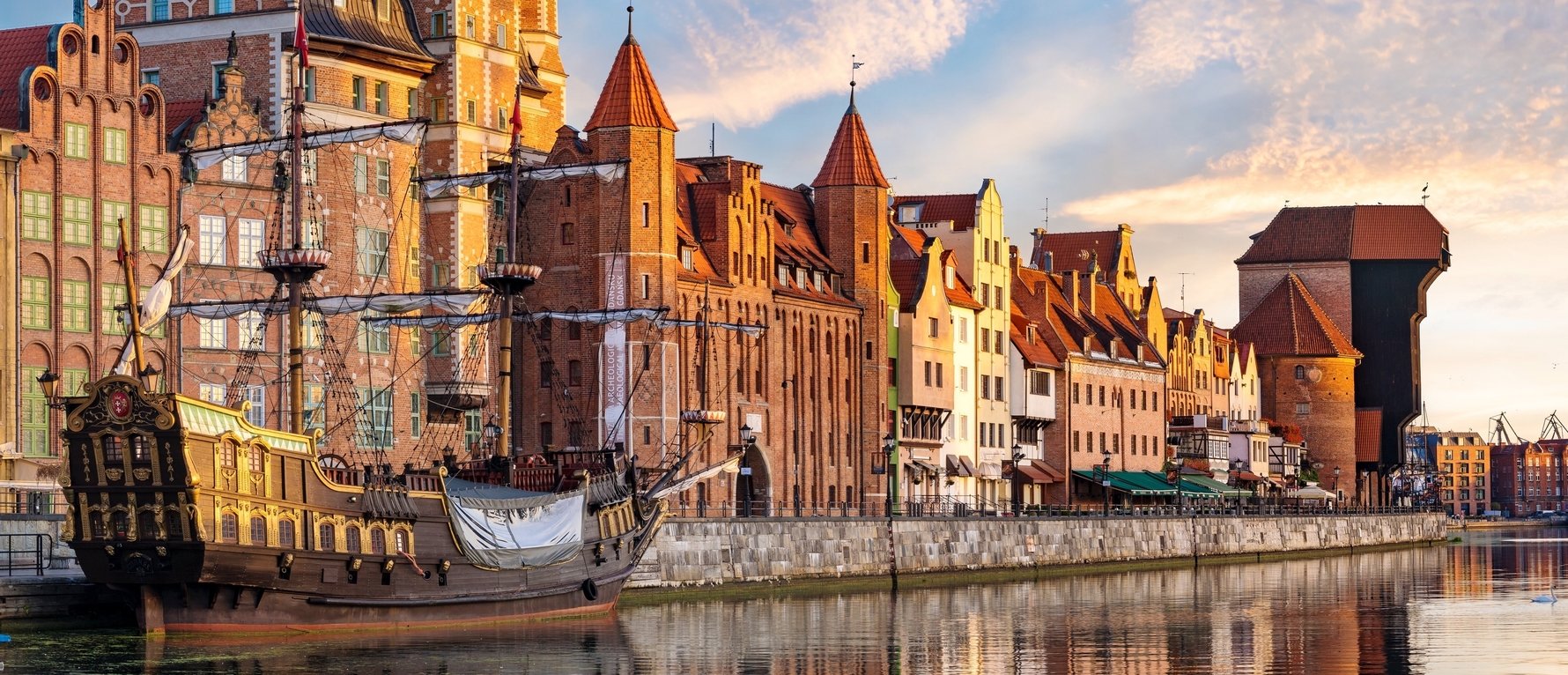 WHY YOU SHOULD VISIT GDAŃSK IN THE AUTUMN
Poles are so proud of their autumn season that they call it 'Złota Polska Jesień' - the grandiose 'Golden Polish Autumn.' Also known as 'babie lato' (commonly referred to as 'Indian summer' in English), the Polish autumn is often characterised by sunny though slightly cooler weather - particularly in September and early October - coinciding with the harvest and the changing of the leaves. One of the most pleasant, picturesque and photogenic times of the year, avid fans of the Polish autumn even have their own moniker, as you'll see social media fill up with 'jesieniary' (taken from the Polish word for autumn - jesień) promoting a lifestyle of mushroom picking, pumpkin soup, big cosy sweaters and cinnamon-spiced drinks at this time of year.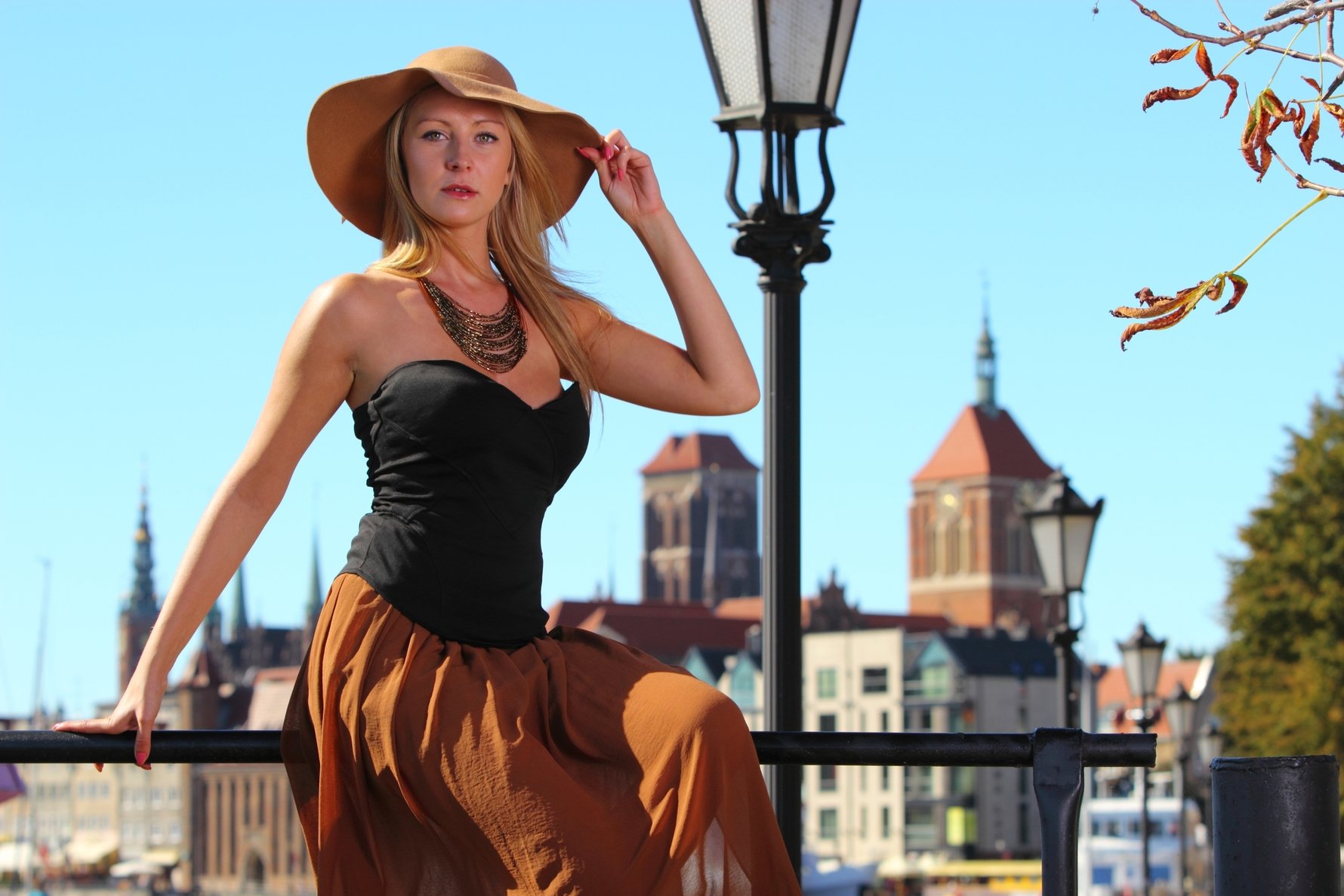 Although Pomerania and the Baltic coast are a bit more damp than southern Poland at this time of year, the amber hues certainly suit the region. Tourist numbers drop dramatically starting in September, making early fall arguably the best time of the year to visit as the beaches are a lot more empty and local businesses adopt off-season pricing. Bear in mind that the Baltic weather does change quickly, so keep both your beachwear and raincoat at the ready. When the weather does turn too grey, remember that the Tri-city boasts plenty of indoor activities, including some of the best museums in Poland.

[By the way, we put all of this in a guidebook, so that you can explore Gdańsk offline. Get the Gdańsk IYP City Guide and show the locals how literate you are.]
WHAT TO DO IN & AROUND GDAŃSK IN AUTUMN

Rent a Bike & Ride!
Let's start off by talking about cycling in Gdańsk and the Tri-city area because all the recommendations below are easily-achieved with a set of wheels. Northern Poland is quite flat and, therefore, getting around by bike is a great way to see the Tri-city. Fewer tourists mean more space to zip around and cooler weather makes this an ideal way to stay warm. If you didn't bring your own bike with you, don't worry: There are plenty of places to rent them. Companies like Poland By Locals have organised bike tours to see Gdańsk Old Town, the Shipyards and other surrounding areas. We encourage you, however, to look beyond the centre and consider some of the
great bike trails you can enjoy in the area
.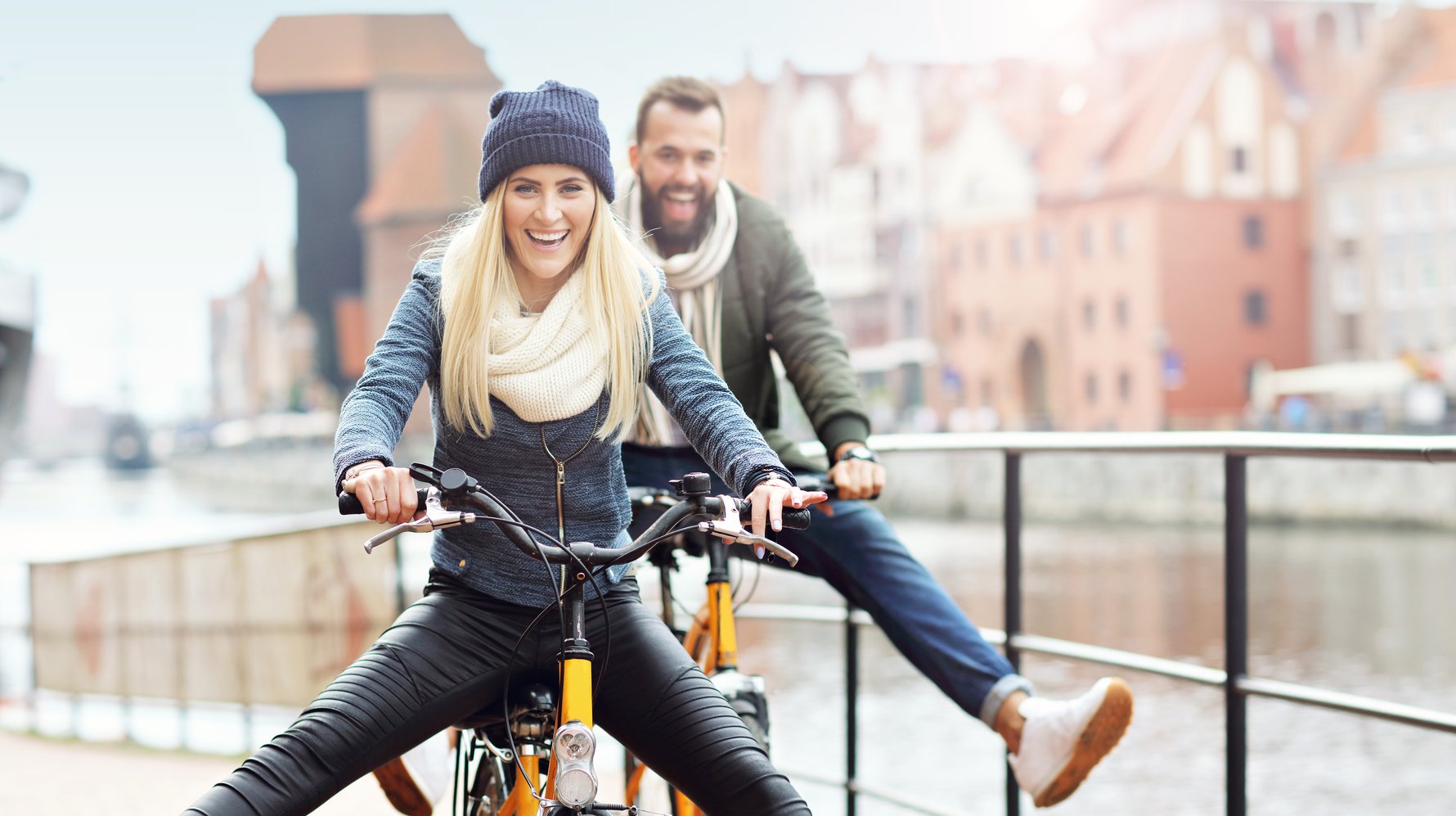 Oliwa is known as the leafy district of Gdańsk for a reason. As soon as you depart the train station, you are greeted with old suburban streets lined with trees. After a few minutes walk to the west, you will reach Oliwa Park - the main attraction in the area. Developed in the 18th-century by an Abbot devoted as much to gardening as he was to God, this has been a favourite of locals and visitors ever since. If you planned on taking a holiday for some R&R, a stroll through this romantic park is exactly what you need. The grounds are so stunning in autumn that we challenge you not to take a photo!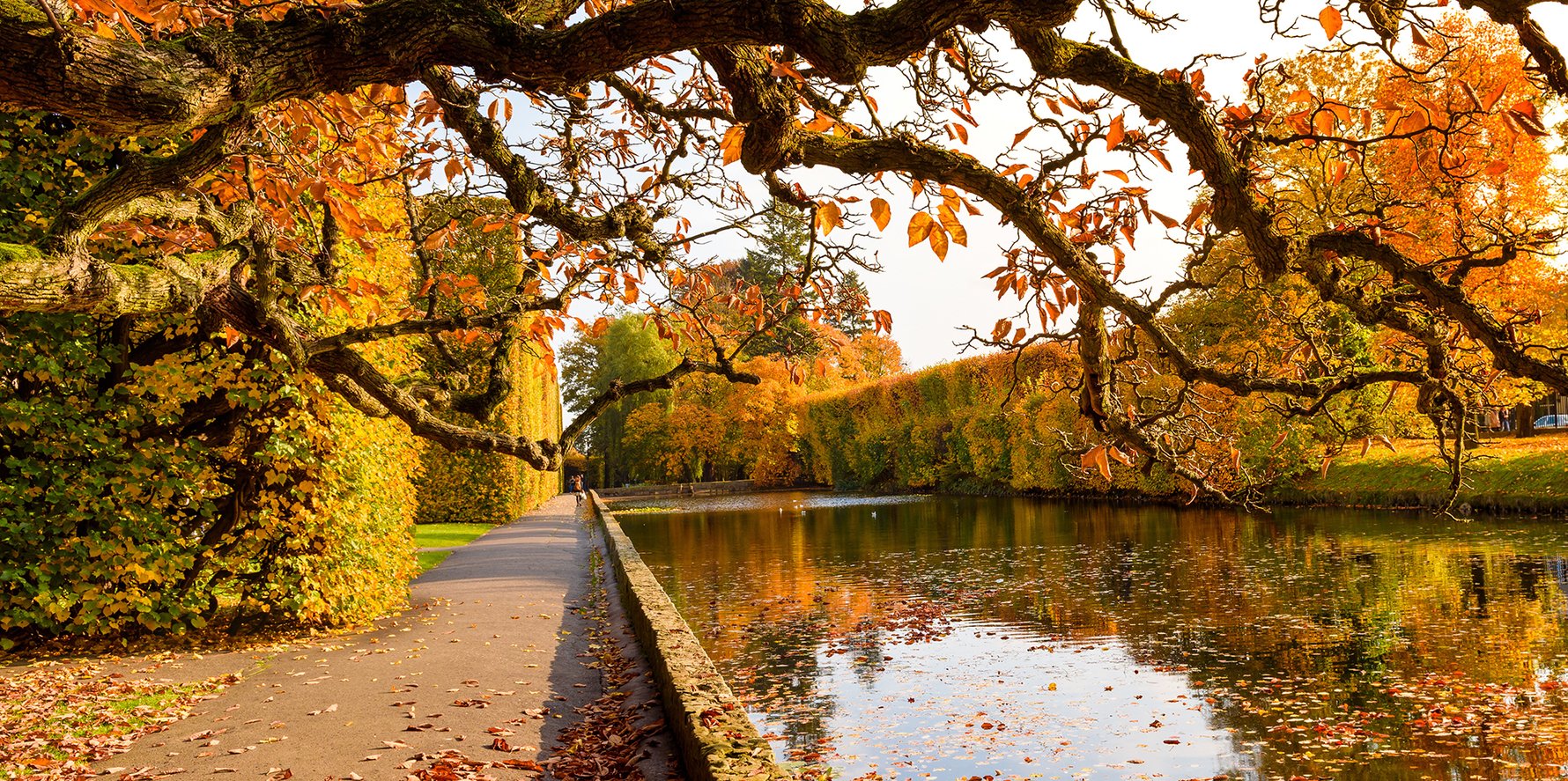 In addition to leafy lanes and scenic views, Oliwa Park also features a Palm House, Modern Art Museum and Ethnographic Museum if the weather turns on you. Definitely drop into Oliwa Cathedral to not only see, but hear the church's famous organ, featuring 7,896 pipes that produce 110 registers, as well as other sounds and visual effects including moving cherubs and angels. Incredible organ recitals are performed regularly, check the timetable here.

Finally, Oliwa is also home to Gdańsk Zoo, which you'll find in the district's forests just west of the park. If you're visiting with kids, it's the perfect family outing, combining autumnal flora and exotic fauna.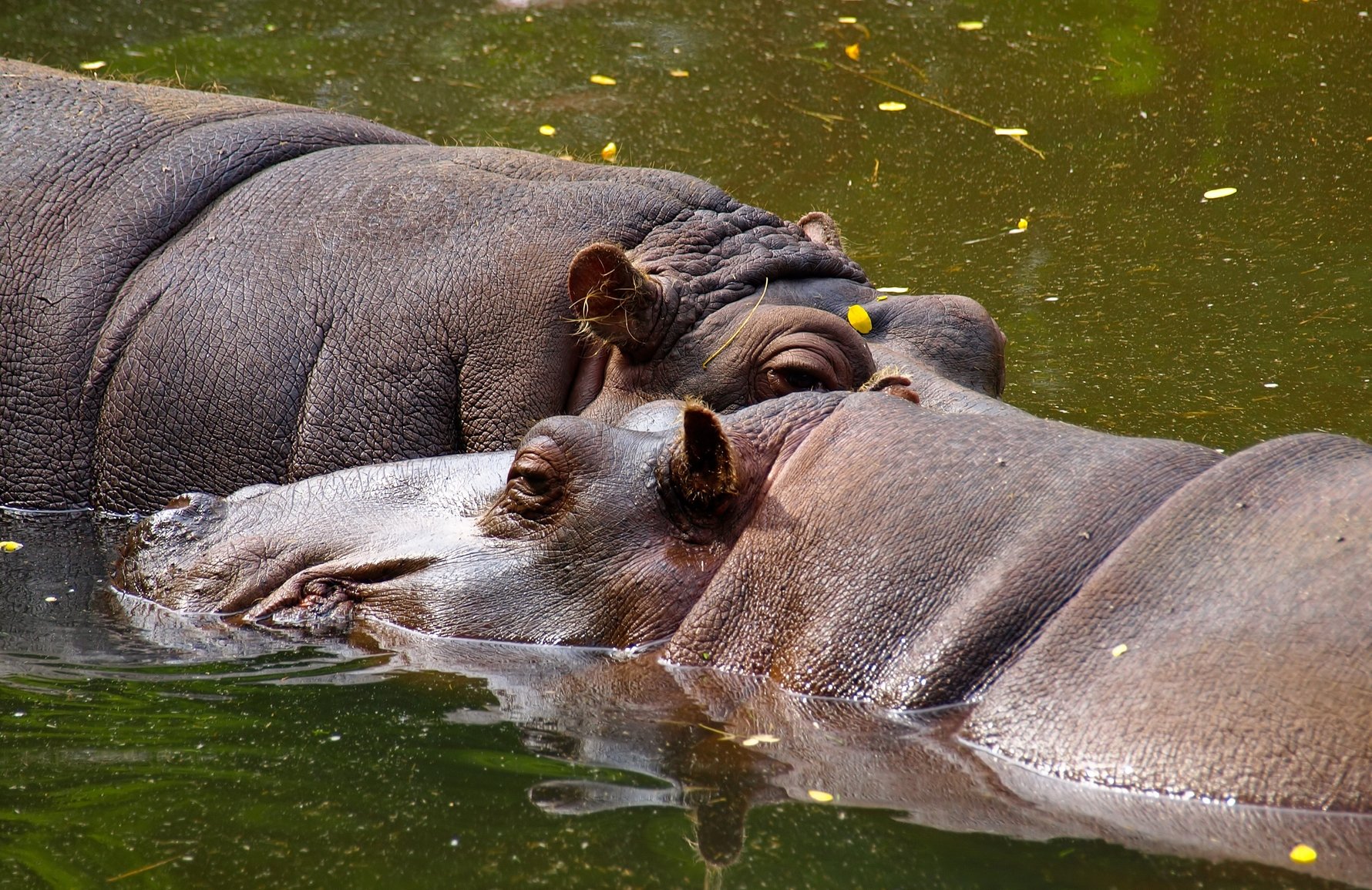 Sopot was developed as a spa resort in the 19th century for a number of reasons. Aside from its ideal location on the Baltic coast, the area boasts healing waters from underground springs, the restorative properties of which are attributed to the water's high levels of bromine and iodine. Thanks to the cool humidity, Sopot's air has even higher levels of iodine in the autumn. So go to Sopot and breathe deeply...it's good for your health! If you want the maximum dosage, seek out one of the city's still-functioning inhalation mushrooms and meditate on a park bench.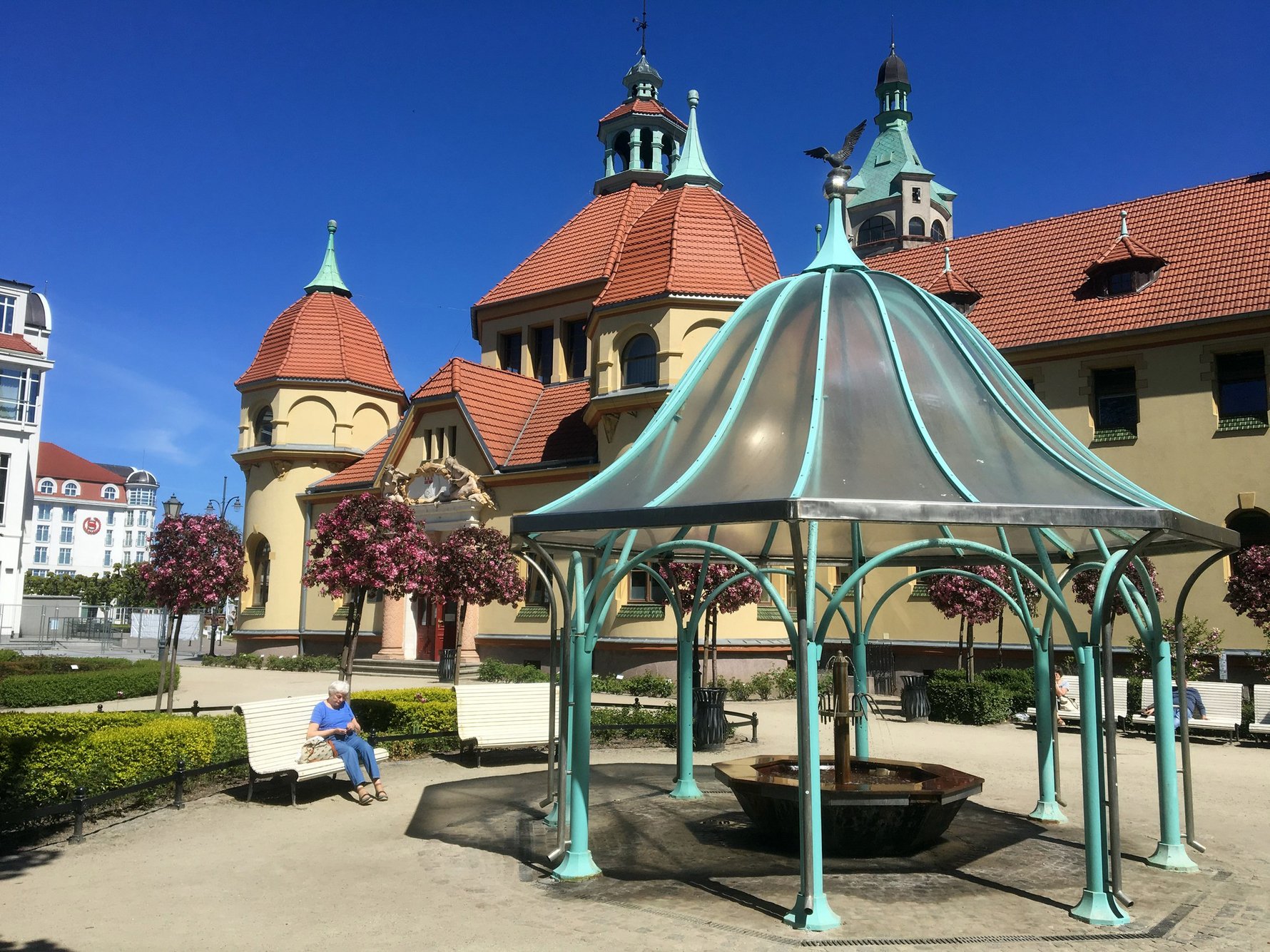 While you're in pursuit of those mushrooms, you'll quickly find that there's quite a bit of parkland extending north and south of Sopot's centre. These are part of the spa resort 'R&R' legacy and date back to the early 19th-century. These parks have not lost their golden-era charm and the seasonal colours really bring out the magic of the place. As mentioned earlier, a bike is a great way to get around, especially in Sopot, from which you can take bike lanes and trails all the way to Gdynia (see below).

Monciak, the main strip in Sopot, is renowned for its nightlife and certainly a top option for evening activities. During the day, however, the cool breeze flowing through the tree-lined streets makes Sopot a great spot for taking it easy outdoors with a coffee or light meal. Check out Teatr Bolo, Dwie Zmiany or La Crema D'Italia when you need a break from sightseeing.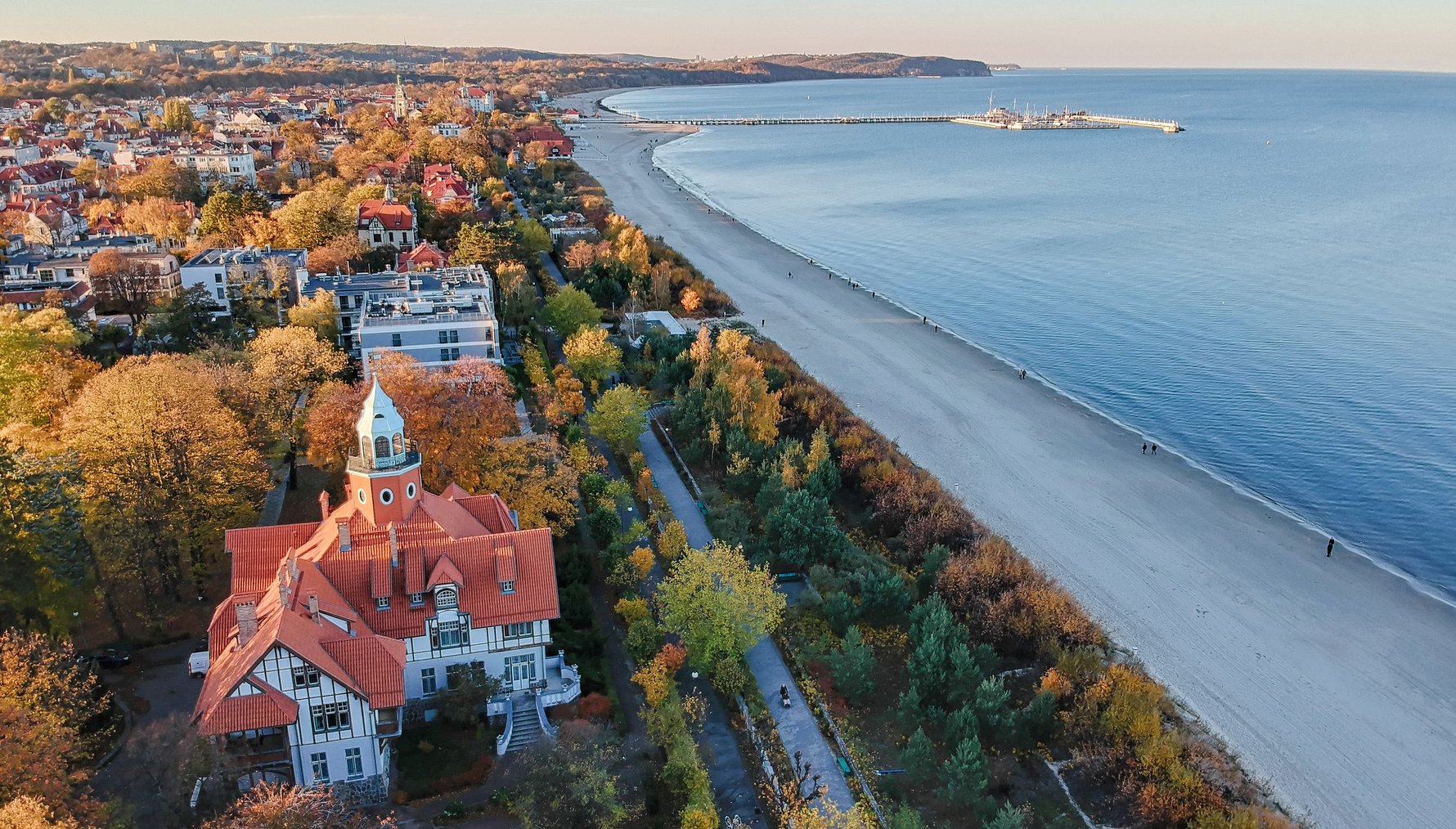 Take the Coastal Trail to Gdynia
Whether on foot or on a bike, this is a great way to spend a day outside. The trail itself will take a few hours, but there are a lot of pleasant pit stops you can make along the way. Starting in Sopot and heading north through the coastal parklands, the first major stop will be Orłowo in Gdynia. In addition to cafes and restaurants, Orłowo is the site of a cliff offering incredible views of the Baltic, and a romantic pier, which is much more accessible and low-key than its competitor in Sopot!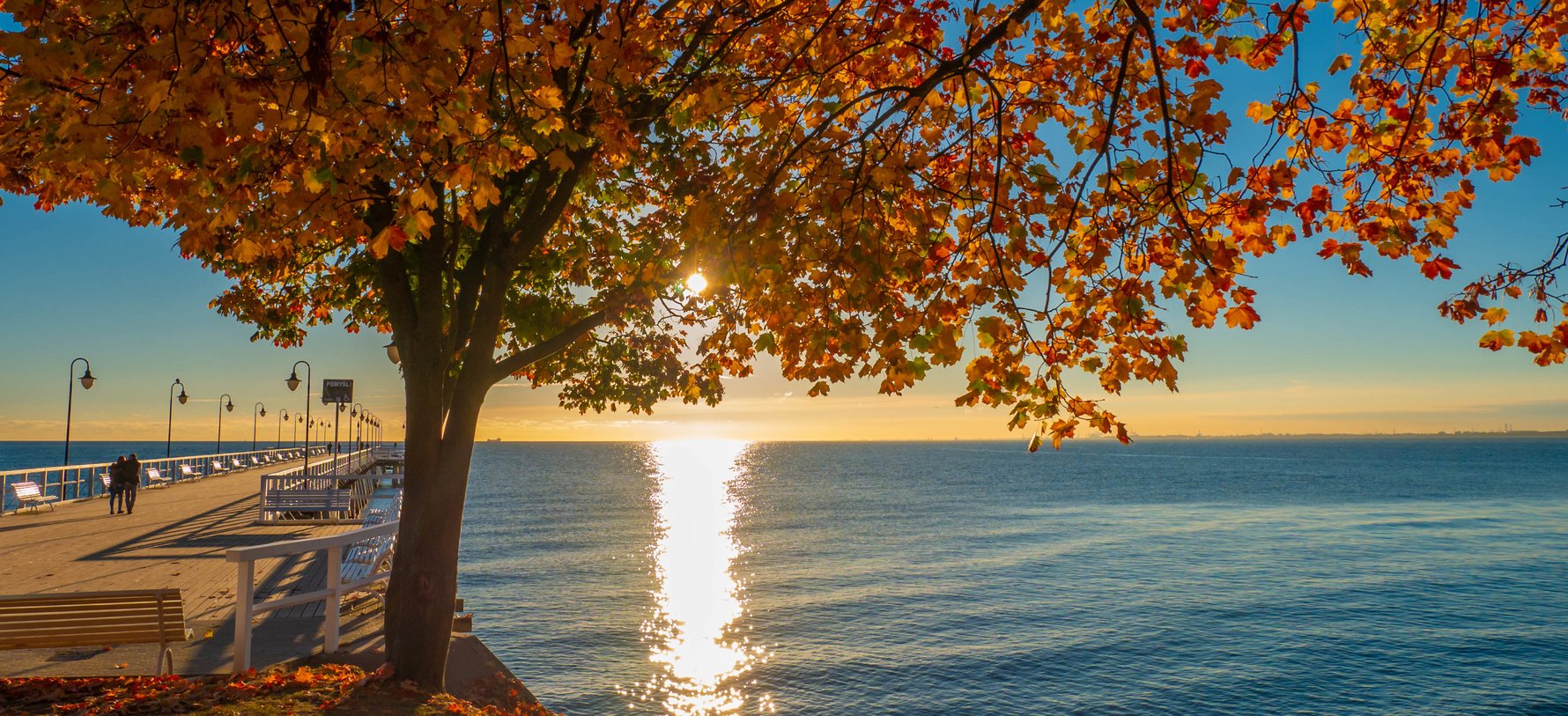 Next up is the district of Redłowo. By this stage, you may be thinking: 'Oh great... more damned trees!' as you head into Kępa Redłowska in order to continue further north. However, if you look a little closer, you will find remnants of trenches left over from WWII. An even closer look will reveal the concrete bunkers that these trenches connect. Of course, if you are visually-overstimulated by the red and yellow of the forest, you can always switch your route to the beach. Cyclists should know that the unpaved forest trails can be strenuous, especially for kids, but the main road connecting Sopot and Gdynia - Aleja Zwycięstwa - is as easy and safe as it gets when it comes to urban riding.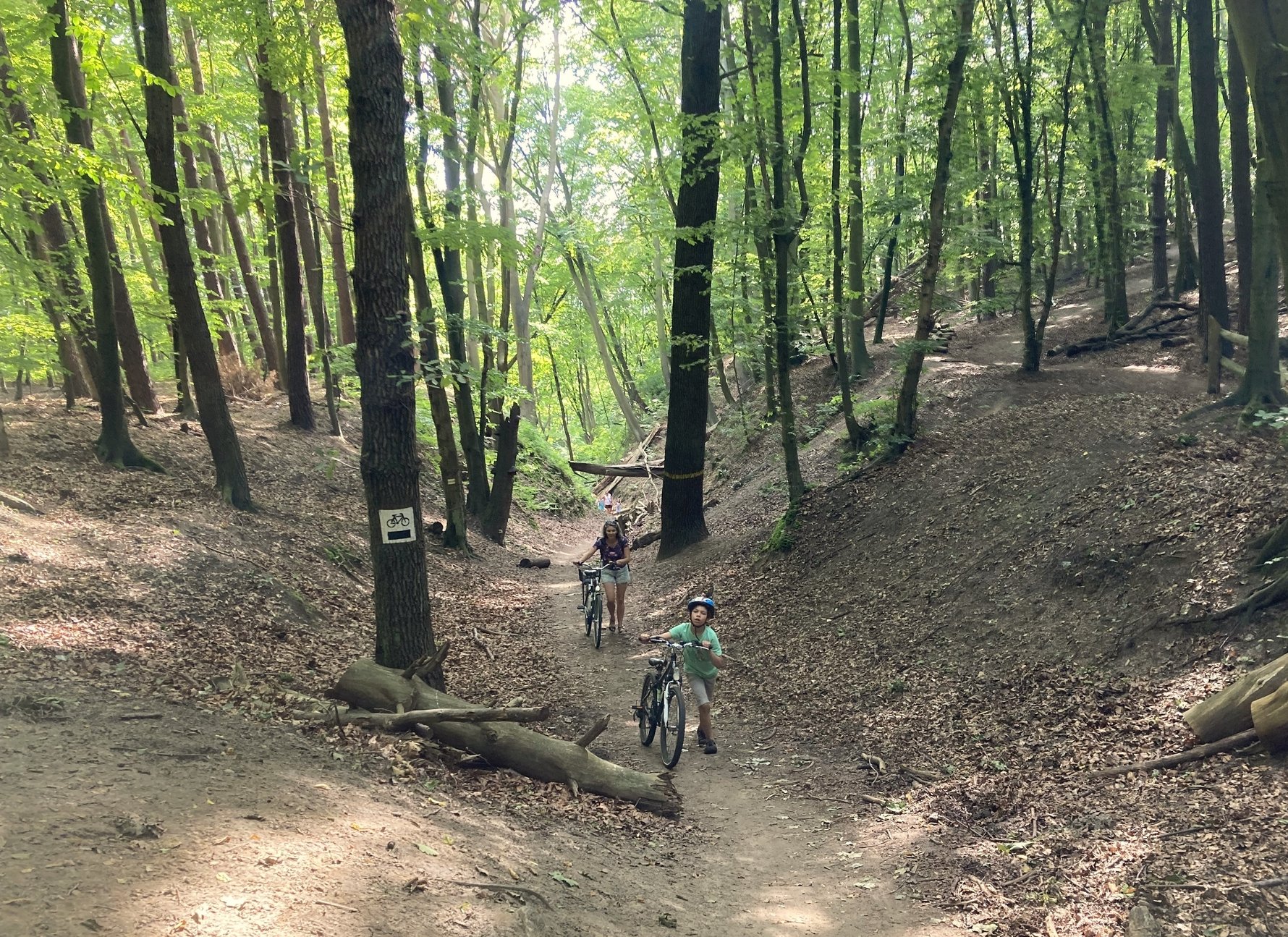 See Gdańsk through the Sepia Prism of its Amber Heritage
No season suits the Baltic coast more than autumn, when the entire landscape takes on a sepia glow synonymous with the region's amber trade and traditions. You can learn all about the precious stone known locally as 'Baltic gold' at Gdańsk's excellent Amber Museum, and see some of the world's most impressive amber art, artefacts and objects while you're there. Scoop your own amber souvenir from the museum shop, or peruse the displays of the famous amber market on charming Mariacka Street in Gdańsk Old Town. It's obligatory, particularly at this time of year.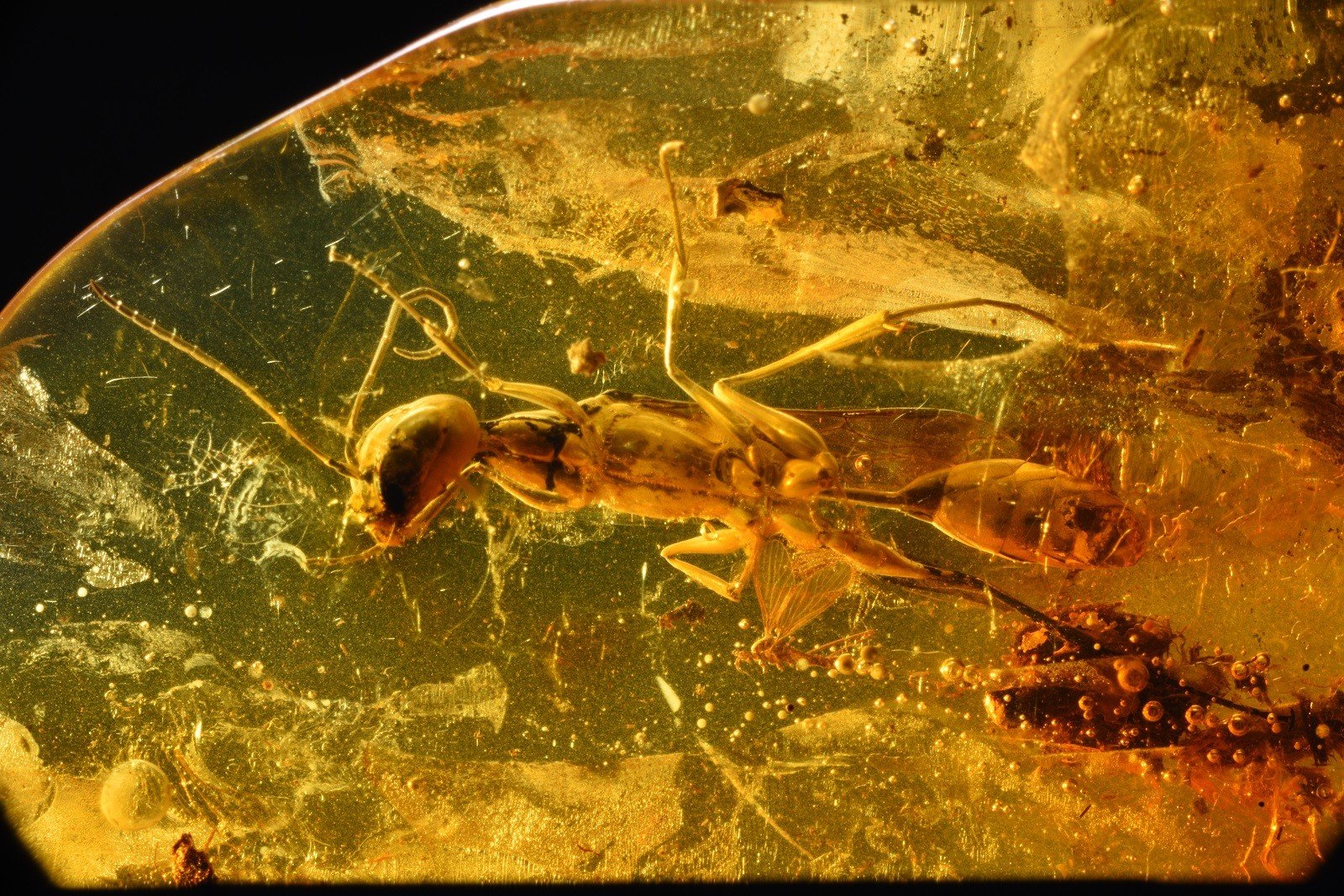 A far cry from the creepy costumed consumerism of American Halloween, Poland gets deathly serious when it comes to co-opting pagan traditions connected with honouring the dead. In the Christian calendar, All Saints' Day on November 1st is a public holiday dedicated to visiting cemeteries and praying for the souls of saints, martyrs, family members and ancestors. Although it's not the subversively sexy and sugary mayhem of Halloween, All Saints' Day is a national holiday with its own mystic charm, and the scene of Poland's cemeteries aglow in candlelit is enough to make the heart flutter. A great time to be anywhere in Poland, we recommend a trip to Oliwa Cemetery if you're up in Gdańsk. Read more about All Saints' Day in our dedicated feature.
   
Let Freedom Ring on November 11th - Polish Independence Day
While the rest of the world observes Armistice Day (or Veterans' Day) commemorating the end of World War One, November 11th, 1918 was also the day that Poland reemerged as the Second Polish Republic following 123 years of non-existence. Independence is a big deal for Poles, especially considering that it would leave and return a couple of more times before Solidarity's election victory in 1989. Whilst you may not be so invested in the political history and generally not so keen on flag-waving and parades, November 11th is an amazing opportunity to see historic re-enactors against the backdrop of Gdańsk Old Town!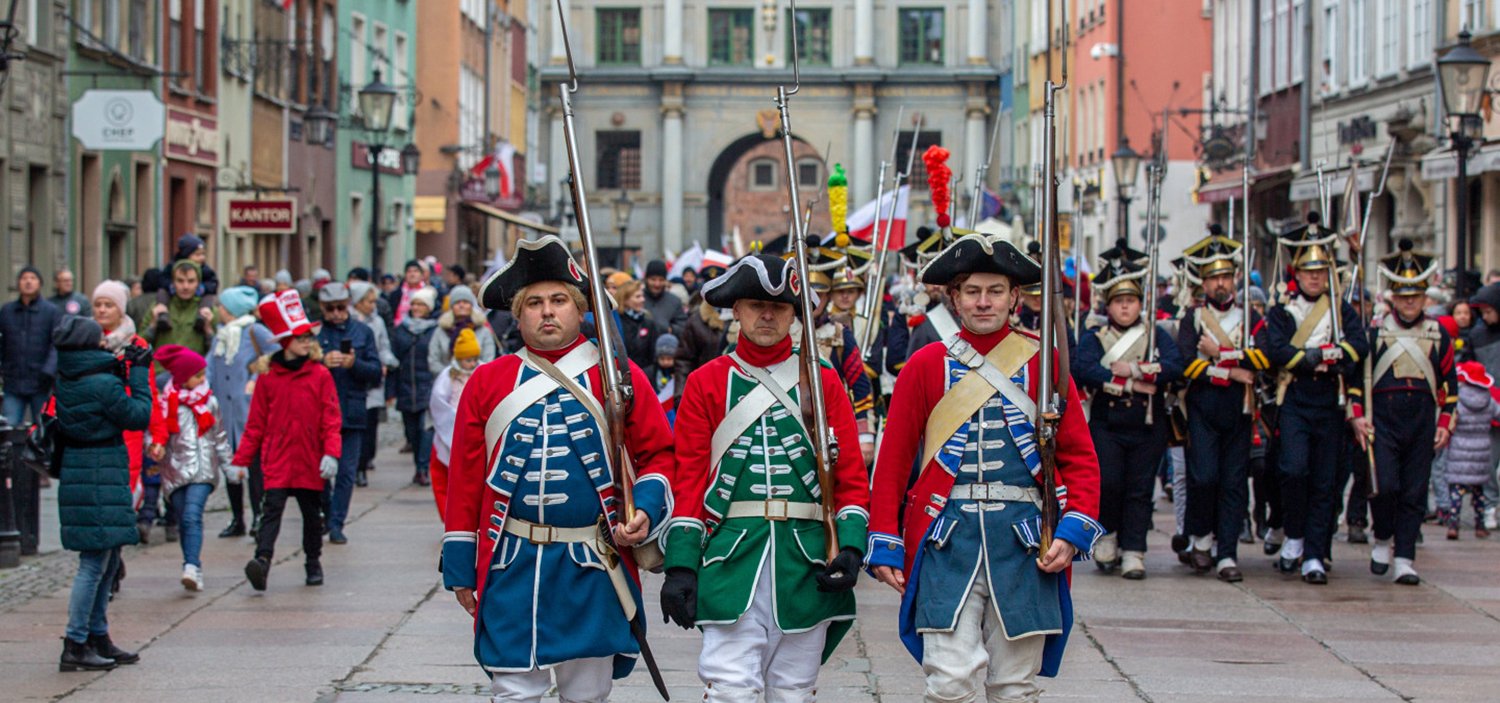 You will see costumes from many different eras of Polish history from the Middle-Ages to Napoleonic 1800s and plenty of boy/girl scouts in WWII Partizan outfits. Local museums will also roll out their vehicle collections and it's all a rather colourful affair, hugely contrasting the sombre atmosphere of Armistice Day elsewhere in Europe. The re-enactors are a very enthusiastic bunch and will not turn down a request for a photo with them!
WWII re-enactors in Gdańsk's Independence Day Parade.
Photo by Piotr Hukało / Trojmiasto.pl

Medieval re-enactors in Gdańsk Old Town.
Photo by Piotr Hukało / Trojmiasto.pl
If you're coming to Gdańsk, Sopot or Gdynia, make sure you get a copy of our guidebook!