From exploring Joburg's incredible city architecture to its hidden coffee houses and wild nature trails, by joining a cycling tour or renting a bike you can see and enjoy the city in a whole new light.

When you think about navigating and exploring Joburg, cycling may not be the first mode of transportation that springs to mind. Traffic congestion (or at least a local habit to constantly complain about it) reveals Joburg to be a car-obsessed metropolis.

An initiative by the former city administration to encourage commuter cycling by building dedicated bike lanes collapsed shortly after it was set up, with the lanes becoming more popular with impatient taxi drivers, delivery trolleys and street hawkers. Yet in spite of this, a growing number of passionate Joburgers are reframing the narrative around cycling in the city, forming groups who cycle en masse and launching cycling tours of the city that showcase the accessibility and unique vantage point of life on a bike.

Cycling fans visiting Joburg would be remiss not to hop on two wheels and join one of the many dynamic group rides or hire a bike and take a spin through Joburg's parks and surrounding nature reserves. Township tourism pioneers Lebo's  Soweto Backpackers have established daily bicycle tours through Soweto, weaving between sites of historical importance and offering opportunities to interact with locals in a way that helps bring visitors into the community that is authentic and mutually beneficial.

Meanwhile, in the heart of the inner city, cycling is one of the most fun ways to see up close some of the city's most buzzed-about neighborhoods, especially if you opt to join Kennedy Tembo's Microadventure Tours for a themed ride through town sipping your way through Joburg's best independent coffee shops along the way.

Joburg and its surroundings also offer plenty of open spaces for road and mountain biking, from the well-maintained tar roads that meander through the rolling grasslands of the UNESCO World Heritage Site the Cradle of Humankind to the tree-lined Braamfontein Spruit that passes through Joburg's older suburbs and sprawling park areas. Exploring Joburg on two wheels is immersive, social, and a unique way to experience the city – just make sure to wear comfy shoes, slather on sunscreen, keep your cellphone and other valuables out of sight and bring along water.
Joburg bike tours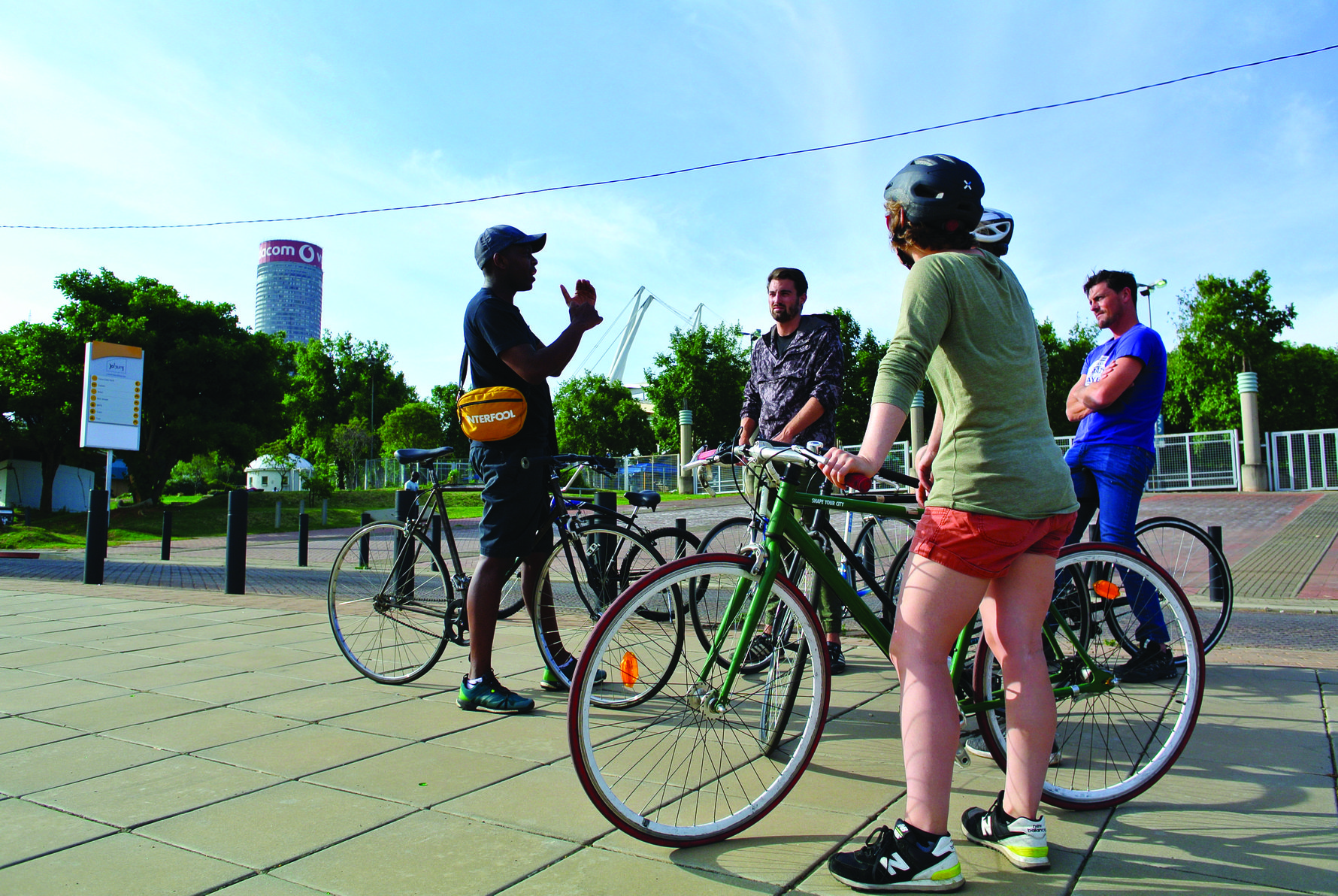 EAST CITY CYCLE TOUR WITH CURIOCITY
As one of Joburg's coolest and most innovative backpacker hostels that prides itself on finding ways to take guests out of their rooms and into the energetic, colourful streets of the city, of course, it comes as no surprise that Curiocity runs an immersive and fun social bike ride through the Maboneng precinct and surrounding areas.

On Saturdays and Sundays from 15:00–17:00 the East City Cycle Tour leaves from outside the backpackers on Fox Street in Maboneng, rolling past the incredible collection of graffiti and street art that the neighbourhood is famous for, and continues on towards the historic suburbs of Jeppestown, Doornfontein, and Troyeville. Led by knowledgeable local guides the tours are infused with both historical and cultural insights on the City of Gold. The cycle tours cost R350 per person including bike and helmet hire, booking is essential.

EBIKERS GRAFFITI TOURS
If you're looking to experience the cultural side of Joburg but want something different to your usual gallery visit look no further than the eBikers graffiti tour. Led by Eelco Meyjes these tours take you through the streets of graffiti-suburbs such as Braamfontein, Westdene and Newtown and focus on some of the 800+ murals spread across the city. You'll be sure to come out of it feeling refreshed and having learned about this dynamic art scene which is colouring Joburg's streets. And if your legs are feeling a bit tired they offer a safari-vehicle tour too. Tours range from R345 to R525 and booking is essential. 

LUCILLE DAVIE'S JOZI TOURS & TALES
Veteran South African journalist Lucille Davie offers a variety of engaging tour experiences that are richly imbued with her intimate knowledge of the history of Joburg and its most famous residents. For an especially interactive history lesson, join Lucille on her 4-hour mountain bike tour along 25km of the Braamfontein Spruit. The route covers some of Joburg's most interesting older suburbs, following a path from Blairgowrie in the north through the beautiful Delta Park and the pretty suburb of Linden and onwards through Albert's Farm and Sophiatown with a rest on the return journey, stopping at Westpark Cemetery.

Along the way Lucille shares her vast knowledge of the places that hold Joburg's most colourful stories and the people who have walked its streets. Lucille's tours are held monthly depending on demand and you will need to bring your own mountain bike with you (see our rental suggestions below).

MICROADVENTURE TOURS
Kennedy Tembo is the ambassador of adventure in Joburg. He founded Microadventure Tours in 2017 to connect Joburgers with energetic experiences outside of their comfort zone that are right in their backyard. Kennedy leads half-day and full-day guided rides around the historical sites of the Joburg City Centre and a 16km cycling tour of the scenic Cradle of Humankind which includes a visit to the museums at Maropeng. He also runs regular specialty rides, such as the Jozi Coffee Cycle Tour – a coffee-themed bike ride through downtown Joburg that pit-stops at five independent coffee shops and several architectural marvels. Bikes and helmets are provided.
Township bicycle tours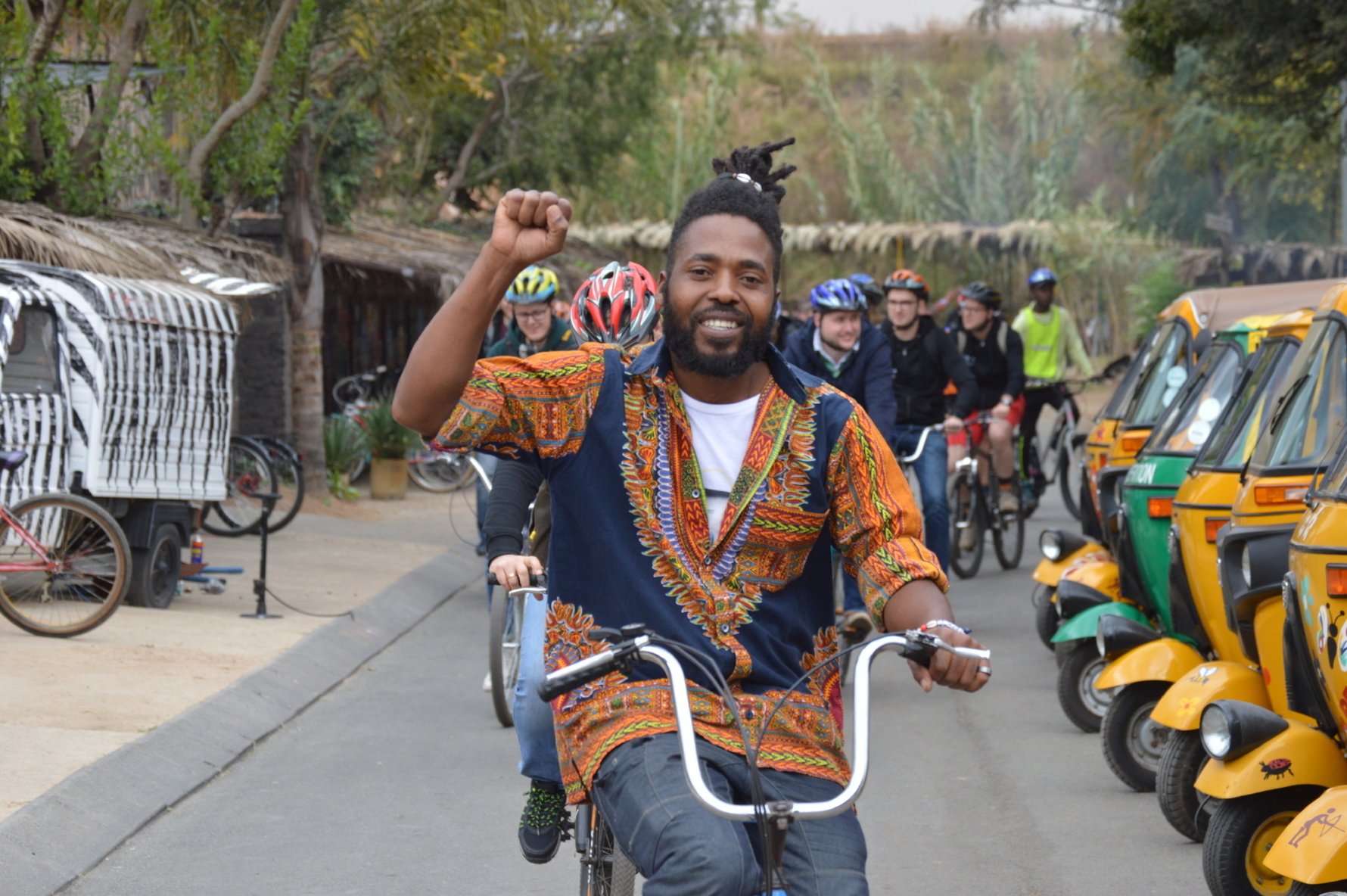 LEBO'S SOWETO BACKPACKERS BICYCLE TOUR
This lively backpackers in Orlando West, Soweto offers an ever-expanding choice of excellent tours of Soweto by foot, tuk tuk or bicycle. The idea of touring the township by bike has taken off across South Africa, although it was the late Lebo Malepa who first pioneered the township cycling experience when he began borrowing bikes from locals to take foreign visitors out to see the sights of Soweto. Fast forward more than a decade and Lebo's Soweto Backpackers now owns more than 100 bicycles and employs dozens of staff. There's a choice of different rides ranging from two-hour experiences to a full day tour (bear in mind you need to be moderately fit to tackle a full day).

Presenting an authentic and richly nuanced look at Sowetan life and history, the tour goes far beyond the usual generic Mandela-themed sites visiting other areas of historical significance such as the former migrant workers' hostels and areas linked to the Apartheid policy of forced removals like Meadowlands. The tours also include stops to try local street food to keep your energy up, before ending back in the park in front of Lebo's Backpackers for drinks and a delicious home-cooked lunch at Lebo's Outdoor restaurant.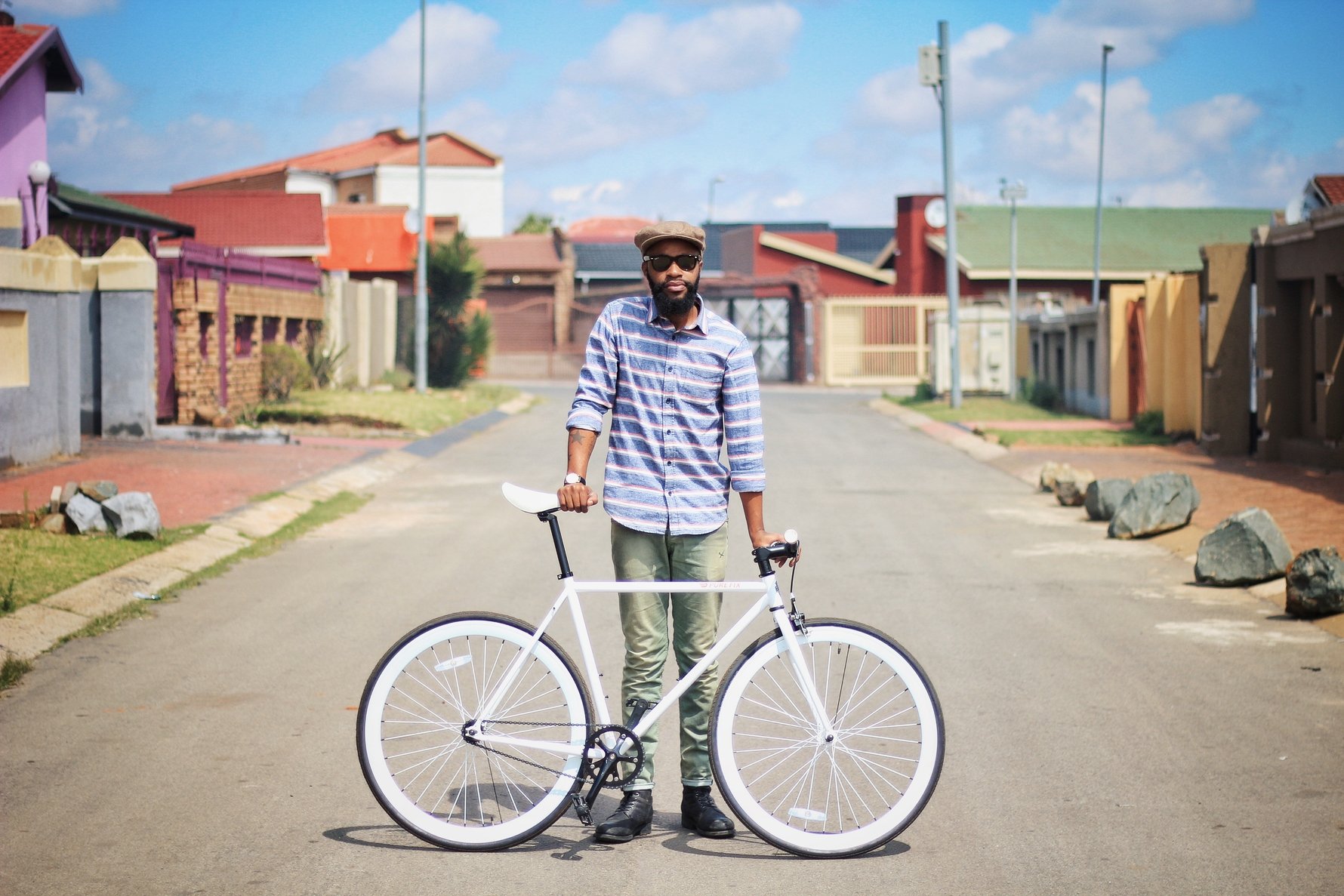 Bike rental
A handful of the bike repair shops around Joburg have bikes and helmets available for daily or hourly hire and are also generally good places to get advice on easily navigable routes and safe areas to cycle through. Some even offer lessons for the novice cyclist. Bike rental is still a fairly new phenomenon in Joburg and most places do not have a huge number of bikes on offer, so it pays to call ahead to book and ensure a bike is available.

THE BICYCLE AT BREEZEBLOCK CAFÉ
This small bicycle servicing shop in Brixton based out of Breezeblock Café believes in the power of cycling to boost an individual's self-confidence and offers lessons to absolute beginners. The Bicycle also hires out bikes for short and long-term use, plus helmets and locks and supplies cycle route maps.

CURIOCITY 
In addition to its popular weekend East City Cycle Tour, Curiocity Hostel in Maboneng has a selection of road bikes available for rental. 

SPROCKET & JACK 
A bespoke cycle assembly and repair shop that has a limited selection of mountain bikes available for hire. The location on the Braamfontein Spruit is especially convenient for exploring the nearby MTB trails.

UNCLE MERV'S
Located on the corner of Fox and Kruger Uncle Merv's offers a variety of vintage bikes to rent and is the perfect launching point for exploring Maboneng and its surrounds. Enjoy a drink at their hole-in-the-wall when you're done.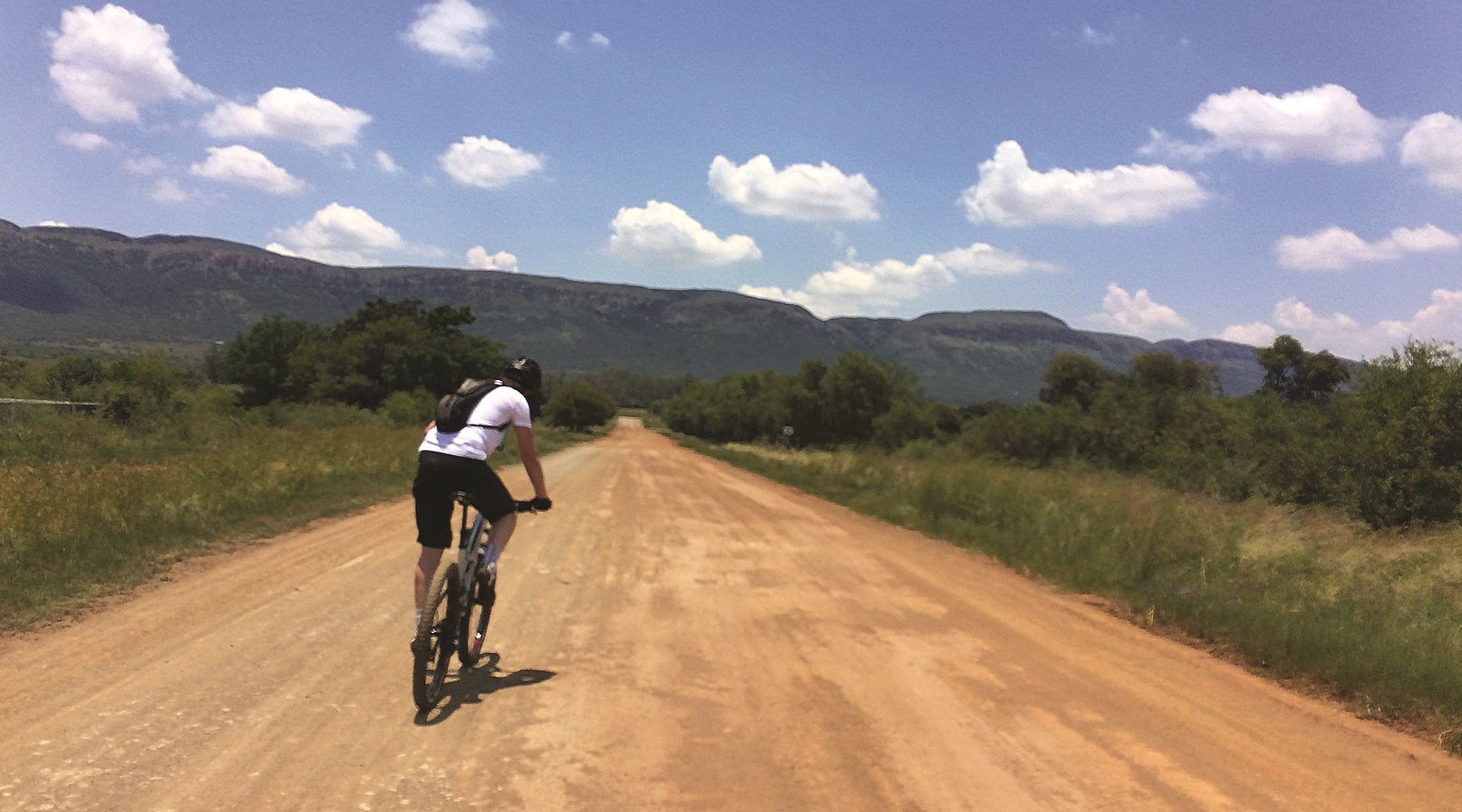 Riding outside the City
CYCLING IN THE CRADLE OF HUMANKIND
Just beyond the Joburg city limits the UNESCO World Heritage Site The Cradle of Humankind (roughly 40 minutes drive north of Sandton) has become a top destination for cycling aficionados and on any given weekend you'll find herds of cyclists crisscrossing the area's scenic cycling routes. With access to a mountain bike you can take yourself for a self-guided road bike tour. The 30km Cradle Route loop which follows specially designated 2m-wide bike lanes along tarred country roads is a good place to start. Note that some sections of the Cradle Route are remote, so it is recommended not to bike alone. Alternatively join Microadventure Tours guided 16km group road bike ride which takes in the Rhino and Lion Park, Sterkfontein Caves and Kromdraai mine stope and includes mountain bike rental. 

RIETVLEI ZOO FARM
The Rietvlei Zoo Farm in the South of Joburg offers mountain bike trails of varying difficulties. Hop on the 5km trail for some light exercise or take on the 22km trail for those feeling like more of a challenge. Afterwards stop by the beautiful Rietvlei gardens to picnic, kickback, and enjoy the sunshine.
Coffee shops for cyclists
What better way to end a ride or meet some new cycling buddies than stopping for a delicious cup of coffee at a specialist coffee shop that also deals in all things bikes. Here are a few of the coffee shops we think you might enjoy.
CASQUETTE CYCLING CAFÉ
Hot and sweaty after your ride? Stop by Casquette in Rosebank for a cold beer. Or get coffee while getting your bike fixed and maybe grab some lunch while watching whatever race is on TV. This cafe really is geared for cyclists and even opens at 06:00 to catch the early morning cycle ride rush.

GRIND COFFEE COMPANY
Located in Arch Cycles in Melrose Arch Grind Coffee offers delicious coffees and healthy eating options for when your ride has left you a little low on energy. Downstairs the space is largely devoted to all things bikes while upstairs there are larger tables and booths if you want to sit for a while.
Social rides

Joining one of the city's many social bike riding clubs can be a great way to meet like-minded fans of life on two wheels.

The Illovo Cycling Group organises weekly social group rides starting at the Engen McDonalds in Rosebank. Every Tuesday-Friday, join the group for an early morning ride at 05:00 and Saturdays at 05:00 or 05:30. All ages and genders are welcome to join the group. Follow them on Instagram for more info @illovocyclegroup.

The Mangrove Sunday bike ride takes place every Sunday from 09:30 for a ride around the Braamfontein and Sophiatown area. There is a short route of 5km–7km and longer route of 10km–15km, pop by at 09:15 for a quick coffee to get the morning fuel pumping. The meeting point is outside the Mangrove restaurant in Braamfontein. Bike rental costs R150 (book by Saturday midday) or bring your own bike and helmet. Follow them on Instagram for more info @mangrovejoburg.

Join Critical Mass Jozi for a mass cycle around the Joburg inner-city on the first Thursday of every month. Cyclists of all ages and backgrounds show up in their brightest gear, that can include fairy lights and superhero costumes, to reclaim the nighttime streets for two-wheelers. The rides usually set off from the corner of Juta Street and De Beer Street in Braamfontein. Follow them on Instagram for the latest details on the next ride at @criticalmassjozi.

The Biking Bandits were founded by Tebogo Galagala, Tsatsi Rantsatsi and Tiyiselani Mashele. Initially started as a way to foster group rides through the city at night it has grown to offer cycling tours of the city. Each week they post their schedule and planned rides and from there anyone can join with them offering rentals for those without bikes. See @bikingbandits for more details.