We're not gonna lie, Joburg has a heck of a lot of malls, and if you love mall culture, wherever you are in the city you'll likely only be a few blocks away from one. But what we love about cities, and particularly this one, are those unique neighbourhood high streets that don't need the practicality of a gargantuan supermarket or an abundance of carpark to thrive.

Our favourite high streets are those places where you can stretch your legs with a stroll outdoors, grab a good coffee at a pavement cafe and shop for locally made produce, books, or handmade gifts at quirky shops. Family businesses and friendly mom-and-pop shops are also a hallmark, as are cool bars, hip bistros, and those unique owner-run restaurants that over time have cemented their status as a local institution. 

From the city to the suburbs, here's our guide to Joburg's coolest streets.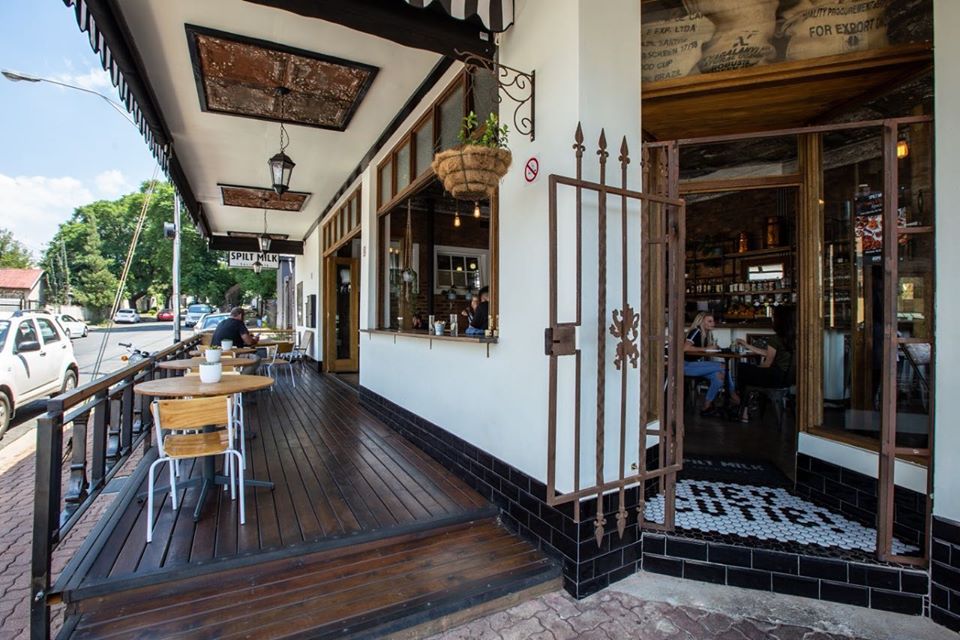 In close proximity to Joburg's two main universities, Wits, and UJ, Melville has always attracted students and academics, a bohemian mix of residents that makes a stroll along the main strip 7th Street an always satisfyingly diverse experience. The street is distinguished by its quirky selection of predominantly owner-run small businesses and in spite of lockdowns and curfews, it still maintains a reputation as a nightlife hotspot too.

There's lots of thrift shopping to enjoy. Visit Kevdon & Co for a great selection of vintage fashion and try not to get lost in the warren of clutter in the maze-like Junkie charity shop. For coffee and breakfast, we like Spilt Milk (there's a great courtyard outback), and when it comes to nightlife you are spoilt for choice.

While Time Out magazine tipped the street's grungiest options Xai Xai and Liquid Blue in its 'World's coolest streets 2021' feature, there is an abundance of more enticing options. Students will love the 2 for 1 happy hour at Six Cocktail Bar and The Anti Social Social Club and its adjoining Tiny Tiki Bar is always a fun option for cocktails. Hells Kitchen bar has a good street terrace for people-watching and for tasty small plates with your drinks we recommend The Lonely Hearts Club. For drag shows, live music, DJ sets, and a fantastically dive bar aesthetic, head to Smoking Kills to sink some of their killer rum cocktails.
Read our full guide to 7th Street Melville here.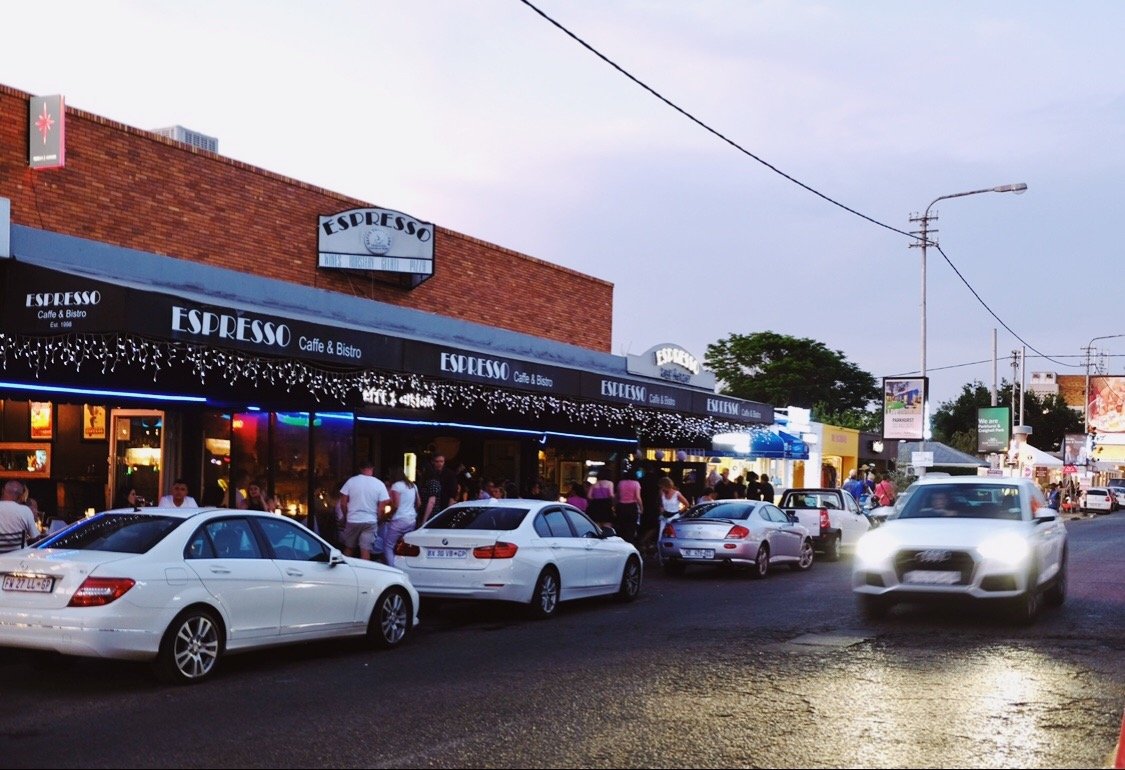 Chi-chi cafes, fashion boutiques, ice-cream parlours, beauty salons, outrageously good-looking interior design stores, and upmarket restaurants fill the pavements of Parkhurst's village-like 4th Avenue. Running along eight blocks from 6th Street to 14th Street this is the perfect place to sit on a terrace with an afternoon cappuccino and watch the suburb's well-dressed residents and their pampered pooches stroll by.

By day the street is busy with 'yummy mummy' types (and the occasional local celebrity too), often dressed in gym wear, pushing strollers to and from boutique to salon to cafe, and by night 4th Avenue swells with locals and visitors of all ages keen to enjoy a slice of the Parkhurst lifestyle. 

Parkhurst continues to make a place for itself as a major evening dining destination with an abundance of upmarket restaurants such as the exceedingly popular Modena, Kolonaki, and the tiny fine-dining spot Embarc, as well as long-established bistros like Espresso and the intimate Bottega trattoria. You can't go wrong with burgers and beers at Hudsons and this wouldn't be Joburg without an old stalwart dive bar holding out amid the glamour. Just know that if someone suggests 'going to the Jolly for a few' you need to be prepared for a hangover the next morning. 

Read our full guide to 4th Avenue, Parkhurst here.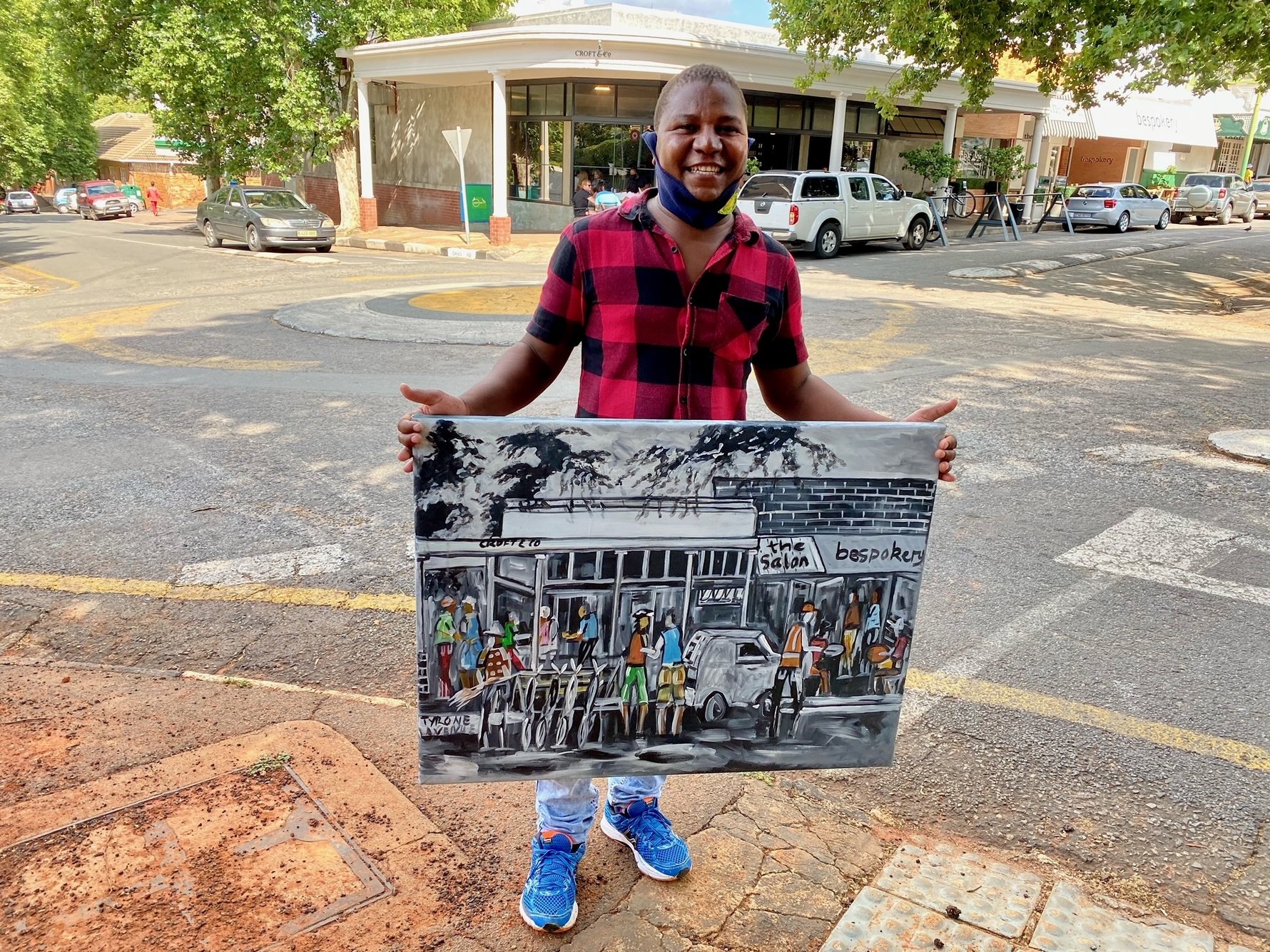 Just two blocks from busy Zoo Lake park, Tyrone Avenue is the heart of one of Joburg's most desirable historic suburbs Parkview, and its neighbour Westcliff where many of Joburg's most spectacular old mansions dot the hillside. Despite the suburb having grand property prices, there's little of this status anxiety visible on the street where you are more likely to see a battered old Range Rover filled with barking dogs than a Ferrari (that's more Parkhurst style).

Tyrone Avenue's stretch of businesses lie within just one long block between Ennis Road and Roscommon Road, with three arcade-like centres filled with shops, boutiques, and cafes, increasing the footprint of the avenue considerably. For breakfast or lunch, Croft & Co is always a winner and Prue Leith Academy trained Nadia Singh's Bespokery is another great choice. For drinks, The Blind Tiger is a casual hangout with a cosy bar and restaurant in the front and a fantastic garden in the back. For pizza and pasta Franco's is an icon, launched in 1987 by Franco Forleo who now runs this pizzeria with the help of nephew and sons.

A hidden treasure is what was once a cinema is now a warren of a dozen or so little shops known as The Old Lake Market where everything from second-hand books and handmade gift cards to children's clothing, crafting materials, and hats is on sale. Like Parkview's other arcades it's filled with unique and friendly small businesses. 

Read our full guide to Tyrone Avenue, Parkview here.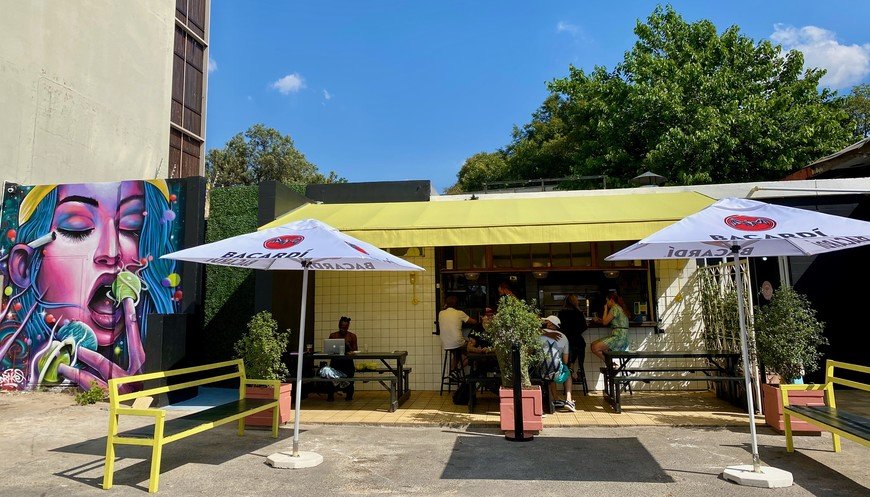 A five-minute drive from the lovely Emmarentia Dam and Botanical Gardens, leafy Greenside's main street Gleneagles Road is one of the most eclectic high streets in the old 'parks' suburbs (including Parkview, Parkhurst, Parktown North). There's a mix of cafe-bars appealing to a youthful 20-something clientele, morning coffee stops that attract early rising cyclists, and friendly casual Turkish and Middle Eastern cafes popular with the neighbourhood's large Muslim community. Throw in some design studios, health food spots, and the occasional graffiti mural and you have a quirky, yet low-key high street that appeals to all ages and tastes.

There are plenty of options for a light lunch or coffee in friendly surrounds, including Jack's Bagels. For coffee, you can't beat Loof or the Turkish family-run bakery and coffee shop Galata (try the excellent traditional Turkish breakfast). Tei Avon does a delicious shawarma on a plate with side salads, hummus and tahini, and the best-fried eggplant in town and for Taiwanese street food served in casual surrounds (drinks are bring your own) there's Momo Baohaus.  

In the not-so-distant past-Greenside, the Gleneagles strip had a notorious bar crawling reputation, stacked with loud grungy late-night spots specialising in sticky trays of shooters. Happily, those somewhat messy days have long gone, although heading out to Greenside for drinks is still very much a part of the local scene; try Topo Gigio for late afternoon drinks or Scrooges for beers and sports.

Read our full guide to Gleneagles Road, Greenside here.
4th Avenue, Linden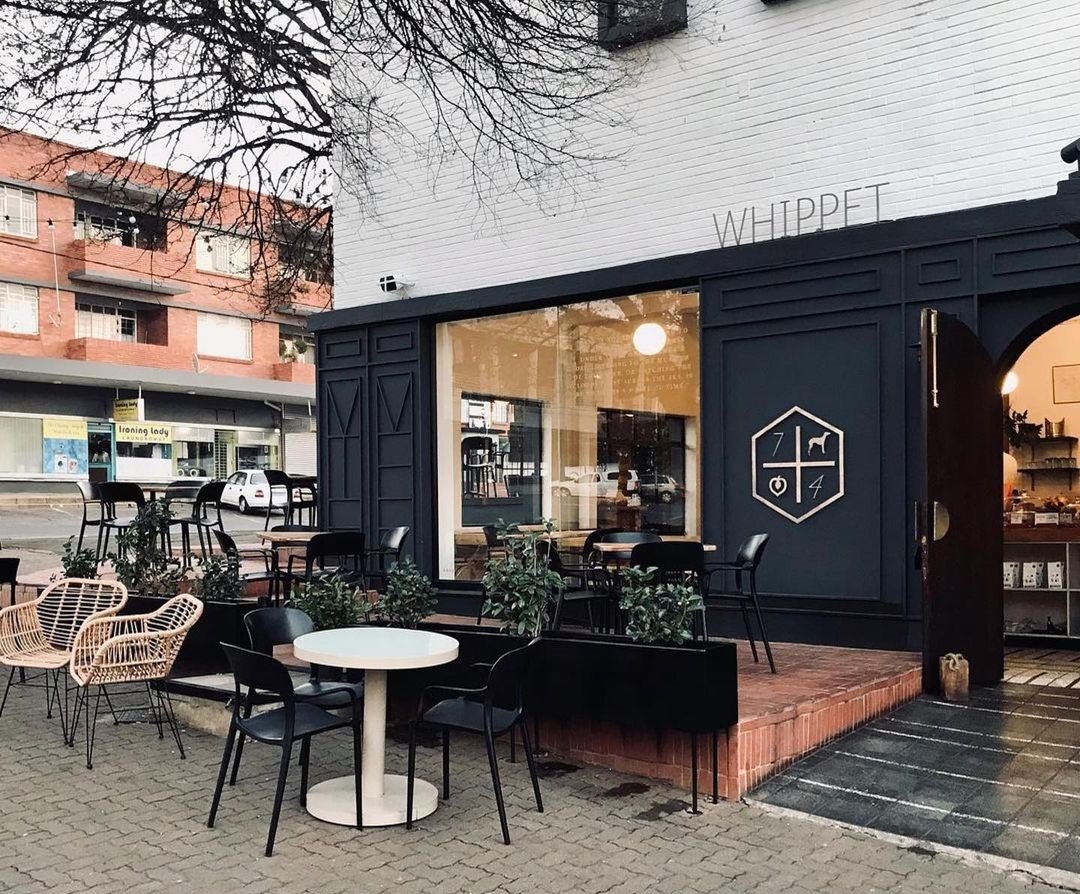 What was once a peach farm became a heartland of Afrikaner conformity and crocheted doilies during the apartheid years. Today, Linden has been reinvented as a trendy suburb that pays ironic homage to its past. Its distinctive main street 4th Avenue is a mixture of proudly local, independent stores and cafes, both new and old, with the Linden cool factor also spreading out along 7th Street where there's a variety of places to eat.

When it comes to cafe culture a major neighbourhood favourite is The Whippet, an incredibly popular spot that arguably kickstarted Linden's new era of cool. For lunch or dinner, you are spoiled for choice and there always seems to be something new to try. Our favourites include Emma Chen's kitsch-cool and colourful PRON (People's Republic of Noodles) specialising in authentic northern Chinese cuisine, The Fat Zebra for a lazy breakfast and the quaint cafe at The Cheese Gourmet cheesemongers. For drinks, Brian Lara's is a fun beach bar-themed joint.

A visit to Linden would also not be complete without taking some time out to browse the eclectic selection of shops. Join the queues on Saturdays for fabrics and haberdashery at Arthur Bales which first opened in the 1960s and pop into Victor Reed for interesting fashion and jewellery finds, vintage wear and ceramic pieces. Make sure to get some pasteis de nata at Bem Bom Portugues Bakery, and meat for the braai at Rembrandt's Butchery. The Little Deli is a cute place to buy local artisanal treats, and ​for new and used vinyl records, Record Mad is your spot.
Grant Avenue, Norwood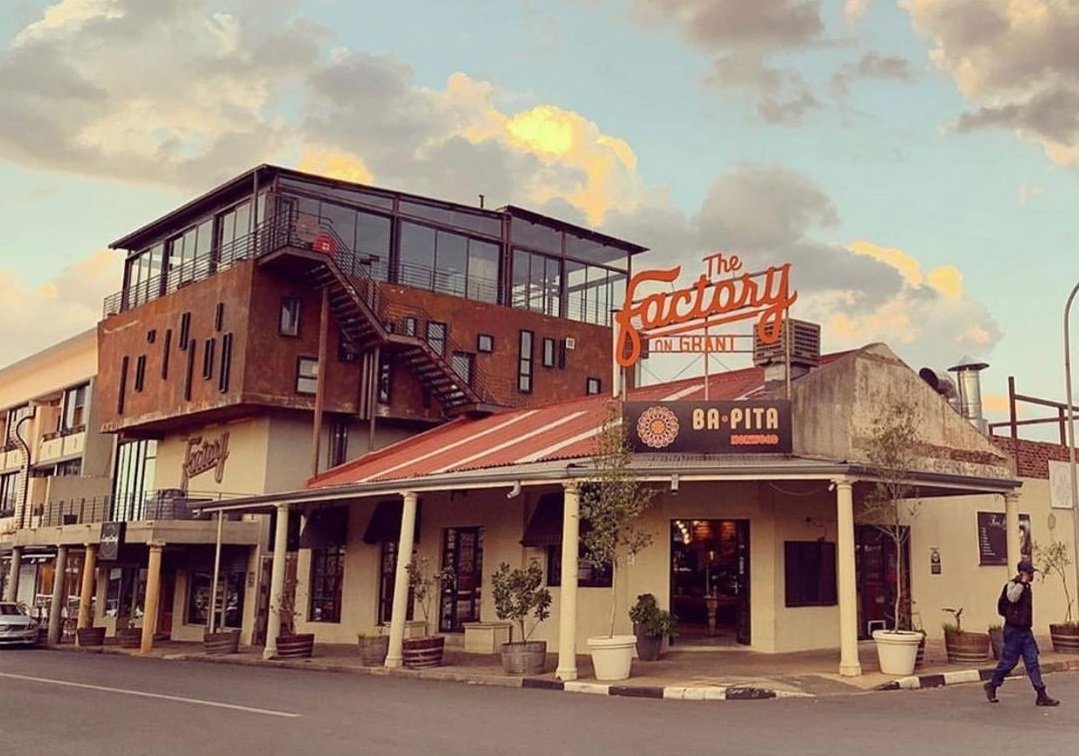 In the mid 20th Century the eastern suburbs of Orange Grove, Norwood, and surrounds became popular with immigrant Italian families. So much so that until the late 1980s the area was known as 'Little Italy'. The Italian community is not as prominent today here as it once was, although this is still a closely-knit and diverse area with a rich immigrant heritage. Norwood's main high street Grant Avenue is a medley of old-fashioned Italian businesses, Chinese and African restaurants, and Middle Eastern cafes catering to Norwood's sizeable Muslim and Jewish communities.

Grant Avenue stretches for several blocks and in the middle is the Factory on Grant complex, an 'anti-mall' with small independent businesses set across three floors and around a central courtyard. Pick up a loaf at the excellent Bakers Brothers bakery and eat lunch in the courtyard at Baha Taco, easily Joburg's best Mexican taqueria or at the Middle Eastern cafe Ba-Pita.

Grant Avenue has a very eclectic mix of businesses, some of them scruffy and others fancier. New businesses may come and go but there will always be those dedicated neighbourhood stalwarts holding their corner. Among them Schwarma Company is a local institution that serves probably the biggest schwarmas this side of the Middle East and for drinks there's the eternal dive bar New York Cafe with its slot machines and legions of old men parked outside on plastic chairs (don't take the quizzical glances at non-regulars to heart).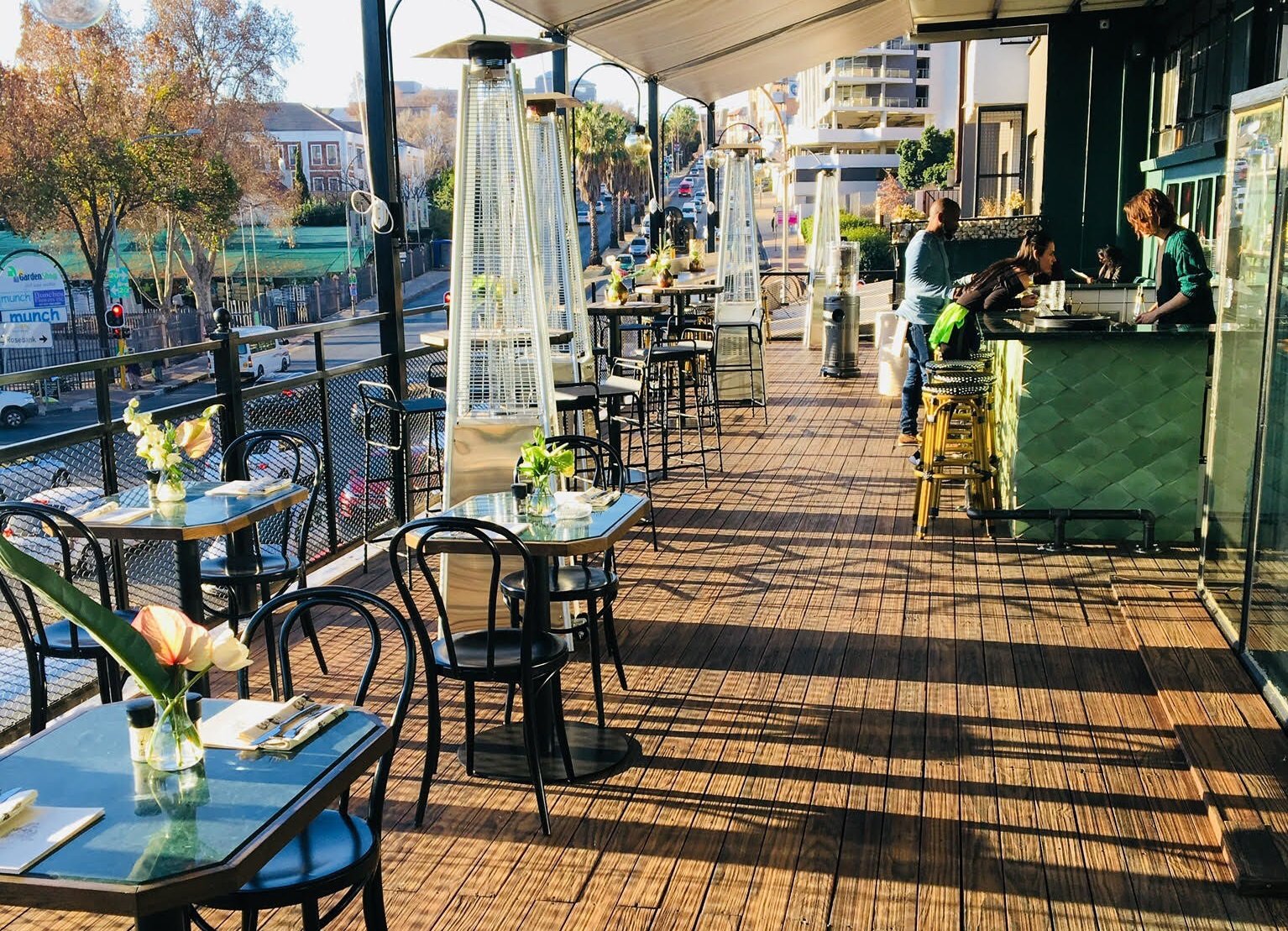 The stretch of Jan Smuts Avenue between the corner of Bolton Road and Wells Avenue in Parkwood is Joburg's Art Gallery Row, home to some of the city's leading art galleries. In recent years this strip, less than a kilometre long,  along Jan Smuts Avenue has also become a major dining hotspot with close to a dozen bars, cafes and restaurants bringing lots of life to what was once a rather run of the mill section of road.
 
For the art lover, this street has four essential stops; one of Africa's finest contemporary galleries Goodman Gallery, fine art printers David Krut Projects gallery and its excellent book shop located in the distinctive Blue House, the small Gallery 2, and the Kim Sacks Gallery showcasing exquisite traditional African artistry. 

When it comes to drinking and dining there is now such a variety of choices it can be hard to choose. For breakfast and coffee drop into the cute Morning Glory cafe or the Toasted courtyard. For pavement, dining try the pizzas at Coalition (who also now have a wine bar) or sit streetside at the lively Saigon Suzy (they also have a courtyard in the back). The Peeping Tom is a chic corner bistro (booking recommended) and a few doors down the first floor balcony at A Streetbar Named Desire swells with a crowd for small plates and sundowners. Away from the busyness, Che Argentine Grill serves some of Joburg's finest steaks, and for the best cocktails in town, the award-winning Sin+Tax is a must-visit.

See our guide to where to eat out in Parkwood here.
Fox Street, Maboneng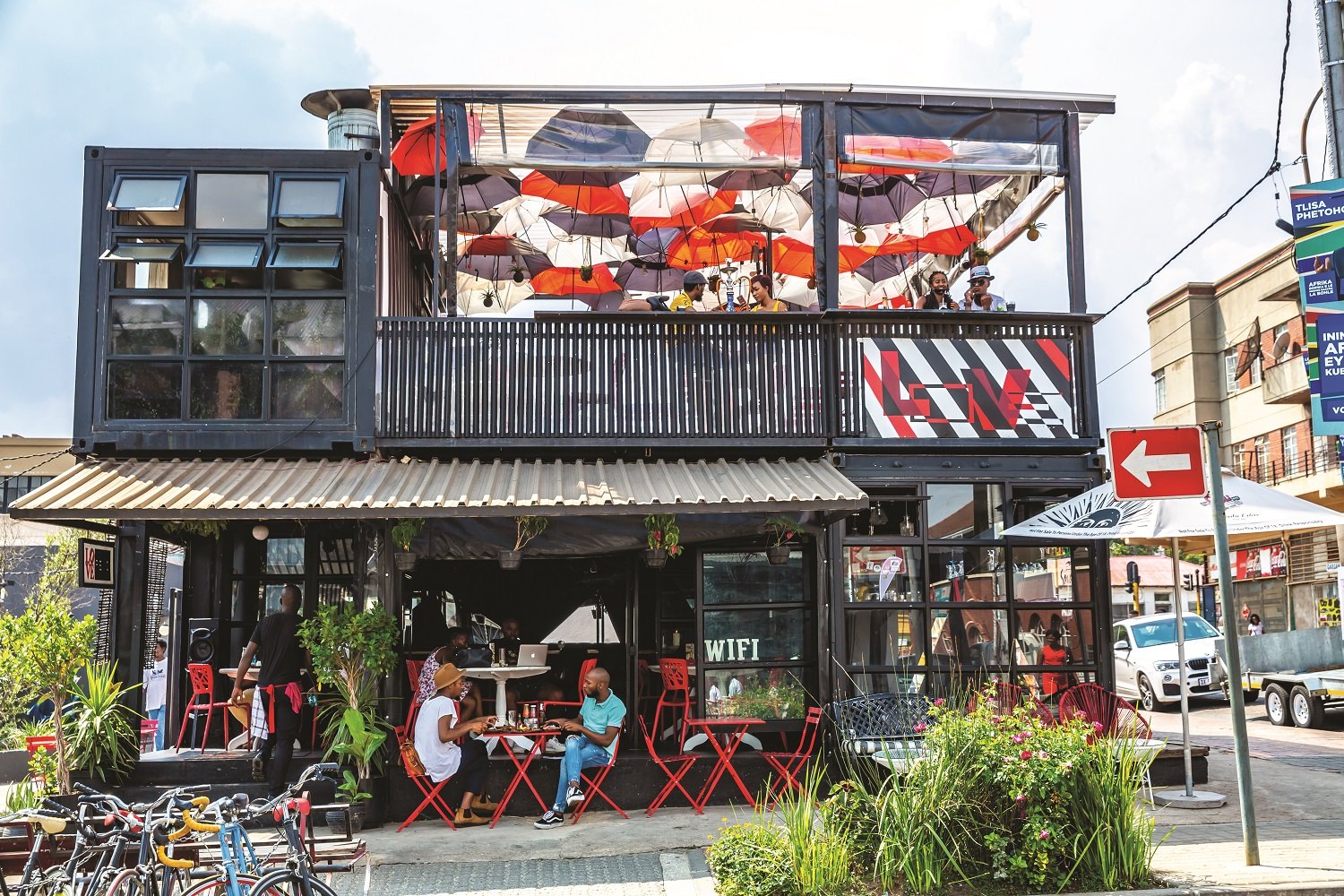 One of Joburg's greatest 21st Century regeneration stories, Maboneng was originally a gritty industrial warehouse and factory district on the edges of the City Centre. In 2011 the neighbourhood's revival began with the launch of pioneering development Arts On Main (straddling Fox and Main Streets), steadily spreading up Fox Street as more light industrial buildings were transformed into loft-style apartment blocks, cafes, restaurants, and retail spaces. Fast forward to today and what is now known as the Maboneng Precinct has spread out across a dozen adjacent blocks with buzzing Fox Street as its distinctive main high street.

Here you can take your pick from dozens of pavement cafes, bars, and restaurants that all open out onto the street. At the weekend cars jostle for space with hip young things getting their pictures taken under the iconic Maboneng sign Daily there are photographers to hire at this spot), energetic buskers, and enterprising vintage clothing sellers hawking their wares. Soak it all in with a drink at a pavement cafe. Sidestep the noisy, grungy spots and park off at Home of the Bean coffee shop in Arts on Main, Bertrand Cafe, Pata Pata, Xavier or Curiocity. 

In 2020 the new Jewel City residential precinct was launched neighbouring Maboneng and the two precincts are connected along a colourful pedestrianised stretch of Fox Street. Stroll up Fox Street from Arts on Main  to enjoy the impressive murals, and make sure to stop in at Hillbrewed for the best coffee in this part of town.
Juta Street, Braamfontein​​​​​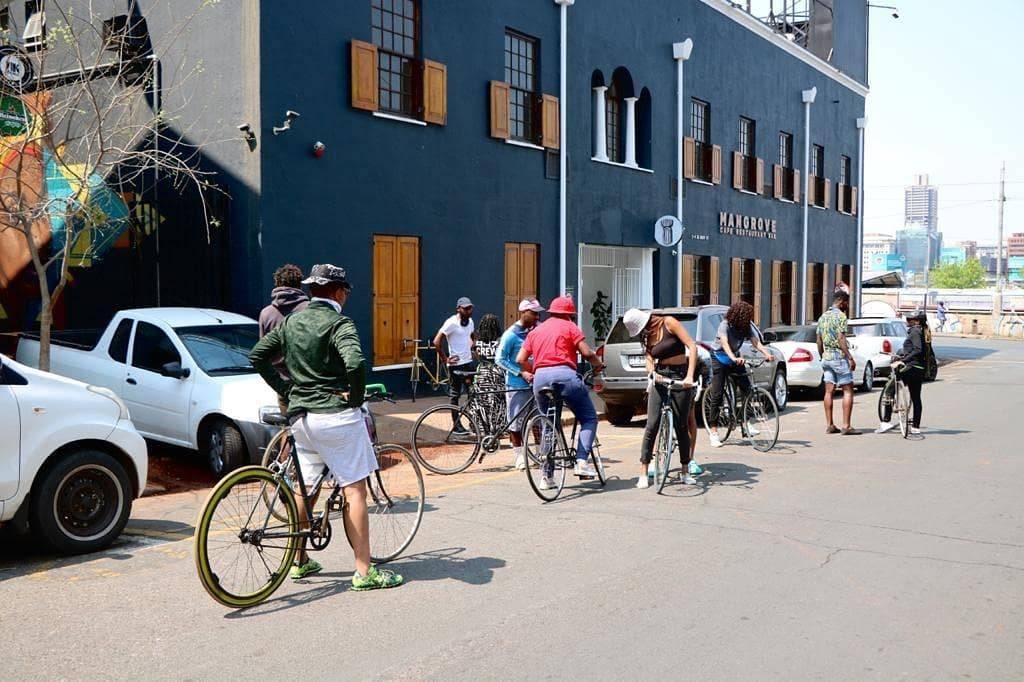 Braamfontein is student central and always an upbeat neighbourhood to walk around and see what's new. Over the past two decades, the neighbourhood has continually transformed to make space for students looking to live next to the University campus here, and many old Braamfontein hotels and office blocks have been transformed into bright, colourful, and safe student accommodation.

When it comes to street life and culture, the intersection of Juta Street and De Beer Street has long been one of Braamfontein's coolest corners. At the centre of it all is Kitcheners Carvery Bar, a busy nightlife spot in a Century-old building that has become a Joburg nightlife icon. Next door is Great Dane, another nightlife favourite with a distinctive rose-strewn mural of its canine namesake on the facade. For a more laidback atmosphere drop by the cosy Mangrove which serves great coffee and has a full breakfast, lunch, and dinner menu as well as a regular events calendar that includes concerts and film screenings. For casual dining and drinks street side, find a spot at The Wing Republic's beer garden tables, and wash it all down with their spicy chicken wings and ribs.

Across the street at the 70 Juta building you'll find the edgy Kalashnikovv art gallery, known for its provocative exhibitions and launch events, a cluster of small pop-up shops, and the entrance to the delightful rooftop plant nursery JFF Rooftop Farm (access is via a ladder), where you can hide away amid the rooftop greenery with a cup of tea.