Kazimierz – the district south of the Old Town between the Wisła River and ul. Dietla (where a tributary of the Wisła once flowed) was the centre of Jewish life in Kraków for over 500 years, before it was systematically destroyed during World War II. In the communist era it became one of Kraków's dodgiest districts while gradually falling into disrepair. Rediscovered in the 1990s, thanks to the fall of the regime and worldwide exposure through the lens of Steven Spielberg, Kazimierz has rebounded and is today Kraków's most exciting district – a bustling, bohemian neighbourhood packed with historical sites, atmospheric cafes and art galleries. Well-known for its associations with Schindler and Spielberg, traces of Kazimierz's Jewish history have not only survived, but literally abound in the form of the district's numerous synagogues and Jewish cemeteries. In fact, no other place conveys a sense of pre-war Jewish culture in Europe better than Kazimierz. As a result, the district has become a major tourist draw and pilgrimage site for Jews, which has led to the return of contemporary Jewish culture in the area.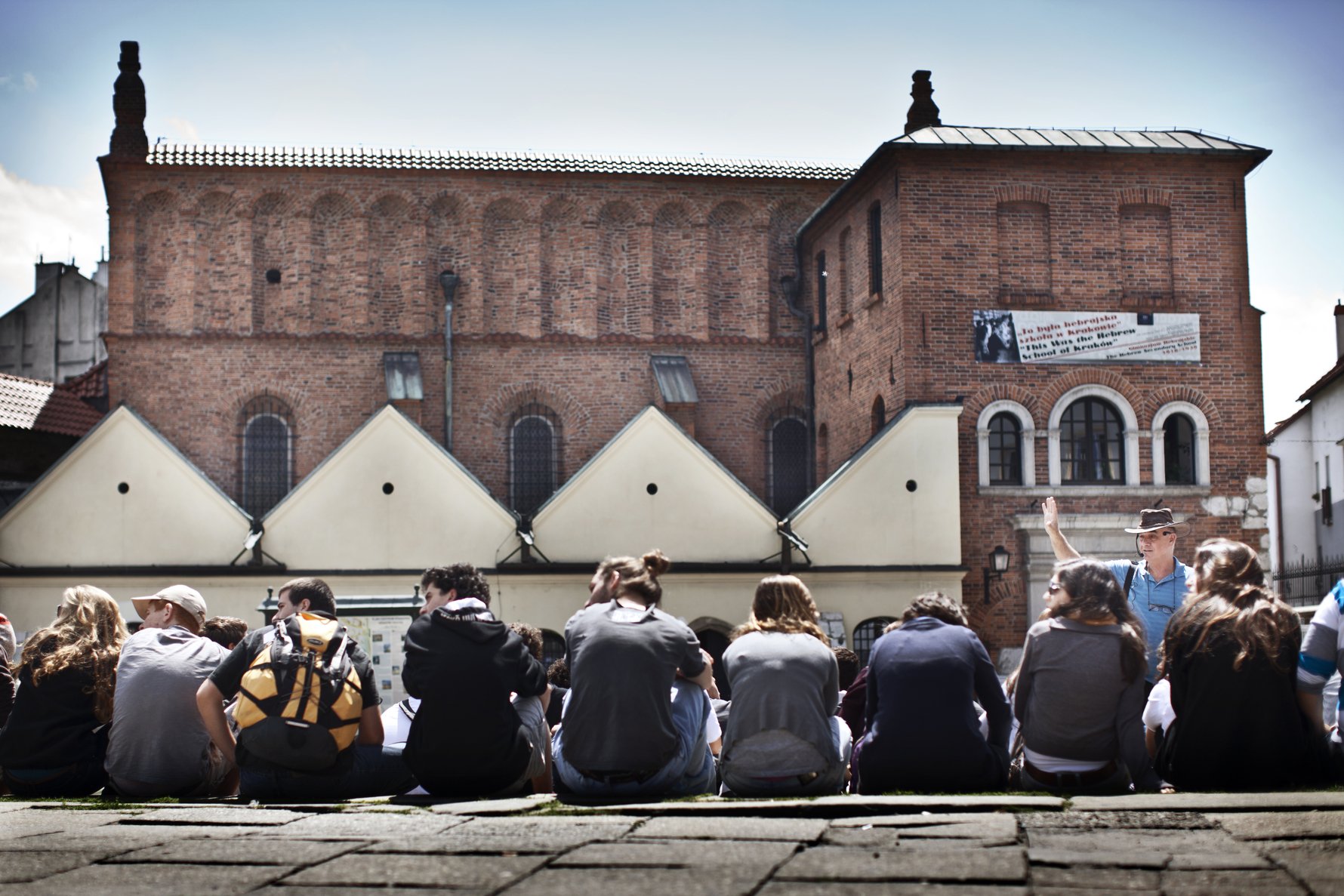 Each summer since 1988 the massively popular Jewish Culture Festival has filled Kazimierz's streets and cafes with music, while educating Kraków's residents and guests about the city's pre-war Jewish history and celebrating modern Jewish culture. The fact that it's one of the year's biggest parties proves that there's more to Kazimierz than sepia photographs and old synagogues. Here you'll find the heart of Kraków's artistic, bohemian character behind the wooden shutters of dozens of antique shops and art galleries. Peeling façades and obscure courtyards hide dozens of bars and cafes, many affecting an air of pre-war timelessness. Centred around the former Jewish square now known as Plac Nowy, Kazimierz has emerged as the city's best destination for cafe culture and nightlife. Alternative, edgy and packed with oddities, Kazimierz is an essential point of interest to any visitor.
A Brief History of Kazimierz
The history of Kazimierz can be traced back to 1335 when it was officially founded on an island outside of Kraków by King Kazimierz the Great. It was not until 1495 when Jews began to be expelled from Kraków that they started to move over the river to Kazimierz en masse. Awarded its Magdeburg Rights, which allowed markets to be held on what is now Plac Wolnica, Kazimierz prospered and became one of the most influential Polish towns during the Middle Ages. By the 17th century Jewish life was flourishing and numerous synagogues had been constructed when the plague hit in 1651. Four years later Kazimierz was ransacked by Swedish invaders, famine, floods and anti-Jewish riots followed in quick succession, and a mass migration to Warsaw began, leaving the once vibrant Kazimierz a shadow of its former self.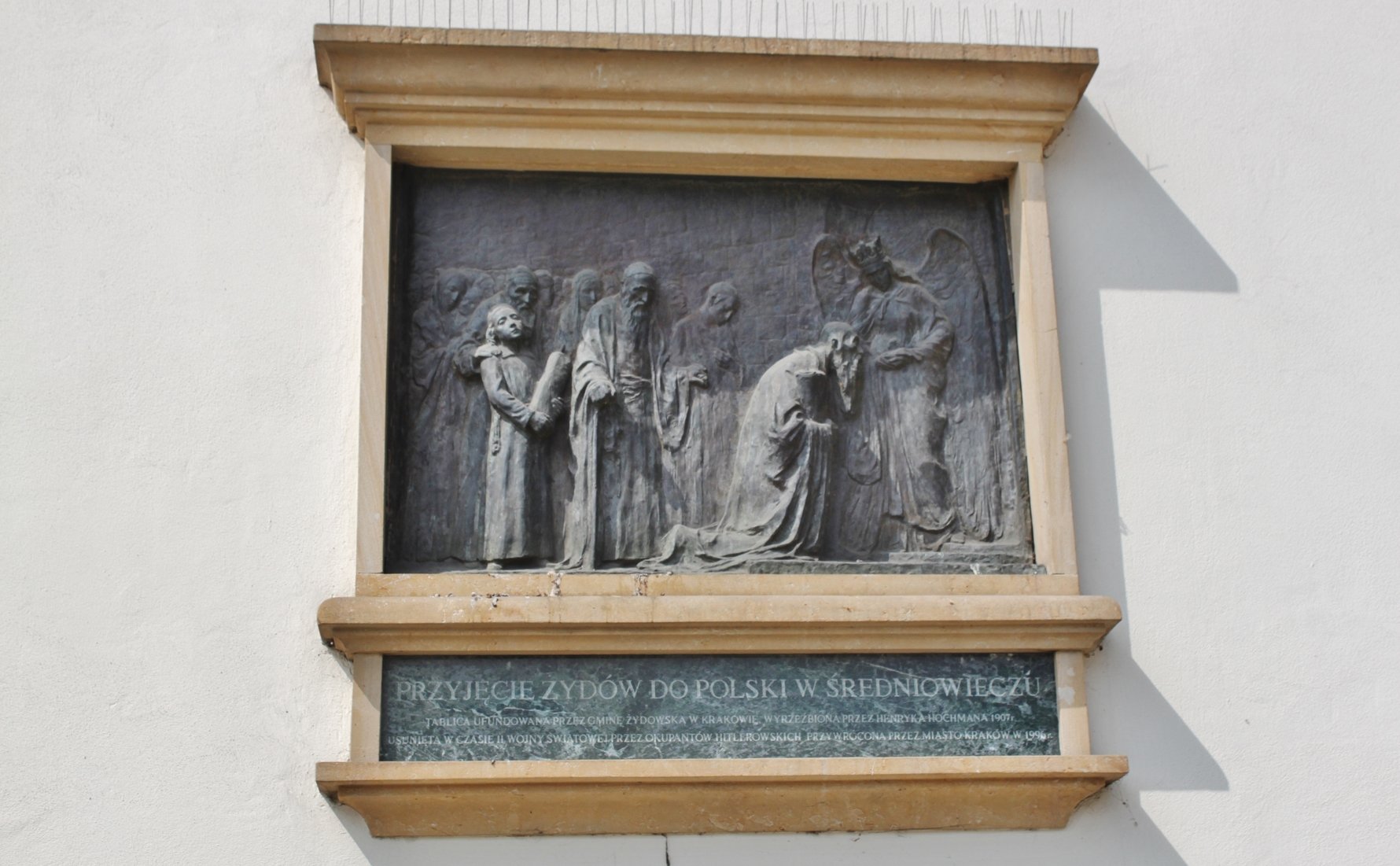 In 1796 Kraków came under Austrian control, and four years later Kazimierz was incorporated into its neighbouring city. Ironically this would bring about the area's rebirth as the Austrians worked hard to redevelop the city: the streets were cobbled, the crumbling defensive walls were torn down, the first gas lamps were illuminated in 1857, and the suburb had a power station by 1905. The governing Austrians also ordered all of Kraków's Jews to resettle in Kazimierz, and a rich cultural life arose around them; by 1910 the Jewish population stood at 32,000, a figure that was to nearly double during the inter-war years. This, as we know, would come to a dramatic end with the Nazi occupation of Kraków and Hitler's systematic extermination of the Jews of Europe. Herded across the river to a ghetto in Podgórze, Kraków's Jews met their end there, in Płaszów, or Bełżec (primarily). A mere 3-5,000 survived the Holocaust, a large proportion of them saved by Oskar Schindler.

Although 5,000 Jews were registered as living in Kraków in 1950, any hopes of rekindling the past soon vanished. The anti-Zionist policies of the post-war communist authorities sparked waves of emigration to Israel, and by the 1970s signs of Jewish life had all but disappeared and the area had become a bandit suburb. The fall of communism in 1989 sparked new hope, however; investment began trickling in, 1988 saw the first Jewish Festival take place, and five years later the Judaica Foundation was opened. That was also the year Spielberg arrived to film Schindler's List, a film that would put Kazimierz on the world map and irrevocably change its fortunes. Today a visit to Kazimierz ranks just as high on itineraries as a trip to Wawel, illustrating the historical importance and public regard the area possesses.
 
What to See in Kazimierz
Intimate and perfectly walkable, to get a feel for the area start your tour of Kazimierz at the top of ulica Szeroka, coming from ulica Miodowa. More a square than an actual street, Szeroka conveys the sense of a medieval marketplace; indeed it was here that Kazimierz's first Jewish merchants settled, and the square is bookended by two of the city's most important synagogues - the Old Synagogue and the Remah Synagogue, whose historic cemetery extends to ul. Miodowa and ul. Jakuba; beside the entrance of the latter you'll find a monument of Jan Karski - 'Righteous Among the Nations' for his efforts to alert the Western Allies of the Nazi genocide during WWII. Ul. Szeroka 6 (now the Klezmer Hois hotel and restaurant) formerly housed the Great Mikvah, a ritual bathhouse that gained notoriety in 1567 when the wooden floor collapsed and ten women drowned. Nearby beneath a ring of maples at the street's northern end is a memorial and "Place of meditation upon the martyrdom of 65,000 Polish citizens of Jewish nationality from Cracow." Today ul. Szeroka's picturesque cobbled lanes are primarily lined with businesses and restaurants tastefully aimed at tourists, including Rubinstein (ul. Szeroka 12) – so named because the 'Queen of Cosmetics' was born next door at number 14, and Dawno Temu Na Kazimierzu ('Once Upon a Time in Kazimierz,' ul. Szeroka 1), with its row of faux Jewish shop fronts; next door you'll find Jarden (ul. Szeroka 2), the area's first Jewish bookstore.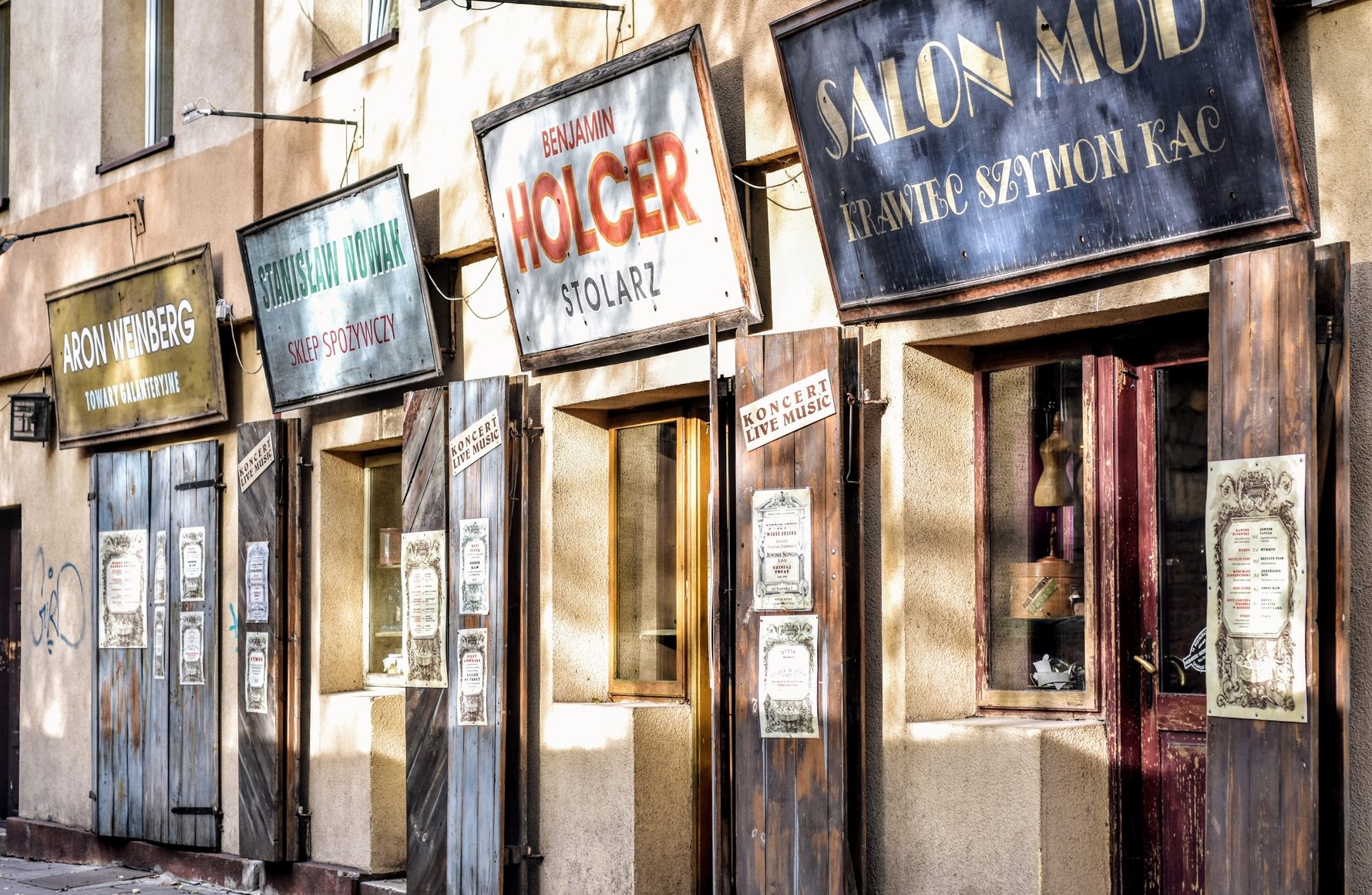 Taking a right onto ulica Józefa just past the Old Synagogue, you'll find the High Synagogue at number 38, so called because the prayer room was located on the first floor. Today it houses the Austeria bookshop (see Shopping) and a small exhibition space with rotating historical exhibits about the history of Poland's Jewish population. Along this block of ul. Józefa you can easily spot indentations left by mezuzahs, and a Hebrew inscription on the building next door to the High Synagogue. Make a right onto ul. Kupa (literally 'Poop Street' in English, at least that's the PG version) to visit the Izaak Synagogue (ul. Kupa 18, whose restored interiors now house a permanent exhibition titled 'In Memory of Polish Jews.' In 1939 a member of the synagogue committee was executed inside these halls after refusing to set fire to it. The synagogue is also the source of an enchanting legend. It relates to the founder, Isaac, a devout but impoverished Jew who once had a dream telling him if he went to Prague he would discover great treasures buried by a bridge. Following his instincts he set off to Prague, only to find the bridge he had dreamt of surrounded by a garrison of soldiers. Having spotted him loitering, one of the soldiers confronted the Jew, demanding to know what he was up to. Isaac came clean, only for the soldier to scoff words to the effect of "Fool, I've been having dreams all my life about a Kraków Jew called Isaac who has treasure hidden under his stove. But I'm not stupid enough to go to Kraków, especially seeing that every second Jew is named Isaac." You can probably guess the rest: the moment Isaac returned home he pulled the stove down and discovered a wealth of riches, making him the wealthiest man in Kazimierz.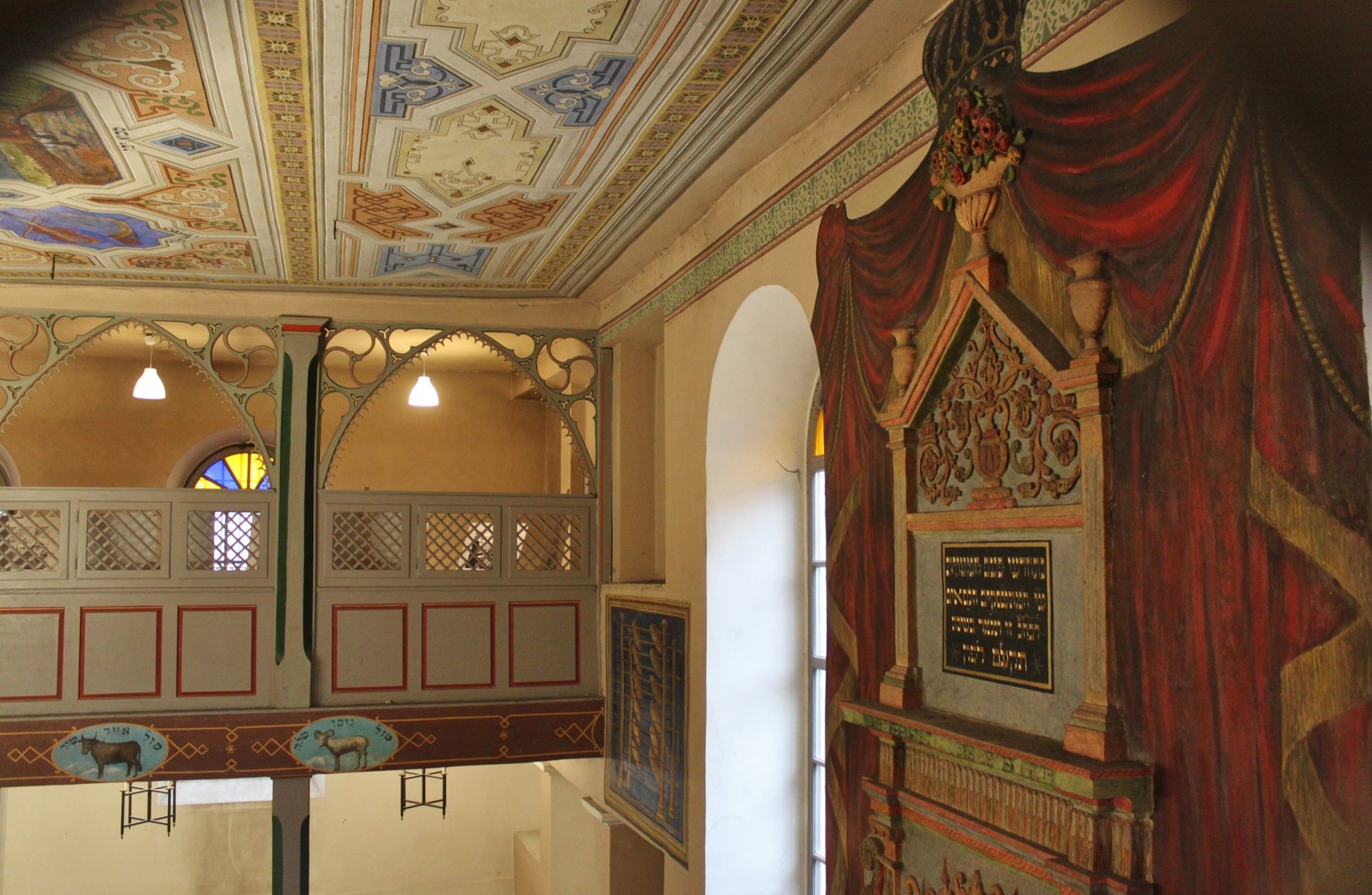 At the end of ul. Kupa at ul. Warszauera 8 is the 17th century Kupa Synagogue, whose northern wall was flush with the medieval Kazimierz defensive walls which can still be seen from the other side on ul. Miodowa. It's a short walk down ul. Warszauera from there to Plac Nowy, formerly known as 'Plac Żydowski' (Jewish Square) and still today the district's bustling epicentre, lined with bars, cafes and street food stalls. To continue your tour head west out of the square down ul. Meiselsa to find what many regard as Kraków's most picturesque passageway on your left, which should be immediately recognisable to many as the backdrop of dramatic scenes from Spielberg's Schindler's List. Along the way you'll pass the Judaica Foundation at ul. Meiselsa 17 and arguably the neighbourhood's best beer garden (Mleczarnia) if you're here during the warm season.

While on your Jewish culture crawl of Kazimierz do also put aside time to visit the Tempel Synagogue (ul. Miodowa 24), Galicia Jewish Museum (ul. Dajwór 18) and New Jewish Cemetery (ul. Miodowa 55) – all of which are nearby and essential points of interest. Kazimierz is not exclusively Jewish, however, with several noteworthy Catholic churches moored in the district. The most noteworthy is Skałka (ul. Skałeczna), where Bishop Stanisław of Szczepanów, was murdered and then quartered at the whim of King Bolesław the Bold; a blood-splattered stump can allegedly be seen beside the altar. Stanisław went on in death to become the patron saint of Poland, and Skałka is also the final resting place of local heroes Czesław Miłosz and Stanisław Wyspiański. Kazimierz is also home to some of Kraków's most popular museums; both the Museum of Engineering & Technology (ul. Św. Wawrzyńca 15) and Ethnographic Museum (Plac Wolnica 1) are good choices for taking the kids and keeping them entertained.