At the start of each year, our Johannesburg In Your Pocket team look back over the many new dining venues that usually appear on the local food scene over 12 months. This year it's been a bittersweet experience. 

Sadly, the pandemic took a heavy toll on Joburg's restaurants in 2020. Among the many venues we said goodbye to in 2020 were: Farro and Le Wine Chambre in Illovo, Coobs and Rockets in Parkhurst, Eat Your Heart Out in Maboneng, Nunos, Lucky Bean, La Stalla, The Countess and La Petite Maison in Melville, Tonic and Tanen in Linden, Publik and Social Parkwood in Parkwood, Thief, Jasmine, Epicure and The Course in Sandton, as well as The Potato Shed, Boho & Co, Ophelia Cafe and Zio La Famiglia to name just a few. 

But there have also been some bright spots. In spite of the challenges posed by lockdowns, social distancing and  alcohol bans, a new crop of restaurants and cafes emerged. Here's our list of restaurants and cafes we recommend you visit in 2021.  

Please note that since the latest lockdown (until Feb 15) some of these venues have closed, but plan to reopen once restrictions are lifted. So please call ahead.   Housed in a beautiful heritage building on Gandhi Square, Thunder Walker, run by local tour company JoburgPlaces actually launched late 2019, but came into its own in 2020. The building's heart is the Scatterlings Arcade, a delightful place for a light lunch with its gleaming majolica tiles, wrought iron balconies and abundant potted palms. The arcade opens onto a terrace on Fox Street. Keeping ever up to speed with South Africa's many booze bans, Thunder Walker pioneered a 'tasty tocktails' (non-alcoholic tasting cocktails) menu for 2020. The food menu is casual comfort food that offers  a taste of South Africa's eclectic migrant heritage, with dishes that include fragrant Cape Malay curry, vegan chakalaka salad, and  even a Chinese chicken Chow Mein. They also offer storytelling dinner evenings. 
Read our review and plan a visit here.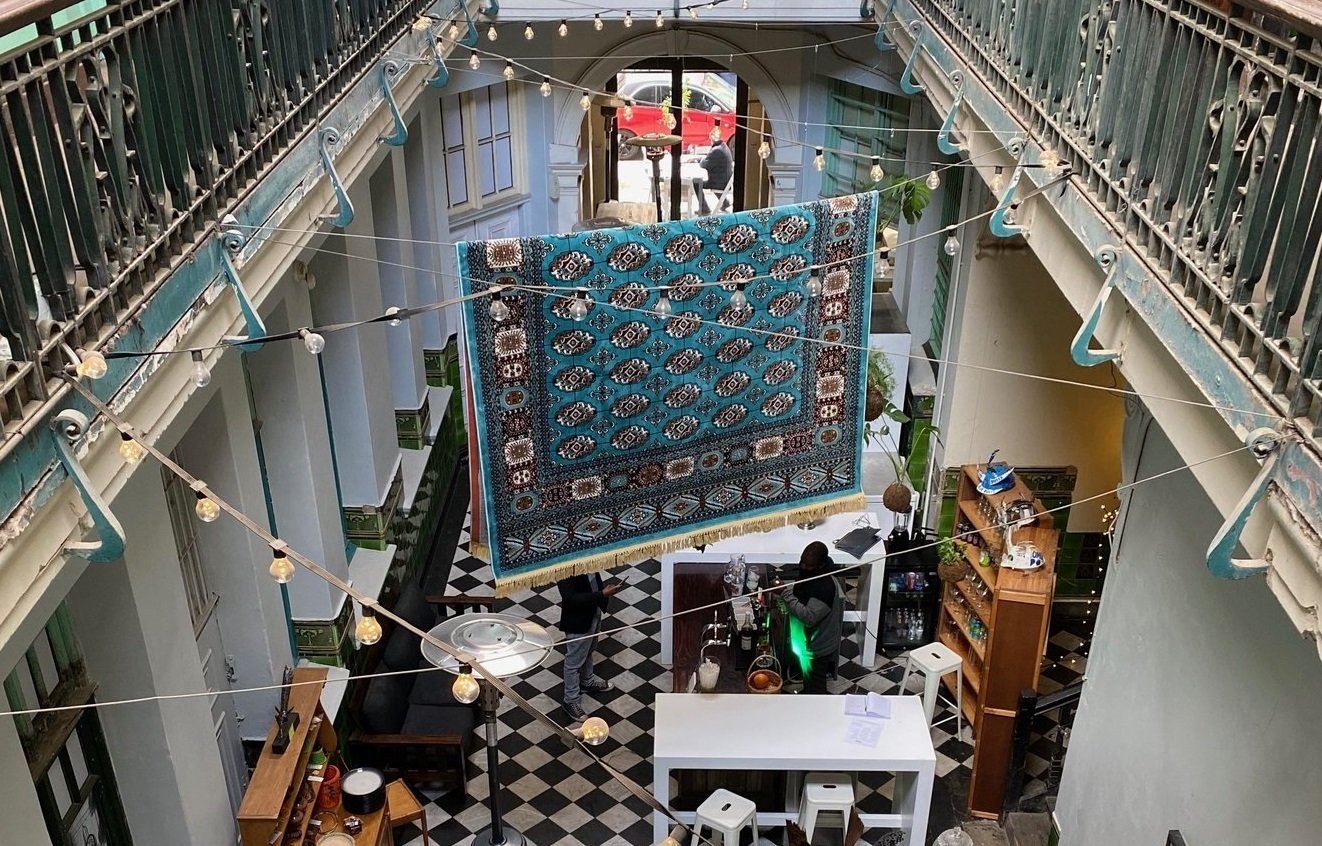 Led by chef Absalom Kotsokoane, Moeng  in the Oxford Parks development in Rosebank, celebrates the local food and ingredients of South African cuisine. The kitchen displays a passion for highlighting regional cuisines and understanding the influence of South Africa's neighbours on our food. You'll find an unusual and playful take on presentation here. Menu highlights include tshotlo (pulled beef) served with a fluffy and light pap ball gently encased in a light coating of breadcrumbs, tomato relish and a crunchy slither of pap crust. We also enjoyed the super slow-cooked and tender chicken giblets and mogodu (tripe), and the medley of homemade chakalaka, samp, beans, cabbage and steamed bread. 
Read our review and plan a visit here.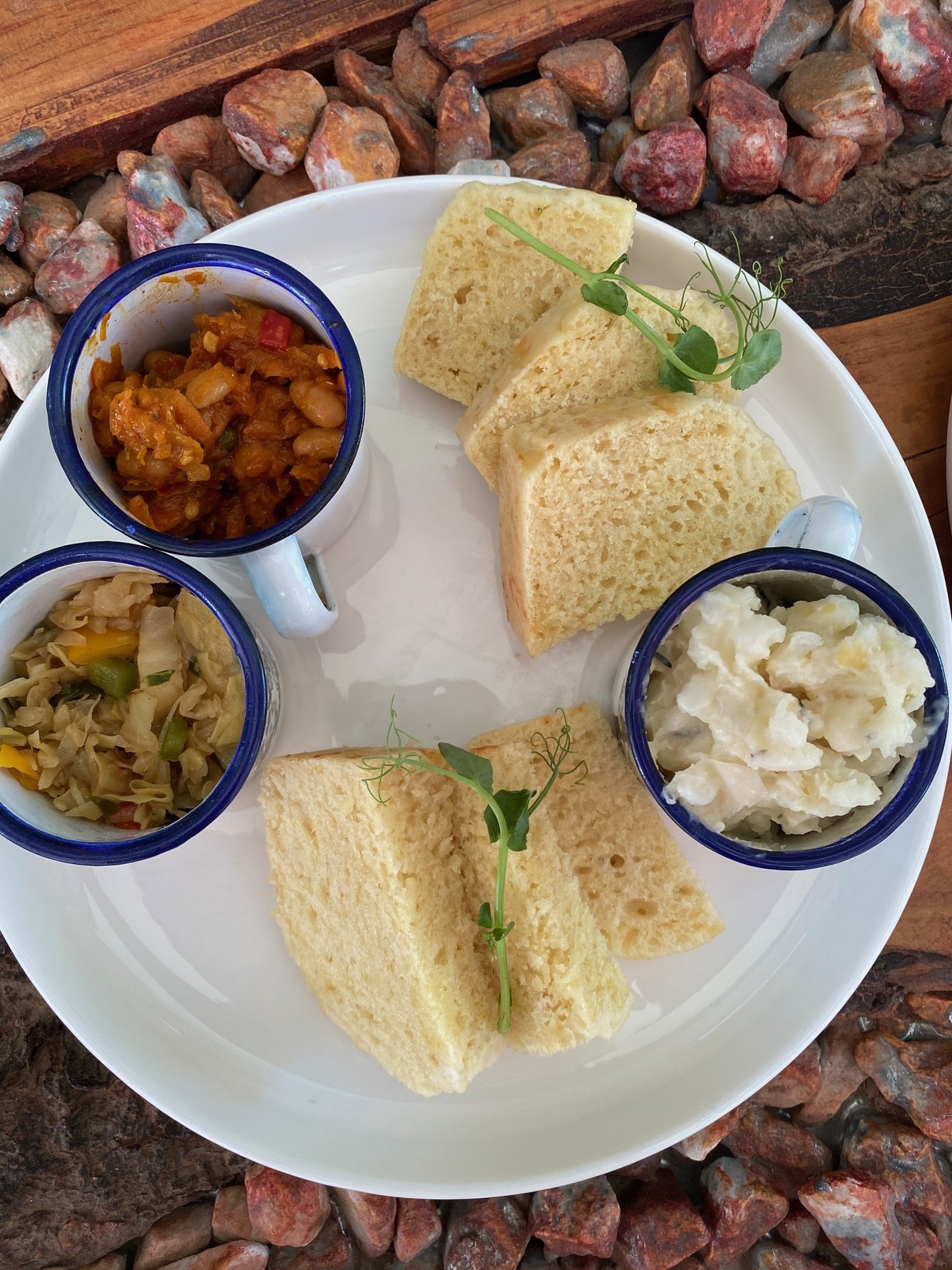 ​​​​​​In late 2020 the luxurious Houghton Hotel relaunched its flagship fine dining restaurant Séjour, now led by head chef Freddie Dias (who has previously headed Luke Dale Robert's Pot Luck Kitchen in Cape Town and later Basalt at Joburg's Peech Hotel). The new Séjour menu reflects the chef's Portuguese heritage brought together with flavours from his two years spent working in France, memorable moments from his travels to Mexico and a passion for Japanese cuisine. There are also fab sunset views to be enjoyed from the terrace.  
Read our review and plan a visit here.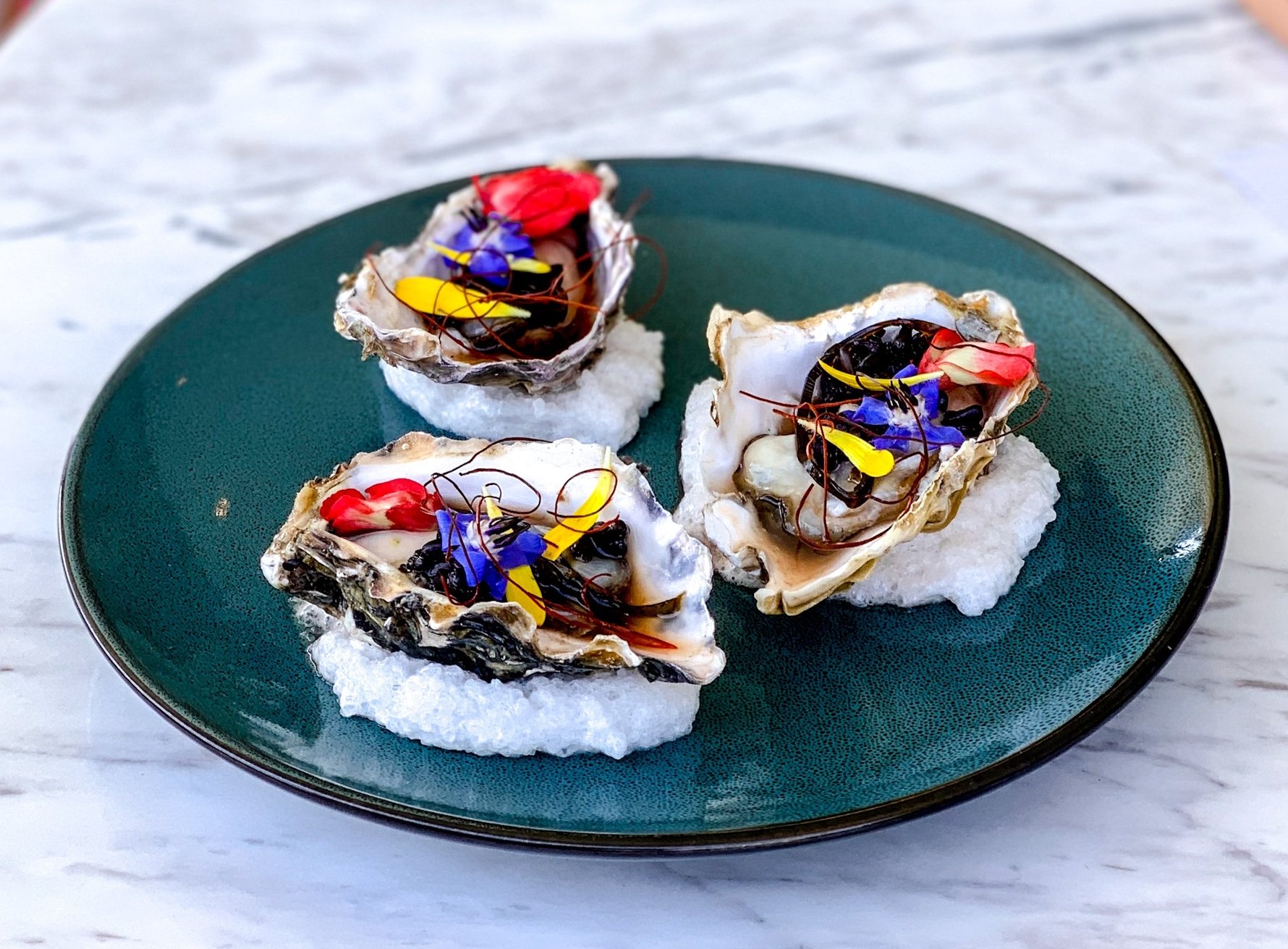 In winter 2020 the always popular Fourways Farmers Market moved to an expansive new venue overlooking the Modderfontein Reserve ( a 25-min drive away from their cramped original space opposite Montecasino) and has never looked better. There are acres of space to spread out and enjoy lunch before or after a hike or cycle through the huge nature reserve. The set-up is a relaxed picnic in the park with great food and drinks. The open-air food market (open Saturday and Sunday) boasts more than 100 vendors (with protection from inclement weather), an outdoor farmers' market, picnic lawns, South Africa's longest bar, a  wedding venue and a stage for live music as well as a huge beer garden area with a view of the dam. 
Read our review and plan a visit here. 
*Note that due to the second wave and current restrictions on alcohol sales,  Fourways Farmers Market is temporarily closed.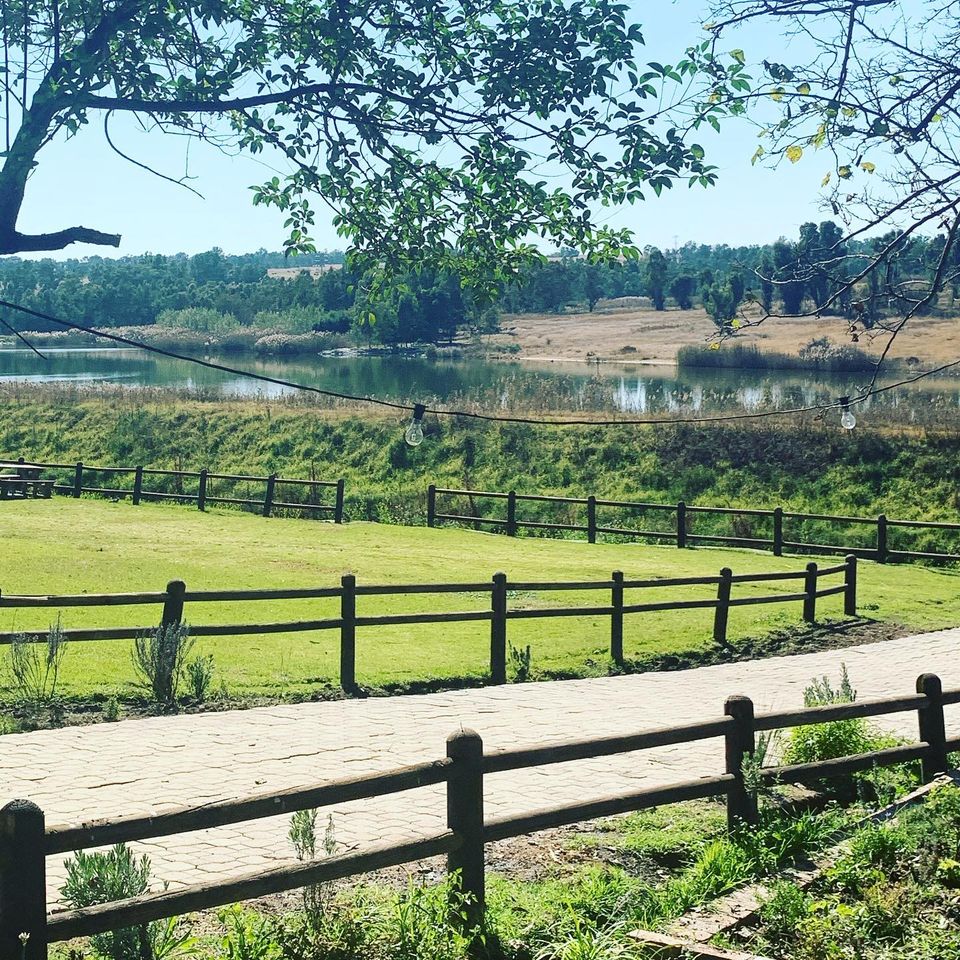 Peachy
Opened in 44 Stanley in December 2020, Peachy is a cute new cocktail bar with a food menu created by the talented chef Jes Doveton, known for her inventive and interesting approach to Far-Eastern Asian flavours (particularly Thai) and her incredible online bakery and delivery service Farang. In addition to intriguing Thai-inspired dishes, the venue also became an instant cult hit for its outrageously decadent deep-fried cookie dough.
*After a month-long soft opening the venue is currently closed (Jan 2021) awaiting the latest announcements on alcohol sales.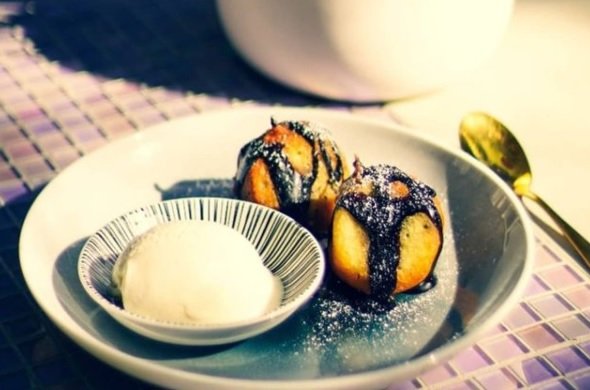 Forest Gelato at 44 Stanley
Also at 44 Stanley taking over the space that was once courtyard-cafe L8 Cafe, Forest Gelato is a new ice-cream spot specialising in fresh and seasonal ice-creams, gelatos, sorbets and granitas. The flavour combinations change often, based on the best available produce picked up at Joburg's early-morning fruit markets.
And then there was fire at Nirox Sculpture Park
The glorious Nirox Sculpture Park in the Cradle of Humankind was closed for most of 2020 and finally officially reopened to the public in December with a new restaurant called And then there was fire. Describing itself as a 'tapas cafe and farm table', the restaurant is the work of Bernardo (co-founder of Che Argentinian Grill) and Manuela, and presents a focus on flame-grilled dishes with an opening seasonal summer menu created by Peruvian Chef Ivan Bardales.
Booking is recommended, find out more and book online here.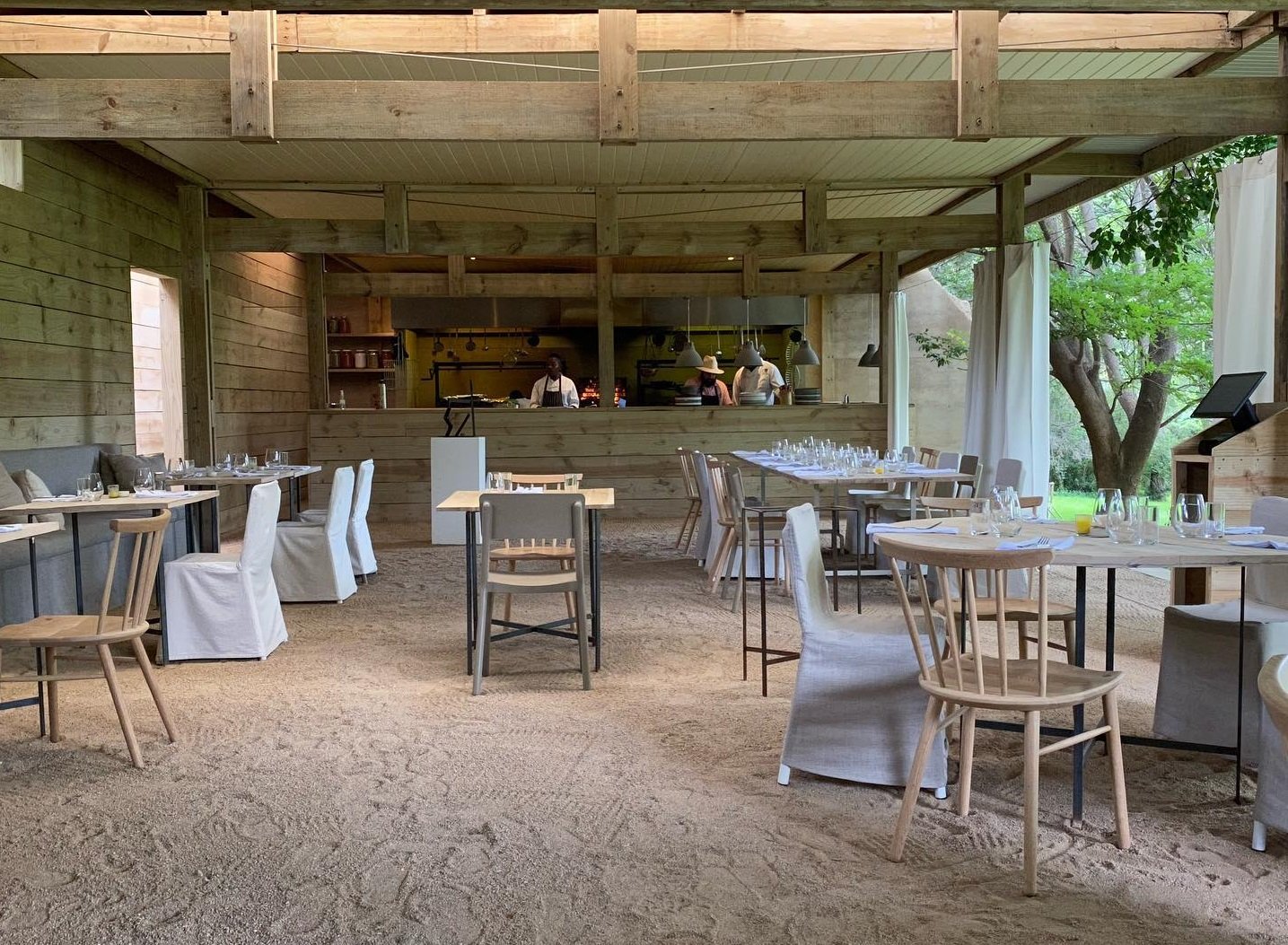 The Mangrove
The Mangrove is a new cafe-bar and restaurant located in a heritage building at the corner of De Beer and Smit Streets (opposite the 70 Juta corner) in Braamfontein. The venue is named after The Mangrove in London, a Caribbean restaurant launched in the 1960s that became an important meeting place for activists and artists from the black community. The venue seeks to evoke the same spirit of art and activism as its namesake with weekend concerts and discussions, regular Sunday social cycle rides through the city, a fresh selection of fine food and an irresistible jazz soundtrack. They are also open for breakfast with plenty of space and light if you are looking to get to work outside of home.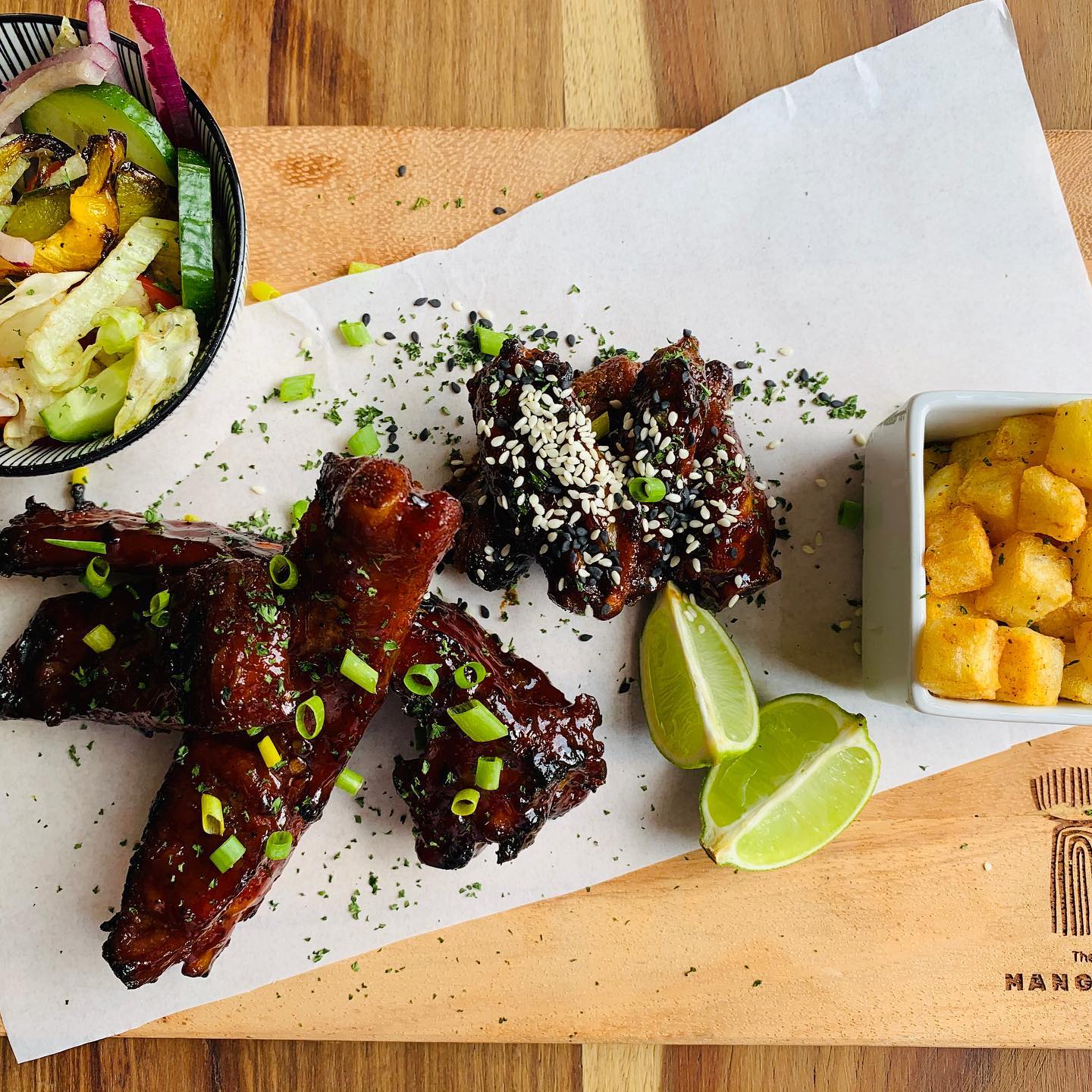 Ok, we will admit, this place is not new. In fact it is one of the oldest markets in Joburg. However, it still bears adding to this list because in 2020 this gritty downtown market most famous for its traditional healers, somehow how became one of the hottest spots in town. By August 2020 weekend lunch at Kwa Mai Mai had become a veritable 'scene' with scores of hip young things rolling up for an afternoon of cheap meat platters served streetside to the sound of a dozen competing car stereos. Mai Mai's new popularity reached such heady heights that it even began to attract scores of influencers, who dubbed this new hotspot 'the amaZulu Farmers Market'.
Read out review and plan a visit here.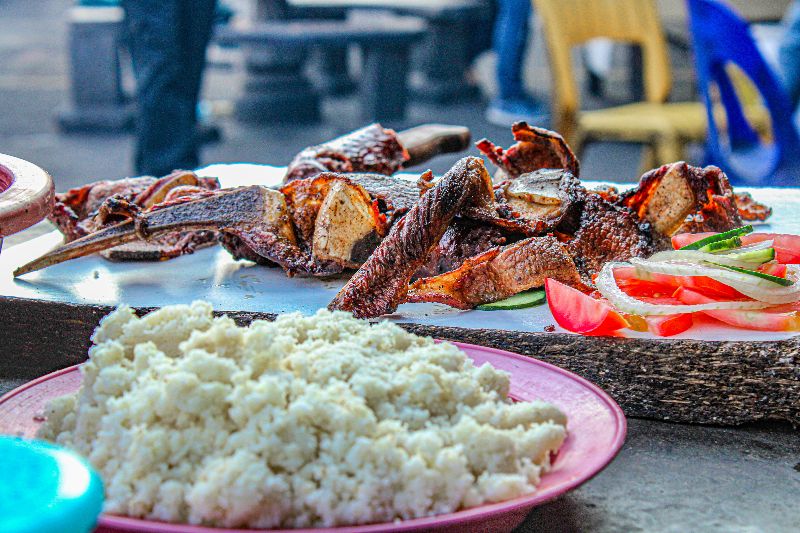 Parreirinha Rapido
One of south Joburg's most iconic Portuguese restaurants, Parreirinha, opened a new 'rapido' takeaway branch in the northern suburbs in May 2020, next to Norman Goodfellows in Illovo. The Rapido branch is strictly fast food and extremely competitively priced with an enticing takeaway menu of Portuguese classics like whole peri peri chicken, pregos and prawns at unbeatably low prices.​​​​
Bespokery
Nadia Singh's ​elegant new cafe-bistro on Parkview's Tyrone Avenue serves a Mediterranean-inspired small plates menu that seeks to offer something for all tastes and dietary requirements, from gluten-free and ketogenic to vegan and vegetarian, without compromising on flavour. The ingredients are seasonal, locally sourced and sustainably produced, while the wine menu champions small boutique winemakers and wine farms. Offering quality and convenience with a personal touch, Bespokery also revels in variety and plating dishes that taste as beautiful as they look.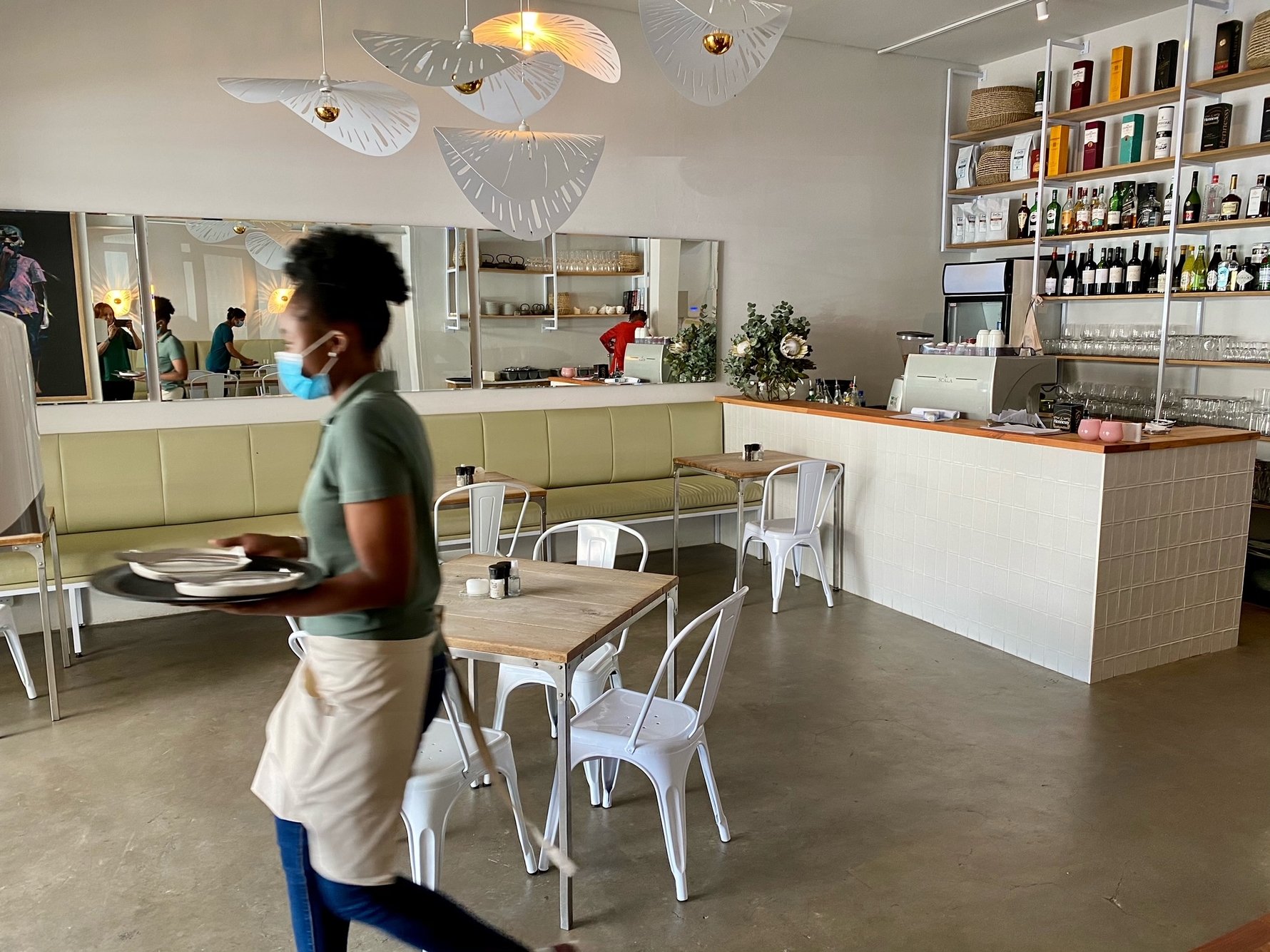 Hillbrewed
Previously based a few blocks from the Ellis Park rugby stadium in New Doornfontein, this artisanal coffee shop closed in the early days of the lockdown, although all was not lost as in summer 2020 Hillbrewed was reborn, now based at a beautiful new venue on the pedestrianised stretch of the new Jewel City precinct next to Maboneng. A pretty in pink new coffee shop packed with character in the Park Corner development at the corner of Jan Smuts Avenue and Bolton Road in Parkwood. Morning Glory is a small venue that has quickly become popular for its excellent coffee and casual menu that includes a great breakfast roll and tasty cakes. In addition to the handful of small tables inside and a mini boardroom-style meeting space, there are also two streetside tables.
Read our review and plan a visit here.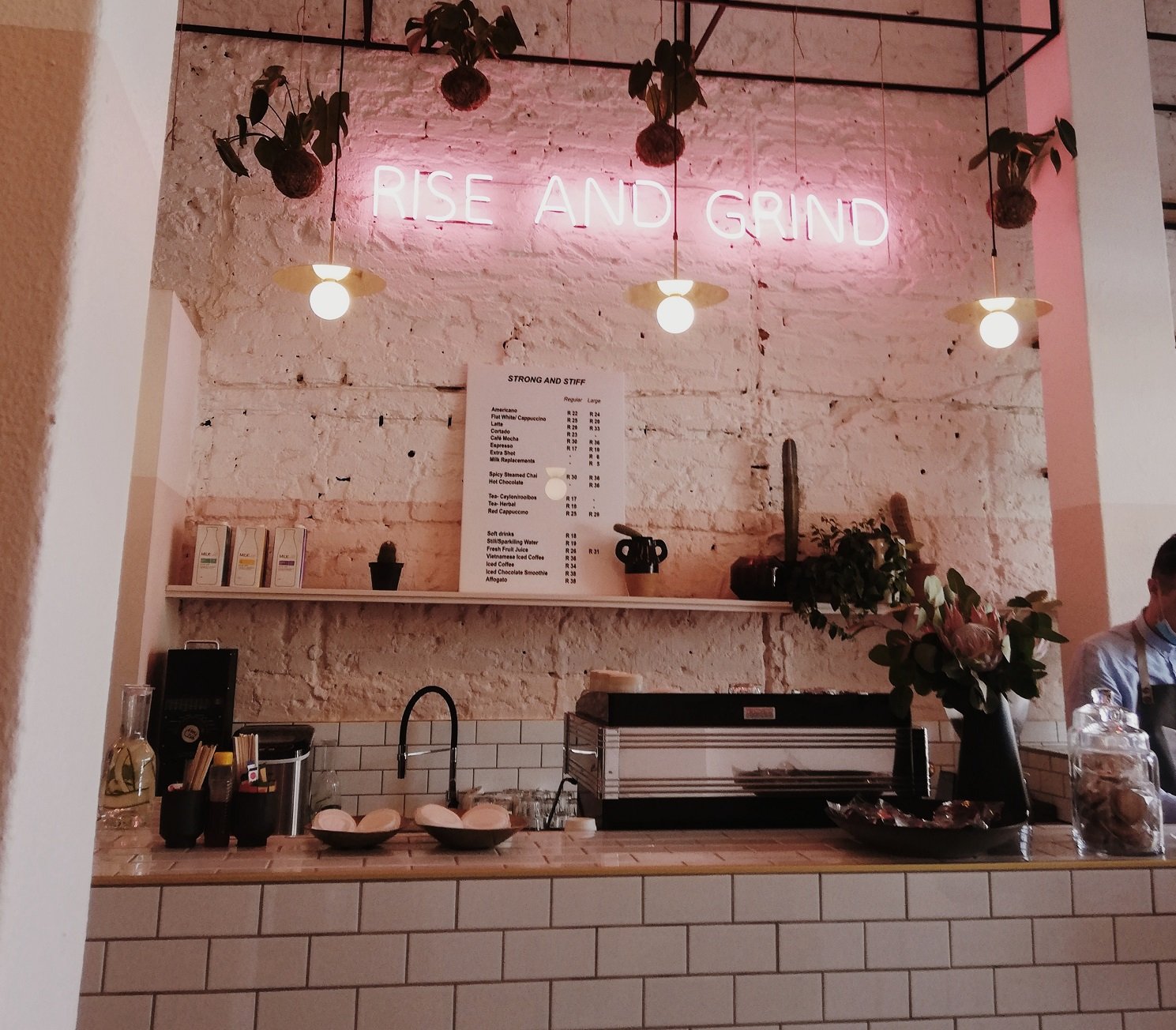 Jay's Java and Juice is a quirky (we love the old-school pinball machine) coffee bar on 6th Street in Parkhurst with plenty of comfortable seating options including a cosy outdoor garden area, a boardroom and a co-working space with hot desks on offer. They serve Disorder Coffee and sandwiches, paninis, and baked goodies from vegetarian and vegan friendly Plant-powered Patisserie.
Read our review and plan a visit here.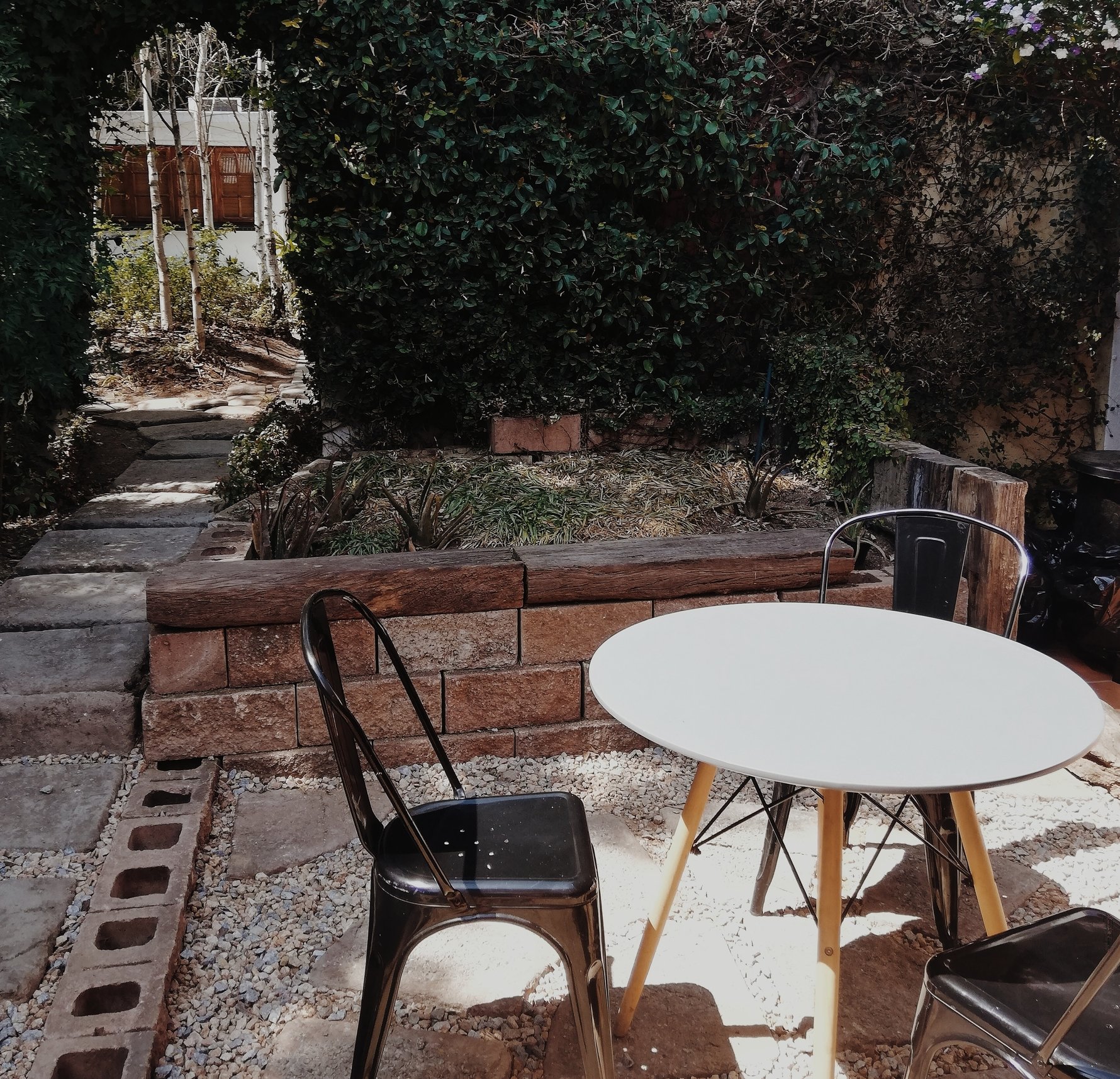 ​​​​​​​Many Joburgers were shocked and saddened when Melville's iconic breakfast spot, Pablo Eggs Go Bar, called it a day in early 2020. However, a few months later Pablo reappeared at the new Mint Hotel in Sandton. The new Pablo has gone upmarket, and it's now located in a breezy space that looks onto a poolside facing Katherine Street, offering outdoor seating too. That shakshuka and all those favourite eggs dishes are still on the menu – poached, boiled, scrambled or any other way you like them and the Yemeni flatbread is worth the visit alone. The menu has been expanded to include Mediterranean and Middle-Eastern inspired dishes and the excellent wood-fired pizza served at Pablo Dos Manos, the hotel restaurant at Pablo House boutique hotel in Melville.
Read our review and plan a visit here.
​​​​​​​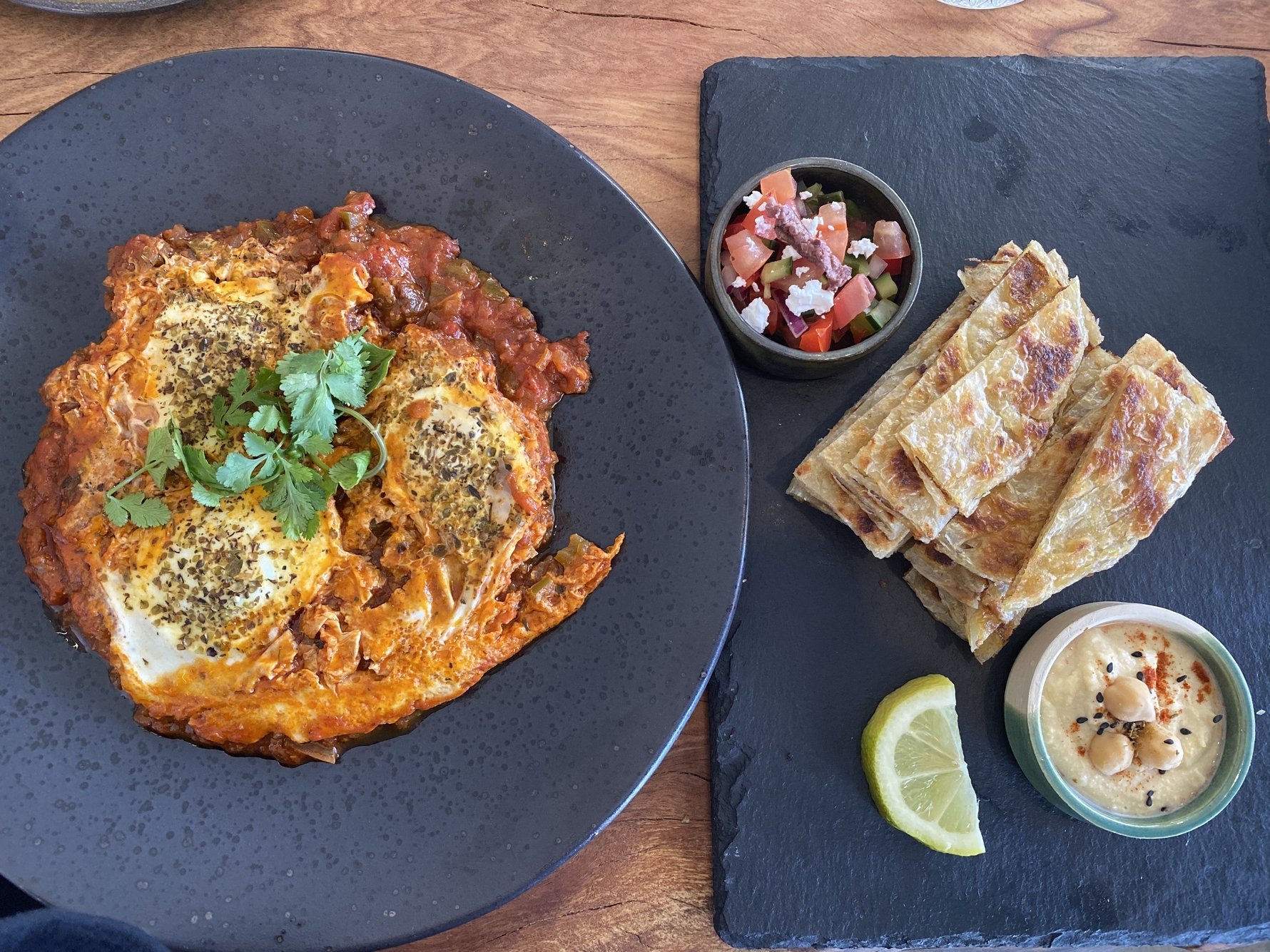 ​​​
Ba Pita Norwood
​​​​​​​Faced with the challenges of lockdown, the Middle Eastern restaurant Ba-Pita closed its doors in Melville in early 2020. Happily, they soon popped up again a few months later in a bright new location in the Factory on Grant on Grant Avenue in Norwood serving their super tasty dishes.  Until the pandemic arrived Voodoo Lily was 'just' another small neighbourhood corner cafe in Birdhaven (near Melrose), particularly popular for its close proximity to the James and Ethel Gray Park. Quick out of the gates, within a month of the hard lockdown, what is now The Gourmet Grocer launched in the space of the old Voodoo Lily cafe, selling a wide range of in-demand deli essentials. ​​​​​​​As the months have passed The Gourmet Grocer has continued to grow and refine the huge range of items on sale and widen the network of small producers they support. They also managed to reopen their cafe with all the seating now outside on the wide pavement and in September 2020 launched their own on-site coffee roastery and coffee bar, Coffefe.
​​​​​​​Read our review and plan a visit here.
​​​​​​​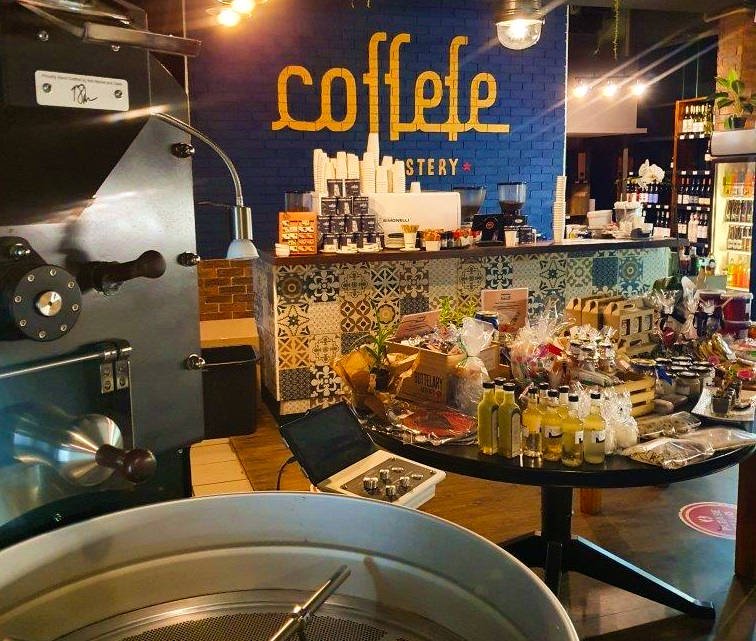 ​​​​​​Obrigado Gin Bar
​​​​​​​The cult Latino-Afro house dance party Obrigado opened its first full-time venue, the Obrigado Gin Bar, in Parktown North in December 2020. The bar serves Obrigado Gin, a brand new gin label launched with the help of the team from Creation wines in the Cape (uniquely the gin is distilled inside Creation Wine Chardonnay barrels) while heading up the kitchen is the award-winning Chef Coco Reinarhz of Epicure, whose food philosophy "always engages with what it means to be African in a global gourmet context". 
*Note that due to the second wave and current restrictions on alcohol sales, Obrigado is temporarily closed.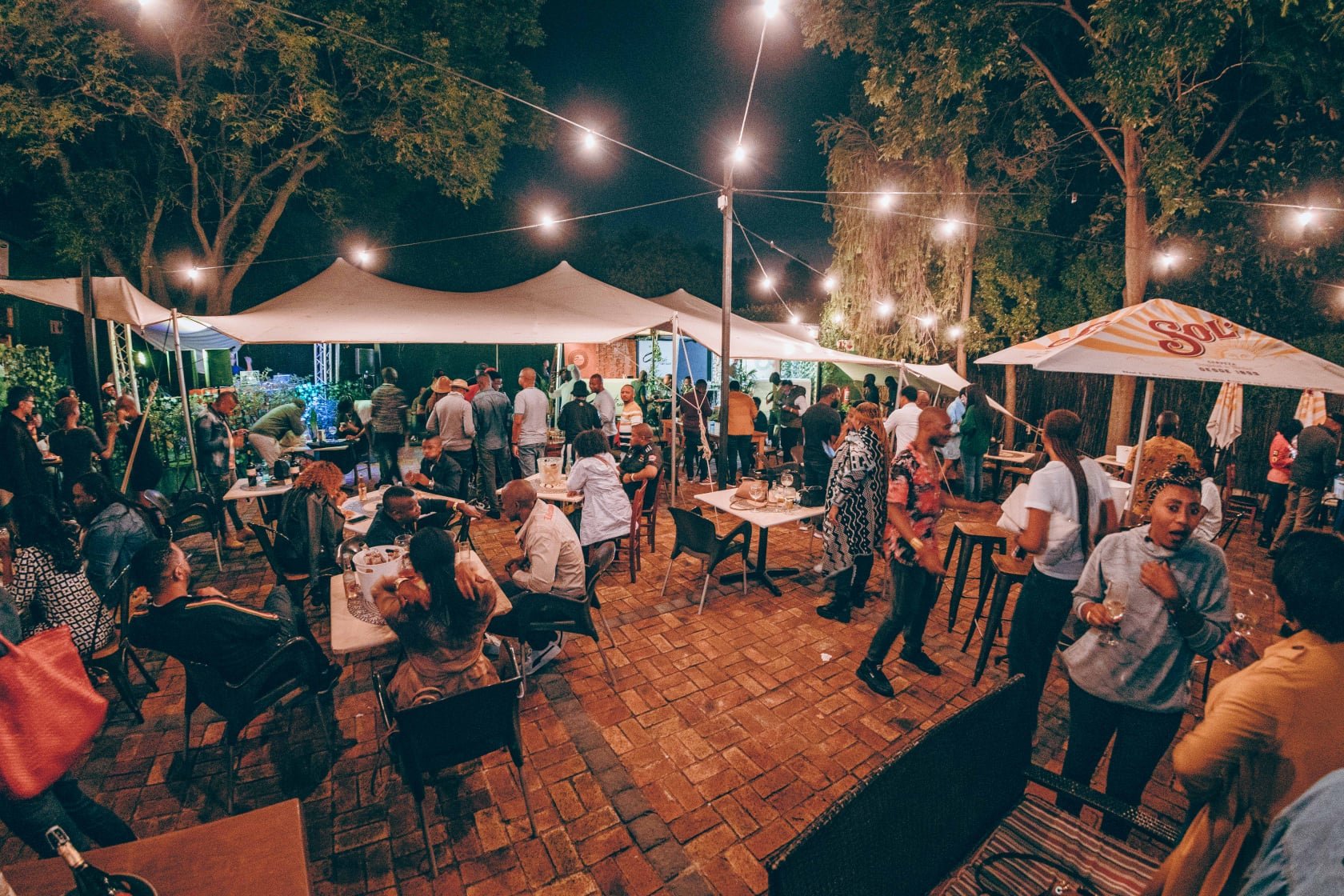 Mad Giant Taproom in Blairgowrie
​​​​​​​One of Joburg's finest craft breweries Mad Giant closed the taproom and restaurant Urbanologi at its downtown brewery in the 1 Fox Precinct, and launched a new taproom in the northern suburbs. The new, considerably smaller Mad Giant Taproom at Blairgowrie's Delta Central development sells the brewery's inventive range of excellent craft brews and a pared-down version of the Urbanologi food menu. We were particularly impressed with Mad Giant's smoked dishes made daily in a wood-fired smoker parked on the wide terrace in front of the bar.
*Note that due to the second wave and current restrictions on alcohol sales, Mad Giant is temporarily closed. 
 
​​​​​​​Opened in November 2020, The Station Parkhurst is a sister bar to the original The Station on Bree Street in Cape Town. Taking over the space of what was once Rockets, The Station has brought a more easy-going but still fun bar atmosphere to this prime spot on 4th Avenue. The entire venue, from the bar to the toilets and even the names of the dishes on the menu, is themed after the London Underground (or The Tube, as Londoners know it). Those who love craft gin will be hard-pressed to find a better craft gin selection anywhere in the city with more than 150 gins on the menu.
Read our review and plan a visit here.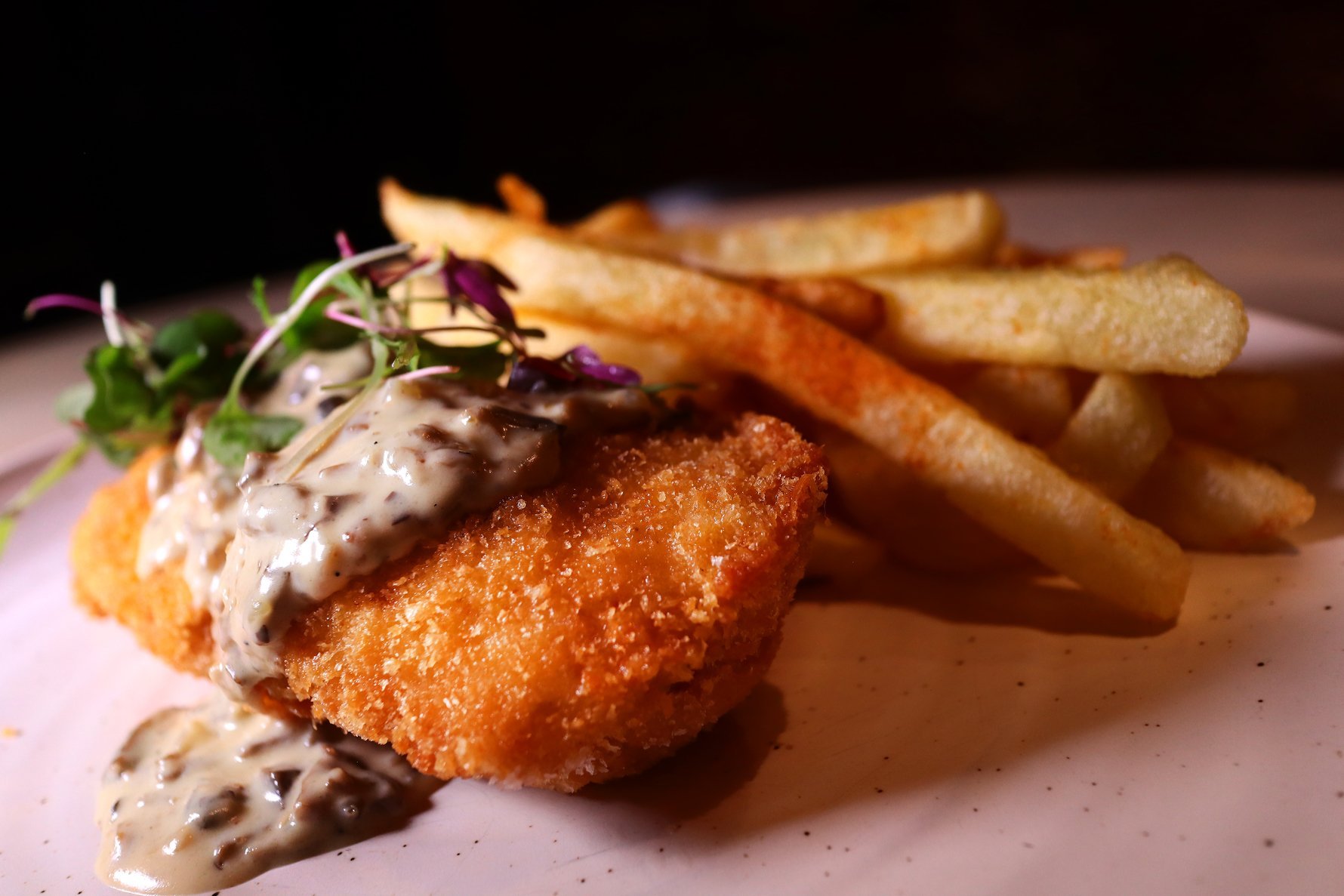 Hallmark House in Maboneng was the much-anticipated design of leading Ghanaian-British architect David Adjaye, a building that houses residential apartments and a boutique hotel. At the top is 999 (triple nine) Hallmark's spectacular rooftop venue which launched at the turn of 2020. This is one of the most impressive rooftop bars in Joburg with incredible 360-degree views of the distinctive downtown skyline from its wraparound balcony. There's a casual contemporary food menu courtesy of Katlego Mlambo who also heads up Hallmark's signature restaurant The Marabi Club and as the sun sets DJs hit the decks.
Read our review and plan your visit here.
 *Note that due to the second wave and current restrictions on alcohol sales, Hallmark Hotel is temporarily closed.​​​​​​​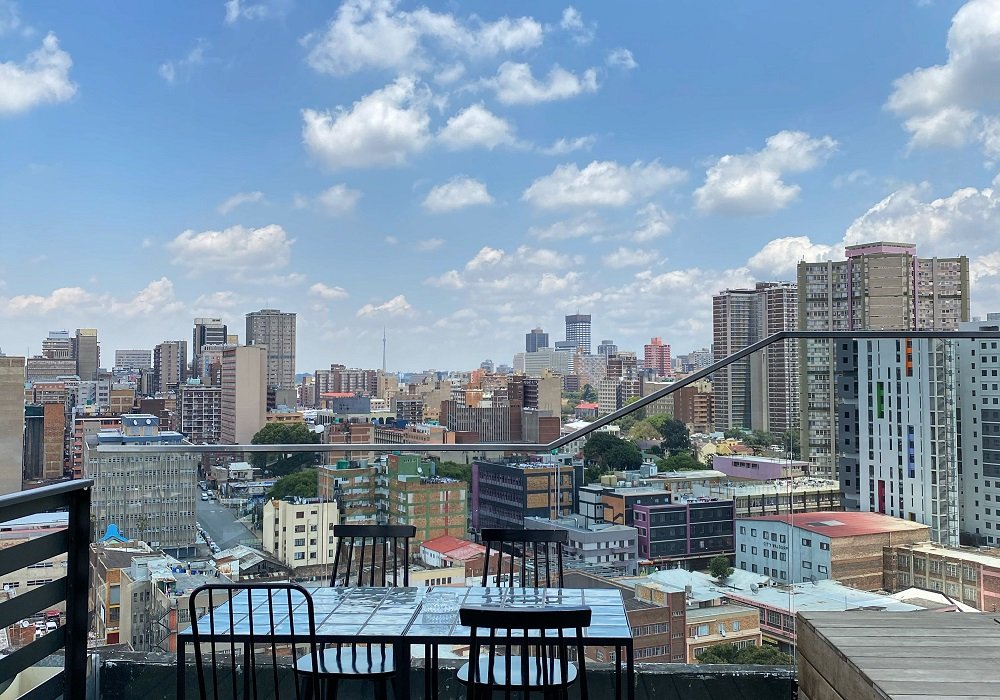 What we love about Archer Bar & Eatery at the new Marriott hotel in Melrose Arch, besides for the cocktail list and small plates, is the choice of seating spaces – from cosy lounging to wide open space on the wraparound terrace. On a warm day in Joburg, of which there are many, the floor to ceiling high doors are stacked to let in the breeze. A great vantage point at which to base yourself in Melrose Arch precinct. The cocktail selection is focused and has been specifically designed, while the all-day eating menu of light meals includes influences ranging from Mediterranean to Asian.
Read our review and plan a visit here. *Note that due to the second wave and current restrictions on alcohol sales, Archer is temporarily closed.