How many cases of Coronavirus (COVID-19) are there right now in Poznań?
The current rate of Coronavirus infections in Poznań and the surrounding voivodeship of Wielkopolska (ENG: Greater Poland) is between 1,076 and 1,397 new cases a day.

As of now, there are a reported 286,301 active cases of Coronavirus in the whole of Poland. There have been a total of 2,731,256 people infected in Poland since March 4 2020. 64,168 people have died from Coronavirus in Poland.

NOTE: Since 24 November 2020, the Polish Ministry of Health has changed the format of available information for current COVID-19 cases, focusing on daily new cases. For this reason, it is incredibly difficult to provide an accurate number for current COVID-19 cases per voivod. In addition, since mid-October 2020, the Polish Ministry of Health has purposefully been testing less (there is even less on weekends) to bring down their daily averages. For this reason, it is even more difficult to assess the rate of new Coronavirus cases in Poland.

The cities and their surrounding voivodships with the highest number of cases are the capital Warsaw (read more) followed by Katowice (read more).

Obviously, given the rapid exponential spread of the virus, the exact number of cases is difficult to calculate and constantly being updated. Check this live updated global map by John Hopkins University or follow the Polish Ministry of Health on Twitter @MZ_GOV_PL.

Read the latest on the Coronavirus in WARSAW.
Read the latest on the Coronavirus in KRAKÓW.
Read the latest on the Coronavirus in GDAŃSK.
Read the latest on the Coronavirus in POZNAŃ.
Read the latest on the Coronavirus in KATOWICE.
Read the latest on the Coronavirus in ŁÓDŹ.

NEW SAFETY RULES (March 27 - 9 April):
New restrictions have been announced by the Polish Governemnt over Easter 2021:
TYPE OF BUSINESS:
RESTRICTION DETAILS:
✅ Places of Religious Worship
Limit of 1 person per 20m²
✅ Retail Outlets, Markets, Post Offices
Limit of 1 person per 15m² in shops up to 100m²
Limit of 1 person per 20m² in shops over 100m²
❌ Trade
Shopping Centers and Malls (with some exceptions) are to be closed, as well as 'large format' furniture and construction
❌ Kindergartens and Nurseries
Closed, with the exception of childcare for parents working in medical and law enforcement professions
❌ Sport Facilities
Closed, except for limited use by sport professionals

Poland-wide Coronavirus Restrictions until March 28:
✅ Hotels - accessible to all, but must maintain strict sanitary rules (50% of rooms are permitted to open, meals can only be served in rooms, at guests' request. Hotel restaurants - closed).
✅ Cinemas, theaters, operas and concert halls reopened - a maximum of 50% of the seats may be occupied during cultural events. Masks are obligatory. Prohibition of alcohol consumption.
✅ Pools are allowed to open.
❌ Water parks will remain closed.
✅ Ski Slopes will remain open.
✅ Outdoor pitches, courts, etc. will remain open - amateur outdoor sport may be resumed.
❌ Gyms remain closed.
🥡 Restaurants - as before - will be able to provide take-out and delivery meals.
🧖‍♀️ Saunas, massage parlors, Turkish baths, steam baths, solariums - open according to strict sanitary rules.
✅ Health resorts - activities can be resumed on March 11.
😷 It is forbidden to cover the mouth and nose with plastic faceshields, scarfs etc. The ministry of health recommends using surgical masks!
What else are Polish Authorities doing to control the spread of Coronavirus?
Before the first confirmed case of Coronavirus in Poland, authorities were not doing much aside from propagating the idea that Poland would not be as affected by the virus as other countries. When the outbreak began in China, a subtly patriotic narrative began to circulate regarding the bubonic plague, or 'Black Death,' and how it somehow affected Poland on a much smaller scale than the rest of Europe in the 14th century. [We did our own research. Read our article Did Poland really escape the Black Death?]
Would history now repeat itself 700 years later?

Sadly, no. Since the first case in Poland was officially announced on March 4 (it is speculated that the virus was in PL much earlier), the virus has spread rapidly, but authorities have been acting quickly to counteract it, taking what extreme measures that once seemed unimaginable.

On March 11, the Polish Prime Minister, Mateusz Morawiecki, announced the closure of all schools in Poland, beginning on Friday the 13th. In the meantime schools (even preschools!) moved their classes online.

The national postal service, Poczta Polska, announced that it has stopped sending and receiving international shipments from 16 March until further notice. Working hours on business days have been reduced to six hours (14:00-20:00) and for three hours on Saturday. Their 24-hour branches have also been reduced - they now operate 7 days a week, 08:00-20:00. Customer service points in Shopping Malls have been closed.

Your best bet for the latest info on public safety is to follow the live information feeds from the Polish Ministry of Health @MZ_GOV_PL on Twitter. Follow the hashtag #koronawiruswpolsce on social media for more updates.

We are diligently keeping this article updated as the situation with the Coronavirus in Kraków evolves. For more updates and interesting content, sign up for the Poland In Your Pocket NEWSLETTER - an easy way for you to support us during this trying time. Thanks!
What should I do if I'm in Poznań & I suspect I might have Coronavirus?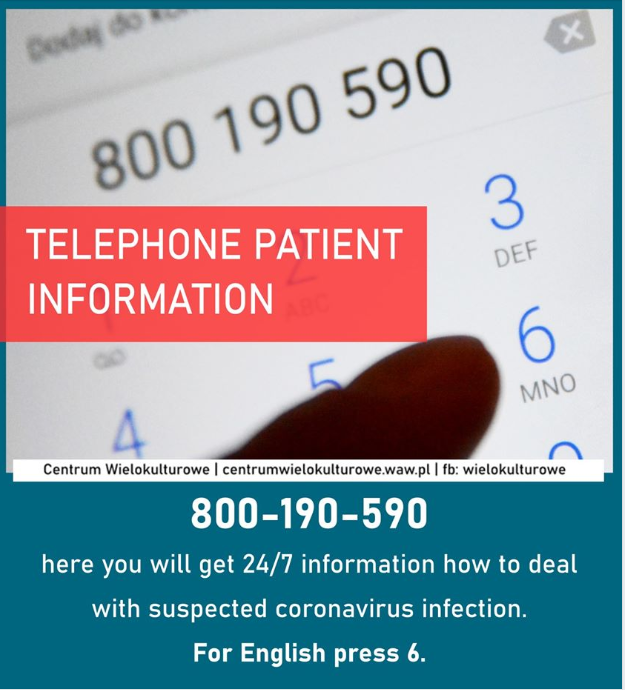 If you are in Poland and suspect that you may have been infected with Coronavirus, please call Centrum Wielokulturowe on 800-190-590 and press '6' to be assisted in English.
Coronavirus (COVID-19) symptoms include:
     • runny nose
     • sore throat
     • cough
     • fever
     • difficulty breathing (severe cases)

To prevent infection, the Polish Ministry of Health advises everyone to:
     • Wash your hands regularly with soap and water.
     • Cover your nose and mouth when coughing and sneezing.
     • Keep at least one-metre distance between yourself and others who are coughing and sneezing.