When the sun is out in Joburg, where better to enjoy a long lunch than in a sunny garden or courtyard. To save you from staring out at a mall parking lot, we made a guide focused on Joburg restaurants tucked alongside charming courtyards or hidden gardens, leisurely pool decks, rooftops with views, sprawling piazzas, and other places where the outdoor space offers something special.
Garden restaurants and cafes
A popular neighbourhood spot on Parkview's pretty main street Tyrone Avenue. The front of the restaurant is cosy, with a long bar and windows opening onto the street. Blind Tiger's hidden garden is a hit, with loads of space to spread out under the trees. There's a great cocktail menu and red meat lovers should try the beautifully plated "topless burger", a juicy medium-rare beef patty topped with blue cheese and caramelised onions.
Where: 62 Tyrone Ave, Parkview Tucked into a Sandton office park, this place isn't easy to find unless you know someone who has already been hooked by what we think might just be the best Neapolitan pizza in Joburg. Pillowy dough, light as a feather, with a fantastic array of toppings. Add an Italian beer and look out over an immaculately landscaped 9-hole golf course and manicured gardens, and you might forget that you are in Joburg. We strongly recommend you reserve your table well in advance as weekends here tend to get busy. 
Where: 54 Wierda Rd, Wierda Valley, Sandton What started as a small cafe in a carefully converted old cottage looking out over the lush Delta Park, is now a busy hive of activity with a café, beer garden, and pizza restaurant set over two outdoor covered areas. With stables on its doorstep, a playground, and a dedicated kids menu, it's an ideal hangout for families. And with direct access to the Braamfontein Spruit biking trails, it's also super popular with the cycling crowd. There's a simple and relaxed menu of light home-style breakfasts and lunches such as chicken pregos or pizzas made in a giant wood-fired oven. 
Where: 20 Marlborough Rd (entrance via garden centre), Craighall Park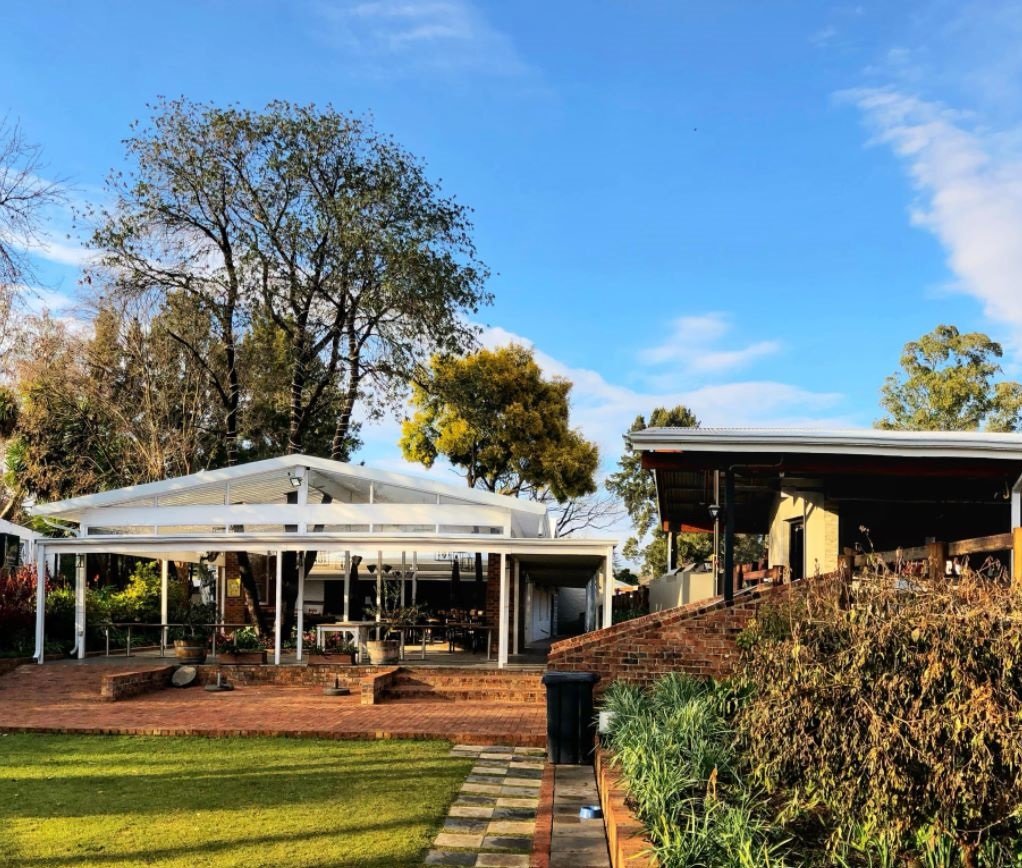 A classy weekends-only breakfast and lunch venue created by top events organisers The Forum Company, located at their beautifully restored Lanseria farm White Light (around 30 minutes drive from Sandton). The ''ancient garden'' or L'antico Giardino spreads out under tall mature trees and into a lush garden with the majority of seating outdoors. The kitchen serves breakfasts and a weekly changing menu of immaculately presented and very flavourful lunches made with fresh produce sourced from nearby farms and producers.
Where: White Light, Pine Valley Rd, Lanseria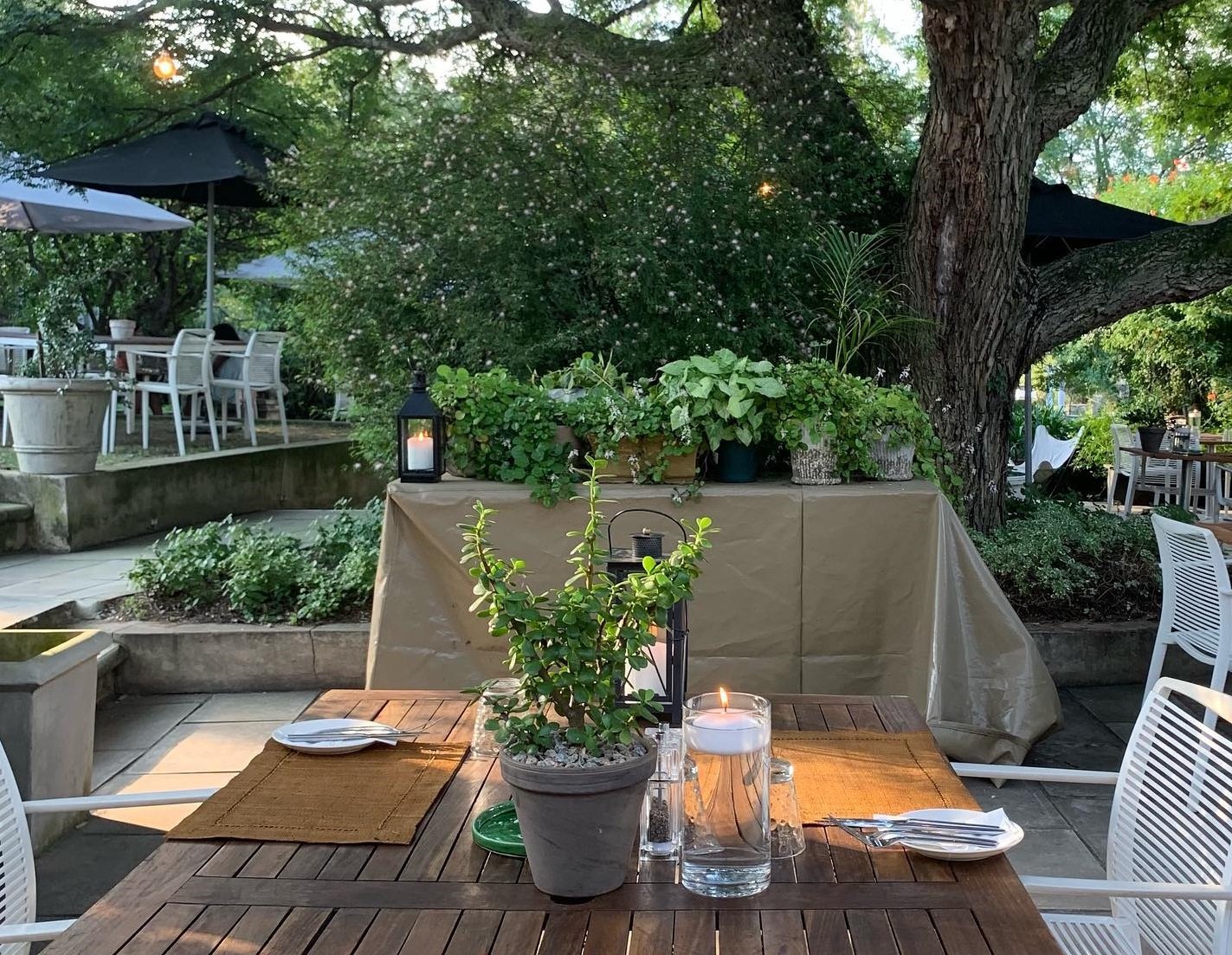 Herb Cafe and PlaYard at Herbland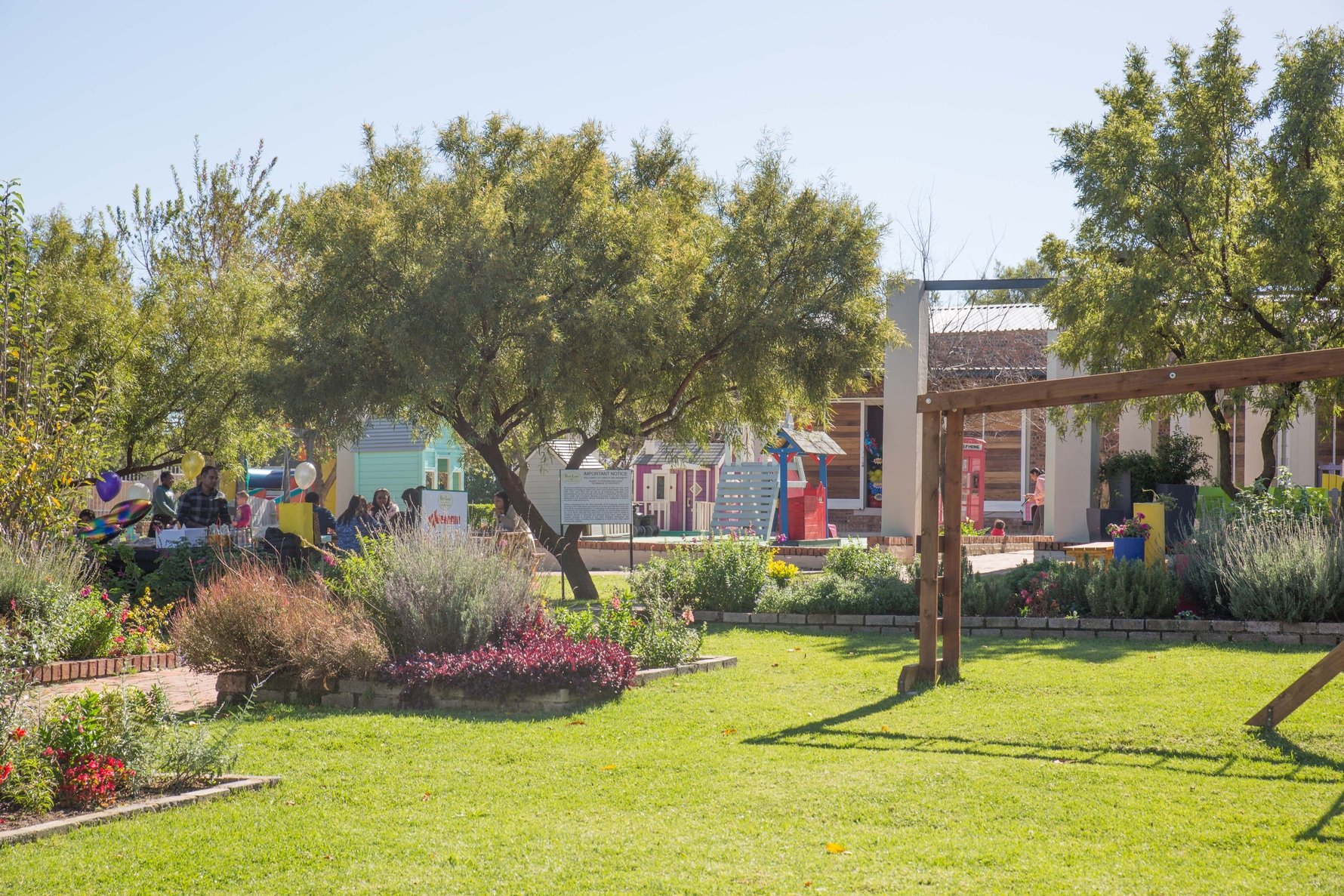 Herb Land, a wonderland of flora on the outskirts of Midrand, is a unique herb garden and nursery where everyone can experience the world of herbs. Visit the on-site Herb Café for a seriously good selection of all things sweet: Belgian waffles with salted caramel, peanut praline, strawberries and ice-cream (including vegan variations), pancakes with similarly sinful toppings and freshly baked cakes by the dozen. It's a place where birthday celebrations, bridal and baby showers abound. The kiddies' play area at PlaYard (entrance R40 per child from ages one to 13) is astonishingly large. In fact, you'll do well to dedicate the whole morning or afternoon to exploring all this magical place has to offer.
Booking for the Herb Café is essential. 

Kranz restaurant at The Northcliff
The Northcliff Boutique Hotel is perched right on top of the Northcliff ridge and its garden terrace serves up one of the finest panoramic views in Joburg. The hotel's restaurant Kranz opens for breakfast, lunch and dinner (note that non-hotel guests can only visit the property with a dining reservation, strictly no walk-ins or drinks-only bookings). The cuisine is elegantly presented and flavourful continental fare, complemented by a solid wine list. Visit for lunch and dine outdoors in the garden or arrive early for your dinner reservation so you can enjoy the sunset.
Where: The Northcliff Boutique Hotel, 10 Solution Close, Northcliff Ext. 25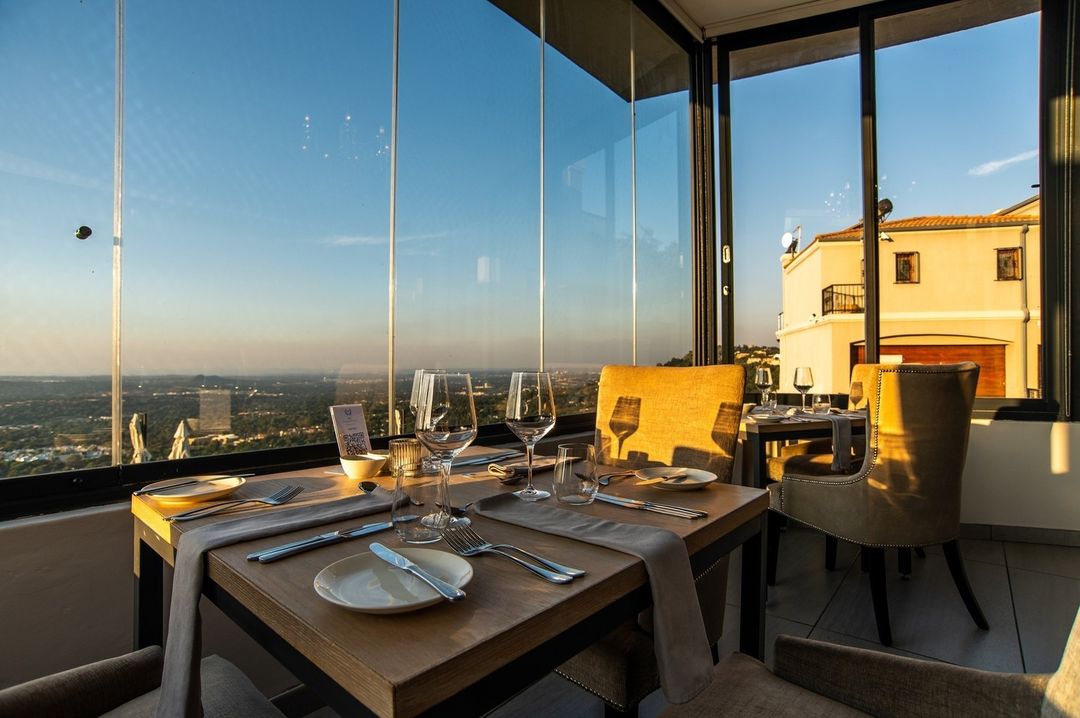 Where once there was a dumping ground, township tourism pioneer Lebo Malepa, of the eponymous backpackers, envisaged a park. Together with the neighbours, Lebo created a quiet, green space where local children can play safely and visitors can relax with a plate of home-cooked food. Lunch is simple, wholesome, South African. A central wood fire is stoked and a set of potjies (South African cast-iron pots) are filled with a selection of delicious freshly prepared curries (chicken, beef or vegetarian) for lunch, which you can spice up with plenty of homemade mango achar.
Where: Lebo's Soweto Backpackers, 10823A Pooe St (cnr Ramushu St), Orlando West, Soweto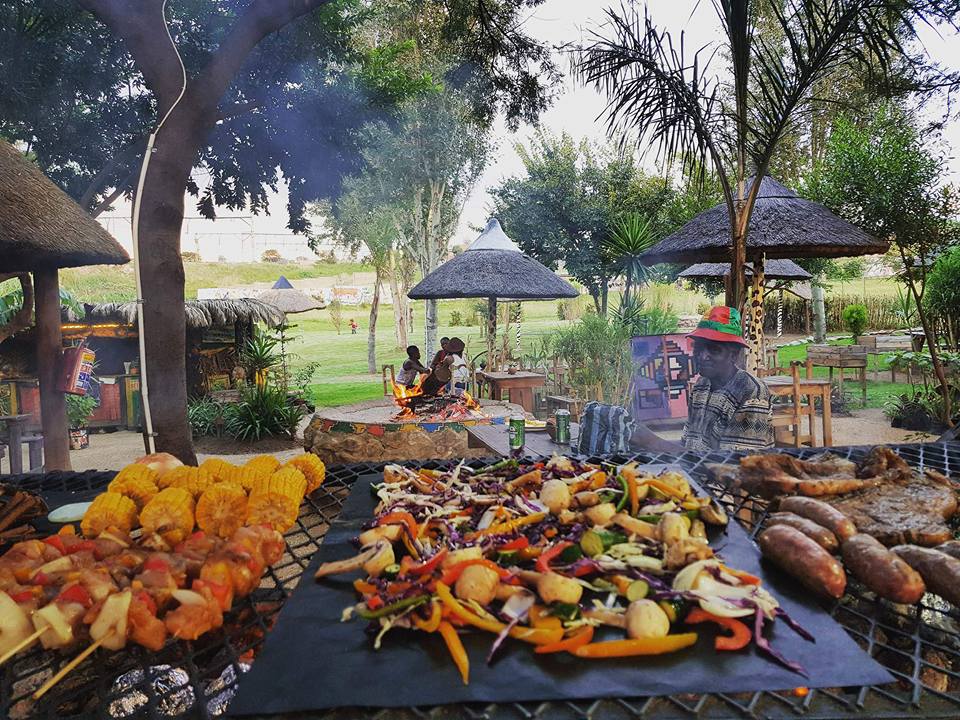 Sette Bello tucked into The Italian Club in Bedfordview, overlooks the club's green sports fields with a sizeable wraparound terrace. The food is super tasty classic Italian and the atmosphere lively. Order the excellent pasta dishes (the puttanesca is a particular highlight) or wood-fired pizzas, and pick up some treats at the deli before you head home.
Where: 7 Marais Rd, Bedfordview

Eating on the square 
While this flashy shopping and dining precinct, built around a series of piazzas and wide-open walkways, is most certainly not a garden, in recent years Melrose Arch has gone to great efforts to bring the inside, outside. There are more than a dozen cafes and restaurants with huge terraces offering al fresco dining. They also recently added an additional astroturfed area in the middle of their two outdoor piazzas (always the hub of the action) and set about pedestrianising parts of the precinct's streets. If you are looking for outdoor seating and a lot of space, you are spoilt for choice. Favourites include The Grillhouse, Tashas, Mezepoli, the French cafe Paul, Piza e Vino and the Halaal Turkish restaurant Istanbul Kebab.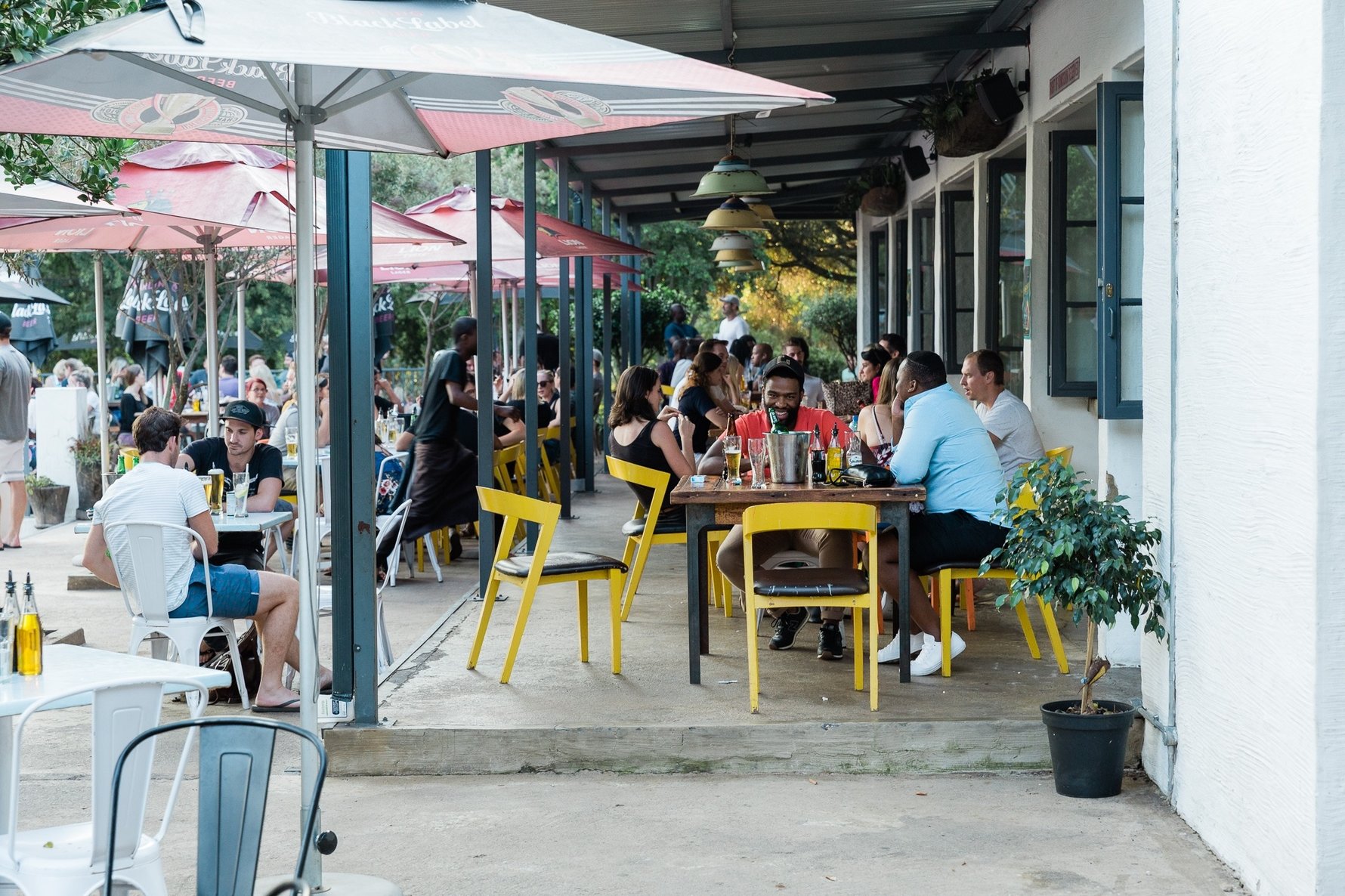 Named after Abu's Milk Bar in downtown Addis Ababa, Milk Bar in Parkmore is a quirky African-retro-styled café, that looks onto an adjoining sports club. The playful decor with its old-fashioned hand-painted barbershop signs and colourful African upholstery reflects the cafe-bar's casual and friendly atmosphere. A huge outdoor beer garden spreads out across a wide terrace and into the gardens and under the trees, taking up far more space than the actual bar building itself. Serving casual cafe fare, it's ideal for a weekend family lunch, especially with a jungle gym for the kids. On warm evenings the beer garden swells to capacity, so it's advisable to arrive before sunset.
Where: Sandton Sports Club, 11 Holt St, Parkmore The four-star Indaba Hotel, Conference Centre and Spa in Fourways is an oasis of calm in its busy surroundings with 260 hotel rooms, as well as conferencing facilities and the luxury Mowana Spa spread across acres of land on what was once a farm. Breakfast and lunch is served at the hotel's Epsom restaurant, which opens onto a tree-shaded courtyard, although we recommend booking a picnic to enjoy at a quiet spot in the Indaba grounds. With prior booking the Indaba team will have your picnic blanket and baskets set up at one of the many, many quiet green corners of the sprawling property (a spot overlooking the birdlife at the dam is particularly romantic).
Where: Indaba Hotel, Conference Centre & Spa, Cnr William Nicol Dr and Pieter Wenning Rd, Fourways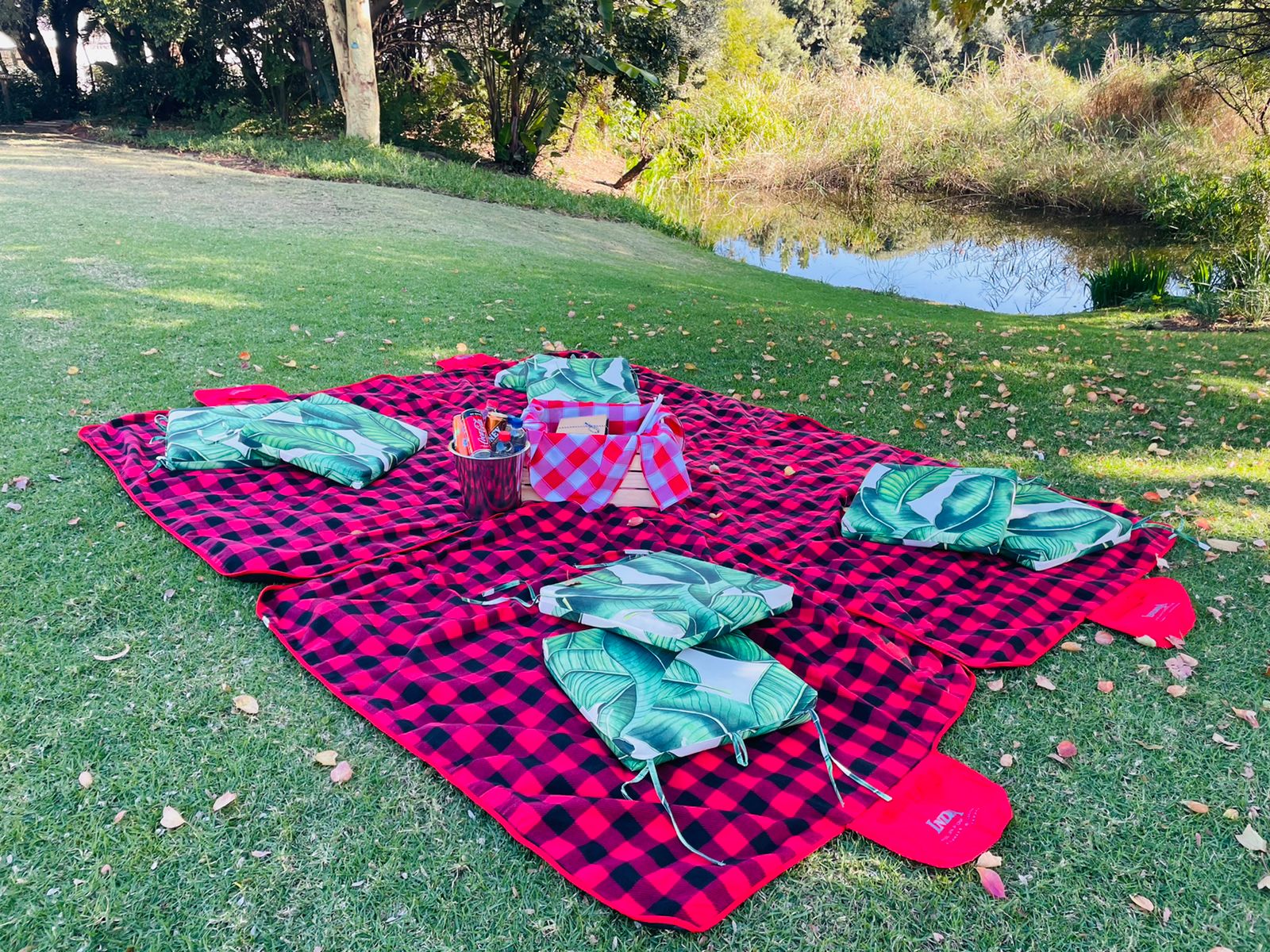 It's easy to miss this Nothern Italian-influenced restaurant, hidden inside the rambling and secluded Acorn Lane estate on Rivonia Road just two blocks from Sandton City. The spacious house flows out into a large and picturesque courtyard and garden, perfect for lazy afternoon meals under the trees. If you are an anchovy fan, try the bell peppers served in traditional bagna caoda, a superb sauce of anchovies and garlic, or the deep-fried "carozza" mozzarella sandwich served with rocket and anchovy sauce. The Cremalat deli next door is a must-visit for the finest Italian cheeses, made right here in Joburg.
Where: 61 Rivonia Rd, Sandhurst

Hidden courtyards
This cute French-inspired cafe is actually twice as large as it appears, occupying an entire courtyard that is reached via the back of the cafe. The menu's French inspiration is found in its perfectly executed omelettes and galettes (a savoury French crepe made using buckwheat flour), each of which comes in six different combinations of fillings. Classic sweet crepes are also on the menu and there's a daily changing selection of cakes, pastries, fresh salads, and sandwiches for lunch. 
Where: Cnr St Andrews St and Wrenrose Ave, Birdhaven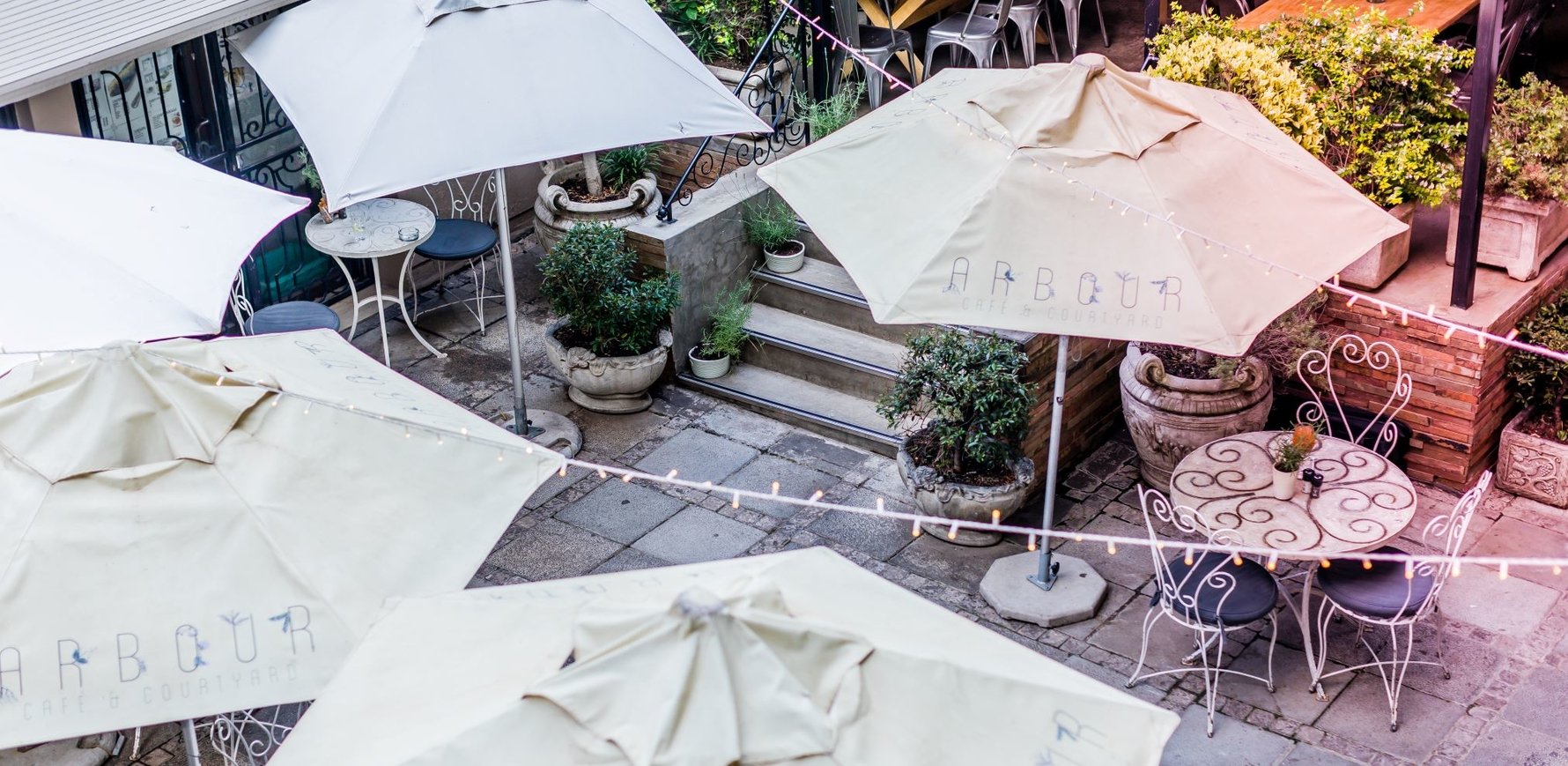 This quirky 1970s retro-styled cafe boasts a spacious courtyard that has become a popular spot for digital nomads who are in need of a change of scenery. The name comes from the neatly painted 1970s breezeblocks that line the courtyard. Brixton-local and owner David du Preez has decorated his dream cafe using recycled materials and restored furniture found in dumps and at yard sales. The all-day breakfast is excellent (try the Mexican huevos rancheros) and on occasional Friday and Saturday afternoons they host vinyl DJ sets in the courtyard.
Where: 29 Chiswick St, Brixton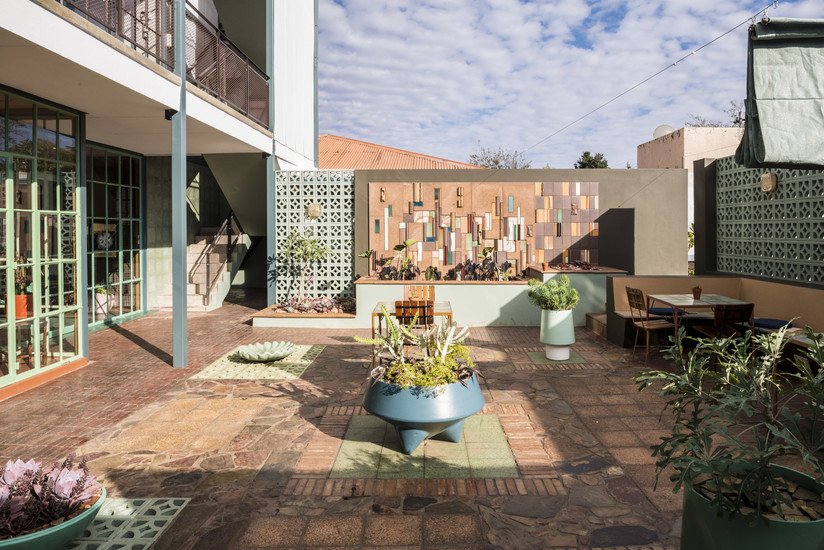 In 2019 Joburg's most loved Argentine restaurant moved from its original location in Maboneng to new premises in Parkwood. The Parkwood venue retains a similar rustic feel to the original with candlelight in the evenings and an authentic wood-fired parilla, and now spills out into a cozy terraced courtyard in the back. The courtyard is a discreet spot that's worth booking in advance. Che's owners are utterly charming and the food is excellent. We love their parilla-fired sourdough bread and their flawless steaks, paired with their special homemade Che chimichurri on the side. 
Where: 128 Jan Smuts Ave, Parkwood  One block from Rosebank's Keyes Art Mile is Clico restaurant at the small Clico Boutique Hotel. The restaurant's setting is a chic and intimate triple-volume glass structure that looks out onto a courtyard garden, making it an inviting dinner venue, or a gloriously lit breakfast or lunch spot. For breakfast try the poached eggs with grilled halloumi and confit tomatoes or for winter mornings, oats dressed with honey and Egyptian dukkah. Named after the French Champagne label Cliquot, there's an excellent selection of Champagnes as well as local boutique wines, and the regular Sunday jazz brunch events are the perfect event to enjoy them. 
Where: Clico Boutique Hotel, 27 Sturdee Ave, Rosebank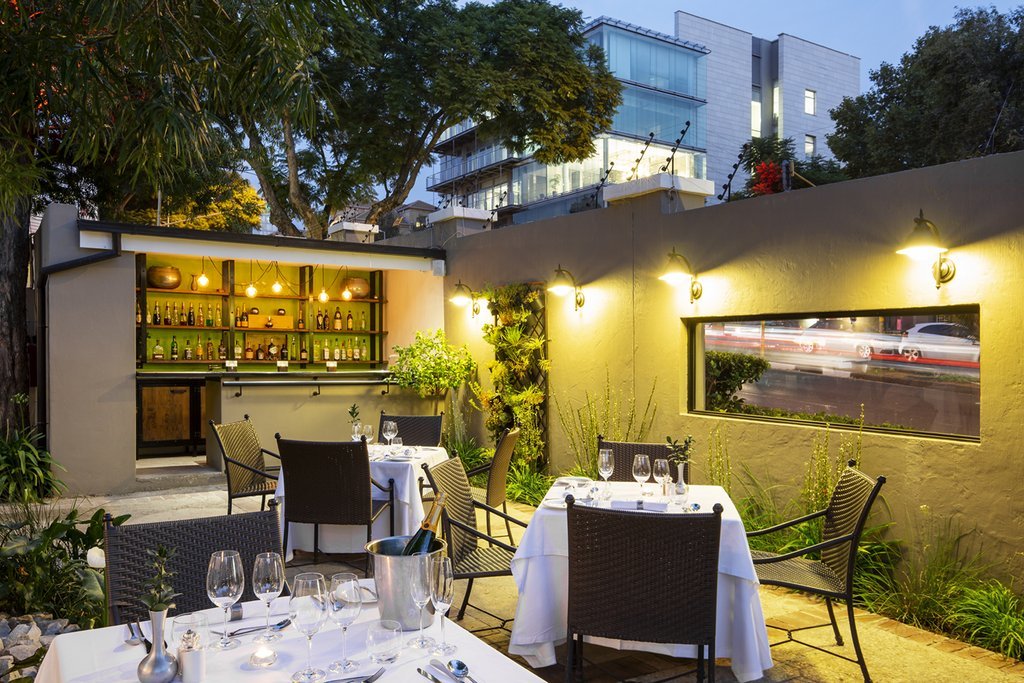 A coffee shop, roastery and bakery with a peaceful open courtyard set amid the workshops and artist studios of eastern Joburg's makers community Victoria Yards. Sit in and enjoy your sandwich and coffee, or get it to go and find  another quiet spot to chill out among Victoria Yards's kitchen gardens. A veritable shrine to sourdough, the freshly baked bread is excellent, while the Foakes coffee is hand-roasted in small batches with five single origin options and two unique blends. 
Where: Victoria Yards, 16 Viljoen St, Lorentzville  Once the site of the historic Rand Steam Laundries, this unusual boutique shopping centre pays homage to its unique heritage with a theme of water running throughout, courtesy of ornamental waterways that trickle past the centre's olive trees and lowrise buildings. The centre has a pretty courtyard that is ideal for families hoping to keep young kids contained. Choose from the handful of bright and inviting casual spots, including the pizzeria Col'cacchio and a Bootleggers coffee shop.
Where: Cnr Barry Hertzog and Napier St, Richmond​​​​ Enter the doorway into a courtyard area with overhanging lights, plenty of lush greenery, and cosy seating nooks, and you'll be transported to a quirky Latin-inspired hideaway, hidden among the designer furniture showrooms and workshops of the Kramerville design district. It's an Instagrammer's dream. We are great fans of Razor Charlie's Mexican-inspired menu of breakfast dishes, which includes their breakfast burrito and huevos a la mexicana (scrambled eggs, tomato and chilli). For the more hungry the mains include a chimichurri stripped rump steak and a range of quesadillas, chicken or steak tacos.  
Where: 6 Desmond Rd, Kramerville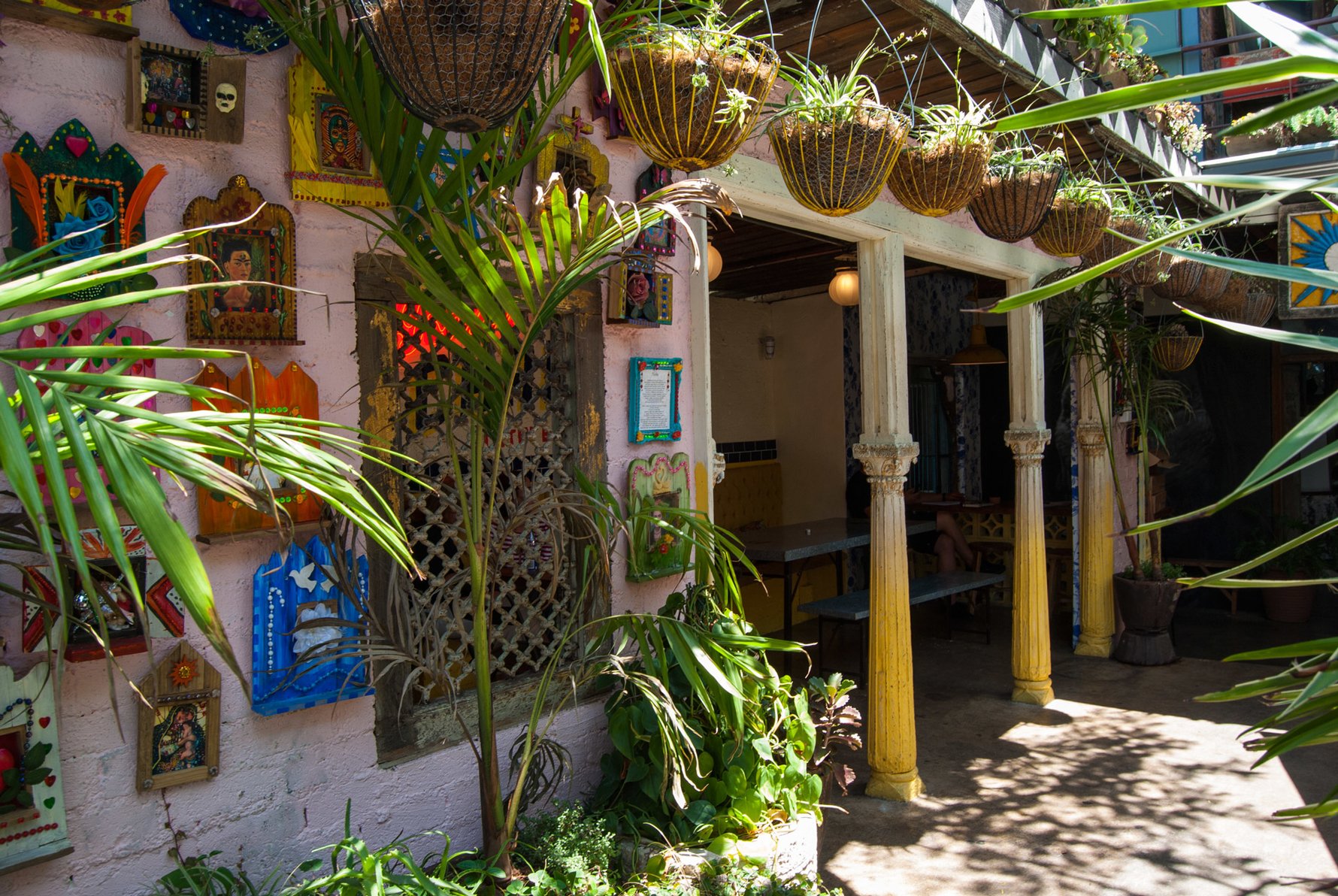 This corner cafe on Melville's iconic 7th Street opens out directly onto the street, with a lovely terrace that is great for people watching. However, the real gem is in the back – a large sunny courtyard with loads of space that is a perfect venue for a lazy breakfast or a light lunch, such as freshly made soup served with homemade bread.
Where: 1 7th St, Melville   A former 1930s industrial complex transformed into a boutique shopping destination, 44 Stanley offers an enticing selection of designer clothing and artisanal homeware stores, plus great coffee shops and cafes, spread across a series of pretty interlinked courtyards. A favourite is Salvation Cafe, whose tables flow outdoors onto a covered veranda and into a picturesque olive-tree shaded courtyard, perfect for relaxed family meals. Turn that morning meal into a memorable experience with a choice of 'healthy', 'sweet' and 'savoury', plus breakfast burritos and for lunch a delicious selection of salads, sandwiches and wraps. For casual drinks and small plates, make an evening of it and settle in at the super pretty Peachy courtyard or head to the '70s-inspired bar at Even After All. They also have a great breakfast menu so it's an all-day kind of place. La Pergola brings Northern Italian cuisine to Joburg while St Germain si a cool cafe.  
Where: 44 Stanley Ave, Milpark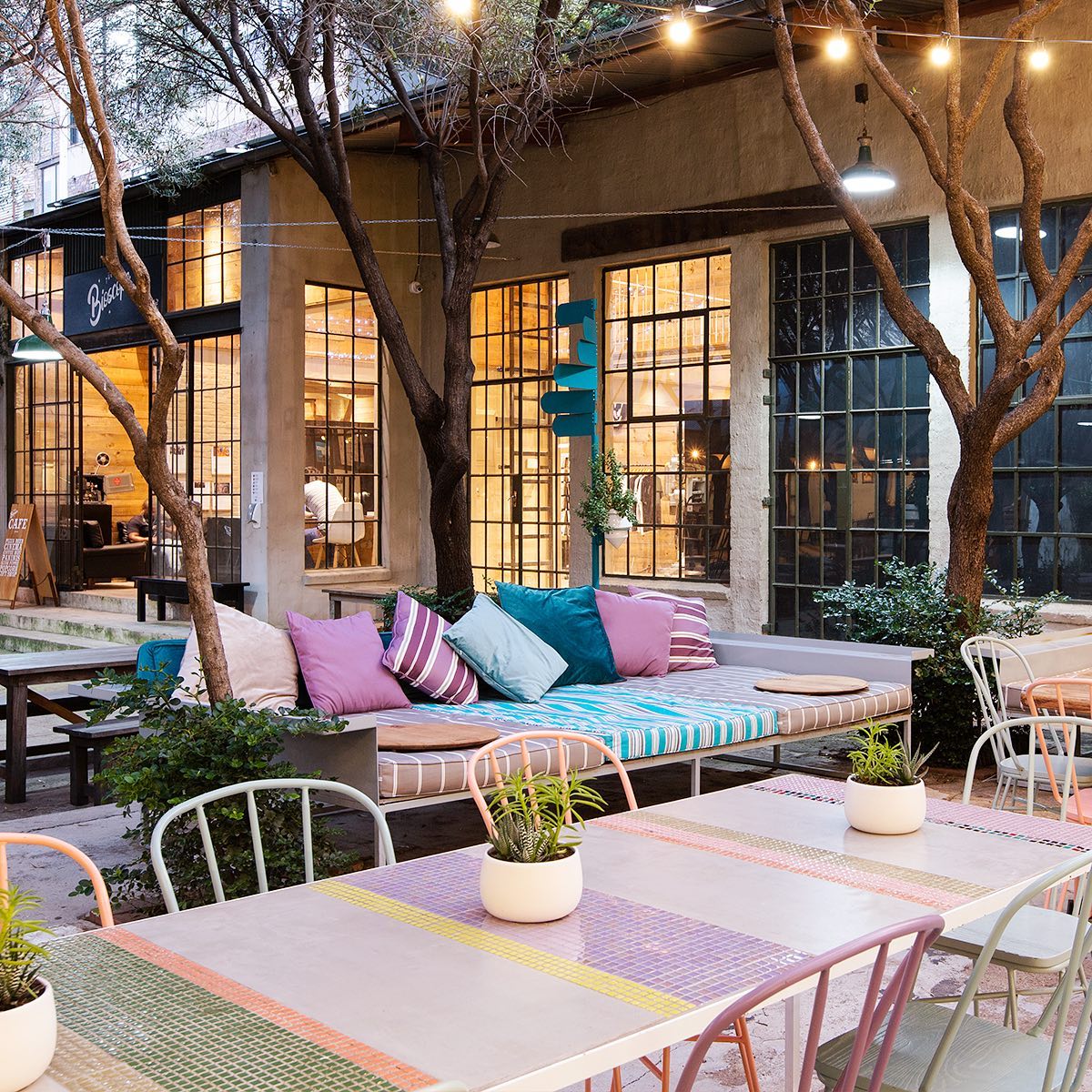 An all female-owned business, founded by individuals with a passion for creating a collaborative space and women-led community, Toasted is one of Joburg's quirkiest cafes. A small indoor cafe area opens on to a large interior courtyard that is colourful and full of character. A popular space to spend the afternoon working, they've even built in an outdoor counter to accommodate 'coffice' workers camping out on the high-speed Wi-Fi. They serve batch brew coffee from Humble Coffee, as well as an array of decadent gourmet toasted sandwiches. The only tricky bit is finding it. Look for the small Toasted sign outside an office building, ring the buzzer and wait for the guard to let you in. Once inside sign in the guestbook and ask for directions to Toasted.
Where: 138 Jan Smuts Ave, Parkwood A trendy Aztec-inspired coffee spot in Craighall Park. Their outdoor space features an abundance of potted cacti in the most beautiful and vivid colours and looks out onto the street, with ample seating and a sun-shielding canopy for those scorchingly sunny days. A relaxed and inviting space to start your morning off with a coffee in hand, they serve Mexican coffee, and 'elixirs' - freshly made and bottled smoothie blends and juices packed with lots of healthy and immune-boosting ingredients.
Where: 11 Rothesay Ave, Craighall Park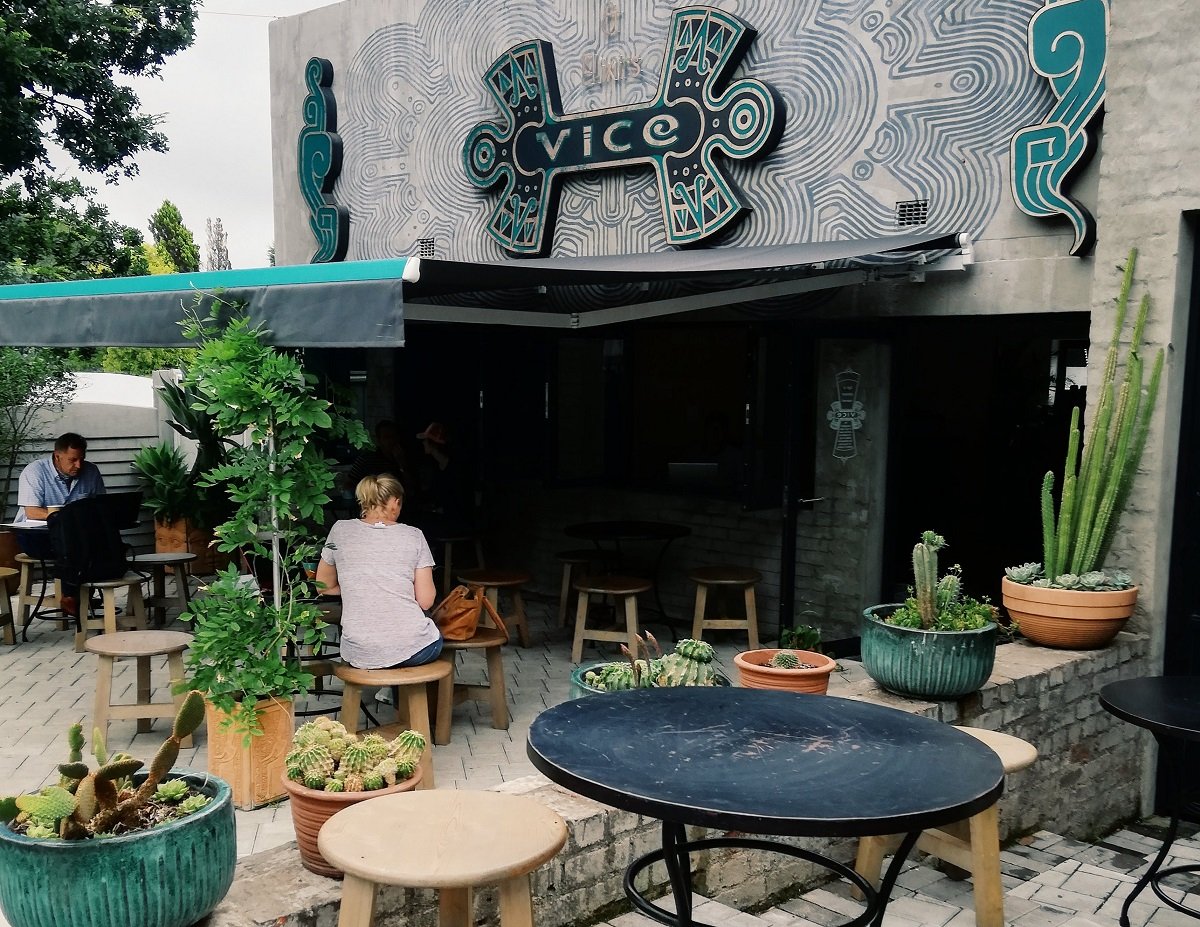 What was once the garden restaurant Possum's in Craighall Park (just off Jan Smuts Ave behind The Valley Centre) has been taken over by new owners and reopened in June 2021 as The Wild Side Restaurant and Bar. The Wild Side is a restaurant-bar with a neon-bright tropical theme and a delicious menu of casual-contemporary fare (the brioche bun burgers do not disappoint), plus cocktails and Saturday afternoon DJ sets. The indoor dining area opens out onto a large terraced courtyard garden where the majority of tables are out in the open. The perfect meeting spot for sunny afternoon drinks. 
Where: The Wild Side, 6 Burnside Ave, Craighall Park

Pool decks
Located on the 7th floor of one of Africa's tallest buildings, The Leonardo, in the heart of Sandton Central, Aurum is an elegant dining destination with soaring triple-volume ceilings. The restaurant opens out onto a sunny rooftop pool deck, where just a few steps from the door you can book a sun lounger for the day. Dinner is contemporary fine dining with seasonal menus, while there's also a lighter à la carte menu for breakfast, brunch, and lunch that appeals to all-day eating, from cheese and charcuterie platters to tasty burgers.
Where: The Leonardo (7th floor), 75 Maude St, Sandton Central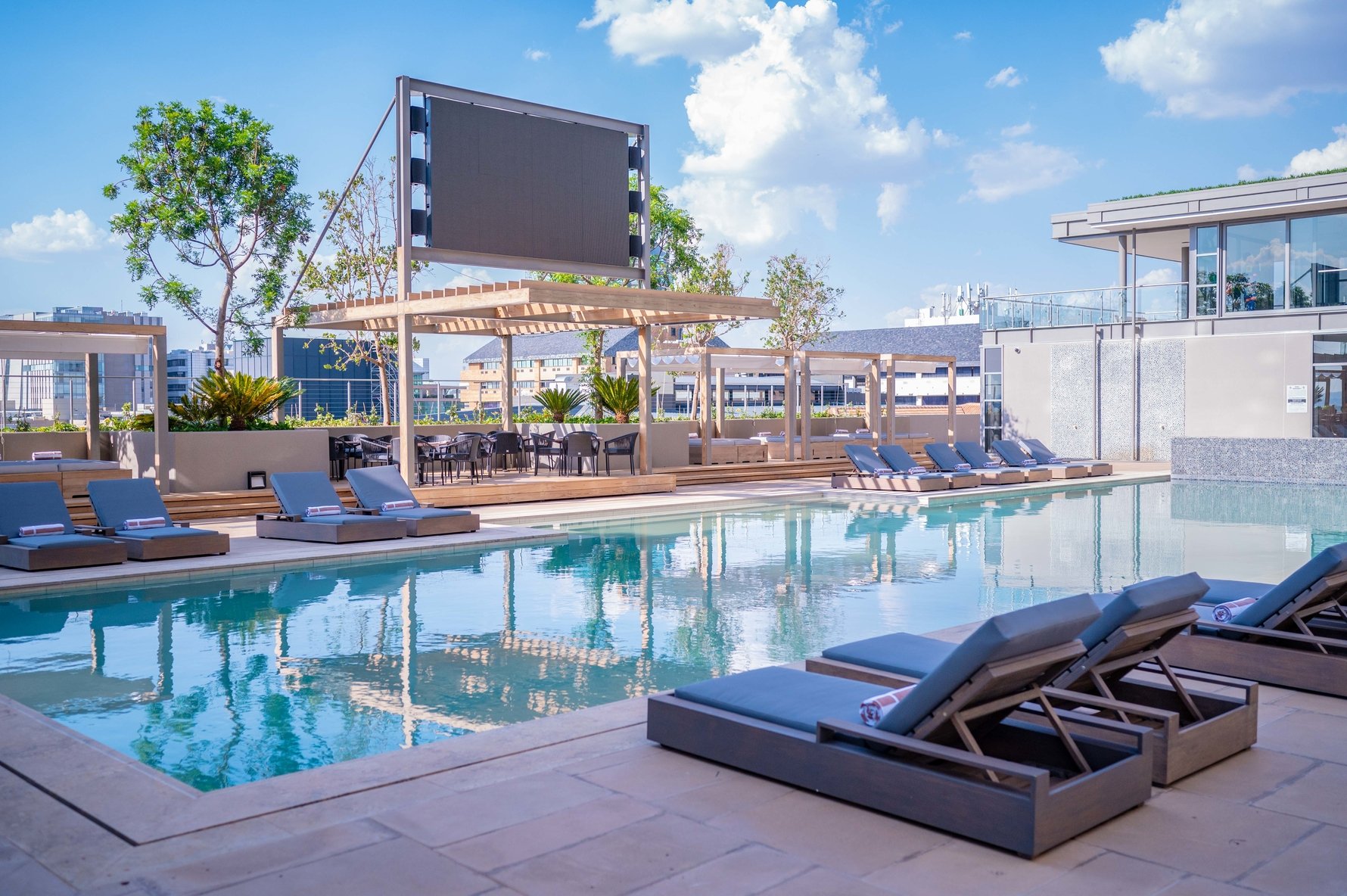 The new Pablo, once located on Melville's 7th Street, has gone upmarket with a move to the Mint Hotel in Sandton Central. The cafe occupies a breezy space that opens onto a terrace overlooking the hotel swimming pool. The menu features many of the 'old' Pablo favourites, like their famous shashuka served with Yemeni flatbreads, as well as sharing plates and mezze dishes inspired by Middle Eastern cuisines that appeal to the brunch crowd.  
Where: Mint Hotel, 84 Katherine St, Sandton Central